Kinemaster for PC is a very powerful tool for Video editing with features for full-fledged video development. The App is exclusively available for Android and iOS devices. There is no standalone version of KineMaster for PC but if you wish to use KineMaster on your Windows 7/8/8.1/10 or Mac then you can, by means of a workaround. For professionals and amateurs alike, KineMaster offers the pro level of control on the editing process over compatible devices. You can do dazzling edits, motions, and animations on your Android Smartphones which were prior capable only on big editing tools on PC.
Kinemaster PC can be installed with an emulator and you do not need to worry about any extra complications. Just install the emulator with the one-click process and open the Google play store. An emulator is a software that works as Android on Windows and Macbook.
Content at Glance
KineMaster For Computer PC
Kinemaster PC is a video editor app developed by NexStreaming corp, who are the developers of the other popular Apps that have not made any KM App for PC but you can try an emulator. With KineMaster for PC, you can go for full-featured Video editing to make professional videos with advanced video editing tools, VFX, and animation effects.
There is no native video editing app developed by the company for PC. The App is very simple to use and any novice can easily understand, making the most out of the tool. It has multiple layer support for video, text, and image, you can personally edit each layer and merge them together along with the Audio track and animations.
You can export the project in 4K UHD quality. The KineMaster recently added adds support for 3:4, 4:3, 4:5, and 2.35:1 aspect ratio exports, support to duplicate a project to a different aspect ratio, replace media (video and photo) files in the Timeline and import and export of project files
Features of KineMaster
Multiple layers of video, images, stickers, text, handwriting video clips
Frame-by-frame trimming, splicing, and slicing
Support All versions
Instant preview anytime
Hue, brightness, and saturation controls
Transition effects (3D transitions, wipes, fades, and more)
A variety of themes, animations, and visual and audio effects
Supports all the video formats.
Automatically optimize the unsupported videos.
How to Download KineMaster for PC?
Here are Simple Steps to Download and Install Kinemaster on PC for Windows and Mac.
Step 1. Download Best Android Emulator on your PC. (BlueStacks & Nox Recommended)
Step 2. Once the emulator is downloaded, look for Play Store.
Step 3. Add your Google Account to Play Store.
Step 4. Now search for Kinemaster and install the app.
Step 5. The installation is similar to an Android device.
Step 6. Open the KM App, make necessary settings if prompted on screen.
Step 7. Now you can perform all the edits on your PC with Kinemaster.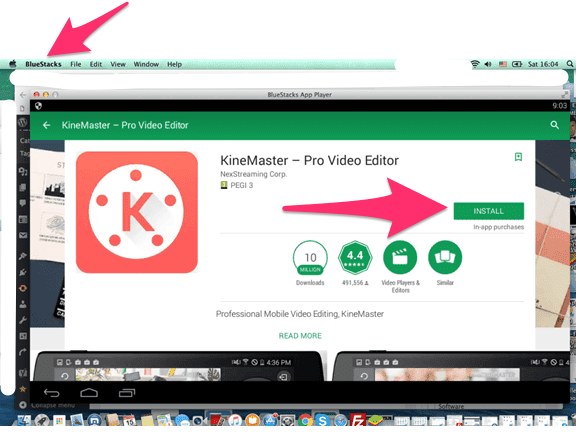 You can also install the App manually as an APK Gile without Play Store on the emulators.
Below is s Simple Video Tutorial to Install Kinemaster on your Windows and Mac PC.
How to Install Kinemaster on Windows PC? [2 Min Guide]
How to Download Kinemaster for PC without Emulator?
If you are looking to Install Kinemaster on a PC without an Emulator like Bluestacks then it is fairly impossible. As of now, Kinemaster is developed as a native app for Android and iOS devices only. There is no standalone version of KineMaster for Windows 7/8/8.1/10 or Mac PC.
I recommend you download any native video editor app build for Windows and Mac-like, OpenShot or Shotcut which offers way more features for more intricate video editing on a PC that lacks any mobile video editor.
How to Download KineMaster on PC Without Watermark?
You can download and install Kinemaster on PC without any watermark on the exported projects by either paying for the premium version or installing the Full Unlocked KM App.
To install KM Unlocked App on your PC just install any Emulator. Download the KM Modified app and install the APK in the emulator. You can start editing the videos without any watermark with all features unlocked.
To Buy the Premium KM app just install the Kinemaster from Play Store inside the emulator and buy the subscription.
What is an Emulator?
An emulator is software that enables one computer system to behave like another computer system. For running Apps on Windows or Mac, the emulator behaves like an Android system that can be installed on the PC. And the KM App from Store is installed on the emulator.
Install KineMaster on PC with Nox Player
Min System Requirement
Windows 7/8/8.1/10 | Basic Mac OS
CPU: Basic Dual-core from Intel | AMD
GPU: Any basic GPU Processor like NVIDIA GeForce | AMD Radeon, etc
2 GB of RAM
2 GB of free storage
Why Nox Player?
Nox Player is the of the best Android Emulator for Windows and Mac. The Emulator is designed with the only motive for playing games and Apps. Therefore it can handle high FPS and GPU Consuming Apps without any clutter. The system requirements for running Nox are very basic and any low-end Computer Laptop can handle the Player Smoothly.
The interface of the App is very fresh and would appeal to the users. The KM App will work pretty smoothly on the Nox.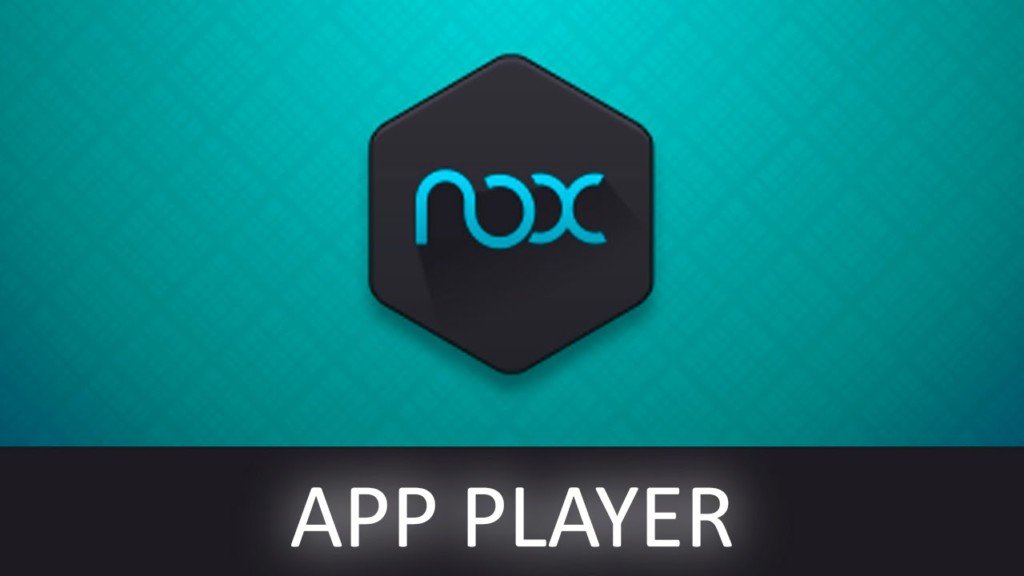 How to Install Kinemaster on PC with Nox Player?
Here are simple steps to Download KineMaster on PC with Nox
Step 1. Head Over to Nox Player Website. (Link Below)
Step 2. Download and Install the file on your Windows or Mac PC. (Basic Installation Steps)
Step 3. Open the Emulator for the initial setup. The Nox will look and work exactly like an Android Mobile.
Step 4. If you have the KM APK on your computer, drag it onto Nox to install or download the App from Play Store.
Step 5. Once the App is successfully installed you can start using the KineMaster and create great edits.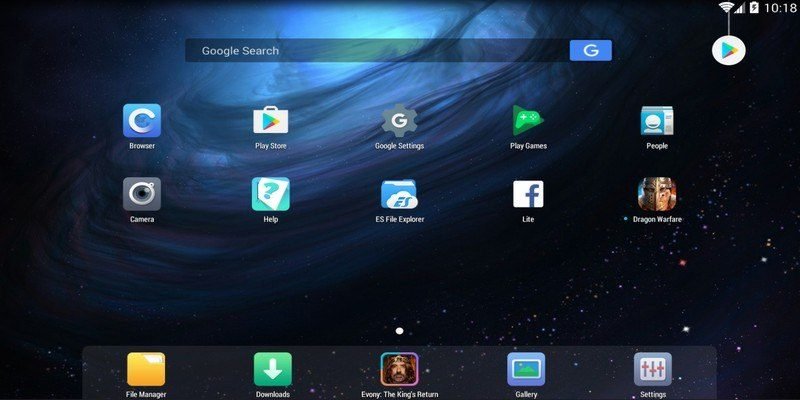 Alternative Methods and Emulators
Alternatively, you can try other emulators listed below to Install KM App on your PC and Mac for Free.
Download KM on PC with Bluestacks

1. Download the BlueStacks on your PC. (Windows and Mac)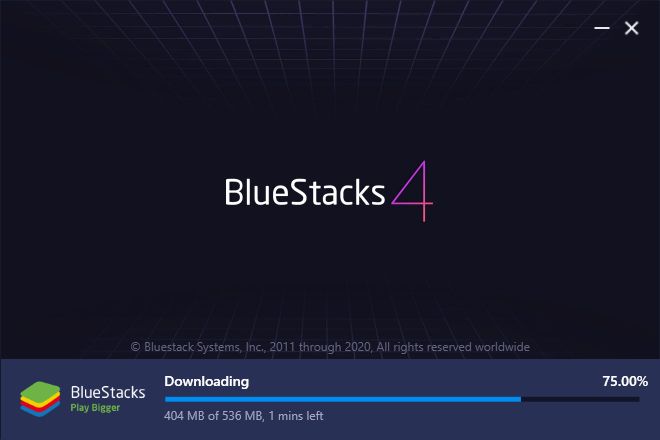 2. Run and Install the App.
3. Open the Google Play App, download the KM App.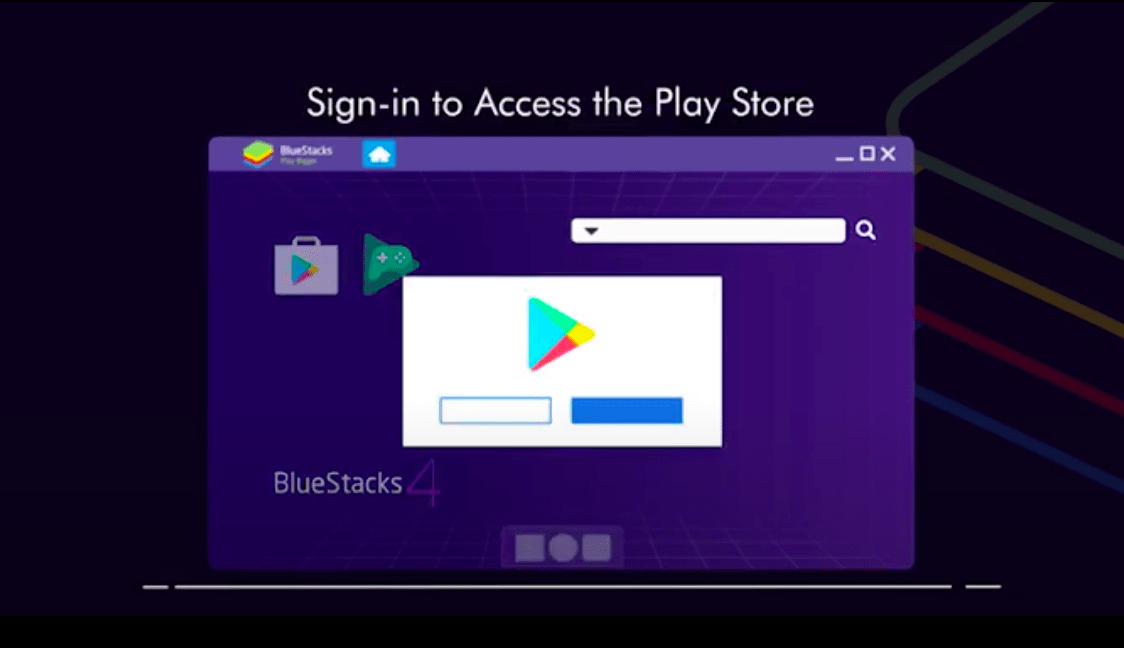 4. Install the KM. Done!
How to Download KineMaster with MEmu?
MEmu is a popular Android Emulator for Windows. It is capable of playing high-end Apps and games on PC if the system has the minimum system requirement for the MEmu Players for smooth working. It supports a high level of customization and I think KineMaster is very much compatible to run smoothly on the MEmu.
The emulator can enable virtualization for your PC and it also gives great performance for integrated and dedicated graphics. The best thing about the emulator is it is compatible with Intel, Nvidia, and AMD-powered Windows.
1. Download the MEmu Player for Android. The software works on even low-power Windows PC.
2. Now Open the stock browser and search for KineMaster App.
3. Download the App and Install it on MEmu
4. Enjoy the KineMaster App on Computer PC. Done!
Trouble Shoot Problems on Kinemaster App
If you are facing issues with the App then below are few potential solutions to fix all the related problems on your KM App.
Error Exporting
Update the app to the latest version by going to the download page above.
Don't use any screen recorder during the process of export, video encoder of screen recorders may cause complications with the KM.
KM works on hardware video encoder and using any other may cause the process to fail.
Fix "Codec Init Failed Error"
This error may occur due it incorrect detection of device resolution, hardware compatibility, and software performance. You can fix this by following the steps.
Reboot the device.
Open KM
Tap on the Settings option. (Gear Shaped)
Here open Device Capability Information.
Tap the menu indicated by 3 dots (…) in the upper-right corner.
Choose Hardware Performance Analysis to run the analysis (This may take up to 5 Minutes)
Then reboot the device again.
App Unable to Detect the Media in Device Storage
If the App is not able to detect the media then first grant all the permissions to the App. The App may take some time to index the media. Have some patience until the media is indexed by the App. Reboot the device and look for the working of the App.
Frequently Asked Questions (FAQ)
1. Is Kinemaster Free?
Yes, the app is free to use and comes with all the features. But you may need to make in-app purchases for some premium special effects and removing the watermark.
2. Does Kinemaster have a Watermark?
Yes, Kinemaster comes with a watermark on its projects. But you can pay and remove the watermark or download the mod versions from the link above and get a fully featured KM app for free.
3. How Do I Unlock Kinemaster Kinemaster Pro?
You can download the KM Counterfeit versions from the download page above and enjoy the app with no holds barred for free.
4. What Video Formats does Kinemaster Support?
MP4 (H.264 Baseline/Main/High Profile + AAC LC / PCM)
3GP (H.264 Baseline/Main/High Profile + AAC LC / PCM)
MOV (H.264 Baseline/Main/High Profile + AAC LC / PCM)
5. Does Support Chrome Key?
Yes! KM App supports chroma key feature for compositing or adding video layer. It helps you create a green screen to add any VFX effects to enhance the media file edit.
6. How to Enable Chrome Key on Kinemaster App?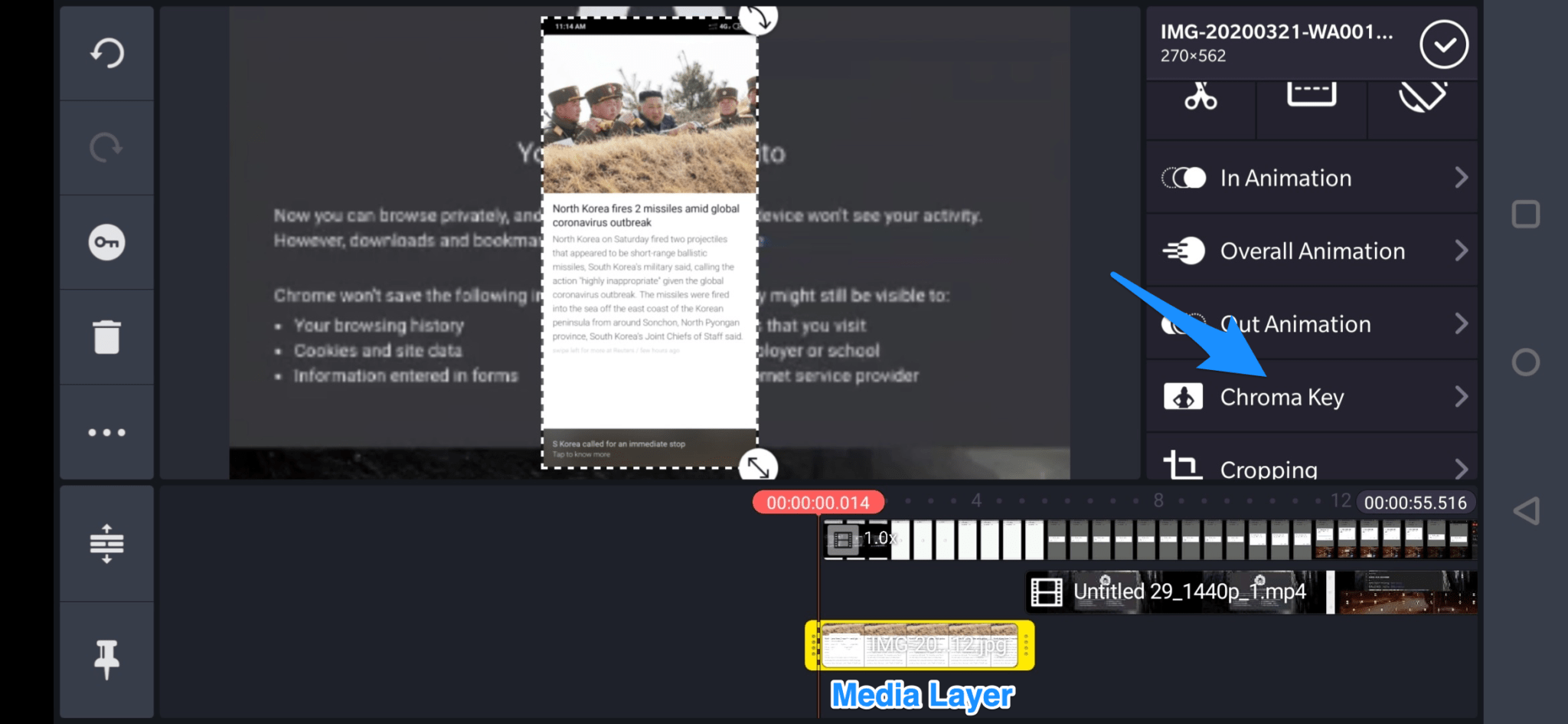 When using the KineMaster App green-screen effects, your top layer or first layer is going to be your background. You can not enable the Chroma screen function in the top layer. The chroma key effects can only be enabled in the second and succeeding layers.
Just Click on Layer → Media → Select any File. Now on the right side, you will see the Chroma key Option.
7. How to Fix the ghost face effect?
Adding multiple green screen clips to your project may create a problem by overlapping or leaving a slight gap between each clip called the ghost face effect. To avoid this issue, simply, create a project/s strictly for your green screen clips. This will allow you to add all your clips to the top or first layer level. Thus, allowing you to add transitions between your clips.
8. How to Download KineMaster on Windows 10?
You can download KineMaster on Windows 10 with an Android emulator. The emulator can help you run the KineMaster app on Windows 10 PC. Just follow the steps listed above to get the KineMaster App for PC.
9. How to Download Kinemaster on MacBook?
The Kinemaster is a mobile app and does not have a desktop version, but you can download the emulator on your Mac and install the Kinemaster App on the Mac emulator.
10. How to Download Kinemaster Mod on PC?
You can download the kinemaster mod premium apk on your Windows and Mac PC. Just download the emulator and sideload the mod app in the emulator and access all features for free.
Best Alternatives to KineMaster for PC
1. OpenShot Now, coming to some of the more basic video editing software, OpenShot is definitely one of the finest ones. It is a cross-platform video editor available for completely free. It is supported on all Windows PC, Linux as well as macOS. OpenShot is an incredibly simple yet powerful video editor that provides you with a lot of options. In addition, it is an award-winning open-source video editor that is completely beginner-friendly too.
2. NHC VideoPad In case you are looking for a more basic video editing tool, NHC Videopad can be the perfect option for you. It does not provide you with professional tools, unlike Camtasia or Power Director. Hence, it features a very simple and easy-to-use user interface. Plus, VideoPad also supports all popular video formats, including MP4, DIVX, AVI, MPEG, and so on.
3. PowerDirector is a popular and powerful video editor App with video layer support. The application also has other popular video effects like slow motion, reverse video, background edit, and more. The App supports Chroma Key giving you the power to create cinematic visual effects. The App comes with all the basic editing features needed to make the best Videomaker App.
4. FilmoraGo – Free Video Editor is a pretty powerful editor software. Unlike many other maker tools that restrict users with a time limit or Watermark, the FilmoraGo gives unlimited time access without any Watermark. The App helps you create some stunning videos using clips and images. For those who are familiar with Editing tools for them, it is no brainer how popular the software is for PC.
Conclusion: With the above emulators you can run the KM App on Windows or Mac PC without any issues as the app is capable of running even on low-end PC due to the minimum requirements of the tool. I hope the post was helpful. Do comment below for any assistance or support.
If you've any thoughts on How to Download KineMaster for PC? | Windows [10/ 8/ 8.1/ 7] and Mac, then feel free to drop in below comment box. Also, please subscribe to our DigitBin YouTube channel for videos tutorials. Cheers!