Kinemaster is an amazing video editor available for Android and iOS. It unquestionably delivers a super fast and easy way to edit your videos right on your smartphone. Kinemaster does come with all the basic features such as adding text, titles, background music, pictures, and so on. Besides, it also provides some of the advanced and widely used features like the reverse tool, several blends modes, filters, 3D transitions, Chroma key, and more. All these features make it one of the widely used mobile video editors. Plus, people adapt to their simple and catchy interface real quick and thus get used to it.
However, the lack of a computer version of Kinemaster makes us look for its alternative. Thus, finding such an easy and adaptive tool for PC is a real headache. So we decided to bring out some of the most popular and powerful video editing software for PC use. Although most of them are quite expensive, you can go for their free trial sessions at least.
---
Best Kinemaster Alternatives for PC
Here are the Best Native PC Kinemaster Alternatives to Edit Videos on Windows and Mac PC.
1. Cyberlink Power Director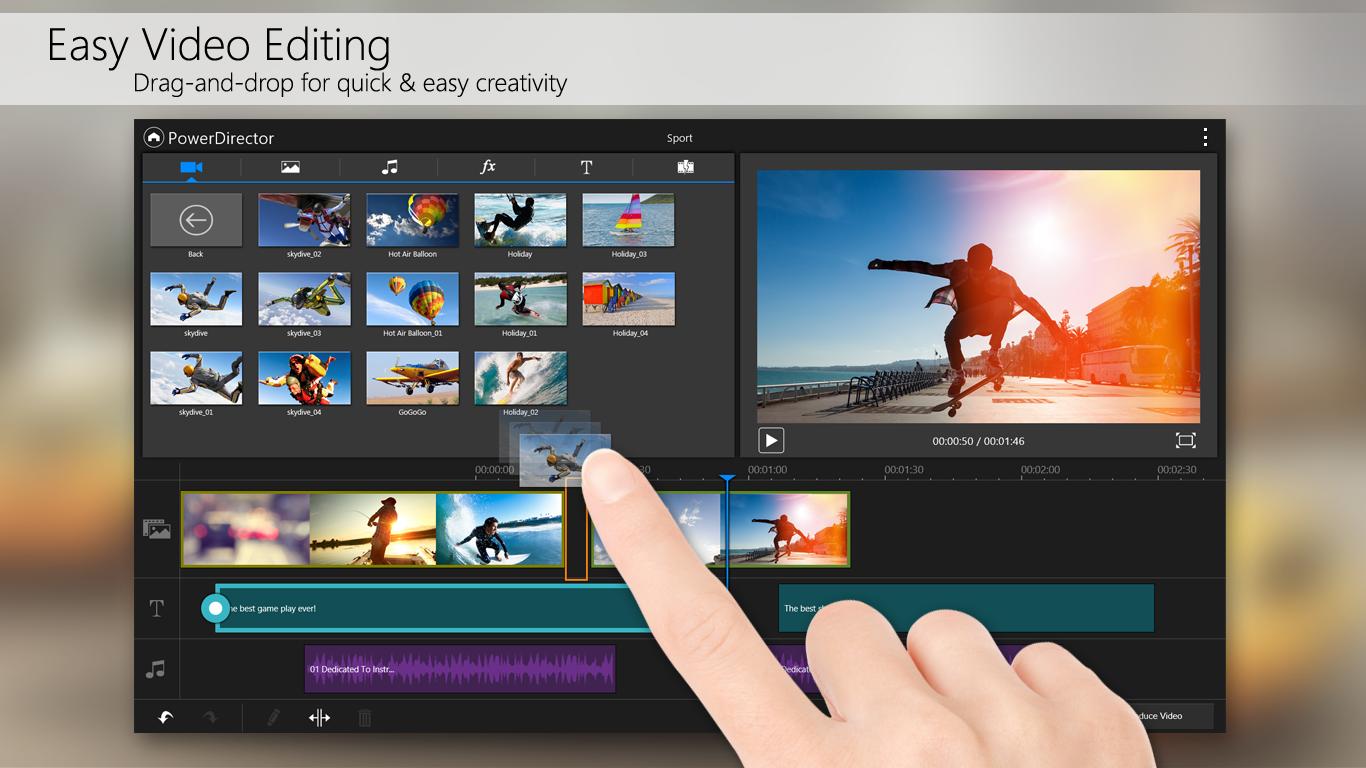 If you are looking for a native PC KineMaster alternative, Cyberlink Power Director could be the perfect solution for you, although it might be a hard go for beginners. And this is because the Power Director adds a complete professional touch to your normal videos. It has dozens of effects, slow motions, multiple track support, and everything required to make your videos look like the ones produced in Hollywood.
Hence, to play with such a wide range of tools, you must have some experience. However, there are plenty of tutorials available on the internet, which must be enough to get started. Additionally, Cyberlink Power Director also supports 360-degree video editing, which makes it unique from all other video editors. Thus, as an advanced Kinemaster alternative, Power Director is worth a try.
2. Movavi Video Editor
Now, if you are not sure about moving to a complex professional video editor but still want some of the cool premium features. Movavi Video Editor must be a perfect fit for you. Unlike, Power Director, this software is completely beginner-friendly, all credit goes to its drag-and-drop interface. It definitely comes with a very easy-to-use UI with loads of features as well. As a Kinemaster alternative, you will get all the features like trimming videos, premade videos, split-screen, sound effects, etc.
Also, the transitions look amazing and are enough to make your videos more interactive and impressive. Moreover, it offers numerous premade templates and supports multiple languages. Hence, it is one of the best options as a Kinemaster alternative that provides everything you could wish for.
3. OpenShot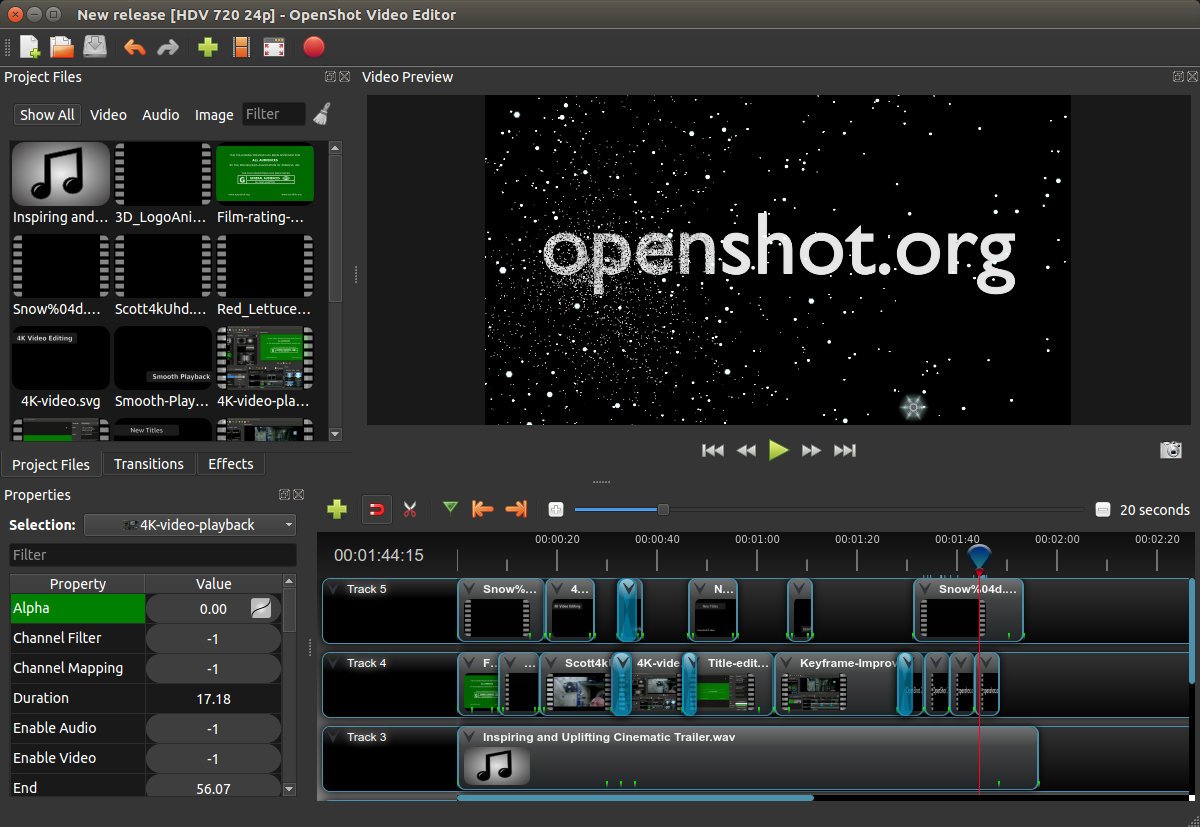 Now, coming to some of the more basic video editing software, OpenShot is definitely one of the finest ones. It is a cross-platform video editor available for completely free. It is supported on all Windows PC, Linux as well as macOS. OpenShot is an incredibly simple yet powerful video editor that provides you with a lot of options. In addition, it is an award-winning open-source video editor that is completely beginner-friendly too.
Even for a beginner, OpenShot features a quick-to-learn user interface that supplies you with all the essential tools. Plus, it supports 70+ different languages, which can further be translated online via LaunchPad. Some of its most popular features include stunning video effects, trim & slice, audio waveforms, 3D animations, etc.
Features of Shotcut
Mammoth collection of features
Free and Open-Source
Video, Audio, and Effects
Multiple formats and native editing
4. TechSmith Camtasia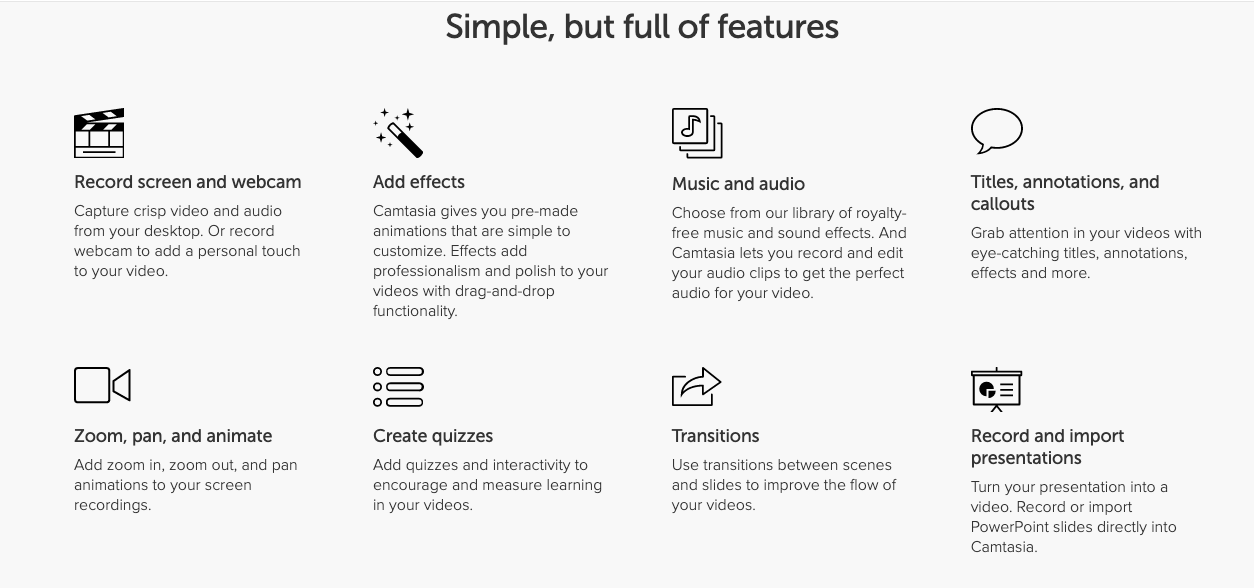 TechSmith Camtasia is the ultimate solution to video recording and editing. In fact, Camtasia can be the best alternative to Kinemaster if you are looking forward to creating some tutorial videos. With its screen recording option, you can capture some high-quality videos right from your computer screen.
Plus, you can even edit the videos on the very same platform and make it look more organized. On top of that, Camtasia even lets you add PowerPoint presentations as a supplement to your content. Therefore, if you are holding on to any video conference or meetings, it can be your best pick.
In addition, it features a very simple yet interactive interface that anybody can get used to. Interestingly it supports 4K videos and provides tons of tutorial videos to give yourself an easy start.
Features of Camtasia
Simple to use
Multiple video layers
Audio Mixing
VFX, Chroma, and Effects
5. NHC VideoPad
In case you are looking for a more basic video editing tool, NHC Videopad can be the perfect option for you. It does not provide you with professional tools, unlike Camtasia or Power Director. Hence, it features a very simple and easy to use user interface. Plus, VideoPad also supports all popular video formats, including MP4, DIVX, AVI, MPEG, and so on.
However, the only con is VideoPad doesn't offer any premade templates. So, you would have to edit your videos from scratch, which is quite difficult for beginners. Apart from that, it provides stunning transitions and video effects like 2D to 3D stereoscopic conversion, adding texts, titles, overlays, chroma keys, etc. Plus, it also offers some purely digital Audio Tools and complete video optimization.
6. Sony Vegas Pro
Need fast, efficient, and professional video editing software? Well, Sony Vegas Pro is the ultimate infusion to all your problems. The Vegas Pro provides lightning speed to your video editing skills. With one of the most flexible interfaces and tons of time-saving tools, you can now edit your videos up to a professional level seamlessly. Moreover, Sony Vegas offers world-class stabilization along with industry-leading HDR support.
Of course, it's a highly professional video editing software with which you can even edit movies, YouTube videos, and more, although it requires high video editing skills and is mostly recommended for professionals. Also, there are a bunch of video tutorials from where you can learn and start editing your videos.
7. Filmora
Filmora is another straightforward video editor available for free. With this software, you can perform all elementary operations and add some cool effects to make your videos look amazing. It provides you with multiple transitions, royalty-free video effects, stock media, audio, and much more.
FilmoraGo comes with a very simple and easy-to-use interface. Furthermore, it offers comprehensive video tutorials for beginners and advanced video editors. Besides, Filmora provides you with all the basic as well as advanced video editing features. It lets you create fast and easy professional-looking videos.
In fact, it's one of those, which provides you with the quality as well as is easy to navigate. You can add slow motions, reverse video effects, edit HD videos, and more. Conclusively, it can be the most reliable option for any beginner or even for advanced users.
8. Davinci Resolve 15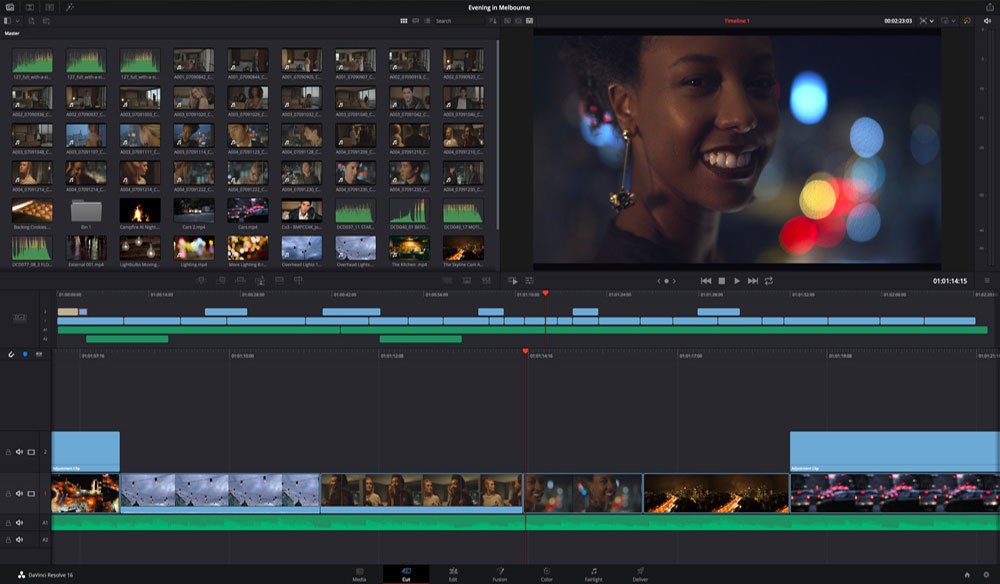 Another free video editing software that comes with a slick and intuitive interface. Davinci Resolve 15 is a fully customizable software that offers you a bunch of cut-edge tools required to make amazing edits. Interestingly, the free version of this application provides you with much of those things for which you most probably have to pay in other software.
Additionally, it comes with a powerful compositor, sound editor, color grader, and fast exports. Moreover, if you want to taste the complete features of this software, you can take the premium plan as well. Davinci Resolve offers the Pro plan at an amazingly comparable price.
This simple-looking software can even take you to a higher level of editing with cinematic quality, VFX compositing, and some breathtaking motion graphics. Hence, with this amazing video editor, you can go from a real basic to a super-advanced level in no time.
Features of DaVinci
Multicam editing,
Colour correction,
Effective video slicing,
Video trimming,
And, audio mastering, etc.
9. Hit Film Express
HitFilmExpress is actually a very popular video editing software. It comes fully loaded with tons-and-tons of essential features for video editing. The best part is, HitFilmExpress is completely available for free, thus. Millions of users rely on it today. However, as a beginner, it might be a pesky little one. But with its training mode, you can level up your skills seamlessly and become a master in video editing.
The software is fully compatible with Mac and Windows machines. And it offers a full professional-grade experience with 2D and 3D compositing and more than 400 unique presets and effects. Perhaps it contains unlimited transitions and tracks, and everything you see around is completely free of cost.
Features of HitFlim
3D video support,
Numerous audio and video filters,
Advanced level of cutting tools,
Layers and masking,
Compositing tools, and much more.
10. Movie Maker
Undoubtedly, Windows is the most widely used operating system across the world. And hence, our last pick-up is specially dedicated to all Windows users. If you are a complete beginner who has no idea at all about video editing, Windows Movie Maker must be the perfect software to start with. Since it features a very simple interface with all basic editing tools.
It won't be a complicated option for anyone as a starter. You can make simple edits such as trimming, merging multiple videos, adding audio and transition, and so on. Although it is a little too simple as the Kinemaster alternative. But that's what you need as a learner.
11. Adobe Premiere Pro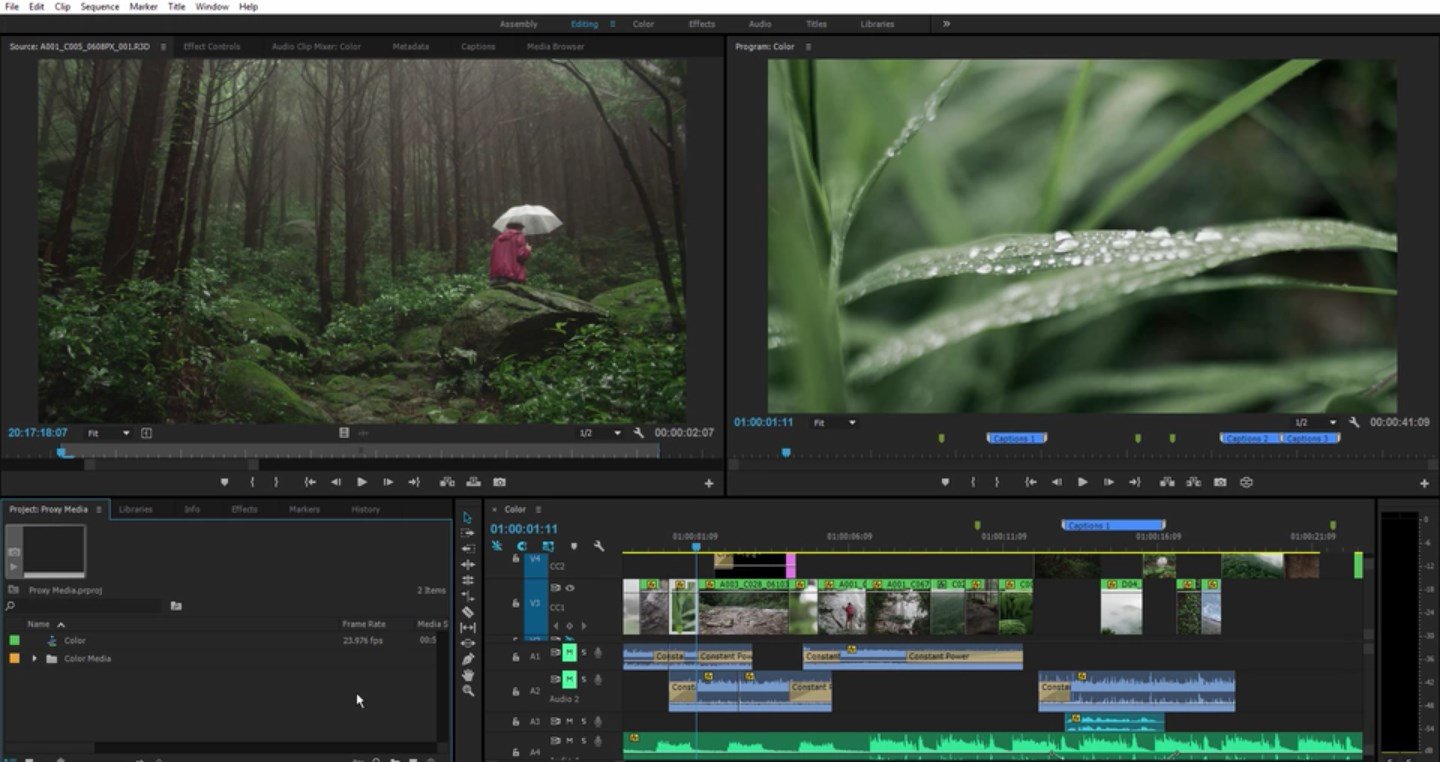 When we talk about photo editing, probably the first software that comes into our minds is Photoshop. Now, for videos, it is Adobe Premiere Pro. Any feature you need, you have got it with Adobe Premiere Pro. The tool offers clean UI and offers seamless integration with other Adobe products like Photoshop for photos, After Effects for animations, or Adobe Audition for audio editing, etc.
According to them, "The video editor is one of the Best in the industry, and 'Adobe' did a fantastic job in it."  They say, "the UI is simple and easy to use". Also, it offers a tremendous number of features, which are loved by millions around the globe. The only downside is the Price. Yes, Price!  This software is expensive.
12. Pinnacle Studio
Another one of the cheap video editing alternatives if you do not want to invest much but want a full-fledged video editing tool on your Windows 10 PC. The Pinnacle Studio offers tons of effects, color correction options, 4k, and multi-cam video editing as well. There are tons of royalty-free audio, music, voice-overs, and more for powerful audio editing as well. The tool is overall very easy to use and has all the features to get going with video editing.
From Editor's Desk
Even though Kinemaster is one of the preferable choices when it comes to mobile video editors, but as there is no such version available for the PC, so we have listed 10 of its best alternatives. The list covers all basic as well as professional, free and also paid software. Hence, you can make your pick based on your necessity.
If you've any thoughts on Top Apps Like KineMaster for PC | Windows (11/10/8) and Mac, then feel free to drop in below comment box. Also, please subscribe to our DigitBin YouTube channel for videos tutorials. Cheers!