YouTube Vanced is a counterfeit version of the YouTube app with features like Dark Mode, Background Play, Pop-Up Box, Ad-block, and more for free. The app is developed by Team Vanced from XDA Developers. You get all the features for free without any complex installation process.
YouTube Vanced offers premium features of the app which you can access without any subscription or pay. The app uses YouTube API and is built on the YouTube framework, therefore it looks, feels, and works like YouTube. You won't be disappointed with the Vanced as it works as an exact clone of the original YouTube App but with some advanced features.
YouTube Vanced is a counterfeit version of the YouTube Premium which is built using the original API sourced from a premium version of the app and coding it to form a feature-rich YouTube app. If you are looking to download YouTube Vanced for Android then DigitBin has come up with direct download links for the app without any spam.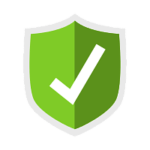 Secure File
What is YouTube Vanced?
YouTube Vanced is a counterfeit version of the YouTube App with some advanced features like Background Music Play, minimized Pop-up box (PiP Mode), dark mode, and more.
If you are not willing to pay for the YouTube Premium subscription and avail all the features (except YouTube Originals) then YouTube Vanced can save your money because it offers all the premium features without any ounce to pay.
Features of YouTube Vanced
Based on YouTube API – Core UI and Functionalities are exactly like YouTube App by Google. The vanced looks exactly like the original YT app.
Ad-Block – No pre-roll, mid-roll, and sponsored ads as it comes with built-in ad-blocker
Background Play – You can just listen to music/audio in the background as the Vanced comes with background video play
PiP Mode – Pop-up video box for multi-tasking, you can watch the video while performing other tasks on the mobile phone with Picture-in-Picture Mode. In simple words, you can reduce the video to take a small portion of your screen so that you do other stuff on your device. (PiP mode is supported only on Android Nougat and above)
Save Offline – Exactly like the original YouTube App you can save the videos offline
Control Cards – Enable/Disable annotations and suggestions Cards on videos.
No Root – The app works without root, you can use the app on any Android device without any issues of system access. Though there is a non-root version.
Support and Stability – Support Android 4.4+ and app is highly stable
Parallel Use – You can use the app along with the default original app. The app has a different package and can run along with the original YouTube App. So, you do not need to uninstall the default YouTube app to use the YouTube Vanced
You can switch between Normal Mode and Dark Mode.
HDR Mode – You can force the app to use HDR or Forced HDR which will improve the video quality considerably. With Forced HDR you can force the app to use the HDR mode.
Override Resolution – Override max resolution to make the vanced show the video in the quality not enabled for your device.
Pinch to zoom – You can pinch out to zoom the video to cover the full aspect of the screen.
Swipe Controls – You can control volume and brightness with simple gesture control making you explore the most out of the Vanced YT app
Vanced Settings – You also get customized settings for the vanced app with more detailed control over the video play and preference
Is the App Safe to Use?
The app is built by Team Vanced who are prior developers of the popular YouTube downloader app iYTBP. The app is tested on various devices for stability and malware with various anti-virus apps and in the tests, the app is found to be safe.
How to Install YouTube Vanced?
Here are simple steps to Download and Install YouTube Vanced on your Android phone.
Step 1. Go to Download Page and download the YouTube Vanced from the direct links available.
Step 2. Now Enable Unknown Sources from the settings of your app. Settings → Security → Unknown Sources → Turn it ON
Step 3. Install the YT Vanced APK file.
Step 4. Optionally you can install the MicroG app. MicroG is needed if you wish to login with your Google Account on YouTube Vanced.
Step 5. Give all the necessary permissions if asked and enjoy the premium experience for free with YouTube Vanced
Read – Download YouTube Mod APK
Video Tutorial
Here is a simple video tutorial describing the basic features and installation procedure for the YouTube Vanced.
YouTube Premium for Free With YouTube Vanced for Android
How to Install YouTube Vanced 15.05.54 with SAI?
Here are the Simple Steps to Install YouTube Vanced using SAI Installer.
Step 1. Download both YT Vanced and MicroG on your device.
Step 2. Now install SAI Installer from Google Play Store.
Step 3. Open the SAI app, click install APKs and locate the MicroG APK in the File Manager.
Step 4. Select the MicroG file and install APK with SAI.
Step 5. Once the MicroG is installed again in the SAI app, click Install APKs and locate the YT Vanced apks file in the File Manager. Right tick the YT Vanced.apks file and click Select.
Step 7. Once done you can now enjoy the latest YouTube Vanced APK for Android with all premium features.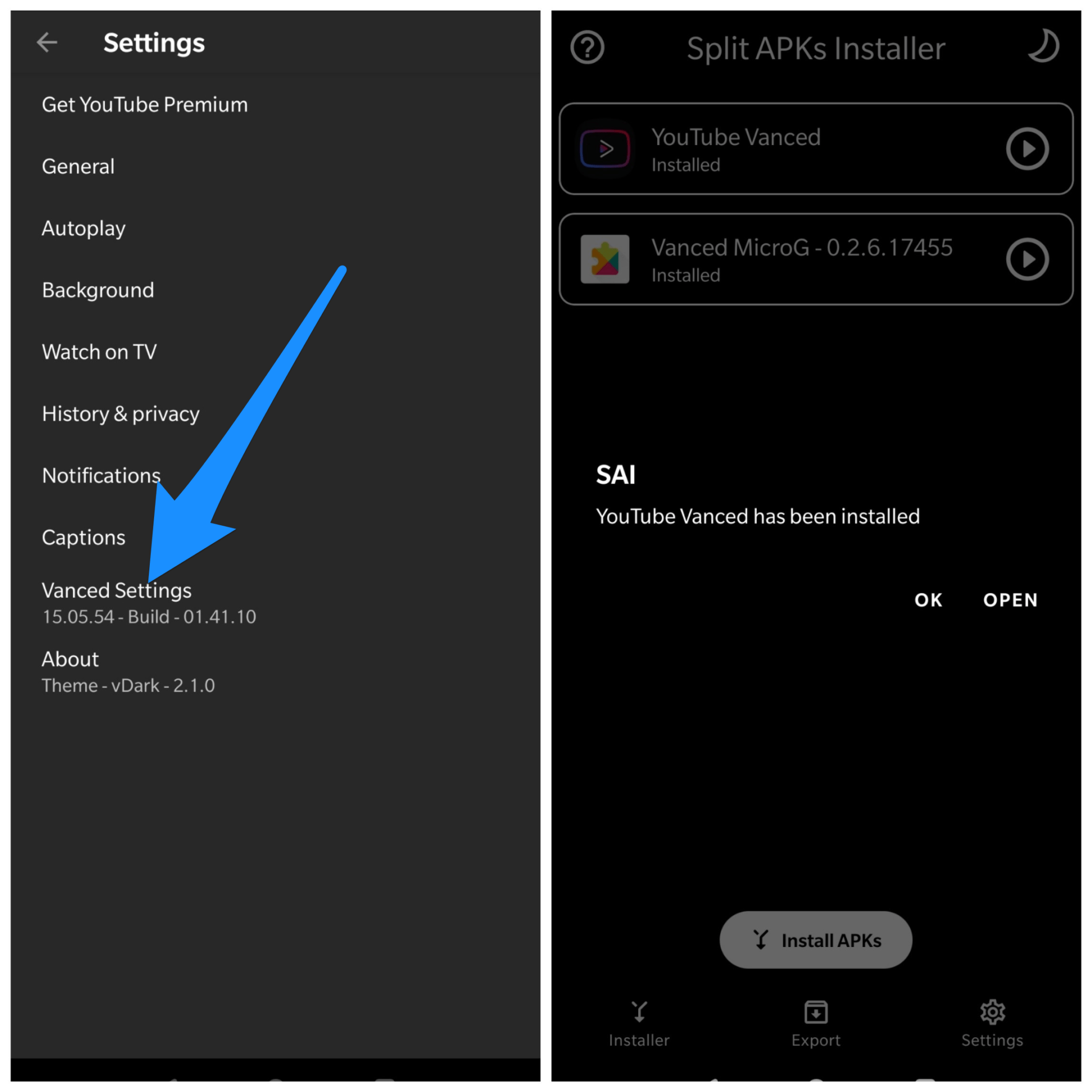 What if You are Facing Issues with the App?
Here are some common issues which you may face while using the app.
Fix App Not Installed
If you are facing issues while installing the app then I recommend you clear the junk files and cache with a cleaner app and than try installing the app. You can also try an older version of the app if the issue is with app and OS compatibility.
You can also try an alternative working method – Fix 'App Not Installed' Error on Android
Fix App not Working
Make sure you have granted all the permissions to the app. Also, try to clear the cache and internet network and check for its working. You can also try an older version of the app.
Fix Login Issues with the App
Note: If you are unable to login, uninstall Chrome, or Disable the Chrome App
Basically, the app is stable and there is not much we can do if the app is not working apart from Clearing the Data and Cache.
Make sure you have installed the microG App. The microG App doesn't perform any major function by itself but assists in the normal functioning of App.
Make sure you have granted all the permissions to YouTube under App Settings in Android.
Settings → Apps/All Apps/Manage Apps → YouTube App → Permissions (All Turn ON)
How to Install Vanced 15.05.54 without SAI Installer?
You can Install YouTube Vanced 15.05.54 without SAI Installer just by using Vanced APK and MicroG. Just enable Unkown Sources when asked.
Files to Download
Here are the steps to Download and Install YouTube Vanced without SAI Installer
1. Download both the files on your Android device. (Enable Unknown sources if prompted).
2. Now first Install YT Vanced APK and then MicroG. (Both Apps need to be installed)
3. If installation fails than reverse the sequence of installation, first install MicroG and then YT Vanced.
4. Open Vanced app and Login with your Google Account to access premium features
Note: If the Vanced app is not opening, just clear all the tabs and restart the app.
Download YouTube Vanced 15.25.37 APK without SAI Installer
Conclusion: If you are looking for an availing YouTube Premium Features without any Subscription Pay than Vanced YouTube by Team Vanced is the best YouTube Alternative with all core UI and API framework as a conventional YouTube App with premium functions.
Note: I am not the developer of the app nor I am affiliated with it any form. I am just hosting the links from the global resource.
If you've any thoughts on Download YouTube Vanced APK for Advanced YouTube Features, then feel free to drop in below comment box. Also, please subscribe to our DigitBin YouTube channel for videos tutorials. Cheers!