Who doesn't love listening to music? It is the best stress buster that disconnects you from your hectic world. There are plenty of sources from where you can stream or even download music. However, they often come at a price or demand a premium subscription in order to unlock the ability to download music for free. Moreover, there are several websites offering free music, but most often you have displayed a barrage of ads and ultimately, the whole purpose of downloading free music gets lost while dismissing the ads.
In this post, we will give you a list of websites and apps from where you will be able to download free music. These are all legit sources from where you can download all your favorite music for free and listen to it, anytime you want. Besides, all these websites have tons of free music, capable to suit everyone's needs. So, with that being said, let us get straight into the article itself:
Download Songs & Music for Free
Here are the Best Online Sites to Download Music for Free without any payment
Visit YouTube.com or YouTube App and search for your favorite song or music you are looking for.
Now open YTMp3 Downloader Site on your Mobile or Web Browser
Copy & Paste the YouTube Link URL on the Downloader Site
And Download the Music for Free
You can also try YT Music Downloader Apps on your Android Mobile
1. SoundCloud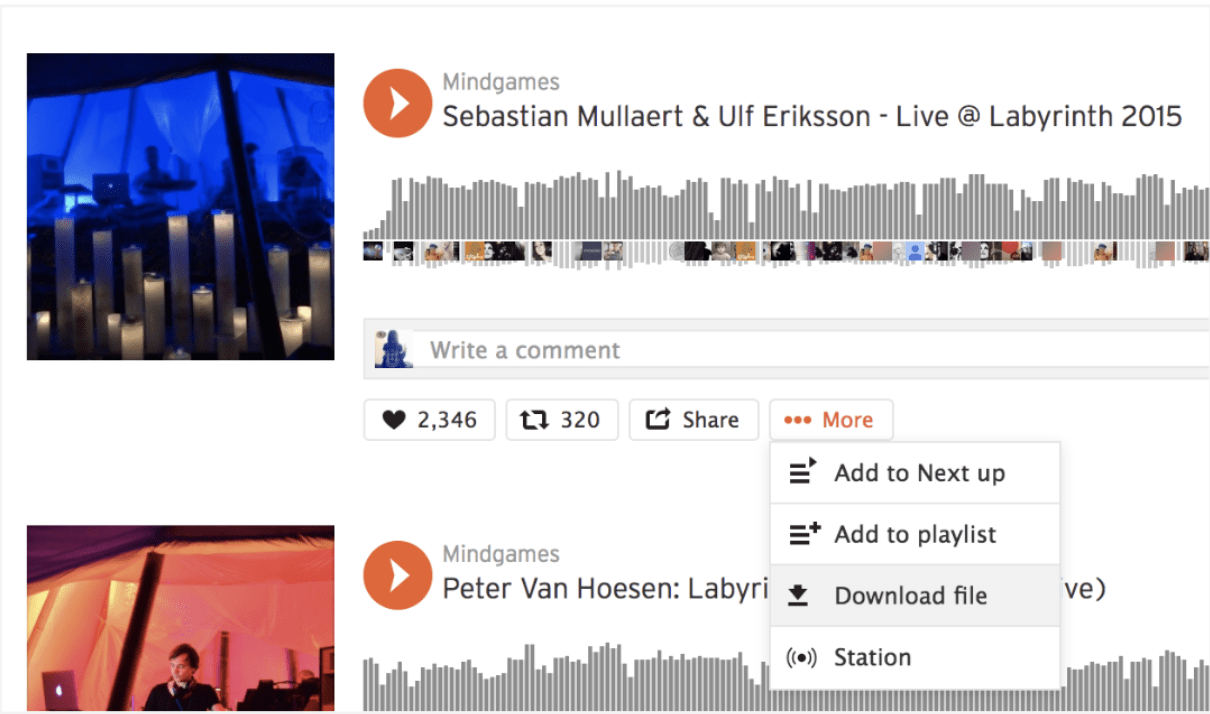 The first website or app that comes to our minds when we think of free music is SoundCloud. This online free audio streaming website has been there since 2007 and is one of the best and popular music streaming website that also lets you download any music for free. There are new artists and there are even popular artists who also share their own songs as well. However, note that not all the songs are downloadable. Only songs that the uploader has made available for download can be downloaded.
2. Free Music Archive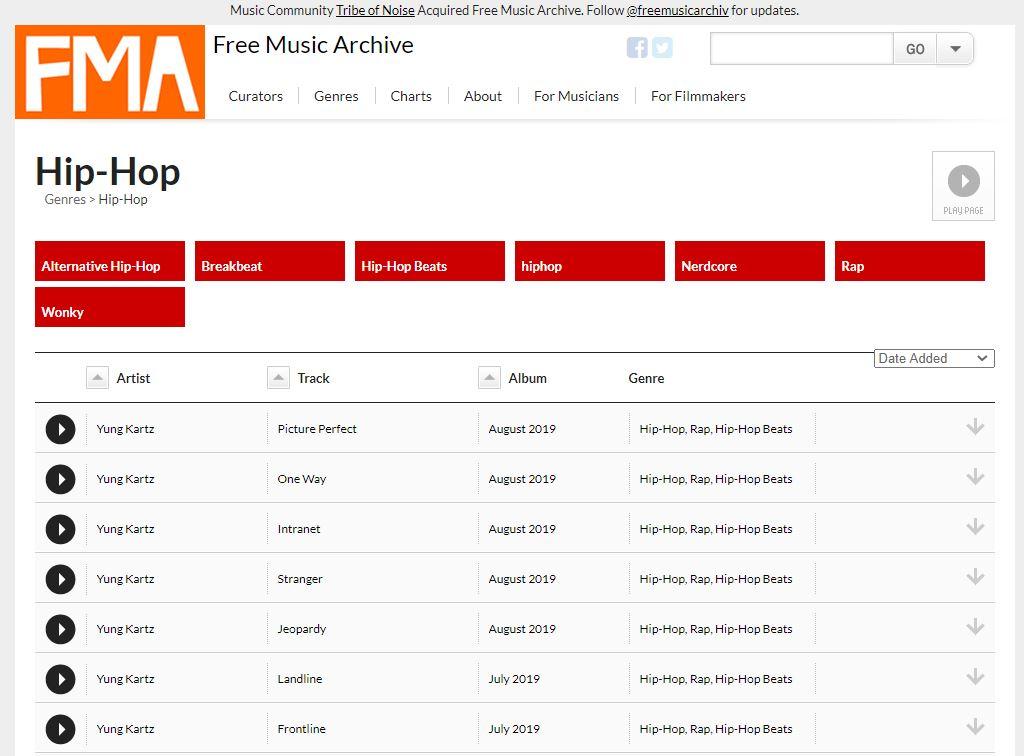 This is another one of the best free music streaming and downloading websites. The collection of songs is also huge and there are numerous artists' songs that you can download. This is another one of those libraries where anyone can upload songs and download music from. Notably, the songs can be downloaded for free without the need of registering on the site. However, note that music is not always of high-quality.
3. Internet Archive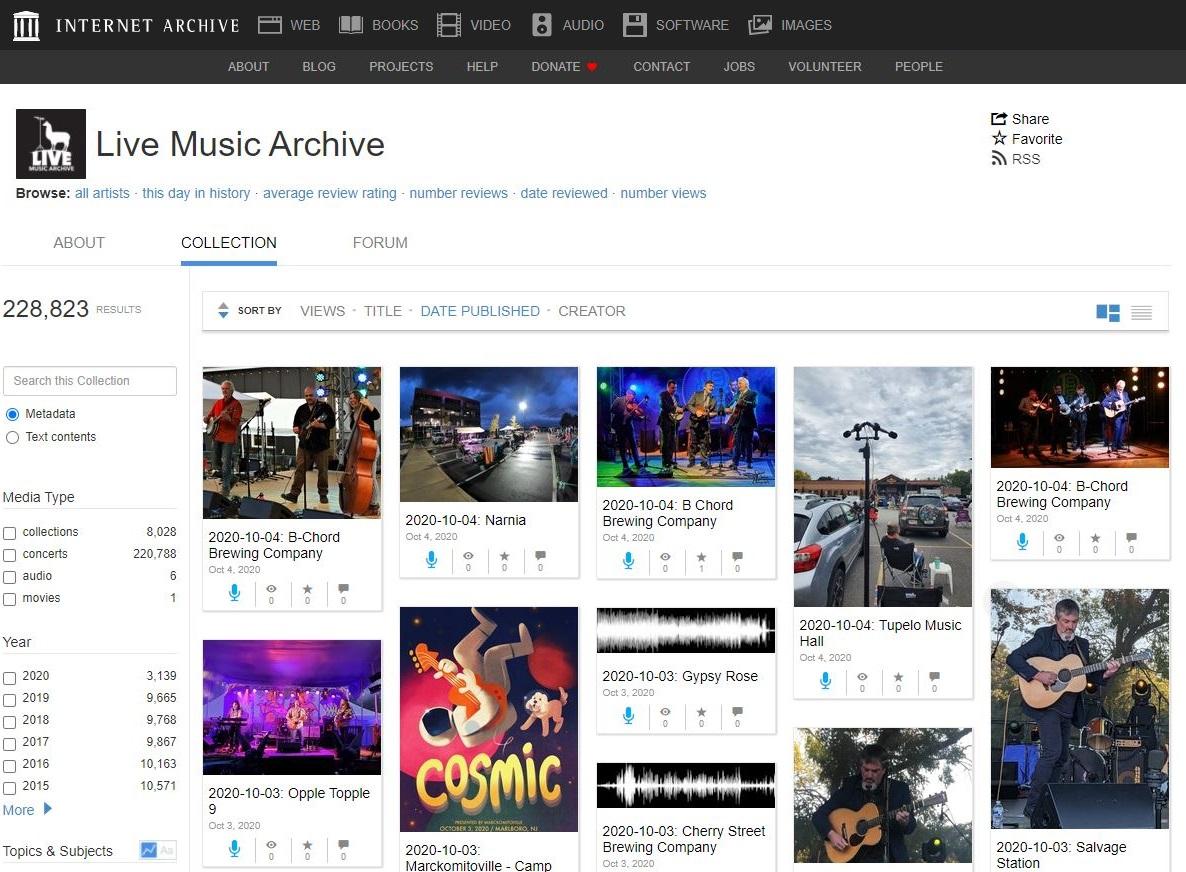 One of the biggest archives from where you can download great free music is the Internet Archive. Everything is free here, from software to music. The audio section of the Internet Archive not only has songs, but it also includes audiobooks, podcasts, live music, etc. However, you will, obviously, have to search for the songs that you wish to download.
4. Jamendo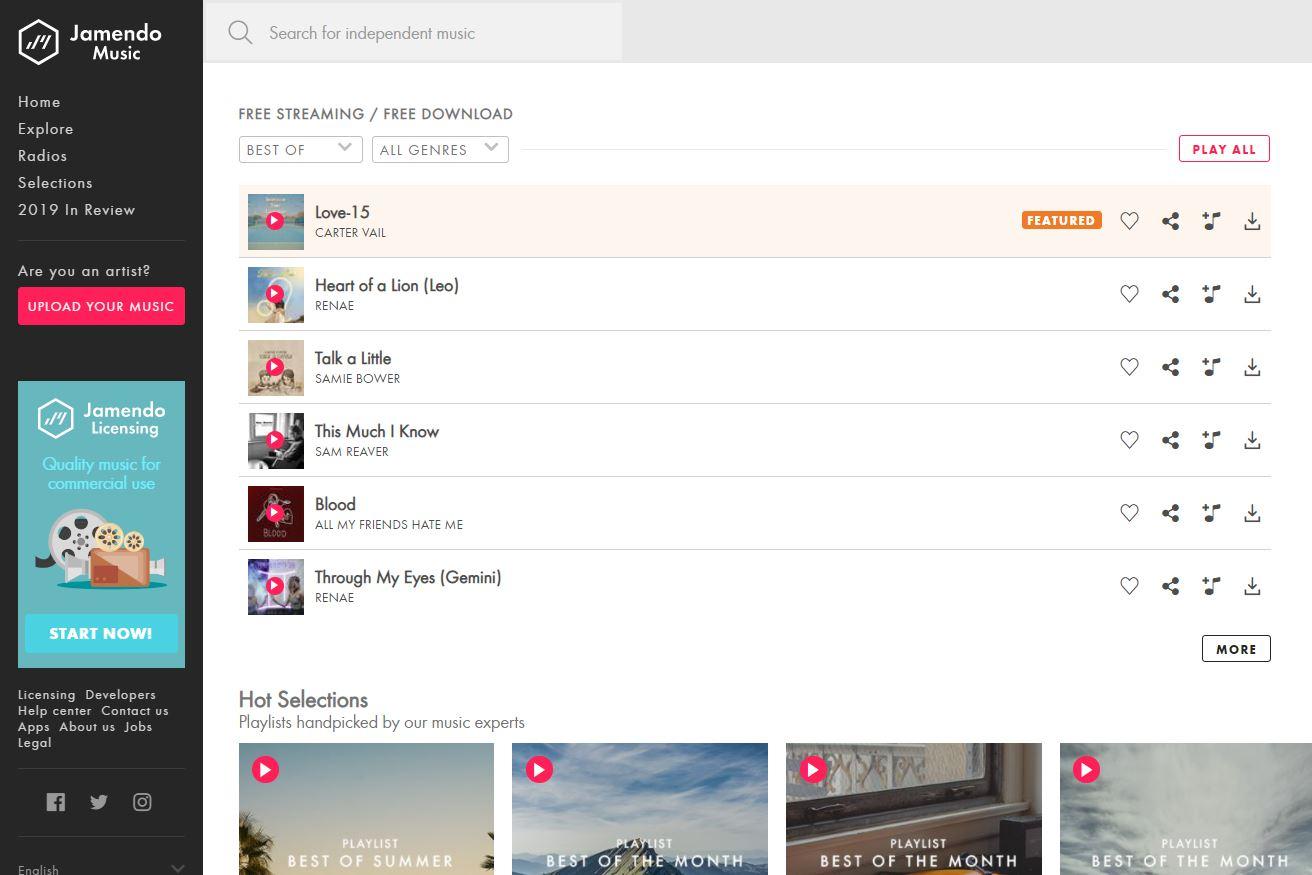 Jamendo offers a collection of free music from artists uploading their originals or cover songs. You can stream or download as many times as you want without the need of signing in. This royalty-free music website has also seen songs uploaded by several popular artists for free. The collection of songs is huge and is also available to download for free, which makes it a huge library. It is available in six languages, i.e. English, French, Spanish, German, Italian, and Polish. The website also has a dedicated iOS and Android app.
5. Musopen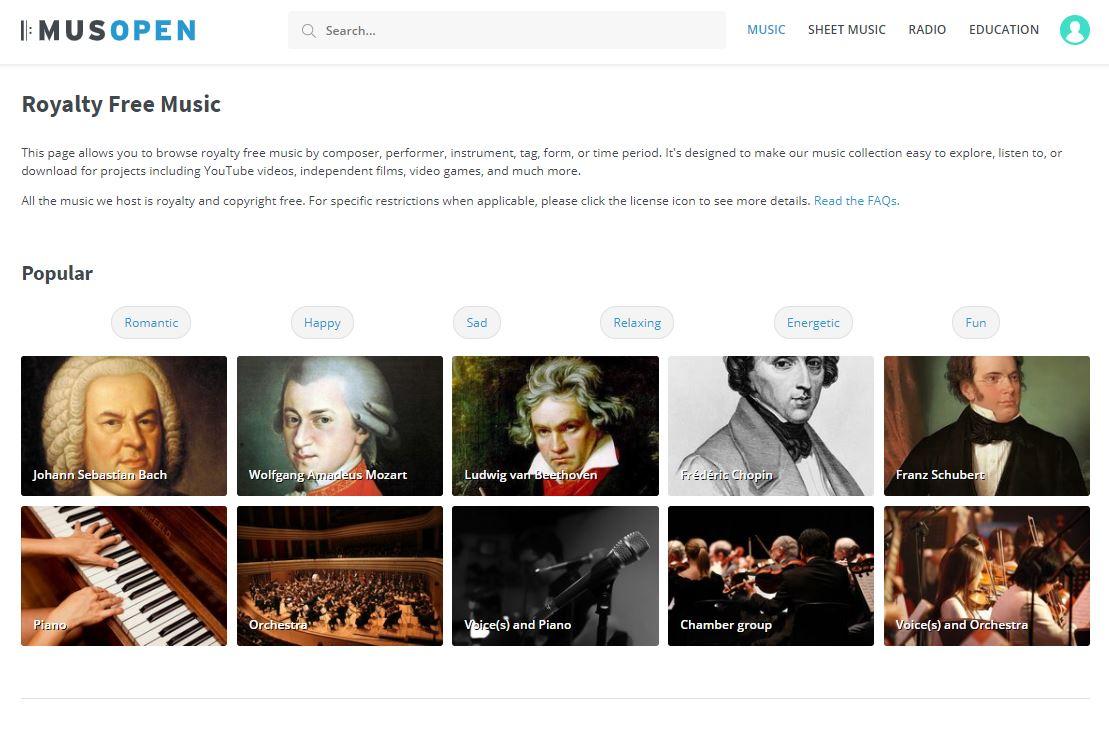 While most of the other free music download sources concentrate on providing more hip-hop, rock, or pop collection, Musopen is a place for all the classic song lovers. You get the music to download from Bach and Beethoven to Tchaikovsky and Holst. The library is huge and is filled with classical masterpieces. The search option is also pretty wide as users can search for any songs based on performer, instrument, date, etc. and download them on their device.
6. SoundClick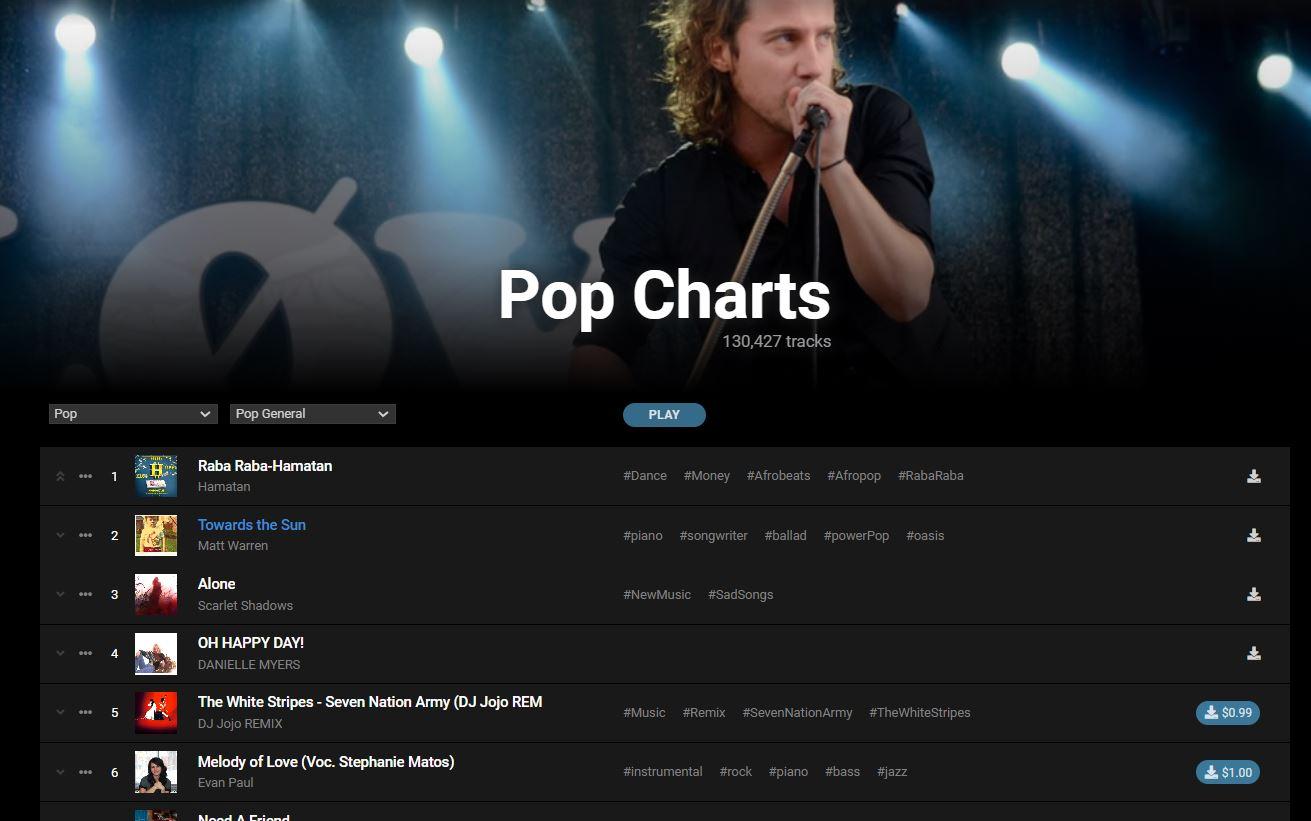 Another good source for download free music is SoundClick. Note that not all the songs are available to download for free, but there is a vast collection of songs from all various genres that would be sufficient to feed your music needs. Moreover, you do not need to sign in to download any songs and this website features plenty of signed as well as unsigned artists. The collection is pretty neat and I have personally been using this website for quite a while now.
7. Last.fm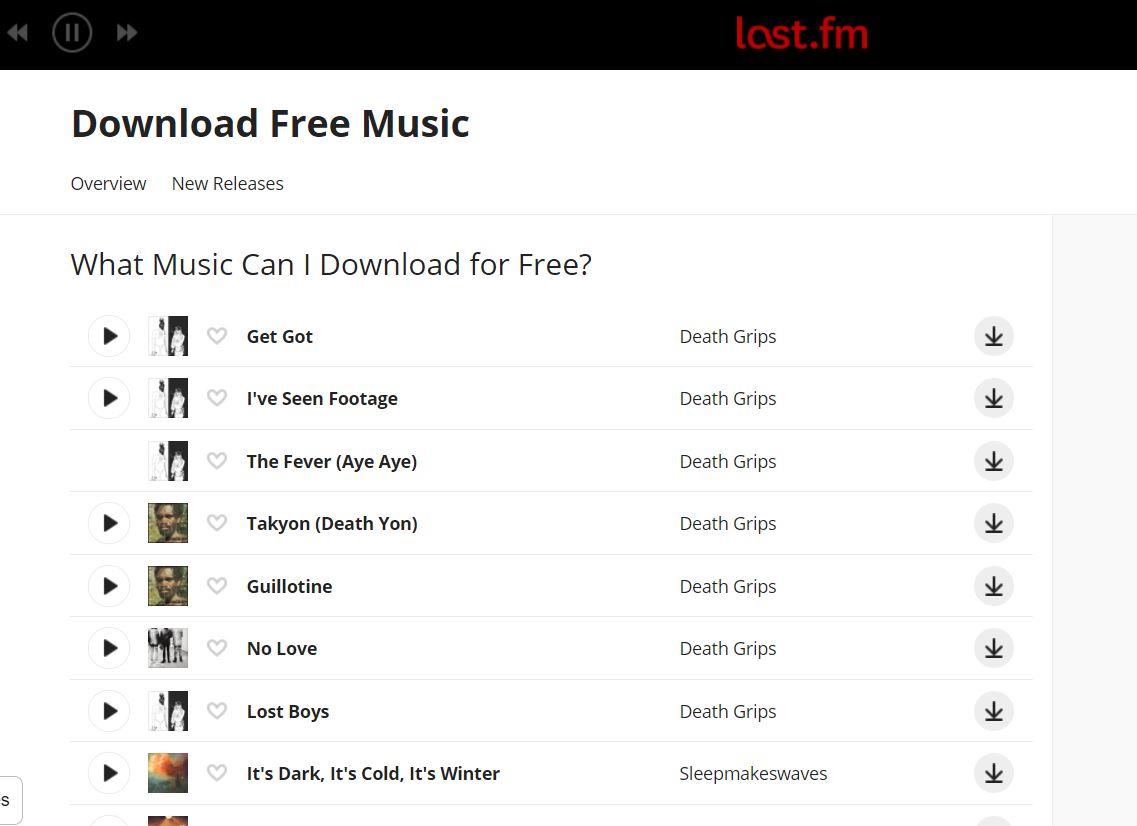 If you prefer a one-click download, then the Last.fm is one of the best sources to do that. It also features a wide variety of songs that are available to download within a click of a button. The songs are from a variety of genres, making it suitable for all music fans. The songs are categorized as new releases, coming soon, or by simply looking through the whole list.
Conclusion
So, that's it from my side in this post. Note that YouTube has the ultimate collection of any songs you could ever think of. However, downloading stuff from YouTube can be a bit challenging and is not always advised to download songs illegally from YouTube using third-party downloading tools. Well, we can't stop people from downloading songs from YouTube, nor we can advise them. It is basically up to you how you wish to get your songs on your devices.
If you've any thoughts on How to download Music for Free?, then feel free to drop in below comment box. Also, please subscribe to our DigitBin YouTube channel for videos tutorials. Cheers!