It's pretty easy to record a video using a smartphone these days. But, it's quite difficult to convert that video clip to amazing content using a video editor before sharing. While video editing has been traditionally delivered on highly equipped desktops and PC machines. This smartphone era has shifted everything at the fingertips. Every day there are a bunch of video editors apps developed and added into PlayStore. It has become difficult to judge what suits you best for your requirements.
Hence, crafted this curated list of the best video editor apps for every Android device. The apps are amazing and power-packed with different features and capable of providing the best controls to video content creators. Best of all – most editing apps are free to use with some in-app purchases. While most of the apps mentioned have relatively similar features with little ups & downs, hence, the list is not sequenced based on the ranking factor, but just arranged randomly.
This video editor's list is updated regularly, so please keep checking the page for any new additions. Without further ado, let's dive into the 7 best video editor apps for Android phones.
Best Free Video Editor Apps
Here are the Best Video Editor Apps for Android to create cool videos and great effects on mobile.
1. FilmoraGo – Video Editor
FilmoraGo is an amazing Android video editor app with a lot of basic features readily available for free. You can perform the primary functions like cutting, trimming, adding themes and custom music, etc. You can also add the transitions, control speed for slow motion, add overlay text and gifs to make video output attractive.
The app supports multiple export formats suitable for social media channels like 1:1 for Instagram, 16:9 ratio screen for YouTube.
It also supports direct upload to social media or saving into your gallery.
The only drawback we found in the free version is adding the wordmark at the end of the video, however, which can be eliminated by upgrading to a premium version.
Best Video Editing App For Android, FilmoraGo (with Themes & Effects!)
Pricing
Basic Version: Free with wordmark at end of the clip
Pro Version: $7.99
What did I like?
A large collection of pre-built templates and effects
Easy to add custom music, and royalty-free sounds from the library
Ability to add the motion graphic effects and overlay on the video
Photos and video importing from external social sites like Facebook & Instagram
The video edits can be previewed in real-time
2. Adobe Premiere Rush
We all are aware of Adobe Premiere Pro and After Effects, they are the strong beast in the video editing field. The Adobe Premiere Rush is the baby version of Premiere Pro which enables you to edit the videos from your Android smartphones.
The outstanding feature in Premiere Rush is the ability to automatically create the video based on similar photos. While it also can perform the basic video editing functions like cutting, trimming, adding filters, music, etc. unlike other apps – it's not bombarded with sticky ads.
Even Premiere Rush can directly upload the creation into social media sites and/or store it locally on the device.
Pricing
What did I like?
No distinguished free and pro version, all the super-rich features are absolutely free
No annoying sticky or popup ads
The video can be exported into Adobe Premiere Pro CC
Automatic mode to create video instantly from selected photos and videos
3. Kinemaster – Video Editor
The Kinemaster is another powerful rich-featured video editor with a sleek and intuitive design. It has a drag-n-drop functionality with easy to upload media files making it beginner-friendly.
Kinemaster is built-in with robust controls over the editing to create a professional-level output. You can add the transitions, music, video blocks, overlay text, and subtitles in the video. The play area which has the layering feature makes it easier to visualize and media quite easily.
Though the Free version has all the required high-end features and tools, you need to pay for the professional version to remove the watermark from the output video. You can also download the Kinemaster APK from reliable sources.
Pricing
Basic version: Free with watermark logo throughout video
Pro version: $4.99 subscription per month
What did I like?
Multiple layering can be combined and viewed in the play area for fast editing
Ability to add the filters and effects
Instant preview and editing on the go without leaving the editing screen
Volume controller from the video clippings and background music
4. VivaVideo – Video Editor & Photo Movie
The VivaVideo app is designed beautifully for any level of mastery in the video editing field. The app is built-in with 100s' of themes, effects, and stickers that help the creators to output very professional videos. There are unlimited filters and stickers one can use and add to the video.
The VivaVideo app also has the feature to create SlowMo videos and SlideShow out of the pictures and videos. The essential features like cutting, trimming, merging clips, pasting the video, etc. are readily available at ease. You can also add the text and subtitles overlay to make a compelling story.
Even VivaVideo supports exporting and uploading the output videos directly into Facebook, Twitter, Instagram, YouTube, etc.
You can also save the work locally on the device just like other video editors.
VivaVideo: Google Play Store Preview Video
Pricing
Basic version: Free with logo watermark in the video
Pro version: $3.99
What did I like?
Built-in slow motions and slideshow editor to create a personal movie
Various transition effects to convert video into a masterpiece
Huge collection of video collage and themes template to select and apply
5. PowerDirector – Video Editor & Video Maker
From the makers of very well-known disk burning software CyberLink, the PowerDirector is an amazing fully featured video app on should be using day-to-day.
While the controls are kind of hard to understand for beginners, however, once they get used you can create a very professional and effect-rich video output in a few minutes. It has numerous effects and transitions to add to your video creation.
The PowerDirector also supports creating green screen videos and adding VFX effects. The PowerDirector has hosted a full list of video tutorials for learning enthusiasts.
While most of the features are available in the free version, but you may need to upgrade for removing the watermark ads and export video in 2K and more screen resolution sizes. By the way, it only supports Android 4.3 and above versions.
PowerDirector Video Editor App for Android | Timeline Editing On-the-Go
Pricing
Basic version: Free
Pro version: $5.99
What did I like?
Ability to work on the video timeline bar
Video can be exported up to a 4K resolution
In-built SlowMo video editor for Slow Motion Video clip creation
Ability to create the video with a green screen, and add transparency
6. Quik – Video Editor for Photos, Clips, and Music
The Quik is another smart video editor for Android phones from the makers of GoPro. The Quik is really fast and free without ads.
It has the automatic video capability of selecting video clips or photos. You can further customize the suggestion.
The Quik also supports the essential function just like any other app mentioned. It helps in keeping the photos and video synchronized with the beat of the music. Hence, we say it is a smart app. You can choose from a variety of transitions, graphics, effects, and fonts to match the style of the video.
Ability to add the custom texts along with emoji as overlays on the video frame. And with the library of sound, find the perfect track for a great video.
You can post your work directly on the social media site or even have it saved locally. You can save the export in 60fps for smooth transition effects and high-quality output.
GoPro: Introducing Quik™ | Mobile
Pricing
What did I like?
The video and picture transitions are smartly synced on the music beats and emotion of the video
Compatible with GoPro and Motion Photos
The video can be exported in 60fps to high-quality playback
Photos and video importing from external social sites like Facebook & Instagram
Automatically suggest and create videos out of past videos and photos
Ability to save the project in the draft and work later
7. VideoShow – Video Editor & Maker + Photo Editor
The VideoShow has been in the market for a long and is one of the best video editor apps made to our list. It has a great user-friendly UI making it easier to use and reliable for video editors.
Apart from the basic function, the VideoShow can add text, filters and effects, music and sound effects, and even help in adding the voiceover. The VideoShow App also supports editing the Photos by adding the filters and effects over the original.
The VideoShow can compress the video size at no cost to quality output. You can create a limitless video without worrying about the length and duration. It supports almost all Android devices.
VideoShow-Video Editor, Video Maker, Beauty Camera 2019 new promotional video
Pricing
Basic version: Free
Pro version: up to $19.99 based on features
What did I like?
In-built Slow Motion editor and GIF maker from video clippings
Compress video size losslessly
Huge collection of royalty-free music and sounds
Massive collection of the templates and collage for videos and photos, also a variety of themes
8. InShot
If you are a social media freak then InShot could be your best friend. The App is designed to cater the users who are fond of Facebook, Instagram, Tik Tok, and similar services. The App has a plethora of features which fast processing and simple design for quick results. The Videomaker App lets you adjust the aspect ratio to make it suitable for various social media platforms. InShot is a simple yet very intuitive movie and photo maker App for Android.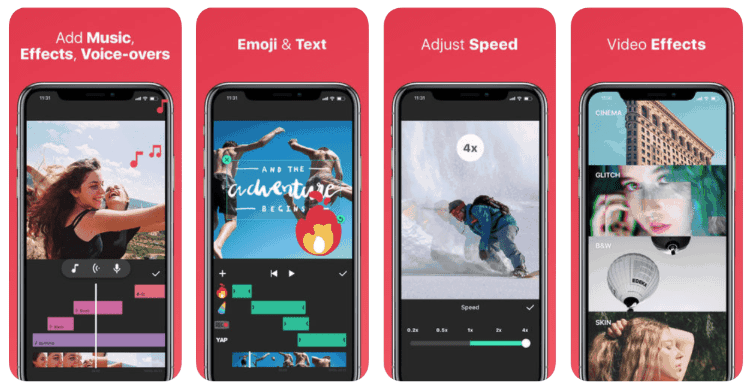 Features of InShot
Filters and video effects (glitch effect.)
Video brightness, contrast, saturation, control, etc
Add background music with fade effect
Video playback control
Crop, Trim and Merger media
Add text, stickers, gifs, and more
Rotate video
Photo slideshow with inbuilt FX and animations
Instant cool effects for Snapchat, Tik Tok, Instagram, Facebook, etc.
Several themes with cool graphic designs.
9. Filmr 
Filmr is an extremely easy-to-use editing app. Its interface and working experience are suitable for both beginners and experts. Talking about its features, you can implement transitions, effects, filters, and more to transform a normal-looking video. Not to mention, all these features are free-to-use.
10. YouCut
YouCut is an App by InShot for more detailed curation of the video. You get control over every basic editable aspect of the video. Create a fantastic photo show or a movie with cinematic FX in 4K quality to export. The App unlike most similar Apps does not come with any watermark on the output. YouCut is simple to use. I recommend this if you are going for some lightweight edits.
Features of YouTube
Video Merger
Video Trimmer & Cutter
Video Splitter & Slicer
No Watermark
Ad-free editing
Video Filters and Effects
Video Color Adjust
Background Changer
Music input and effects.
Video Compressor & Converter
11. Video Maker
Video Maker of Photos with Music & Video Editor is one of the easiest video editing tools with slideshow maker and picture motion effect. The App allows users to create videos smoothly with effects, filters, themes, doodles, gifs, animations, stickers, and background music. You can also trim, merge, voice-over, dub, split, compress and share the edits. Videomaker is a professional video editor App that will satisfy all your video customization needs.
Features of Video Maker
Create Cuts and merge them
Number of Themes for high-end effects
Royalty-free music
Beauty effect and filters
Image animations and stickers
Video Speed controls
Video to Mp3 converter
Beautiful FX effects, GIFs
Live dubbing
Simple to use and consumes fewer resources
Quick export with 720P/1080P HD support
No video limit
12. Funtimate
Funtimate is a popular Videomaker App. It has a unique cult following among many countries. The App offers all the basic editing functions. It is also an instant Video Editing App with several themes and graphic designs which you can embed onto a photo slideshow or a video. Funtimate also offers other basic tools for making an excellent video with all the FX using stickers, gifs, video and audio playback controls, and more.
Features of VideoShow
High level of personalization
Multi-music, transitions, sound effects, and live dubbing
50+ Themes for free
Instant video effects with the pre-built designs.
Multiple music effects
Gif creator with sticker effects
FX, Trim, Cut and Merge effects
Video reverse with Zoom effects
Compress Video file
Aspect ratio settings for various social platforms
13. PicsArt
PicsArt is a well-known editor App. You will get all the features to edit a photo or create a collage. Some features are limited or restricted for which you need to pay to unlock them. But the buy is worth every penny. PicsArt is the ultimate resolve for all your image editing desires. You can start from scratch to create some top-notch edits with over-the-top effects, animations, and FX. PicsArt is a one-stop destination for all who are in awe of creating some dazzling stories. You can also edit videos and add all the animations, effects, stickers, and much more to make your video worth,
Features of PicsArt
Collage Maker with several frames
In-depth effects with all auxiliaries
Drawing feature with colors and paintbrush customization
Sticker Maker and clipart
AI-powered effects
100+ fonts and text calligraphy
frames, backgrounds, borders, callouts & more
Exposure and transparency
Which is your choice for Video Editing?
I personally use the Filmora Video Editor on my Windows 10 machine, and FilmoraGo App closely resembles my desktop version. I've also used the InShot video editor app in the past, however, the FilmoraGo is my first choice.
What is your choice? drop in the below comments and let's discuss.
Oh, by the way, I also use a cinematograph app called Zeotropic which allows adding motions to static images, you can learn more about it in the hyperlink.
If you've any thoughts on 15 Best Video Editor Apps for Android Phone, then feel free to drop in below comment box. Also, please subscribe to our DigitBin YouTube channel for videos tutorials. Cheers!