Well, a new gaming phenomenon has arrived called Among Us. This game has seen a growing fanbase recently and almost all YouTuber and streamers are playing this game. Among Us is an online multiplayer game developed by American game studio InnerSloth that was launched back in 2018. However, it is very recently that this game came out of the blue and became a smash hit. To give you a brief of the gameplay, it takes place in a space shuttle or a space vehicle, where each player has to take one of two roles, i.e. Cremates and Imposter.
The goal is to identify the imposter, who goes on a task to kill everybody on-board, of course sneakingly. If you inf a dead body then it should be reported and an emergy meeting is called upon and the imposter is decided by way of voting. If the voting jots down correct, then the imposter is thrown out of the space shuttle. Though the game might sound cheeky, it is actually a great time-eater and addictive.
In this post, we will talk about all the error codes that have occurred on the Among Us game and how to fix them. Note that these errors have been reported by the users and there are some potential workarounds that you can implement to get rid of them. So, with that being said, let us jump right into the article:
How to Fix Errors on Among Us Game?
Here are all the possible errors and there potential fix to solve any issue son Among Us
Reliable packet 1 (size=16) error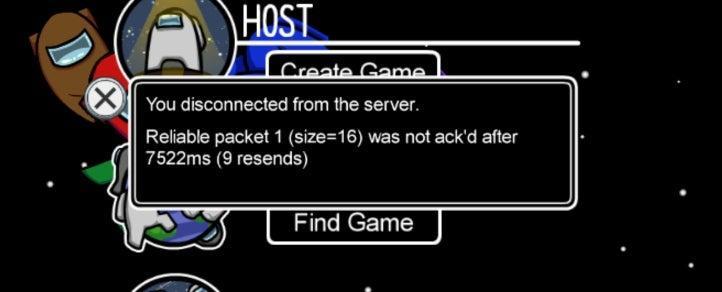 "You Disconnected from the Server" is the most common error. Being a multiplayer game, the server error is bound to happen. And Among Us, becoming one of th fan favorites recently has also fell prey to this issue. Basically, the reliable packet 1 (size=16) error is associated with the server error that prevents players to join and play the game.
Fix: The simple fix for this issue is to try reconnecting to the game servers after some hours or even odd hours. Besides, multiple Reddit users have reported that changing the server region to Asia or Europe fixed this issue in Among Us game. You can also try out using a VPN or a DNS changer.
Reliable packet 1 (size=15) error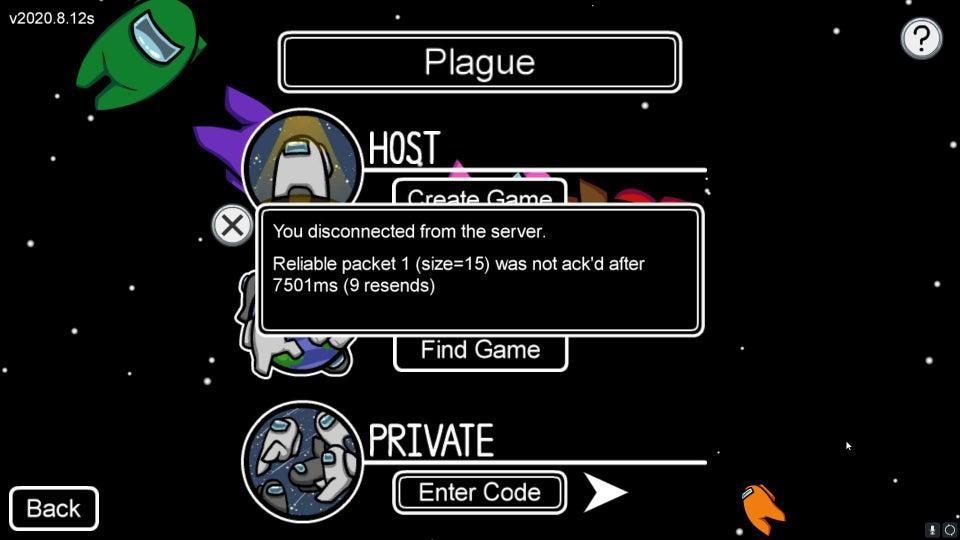 The "Reliable packet 1 (size=15) was not ack'd after" error is a similar error occurring when Among US servers reach their max capacities. However, note that this is an entirely different scenario than the entire server going down.
Fix: You can apply the same solution like the reliable packet 1 (size=16) error, i.e. switching server to Asia or Europe irrespective of the ping. Or else you can use a VPN to connect to a different region.
Could not Send Data as a SocketException Occurered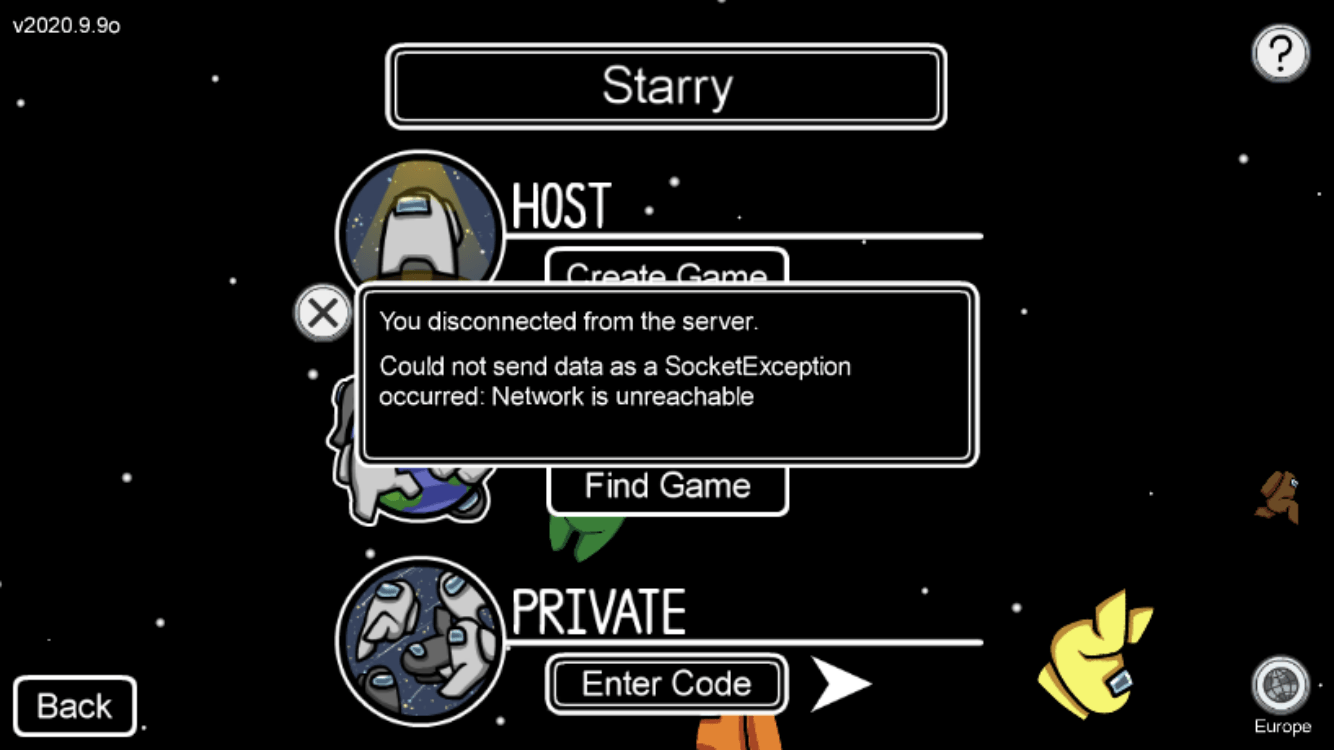 Could not Send Data as a SocketException Occurred: Network Is Unreachable is a common error faced on the mobile version of the game.
Fix: Either change the server to another location or try a DNS changer like 1.1.1.1
'Sent 6 pings that remote has not responded to' Error

The "Sent 6 pings that remote has not responded to" error usually appears when the Among Us servers reach their full capacity. These happen when you play the game in prime hours with a large number of people playing simultaneously on the given server.
Fix: Try switching your server to a different location. The other servers may be less crowded and you may play the game without any issues. If servers automatically stop the game you can also try any VPN to change your location with respect to the games server to make it less crowded on your server and enjoy the play.
'Game not found' or 'You are Running an Older Version of the Game' Error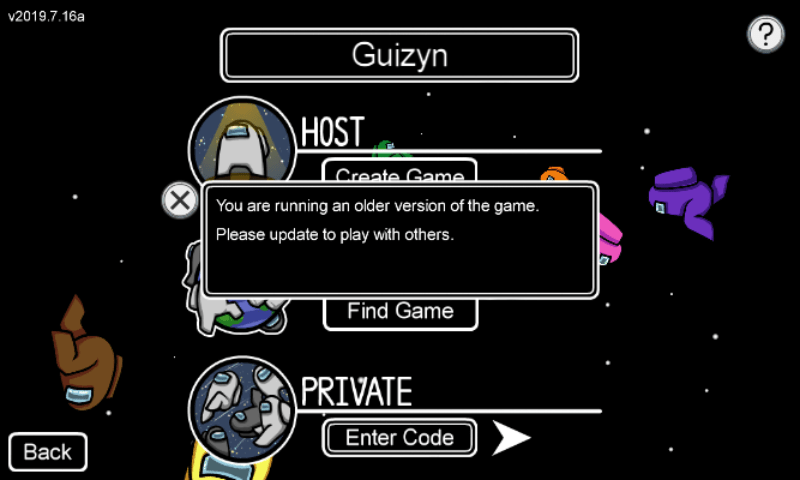 One of the frustrating errors that have crept up for Among US players is the "game not found" or "you are running an older version of the game" error. It is a bug present in the bug that changes the region while you are connecting to play the game. This bug will automatically change to the wrong servers even after changing the servers. This results in room code not found error.
Fix: You need to head over to "%appdata%\..\LocalLow\Innersloth\Among Us" and delete the file "serverInfo2." Another workaround is to go to Steam Manage > Betas and change the version. Let the game download and then launch the game. Once the game launches quit the game and change back to the stable.
If nothing works you can Steam Client > Library > right-click on Among Us > Properties > Local Files > click on Verify Integrity of Game Files to repair the Among Us game.
'Matchmaker is Full' error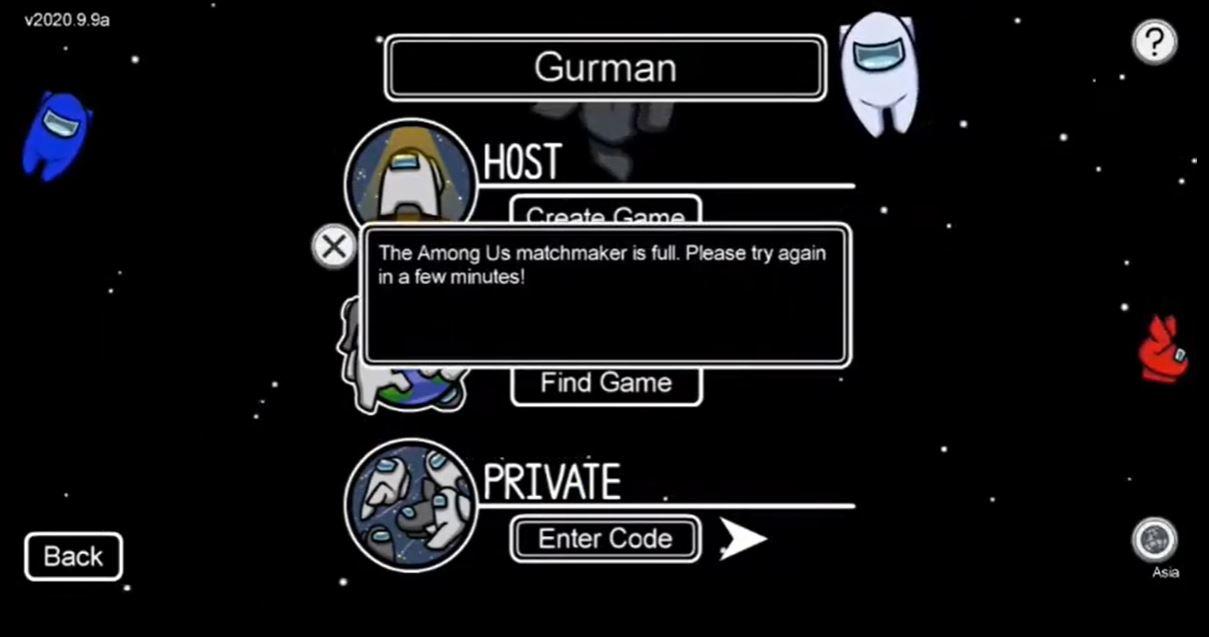 This error is also associated with the servers of Among Us game. Seeing the popularity of the game rise up, the servers are unable to manage the capacity at the moment, resulting in multiple server errors.
Fix: A quick fix for this would be to use a VPN to change the region. Another potential workaround that did the job for many is to reset your router and check if there are any updates to the game.
'Can't Connect to Game' error
Multiple users have reported this can't connect to game error which is another variant of the "game not found" error. This error is predominantly appearing even after users are trying to connect a game via the code they have at hand.
Fix: As per user reports, changing the region, repairing the game, reinstalling the game, and making adjustments to internet services via VPNs, IP addresses, or even a full re-install of the drivers have reportedly fixed this issue.
Conclusion: So, there you have it from my side in this post. These are the most common errors that have appeared on the Among Us game so far. Note that these are not official fixes submitted by the developers of Among Us. These are user-based potential fixes that you can give a try.
If you've any thoughts on How to Fix All Error Codes and Errors on Among Us Game?, then feel free to drop in below comment box. Also, please subscribe to our DigitBin YouTube channel for videos tutorials. Cheers!