SportSurge is a Live Sports Streaming Site which broadcasts live sports from across the globe. Predominantly Live Sports Streaming Sites are highly imperious as Football, Baseball, Cricket, Tennis, Badminton, Golf, Wrestling, etc are always running on any corner on this planet. With the sites below you can enjoy UEFA Champions League, English Premier League, German Bundesliga, French Ligue 1, Spanish Primera Division, Italian Serie A, Cricket, Badminton, Rugby, NBA, NFL and more.
The Sports Fanatic People are always in the craving for free and reliable sources to watch live sports online. And I will try to fulfill there desire in this post by listing some of the best live streaming sites to watch Sports online. Watching illegal streams that do not have any authorization is a crime and you may end up in jail.
Note: DigitBin do not encourage the use of Pirate Streaming Sites, we are not affiliated with the services in any form. The data below is just for information purpose. Piracy is Cyber Crime, Buy Movies and Watch
About SportSurge
SportsSurge Net stream lives sports from non-legit sources. It is not a very legal source to stream the content. Also, recently the site is under the scanner and most of the links on the site are not working or either dead.
---
Related Links
Free Sports Streming Sites to Watch Live Games Online

MLB Streams | Best Live MLB Streaming Sites
---
About USTVGO
Type of Site – Online Streaming
Owner – Unknown
Commercial – Yes
Domain Registrar – Unknown
Hosting – Cloudflare
Registration – No Need
Written in – HTML, JavaScript, CSS, and PHP
---

The SportsSurge is registered with Namecheap and uses Cloudflare Proxy to hide the identity. The site owner/s has made a private registration to hide his/her identity. The site is hosted on Cloudflare and uses a CDN network to deliver the content faster. Many companies have sued Cloudflare for providing hosting services to piracy sites but Cloudflare said that revoking CDN hosting to such sites won't stop piracy as the sites may switch to a different DNS network.
"If CloudFlare's services were completely unavailable to the allegedly infringing websites, those websites would still exist, and the infringements would continue unabated; the sites would merely load a bit slower and be more susceptible to hacking," said Cloudflare in a court document[PDF]".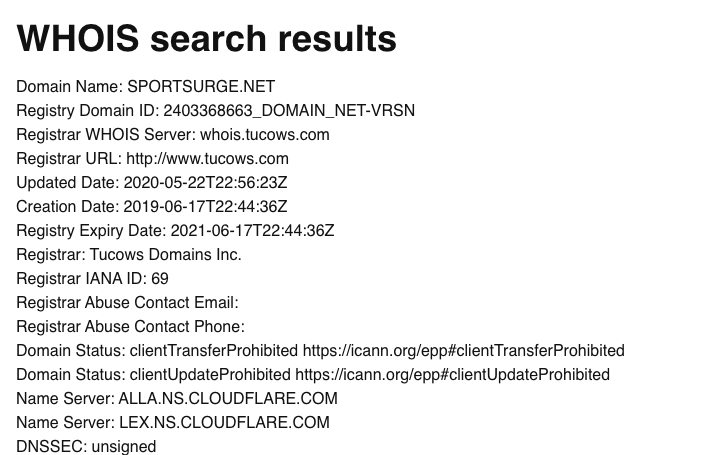 Why Avoid Sportsurge?
If you think a proxy or VPN is good enough to protect yourself then think twice. The federal agencies in your country may track your activity via IP Address, you may end up in jail. So it is better to avoid using pirate sites to access free content.
The services are in a "non-clear" legal grey area. Some countries have very strict litigations on the unethical online Movie and TV streaming, the accused and the perpetrator both may face the wrath of the judicial system.
Has Any Action Been Taken?
The site has recently lost a number of live streams due to multiple restrictions by the broadcasting networks. Though you may get some of the working links on the site. The site is always under the scanner and may be subjected to shut down if the streams continue.
Will I Go to Jail for illegal Stream and Download?
Streaming illegal content is, of course, a punishable offense. But rules vary from country to country, some states have a very stern legislations while some may have nominal laws. Generally, the government attacks the publishers of the sites in an attempt to pull out the root cause.
Many countries have placed in fines and short term prison for first-time offenders. In the US you may face a fine of $750 or more based on the intensity of your cybercrime.
Alternatives to Sportsurge
1. EPLSite
EPL Football hosts the streaming links and when you click on the link you will be directed to EPLSite.UK where you are offered SD and HD links to Stream the live soccer for free. EPLSite.Football is a bit of Gamble, because of the type and amount of content it provides.
2. Reddit SoccerStreams
Reddit.SoccerStreams.net is brought to you by the curators of the popular subreddit r/SoccerStreams. But as the Reddit started cracking down on the subreddits which used to share the links to live sports streaming sites and free online movies, the popular subreddit was also shut down in the process. So they started a separate website that shares multiple links for live streaming matches.
3. USTVGO.TV
A smooth uncluttered live tv streaming platform to watch live sports from the USA. Unlike other sites that are very clumsy and are bombarded with Ads, the USTVGO is simple and without many Ads. It has a very basic video player but loads video without any buffer even if you have a decent internet speed. The site hosts few sports channels and they may have broadcast rights for sports you are looking for.
Offers: Fox Sports 1 & 2, Golf Channel, NBC Sports, NFL Network, Tennis Channel, WWE Network, USA Network, ESPN, ESPN2, NBA TV, NFL Sports.
Features of USTVGO
Over 13 Live Sports Networks from the USA
Fewer Ads
Simple Video Player with Quick load
Simple Site UI and easy to use.
4. LiveTV.SX
LiveTV.sx is a sports streaming site that hosts links for watching sports events. It is not a legal source of watching the content as the service hosts links from various available media. You can watch any major league or international fixture on the platform.
You can enjoy La Liga, UEFA, Badminton, Rugby, NBL, NFL, FIFA, WWE, MMA, and all other major events for free that too without any account or subscription. You just need to look for the live matches on the site and open the link. The only drawback of the service is Ads which are invasive and irritating. If you are OK with it than LiveTVSX is the best free service.
Offers: All Major Fixtures from around the word (UEFA, La Liga, Copa America, FIFA, Badminton, ATP Tours, Rugby, Cricket, and more).
Copy LiveTV.SX | Free
4. Facebook Watch
Facebook is not sitting with folded hands in the growing digital market. It is trying to muscle as much as possible to get a chunk of the pie in the online streaming market. The social media giant has managed to obtain the digital right for a number of streams for different sports. One of the deals allows 'FB Watch' to stream one MLB game per week.
You can stream and watch this for free with a Facebook account. Facebook also has bought rights to many other sports from across the globe allowing users to live stream. It is on a hunt to buy digital rights for Cricket in India and other Cricket Loving nations.
Go to Facebook.com/watch and login
Hit Search videos bar
Type sports, and hit enter
Here Click See All
Now Under source hit Live and enjoy the stream you wish to watch
Offers: MLB, soccer, basketball, cricket. surfing, and other unofficial streams.
Frequently Asked Questions (F.A.Q)
1. Is it safe to use Sports Surge?
Mostly it is safe but if you concerned about your privacy use any good VPN service.
2. Are there pop-ups or redirections?
Yes, the site comes with pop-ups and few redirects.
4. Is the Site free to use?
Yes, the site is completely free and you do not need any registration or pay.
5. Is USTVGO TV Legal?
No, the site is not a very legit streaming platform and lies in a legal grey area. But you can use a VPN in case you are worried about your privacy and safety.
Data Security and Privacy Concerns
The free streaming sites which are not the legal content providers are always on the critical due to data breach and privacy invasion issues. The cyber rouges are always in search of innocent netizens who could fall prey. The use of free non-legal streaming services may also be a crime in your region due to litigations imposed by law.
How to Be Safe?
Some of the App listed above have a lot of programming with copyright infringement under its hood, you may be under the scanner by your government for streaming the content which is not bided by the law. But looking at the nature of the App, there may be very few who could resist themselves from using. You can stream safely by using a VPN service. There are a number of VPN Apps and services covering all types of devices.
What is a VPN?
VPN is a type of online service that hides your data by sending your web usage to another secure location. It forms a secure tunnel to provide end-to-end protection. Therefore, your ISP will not know what you're up to. In other words, it sends your data to a 3rd party country, making it difficult for the service provider to determine the internet behavior of the user.
Conclusion: Though Sports Surge Net is not a legal sports streaming service but if you have no other option you can give it a try. Better use any good VPN to protect your IP and keep your data safe.
If you've any thoughts on SportSurge – Live Sports Streaming Site, then feel free to drop in below comment box. Also, please subscribe to our DigitBin YouTube channel for videos tutorials. Cheers!