If you are looking to cut your cable chord or do not have one and wish to watch Live TV, Movies and Shows than you can. Most of the OTT and VOD streamers have got all the exclusive rights for premium content. You get the latest Movies, TV shows and live TV programming on your streaming devices viz, mobile, desktop or TV. Most of the OTT & VOD providers are paid but still, there are few which offer freemium content albeit with Ads or some limitations like a number of movies or quality of the stream to name a few.
The Internet is on Crackdown to remove the websites which stream Live TV. Movies and TV shows for free without any licensing. Watching illegal streams without authorization is a crime and you may end up in jail or heavy fine based on your local jurisdiction. Almost all the non-legitimate sites do not store the movies on their web servers but search web directory and index torrent search engines to stream the movies and TV shows online for the visitors. The free broadcast of copyrighted content cost billions of dollars to the entertainment media and film production industry.
Almost 95% of online streaming services on the internet are deceiving in nature and they just try to inject malware into your device. Illegitimate websites are potentially harmful and malicious for your system and data, as they are capable enough to harass the privacy and collect sensitive information about you from your device. So, today I have come up with some of the best streaming services and sites to watch movies, shows and live online for free without any copyright infringement issues.
Note: I am not affiliated with any of the services above nor I have any referral program. I do not endorse the services. The rankings are decided purely on the services they offer.
Content at Glance
Best Movie Streaming Services
Here are the Best Movie Streaming Services you can try Right Now to Entertain yourself.
1. Netflix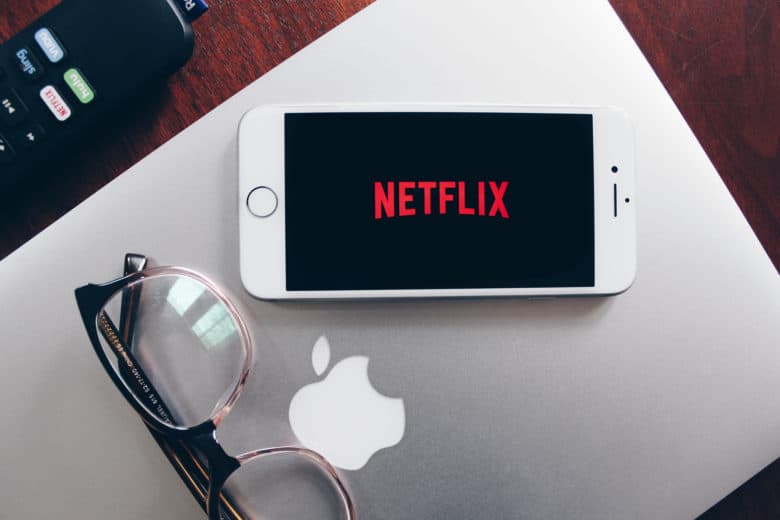 Netflix is the best Streaming Service right now. You would be leaving in the stone age if you have not heard about Netflix. Netflix is the best place to binge-watch shows, watch movies and other highly rated programs. The service hosts most of the popular TV shows along with classics, animations, animes, movies, documentaries and its own originals. Netflix may be called as the epitome of online entertainment given its reach and quality of content offered. If you are seriously looking for some high-quality TV Shows, Movies, Drama and Info-dramas, I recommend you to go with Netflix. Tough Netflix is paid you get a Free Trial for one month to test your likings. The website gets over 1.5 billion visits each month, which itself describes its reach and popularity.
Why Netflix?
Simultaneous streams: 1-4
All the Popular Movies from Big Production Houses
No Ads
The regular influx of Netflix Originals
Support 1080p
Highly rated Shows and Documentaries
Manual video quality settings
Subtitle and Language Support
Visit Netflix | Paid ($8.99/mo)
2. Disney Plus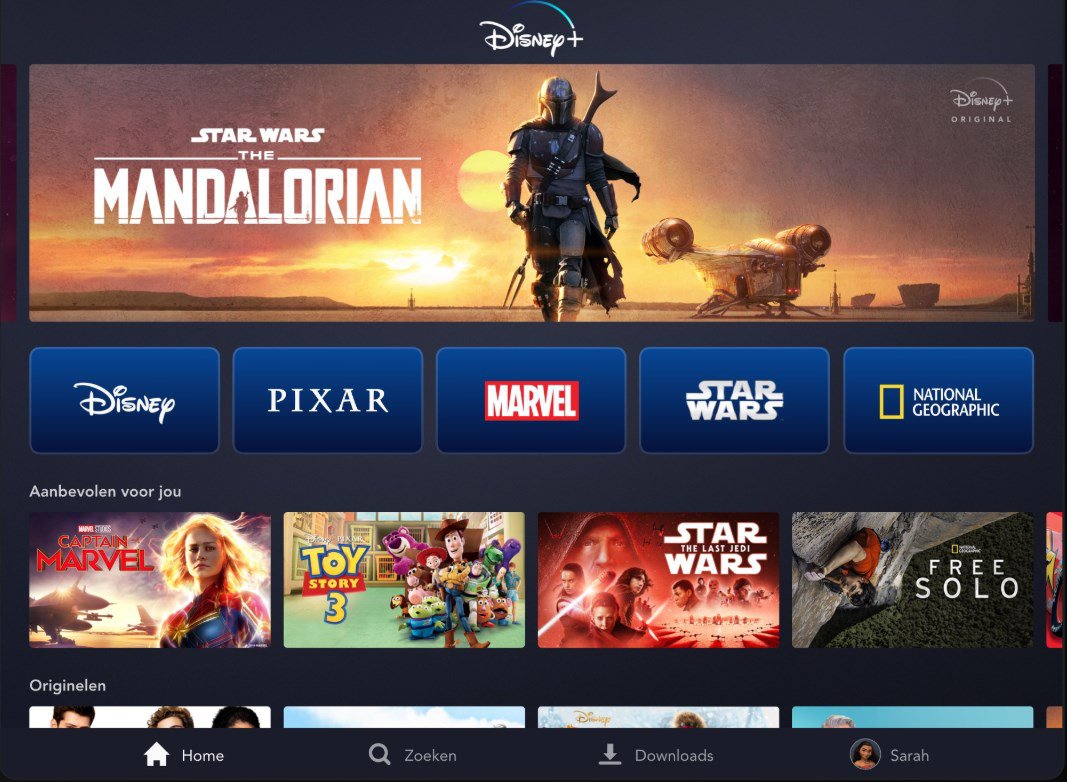 Disney+ is subscription-based video-on-demand which is dubbed as the biggest rival to Netflix. Though compared to Netflix the quantity of content is pretty much low but the quality it offers is very impressive considering it just started its operations. You get some of the hard to find movies on Disney Plus like Star War Series and the very popular Marvel Movies. Since Disney bought Fox Studios you can expect a large number of movies from Disney and Fox. You get premium content from Disney, Pixar, Marvel, Lucasfilm, 20th Century Fox, and National Geographic, as well as original television series and films from Disney Channel and Freeform, and select titles from 20th Century Fox Television and ABC Studios. It just costs $7 per month and it's worth.
Why Disney+?
Simultaneous streams: 4
Premium Movies from Disney, Pixar and Fox
Regularly updated movies
UHD Resolution Support
Access to hard-to-find Disney and Fox Movies
A promising alternative to Netflix
Cheaper than Netflix
3. HBO Now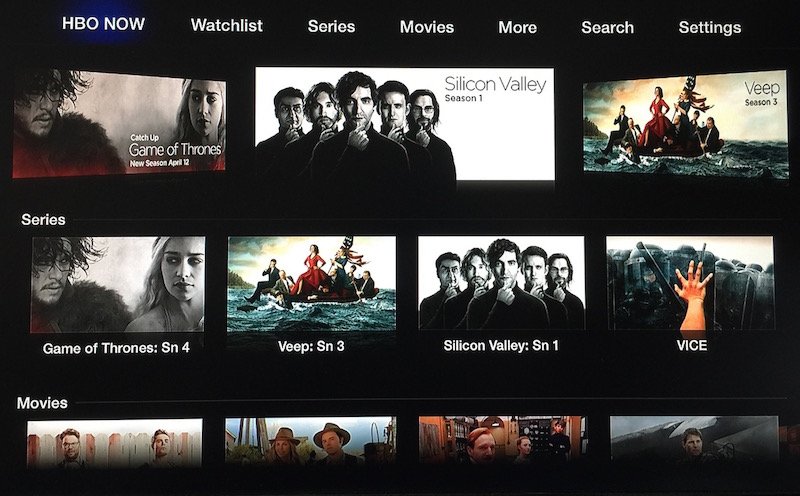 HBO Now is a standalone content delivery service for all the programs and movies by HBO Studios and Partners. You will have passage to a large library of popular TV Shows like Game of Thrones, Westworld, Barry etc. The service has a huge lineup of award-winning series, comedy shows, documentaries and movies which are regularly updated. Though the HBO offers its content at a 'good' price, but looking at the vast assortment of movies and TV shows it has, HBO Now is a very good option to go for. You can watch HBO Now Free for 1 month as a trail. The service costs $14.99/month and there are no hidden charges.
Why HBO Now?
Popular TV Shows and Movies
Award-winning series and shows
Free 1 Month Trial
HD Quality
Access to HBO original Series
Visit HBO Now | Paid ($14.99/mo)
4. Amazon PrimeVideo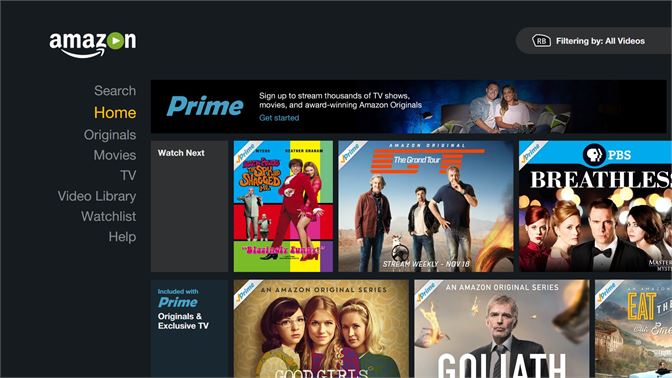 Prime Video by Amazon is the best Alternative to Netflix available in the web world, it is an On-Demand subscription service. The Instant Video hosts a number of Movies, TV Shows, Web Series, Animation and Programs. PrimeVideo is picking up the slack with Netflix, adding new movies for its subscribers each month. The content growth on this platform is very impressive. You can expect movies and shows from some of the best and big production houses in the world.
Apart from entertainment, the Prime Video bagged rights to movies from some of the biggest production houses worldwide. It also acquired digital rights for Live Sports streaming like NFL, ATP and Premier League generally country-specific.
Amazon Prime serves worldwide and holds country-specific rights to some of the premium local content and movies. Prime offers the option to set video quality and customise captions. The programs are categorised according to languages, nature, genre and other in-depth sortation. If you are looking for regular new movies and original TV shows than Prime is the best option to go for which cost $12.99/month
 Why Use Prime Video?
Regularly Updated Latest Movies and Shows
A large amount of regional content
Content for Kids
Video quality and caption settings
Original Series
Visit Instant PrimeVideo | Paid ($12.99/mo)
5. Sony Crackle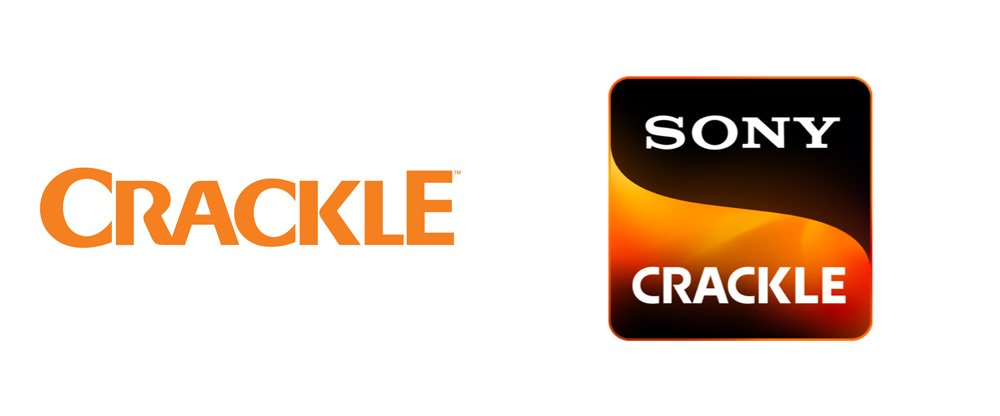 The Crackle by Sony is a free online service available across 20+ countries which let you stream TV Shows and Movies online. Being a Sony Entertainment product you can expect a large number of movies from Sony Pictures. Sony Crackle has a bouquet of movies and has partnered with the number of big production houses. Since you can stream the films for free without any subscription, the service supports itself by running short pre-roll and mid-roll ads every now and then. Given its wide range of movies and the trust of Sony, this service is surely the one which you should try
The Sony has partnered with a number of production houses like 20th Century Fox, MGM, Lionsgate, Funimation, WB, Walt Disney Company, Paramount Pictures, Village Roadshow Entertainment etc. The video library is huge and features content in good quality even if opt to watch it on big screens.
Why Sony Crackle?
Mammoth Library of Movies from various production houses.
Free Movies without Subscription
Good Quality Video Play
Simple Interface
Dedicated Mobile App
Visit Sony Crackle | Free (Ads)
6. Vudu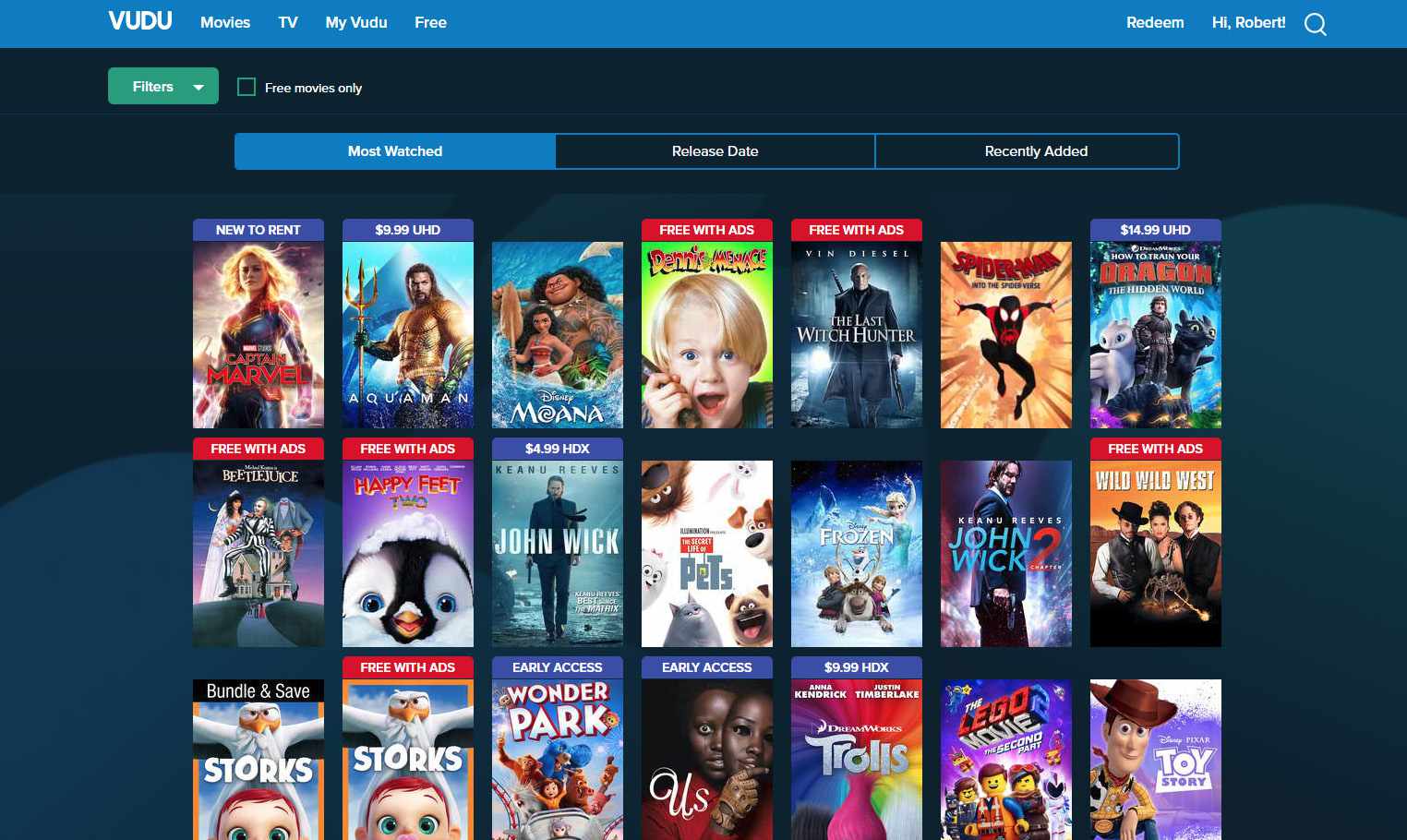 This is another popular content delivery platform similar to Netflix but unlike Netflix, it offers a number of movies and TV shows for free. All Vudu titles are true high definition in 1080 pixels, come with standard Dolby Digital Plus 7.1 surround sound. The best part of Vudu is it offers full-feature length movies in 1080p making it a very right choice for HD streaming. Vudu categorises content into comedy, crime & suspense, action, family & kids, etc. While movies are available for rent. You can watch 1000's of free movies with Ad support on the VUDU at, Movies on Us and New Movies. You need a User Account in order to watch movies at Vudu, even for the content which does not cost, but registration is totally free. Vudu offers some of the best programs and TV shows to watch out with a library of over 20000+ Programs.
Why Vudu?
Free Movies in 1080p
Rent movies you like
Early Access to Latest Movies
Premium Movies and More
7. Tubi TV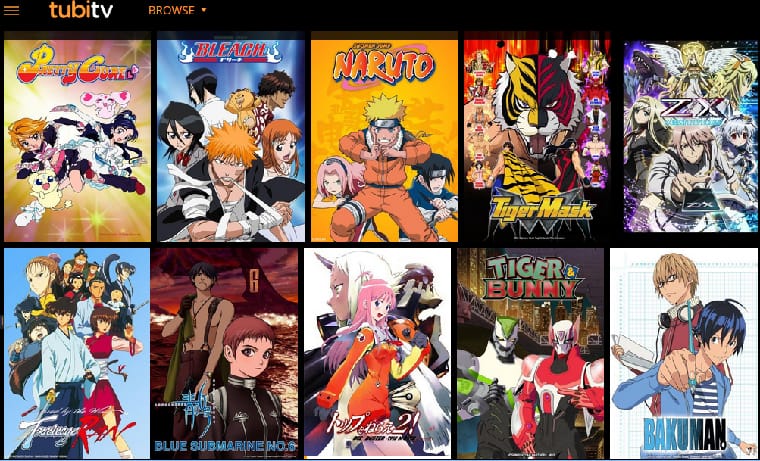 This free service is available globally and houses a bunch of movies and TV shows which is difficult for you to find elsewhere. With a library now surpassing 50,000 titles, second only to Netflix, Tubi TV is the best source of Movies and TV Shows. The site hosts thousands of Movies and TV Shows for all the age groups and that too without any subscription and as a necessity, it runs on Ads. Tubi TV has something to offer for everybody with content ranging from comedy, drama, kids, classics programs, and even Korean dramas, anime, and British series.
Tubi provides free ad-supported content from Paramount Pictures, Metro-Goldwyn-Mayer, and Lionsgate with many Not on Netflix programs. It also hosts a number of independent cinema. So just dive deep to take a ride on the largest library of free media content online.
Why Tubi TV?
Large Number 0f Movies
Asian Content
Critically acclaimed movies and shows
Best Live TV Streaming Services
Here are the Best Live TV Streaming Services you can try Right Now to Watch TV Channels.
1. YouTube TV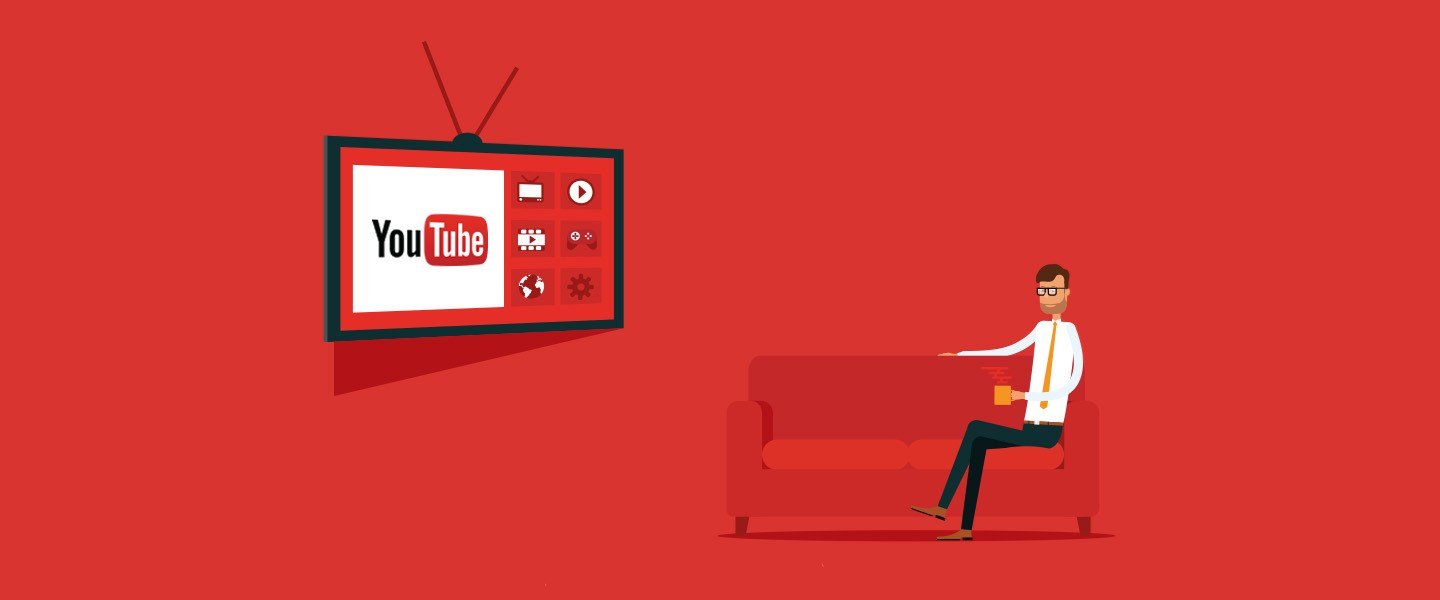 YT TV is an over-the-top content (OTT) streaming subscription service available in the United States.  It includes ABC, CBS, The CW, Fox, NBC and other networks. The service offers Cloud DVR without DVR storage space limits. 6 YouTube TV accounts with individual login and DVR. The service offers more than 80 channels from the US which can be directly streamed on phone or PC without any cable box.
Sports – CBS RSN Channels, ESPN Network, FoxSports, Golf Channel, MLB Network, NBA TV, NBCSN, NESN, Olympic Channel, Tennis Channel etc.
Entertainment – AMC, BBC America, Bravo, Comet, Decades, E!, Freeform, FX, FXM, FXX, IFC, MyNetwork TV, Nat Geo, Nat Geo Wild and many more.
News –  BBC News, Cheddar News, CNBC, CNN, Fox News, HLN, MSNBC.
Kids –  Cartoon Network, Disney, Universal Kids
Visit YouTube TV | Paid ($49.99/mo)
2. Hulu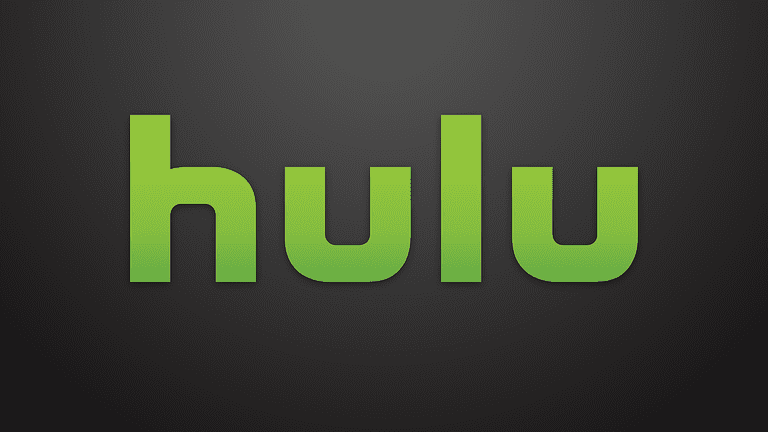 The Hulu is a subscription-based online streaming platform but you can opt-out to pay and watch limited content for free which includes more than 150 movies and TV Shows. The services of Hulu into Live TV started in 2017, prior to that it just use to host a series of TV shows both old and new, movie and other infotainment programs. It works as a hybrid of Sling TV and Netflix, offering both TV Shows as well as Live TV to its users. The content and presentation of the App vary with the cost, low price will offer you content with Ads while a high package offers Live TV with no Ads. Hulu TV Pricing starts at $5.99 and goes to around $13  Though you may find the cost on a higher side I believe it's worth a buy.
Goods About Hulu
More than 150 Movies and TV Shows
HD Streaming
Dedicated Mobile Apps
Bads About Hulu
Premium Content needs Subscription
Video Ads
3. Sling TV

The Sling TV is pretty decent Live TV Streaming service available in the market. The ease of customisation, number of channels and just OK pricing make it a favourable platform for all the supported devices. Sling's Orange package is $15 per month for 31 channels. It has a good mix of basic sports, news and entertainment Channels. The Blue package is $15 per month and consists of 45 channels. The Orange and Blue can be combined into one package for $25 a month.
Visit Sling TV | Paid ($15/mo)
4. DirecTV Now

DirecTV by AT&T is quickly gaining a huge subscriber base. These internet TV services with 150+ channels streams Live TV. With TunerMedia under its hood, you can expect more and more TV Channels along with a mammoth collection of the vast media library for access.
The service along with living tv also offers Movies and TV Shows. There is also an App which itself has some issues and bugs which is actually making it very unlikely with respect to User Experience. But said that the DirecTV hosts a powerful blend of entertainment, music, sports, news and many more general channels packing a very powerful punch in the online content streaming industry.
5. Yupp TV
YuppTV is a great platform to watch Indian Content like Live TV, Shows and Movies. The App is available in many counties which include the USA, UK, Australia, Malasia, Middle East, Canada, Singapore etc. The App has all the popular channels ranging from Entertainment to Movies. Yupp TV hosts a number of live TV Channels which includes national and regional Channels from India and are listed below. The premium channels cost $3.99/Month with some top TV Channels and Movies.
Hindi: Star Plus, Colors TV, Sony TV, Zee TV, UTV Movies, Star Bharat, Set Max, Zee Cinema, SAB, MTunes
Telugu: Gemini TV, Star Maa TV, Zee Telugu, ETV, NTV, TV5, ABN, Star Maa Movies, Star Maa Gold, ETV Plus
Tamil: Sun TV, Star Vijay, Jaya TV, Kaliagnar TV, Raj TV, Sirippoli TV, Puhtiya Thalaimurai, Seithigal, Thanthi TV, Chithiram TV
Malayalam: Asianet, Surya TV, Kiran, Asianet Plus, Jai Hind, Mathruboomi, Asianet News, Reporter, Kaumudy TV, India Vision
Kannada: Zee Kannada, Asianet Suvarna, ETV Kannada, Raj Music Kannada, Suvarna News, Janashri news, News9, Sri Sankara Kannada
Punjabi: PTC Punjabi, Zee Punjabi, PTC Chakde, 9X Tashan, PTC News, Alpha ETC Punjabi
Marathi: Star Pravah, Zee Marathi, Saam, 9x Jhakaas, ETV Marathi, Zee 24 Taas
Bengali: Star Jalsha, Zee Bengali, ETV Bengali, Rupashi Bangla, Planet M, Dhoom Music, Sangeet Bangla, Newstime Bangla
YuppTV offers 7 days free trial following which it charges $6.99 for the first month and $3.99 per month thereafter.
Visit YuppTV | Paid ($3.99/mo)
6. Pluto TV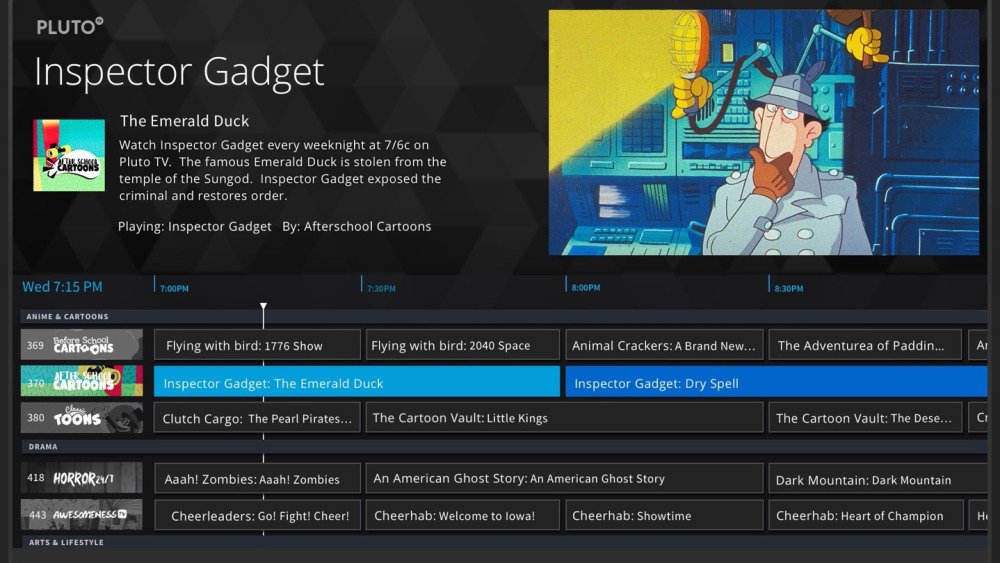 PlutoTV is a TV platform with over 100 TV Channels, Number of Movies and TV Shows which can be watched for free. TV generates revenue from video advertisements between programming. Apart from Live TV they also have On-Demand Movies which you can select right away. The content is directly licenced from the provider and Pluto has partnered with over 80 distributors. You can also enjoy movies on Live TV Channels. Pluto TV is the best service offering both On-Demand Movies and Live TV. The TV has dedicated App for all the devices like Android, Roku, iOS, Apple TV and more devices.
Goods About Pluto TV
On-Demand Free Movies
Live TV Movie Channels
Supports all devices
Bads About Pluto TV
Few Live TV Channels
Long Video Ads
7. Hotstar
If you love Indian content than Hotstar by 21st Century Fox (Now Disney) is the best choice. The service has a huge library of top Indian Dramas, Soap Operas, Movies and TV Shows making it a premium place of top-notch Indian content. As Hotstar has a number of international movies, it is launched in the USA and Canada by disseminating content library to avoid any infringement of digital rights.
The service is presently available for Android in the USA and would soon be released for iOS and Apple TV but you can access it on the web by visiting us.hotstar.com. If you live in India then you should definitely go with Hotstar. You can access all the Live TV Channels from Star India which include Hindi, Telugu, movies, News and Infotainment Channels like Nat Geo and much more.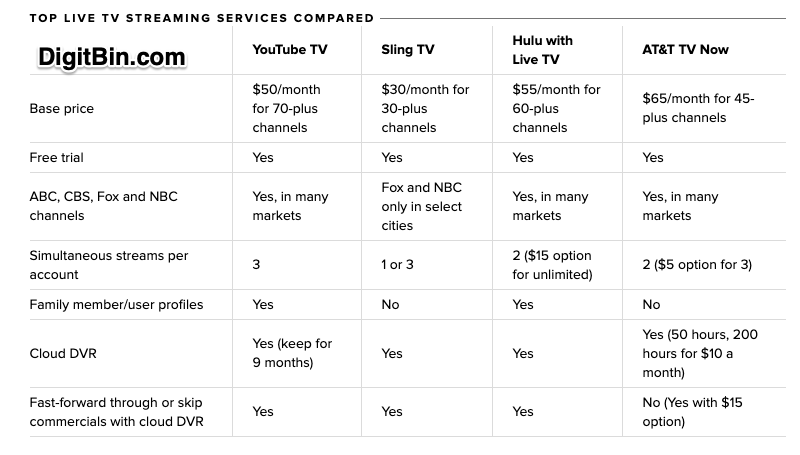 Best Sports Streaming Services
Here are the Best Sports Streaming Services to Enjoy Live Sports Events on Streaming Device.
1. Loala 1
Laola1 is an Austria based streaming site. The site has an international version which isn't region-blocked, so you can stream content in your country. Loala 1 is a good site if your country doesn't have broadcasting rights of the matches. It has tons of football streams from around the world. The site has a very good interface with a clutter-free design. Though the service is from Austria the international version will not disappoint you in any way. The service would help the people in the USA to watch the matches which are generally not available over satellite TV or Digital Media.
Offers: Football, Badminton, Volleyball, basketball, table tennis, motorsports and more
2. ESPNWatch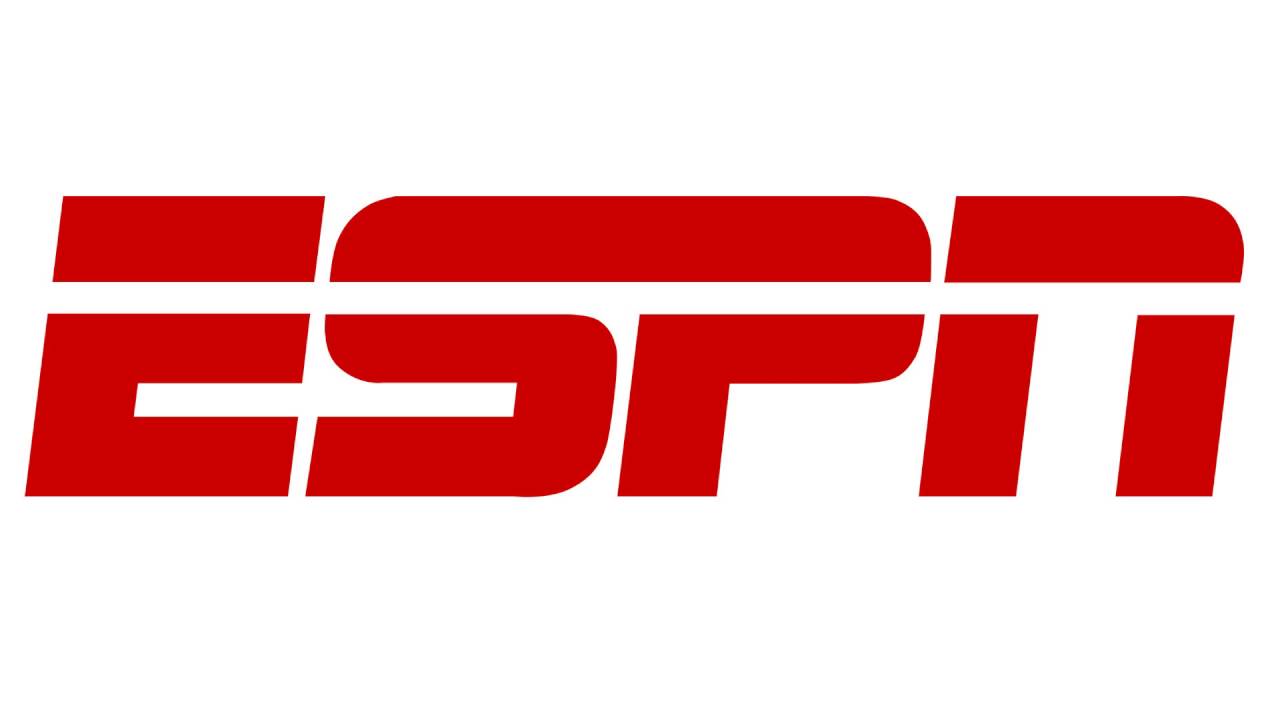 The ESPN is the standalone Sports Streaming App for major sports programs. ESPN has broadcasting rights for many programs. By subscribing to ESPN+ you are eligible for thousands of live events with access to ESPN, 2, 3, U, SEC Network, Plus, ESPNews, and Longhorn Network are all available to stream live in the ESPN App.
The site has a very good interface and works well even at normal internet speeds. If you are looking for a legal way to stream live plays than you should consider ESPN.
Offers: NFL, NBA, MLB, La Liga, Premier League, Europe League, Champions League, MMA, NHL and more
3. beIN Sports
The beIN SPORTS is the most powerful Sports platform offering Live Sports broadcast from popular leagues along with related news, videos, highlights, scores, standings etc.
You can also Log in with your participating TV provider and watch live events exclusive to beIN SPORTS. Original programming is available in English and Spanish languages. You can also access all the channels and network under the beIN Sports to fulfil your Sporting anguish. The beIN Connect has rights to a large bouquet of popular Sports Programming.
beIN Connect is a streaming service offered directly by beIN Sports. You can sign into beIN Connect with your cable credentials and watch both live and archived beIN sports programming.
Offers:
Soccer – LaLiga (2), Real Madrid TV, LaLiga TV, Serie A, Ligue 1, Turkish League, CONCACAF, CONMEBOL, and CAF World Cup Qualifying, Football League Championship, Copa del Rey, Coupe de la Ligue, Coupe de France, Swiss Super League, Champions League, Europa League
Conference USA– Football, Basketball, Baseball
Motorsports – MotoAmerica, MotoGP, WorldSBK
Other – Track & Field, Boxing, EHF, MMA, Rugby.
Visit BeIN Sports | Paid ($19.99/mo)
4. DAZN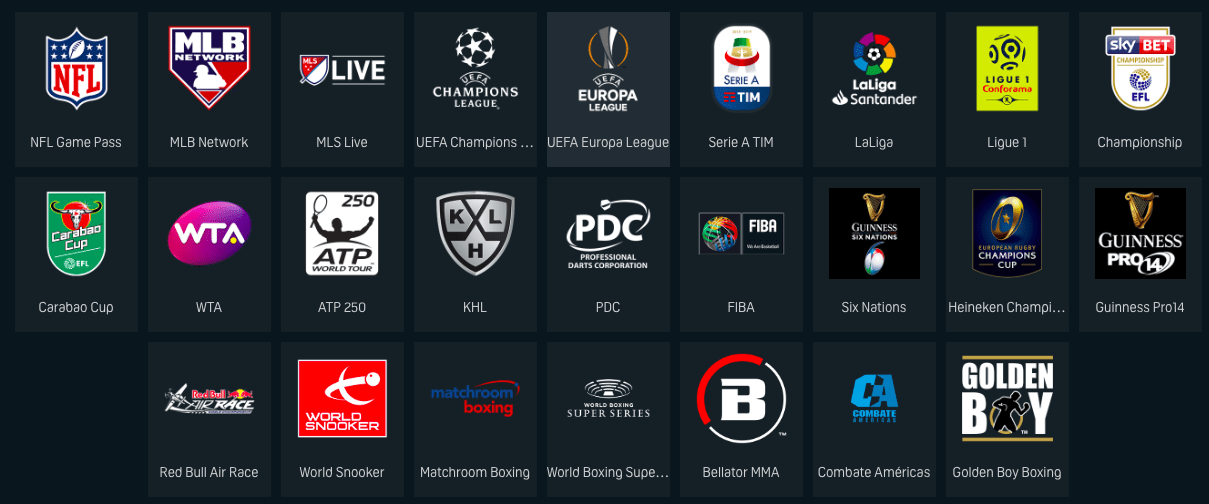 Dazn is a subscription-based video streaming service. The sports service offers live and on-demand streaming of events from various properties. Dazn is operative in Austria, Germany, Japan, Switzerland, Canada, United States, Italy, Spain and Brazil. It has digital rights for all major sports events to be broadcast in Austria, Germany, Japan, Canada and Switzerland. You can enjoy UEFA, FIFA, La Liga and other sporting events on the DAZN. The service offers 1-month free trial which you can cancel anytime. DAZN is compatible with TVs, smartphones, tablets, game consoles and many other devices. To ensure the best viewing experience, use an internet-connected device that is compatible with streaming high-quality video.
Goods About DAZN
Legal and Free
Rights for all major events
HD Support
Multiple device support
Free Trial for 30 Days
5. Fubo TV
Fubo TV is the best option to go for if you are a Sports Lover. The service primarily focusses on live sports. The TV is good for a sports fanatic but the channels are not limited to only sports (NFL, MLB, NBA, MLS and international soccer). The site also has a bunch of other channels including news, network television series and movies. The packages vary from basic to extra with added features and channels. A basic package can cost you $20 per month. You will also get a 7-day free trial with your card credentials which you can cancel anytime.
6. B/R Live
Bleacher Report Live is a streaming service which offers some of the premia sports programmings free and paid. You get live streams, free replays and highlights for popular sports like UEFA, Europa Leagues, NBA and more. The platform is simple to use and has most of the programming paid with a few of the live shows for free. There is also Android and iOS App available but they need some improvement. As the service is fairly new you can expect improvements as the time passes with more premium and free shows under the hood. I found the pricing to be on a higher side but it is worth a pay looking at the number of shows and live sports offered. It is exclusively available for the US and offers popular Wrestling AEW for free.
Offers: UEFA Champions, Europa Leagues, The Dan Patrick Show, The Rich Eisen Show, NBA League Pass, National Lacrosse League, ONE Championship, NCAA, PGA, World Armwrestling League, ELEAGUE, International Field Hockey, number of international club soccer leagues etc.
Visit B/R live | Paid ($9.99/mo)
7. Now TV
Now TV is a contract-free subscription-based internet TV service for the UK, Ireland and Italy. It is owned by Sky plc. Therefore, Now TV has all the TV Channels, Live Sports, Programs and Movies owned by Sky Network. You can access Sky Network's Sports Channels live sports channels and other entertainment shows. The service is paid and you may need to pay £9.99 every month but there is a 14-day free trial. You can access up to 10 Sports Channels. Now TV is available on 60+ devices including consoles and Smart TV. If you are serious for streaming some important sporting event than you can try a 14-day free trial plan.
Offers – Premium League, Major League Soccer, Cricket, PGA, Rugby Union and more.
Features of Now TV
Live Sports Programming
No Contracts
 Support for 60+ Platforms
14 Day Free Trial
Available only in the UK, Ireland and Italy
Best Anime Streaming Services
Here are the Best Anime & Cartoon Streaming Sites for Kids and Adults
1. Crunchyroll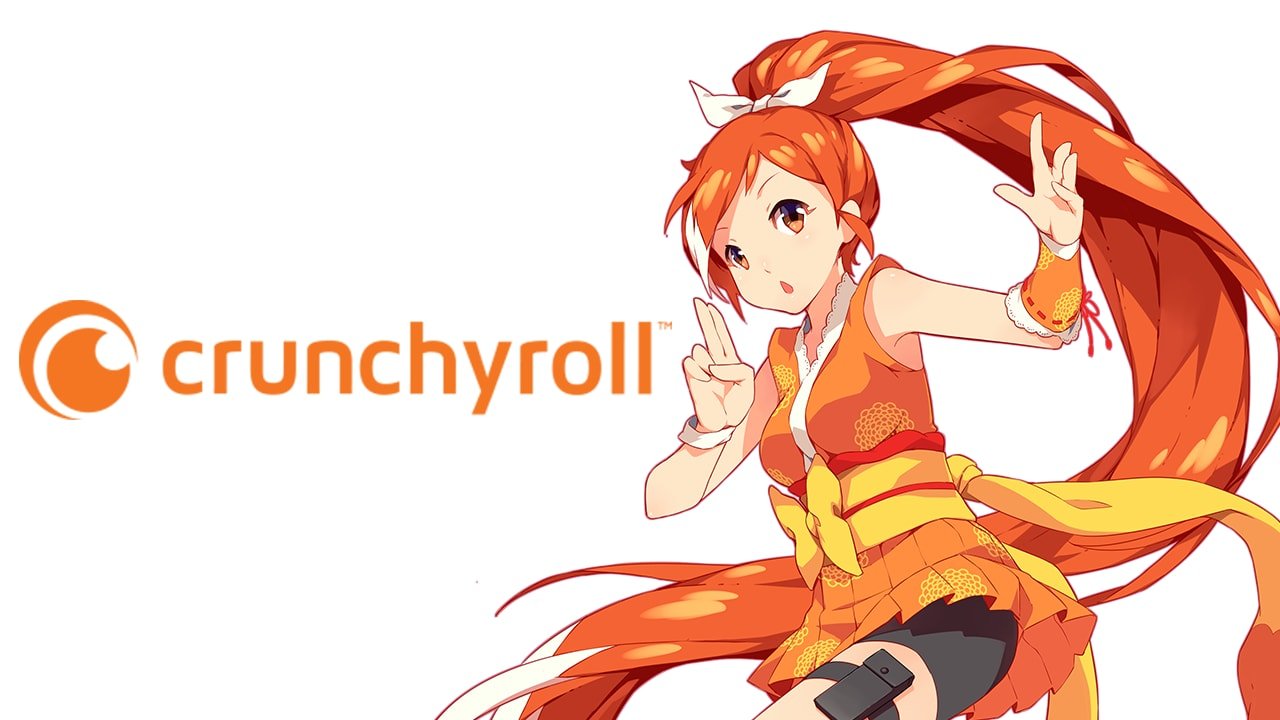 The Crunchyroll is a popular site with over 50 million monthly visits which primarily focuses on east-Asian content primarily on Anime, Manga Series, Music, and Shows. The site is solely made for all the anime lovers. A legal and simple way to stream all your favourite animation. The service has rights to popular Anime Series like Naruto, Dragon Ball, Titan, etc. The Crunchyroll is the one-stop destination for all the Anime Lovers and is much recommended as it is safe and legal. Though all the content is not free, you get a 14-day free trial to access the shows and programs.
The Content Provider uses a freemium model. That means they offer anime for free at a lower definition and with advertisements. Latest episodes of ongoing shows can't be accessed for free unless you wait for a week.
Goods About Crunchyroll
Best Place for Anime Lovers
East-Asian Movies and TV Shows
Popular Manga Series
Bads About Crunchyroll
Episodes delay by a week for Free users
Irritating Ads
Website design is poor
Visit Crunchyroll | Freemium ($7.99)
2. Viewster (ConTV)
A legal and legit site to watch movies and TV shows. The service is the best place to stream and download Anime, TV shows, movies, documentaries, comedy, and more programs. The quality of the streams are decent and at times change dramatically based on internet speeds, so it is not recommended to be cast on the big screen if you have unstable internet. The site has a very smooth and clean interface, you can directly jumpstart watching content even without any registration. As the service is free, it is supported by the Ads which are not much irritating. But the only thing which could act as a setback is some poor video quality as compared to its freemium competitors Snagflims and Sony Crackle.
Goods About Viewster
No sign-up required.
Large Bouquet of Anime Movies and Shows
Clean User Interface, search and  watch history
All the movies and shows for free.
Parental control options.
Bads About Viewster
Poor Video Play on Poor Internet
No subtitle support
Long Ads
3. Funimation
The Funimation streaming service has an impressive collection of anime series and feature-length films, including many hard-to-find titles. Funimation offers curated content with dubs and subs.  is owned by Sony, so you can expect all the Sony-owned Anime to be available on the platform. Currently, the simulcast lineup consists of D.Gray-Man, The Disastrous Life of Saiki K, Izetta: The Last Witch, Puzzle and Dragons, and Tales of Zesiria the X. A Premium account on Funimation unlocks access to all of the service's nearly 400 TV shows and 80-odd feature-length films. You get all the popular series and content with a 14-day test trail which is easy to cancel.
Features of Funimation
Large Library of Anime
Simple to Navigate and Clean UI
HD Quality with Subs and Dubs
Good for Dubs
Visit Funimation | Free ($6.95)
Conclusion: The Streaming Services Listed above are all legit so you do need to worry about any ISP trackers or government agencies. The streaming services are categorised based on nature viz, Live TV, Anime, Sports and Movies. Most of the services are paid while many few are free to use but paid once are worth given they offer premium content with HD quality support.
What is a VPN?
If a service is not available in your country, try VPN. VPN is a type of online service which hides your data by sending your web usage to another secure location. It forms a secure tunnel to provide end-to-end protection. Therefore, your ISP will not know what you're up to. In other words, it sends your data to a 3rd party country, making it difficult for the service provider to determine the internet behaviour of the user. Also, you can access websites which are country restricted by using the proxy services.
If you've any thoughts on Best Streaming Services | Live TV, Movies, Sports, Shows and More, then feel free to drop in below comment box. Also, please subscribe to our DigitBin YouTube channel for videos tutorials. Cheers!