In this digital world where online multiplayer games are the new obsession, it is hard to find the best offline multiplayer games easily. Since the emergence of the internet, globally. There has been a huge spike in the demand for online multiplayer games.
People are more into online battle royales', puzzles, quizzes, rather than sticking to their offline favorites. But online multiplayer games do come with one major drawback, and that is they consume the device's battery 10x faster. Also, a lot of people were searching for offline multiplayer games for iOS devices. So to save you from all the hassle, we have compiled a list of best offline multiplayer games preferably for iOS devices.
Free Offline Multiplayer Games for iPhone and iPad
Here are the Best Offline Multiplayer Games for iPhone and iPad to Play for Free
1. BombSquad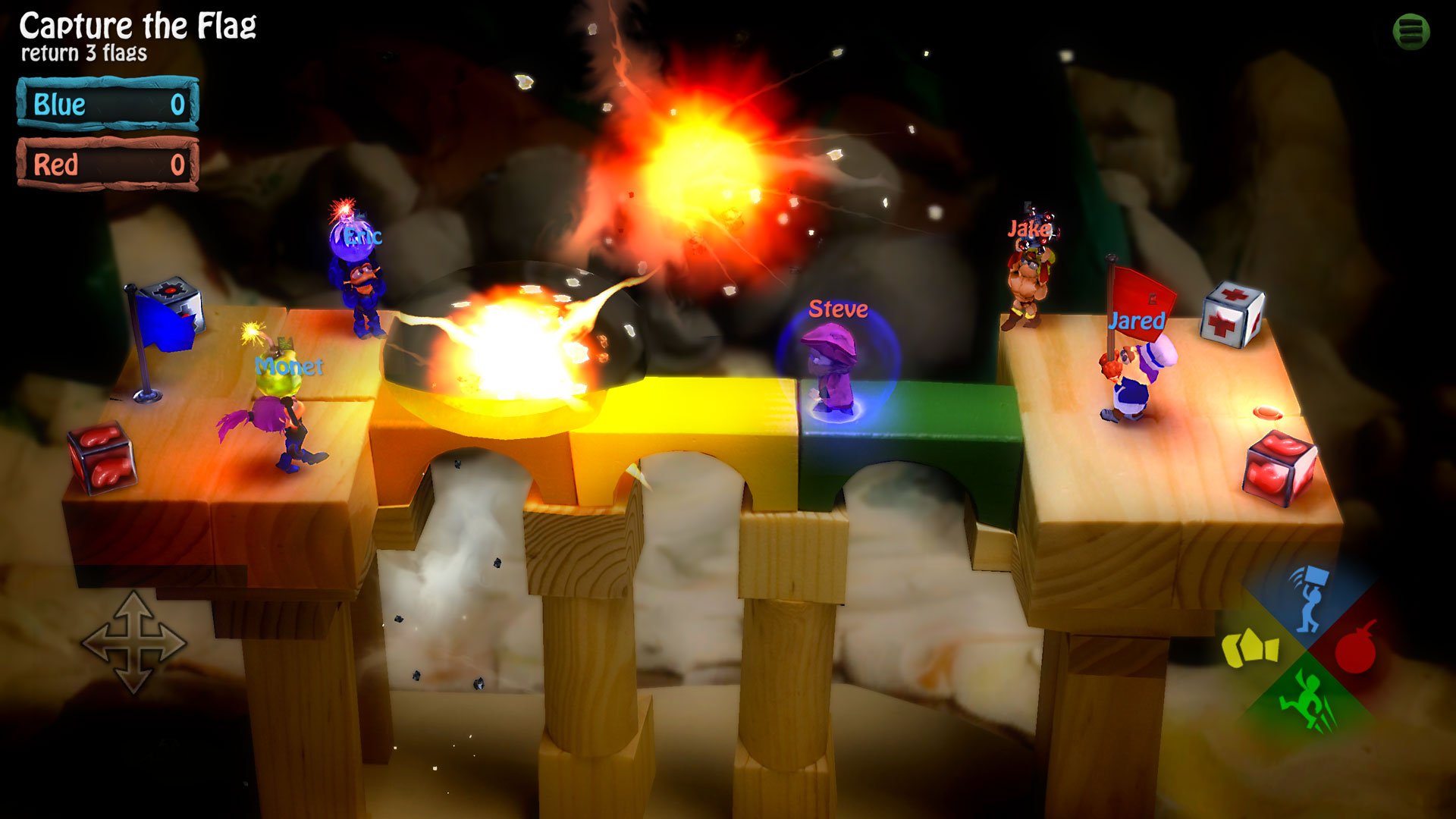 BombSquad is an arcade-style game catering to hundred and thousands around the globe. The game has good graphics and a great rating of 5.0. Players compete in a plethora of minigames including, Capture the flag, king of the hill, Bomber hockey, and much more. At a single time, 8 players can participate in the game, and the game supports multiple languages including, English, Arabic, Danish, Dutch, Esperanto, etc. The size is around 50MB and the reviews are great.
BombSquad supports various touch screens as well as several controllers to facilitate your friends to enjoy the action. As a matter of fact, you can even use iPhones, iPads, and iPod Touches as controllers.
Also, the game is by far the cutest smashing game over the App Store.
2. Special Forces Group 2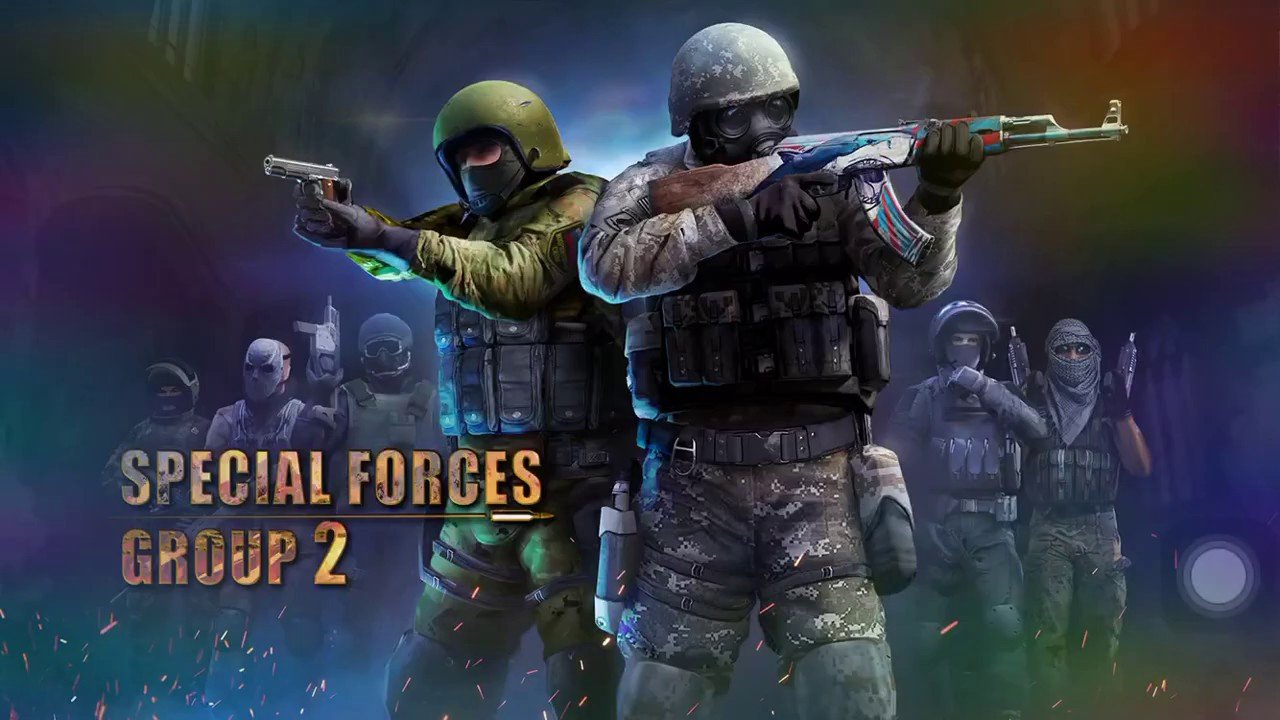 Special Forces Group 2 is a 3D shooting game for action lovers. It is very similar to the popular Counter-Strike game; besides, it was inspired by it. There are lots of weapons to choose from including guns and explosives and they are customizable.  Five game modes are available and they include the classic mode, capture the flag, zombie, bomb, and resurrection mode.
You would love the sound effects as they bring the action to life. Multiplayer mode can be played both online and offline using a Wi-Fi and Hotspot connection respectively.
3. Among Us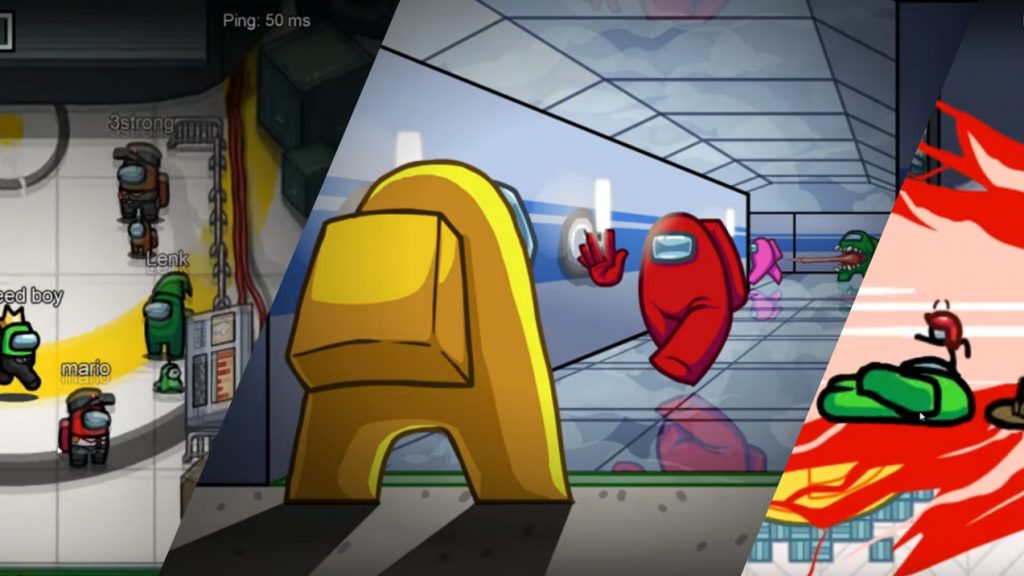 Among Us is a highly addicted offline and online multiplayer game to find the imposter 'Among Us'. You can play with 4-10 friends on a local Wi-Fi network or online on the discord server. It is a space-themed mafia setting with players taking on two roles, most being Crewmates, and a few being Impostors.
The goal for the Crewmates is to identify the Impostors and eliminate them while completing tasks, and the Impostors' goal is to kill all Crewmates without being identified.
4. Asphalt 8
This Asphalt racing game has always been the favorite for mobile game players on Android and iOS devices. No other racing game is as popular as Asphalt. What players love most about this racing game are its vast features. There are different racing tracks, different car types, and 100s of events you can choose from.
Eight players can race on Asphalt 8 Airborne when connected to a particular Wi-Fi network. You need no internet connection just a host (the hotspot provider) and other players to join and you can get the game on.
5. Fling Fighters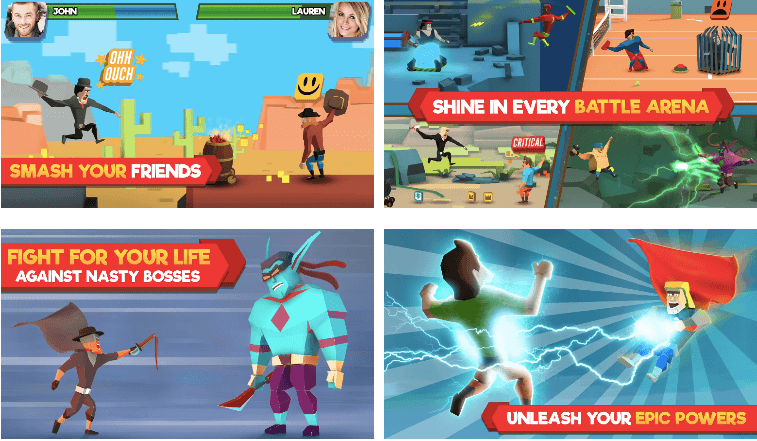 Fling fighters is a PVP arena game where you fling your opponents with throws and also at the same time dodge there hit. You need to look for a precise time to fling your enemy and get yourself missed by there throw. To add more to it you also need to evade a number of obstacles through at you.
You must keep the attention of your surrounding to avoid getting trapped in steel cages, electrocuted with hi-voltage traps or falling off of a train. At the same time, you should force your opponent to fall for the traps and so that you can take advantage in the game.
6. Soul Knight
Soul Knight
Multiplayer
Multiple Powers
Gameplay
Soul Knight is among the most eye-pleasing games over the App Store. The game has unique heroes with their unique abilities, more than 120 plus weapons, NPCs, and a randomly generated dungeon world for a better experience. The size is around 332MB. Copyrighted by the popular ChillyRoom, the game is available for free. Meaning you don't have to spend a penny on it.
At last, it requires updating to the iOS 9.0 or later versions for compatibility. In our view, the game is a fantastic option for someone looking up the best offline magical multiplayer for iOS.
7. Ice Rage
According to the App Store stats, Ice Rage is the #1 sports game in the U.S. and 70 other countries with over 4 million players. It brings the classic 8-bit hockey experience to the 21st century. You can challenge your friend in the most intense single-device multiplayer, or dare to take on John Gore in the game.
The graphics quality is nice, and the rating is fair (around 4.0). You can customize the matches, choose between three difficulty levels, rage-off multiplayer mode, enter into tournament mode, and much more. The size is near 71MB. And the game is available in the English language only.
8. Stickman Party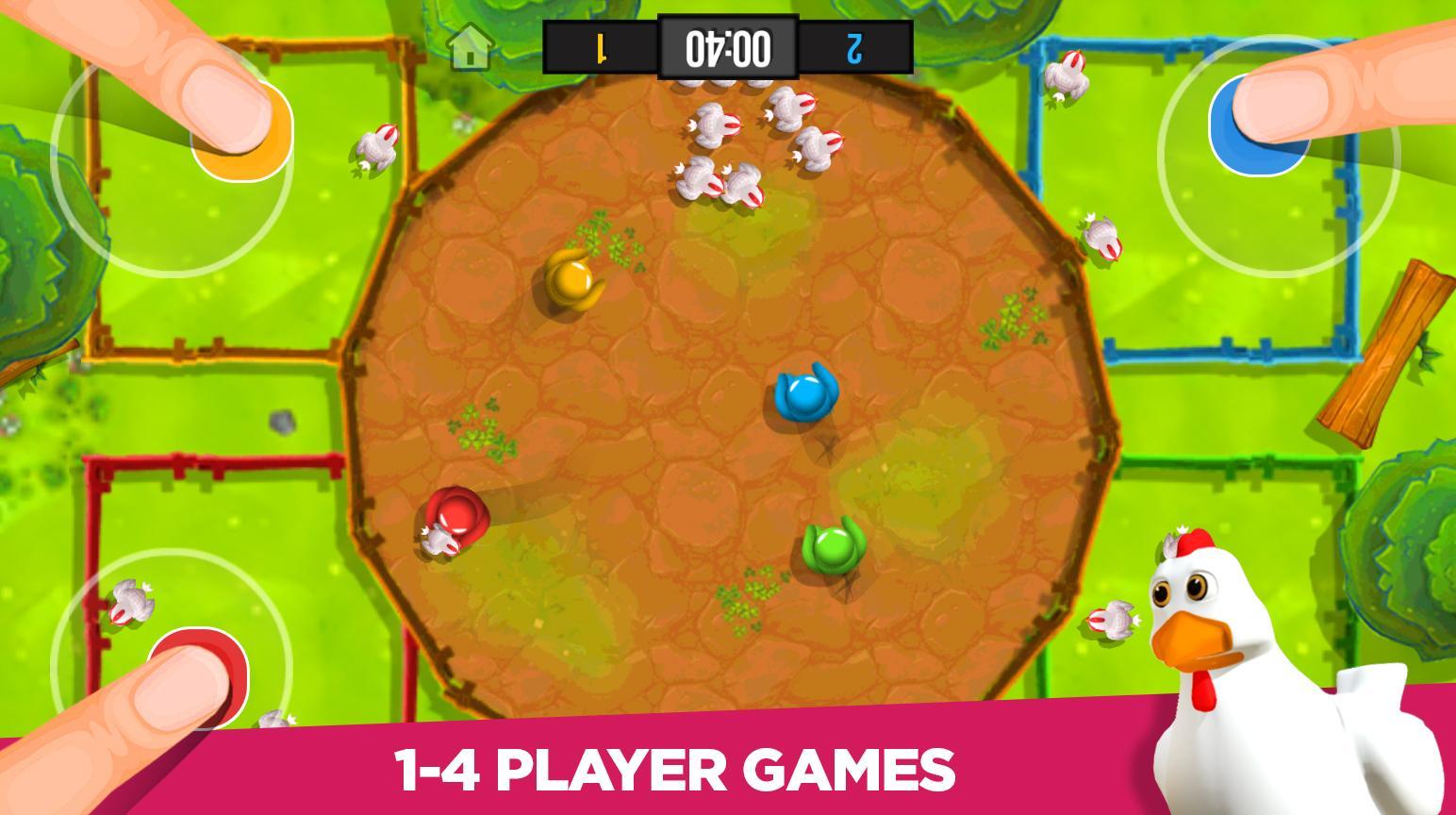 Stickman Party is a 4-player local multiplayer game that can be played on a smartphone or tablet without Wi-fi. The game has good graphics and a simple one-touch operation. Players can explore multiplayer tanks, football, microcar rally, sea battle, etc.
According to the maker, Impera Game Studio, they regularly add new mini-games for Stickman lovers. The size is around 118MB, and the rating is 4.7 on the App Store.
9. Mini Militia: Doodle Army 2
This game needs no introduction; a very popular shooting game among smartphone users. Simple to play yet high on action. It is a highly trended game for a long time. Mini Militia can be played by up to 12 players via a WLAN connection and the game features two modes e.g. Co-Op and Survival modes. The Survival mode is the ideal game mode to get it on with your friends. You play to see which player gets the most points at the end of the game time.
In Co-Op mode, you all join hands to fight COM players. Nevertheless, there are lots of weapons to use on Mini Militia. Create teams or play independently and take the gun to shoot your friend from the opposite team. Though the game is very mediocre on graphics but it does the trick.
Download Doodle Army 2: Mini Militia
10. Portal Knights
Portal Knights is a fantastic 3D sandbox action-RPG game catering to thousands over the App Store. The game allows the players to enjoy tactical action combat, epic boss battles, a trip between randomly generated 3D sandbox worlds, and much more. The size is around 1.4GB, but at least make sure to have a free space of 5GB in your device prior to installing.
Languages supported by Portal Knights are English, French, Italian, German, Tahi, Spanish, Portuguese-Brazil, Russian, Finnish, Japanese, Korean, Norwegian, Simplified Chinese, Swedish, Polish, Turkish, etc. In the end, the rating is 4.7.
11. The Escapists 2: Pocket Breakout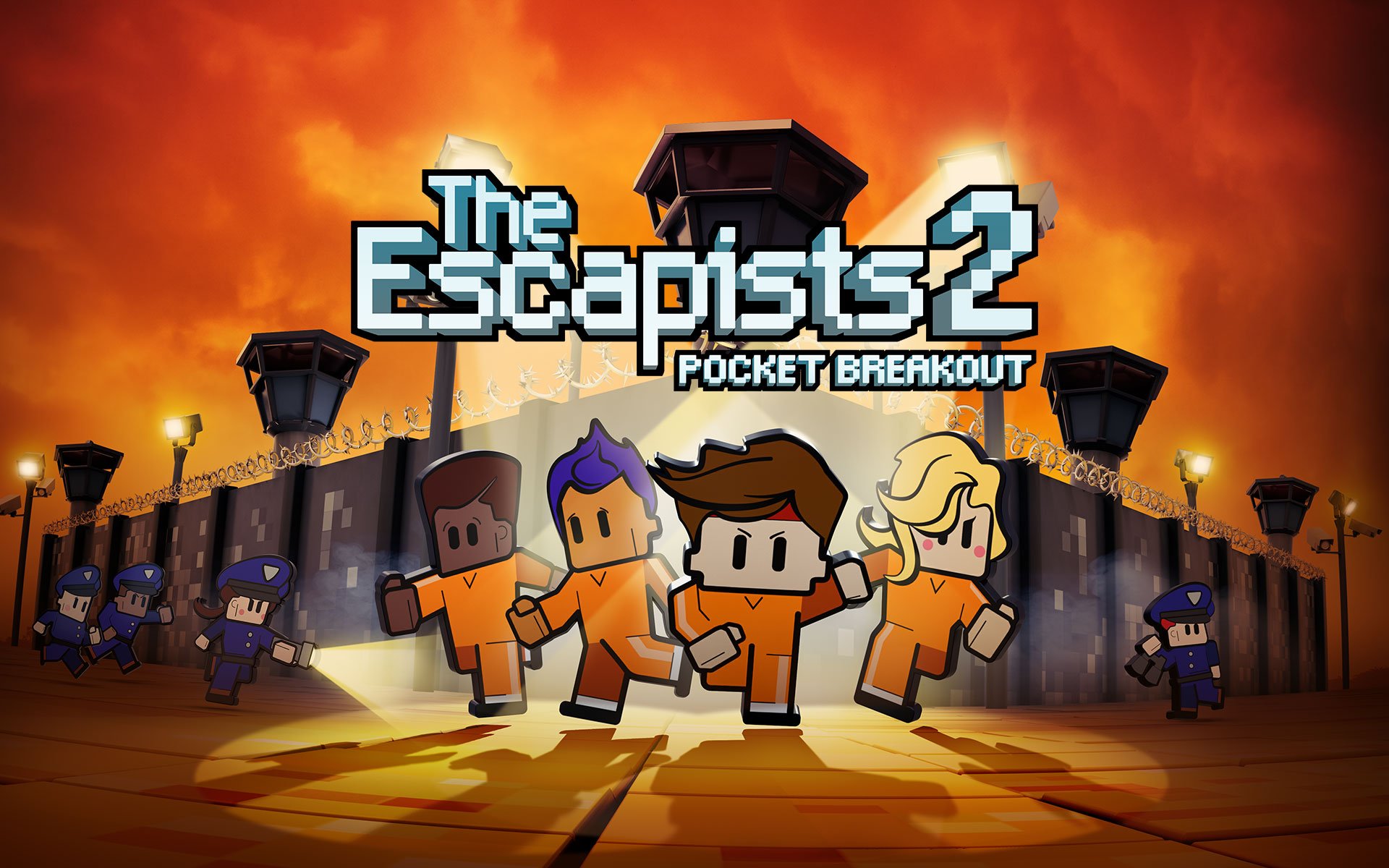 The Escapists 2 is a funny thrilling sandbox strategy game allowing the not-so-simple challenge of escaping from the prison. The game has decent graphics, smooth gameplay, and 13 handpicked prisons filled with indie sandbox madness. The size is around 1.5GB, and the rating is near 4.5. Languages like English, French, German, Italian, Russian, Spanish, comes as support.
In our view, The Escapists 2 are among the most-engaging prison-breaking game over the App Store.
12. King of Karts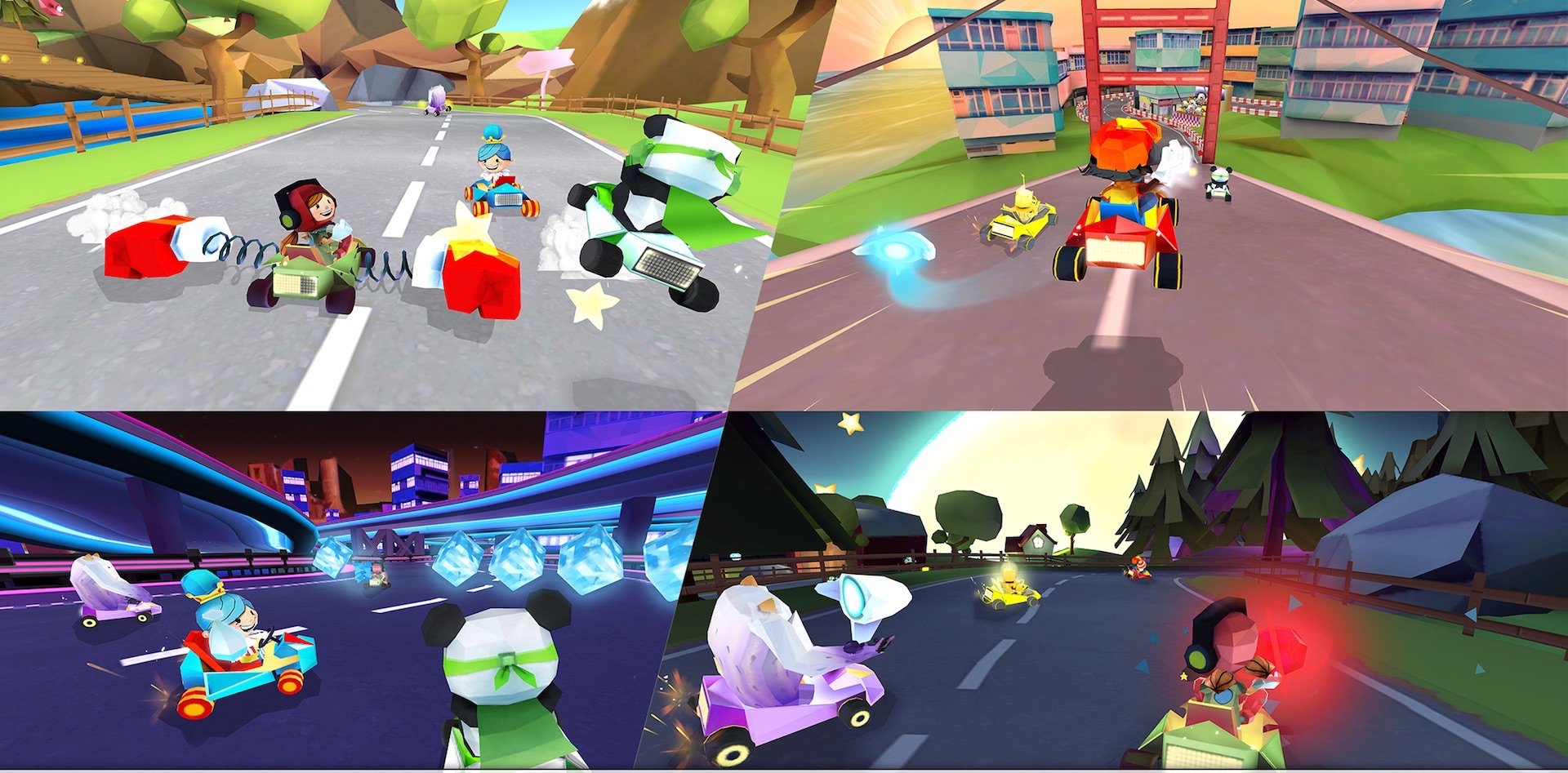 King of Karts is a racing game best enjoyed with both single and multiplayer matches. The game has good graphics, 4 different gaming modes, split-screen and local multiplayer modes, and a lot more. You can explore 6 cool racecar drivers, and all drivers have their own set of skills to impress. The size is around 481MB. Rating is near 3.7, which is fair enough.
13. Terraria
Terraria is a fantastic offline multiplayer allowing the players to fight for survival, fortune, and glory. Dive deep into cavernous expanses, seek for ever-greater foes to test your mettle, and construct the city you desire in the game. The graphics are good, and the game is smooth. Size is around 188MB. The game comes as an Editor's choice on the App Store and has a rating of 4.4.
14. Dual!
Just as the name implies "Dual" which means "Two", the game can be played by a maximum of two players. One person creates the network, the other person joins and it's game time. However, both mobile devices should be close to each other to avoid interruption.
The game takes up the screen of both devices; each person views their player character on their device. Nevertheless, the two players aim at each other and shots move from one screen to the other. You lose when your player goes down from being shot. You can also shoot balls and aim to score why the other player tries to defend. The two players can combine to play against the computer.
15. Brawhalla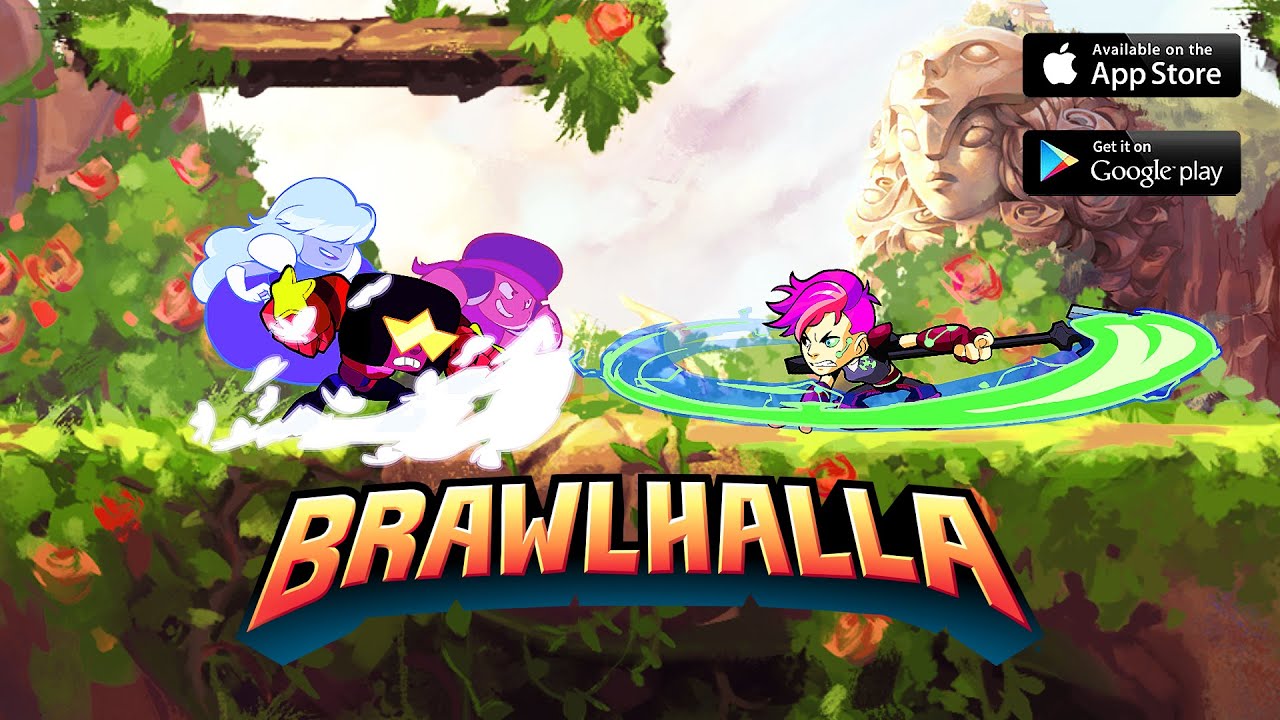 Brawhalla is a free-to-play fighting game developed by Blue Mammoth Games. The goal of the game is to knock the opponent off the stage by damaging them. Damage can be seen on the color display around the opponent's character icon, which goes from white to red to black as the player continues to get hit.
The game has a local offline mode named Couch Party Mode where you can create a room and play with friends over a LAN Wi-Fi Network for Free. The game also has a Local Co-op Mode which for you to team up with your friends.
Download Brawhalla | Local Wi-Fi
16. Muffin Knight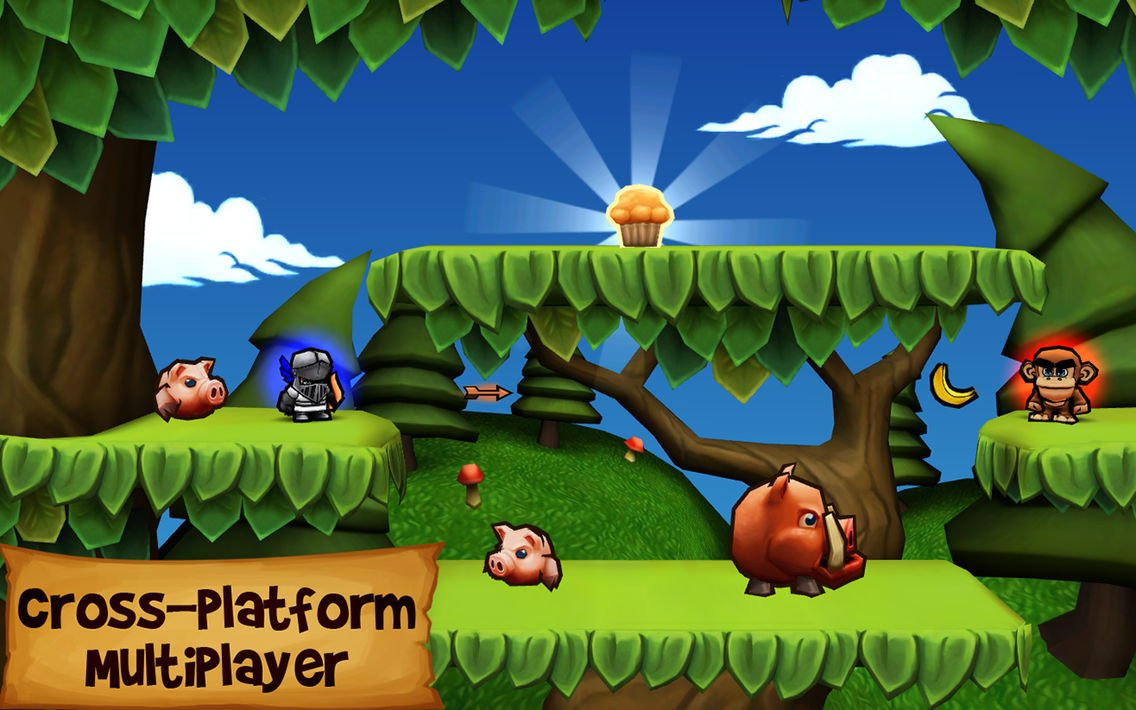 Muffin Knight is a sweet, simple, and dangerously addicting game available for free over the App Store. Awarded as the "iPhone Game of the Week," Muffin Knight is a fairytale-style action-packed platformer with astonishing visuals. You can fertilize the forest with the unicorn, cover the sky with black holes, flood the world with candy, and do a lot more.
The size is about 200MB. Players in the game can slowly level up by unlocking new characters and upgrading their abilities.
At last, the rating is 4.0, and the reviews are decent.
Conclusion
So these were some of the best offline multiplayer games for iOS. If you find this article useful, please do let us know in the comment section below. We would love to hear that.
If you've any thoughts on Top Free Offline Multiplayer Games for iPhone and iPad, then feel free to drop in below comment box. Also, please subscribe to our DigitBin YouTube channel for videos tutorials. Cheers!