Cricket is one sport that has among the widest audience reach, not just in India but in countries across the globe. Due to its overgrowing popularity, the Play Store is currently literally flooded with tons of cricket games, each unique in its offering. All in all, it leads to a problem of plenty for the end-user. And further filtering out the offline multiplayer in this genre is no easy task in itself.
Well, you shouldn't have to worry about all this any longer as the below list is the answer for just that. Given here are some of the best offline multiplayer cricket games for your Android device that deserves your attention. Follow along.
Free Multiplayer Cricket Games for Android
Here are the Best Free Offline and Online Multiplayer Cricket Games for Android to Play with Friends and Family
World Cricket Championship 2
This offline 1v1 multiplayer has over 150 different batting animations including everyone's famous Helicopter shot. Along the same lines, the 28 different types of bowling are enough to send the batsmen into an uncomfortable zone. Adding a more realistic edge to the gameplay, it has incorporated the Hot-Spot & Ultra Edge techniques.
Plus, if you are playing on a cloudy day, keep your run-rates on the higher side as the D/L Method might come into play as well. With over 18 different international teams, 40+ in-game camera angles, night mode with LED Stumps, and the option of manual field placing seems to have check-marked all the prerequisites that one could have asked for from a cricket game.
Download: World Cricket Championship 2
Big Bash Cricket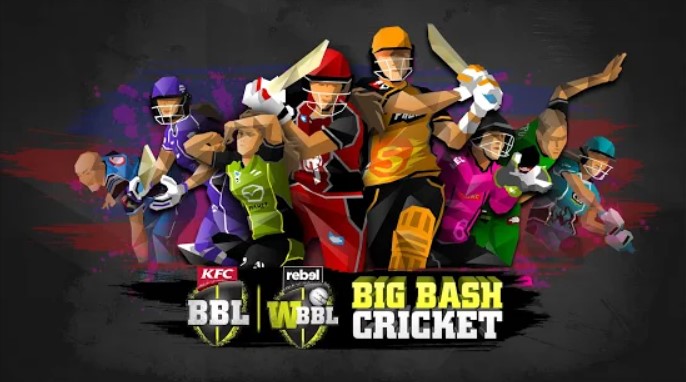 This Australian T20 league has three different gamer modes to offer: you could head over to the Quick Play mode, engage yourself for a complete season tournament, or try your batting skills in the Super Over contest. Likewise, there's also the KFC Bucket Ball Challenge that calls out the aggressor in you.
Then there's also the Women Big Bash League as well. With that said, one aspect where it stands out is the fact that since it is the official BBL offering, you will be getting the original player and venue names. This is something that is absent from other games in this list, due to the licensing issues.
Stick Cricket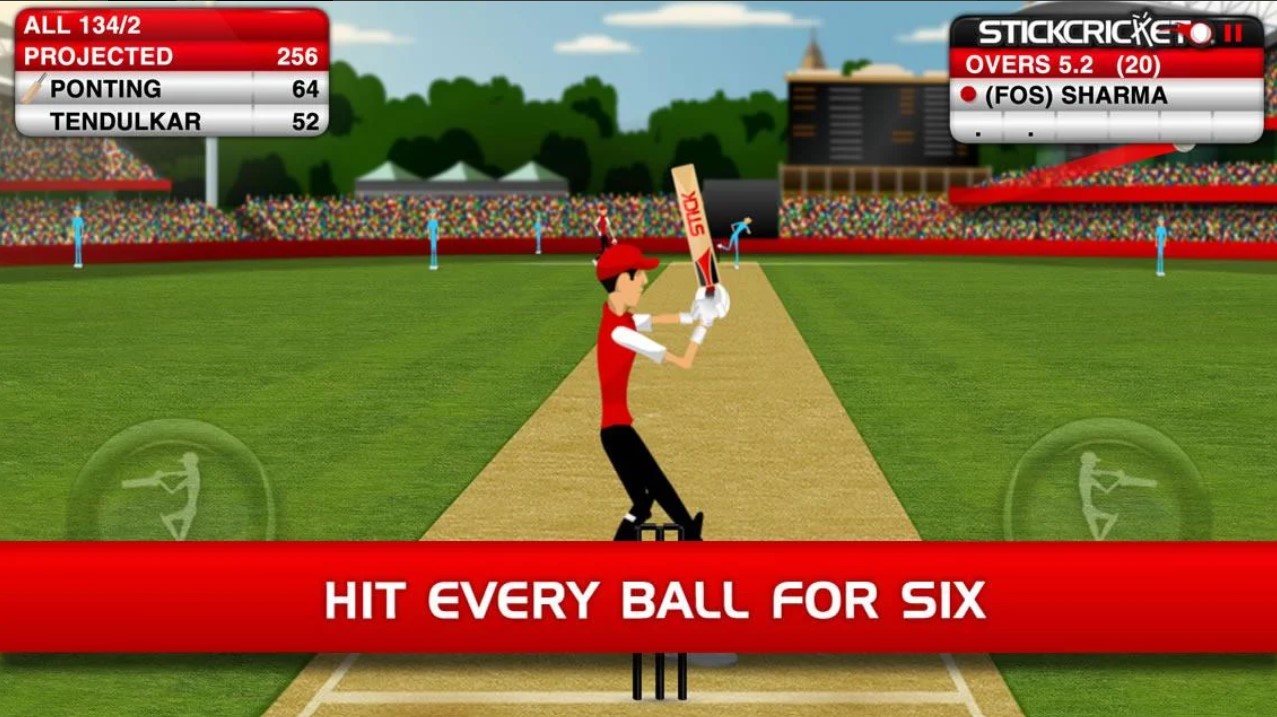 Well, this game claims to be the "world's most popular cricket game", and over 10 million downloads with 4.3-star ratings further seems to be cementing this fact up to an extent. The controls are as easy as it gets, with just two buttons- one to hit to the off-side and the other to the leg-side. However, it's the timing that is extremely crucial, a delay of even a second and you might see the bells flying over the wickets.
With that said, the game beholds many different game modes:  All-Star Slog, World T20, and a 14 country World Domination Tournament. But if all these seem daunting at first, then don't forget to hit it out at the Academy's net session until you become a professional batsman.
World of Cricket: World Cup 2019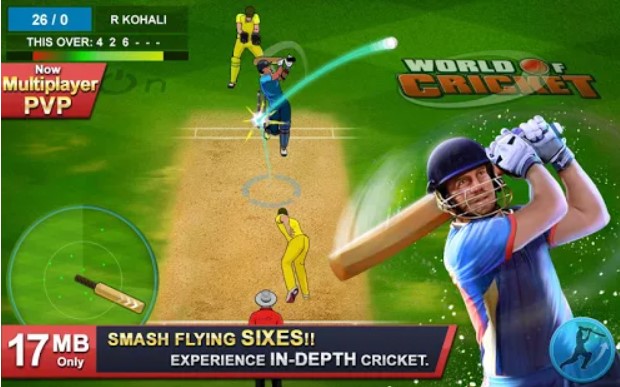 This local multiplayer cricket game has given equal weightage to both the bowlers and batsman. On one side, if you play as a batsman, then you have the choice of trying out over 25 different types of shots. Then, be a bowler and you could control the speed, line, and length of every delivery.
Then to spice things up, it has also added a new hardcore difficulty, which gets all the more challenging yet intriguing at the same time. Likewise, giving the game a local touch, it has added a few regional audio commentaries as well. With that said, the game also has an autoplay mode, so if you are looking to skip the batting and try out a few bowl-outs (or vice versa), then do check out this mode.
Cat Cricket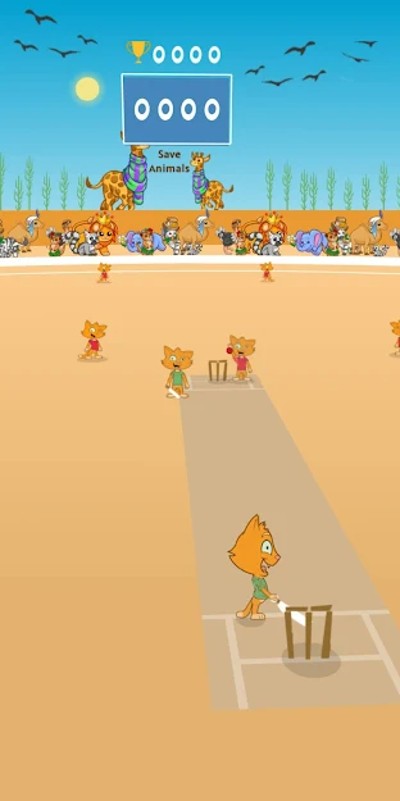 Cat Cricket is a turn-based offline multiplayer cricket game. With around 4.3 MB, it is the most lightweight cricket game on this list. Even though the graphics are all animated, it's equally impressive and likable.
The game has a single button to play all your shorts. It offers a pleasant cricket experience with a gradual speed in overall gameplay.
Real Cricket 17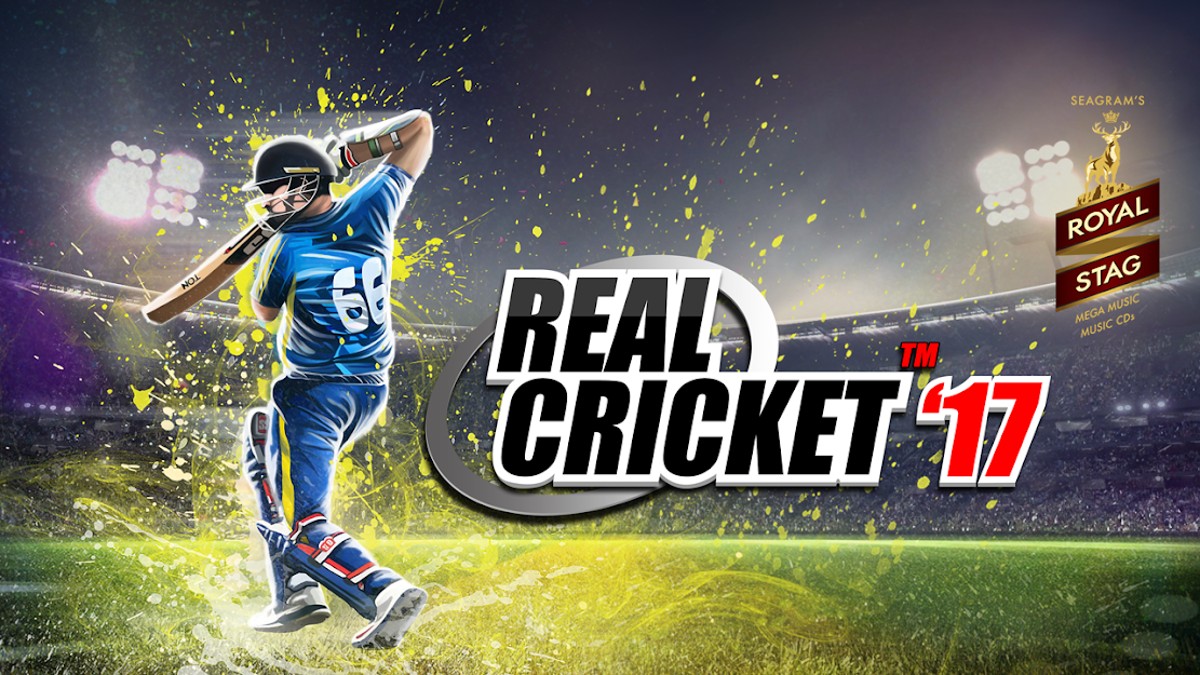 Real cricket 17 is the complete cricket game on this list, and it offers the most authentic, whole, and surreal Cricket experience on Android. You can battle against your friends or real cricket players and battle showdown.
It is the first game that allows players to play historical scenarios with a unique level of saga experience. Players also receive daily challenges based on recent and past events.
So this was all from this guide on the best offline multiplayer cricket games for Android. Do let us know in the comments section below which one managed to impress you the most with its gameplay, graphics, and feature set.
If you've any thoughts on 6 best Multiplayer Cricket Games for Android, then feel free to drop in below comment box. Also, please subscribe to our DigitBin YouTube channel for videos tutorials. Cheers!