As I've mentioned in my earlier post about the benefits, uses, and features of the Samsung Smart Switch. Here I'm sharing what all mobile devices are compatible with and also Smart Switch Mobile download links for different OS smartphones.
Though the inbound content and setting transfer is only available for Galaxy phones, however, there is a wide range of devices that you can connect to the Smart Switch Mobile app. The other brands' smartphones only connect for outbound content transfer.
You can even connect your phone with a Windows machine using Smart Switch for PC software.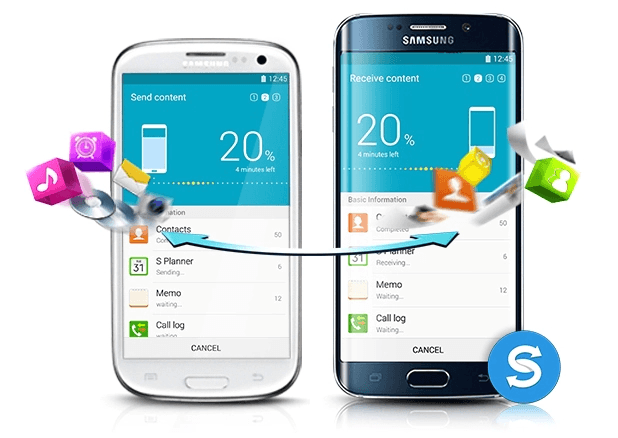 Samsung Smart Switch Mobile Compatible Phones
Before we download the apps, let us discuss smartphone compatibility for using the Smart Switch mobile app. There are tons of smartphones available in the market and growing exponentially. It's difficult to trace and check compatible, however, Samsung has listed out the phones and handset that can be connected and transfer the content seamlessly.
Samsung phones compatible for Smart Switch Mobile:
Smart Switch mobile supports a huge list of Samsung phones, even the devices that almost manufacture in the year 2012. However, below are some of the best ways to connect and use the old as well as new Samsung phone with Smart Switch.
Applicable Samsung devices: Galaxy S II and newer devices with Android 4.0 or better for wireless transfer and Android 4.3 and better for OTG cable transfers
Note to Galaxy S8/S8+S7/S7 edge owners: Smart Switch Mobile is already preloaded on the device. To access, tap on Settings > Backup and reset > and Open Smart Switch to open Smart Switch Mobile
Note: These are the only U.S. Galaxy devices that can be used for OTG cable transfer: GS9, GS9+, GS8, GS8+, GS7, GS7 Edge, GS6, GS6 Edge/Edge+, GS5, GS4, Galaxy Note8, Galaxy Note5, Galaxy Note4, Galaxy Note3
Other Andriod Manufacture device compatibility:
The most device running on the Andriod version 4.3 and later are support with Smart Switch. However, below is the exclusive list of devices and their manufacturers.
Coolpad: DazenF2
Fujitsu: ARROWS NX/A/KISS/ef/Me/V/X LTE, Disney Mobile on DoCoMo, ANTEPRIMA, REGZA Phone
HTC: J, One/X/X+/S/SV/V/M8, Proto, Butterfly, Desire X/XC/500(506e), EVO 4G LTE, INFOBAR A02, ThunderBolt, One M9, Desire 526/612
Huawei: T8951, C8813, Ascend/G510/G520/D2, Stream 201HW, A199(China), Honor 6/6+/7, P7, P8, P8 Lite, Mate7, Maimang4, Ascend Y300, Mate8
Kyocera: URBANO L02/03, DIGNO M/S, BASIO, Honey Bee, Disney Mobile, Brigadier
Lenovo: A789, S720, A798T
LG: Optimus G/G Pro/G2/G3/G4/LTE/4X HD/ LIFE/it/Vu/Vu2/L5 II/L5 II Dual/L7 II Dual/L9, Lucid 4G, G Flex, isai, isai VL, PRADA phone, Nexus 4/5, V10, Lancet, G Vista, Flex2
Motorola: DROID RAZR MINI(M)/Razr HD/Razr Maxx, ATRIX III, Moto G, Moto X, Droid Turbo2/Maxx2/Mini
NEC: MEDIAS X/W/ES/U/LTE, Disney Mobile on DoCoMo
OPPO: R815T/W, R811, R7/R7 Plus/R7s, Find7/Find7A
Panasonic: ELUGA P/X/Power, LUMIX Phone
PANTECH: Vega IRON2, Vega Secret
RIM: BlackBerry Priv
SHARP: AQUOS ZETA/Crystal, Smartphone for Junior, Disney Mobile on DoCoMo, AQUOS Phone EX/Xx/xx mini/SERIE/ZETA/st/SV/si/SL/CL, NERV, PANTONE 5
Sony: Xperia Z/Z Ultra/Z1/Z2/Z3/Z3 Compact/A/A2/ZL2/UL/V/VL/SX/GX/E/E Dual/Go/NX/AX/TL, acro HD/acro S
Vivo: X3T, Y15S/T, Y11, X5/ X5L/X5 Pro, X6/X6 Plus
Xiaomi: Hongmi1S, Hongmi Note, Mi4
There are no mentions of the recent brands like OnePlus, POCOPHONE, etc., but I guess even these phones should be compatible since they run on Android 4.3 and later version.
Other Smartphone OS compatible with Smart Switch Mobile:
The mobile app also supports Apple iPhones, Blackberry Phones and Microsoft's Windows phones.
Apple: iOS 5.0 and later (iCloud Supported Phones)
Blackberry: Blackberry OS 7 and OS 10
Microsoft: Windows Mobile OS 8.1 and OS 10
If your smartphone is not mentioned in the aforementioned compatibility list, then you can give a try on downloading to see any issue. Continue below for downloading the App or Smart Switch APK file for your device.
Download Smart Switch Mobile App and APK file
The Smart Switch Mobile is available for download and configures as below:
Download Smart Switch Mobile for Android OS:
You can easily download the Smart Switch Mobile for Android OS phones with Google PlayStore. Open your Play Store app and search for "Smart Switch" and you will find the below result.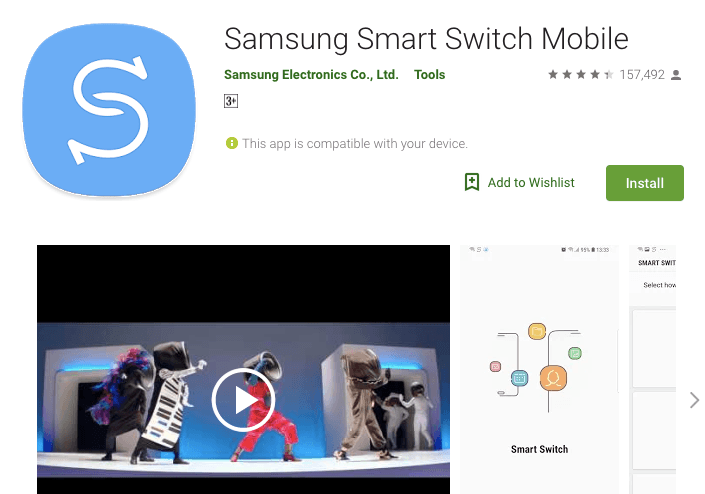 This will help in getting to know whether your device is compatible with the current version of the Smart Switch Mobile App within the PlayStore window.
Download Smart Switch Mobile for iOS iPhone:
Unfortunately, there is no Smart Switch Mobile app available in the iOS store or externally. The only way to connect iOS phones is by using Smart Switch for PC or MAC.
Follow the below steps for iPhone Smart Switch to Galaxy phone:
Download Smart Switch PC or MAC
Install the software
Connect your iPhone device with Smart Switch
Take backup locally on your system
Disconnect and connect your new Galaxy Smartphone
Transfer the content to your new Galaxy phone
That's all
Download Smart Switch Mobile for Blackberry
Smart Switch Mobile only supports two Blackberry OS — 7 OS & 10 OS to content transfer, and also support OTG cable to connect with Galaxy phone.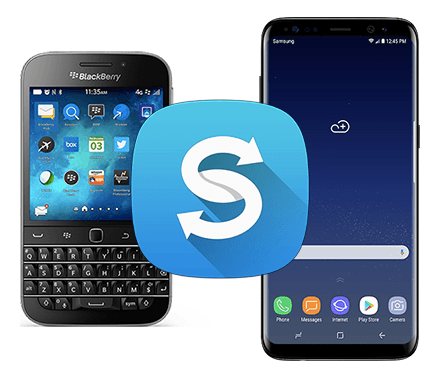 Smart Switch Mobile Blackberry 7 OS
Download [link below] the installation file
Install on your Blackberry 7 OS
Connect with your new Galaxy phone using an OTG cable
Smart Switch Mobile Blackberry 10 OS
Blackberry 10 OS doesn't support any external app installation except Blackberry World.
Connect your Blackberry 10 OS device to your PC using a USB Cable

The PC must have the Blackberry device driver installed
Make sure that the device and PC are properly connected and recognized by each other

Download Samsung Smart Switch for Blackberry 10 OS from your PC's browser [link below]
Run the downloaded file "SmartSwtichInstaller.exe" file on your PC
Click Start Installing to start installing Smart Switch on your Blackberry 10 OS device
Download Smart Switch Mobile for Windows Phone
There is no Windows Phone app for the Smart Switch Mobile app. However, you can use Windows PC for content transfer. Follow the guide to download and install Smart Switch for Windows PC and connect your Windows Phone migration.
If you've any thoughts on Download Samsung Smart Switch Mobile App for Free! [2020 Updated], then feel free to drop in below comment box. Also, please subscribe to our DigitBin YouTube channel for videos tutorials. Cheers!