Video Editing is never an easy task to do; you need a god-level of patience, creativity, and passionate interest. In the meantime, choosing a good video editor is also an important aspect as you have to check many things before purchasing the best one as per your need. Well, this thing becomes more formidable when we have to choose a video editor software for Mac.
So don't worry! Hereafter brainstorming on Google and different forums, we have gathered some of the best video editors for Mac M1 available in the market. A video editor's patience and concentration are just as important as good video editing software. But choosing the best one isn't an easy task. With this guide, we will tell you about the best editing software for Mac M1 Chip PC.
Best Video Editing Apps Available for Mac M1
There are a number of software available that you can use to edit your videos on your Mac M1, but choosing the best one is very difficult. However, that's why we bring this guide to make it easier for you to choose the best from our list. So, let's dive into it and check which one suits your need the most.
1. Adobe Premiere Pro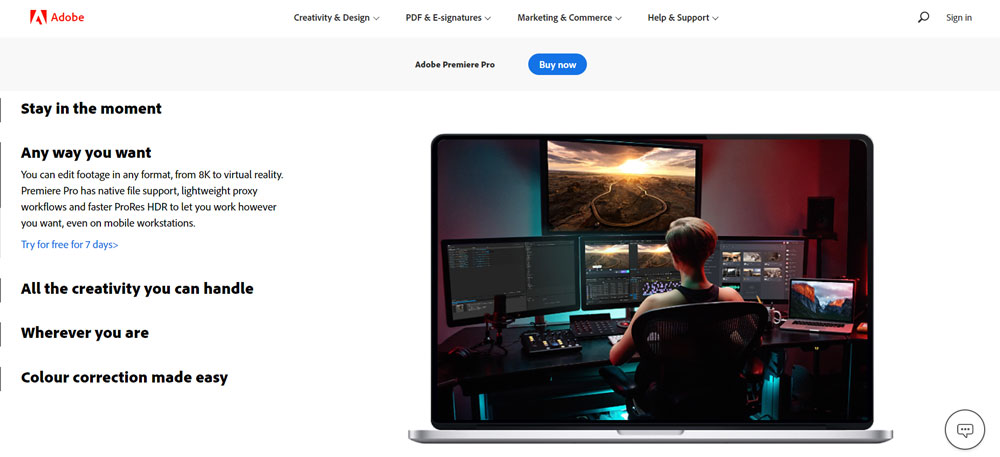 Anyone who wants to edit videos can choose Adobe Premiere Pro. As a result, Premiere is ideal for everyone, from amateur web developers updating their sites to experts editing polished TV commercials.
By using Adobe Premiere Pro, you can create videos with just a few clicks by combining clips, making transitions, and crafting smooth slideshows. In addition, Adobe Premiere Pro also helps an editor who is just started his career as a beginner's editor to learn how to edit a video's audio and graphics.
Moreover, Adobe Premiere Pro will allow you to make, finesse, and edit your projects easily. It will also let you add audio and video effects, create titles, change the colors and lighting, then finally export your projects after completion to any screen in any format.
Features: 
The simultaneous development of two projects.
Templates for motion graphics.
Sharing projects.
Editing VR videos.
The VR Rotate Sphere is supported.
Audio editing for VR.
VFX.
Video graphics and titling.
2. Final Cut Pro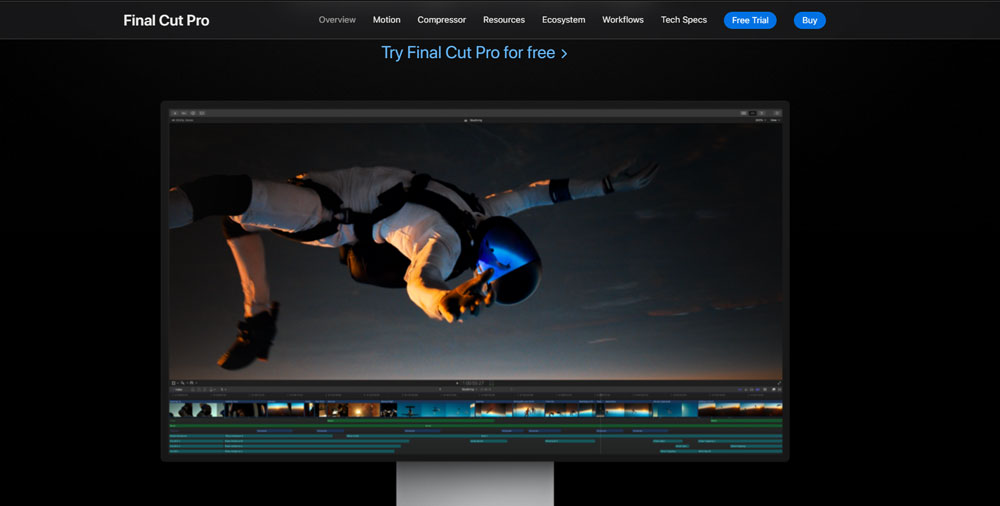 Final Cut Pro is a revolutionary app developed and created by Apple. This is one of the best video editors for Mac M1, as using this, you can create, edit, and produce the highest-quality video. Besides offering powerful digital editing features, Final Cut Pro supports virtually any video format, and its easy user interface lets you concentrate on telling your story.
However, in my opinion, for Macbook users, the Final Cut Pro is clearly the best program. But yeah! It might take some time to learn how to use this software if you are just shifting from Windows to macOS. However, this is a program that can be used by both beginners and professionals who are interested in learning more.
Moreover, you do not have to be concerned with the features as it has all the tools necessary for editing and delivering videos. But, yeah! You must require a Mac with macOS 10.13 in order to run this software.
Features:
It uses a magnetic timeline.
Clips can be edited non-destructively.
Without collisions or syncing problems, clips can be moved, trimmed, and reordered.
Using compound clips.
VR handling.
2D and 3D titles.
3. Adobe Premiere Elements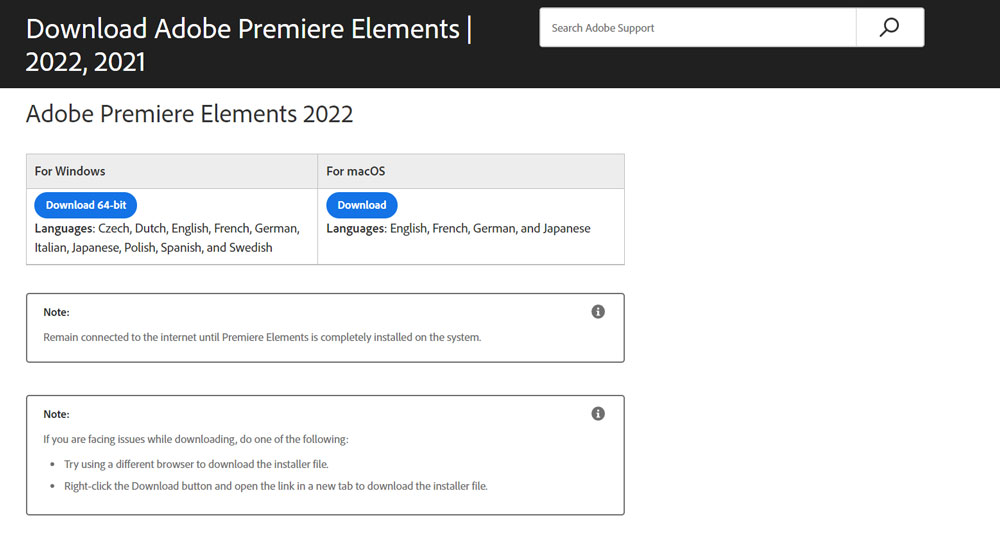 Premiere Elements' latest version is 2022, which is a video editing software available for both Mac and Windows. You can use this software if you want to trim your videos quickly. However, using Adobe Premiere Elements, you can easily make fun creations or combine multiple media into a single clip or film.
It is very easy to use due to its easy editing with automation and AI. Also, suppose you are a beginner and don't have any idea how Premiere Elements works; then you do not have to worry about that as they have in-built step-by-step guidance for editing and creating.
Talking about its services, then as per my experience with Premiere Elements, it has a much better support network compared to any other editing software. Moreover, your queries are resolved within a few minutes because they offer two-way communication options for their paid users, such as phone and live chat with Adbove officials.
Features:
Animate the overlays for fun.
Make adjustments to shadows and highlights.
Use the double exposure to create cool effects.
You can even add animated mattes.
You can even create time-lapses.
Bring your photos to life by adding animated skies.
Add motion titles and freeze frames.
4. Movavi Video Editor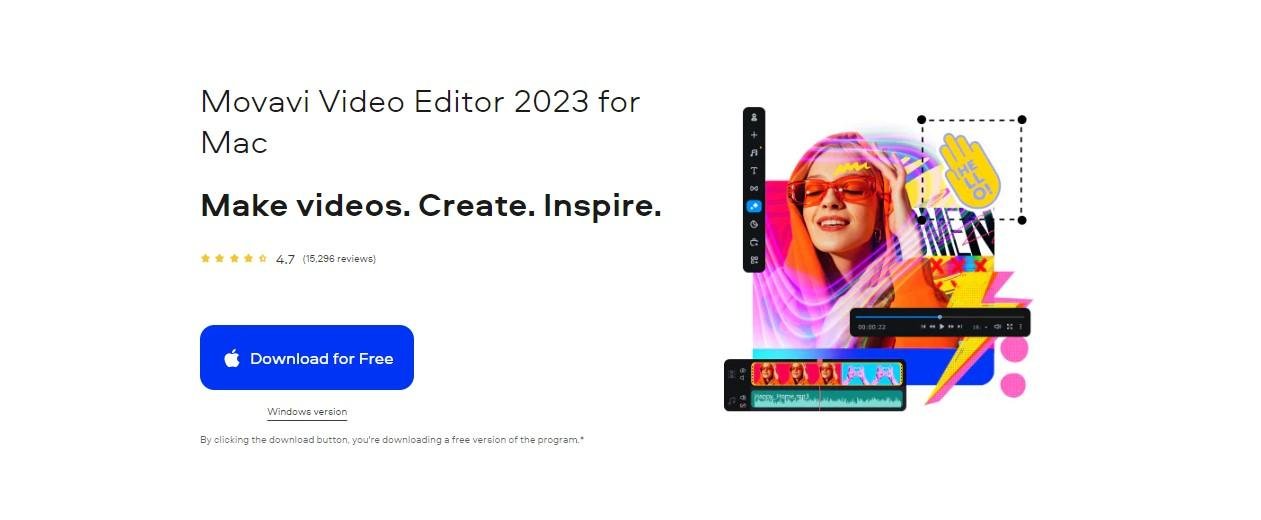 If you're a Mac user but want to avoid spending a huge amount of time and money on professional video editing software, Movavi Video Editor is the perfect choice for you. It's an intuitive and user-friendly program that provides all the tools needed for creating fantastic videos in minutes.
This Mac video editor lets you add transitions, music, text, filters, and other effects to your videos without having to learn complicated tools or techniques. Furthermore, it features object tracking, beat detection, and a host of other features like chroma key, split-screen video, slow motion, etc.
Features:
Video trimming, cutting, cropping, merging, and splitting
Automatic video creation, stabilization, color correction, background removal, and noise reduction
Audio track mixing & quality improvement
Various transitions, animated titles, filters, and effects
Quick export to social media
5. Lightworks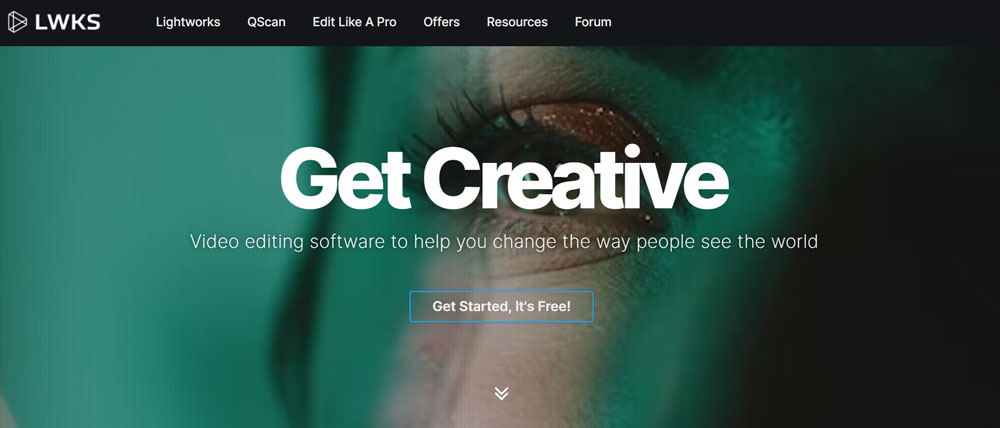 Lightworks is an excellent choice to get started in the world of video editing on your Mac M1. It is easy-to-use editing software that allows you to edit, trim, and attach one or more videos, sounds, and images and is compatible with various video formats.
I recommend it a lot, and trust me, you won't regret it if you purchase this software for your Mac M1. It is powerful but does not have as many features that help beginners learn how to use it as some other products do.
This means you have to learn how to use this software on your own. However, it is also used in some famous Hollywood movies for editing, such as Pulp Fiction, The King's Speech, and the most famous Wolf of Wall Street.
Features:
A real-time effect.
Multicam editing at its best.
Multimonitor output.
Multiple file formats are supported.
Video can be exported to Vimeo (H. 264/MPEG-4) up to 720p HD.
Up to 720p HD can be exported to YouTube (H.264/MPEG-4).
6. DaVinci Resolve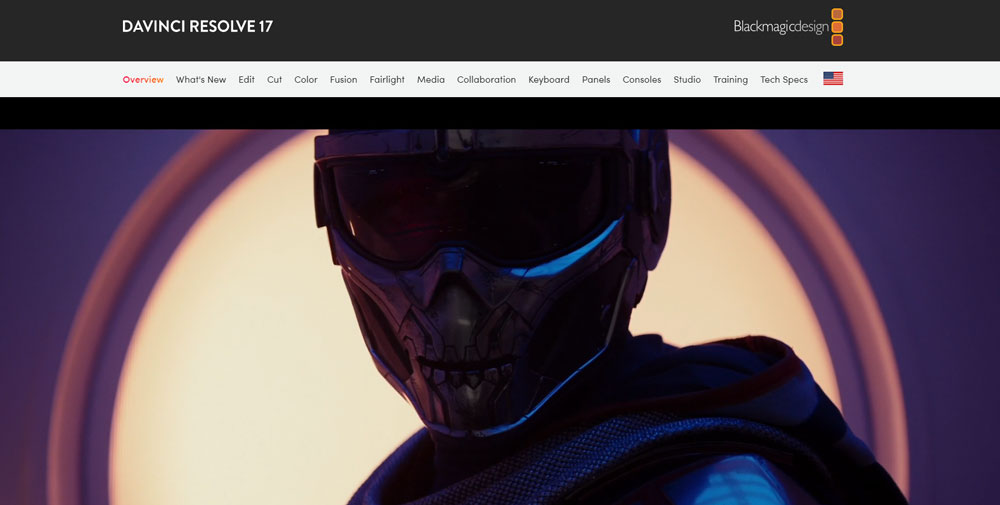 If you are a video editor, producer, or editors-in-training, you will find DaVinci Resolve fully loaded with all the cutting, keyframing, color grading, and audio tools they need. The free version of the application is also quite capable, but it has a steep learning curve.
Therefore, you need to learn how to use this editing software on your own. Also, you must be shocked after knowing that the DaVinci Resolve is one of Hollywood's most popular video editors.
This is because it allows you to edit and add visual effects, motion graphics, color correction, and audio post-production for Mac, Windows, and Linux!
Features:
Editing.
Color correction.
Visual effects.
Motion graphics and audio post-production.
7. Openshot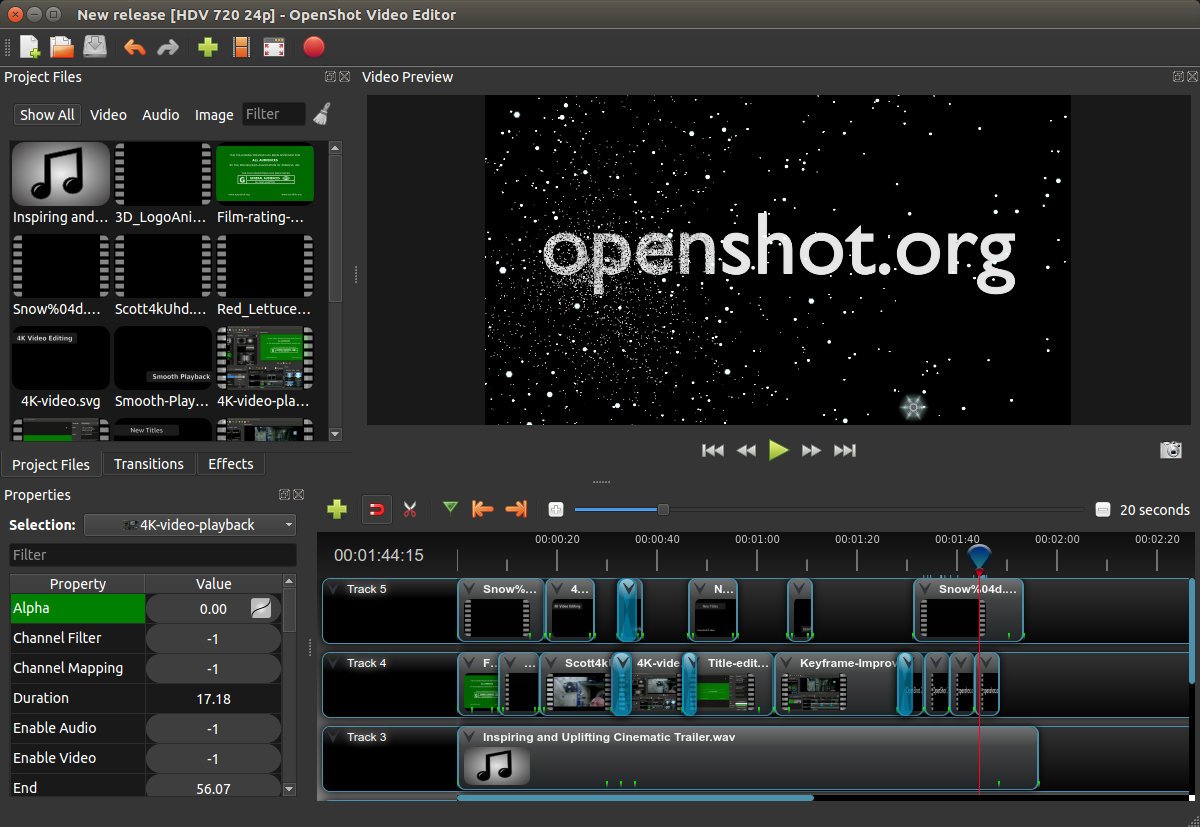 Openshot is an open-source and free video editing software available for the Windows operating system. It includes features like unlimited layers and tracks, time-mapping, real-time previews, trimming, snapping, clip resizing, curve-based keyframe animations, 70+ language support, slow-motion effects, cross-platform support, etc. Moreover, there are enough video editing tools in an easy-to-use interface to get you going for a well-edited video.
8. VN Video Editor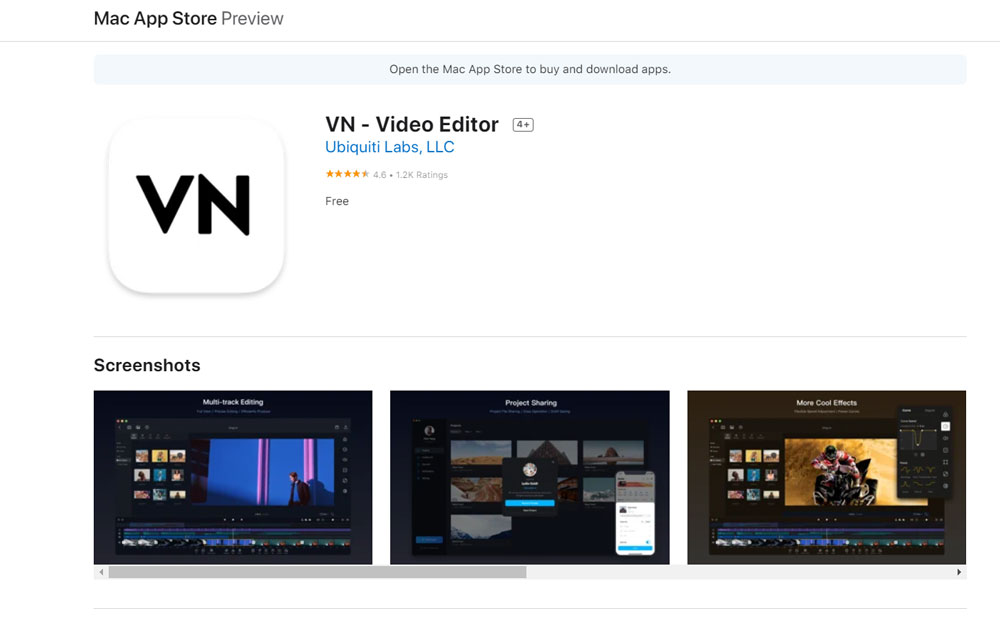 VN Video Editor is an intuitive and ad-free editing tool without watermarks. You can use it on Mac or Windows, but it is mainly designed to work on mobile devices. It has a friendly user interface, quick imports of video material, and powerful editing features to make editing more efficient.
So, if you are a beginner, you will have no problem getting started and creating an excellent video right away. Videos created with VN are easy to organize and easy to make.
When you edit your videos with VN, you will be able to showcase all the memorable moments you recorded or photographed. Additionally, adding to the fun of creation allows you to edit 4K videos easily.
Features:
VN makes editing videos very easy.
Seamless Connection.
Multi-Segment Editing.
You can add some cinematic filters to your videos with VN.
Add subtitles to your videos.
9. iMovie
In the industry, professionals refer to iMovie as a nonlinear editor. However, suppose you are looking for some best video editors for your Mac M1. In that case, you can consider this as you can use it to cut and edit videos, music, and graphics without making any changes to their originality.
Almost all Hollywood films today are edited with these powerful tools. However, the fact that Apple makes the user interface so simple shows that they understand not everyone who makes videos is a professional video editor or tech-savvy.
So, you can check out the link given below to download this editor software and let us know if you like this editing tool.
Features:
Video color settings can be modified and enhanced.
Video clips can be cropped and rotated.
Shaky videos can be stabilized.
Adding video transitions and speeding up or slowing down clips are also possible.
10. Filmora
A wide variety of powerful editing tools makes it possible to create amazing videos with Wondershare Filmora video editing software. Moreover, video editors of any skill level can become great editors with Wondershare Filmora's intuitive design.
Filmora strikes the right balance between features and ease of use among video editing software programs. In addition, they also offer you a beginner guide on how to use this application to edit your videos on your device.
However, Wondershare's Filmora supports both Windows and Mac while talking about compatibility. So, now let's hover over its features part:
Features:
Support for 4K editing.
Ability to edit GIFs.
Remove noise.
Color correction.
Text editor with advanced features.
Multimedia mixer.
Video stabilizing.
Automatic scene detection.
Equalizer for audio.
11. Avidemux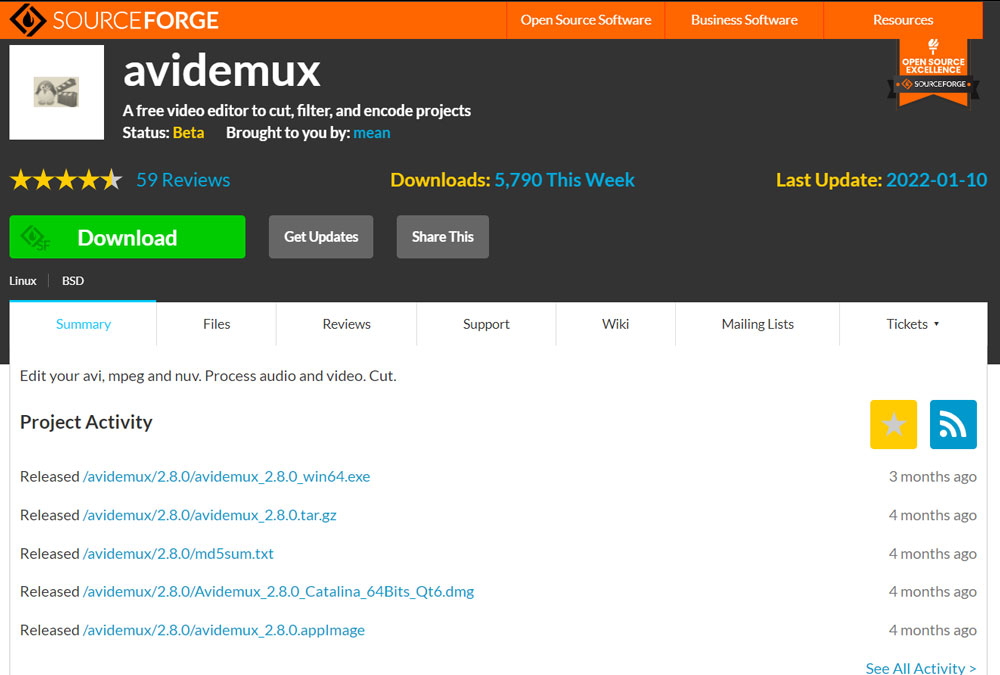 Avidemux may be your best choice if you're new to video editing developed by SourceForge. However, SourceForge's Avidemux is an open-source, free video editing tool that is popular with beginners.
You can use Avidemux to encode or optimize videos for specific speaker setups. It is also a good choice for simple video editors, but others with greater functionality might be preferable.
So, now it's upon you whether you want this editor or not. However, if you are confused, then you must check out the features that we have mentioned below:
Features:
Cutting.
Copying any image or video.
Removing video segments.
Saving individual segments.
Filtering.
Adding filters to videos.
Filters for audio.
Codecs.
12. Camtasia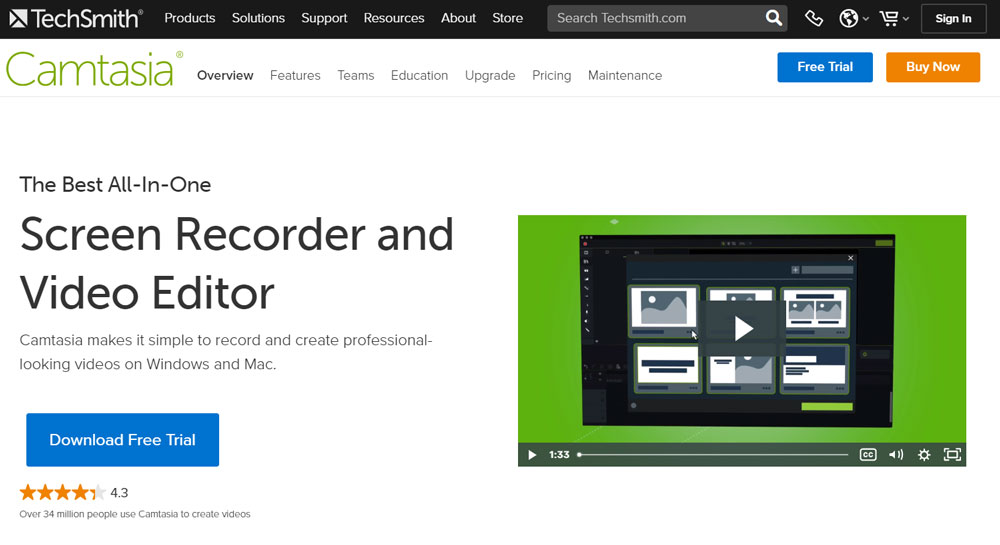 Techsmith's Camtasia software has a simple interface, making it easy to edit videos and record screencasts. It provides designers with the ability to create professional training videos easily and in a timely manner. Currently, it is available for both macOS and Windows.
However, it also makes it easier for Windows and Mac users to record professional-looking videos. So, it is our last recommendation, and if you need a simple and easy-to-manage video editor software, you must consider this as it has everything that a beginner editor needs.
Features:
More than 75 new transitions.
Introducing Motion Blur.
A corner rounding effect has been added.
Support for Lottie (JSON).
Media clips can be customized.
13. VideoPad
This could be the go-to option for freelance video editors or small businesses who are looking for a complete package that too inexpensive. The software provides an easy-to-use interface,
360-degree video support, 150+ visual effects, supports Windows 10. However, there is a lack of some premium features so for beginners, this is a good option and not recommended for professionals.
From Author's Desk
So, these were our recommendations for the 10 best video editors app for Mac M1. However, pardon us if we forget to add any more valuable editing tools here in this guide.
If you've any thoughts on 13 Best Mac M1 Video Editors to Make Stunning Videos, then feel free to drop in below comment box. Also, please subscribe to our DigitBin YouTube channel for videos tutorials. Cheers!