WhatsApp Lite is a cut-down version of the WhatsApp for low-end Android devices, consuming fewer data, low storage, running on economical processing speeds and eating battery gently. The App is compatible with all the Android devices, has all the features and will not take much space.
WhatsApp is a heavy App and uses a lot of device resources. They consume data in the background, eat storage space, drains the battery, need a good CPU to load the messages quickly without any App freeze. Today in this post I will tell you about some of the best WhatsApp lite alternatives for Android. A lite App eats low storage space, less internet and also doesn't eat the power. They can be run on a low-end or mid specs Android Smartphone without any load and freeze issues.
First thing first, there is no any official WhatsApp Lite App by Facebook. The lightweight WhatsApp available are developed by independent developers and has all the core features like the WA but with a plethora of added features. Original WhatsApp may be a big file with size above 40 MB while the Lite App can't be very low due to WA features and System requirements but they are pretty good enough to run on a low-end device. Let us talk about them.
What is WhatsApp Lite?
WhatsApp Lite is the most popular instant messaging App with powerful internet services offering free messaging, call and video over the data. With over a billion monthly active users and its nature, it has become an indispensable part of every internet user.
WhatsApp uses the internet data to send the messages which include text, images, videos, GIF, documents, user location, audio clips, phone contacts and voice notes to other users in your contact. You can even make a video call on WhatsApp over the internet.
Note: Take a backup before installing the App.
Read – Best WhatsApp Mod Apps for Android
WhatsApp Lite App for Android
Download WhatsApp Lite APK for Android to run the messenger App without any load issues.
WhatsApp Lite
WhatsApp Lite runs on low-end Android devices without any hassle. The WhatsApp Lite is the same as traditional WA but it's not developed by Facebook. It also has the same functionalities as the original WA and its also free use. The lite App lets you customise the menu, chat conversation and some other options to make most out of the App.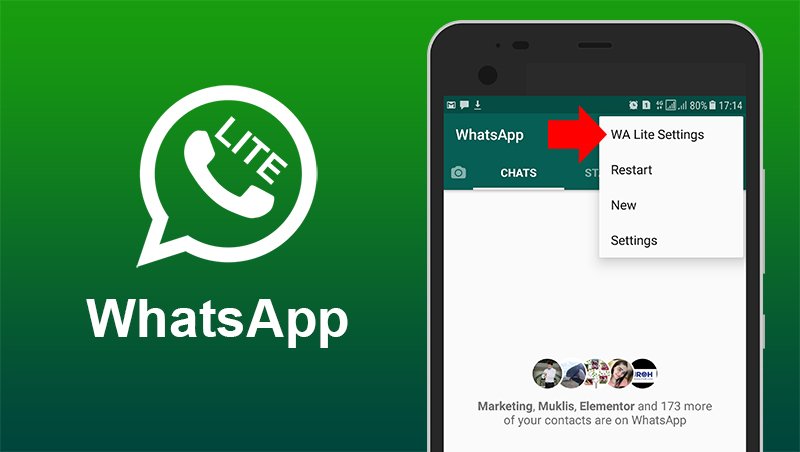 Features of WA Lite
Light in weight
Simple UI with all core features
Personalised Customisation settings
WA groups with large members
Restore with original WhatsApp account
Low resource consumption
GBWhatsApp MiNi
GBWhatsApp Mini is a lightweight WA which can run on low-end Android smartphones with less RAM and CPU power. The App uses pure official WA Skin, and there also an option to modify c0lors and themes. The GBWhatsApp Mini is actually a size cut version of the GBWhatsApp with all important features included and some not so important features excluded to cut the App size.
Features of GBWA Mini
Anti Revoke – Deleted Message can be read if the sender deletes.
DND Mode – No notification from the App until you disable the DND Mode.
Status Downloading— Allows you to download status media
Can send a file up to a size of 1GB
Lock Chat with pattern/fingerprint
Will receive automatic updates
Hide Online Status, Blue Ticks, Double Tick, Blue microphone
Hide Blue microphone
View Status without any letting the user know
Download GBWhatsApp Lite | 22MB
Soula WhatsApp Lite
Soula WhatsApp Lite is another Mod with greater control of our privacy and good app optimisation speeds in even a low-end device. The App has good options to customize the interface and the graphics. The App has a number of the updated new emoticon, emoji pack and stickers.
Features of Soula WhatsApp Lite
More security, stability, and execution speed.
Expanded privacy options that affect chats, groups, and contact management, including the possibility to share statuses.
New functions to carry out backups and recover information.
All hidden features are unlocked.
Compatibility to send up to 100 files of different formats at once: APK, ZIP, RAR, PDF…
Send batches of up to 100 images.
All these features and functions will make the App better given its user experience and to send messages. There are a number of minor details which improve the functioning of the app. All in all, if you want to add new functions to WhatsApp and make the most of the conversations with your acquaintances, go with Soula WA Lite.
Download Soula WhatsApp Lite | 18MB
WhatsApp Prime Lite
WhatsApp Prime is a third-party mod application the developers claims WA Prime to be a better version of the original application. WA Prime has a plethora of features along with themes and customisation options. To engage more users the developers simply made a makeover of the original applications and named it Prime. The lite version of the App is half the original App for Android. The developer had made some changes in the UI and added some extra functionalities.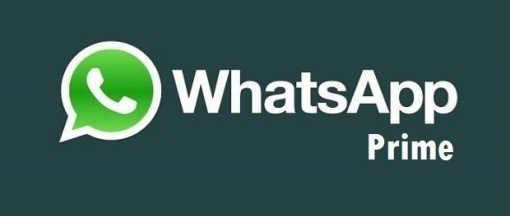 Features of WA Prime
View Last Seen Without Entering the Chat Box
Media Preview Without Loading
FB Messenger emojis.
Ability to zoom-in on profile pictures
Smaller in Size
Can add up to 256 members in a Group
Share more than 10 HD images in a single go
Thousands of premium WA themes
Download WhatsApp Prime | 14 MB
YCWhatsApp
WhatsApp lacks plenty of interesting functions which led to people popping up on the Mod Versions for the App to get extensions of the functions and features of the original application. YCWA has an interface similar to Instagram giving you the perfect feel if you are the lover of the photo-sharing app. The App also has a number of features and with a size of 20-23MB which is pretty decent for WA.
Features of YCWA
Greater control over the privacy
Modify the text fonts and size.
Emojis and Stickers loaded
Graphical aspect inspired by Instagram.
Large Length Video Support
Gesture controls.
Status Downloader
Share Longer Stories
RWhatsApp Lite
RWhatsApp is a lite version of WhatsApp. It blends in the features of conventional WhatsApp and has a look and feel of the iPhone. The buttons and emojis are extracted from Facebook. The styles and fonts are taken from iOS. This gives the RWA a very fresh look and makes it a very popular mini sized alternative to the WhatsApp. You can download the App from the mirror link below.
Features of RWhatsApp
Mini-sized WA alternative
Blends in the features of WhatsApp, iOS and Facebook
Responsive and easy backup options.
Simple UI and fresh interface
How to Download WhatsApp Lite?
Here are the simple steps to download and install the WhatsApp Lite App on Android.
1. Enable Unknown Sources. To do so simply go to Settings → Security → Enable Unknown sources.
2. Download WhatsApp Lite from the download links.
3. Locate the file and install the App on your device.
4. Open the App, make all the necessary settings and restore the chat. Done!
How to Restore WhatsApp Chat on Lite Version?
If you wish to restore your chat in new the Mod lite WhatsApp than you can do the following steps.
The Apps are signed separately and if you wish you can install the WA lite as a separate App in the drawer.
If you already using the official WhatsApp take the backup of your chats inWhatsApp. To do so, Open Whatsapp → Go to Settings → Chats → Backup chats.
Now delete the WA App.
Open your File Manager and locate for the folder named WhatsApp. 
Now Rename this folder from WhatsApp to GBWhatsapp Mini or to the name based on the Lite App you installed.
Also, rename all other folders inside the WhatsApp Folder by the name of the App installed. Example, WhatsApp Media to GBWhatsApp Mini and so on.
Now verify your number in the lite WA and restore the backup from the storage.
Whats Web
Whats Web is not a WhatsApp Mod App nor it is an unethical way to access the WA. It is a lite web version of the WhatsApp which let you access the WhatsApp using the feature WhatsApp Web. All you need to do is scan the barcode on the Whats Web App using your WA and gain access to all the Chats and Status. You can perform all the actions which can be performed on the stock WhatsApp.
Features of Whats Web
Read Messages, send Messages, Change Profile Picture.
Change  Status, Download Images
Forward Images
Send Images from Gallery and Camera
Download and Forward Videos.
Send attachments and files
How to Use Whats Web?
Download the Whats Web App from Play Store.
I believe you use only one Android phone for WhatsApp.
Open the Web App and take a Screen Shot of the Barcode.
Now Share that SS on any other phone.
Now open the original WhatsApp App and click on 3 dots on the right top
Click on option WhatsApp Web and check scan the barcode. Done!
You do not need to open the Conventional WA App and let it work in the background.
Though this may sound a little crumbled. But if you seriously wish to give less stress to your phone than WA web scanner App is the best option to go for. Though you need to keep the original WhatsApp installed on your device, you do not need to use it.
Conclusion: With the WhatsApp lite you can save a lot of device power and resources as they consume low storage and RAM. These Apps are best compatible with low-end and mid-range Android phones which cannot handle the heavy loaded software. If you have a low-end device with slow processing power, low RAM and older OS Version then these Apps can run on your device without any issues. Just download a lite version of the WA for Android from the list above.
Note: I do not own the App nor I am affiliated with the App in any form. The Crack is developed by independent developers who help to contribute to the internet community. DigitBin only hosts the link to the file from the global resource of Archive.org. Please Contact the developer for any query. I hope the post was helpful. Do comment below for any assistance or support.
DMCA: DigitBin.com is in compliance with 17 U.S.C. * 512 and the Digital Millennium Copyright Act (DMCA). It is our policy to respond to any infringement notices and take appropriate actions. If your copyrighted material has been posted on the site and you want this material removed, Contact us.
If you've any thoughts on WhatsApp Lite APK Download for Android, then feel free to drop in below comment box. Also, please subscribe to our DigitBin YouTube channel for videos tutorials. Cheers!