Dark Mode can be found on almost all apps, be it for Android or iOS. Dark Mode provides an appearance that is better for the usage of apps during night hours or when the light is low. In fact, dark mode or dark theme looks absolutely stunning on an OLED screen, which is what most modern-day smartphones are coming equipped with. Even the latest iPhone's for that matter. The dark mode also helps in saving battery life.
We spend most of our time either scrolling through our social media feed or surfing the internet. If you surf the internet for long hours, then dark mode can help you save some battery juice. Note that Apple's own Safari browser does not feature a dark mode. But don't you worry. Because we have got you covered. In this post, we will give you the 7 best dark mode browsers for iOS devices. Having said that, let us jump straight into the article itself.
Best Dark Theme Browsers for iOS Device
Here are the Best Night Mode Theme Browsers for your iPhone and iPad Devices
Mozilla Firefox
One of the best and popular browsers for iOS devices that comes with a dedicated dark mode is Mozilla Firefox. The user interface of Firefox is elegant. The dark mode on the Mozilla Firefox browser works brilliantly. Moreover, there are two ways to activate the dark mode on this app. You can select to apply the dark mode theme permanently, or you can choose it to be applied automatically based on daylight situation.
How to use night mode in Firefox for IOS
You can enable Dark Mode in Mozilla Firefox for iOS by heading over to the Settings menu. Then tap on the Enable Dark Mode button. After this, everything from tab pages, bookmark menus, reading lists, menus, etc., will turn dark. There is another option called Automatically that will apply dark mode based on the device's screen brightness.
Download: Firefox
Dark Browser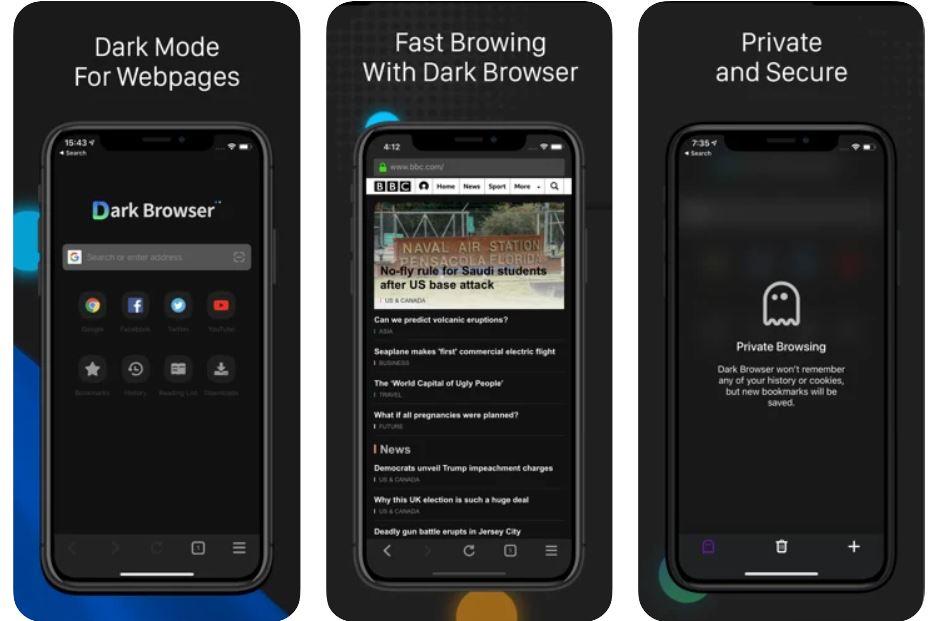 The next one on our list is Dark Browser. This is a browser that focuses more on the dark mode offering for the web browser. The app offers automatic and manual options to switch over to dark mode. There is an in-built ad-blocker, to keep you away from unwanted ads. On top of all the night mode features, it also has all the standard web browser features like bookmarks page, history, download section, etc.
However, there is a downside to this Dark Browser. In order to unlock more features, you need to buy a subscription. The subscription starts at $4.99 for 1 month and goes all the way up to $36.99 for 1 year. Frankly, just for the sake of night mode, paying that much, and that too for a browser is too much. It simply made our list because of its night mode capability. But if you have the bucks, you can try this browser out on your iOS device.
Download: Dark browser
Berry Dark Browser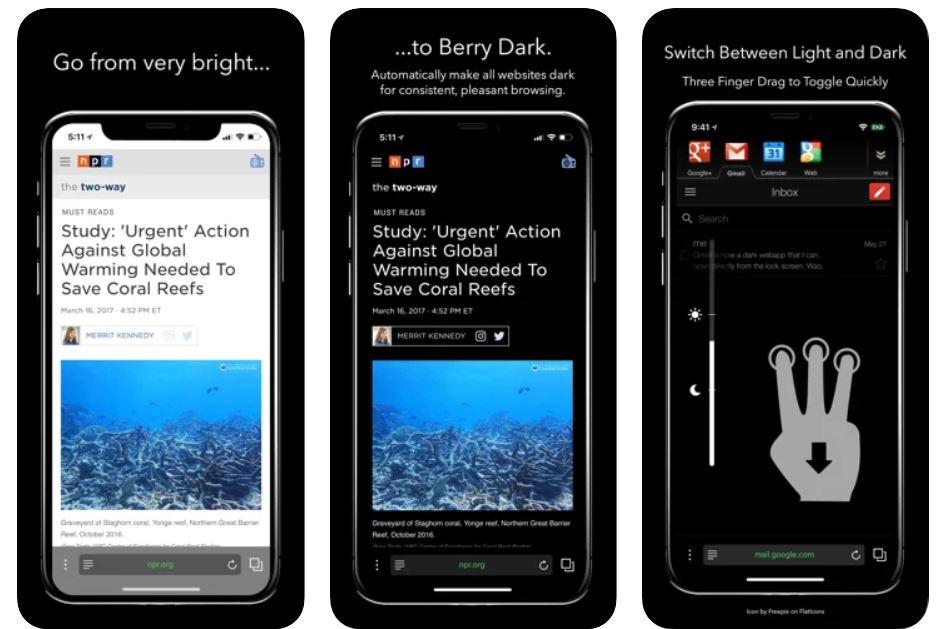 The next browser on our list is the Berry Dark Browser. It already has the word "Dark" on it. This browser is highly rated in the App Store. One of the cool things about this Berry Dark Browser is switching over to a Light to Dark theme, or vice versa is pretty simple. All you need to do is perform a three-finger drag to toggle between dark and light mode.
There are other features of this browser such as a fully dark-themed keyboard you can use on other apps, a built-in content blocker, dark reader mode, no in-app purchases, no advertisements. Overall, a good browser if you are looking for a dark mode browser for your iOS device.
Download: Berry Dark Browser
Opera Browser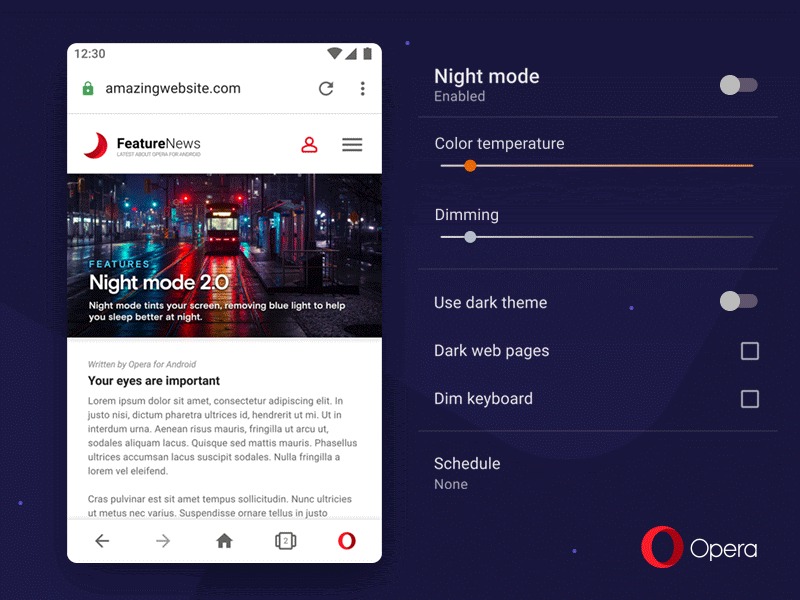 Opera is well known in the internet browser category. Well, you can use your favorite Opera Browser in dark mode. The interface is smooth, and it provides you with all the goodies ranging from link device browser to PC version, built-in QR scanner, ad-blocker, and much more. The browser's user interface is designed in a way that one-hand usage is not hampered.
The dark mode on the app lets you easily surf through the web without any strain on your eyes. Moreover, you can also adjust the color temperature of the browser in order to suit your eyes at night times.
Download: Opera Browser
Dark Night Browser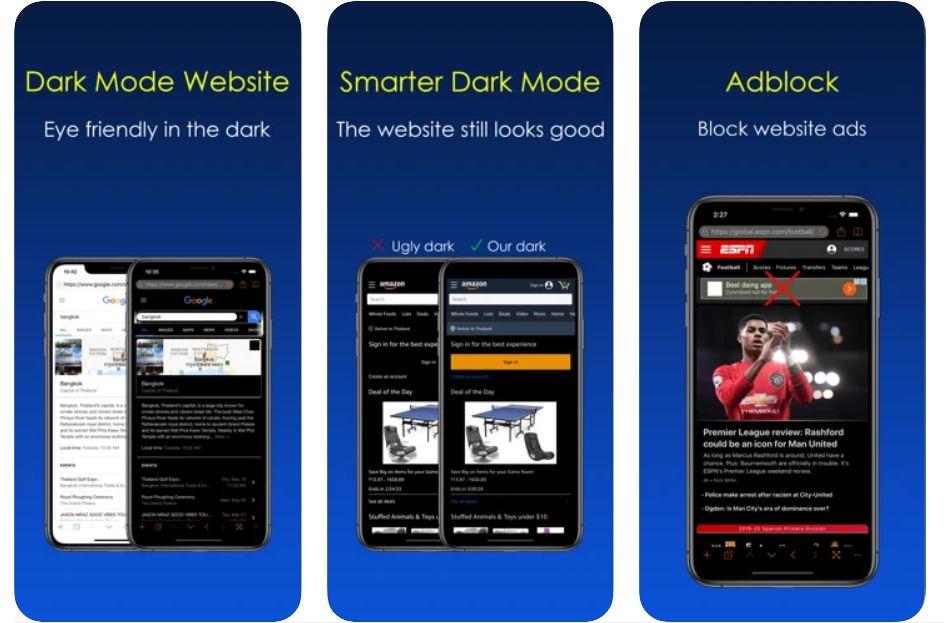 No. The Dark Night browser is nowhere related to Batman. But it does the job of being a dark mode browser for iOS devices. The Dark Night browser comes with a host of dark mode features that not only give you that black theme for surfing the internet at night, but also it gives you multiple other options. The Brightness filter gives you the option to go even lower than the system brightness.
Besides, there is this Blue Light filter that restricts blue light from going straight to your eyes. You can also adjust the size of the fonts to help readers better. You can also turn off all the animations and also there is a "rest your eye" warning that warns you when you are continuously using the phone. Apart from all these night mode features, there are other standard features of a browser such as multiple tab browsing, bookmark, history, find on-page. It also comes with an in-built ad blocker as well.
Download: Dark Night Browser
Perfect Browser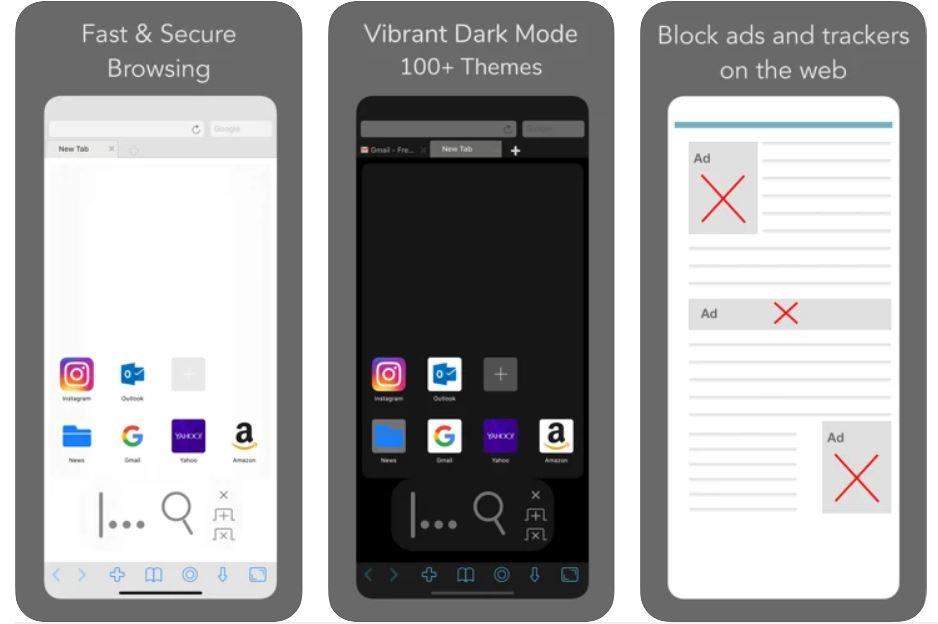 This browser goes well with its name. Perfect Browser comes with all the features that one would want out of a web browser, including the dark mode theme. Notably, it comes with a built-in ad-blocker, that keeps the unwanted ads away when you are browsing. The app's user interface is designed for one-hand usage for iPhone users. The good thing about this browser is that it not only features a dark theme, but it comes with over 100+ themes.
So, you have the option to create different combinations of dark themes as per your liking using the color mods. The app also features support for private tabs, app passcode lock, uploading files to Dropbox or Google Drive, desktop mode, Bluetooth keyboard control, font size adjustment, brightness control, etc.
Download: Perfect Browser
Pure Web Browser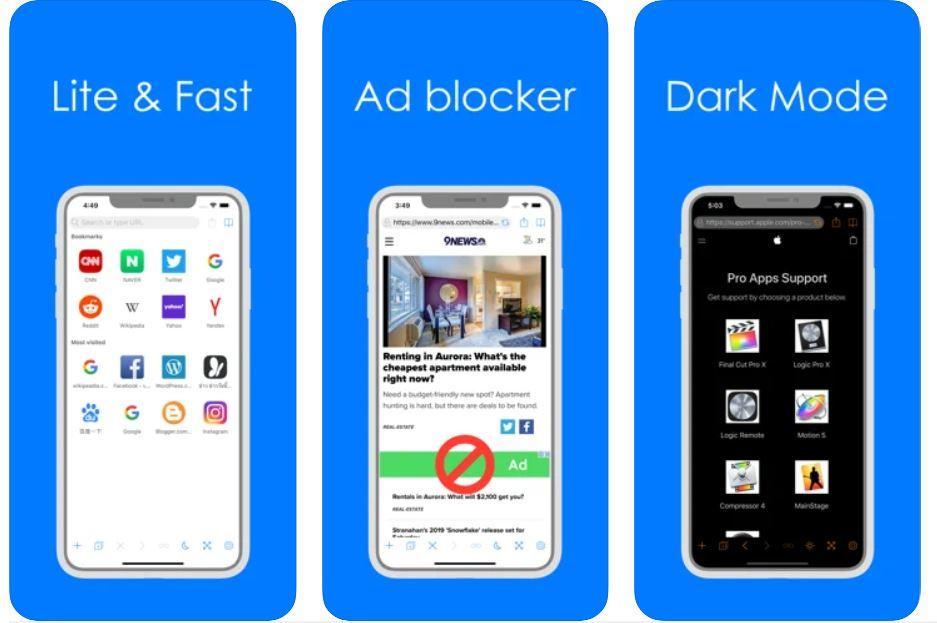 Last but not least on our list is the Pure Web Browser. This browser is lite but comes with all the features of a web browser. Yes, there is a dark mode option as well. You can simply enable it under the Settings menu. It also supports tabbed browsing, customize font and color, swipe gestures, ad-blocker, touch ID/passcode support, etc.
Further, it comes with features such as website translator, autofill password, desktop mode, finds on-page, searches suggestion, individual website settings, change video playback speed, and much more. Overall, this browser provides all the features you have with popular browsers such as Google Chrome, but with a Dark Mode add-on.
Download: Pure Web Browser
Conclusion
So, that's it from my side in this post. Note that all the web browsers listed here are free to download from the App Store. Although there are other web browsers available for iOS devices, these are some browsers that are good enough if you are looking for a web browser for your iOS device with the dark mode feature. Let us know in the comments below, which one of the above-mentioned apps you liked the most. Until the next one…Cheers!
If you've any thoughts on Best Dark Mode Browser for iPhone and iPad Device, then feel free to drop in below comment box. Also, please subscribe to our DigitBin YouTube channel for videos tutorials. Cheers!