YouTube Vanced is a counterfeit version of the YouTube app with features like Dark Mode, Background Play, Pop-Up Box, Ad-block, and more for free. The app is developed by Team Vanced from XDA Developers. You get all the features for free without any complex installation process.
But with the introduction of APK bundles, it has become a little difficult to directly install APK files. Google introduced a new way to distribute Android apps called app bundles. While the regular apps contain all necessary resources like screen size, manifest, XML, Config, and architecture in a single APK.
You need to use a split APK installer to install app bundles. But if you wish to install YouTube Vanced without any SAI Installer, then the Vanced Team has developed Vanced Manager. With Vanced Manager, you can install YouTube Vanced without any XAPK or SAI Installer.
What is Vanced Manager?
Vanced Manager is a YouTube Vanced Download Manager app that offers MicroG and YouTube Vanced App that you can directly install without any SAI Installer App. The Manager also allows YT Vanced on Rooted Devices. In all, it is one of the best solutions if you wish to download YT Vanced App.
Features of YouTube Vanced
Based on YouTube API — Core UI and Functionalities are exactly like YouTube App by Google. The Vanced looks exactly like the original YT app.
Ad-Block — No pre-roll, mid-roll, and sponsored ads as it comes with built-in ad-blocker
Background Play— You can just listen to music/audio in the background as the Vanced comes with background video play
Dark Mode — Enjoy the app in dark mode with YouTube Vanced App.
PiP Mode — Pop-up video box for multi-tasking; you can watch the video while performing other tasks on the mobile phone with Picture-in-Picture Mode. In simple words, you can reduce the video to take a small portion of your screen so that you do other stuff on your device. (PiP mode is supported only on Android Nougat and above)
Save Offline — Exactly like the original YouTube App, you can save videos offline
No Root — The app works without root; you can use the app on any Android device without any issues with system access. However, there is a non-root version.
Parallel Use — You can use the app along with the default original app. The app has a different package and can run along with the original YouTube App. So, you do not need to uninstall the default YouTube app to use the YouTube Vanced
HDR Mode — You can force the app to use HDR or Forced HDR, which will improve the video quality considerably. With Forced HDR, you can force the app to use the HDR mode.
Gesture Control — Swipe controls allow you to control brightness and volume like how it is in other video players apps such as VLC or MX Player (with configurable padding)
Vanced Settings — You also get customized settings for the vanced app with more detailed control over the video play and preference.
Secure File – Scanned & Tested ✅
What is Revanced Manager?
ReVanced is a patcher used to alter apps, including YouTube, YouTube Music, Reddit, Twitter, TikTok, and more. Most of these platforms have one feature in common: they are all subscription-based. YouTube and YouTube Music, in particular, demand a subscription to access premium features that remove basic options such as ads and include other advanced services otherwise absent in the free version.
Change Log
Fixed root installer for some users
App now checks for Magisk and displays an error message if it's not detected
Various optimizations
How to Use (Re)Vanced Manager?
1. Download Manager App
2. The app will autodetect if the device is rooted or not.
3. You can only access the root option if your device is rooted.
4. For rooted devices grant root access and download the YT App.
5. On the non-root home screen, first, install MicroG and then install YT Vanced.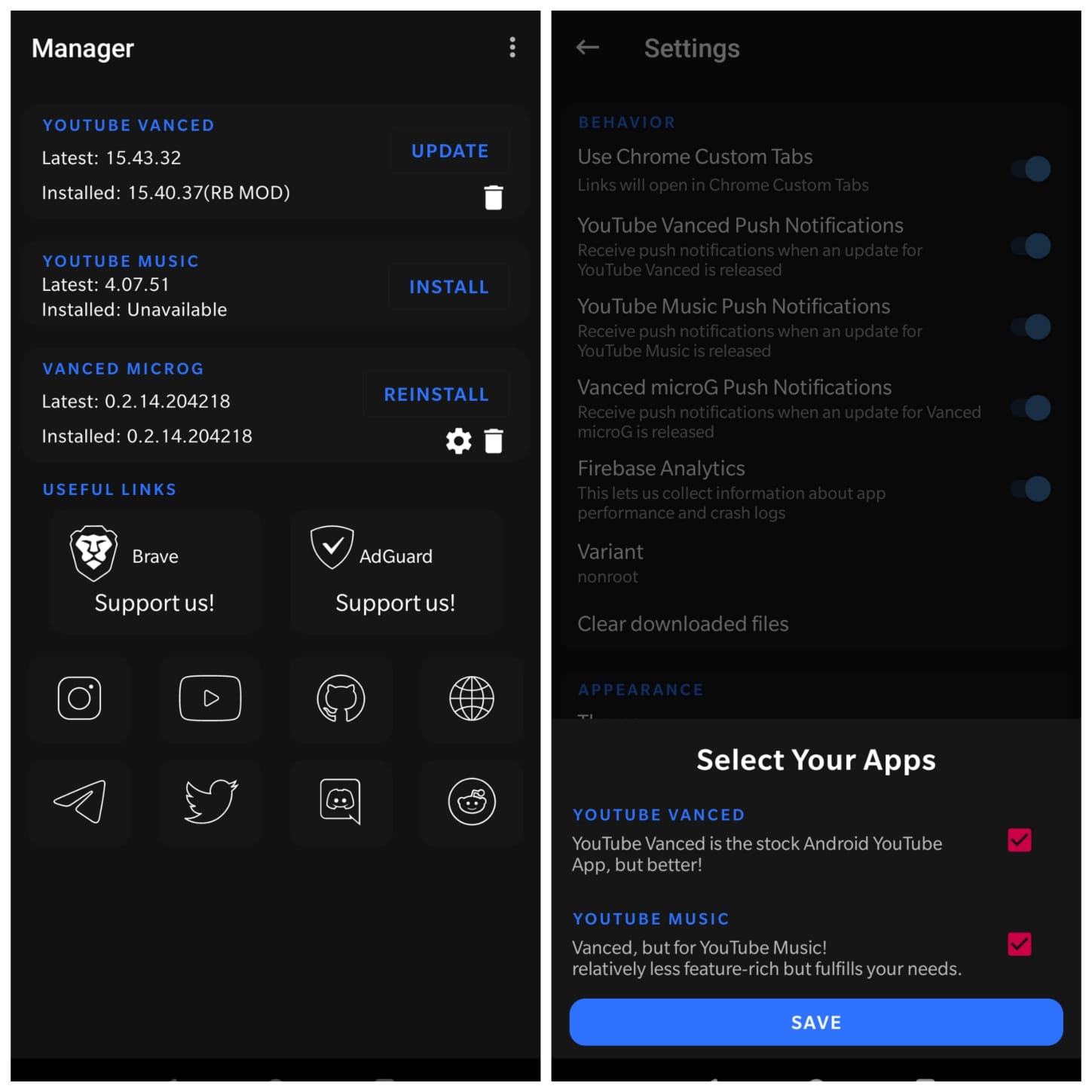 6. Once both the apps are installed, you can access youtube Vanced without SAI.
Download: YouTube Premium Vanced APK
How to Directly Install YouTube Vanced APK?
You can also Directly Install YouTube Vanced APK without Vanced Manager and SAI Installer.
1. Download both files on your Android device.
2. Now Install both YT Vanced APK and MicroG.
3. Open the Vanced app and Login with your Google Account to access premium features
Here are the steps you can take to Fix the Crashing of YouTube Vanced
Uninstall Both YT Vanced and MicroG App.
Now First Install MicroG App.
Once the MicroG App is installed, install YouTube Vanced.
Clear all the running tabs and open YouTube Vanced; the issue will be fixed.
Note: If the Vanced app is not opening, just clear all the tabs and restart the app.
Conclusion: With Vanced Manager, you can download YT Vnaced without SAI installer directly from the manager app. Also, the Manager helps with any installation or force-close errors on the Vanced app.
If you've any thoughts on Vanced Manager APK Download | Easy Way to Update and Install YT Vanced, then feel free to drop in below comment box. Also, please subscribe to our DigitBin YouTube channel for videos tutorials. Cheers!