Ads! They are very irritating and can irk any user if in large numbers combined with wrong positions. Android is an open-source Operating System which gives loads of customisation options to the users and unrestricted App development to the creators. Being a Google product you can see the footprints of Google on each and every service of the operating system. Google has control over everything, whether you say Apps, service or Ads. The Android has millions of Apps and the App developers make money using advertising. The App uses display adverts suitable for both users and developers to make money. There are many AdBlocker Apps for Android which can assist in filtering the content from Apps including YouTube and Chrome or in Game Ads.
Google Ads and other 3rd party Ad publishing services which serve ads on Android phone always try newly updated methods in the presentation which many a time are very much rattling. Many Apps try aggressive methods in advertising by means of interstitial and pop-Ads. So, in this post, I will tell you about some of the best Ad Blocker Apps for Android which can help you save data and battery consumption by blocking the advertising scripts on the mobile.
Benefits of using AdBlockers for Androids
Blocks Ads in apps
Non-root
Saves bandwidth and battery
Increases loading speeds online
Protects privacy
Removing Adware is not a one-click setting feature on Android unless you have a rooted device. The Apps below help in content blocking by filtering the Ad Scripts.
Best Apps to Block Ads on Android
Here are the best AdBlock Apps for Android to filter the content and Block Ads and Pop-ups.
1. Adclear
Adclear is another non-root ad filtering App developed by XDA developers. It creates a VPN on your device to filter out ad traffic before it reaches you on the web or in apps. It also filters the encrypted Ads. The Adclear is capable of blocking all types of intrusive and non-intrusive Ads on all the Apps.
Features
Blocks encrypted ads
Works with Wi-Fi and cell data
Blocks ads in apps
Selective app filtering
Support for multiple browsers
Non-root
Log of blocked ads
2. AdGuard for Android
AdGuard is a no root ad blocker for Android that removes ads in apps and browsers, protects your privacy and also does not allow anyone to track your activities on the Internet. It can work either in HTTP proxy or VPN mode.
To block HTTPS Ads, Go to Settings –> HTTPS Filtering and turn it ON or you can even turn on the advanced mode.
Features of AdGuard
Saves Traffic
Block Every Ad on Android
Privacy Protection
Saves Data and Battery
3. Adaway
Adaway is a very powerful and robust content filtering App which blocks all the Ads on Android whether you are using any App, web or any other service. The app uses the Host file and when an app requests an ad, that request is directed to 127.0.0.1 which does nothing. The Adaway doesn't reduce the internet speeds and blocks the Ads with ease.
4. DNS66 | Block Ads & Trackers without Root
DNS66 is one of the most popular repository based Ad Blocker App for Android. The DNS66 creates an encrypted server filtering all sort of Ads from intrusive Ads, Pop Ads, Web Ads, App Ads etc.
Just download the DNS66 App from F-Droid and open the App. Here click on Domain Filters → Adaway Host Files.
Tap the power icon on the home screen of the App and download any missing files if prompted. Done! Adblock activated.
Apart from this, you can also keep your privacy at high security with various options available in the DNS66 App including, Malware Host, Ad Tracker Host, DNS Host etc.
[No Root] Block Ads on your Android Smartphone
I recommend this app if you want to make your phone high on privacy.
5. Free Adblocker Browser | Block Ads and Pop-Ups
It is a browser with the core intention to block Ads. Free Adblocker Browser is developed by Rocketshield Inc. who specialises in this technology. The browser is built with the notion to just eradicate web ads and other intrusive trackers. With this browser, you can have ad-free web experience and enjoy fast & secure browsing. The browser is capable of blocking all sorts of advertisement which includes but are not limited to, banners, video ads and pop-ups, text ads and many more.
Blocking ads will save data and increase privacy. They will also help in optimising the battery. You can browse safer and faster. If you are looking for an all in one Ad Block Browser for Android than I recommend you to go with Adblocker Browser.
6. AdLock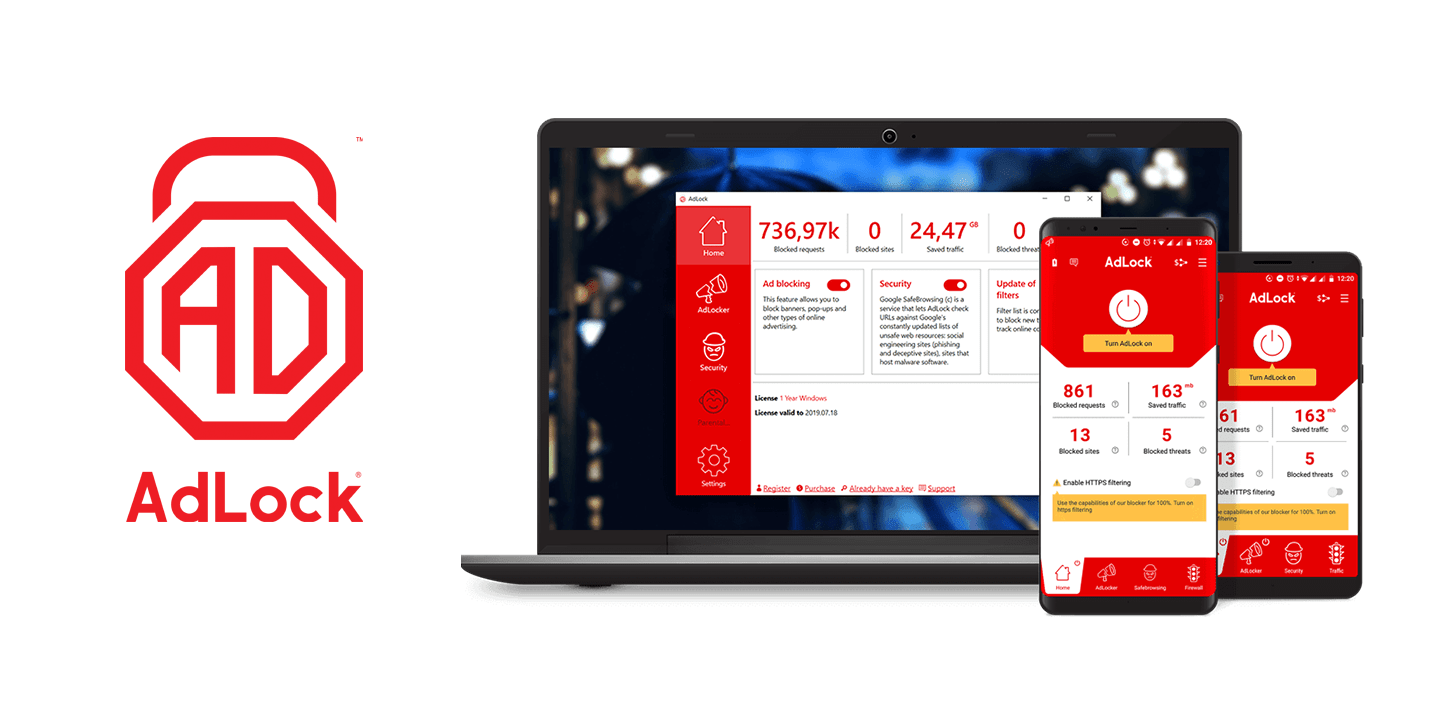 AdLock is a comprehensive ad-blocking software that meets all user's requirements at once. It's a sophisticated product encompassing robust functionality and an intuitive user interface. The app works by creating a host VPN network which filters all the Advertisement tags before reaching your device. Instead of paying for each individual app for its premium ad-free version getting not-so-expensive premium subscriptions of AdLock can do the trick. If you want to pare down expenses for numerous premiums, then AdLock is for you. AdLock works systemwide and makes browsers, apps, games, and instant messages utterly and completely free of commercials. You've got it right — one ad-blocker handles it all. Free 14-day trial period and 30-day money-back guarantee.
Features of AdLock
No need for root — download, install, run;
Pure content only — browser adverts and their placeholders vanish
Ad-free apps and games.
Ad-free YouTube and other streaming services.
Data security and personal firewall to protect against phishing attempts, suspicious requests, or malware attacks succeed.
Compatible with Android 5.1 and above smartphones and tablets.
7. Adblock Browser for Android
Developed by the popular developers who created Adblock Plus for Desktop, the Adblock browser is focused towards blocking all sorts of ads and trackers which can harness your data. Many internet magazines have praised the web tool for its clutter-free web delivery. With Adblock Browser you can access the web without any Ads as the blockers will eliminate all sorts of banner, text, video and intrusive ads.
With this browser, you can save data, battery and increase the browsing speed with enhanced privacy protection for your Android device. Being an adblocking centred browser, it will surely turn out to be one of your primary browsers.
8. Blokada
Blokada is an open-source Ad-Blocking App which removes ads and malware on Android. It works on both mobile networks and Wi-Fi. The Blokada is another robust Adblocking App for Android which aggressively filters all the Ads on Android.
9. Block This | Ad Block for Android
Another open-source adblocking service which can block all intrusive, pop-ups and interstitial ads. The App also blocks malware and other trackers to keep your privacy safe. Block This a simple App which works without any root and removes all the unwanted trackers, scripts and codes which inject 3rd party stuff into Apps and Web.
10. Droidwall
If you wish you can block Ads on specific Apps with the firewall App on Android. You just need to prevent foreground data access to the App. It is better to use this App if you wish to block the Ads on Apps not running on the internet.
Download DroidWall from Google Play Store. This app acts similar to the firewall on Windows PC.
Install and open the app.
There you can see all your applications listed.
Select the App and disable the data access blocking all sort of ads completely.
11. YouTube Vanced (Mod)
YouTube Vanced is a Premium YT App with all the features offered by subscription-based YouTube along with same core UI and App design along with powerful features like Video and Audio Downloader directly to device storage with multiple resolution support.
The App has all core functions of the original YouTube App with added features which will make you glued to the YT Premium App for your Android. You can sign-in with your Google Account and also sync your Data with existing account and data to keep your info safe.
Features of YT Mod
Ad-free
Completely video adblocking.
Background Playback enabled.
Set Preferred Video Quality.
Enable/Disable annotations.
Enable/Disable Suggestions Cards on videos
White/Black Themed versions
12. Firefox Focus | Lite AdBlock Browser
The Focus browser by Firefox is an all in privacy browser, you can call it an incognito browser. The Firefox Focus blocks ads, trackers and other intrusive codes which may send the information to the site owner. The browser also doesn't store cookies, passwords or any other info thus you can browse like no one's watching you. Focus is a powerful product for its small size and overwhelming functions. You have the trust of Mozilla and high privacy with this browser.
The browser is backed by internet giant Mozilla so you can expect high speeds and good performance. If you are looking for a lite weight incognito browser with ad blockers, track blockers, good speeds and low power usage than I recommended you to go for Firefox Focus.
13. Bromite | Adblock Chrome
Bromite looks and runs exactly like Chrome Browser as it is made on the Chromium API project and developed by the independent developers. Therefore, you can expect no compromisation in the speed of browsing. The app aims at providing a no-clutter browsing experience without privacy-invasive features and with the addition of a fast ad-blocking engine.
Inbuilt Ad Blocker.
Pop-Up Blockers.
Blocks Tracking codes.
Based on the Chromium project hence same high browsing speeds and UI built same as Chrome Browser.
High browsing speeds as it runs on Google's Blink engine.
Background Video Play
14. Ad-Vanish
Ads use the network connection to fill space, so they actually consume your data. Ad-Vanish will toggle network connection in-order to block Ads. If Ad-Monitor App is displayed than network connection will be OFF if you minimize or stop the App.
Features of Ad-Vanish:
Suitable for Games and Apps
No Root
Saves extra data usage consumed by Ads.
Individual App Ad Blocking facility
15. TrustGo Ad Detector
The TrustGo Ad Detector is not an aggressive Ad-Blocking App but is a clever privacy and data protection tool which prevents websites and Apps from collecting your private data. The App safeguards the user from aggressive touch Ads, emails sub ads, notification and more. The TrustGo App also helps in preventing the phone from downloading malicious Apps and files when an Ad is clicked. It also blocks pop-ups and intrusive Ads. Many Apps have the power to modify the system settings which could potentially send the data to the developer. The Go App keeps a track of such Apps and has a minute coverage over 100+ Advertising networks.
16. CM Browser
CM Browser by Team Clean Master is a lightweight mobile browser with inbuilt Adblocker and Antivirus scanner which can protect you from malicious threats. With CM you get a dedicated download manager to save the online videos offline support most of the video files. The Adblocker cleans annoying pop-ups, banner ads, video ads offering you a more comfortable browsing experience.
CM – Antivirus + AdBlocker
Features of CM
Adblocker
Malicious prevention
Download protection
Incognito Mode
No data-trace behind
Conclusion: With the Ad Blocking Apps you can remove all the annoying and intrusive Ads and Pop-ups on android without any root. The Apps above are capable to filter out the ads without any root access.
Note: I hope the post was helpful. Do comment below for any assistance or support. Cheers:)
If you've any thoughts on Best Ad Blockers for Android | Block Ads and Pop-Ups, then feel free to drop in below comment box. Also, please subscribe to our DigitBin YouTube channel for videos tutorials. Cheers!