Binge-watching via the OTT media services has always been in popular demand. However, the current scenario has further upscaled this trend, leading to a considerable increase in these services' user base. When it comes to watching movies and TV shows, Netflix, Hulu, Amazon Prime are some of the apps that might come to your mind. However, all these require you to shell out some bucks to enjoy their offerings.
But what many users don't seem to be aware of is the fact that there exist some apps that offer free access to various TV shows and movies and in a completely legal manner. In this guide, we will be listing 10 such apps for your Android device. Just keep in mind that not all services might work in your region, in which cases, a VPN should come in handy. So with that said, let's get on with the list.
Best Free Movie Streaming Apps
Here are the Free Movie Apps to Stream Movies and TV Shows for on your Android, iPhone, and iOS Devices.
1. Tubi TV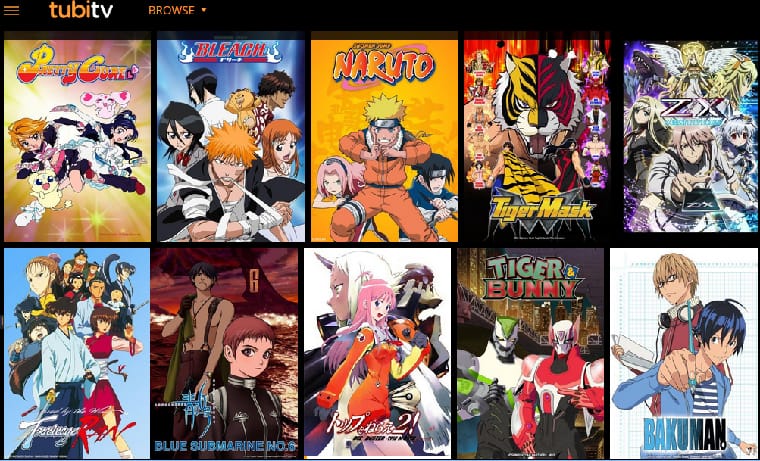 One of the popular players in this domain, Tubi TV has something for everyone. To begin with, you get a plethora of TV shows and movies from the Drama, Comedy, Action, and Horror Genre. Apart from that, it also holds a wide variety of Animes. Then there is something for the Spanish Language (Telenovela), Korean Movies lovers as well. They claim to add new tv shows and movies every Friday.
Since it offers so many regional contents, subtitles become the need of the hour. And it has made sure of that as well. Near about, all its contents offer subtitles in many different languages. Likewise, there is support for Chromecast as well as Multi-Device Syncing. The latter will allow you to start from where you last left, even on a different device. You just need to sign in with the same ID across all these devices. All in all, pretty decent when it comes to watching free movies and TV shows.
Download: Play Store | App Store
2. FilmRise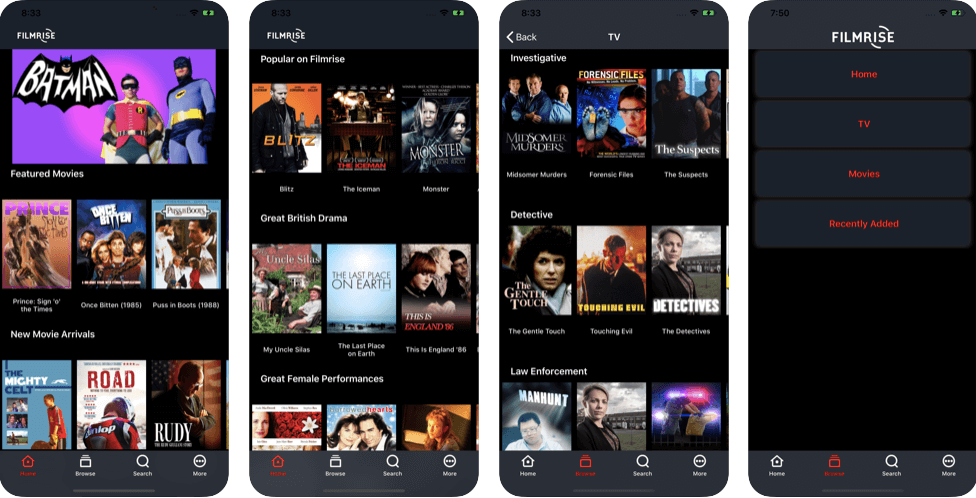 FilmRise has made it quite easy for the binge-watchers to search for their favorite content. Just launch the app and you will be greeted with the featured movie and tv shows section. You could find content among the Thriller, Horror, Drama, Romance, Documentaries, Crime, Action, and other categories.
There is also a built-in trending list that shows the current trending shows and movies in the app. It also helps users in getting acquainted with a particular content by offering a short description of that offering, its rating, actors list, release date, and other related information. Most of its offerings are in HD quality with the option of sharing your favorites via any social media apps.
Apart from your Android device, you could also watch its contents across Roku, Amazon Fire TV, and Smart TVs. The only issue that some users might have is the fact that it focuses more on older movies rather than the newer flicks. Keeping that aside, it is a pretty decent option nevertheless.
Download: Play Store | App Store
3. MOMIX
Momix is a live TV application for Android smartphones with hundreds of channels, TV shows, movies, and movies. In addition, it offers its consumers a premium membership that provides premium services.
You may enjoy a great experience when you have a phone in the modern world. Therefore, you are now no longer have to go to the movies or pay for cable. However, you simply have to download the streaming applications link given below for unlimited streaming in your home, office, car, and anywhere else.
Meanwhile, since the contents are all in one place, there is no need to wait for it to load, and it also lets you download the content on your device. Therefore, you can try and check if it meets your requirements.
Download Android
4. Plex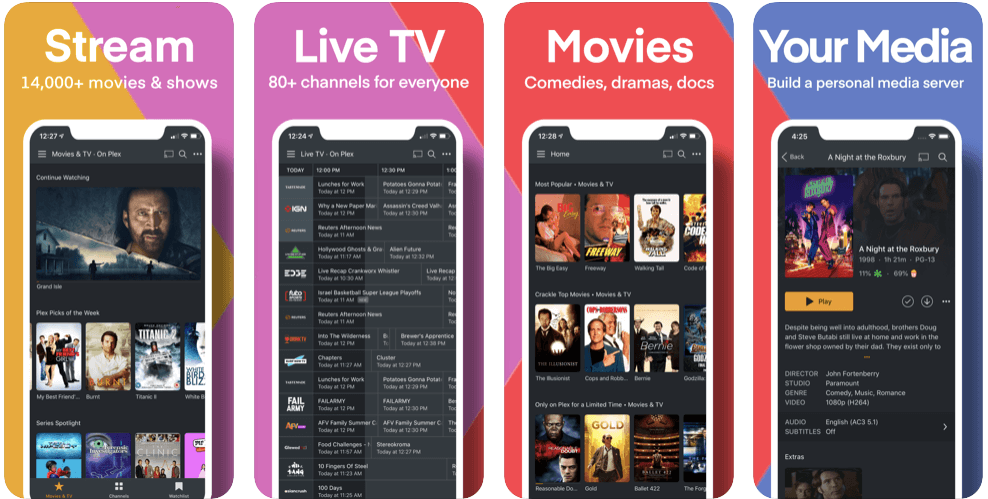 It boasts a huge collection of web shows, news, and podcasts, and 80+ channels of live TV. Its movie catalog is also quite impressive. Then there is the account sync option that lets you save your progress across various devices. As a result, you could pause your movie on your Android device and start from the very point on your laptop. Apart from that, it also holds some other useful features like the 30-second skip and variable speed playback.
The former is self-explanatory in itself- it lets you skip the contents in a duration of 30 seconds. The latter on the other hand, allows you to change the playback speed of the movies and TV shows, thereby giving you, the user, complete control over the viewing experience. However, similar to Vudu, you need to create your free account before you could stream its contents.
Download: Play Store | App Store
5. Popcornflix
The app offers a neatly organized UI with the latest offerings right at the top. It claims to offer over 700+ movies and TV shows. These include some of the best Comedy, Romance, Family/Kids, Drama, Urban, Action/Thrillers, and Horror shows. Apart from that, you might also find some famous documentaries and Bollywood flicks.
There is no limit whatsoever on how many times you could view a particular film or series. The app also holds the screencast functionality but judging by the recent Play Store reviews, many users are facing trouble with this feature. Apart from that, it does its job quite decently.
Download: Play Store | App Store
6. Yidio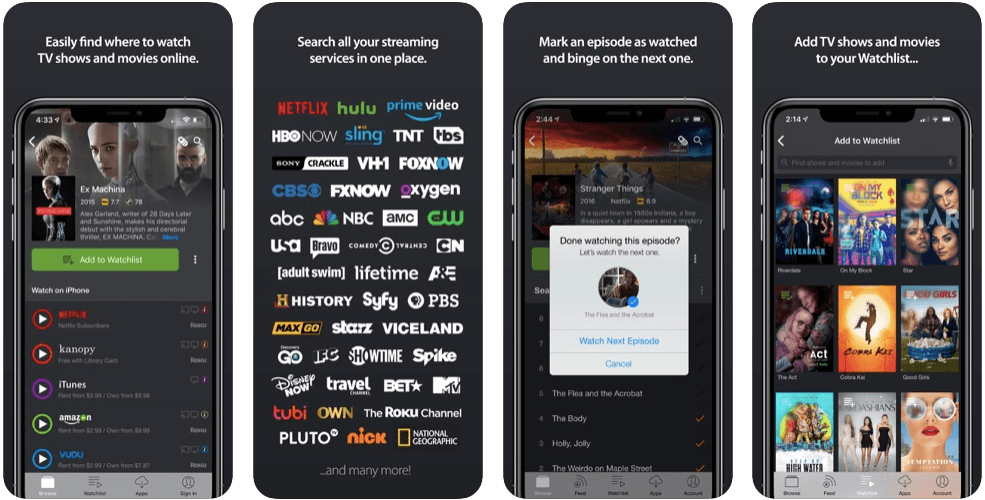 Yidio takes a different route than all the other apps in this list- it doesn't have any of its 'own' contents. Rather, it provides free TV shows and movies from over 100 different services including Netflix, Amazon Prime, Hulu, Showtime, etc. Some people even use this app just to keep them updated as to which contents are currently free on Netflix!
Talking about the apps' features, it respects the user's watch interests in the form of Personalized Suggestions and Personalized Watchlist tabs. Both these features keep track of your watch history and will suggest TV shows accordingly. Likewise, it also holds the Personalized Daily Reminders section.
As the name suggests, it will notify you of new content every day similar to the contents that you have interacted with in Yidio. Just head over to the content and hit the Play button- as simple as it gets. Talking about which, you could easily stream these contents on your tablet, phone, or even on TV using Roku Remote or Chromecast.
Download: Play Store | App Store
7. Vudu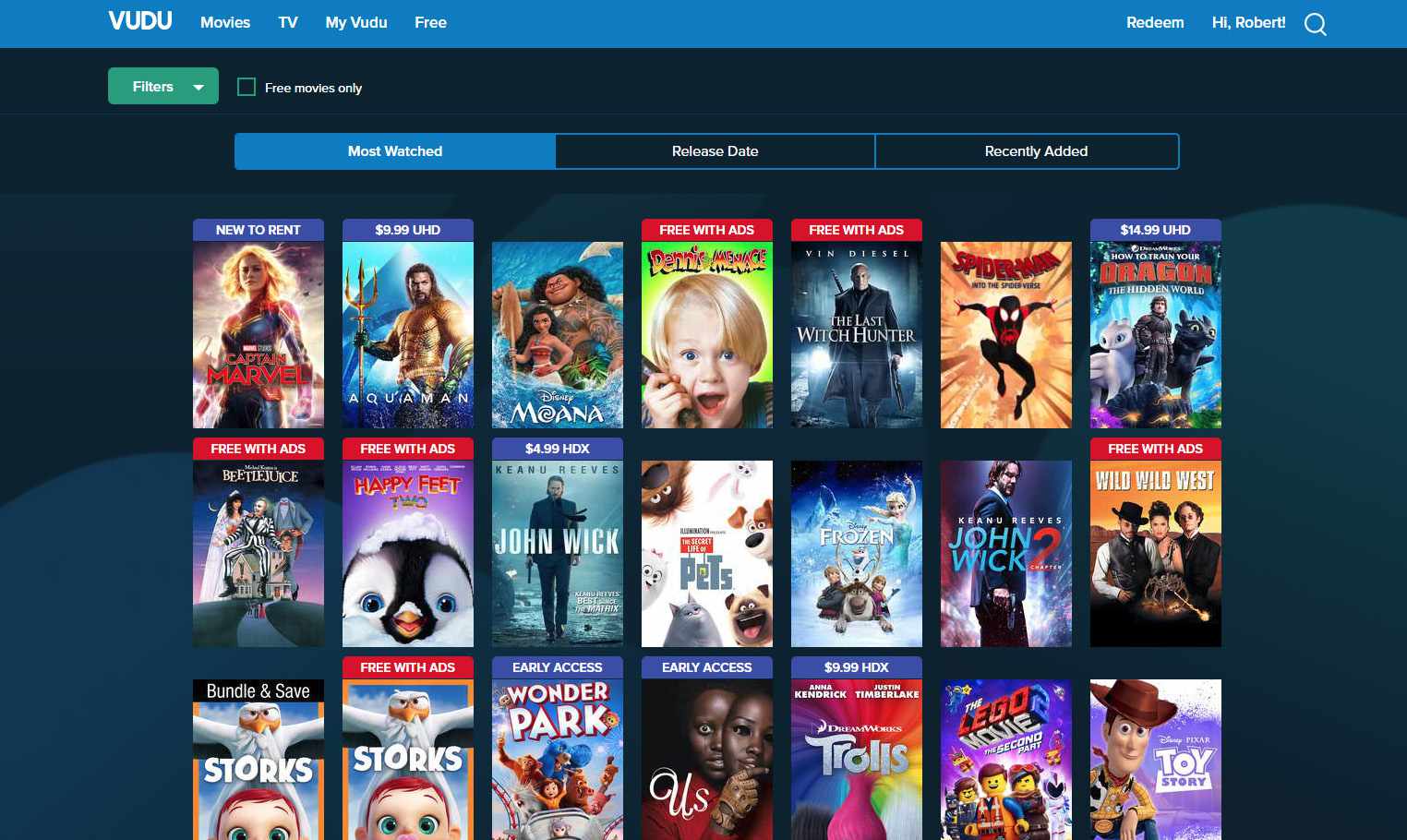 It holds a mixed bag of contents, both free as well as paid. Talking about the former, simply head over to its Free tab and you could get hold of the various shows and movies that it offers at no cost. Both the audio and video quality are top-notch. While the videos could be streamed at 4K UHD, with Dolby Vision and HDR, you get Dolby Atmos audio on some of its contents as well.
It also provides some additional features like the ability to convert Physical Movies to Digital content. You could also stream its content via Chromecast. However, signing in is mandatory if you wish to watch any of its contents. This might hold some of the users from giving this app a try.
Download: Play Store | App Store
8. Sling TV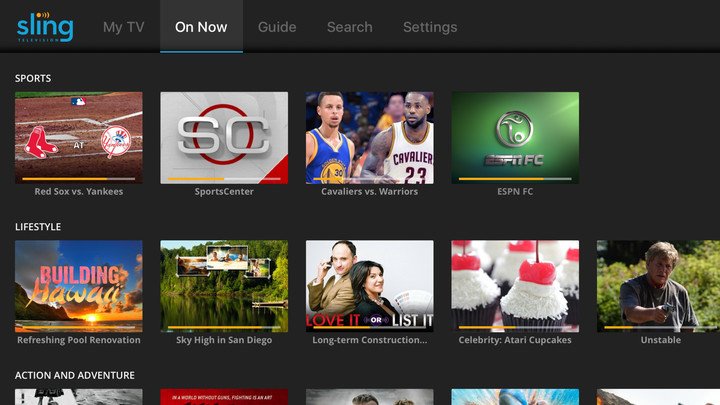 It doesn't only deal with free movies and tv shows but also focuses on other sections as well. To begin with, you get to stream live television of around 150 channels. For the sports lover, they get to access ESPN. Then there is Disney Channel, Nick Jr., and Cartoon Network for the children.
To keep you updated with the latest business news, you get the FOX News, CNBC, MSNBC, and Bloomberg channels. Then to offer a personal touch to its user base, it offers content in around 22 different languages including Spanish, Hindi & Arabic. You could even personalize your content based on your likes and dislikes, and save your favorite shows for later.
Download: Play Store | App Store
9. Sony Crackle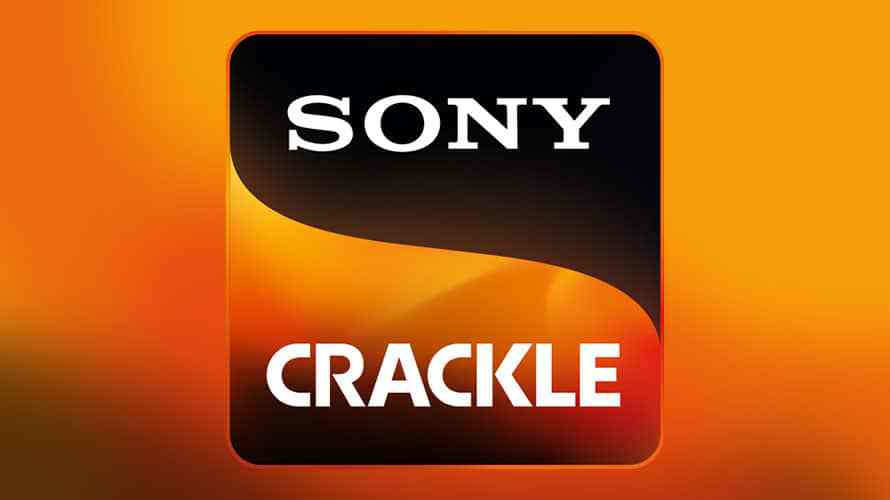 The name Sony is enough for most of the users to try out this app. Among the most well-known apps in this list, you could get tons of movies- both the yesteryear's classics as well as the latest Hollywood hits- absolutely free. Furthermore, if you create a free Crackle account, then you could enjoy a couple of additional benefits as well.
First and foremost, you will then be greeted with fewer ads. Secondly, you could also sync your progress across various devices or save it for later viewing. Talking about contents, you could try out a wide collection of hosting shows and TV series across comedy, drama, action, thriller, and fandom, just to name a few. And if you wish to get surprised with new content from any random genre, then don't forget to check out the Spotlight Channel section.
Download: Play Store | App Store
10. Pluto TV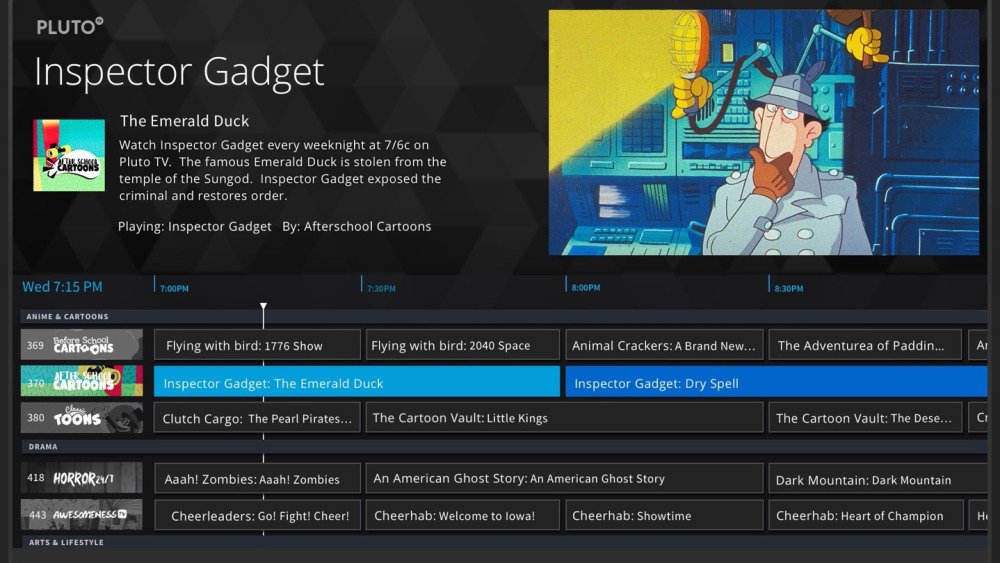 Pluto claims to have over 250+ channels and 1000s of movies that you could watch without shelling out any bucks. Apart from free channels and Tv shows, it also plays its roles in keeping you updated with the latest happening from around the globe. The latter is made possible through its live news channel feed that includes some famous players including CNN, NBC News, and CBSN.
Likewise, it has something for the sports fanatics as well, thanks to its broadcasting from the Fox, beIN Sports Xtra, and Big Sky. It is due to its association with this news and sports offerings, apart from the usual TV shows and movies, that it has managed to carve out a rich name for itself in this domain.
Download: Play Store | App Store
11. Viki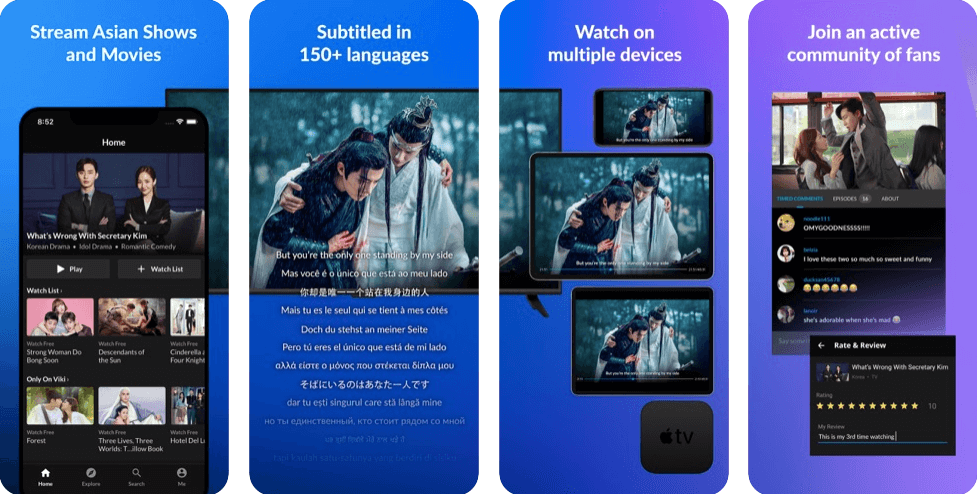 If you are a fan of Anime or contents from Korea, China, and Japan region, then you should look no further than Viki. In addition to that, there are also some Asian TV dramas, movies, and lifestyle shows. However for the ones that don't understand these foreign languages but still wish to get engrossed in these contents, well then subtitles in over 200 different languages are waiting for you out there.
You could stream its contents across many devices and platforms, including Roku, AndroidTV, AppleTV, Google Chromecast, and FireTV. The best part about this app is the Viki Community forum that allows the users to discuss more of this content with other users having similar tastes. However, the fact that it majorly focuses on Asian content might draw in a few negative feedbacks as well.
Download: Play Store | App Store
12. IMDb Freedive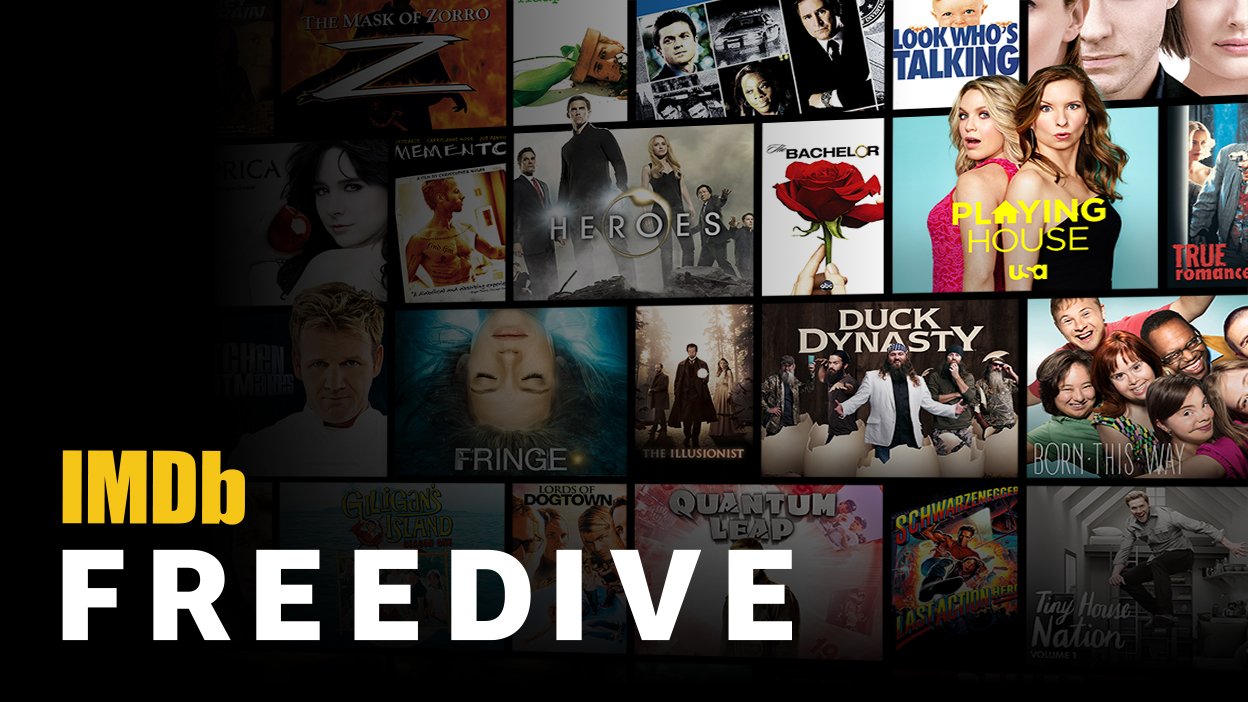 IMDb is the biggest resource library for movies, shows, documentaries, and all other television and internet shows. It hosts reviews, ratings, and other information related to the movie or program. The service is owned by Amazon. And recently IMDb launched an ad-supported streaming service called IMDb Freedive.
Freedive allows you to enjoy movies, shows, and originals for free with Amazon, IMDb, FB, or Google login. Once you've logged in to IMDb, along with full-length movies, additional features include personalized recommendations for Freedive content and upcoming movie alerts.
Download Play Store | App Store
13. Crunchyroll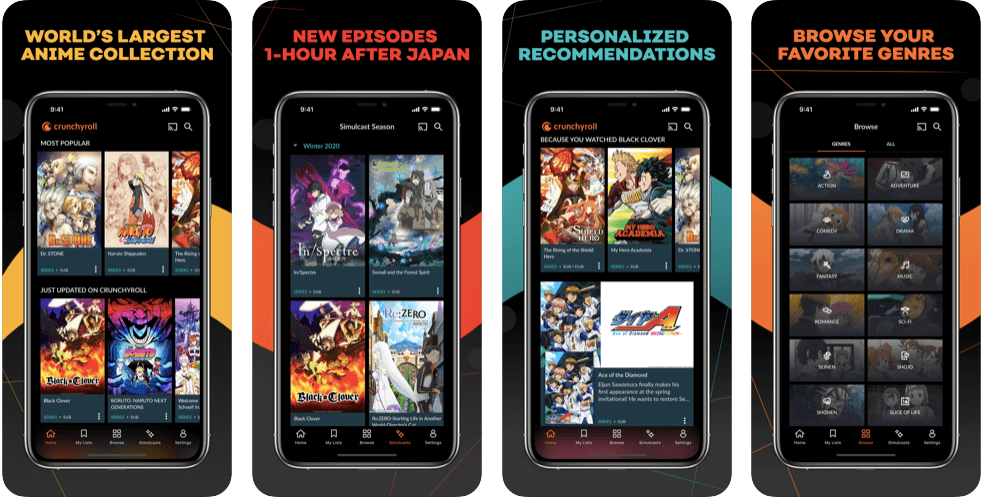 Crunchyroll is a popular media App that primarily focuses on east-Asian content including Anime, Manga Series, Music, and Shows. The App is solely made for all anime lovers. A legal and simple way to stream all your favorite animation. The App has rights to popular Anime Series like Naruto, Dragon Ball, Titan, etc.
The Crunchyroll App is the one-stop App for all the Anime Lovers and is much recommended to be safe and legal. Tough the App is paid but you can access TV shows for free after a 1 week it goes on air. To cut the gap you need to pay which comes with a 14-day free trial for on-time access to the shows and programs. Watch cartoons in HD or read the manga without any Ads.
Download Play Store | App Store
Concluding Remarks
With that said, this is all from this list of top 10 Android apps offering free movies and TV shows. Each of them has its perks and a few caveats as well. It ultimately boils down to the personal preference of each of our readers as to which app they ultimately settle on. On that note, do let us know your opinions about the same in the comments section below.
If you've any thoughts on Best Free Movie Streaming Apps for Android and iOS, then feel free to drop in below comment box. Also, please subscribe to our DigitBin YouTube channel for videos tutorials. Cheers!