Download XAPK Installer ApK for Android and directly install the Apps and Games without any error with XAPK Extractor.
XAPK Installer is a new file format installer for Android which helps in compressing big APK files into a smaller size which can be downloaded and accessed without many complications as it can extract the files and install it on your device. The XAPK Installer file is enough to install the app along with all the needed resources.
If you are downloading Apps from 3rd party sources and if the file size is very large having a combined installation package (.apk) + OBB data file. Such big size files may be exposed to malware and become corrupt this result in the consumption of your data and time in finding a new and right APK+OBB file. The solution is a .xapk file which contains all the files for a successful installation and running of a file. XAPK is a very handy tool when it comes to installing large Android files with OBB and Data file making the installation smooth without any complications.
What is the XAPK Installer?
XAPK Installer is a simple App which does all the work for you as it scans all the .xapk files on Android and automatically extracts the .obb data file and stores it in a preferred location and then installs the APK file, thus you do not need to worry about any package or .obb file error on Android. The App can scan all the available files on Android and help in the installation of the same. So basically, the xapk installer will do the same for xapk files as apk installer does for apk files.
Scan and preview all .apk file on your phone and SD Card
Delete or install APKs automatically
Advantages of XAPK Files
All the data within one File.
Quick Installation of large game files which otherwise needed be downloaded and saved separately.
Fewer Chances of the Files to be Corrupt.
Compressed file size consuming low space and data.
Apps will be perfectly installed without any resource missing issues
Scan and preview all .apk file on your phone and SD Card
Delete or install APK, XAPK ( APK with cache data or OBB file) automatically
Is the App Safe to Use?
The XAPK Installer App is developed by popular and reliable developers. The file has been scanned using various anti-virus Apps like Shield, Norton, Avast and AVG. The file is also tested on the emulator and TurstGo Ad Detector App for any malicious nature. And from our test, we can assure you that the App is Safe to Download.
What is the XAPK File?
XAPK is a file extension format which is a standard zip format allowing all the data related to the App to be saved in a single file for quick installation. With X file you can directly install the large Apps on your Android supported devices without any issues. You do not need to download separate APK and OBB files for your favourite Apps.
In simple terms; XAPK = APK + OBB Data
XAPK Contains – Package Extension (APK), OBB Data, Cache, App Icon and Miscellaneous Info.
XAPK Extractor by APKPure
APKPure is a popular Android App hosting website. They also have an App by the same name. You can download the APKPure App and then tap on the xapk file. The rest of the operation will be performed by the App itself. The APKPure App will automatically extract the files from the .xapk file and then will install the App on your Android device. You do not need to manually extract any of the files which may lead to installation error if done wrong.
Manually Installation of the XAPK
You can install the x file without any installer just by unzipping the compressed archive file.
Step 1. Once you download the xapk file, open the File Manager App.
Step 2. Locate the.XAPK file and rename the extension to .zip
Step 3. Now download the RAR App from Google Play Store.
Step 4. In RAR App locate the .zip file and extract the files (Unzip).
Step 5. Now copy the .obb file which may be like com.gamexxxxx.obb into the preferred location;
/sdcard/storage/emulated/0/Android/obb/com.gamexxxxx/
Step 6. Install the APK and the App will automatically collect the resource from the Obb data file and work as intended. Cheers!
Automatic Computer Installer
If you have downloaded the file on your PC then you can follow the steps below.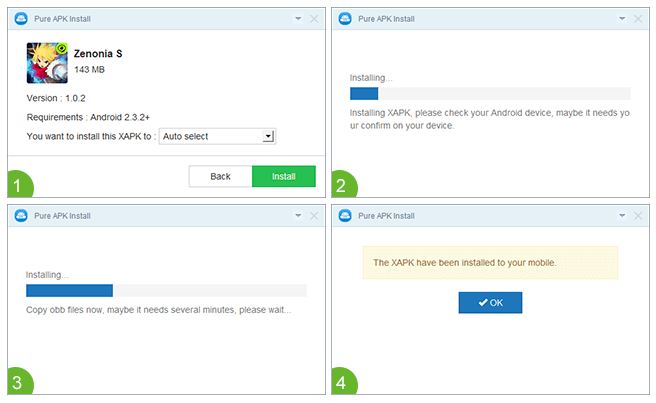 Download and install the Pure APK Install on PC (.exe file).
Enable USB Debugging on your Android. (See below)
Now connect your phone with PC via. USB Cable.
Open the Pure APK Install App and locate the .xapk file.
Now select your preferred storage location to install the App. Then click "Install button" to start your App installation.
The App and obb data file will automatically install on your Android device. 

Cheers!
How to Enable USB Debugging?
You may need to enable USB debugging if you wish to connect the PC and Android via USB cable for critical activity and data transfer.
To enable USB debugging.
OpenSetting
Scroll down to About phone
Tap 7-8 times on About phone to unlock Developers option.
Now under Settings, in developers option Enable USB Debugging. Right, check 'Always' if prompted.
How to Fix XAPK Validation Failed?
If you see this error when trying to open any game or App then all you need is to grant all the permissions to the App. To do so, Go to Settings → App/App Manager → Locate the App/Game → Grant All the Permissions to the App/Game. Clear all tabs and reopen the game, the issue will be solved.
Conclusion: With the XAPK Installer you can directly install X the files on your Android mobile without any error or complications. You may need to try the Manual Method of App installation in case XAPK files direct installation not be supported, can happen in some older version of Android.
Note: I hope the post was helpful. Do comment below for any assistance or support if needed.
If you've any thoughts on XAPK Installer App | APK Download for Android | Extractor, then feel free to drop in below comment box.
Also, please subscribe to our DigitBin YouTube channel for more important updates. Cheers!