Here is the best Play Store Mod APK Alternative which allows you to download apps from Google Servers without G-Account, Play Services, and No Root.
Google Play Store is a great place to browse and download all necessary and useful apps. There are millions of apps available in the Play Store to choose from. Many apps in Android Marketplace are either free or freemium while few many are paid ones. In this post, I have come up with alternative marketplaces which are a FOSS open source Google Play Client from where you can download all the apps from Google Play Store without any Google Account.
To use Google Apps on Android, you need an entire bundle of Google Service Apps known as Google Mobile Services or GSM. The GSM includes Google Cloud Services, Google Messaging Services and many 'irritant' Google Play Services. But the App Store Listed below works without any Google Account. This store has some unique features which you won't find in any alternatives to the Google Play Store.
What is Aurora Store (Play Store Mod)?
Aurora Store is an unofficial FOSS client to Google's Play Store. It means you can download apps from the Google Play Store without any Google Account. Aurora Store itself is an independent app store but lets you download apps from Google Store Servers. It works in a similar way as the YouTube Vanced works for YouTube. The Aurora Store uses the Play Store API and delivers the apps from Play Store Servers.
Why Aurora Store?
The Aurora Store can run without any Google Account. You can download and update apps directly from Google Servers ensuring complete safety of the app from any inject of virus or malware. It is a lightweight application and comes with a very elegant, clean and fluid user interface. The application is also able to install APK Bundles automatically without any use of Spilt APK's installer. It auto-downloads all the files from google secure content and installs the Apps. So, preventing the issues of App not installed error.
Aurora Store does not require Google's Proprietary Framework to operate, it works perfectly fine with or without Google Play Service or Micro G. Thereby avoiding the various concerning user data & privacy issues. Earlier based on Yalp store, Aurora is a clean & complete rewrite from scratch that follows Material Design and runs on all devices running Android 5.0 and above.
Comparing Aurora Mod Store and Play Store
| | |
| --- | --- |
| Play Store Mod (Aurora) | Play Store |
| Download Apps from Google Servers | Download Apps from Google Servers |
| No Google Account Needed | Google Account Needed |
| Interface Exactly Like Play Store | Play Store Material Interface |
| Lightweight | No Lite Version |
| Check Analytics and Ad Data | No Tracker Data Available |
| Build on Google API | Build with Google API |
| Night Mode Available | May Not be Available |
| Spoof Device, Language, Location | No Spoof Available |
| Categories Available | Categories Available |
Is Aurora Store Safe to Use?
file has been scanned using various anti-virus Apps like Shield, Norton, Avast, and AVG. The file is also tested on the emulator and TurstGo Ad Detector App for any malicious nature. And from our test, we can assure you that the App is Safe to Download. To download latest versions click the link below.
Features of Aurora Store
1. You can use Anonymous Aurora Gmail to hide your identity. Using your G-account may violate Google T&S so it is better to go with throwaway Google Account.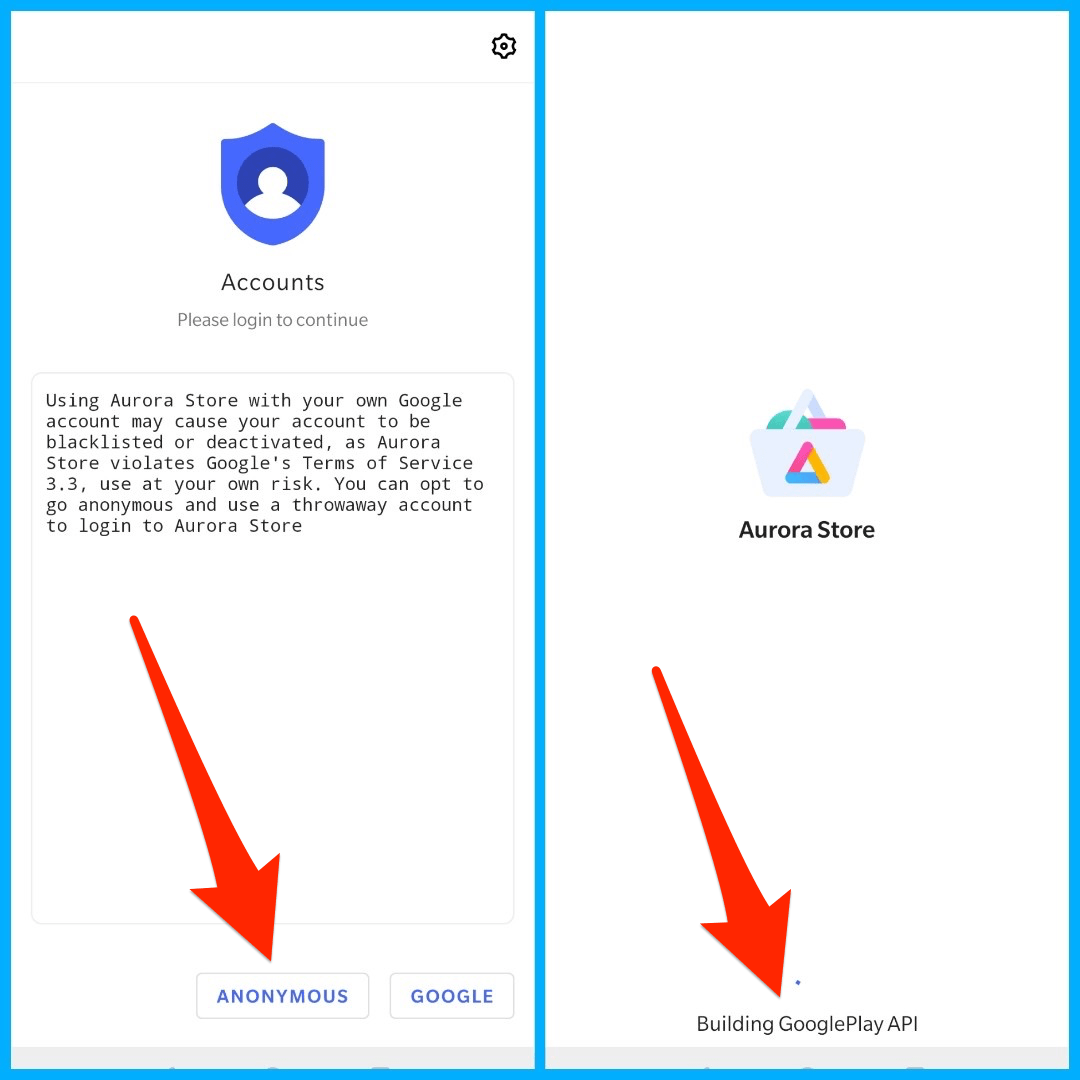 2. The App is Built on Google API, you download and update apps from Google servers.
3. Get details about app tracker & adware which are implemented to retarget your online activity.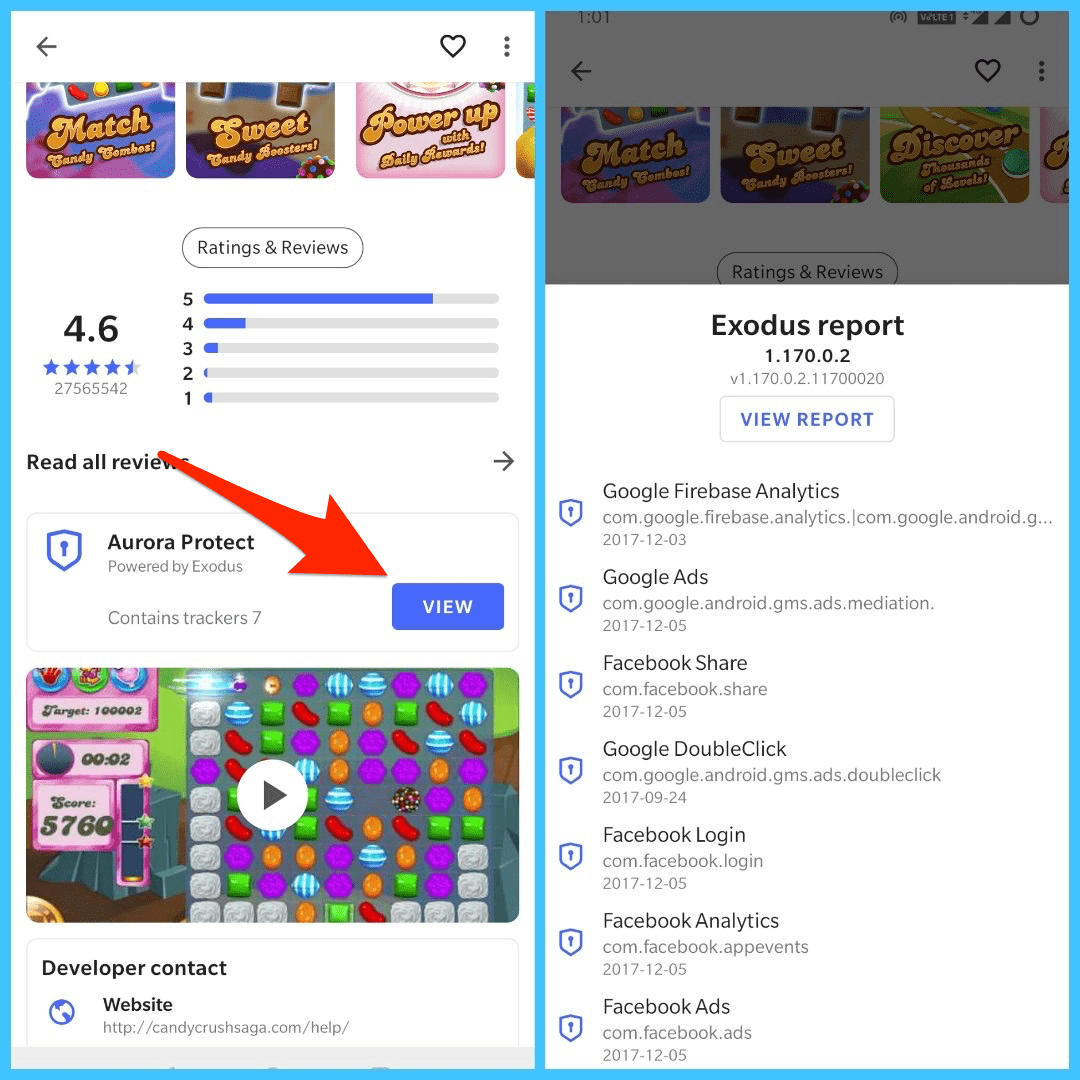 4. Spoof your Device Information, Language and Region to get access to the apps that are not yet available or restricted in your country or Device.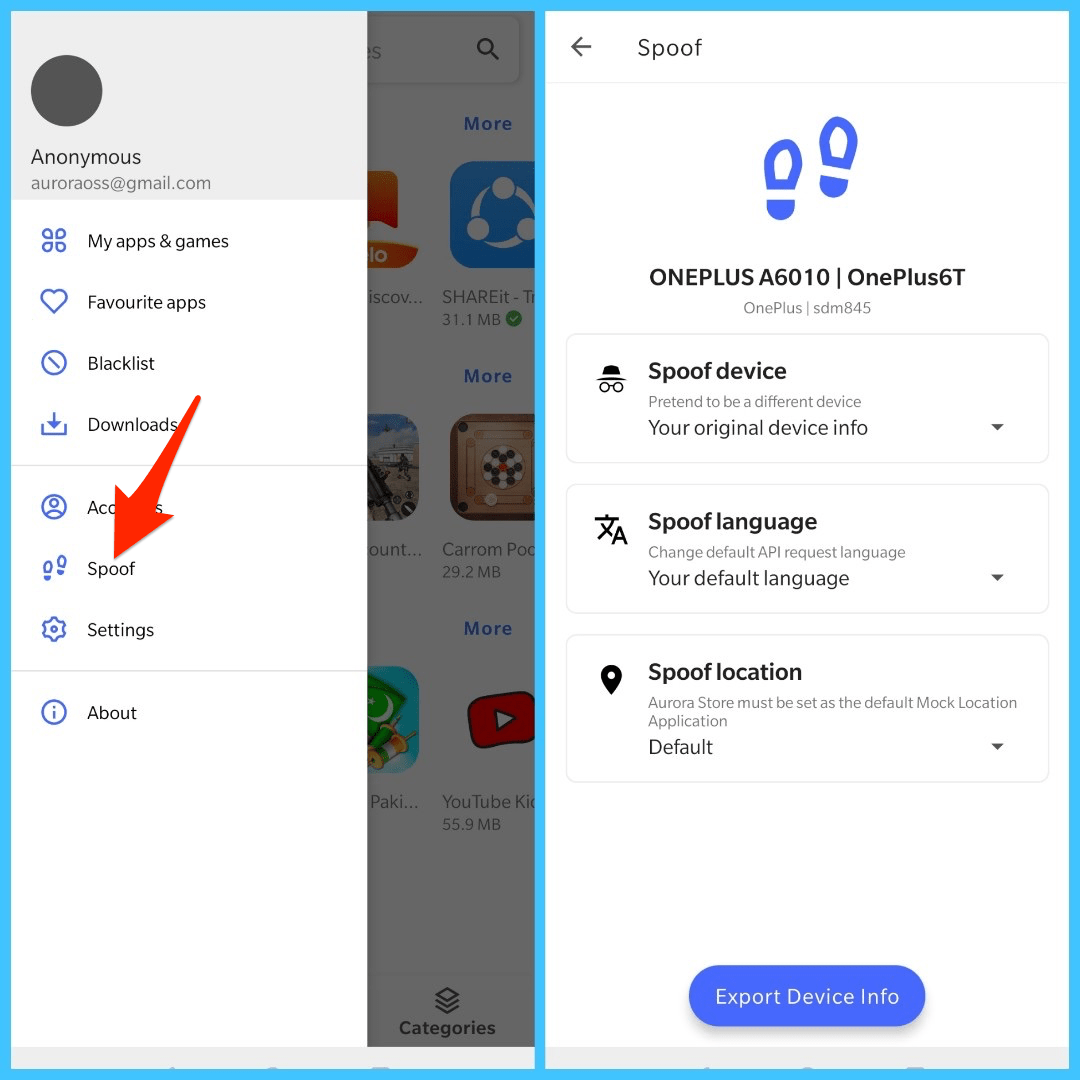 5. Aurora works without Google's Proprietary Framework, it works perfectly fine with or without Google Play Service or Micro G.
6. Multiple Interface Customisation including Dark Theme Support and Cards Layout.
7. You can enable Proxy and Custom tokenizer.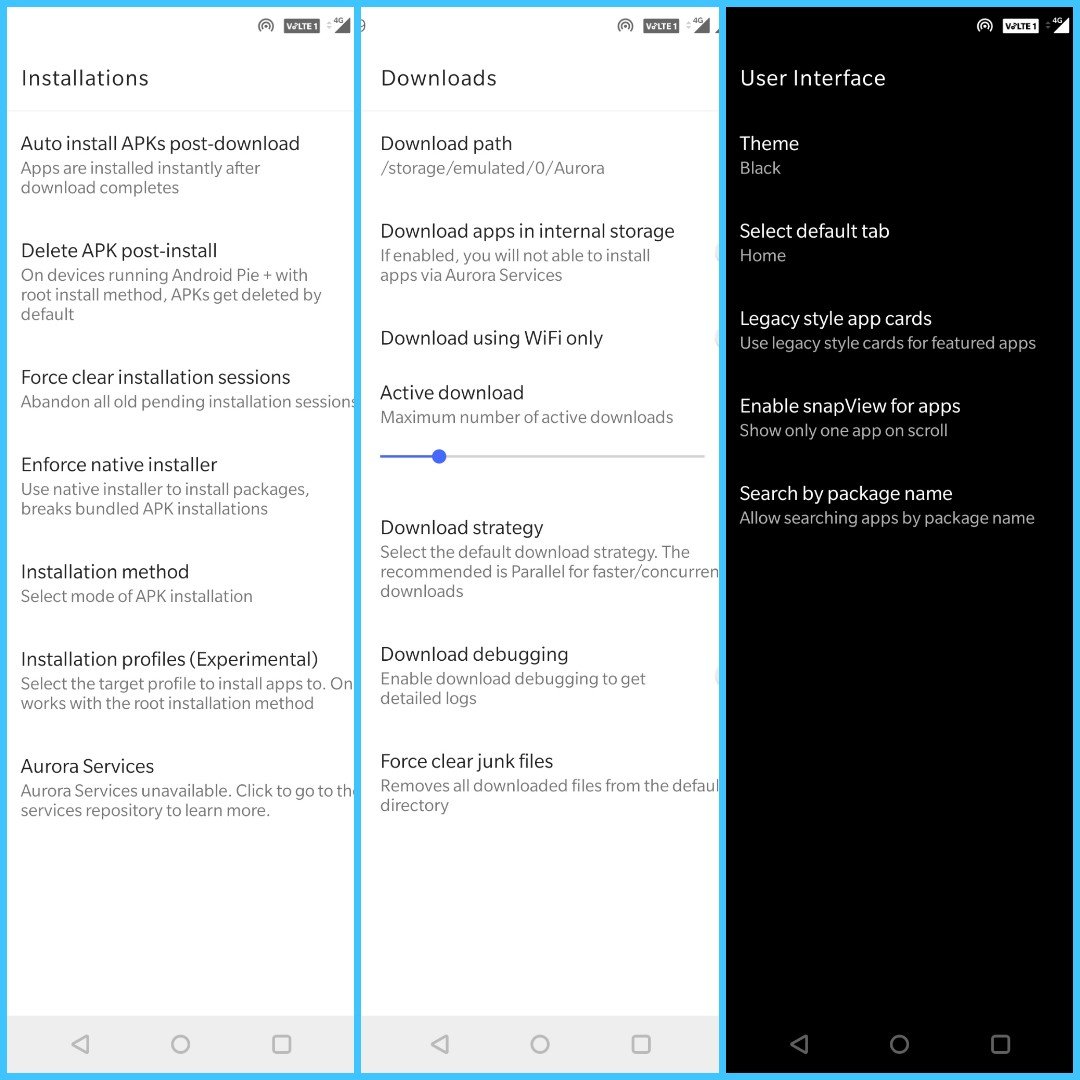 8. Apps Available in Categories and you can also update & check My Apps and Games.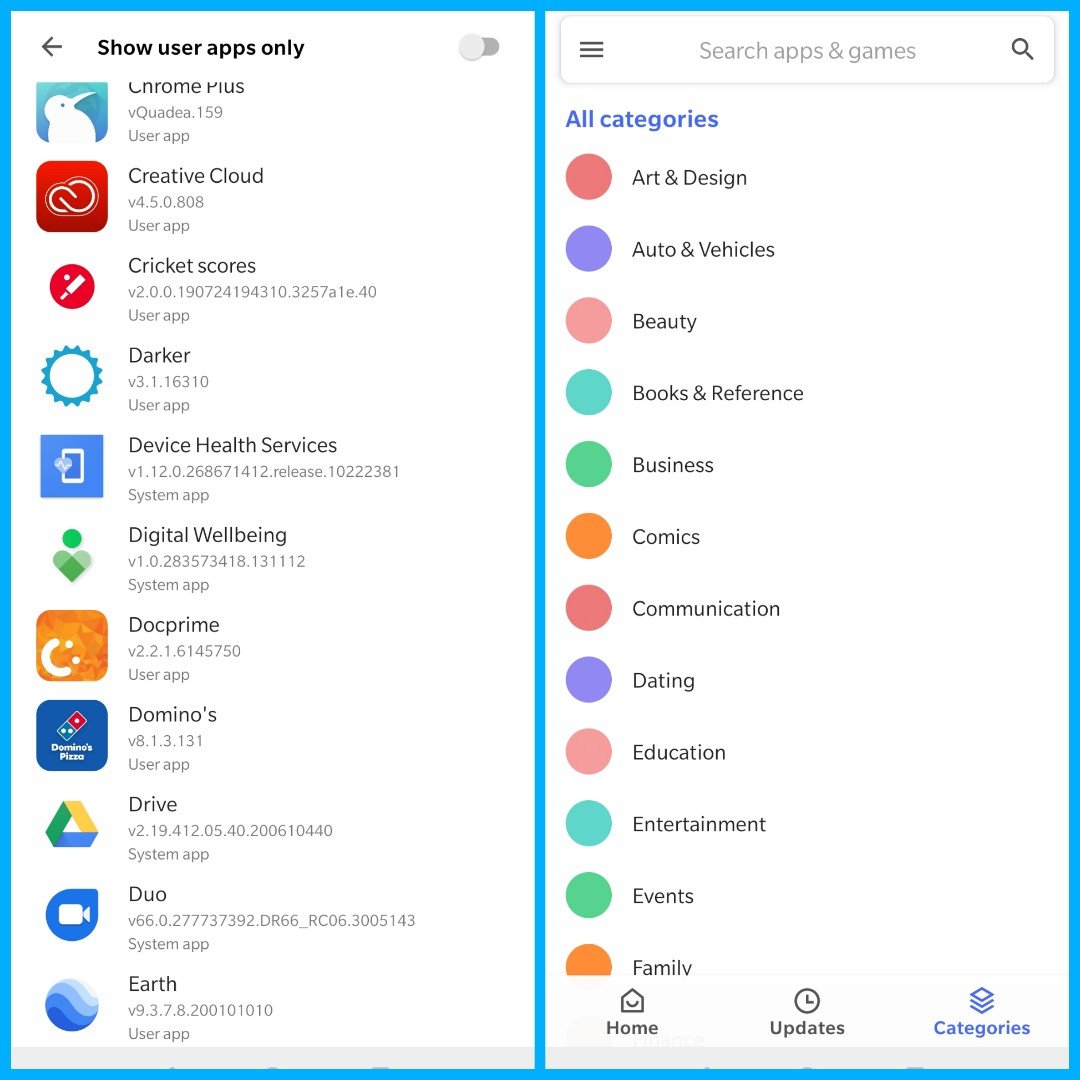 How to Download APK from Google Play Store?
---
Other Similar App (Yalp Store)
The Yalp Store is one of the best alternatives to Google Play Store. The store lets you download Apps from the Google Play Store without actually using the Play Store. All you need is to download the App Store and browse for your favorite App. The Yalp Store will download the App from Google Server and also lets you download any updates if available. The App Store is a functional replica of the Play Store without any intervention by Google.
Features of Yalp Store
You can install apps from the Play Store without using Google Play Store.
You can download updates when released from the Yalp Store itself
The store lets you download  APKs and install updates directly from the Google Play Store without having to install Gapps or the GMS suite.
The app design is very simple.
You can download Apps without Google Account
Conclusion: Download Apps from the Play Store without any use of Play Store or Google Services on your device with this App. The Application is very good if you wish to keep your Android free from all the bunch of Google Apps. It is lite and consumes fewer resources in the background.
I am not the developer of the app, for any queries please contact the developer. I hope the post was helpful. Do comment for any assistance or support if needed. Also, help us fix the links if broken.
If you've any thoughts on Google Play Store Mod APK | Aurora Store | No G-Account | No Root, then feel free to drop in below comment box.
Also, please subscribe to our DigitBin YouTube channel for more important updates. Cheers!