Online earning is no myth. There are people who run their businesses over the web. The internet works in the same fashion as any other market model. The websites and other online platforms sell products, Ads or services to run and earn on the internet. There are a number of ways in which you can earn a decent amount online. You can start a blog, freelance your skills, create videos or do tasks for cash to fill your pockets with pennies.
Earning money online may sound good but it is not that easy, you won't get rich overnight nor you can make huge money in a quick duration. So, it is good to think of it as a secondary source of income. adding a few extra bucks to your pocket. Today I will tell you about some of the best apps to earn money online. These source of passive income could add a little booster to your primary income.
How to Make Most Out of These Apps?
'Patience will Pay'. As I said you can't make a huge amount of money from online money making Apps. But a good strategy with a correct bunch of Apps can let you make a fine earning every month. Simultaneously use 3 to 4 Apps offering various different tasks. These will avoid monotony and you won't get tired of similar tasks.
Some Apps can be made default in the form of a search engine or other daily tools like a screen saver so you do not need to focus much on such apps and work on other Apps which offer other manual services like watching videos, downloading apps, completing surveys or playing free games.
With a good combination Apps based on your interest and phone usage behaviour, you can make $1-5 dollars every day. You need to have a lot of patience though.
Benefits of Online Earning
Online earning has its own benefits few being, flexibility in time as there is no schedule for work, no investments, many possibilities of cashing in. And also you do not need to put much effort and most of the services are safe. If everything is perfectly set you can make some handsome cash every day just by giving a few minutes to the Apps listed below.
Best Online Money Making Apps to Earn Passively
Here are the Best Apps to Earn Money Online by Downloading Apps, Completing Surveys, Tasks, Watching Videos and More.
1. Swagbucks
Swagbucks is a classic portal which offers rewards to the users for watching videos, completing surveys, searching the web, playing games or performing other simple tasks. You will be rewarded in SB's. This SB points can be redeemed for gift cards or cash. Swagbucks offer gift cards for over 1000 retailers which include Amazon, Flipkart, Starbucks, Walmart, iTunes and more. You can also claim the cash via PayPal transfer.
The denominations vary according to the need of the user, 500+ SB's are needed for a $5 Amazon gift Card while 15000+ SB for $100 PayPal transfer, The SB reward points fill pretty much quickly because there are so many tasks and activities coiled into Swagbucks. Also, the service offers free sign-up amount for first-time users.
Ways to Earn on Swagbucks
Set Swagbucks default search engine
Watch Videos
Download Apps
Shop Online
Surveys and Polls
Play Games
Daily Tasks
2. Make Money
Make Money is a simple yet powerful App which lets you earn money online. They pay you for watching videos, trying free apps, completing surveys, giving opinions, testing services, endorsements, free trials and more. You get paid via Paypal. There are many similar Apps on Play Store like ETT, Taskbucks, Pocket Money, CashPe and more.
Complete tasks to accumulate credit rewards. The tasks vary and can be watching videos, downloading free apps, completing surveys and many more.
Redeem your credit rewards for cash via PayPal.
You will find a good number of offers and tasks to get rewards on a regular basis.
3. AdFly
Adfly is a link shortener service which helps to reduce URL length. You can use this service to make money online. You just need to shorten the link using AdFly, the link will be monetized with Ads and for every 1000 Clicks on the links, you will be paid with some amount. Each time when any of the visitors clicks on an AdF.ly link they will first view a full page advertisement for 5 seconds before being able to click a Skip Ad button and continue to their intended destination. The amount depends on the country where the link is being opened. Once a threshold limit is crossed then you can transfer the money to your account.
You need to come up with a good strategy. Sharing URL with catchy tagline would definitely help. Sharing the short links on WhatsApp groups and other social networking sites that get you a good amount of clicks and tractions can let you make good money.
Let's take an example: Alex Embbeds shortened URL's on his Quora Answer. Now suppose for every 1000 clicks on the monetised URL's, he is fixed to be paid $1.5. Let during the day he gets 3000 clicks for various Short URLs.
So, he will earn 3*1.5 = $4.5 per day; if this goes for a month then he will get around $135/Month.
You need to come up with a good strategy. Sharing URL with catchy tagline would definitely help.
Just sign-up with any of the services. Paste your URL in the Box and Shorten the URL and then Paste this URL in your appropriate Answer.
4. Surveys on the Go
Survey on the Go is a popular Poll and Survey App which works for Fortune 500 companies, the entertainment industry and other companies. Surveys On The Go is unique in the sense, it pays you direct cash, unlike any other survey App which deals in points. You'll earn real money for surveys you can take.
The App recommends you to Turn On notifications so that you get notified every time a paid surveys whenever available. Usually, you get a few surveys per month. Using this app, you'll be able to: rate TV shows, movies, music and advertisements; evaluate products, services and shopping experiences; and offer your opinion on current events – all while taking just a few minutes & getting paid.
Turn on Location in app permissions to receive high-dollar surveys based on where you shop and where you visit.
5. YouTube
YouTube, as you know, is the best online streaming service which lets persons, groups or organizations upload the video on their channel. These videos can be monetized by means of Google AdSense. The videos are displayed with Ads and the earnings of which are paid to the channel owner. You just need to create videos which appeal to the users. And for every 1000 Video Ad Views, you will get paid also you are paid when someone clicks the Ad (Genuine Click).
YouTube is the best platform to show your potential to the world without any pay. You just need to create quality content which is liked by the masses. Creating the AdSense account is very easy. Once your video gets a good number of views you can expect a good amount of earnings.
Highest Paying YouTube Topics
The following are the most profitable YouTube niches. Making videos related to this topic can get you a good audience and high CPC and CPM. You can read more about in this YouTube Earning Guide.
Lifehacks
Vlogs
Tech/Product Reviews
Jobs and Education
Gaming
Health
Banking/Marketing
Entertainment News/Biz
Shows and Comedy
Music and Dance
6. Money App
Another similar money-making App. You need to watch videos, complete surveys, play free games, test free services, give your opinions, endorse or go for free trials to make few pennies. The App has a good number of offers on a daily basis so you don't need to worry about the cash in. The App has no gift cards or discount offers, you are paid the amount to your PayPal account directly.
You just need to complete simple tasks each time to make a few bucks.
Complete tasks to accumulate credit rewards.
Redeem your credits for cash via PayPal.
Get paid in 4-5 working days.
Points to Remember
Don't create fake accounts.
Don't fake your IP address or location.
Do not change your device ID.
7. Google Opinion Reward
Google opinion rewards is a program by Google Surveys which asks you a few simple questions, in turn, you are paid with rewards in $. Though you can't get redeem them in the form of cash. But you can claim it for Google Play Credit and buy paid apps or make in-app purchases.
Just download GOR App from Play Store and signup with your G-Account. Every time a new survey is available you will get notified. The questions asked are pretty simple like 'Which brand do you like?', 'Which Logo is Looking Good?' and more. The price of the survey varies from $0.5 to $5. Users may get a couple of surveys per month to survey every week based on country and demographics.
It is one of the best reward apps with the only drawback is no direct cash payment. But if you are happy to gain credits to buy products and services from Play Store than Opinion rewards is the best App to go for.
Download Google Opinion Rewards
8. Ibotta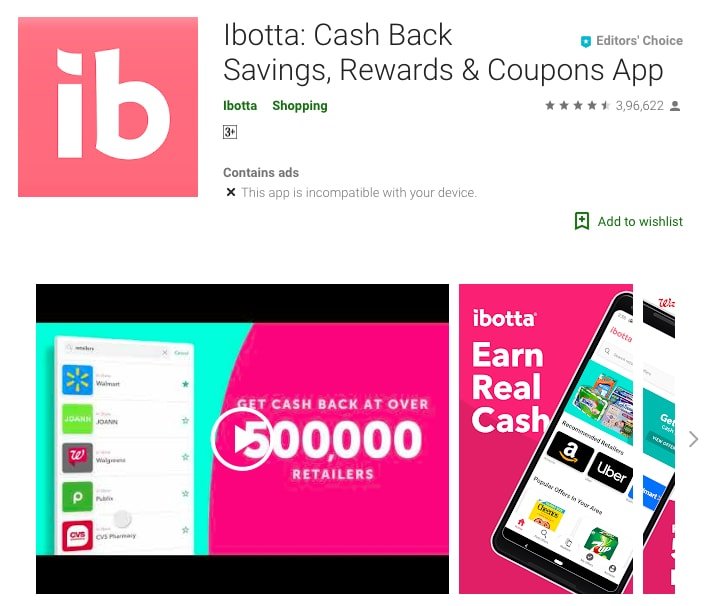 Ibotta is cashback App which can save your money and give it back in the form of real cash on everyday purchases you make. You just need to check the app before you shop, travel, order. dine or make an in-app purchase. Ibotta will let you seamlessly earn cash back on lakhs of leading brands and stores, including Walmart, Target and many more. Unlike most other money apps, Ibotta lets you grow your savings on shopping, retrieve offer and get the cash back in your account which can be redeemed in the form of real money.
How to Make from Ibotta?
Find and add offers in the app for things you want to buy.
Then shop at your favourite stores, retailers, or apps.
Upload your receipt or link your loyalty card for instant cash back.
Watch your savings grow and withdraw your earnings via PayPal.
Few of the Popular Stores Ibbota Supports;
– Walmart
– Uber
– Safeway
– Drizly
– Hotels.com
– CVS
– Atom Tickets
– Kroger
– Groupon
9. Slidejoy
Slidejoy is an award-winning lock screen app. Slidejoy is a lock screen App offering rewards, cashbacks and cash points just for using their screen locker. Slidejoy displays trending news and interest based personalized ads on the screen of your phone. There's no need for you to do anything, just go about your normal day, swipe, unlock and earn cash rewards or gift cards. You can redeem cash rewards to your PayPal account, or choose gift cards from your favourite retailers and brands like Amazon, Google Play Credits, Starbucks and more.
How Slidejoy Works?
Download Slidejoy and register
Now every time you unlock your phone, you will get a card with news or a promotion on your lock screen.
For every slide, you will get a new Ad or offer which gets collected as crate and 1000C = $1
The crates fill pretty quickly just you do your daily activity on your phone and let the Slidejoy collect the crates for you.
Do not try to over engage with the Ads it won't help you make any extra money just keep the process natural.
Features of Slidejoy
Easy-to-use lock screen to rewards and money
Check your notifications and favourite apps right on your lock screen
Receive trending news and ads on your lock screen
Quick, fast cash payments through PayPal or in the form of gift cards
Doesn't drain the battery
10. Vigo Video
Vigo Video is a fun based video sharing App which lets you upload 15 seconds video for public viewing within the App. If your video gets a good number of likes and comments you start earning flames. A single flame is $0.0015. And once you reach $1 you can claim the cash and get it into your PayPal Account. A video with good content can get you 1000's of flames and 100 of dollars.
Few things to remember are, you cannot upload any openly available video in case if you wish to earn flames. Avoid adult content, abusive language, drugs, alcohol and smoking-related videos. Record the video from Inbuilt camera and occasionally upload video from the camera roll.
Few Helpful Earning Tips
You will be paid for Genuine Videos, Copied Content is a Just Waste
Try creating viral videos and videos on the latest trends to garner more eyeballs
Flames will be credited on the basis of video popularity. More engagements with your video will earn you more Flames.
Follow each other, give likes and comments on each other's post to get more flames
Other Miscellaneous Ways to Earn Money
These are not the conventional or direct paying Apps or service but if used with the right planning you can make a good amount of money from the Apps below.
11. WhatsApp
You use WhatsApp every day to chat with your friends, have fun and keep yourself updated. What if I say you can make money using WhatsApp. Surprised? Yes, it's True! You can earn through WhatsApp. WA is a great place to connect with people and share all good stuff. WhatsApp groups could be the best place to sell your products and mint some $$$.
The amount you earn depends on your effort, approach and also on the number of active members in your WhatsApp Groups. If you have a good number of WhatsApp members say around 500-1000 then you can make about $50-70 per month with proper cashing techniques.
12. Quora
Given the number of users on Quora and also its excellent presence on Google Search results, a Popular Question with Good Answer can get you a mammoth number of readers. You can exploit this opportunity to make some good cash. The amount of money you will earn depends on your efforts and mode of earning through Quora.
Various Ways You Can Earn from Quora
Quora's Knowledge Prizes
Link Shorteners
Affiliate Programs
Selling Products and Service
Conclusion: With the Apps and Services above you can make a decent amount of cash every month. The apps offer simple tasks and survey to complete like watching videos, playing games, answering polls or opting for free trials. In turn, you are paid in the form of cash, gift cards, coupons or other credits which you can redeem. A balanced combination of above apps can let you make a few bucks every week.
Note: You won't get rich overnight, use the above apps as a secondary source of income to have a passive income for adding a few extra pennies to your pocket. I hope the post was helpful. Do comment below for any assistance or support.
If you've any thoughts on Best Apps to Make Money Online | Passive Income, then feel free to drop in below comment box. Also, please subscribe to our DigitBin YouTube channel for videos tutorials. Cheers!