Several social networks and social news sites, including Reddit, Twitter, and Digg, use Imgur to host and share images. Its flexibility and ease of use make it popular with users. But, since MediaLab AI, Inc. acquired them, users often face many issues.
Recently, Imgur has stopped working or not working on the Chrome browser for some users. Following our investigation, we discovered some possible reasons for this issue and how to fix them. Thus, we decided to bring this guide to help them fix the Imgur not working problem in the Chrome browser.
Best Ways to Fix Imgur Not Loading on Browser
Of course! There are several fixes available that indeed help you get rid of the Imgur not working issue from your favorite Chrome browser. So, if your eyes are looking for such fixes, make sure to perform them one after the other until you get the right one for you.
Fix 1: Reload The Imgur Page
Initially, you must try reloading the page as there are possible chances that the Imgur is not working on your browser just because of a random network bug or glitches. So, you can simply tap on the reload button located at the top-left corner of your Google Chrome window.
Fix 2.  Change DNS
Changing DNS can help you fix most of the issues with a website. If Imgur is not working on the desktop browser then a different DNS can help load the site and its media.
The DNS settings are automatically set by your ISP, you can change the DNS in Chrome settings; this is absolutely fine, and you will not face any speed issues.
Open Chrome Settings.

Click on Security and Privacy.
Click on the Security option.


Select customized DNS. You can add custom DNS or use any listed DNS from the dropdown menu.

Fix 3: Check Your Internet Connection
Having a good internet connection is the most prominent thing that is needed to upload your images on Imgur. Therefore, it is possible that your internet may not be working properly, due to which you are getting this type of issue with your Imgur account on Google Chrome.
So, you must check if your internet is working or not by hovering to the Ookla speed tester website and testing your connectivity speed. However, if needed, then power cycle your router and check the speed again.
Fix 4: Make Sure The Chrome is Updated
An older version of Google Chrome also might be the reason why your Imgur is not working on your Chrome browser. However, many users previously reported that they are able to get rid of this issue after updating their browser.
Therefore, you must also try this out and check if the issue gets resolved or not. However, to check if your Google Chrome is updated or not, use these steps:
Open Chrome on your computer.
After that, click on the three-dot button located in the top right corner.
Then, select Help and click on the About button.
Now, hit Update Chrome (You're on the latest version if you can't find this button).
Relaunch the program.
Fix 5: Check The Server Status
Did you check if the Imgur servers are working or not? Well, chances are there that the Imgur servers are not working or are under maintenance. So, in that case, unless waiting, you have no other options.
Thus, if you want to check whether the servers are working or not, you can simply visit the DownDetector and verify if there are other users who have reported the same.
Also, don't forget to hit the I Have a Problem With Imgur. This will let other users know that they are not the only ones facing this issue on this globe.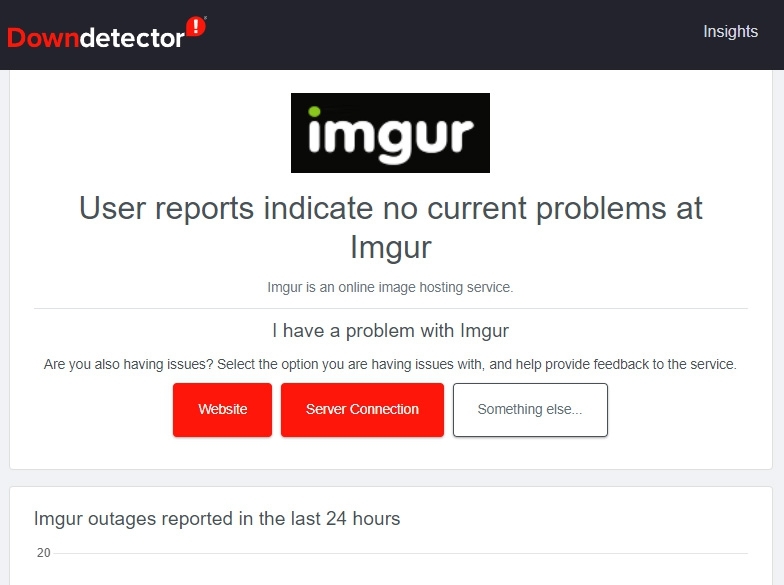 Fix 6: Clear The Cache Data of Your Browser
Whenever you visit any website, your browser downloads a stale copy of the website you visit. However, the browser only needs to download that information the first time you visit and can load the local files on subsequent visits.
But, sometimes, due to various reasons, these cache data may get corrupted or damaged, due to which on your browser, you are unable to use Imgur. So, you can use these steps to remove the cache files from your browser:
Initially, open Chrome and tap on the three-dot button.
Then, tap on the Settings.
After that, tap on the privacy and security tab.
Then, hit the Clear browsing data option.

Finally, checkmark the boxes you want to delete and hit the Clear data button.
Fix 7: Try Using Any Other Browser
If the Imgur is not working on your Google Chrome browser, you should check out if the same issue is occurring on any other browser. However, if the Imgur is started working on a different browser such as Opera, Edge, etc., we advise you to reinstall your Chrome browser to fix the issue.
Fix 8: Reach Out Help Desk
We regret if not even a single method mentioned earlier in this guide worked for you. But, at last, we suggest you to reach out to Imgur's official support team using the given link and ask them about this issue. After that, depending on the situation, they may suggest some more fixes that we may not mention in this guide.
If you've any thoughts on How To Fix Imgur Not Working on Chrome Browser?, then feel free to drop in below comment box. Also, please subscribe to our DigitBin YouTube channel for videos tutorials. Cheers!