The creators behind some of the eye-catching images online are no longer humans. Yes, this work is now done by AI tools. Well, image creation is definitely a noteworthy use case of AI tools. With these tools, images can be created within minutes using textual descriptions provided by the user. Even though it can be fun to see the reflection of your creativity on your screen, it can also be extremely useful in certain situations.
In this scenario, one AI image-creation tool that rapidly became popular among youngsters is Midjourney AI. But many users don't know how to use the Midjourney AI. Well, that's the reason why we are here. In this post, we will tell you some of the important commands using which you can easily create any image using Midjourney AI. So, let's get started with the guide.
What Is Midjourney AI?
Midjourney, Inc. is a San Francisco-based independent research lab that produces generative artificial intelligence programs. It works similarly to OpenAI's DALL-E and Stable Diffusion in generating images using natural language descriptions. It entered its open beta phase in July 2022. However, back in November 2022, they released its Alpha version 4.
Is the midjourney free?
Midjourney gives users the opportunity to try out its services for free. It is free to create 25 images, and then users can choose from two plans.
It costs $10 a month for the basic membership. Users can create up to 200 images each month with this plan. Once users have generated 200 images, they can continue generating images for $4 for every 60 images. You can also access the member gallery and get free friend passes.
In addition to unlimited personal users, the standard membership offers free friend passes and access to the member gallery. Furthermore, it provides 900 minutes of fast time, enabling the user to produce images as quickly as possible. There is an option to add private visibility to both plans for an additional $20 monthly.
How to Use Midjourney AI?
Well, in case you want to experience the AI world by creating your imagination into real-world images, then you can use the midjourney AI. However, if you don't know how to use the midjourney AI, you can try out the needy steps mentioned below. So, let's get started with them:
Step 1: Sign Up For Discord
Discord is the only way Midjourney works. Those unfamiliar with Discord won't be surprised to learn it's a communication tool similar to Slack or Teams. Although it is frequently associated with gaming, Discord can also be used by businesses and other interest groups to form communities and chat.
Discord is an easy and free way to communicate with others, and you do not need to talk to them if you do not want to. To join the beta, go to the Midjourney website and click "Join The Beta" after registering for Discord. In this way, you'll be invited to join the Midjourney Discord server.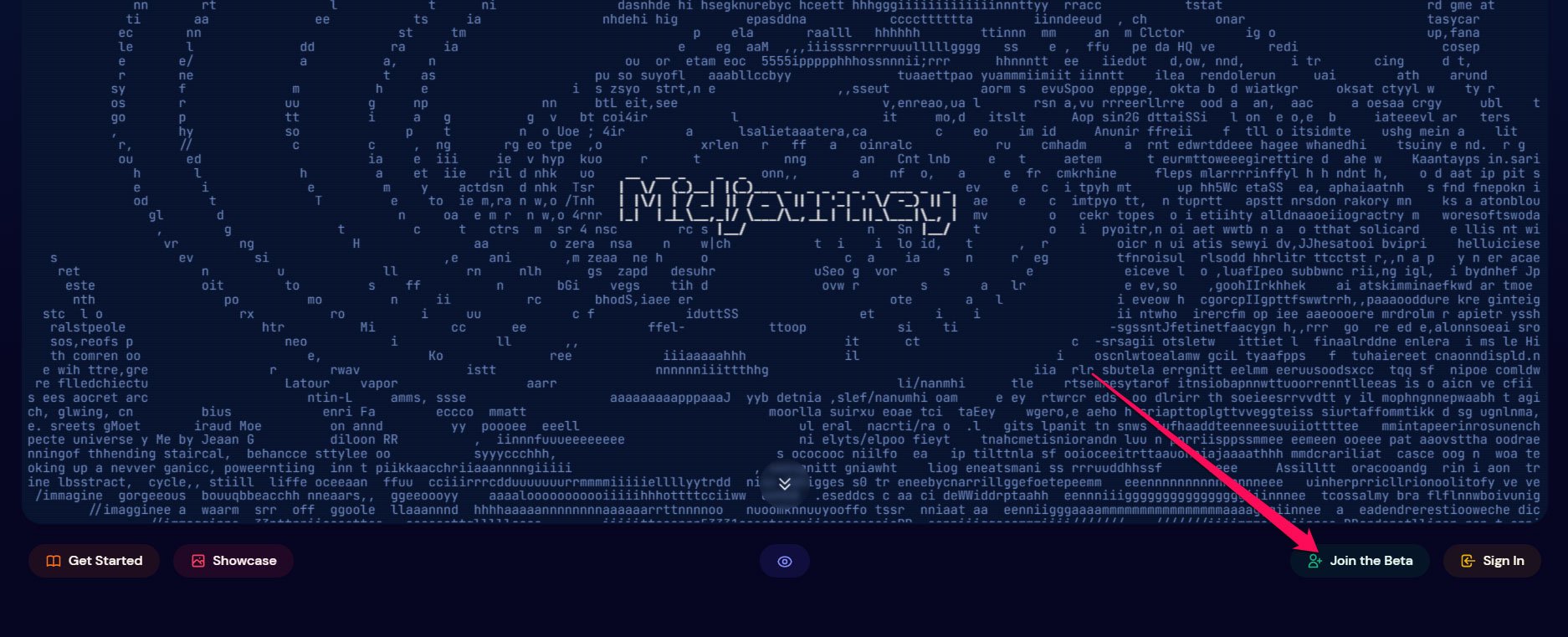 Step 2: Join the Proper Discord Channel
Join a newcomer room (called things like #newbies-112 and #newbies-142) to subscribe to a Midjourney plan. Simply type /subscribe into the message field and hit return. This is a slash command which allows you to interact with Discord bots like Midjourney. You're doing nothing but just telling Midjourney that you are interested in subscribing.
You will be prompted to sign up for a Midjourney plan. With the Basic Plan, you get 200 images generated per month, and with the Pro Plan, you'll get 1,800 AI-generated images per month. The Basic Plan starts at $10/month and goes up to $60/month. After you've signed up, head back to Discord. Now, you are good to go.
Step 3: Generate Your First Image
Once you're ready, enter "/imagine" in the Discord chat for your newbie's room. It will prompt you for a description of the image. It will be easier for the AI to produce good results if you are more precise with your description.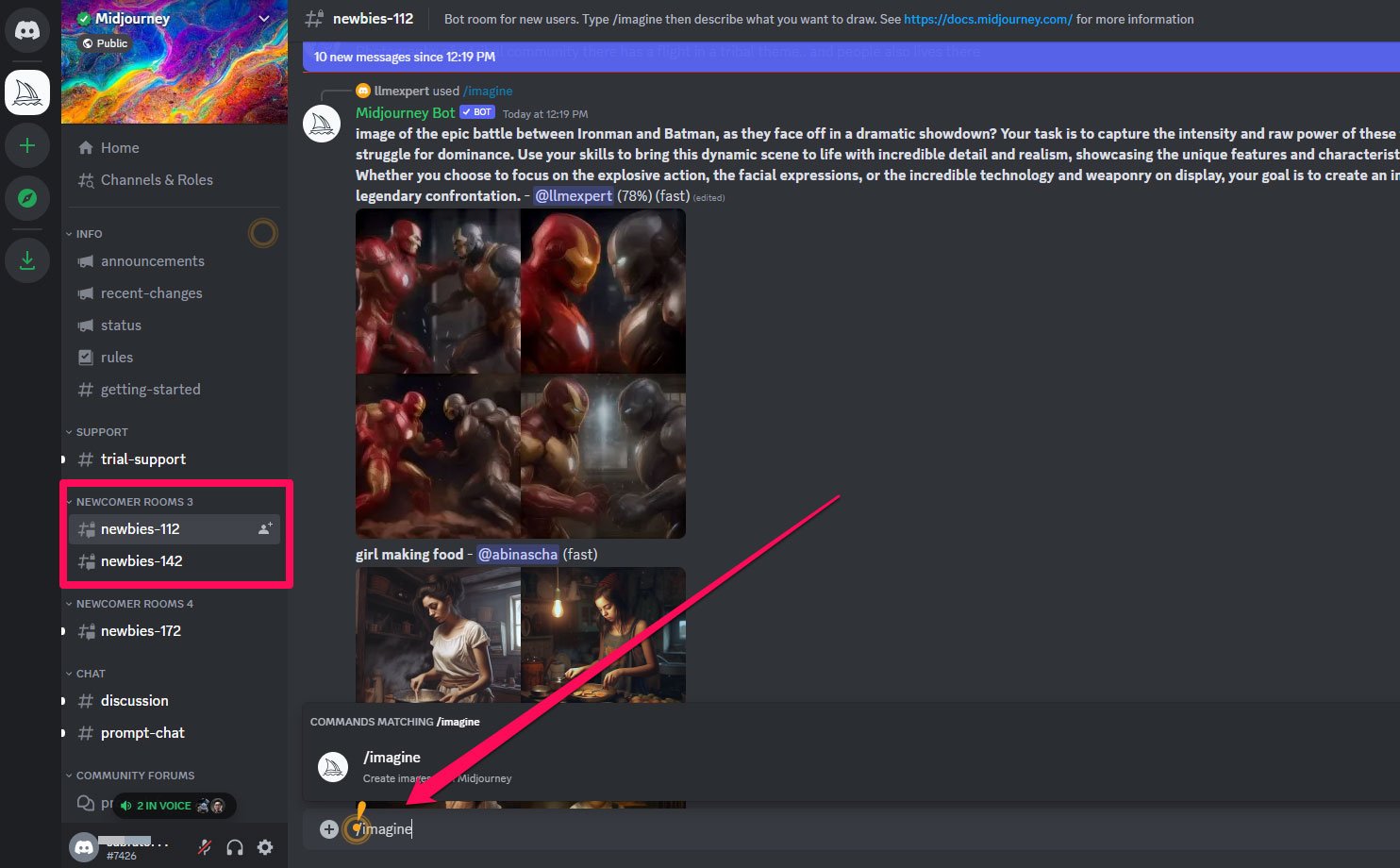 Be specific in your description, and if you are looking for a specific style, include it. If you keep things clean, there shouldn't be a problem. It is necessary to follow a few terms and conditions. Moreover, after finishing your prompt, click Enter.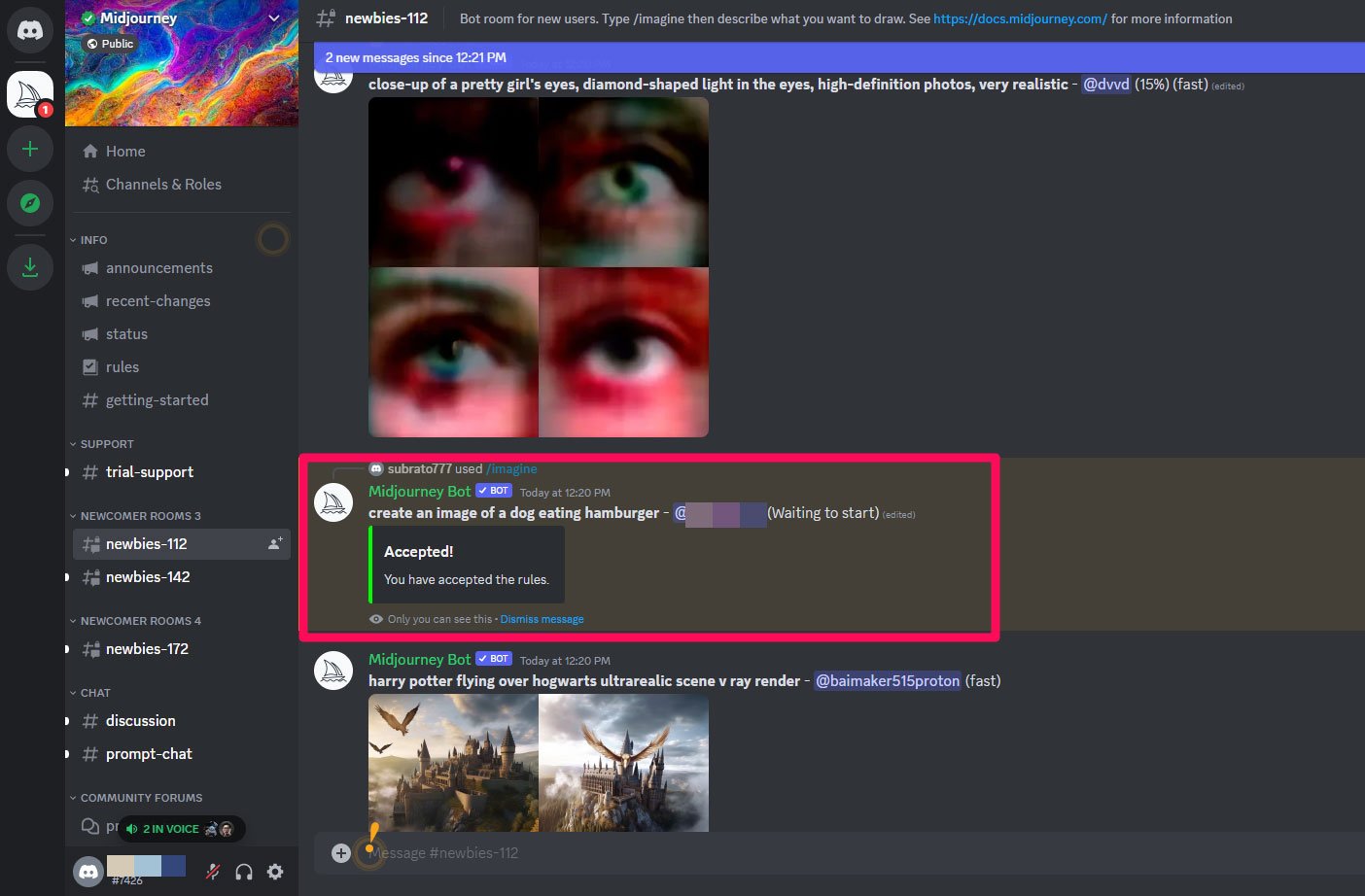 Step 4: Edit Images Using Upscaling And Variations
After Midjourney thinks about your prompt for a minute, it will deliver four different interpretations where the prompt is concerned. It will include several possible buttons for the AI to respond to, indicating what action to take next.
U and V buttons are located beside each image, corresponding to images one through four. When the U button is pressed, the selected image will be upscaled into a larger, better-quality version. With the V button, you can create another iteration of your selected image. If you select the refresh button, you will be able to generate a new set of images on the basis of the same prompt. Don't forget that all these responses will use up your free prompts. There are many options that can be selected when upscaling an image.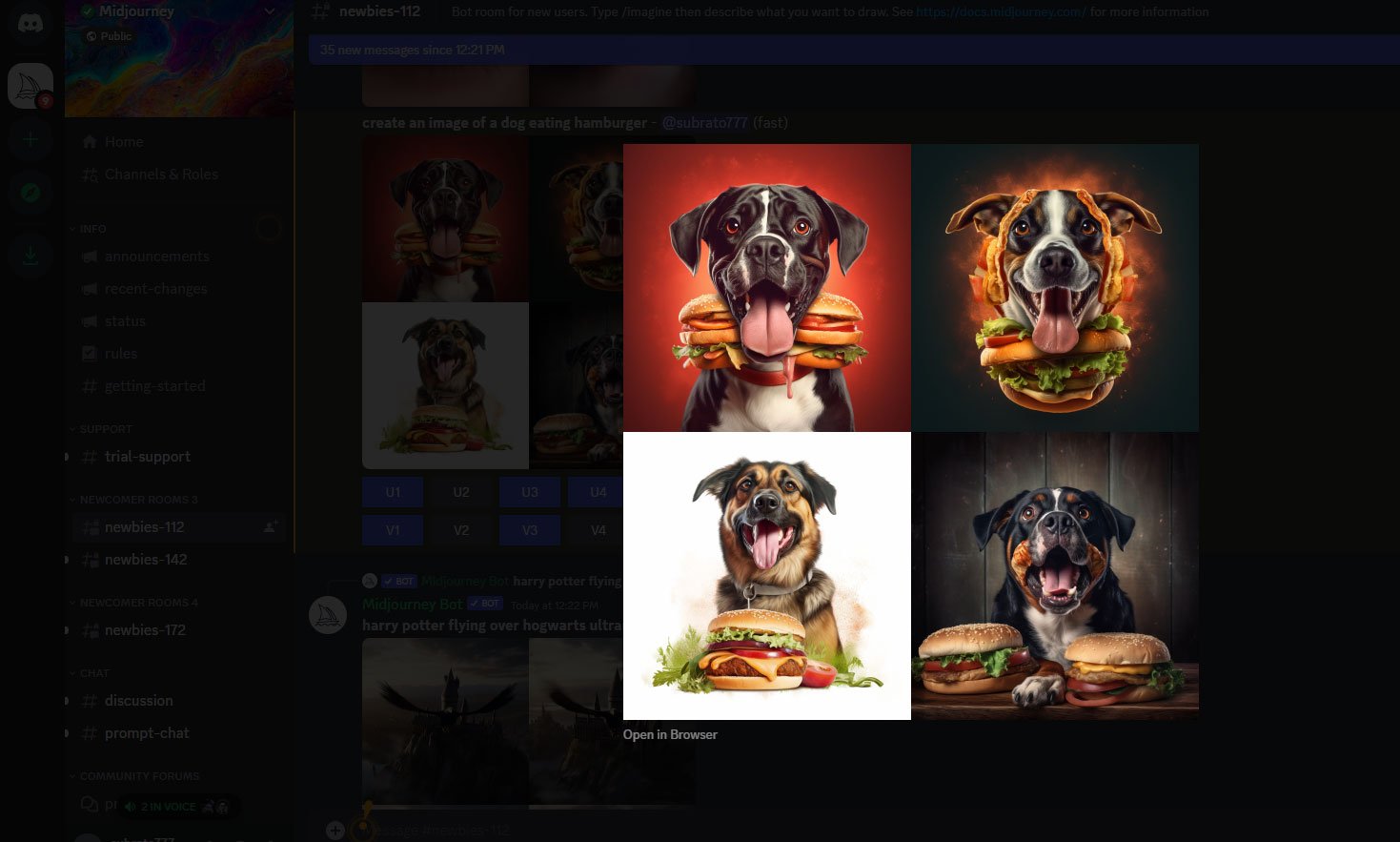 There are multiple ways to upscale a picture, including additional variations, upscale to the maximum size, or redo the upscale. You can also rate images using emojis. This tool allows you to add rankings to images that you have created or to images created by others.
For those who plan to use Midjourney a lot, there is a bot channel in Midjourney's Discord that you can use to subscribe. If you are seriously considering using Midjourney in the long run, you should also review the manual, which provides a full list of commands and advice on creating images.
Step 5: Send The Image to Yourself
That's it. Now, you have created your imaginary picture using Midjourney AI; therefore, it's time to save the picture on your device. So, you can simply use the envelope emoji to send the image to yourself in a private message. Thereafter, download it from there.
How to Find My Midjourney Images on Discord?
Often, users of Discord lose their images in the endless stream of messages. To solve this common problem, try these three methods:
To see all of your images, use the Midjourney web app.
In the Discord chat, go to the 'inbox' tab and select 'mentions' in order to check all your mentions.
For a private conversation with the bot, click the 'direct messages' button and select 'Midjourney Bot,' and send the images you have created there.
Conclusion
Midjourney is hosted on a Discord server. You have to use Discord bot commands to design images. Also, you have to join the official Discord server first, as it is hosted on Discord. You get a good-quality image output from Midjourney.
If you've any thoughts on How to Use Midjourney AI?, then feel free to drop in below comment box. Also, please subscribe to our DigitBin YouTube channel for videos tutorials. Cheers!