ChatGPT's incredibleness is now worldwide news. We all know how ChatGPT can help us with our exam preparations, general knowledge, coding, and whatnot. But did you know it could further be used for more creative tasks to help us make firm decisions based on true information? For instance, you can now make your whole travel plan using ChatGPT. Sounds interesting, isn't it?
However, to make a successful travel plan, you need to follow a certain structure rather than asking random questions about places. While making up for a trip, there are a variety of things we should know in order to utilize our time and money in the most efficient way. But visiting a completely new place is no easy thing to do. During our time there, we mostly come across a lot of confusion leading to making the wrong decision and later regretting it.
Fortunately, with the help of AI, we may be able to avoid such circumstances up to an extent only if we plan our trip appropriately. In this article, we will be looking at the proper format in which you can make your next travel plan with ChatGPT and make minimum errors in your plan. So, if you are excited to know more about the trick, let's dive into our main content.
How to Use ChatGPT for Travel Planning?
Making a travel plan includes a bunch of important things, such as choosing the destination, finding the best travel deals, looking for the best places to stay, and so much more. However, it's not always possible to execute the things as we want them to. At least with the help of ChatGPT, we are now able to look for options and come up with the best choices and alternatives. With that said, let us check out how to use ChatGPT for travel planning.
1. Finding Your Destination
Whenever it comes to traveling, the first question is to find a perfect destination. And probably, this is the most confusing stage in the entire travel planning. Fortunately, now you can easily pick up your destination with the help of ChatGPT in no time.
But before that, you need to be sure about certain things to find an appropriate destination. Make sure about what kind of trip you are looking for. Is it a temple visit trip, a random trip with your friends, or a family vacation? Next, get straight with your requirements, like what kind of place would you like to visit, a cold and icy place, somewhere hot, beaches, or whatever it may be.
Once you come up with a general idea of your requirements, now you are all set to start finding your dream destination on ChatGPT. For instance, I want to visit a place having great historical monuments and roots. So, I would ask GPT something like this "Give me the names of 5 best places worldwide to travel which has great historical monuments and stories."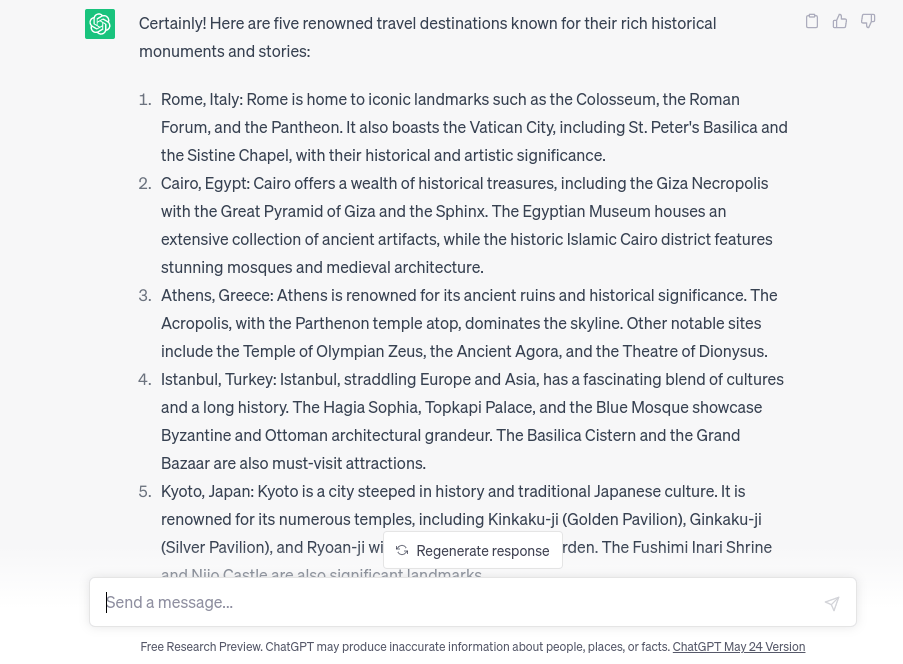 Well, this is a basic query to go with. Of course, you can customize your request to be more specific. For instance, another major thing that matters while traveling is the month and season you are willing to travel in. Each place glooms differently in different seasons, so make sure to mention these small things in your request. Now, we can also pass the above request in a way such as "Give me the names of 5 best places worldwide to travel this July which have great historical monuments and stories. It shall have good tourism facilities."
Again, this command will show more refined options based on your requirement. Once you have a particular place in mind, now you can ask ChatGPT to provide more information about the place. Like, you could ask to provide more information about the different historical sites it hosts, how much time would you require to explore all the places, its culture, and more.
2. Creating a Travel Itinerary
Once you have decided on your final destination, the next important thing is to create an itinerary for the number of days you are planning to stay at your destination. Suppose I want to travel to Kyoto, Japan, for a whole month, I would pass a request to ChatGPT saying, "Create a travel itinerary for a 1-month trip to Kyoto, Japan. Include all the famous historical sites to explore and a list of outdoor activities to pass some adventurous time".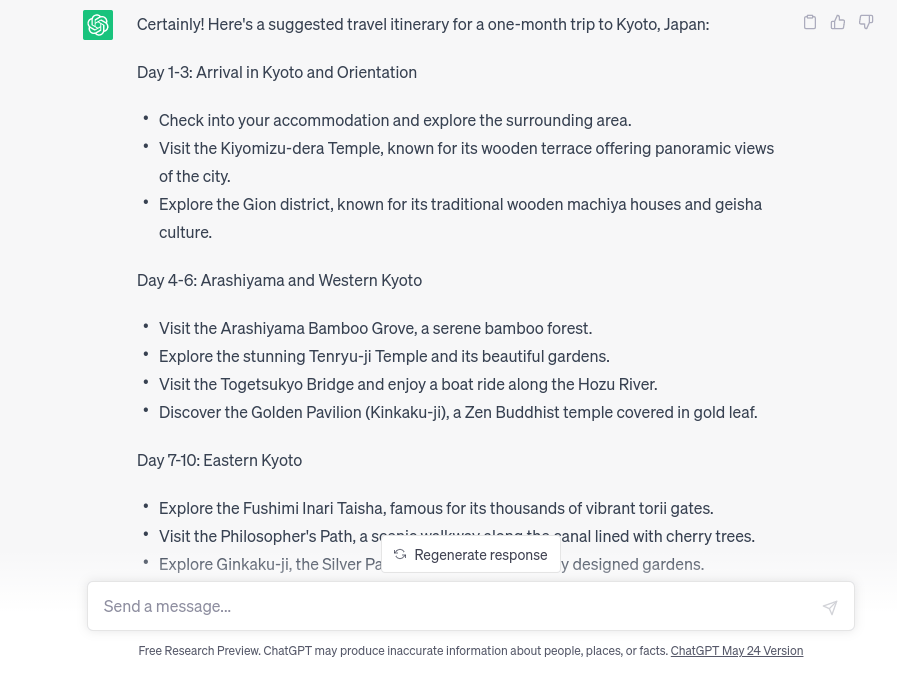 This gives me a complete itinerary of my trip to Kyoto, Japan, with all places to explore. The best part is it uses its intelligence to plan everything according to a very accurate number of days. You can further check the distances between the places to ensure a better and more comfortable journey. Additionally, you can also make changes according to your preference. Simply ask GPT to apply your customizations, and it will do everything for you in just a matter of time.
3. Planning a Budget
The next important place where ChatGPT can lend a helping hand is with planning the budget. Of course, whenever we plan a trip, we have a fixed budget in mind as well. However, without enough knowledge about the destination and its environment, we often miscalculate in such things. Fortunately, ChatGPT once again stands as a savior for planning a more precise budget and managing all our travel expenses.
Remember we just created an itinerary in the previous step? Well, we will now use that to come up with an overall budget plan with the help of ChatGPT. All we need to do is pass a request saying, "Based on the above itinerary, how much would be the overall expense of this trip?"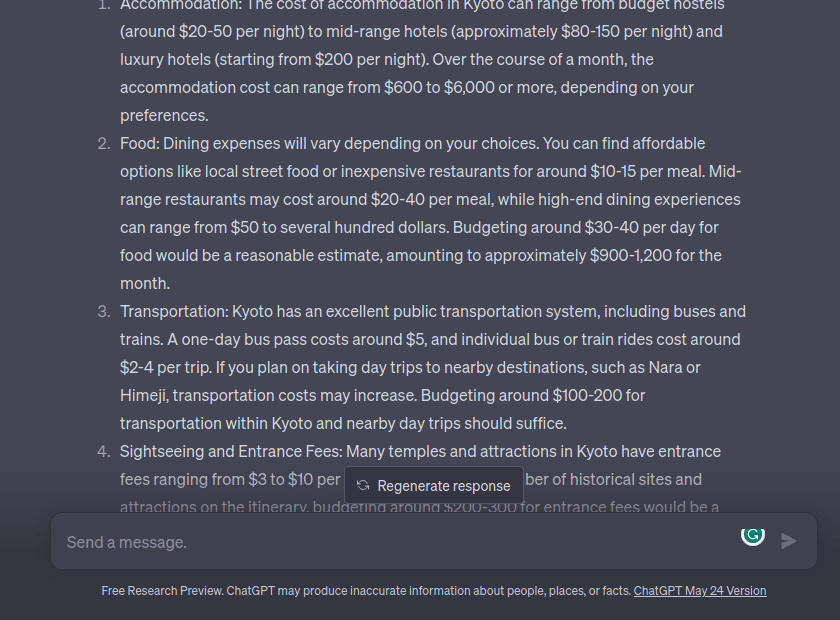 And there you go, GPT gives you a detailed explanation mentioning an estimated cost for different stuff such as traveling, accommodation, flooding, exploring, etc. Since flight ticket prices and accommodation costs vary frequently, they might give you an error in your budget. Therefore, to get a better estimation, you can exclude the flight and accommodation prices for the moment.
4. Flight and Accommodation Booking
Now that you are all set with the overall planning of your trip, it is time to get the bookings done to receive the early benefits. If you are planning the trip a few months later, definitely you will save some money on flight booking. However, hotel booking charges completely depend on the season you are willing to visit the place. If that is a tourist-attractive season, the prices will be comparatively higher.
But worry not, as ChatGPT has got you covered in this section as well. Simply ask GPT to provide you with the best and most affordable flights to travel to your destination from your boarding point along with their ticket fair and estimated time. For instance, you can refer to the following request and modify it based on your requirement.
"Can you help me find some affordable and well-served flight to travel to Kyoto, Japan, from New Delhi Indira Gandhi Airport? Also, mention their estimated ticket fare and time taken to cover the distance."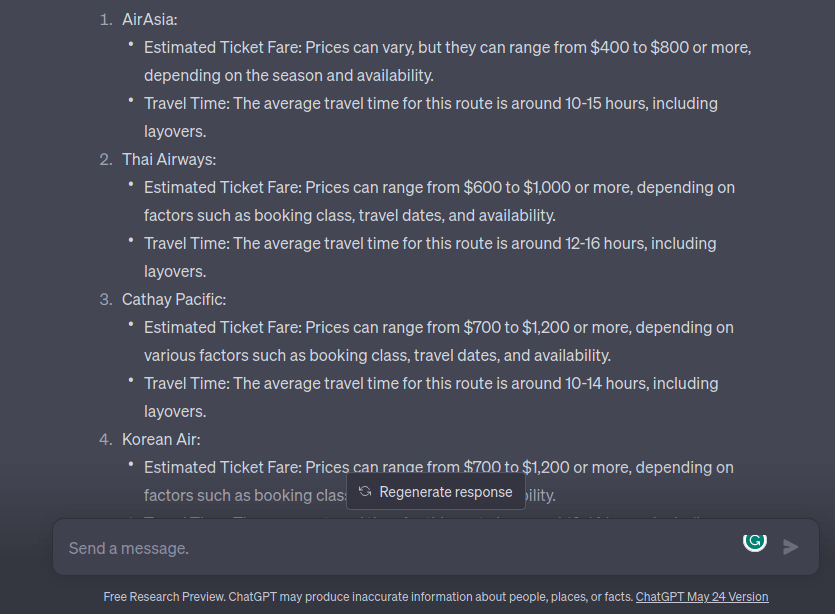 With that request, ChatGPT gives us a clear response mentioning some of the available airlines from the starting point to the destination. If you want more information about these flights, you can further ask for their routes, services provided, and more.
Similarly, you can also ask GPT to help you find the best hotel deals as well. Here's an example, "Can you help me find the best and most affordable hotels in Kyoto, Japan to efficiently explore all the places mentioned in the itinerary? "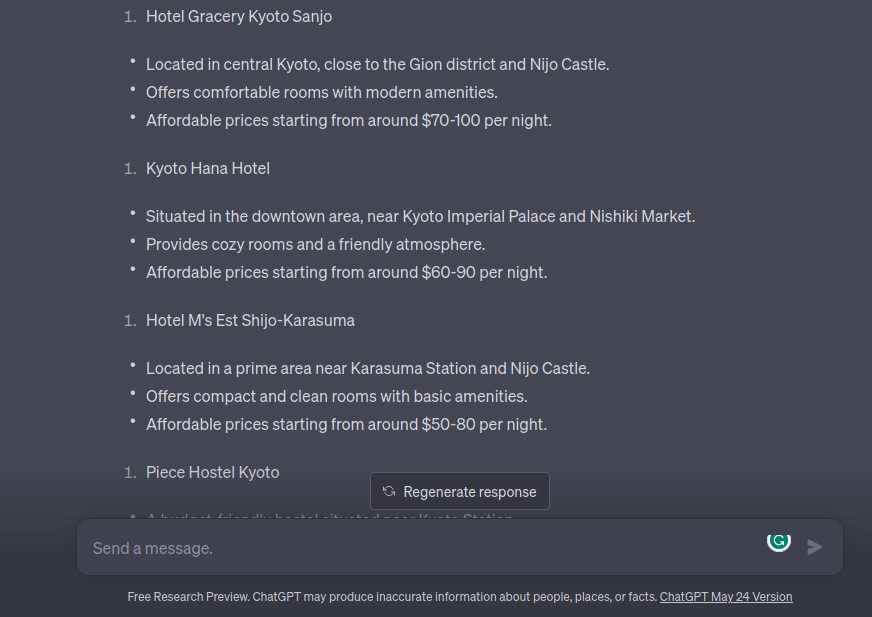 Well, this is just an example! of course, you can make your own research to find the best location to stay with better traveling options, and maybe a center point from where exploring becomes easier.
5. Verify Your Travel Plan
Being an AI, ChatGPT only provides you with information about what you ask. However, you cannot blindly trust it while making a travel plan. It is definitely a great tool for maybe a rough idea, but again, you need to verify before taking any further steps.
So, after having your overall travel plan and itinerary in your hands, it is time to check the traditional way. Let's head back to Google and start researching the culture and environment of the place. Check if the places mentioned in your itinerary are still functioning and open to tourists. Look for flight and accommodation help from authentic sources like Airbnb, MMT, etc. Likewise, do your own research on the things you wish to know before confirming your plan to make it a successful trip.
Final Words
Even as one of the most powerful AI-based applications, ChatGPT still lags in various sectors. Therefore, do not consider it as a complete substitute for Google while creating your travel plan. It is good to get quick and specific answers to your query, based on which you can create an overall plan for your trip. But do make sure to verify your plan from the various sources available on Google.
Also, for a better experience, look for other real-time experiences in your desired destination and what they have to suggest to you. Rest assured, ChatGPT is still getting better and more accurate day by day. And very soon, it might even be our best travel advisor with an updated dataset as well.
If you've any thoughts on How to Use ChatGPT for Travel Planning?, then feel free to drop in below comment box. Also, please subscribe to our DigitBin YouTube channel for videos tutorials. Cheers!