Artificial Intelligence (AI) has significantly advanced in recent years, revolutionizing various industries. One area where AI has made a remarkable impact is voice generation.
AI voice generators can convert written text into lifelike, natural-sounding human speech, enhancing how we communicate and interact with technology. This article will explore the ten best AI voice generators that have gained popularity for their exceptional quality and versatility.
Best AI Text to Speech Generators
Here are the Best Free AI Speech Services to Generators AI Voice from Text
1. NaturalReader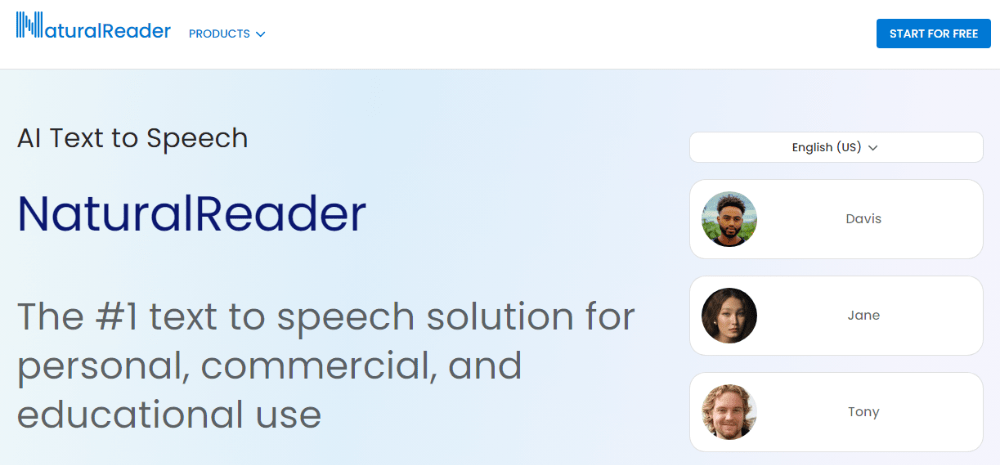 NaturalReader combines AI voice generation and robust text-to-speech capabilities in a seamless package.
With NaturalReader, you can transform the typed text into AI-generated speech. Additionally, it offers a convenient drag-and-drop feature that supports PDF and Word files, along with more than 20 other file formats.
Moreover, it incorporates OCR technology to convert text to speech in images and scanned documents.
An imposing feature of NaturalReader is its pronunciation tool, which we would love to see other AI voice generators adopt. This tool allows you to modify the pronunciation of any word, substituting it with a more phonetically accurate version or entirely changing the output word.
NaturalReader is accessible online and compatible with Windows and Mac operating systems. It also offers a highly effective Chrome extension free of charge. For Firefox yous, there are also good text-to-speech add-ons available.
2. Listnr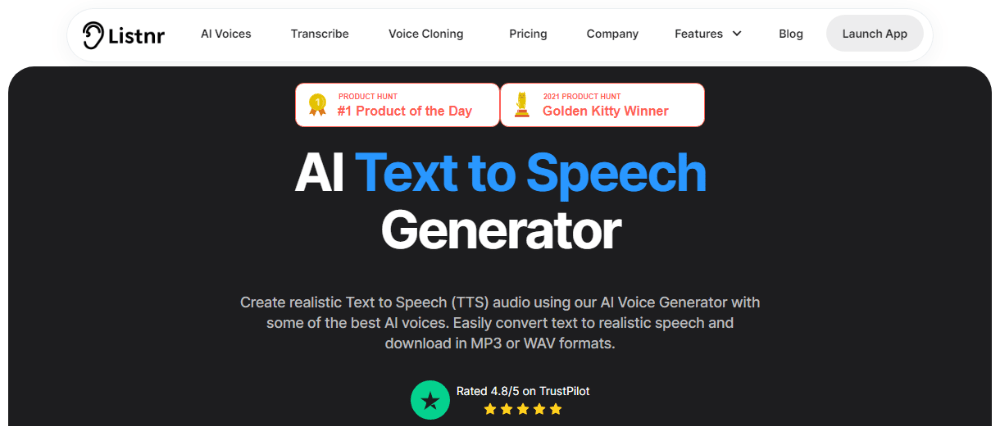 Listnr is an AI-powered voice generation tool that boasts some of the highest-quality AI voices on the market. With a vast library of voices, Listnr allows you to create voiceovers for various applications, such as online courses, explainer videos, and advertisements.
In addition to voice generation, Listnr provides a dashboard to record and edit your podcasts. It makes generating audio versions of online articles or blog posts easy by simply inserting a link. Their you-friendly interface allows you to customize the voice style, pronunciation, speed, and audio output.
You can share the audio created by Listnr on various social media platforms like Tiktok, YouTube, and Instagram. Furthermore, Listnr provides access to their TTS API for programmers who want to integrate their solutions into their applications.
3. Murf.AI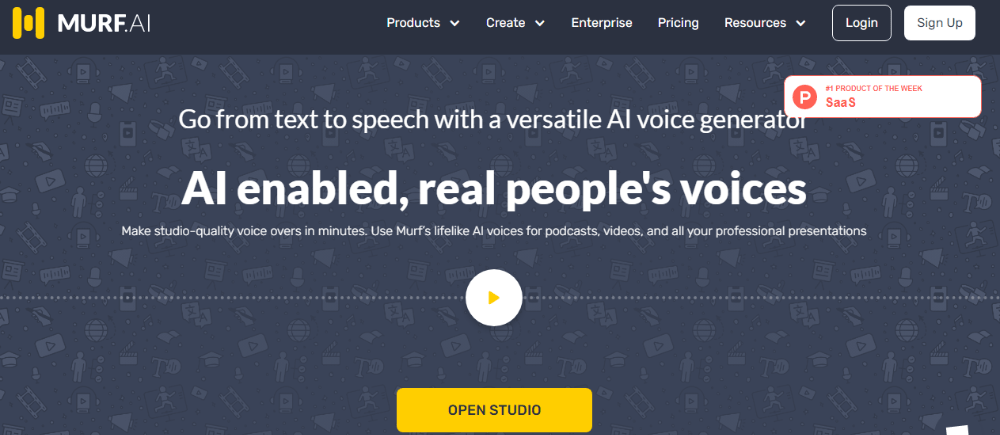 Murf.AI is a powerful and robust AI speech generator that gives various natural-sounding voices in different languages and accents.
The audio quality is so good that it is difficult to tell the difference between human speech and the audio produced by Murf. AI.
You can customize the voice's pitch, speed, and tone using the platform's editing tools, making it suitable for various applications such as videos, podcasts, audiobooks, virtual assistants, and chatbots.
The platform's user-friendly online interface makes creating and downloading voice records easy. You can preview their audio and adjust settings before producing the final file.
In addition, Murf Studio allows you to create presentations or videos within the platform, incorporating background music, voiceovers, etc.
4. LOVO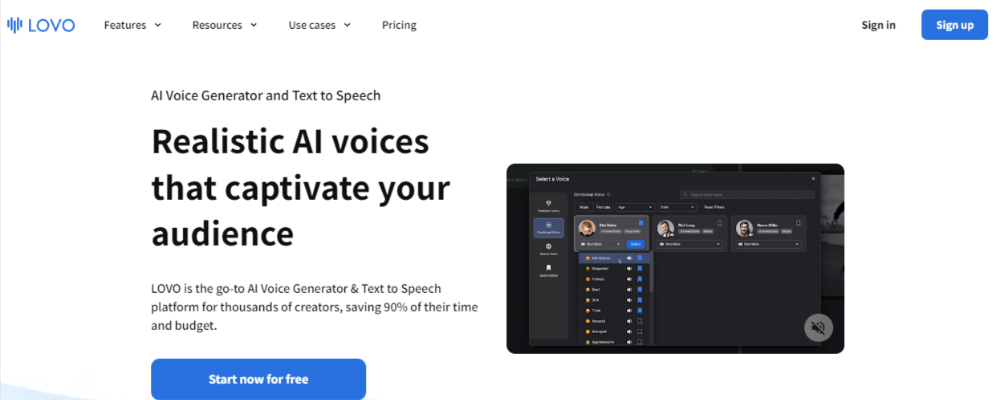 LOVO is a you-friendly platform that creates voices resembling human speech and is known for its strength and effectiveness. By refining its voice synthesis models, it has developed a wide range of voices for various industries, such as entertainment, education, gaming, documentary, and news.
This has led to significant attention from prominent organizations globally, which has made LOVO stand out as an innovative voice synthesis sector leader.
Recently, LOVO launched Genny, a cutting-edge AI voice generator with text-to-speech and video editing features.
It can generate voices with impressive quality similar to human speech, and content creators can edit their videos simultaneously.
Genny offers more than 500 AI voices in over 150 languages and 20 emotions, all professional-grade and realistic.
You can use the pronunciation editor, emphasis, speed, and pitch control to modify and customize your speech to your liking.
5. UBERDUCK

UBERDUCK is a collaborative and open-source AI voice generator that offers a robust API for creating personalized AI voice generator applications. While you don't necessarily need technical expertise, UBERDUCK functions effectively as a standalone tool.
With an ever-expanding collection of over 5,000 distinct voices, UBERDUCK has rapidly emerged as one of the most popular AI voice generator applications.
The remarkable technology implemented within UBERDUCK's source code convincingly deceives listeners with its astonishing resemblance to familiar voices.
Additionally, UBERDUCK appears to have developed a mechanism to handle audio artifacts commonly encountered in other AI voice generators.
6. Speechify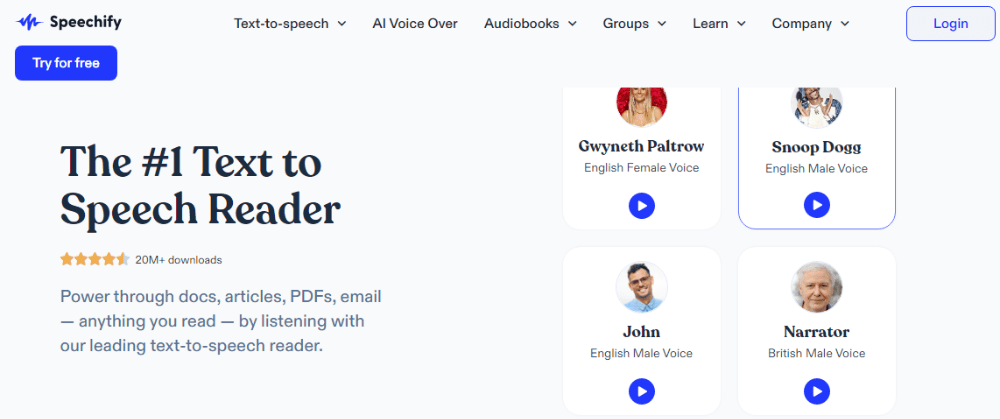 Speechify is a tool that converts written text into high-quality, natural-sounding audio. It offers several features, such as adjusting the speed of the voice, choosing from different voices and accents, and more.
If you prefer a visual element, Speechify can also highlight the text while it is being read. It is an Android and Apple device app with a web-based interface.
Speechify is particularly popular among educators, allowing for importing documents from various sources. In addition to reading PDFs, emails, and eBooks, you can even upload a photo containing text and have Speechify read it back.
Overall, Speechify is a versatile and powerful AI tool for generating voices, reading, and listening to text effortlessly and accessible.
7. Respeecher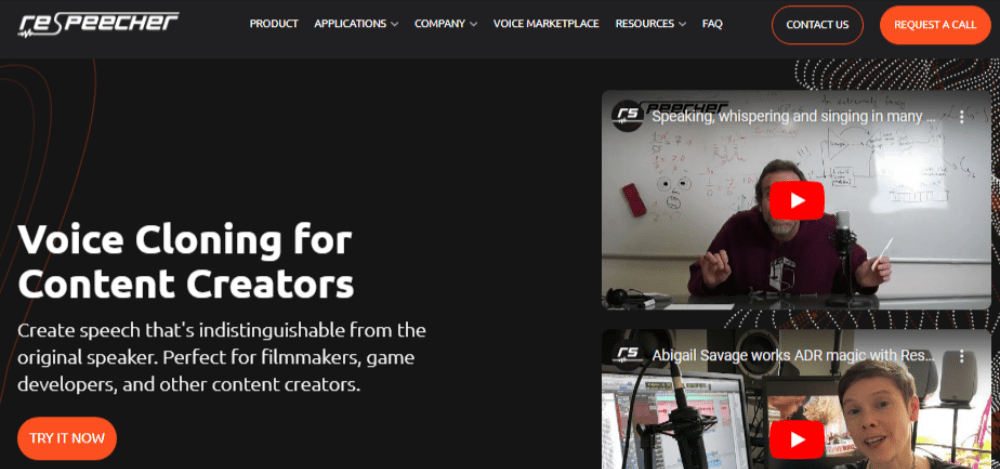 Respeecher is a specialized voice generator that focuses on voice cloning. It is a tool that produces speech practically identical to the original speaker, making it an excellent resource for filmmakers, game developers, and other content creators.
The synthetic voices created by Respeecher are of impeccable quality and closely resemble the original voices. They capture every subtle nuance and emotion present in the original speech pattern, allowing for suitable modifications to the content during the creative process without the need to re-record the authentic voice.
8. Notevibes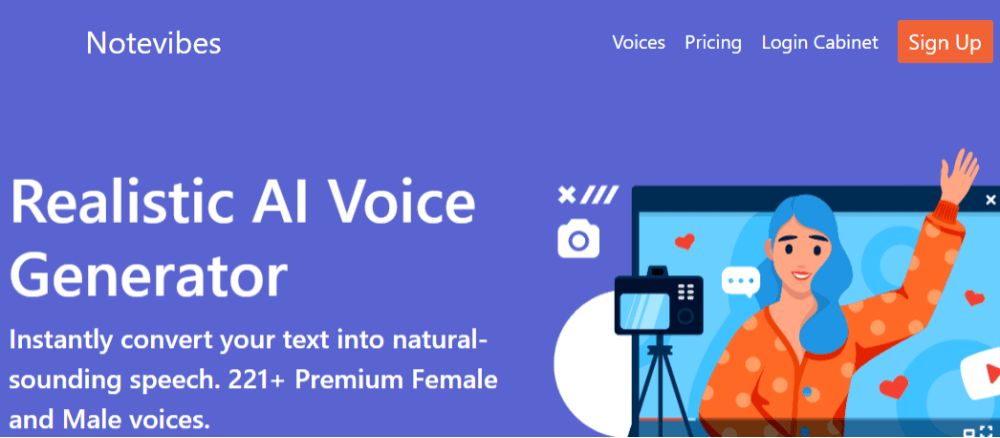 Notevibes' AI voice generator is an exceptional tool that deserves recognition on this list. Major corporations widely utilize it professionally, and its versatility in supporting multiple languages has made it popular across more than 150 countries.
One of the standout features of Notevibes' online editor is its impressive functionality. You can incorporate emphasis and control volume, insert pauses during narration, and adjust the speed and pitch of the generated voice.
Also, the online editor allows you to export your project as an MP3 or WAV file once you are satisfied with the outcome. This is a significant advantage, as many other AI voice generators typically restrict this feature behind a paywall.
Even the demo version of Notevibes offers considerable benefits. You can generate up to 5,000 characters using the AI voice generator, and anything created within this limit can be downloaded free of charge.
9. Synthesys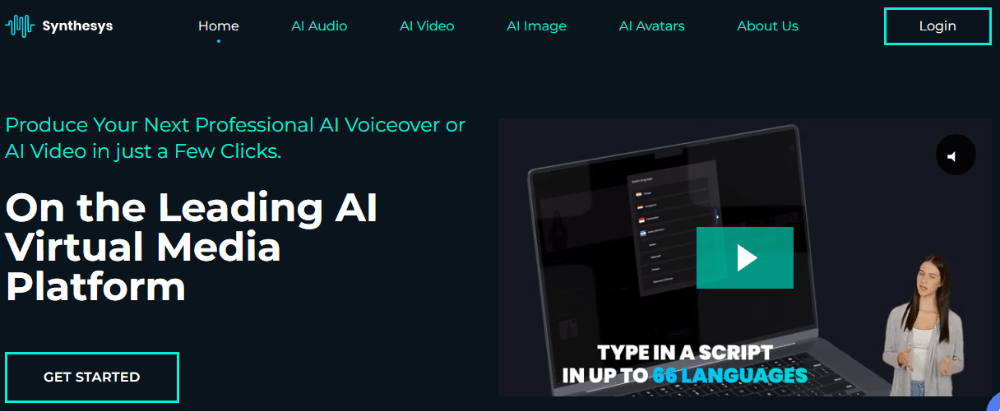 The Synthesys range of products allows yous to produce AI-generated audio content, video content, digital artwork, and even AI avatars. If you're interested in creating video content without appearing on camera, consider utilizing Synthesys.
Aside from providing AI voices in over 140 languages, featuring a wide selection of 254 voices, you can also produce AI-generated videos using their collection of digital avatars.
Their you-friendly AI generation interface makes it easy to navigate, allowing you to explore a list of voice actors to find the most suitable one for your project. You can merge audio clips, enhance pronunciation, and incorporate word replacements for special characters, words, or numbers.
The Human Synthesys Studio enables you to create videos featuring human-like avatars. These avatars can be utilized in presentations, videos, and other applications within the suite of Synthesys tools.
10. FakeYou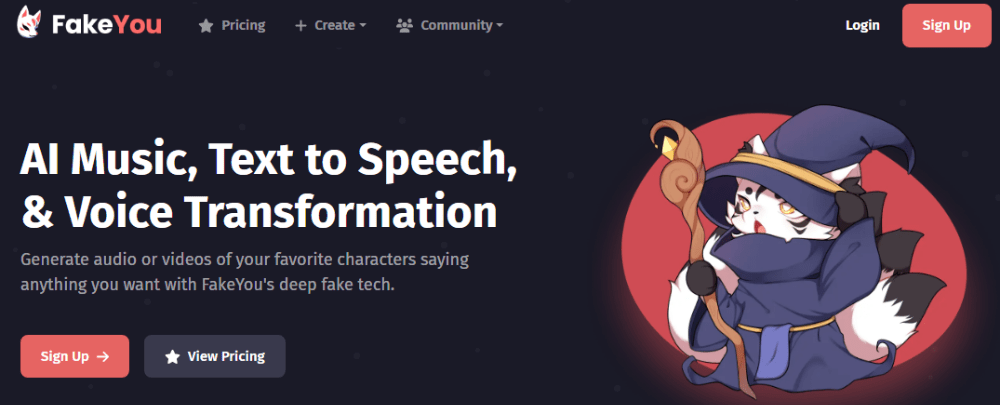 If you've ever desired the ability to make your beloved characters from movies, TV shows, and cartoons come alive and speak your selected words, FakeYou will help you. It is an advanced voice generator that enables you to achieve precisely that, and it does so convincingly.
FakeYou provides an extensive range of categories, encompassing well-known and instantly recognizable voices from various genres. Plus, it offers a voice cloning feature. You can have your voice professionally cloned for any purpose you desire.
Conclusion
AI voice generators are invaluable for businesses, content creators, and individuals. With a wide range of customization options and lifelike voices in multiple languages, these tools provide an easy and efficient way to generate natural-sounding speech.
If you've any thoughts on 10 Best AI Voice Generators, then feel free to drop in below comment box. Also, please subscribe to our DigitBin YouTube channel for videos tutorials. Cheers!