Destiny is a multiplayer game with RPG elements that can be played online (or solo). In this game, you use your guardian powers to level up and upgrade your gear by participating in different activities. At this point, Destiny is probably one of my favorite video game franchises.
Despite starting casually, I became more interested after the first year, finding something to enjoy in each release. However, shadow keep and new light have been released since Bungie split from Activision. The game is in an excellent position, thanks to these releases. Well, if you play Destiny 2, you are probably familiar with the silver leaves.
A Silver Leave is an in-game currency that can be used to upgrade your shiny new Candescent Armor in Destiny 2. I guess so. It requires several steps to farm Silver Leaves for upgrades because this is Destiny, where they need to be transformed first. So, if you don't know how to get Silver Leaves in Destiny 2, follow this guide.
Tips Easily Get Silver Leaves and Silver Ash in Destiny 2
In Destiny 2, Silver Leaves can be earned by completing activities that are found throughout the game. It's that simple. Wearing Candescent Armor will make you Silver Leaves while participating in anything from strikes to public events. In a nutshell, when wearing Candescent Armor, Silver Leaves drop from a variety of activities, so prepare to grind several times to get enough Leaves.
So, to get Silver Ash, you must follow a different procedure. In regard to this, your silver leaves can be transformed into Ash by completing the Bonfire Bash activity, but your participation level will determine how much Ash you gain.
Once you ignite the Bonfire, you will receive five Silver Ash for every Silver Leaf you ignite. Almost like a cap, there's a Silver Ash cap. You can get the maximum amount of Silver Ash in one go, 100 Silver Ash from converting 20 Silver Leaves.
How to Get Candescent Armor in Destiny 2?
Acquiring the Candescent Armor needed to earn Silver Leaves is relatively straightforward. Just speak to Eva Levante in the tower to obtain the complete set. You can – hopefully – get new and better stats from using Kindling by rolling with Silver Ash. But, we will cover that in a different article. So, we consider that you already know how to get Candescent Armor.
What Are The Best Ways to Farm Silver Leaves?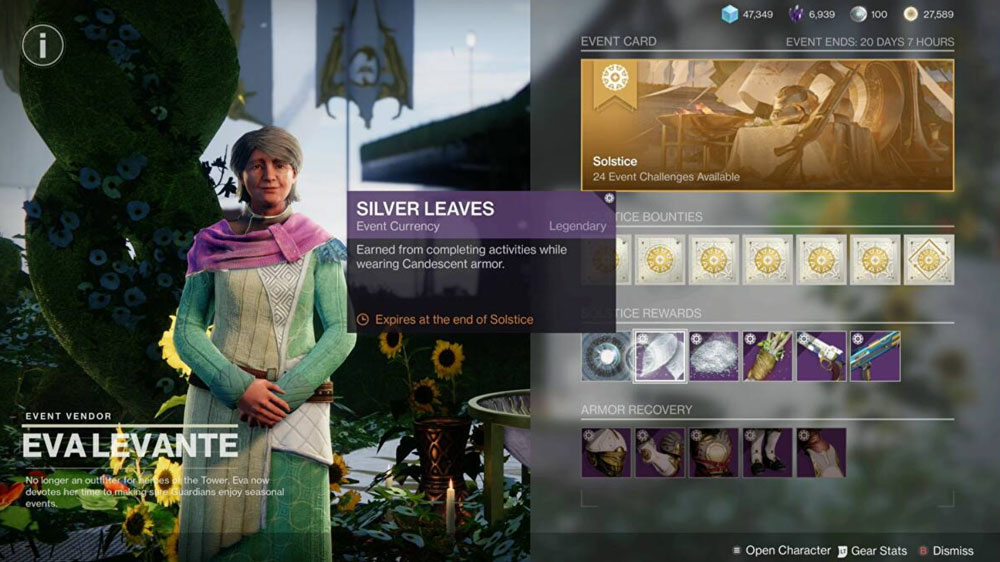 In Destiny 2, Silver Leaves function much like other seasonal currencies such as Vestiges of Dread. Essentially, they are the primary currency that is used only to transform into another, more valuable coin. In Vestiges' case, Bound Presence was the issue because Silver Ash is what Silver Leaves are made of.
Since Silver Leaves are seasonal currency, they can be earned in the same way as any other currency. You'll receive it as a reward for participating in new activities and events in the system, provided you wear Candescent Solstice armor. To earn Silver Leaves, you'll need to engage in the following actions:
Missions in the Witch Queen campaign
Matches such as Strike, Crucible, and Gambit
Patrol missions and public events
Grandmaster Strikes and Nightfall Strikes
Wellspring
Vanguard Ops
Blind Well
If you want to progress on both fronts, you should focus on the activities tied to your event cards – the same in both versions, so you don't have to spend any money.
However, apart from that, the Silver Leaves can also be found in playlist activities. Silver Leaves are earned through Crucible, Strike, and Gambit activities, so even though longer activities can give you more Leaves, it's generally more efficient to focus on these since they can be completed quickly.
Silver Leaves can be obtained from many sources in Destiny 2, but these are the most useful. The currency can be quickly and efficiently cultivated through public events.
How to Use Silver Leaves in Destiny 2
There isn't a lot of use for Silver Leaves in Destiny 2. As opposed to what you might expect. You never have to interact with them once you have them in your inventory. Silver Ash is rewarded in their place as they are used up. So, let's see how the Solstice loop works:
Silver Leaves: They are earned by regularly participating in the system.
Silver Ash: The Bonfire Bash activity turns Silver Leaves into Silver Ash.
Kindling: You can earn Kindling by undertaking Seasonal Challenges.
Each Candescent armor piece has three levels of upgrade, which are upgraded with Kindling. A reroll of that armor is then performed using Silver Ash to target specific stats.
If you've any thoughts on How to Get Silver Leaves in Destiny 2?, then feel free to drop in below comment box. Also, please subscribe to our DigitBin YouTube channel for videos tutorials. Cheers!