Earlier multiplayer games used to mean just leaderboards, but as the gaming in Android has been steadily getting better we have tons of games now that support multiplayer play, including real-time cp-op or PvP. If you are looking for a game to play with friends on your Android, then go through the list below as we have mentioned some of the top best android online multiplayer games that are available right now.
Most of these online Mobile multiplayer games are very famous in the gaming community. Some of the games have changed many careers overnight. From streamer to official game players there are a number of professionals. These are some of the best Online Mobile multiplayer games which you can play in your free time. Most of these games are free to use and have no in-app purchases and DLC involved. So enjoy!
Best Online Multiplayer Games
Here are the Best Online Multiplayer Games you can Play with Friends & Family.
1. Mobile Legends
Mobile Legends is the first-ever MOBA game launched in Android. It is a team-based game, and it means you have to play as a team. The game is easy to play and you can fight as a character of 50 heroes, and yet the gameplay is tight. The two opposing teams fight to reach and destroy the enemy's base while defending their own base for control of a path, the three "lanes" known as "top", "middle" and "bottom", which connects the bases. However, it is difficult to maintain communication, but it can be done. You don't want to play solo and be completely wiped out from your enemies.
Mobile Legends is a popular game, it has a rating of 4.2 on Google Play Store, and it is a free game you can download ML from Play Store however it has some items in the game which you can pay if you want.
You can connect with your friends via social media accounts or by manually adding your friends by knowing their usernames.
2. PUBG Mobile
It is the most popular and most played Royal Battle game on Android. PUBG is all about battle royal matches played among the 100 players the last man wins and gets the popular 'chicken dinner'. You have to land from a plane using a parachute and then collect your own weapons and accessories while staying in the safe zone and by defeating your enemies. You can play solo, or you can team up with one or three-player for a match. You can also voice chat with your friends while playing making it a one-stop multiplayer game on Android.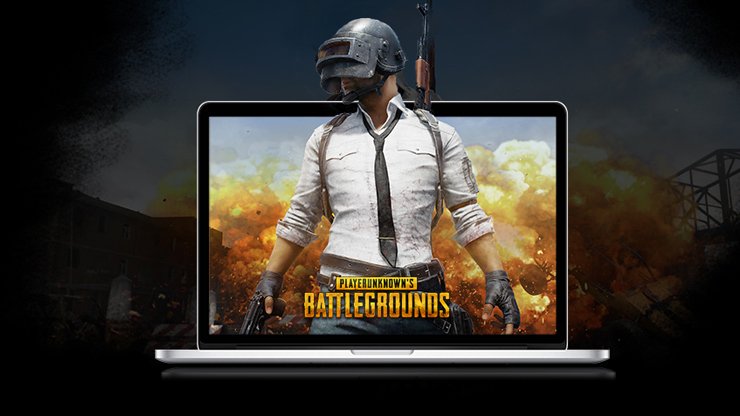 It is an online multiplayer shooter game, the players have to locate the weapons, vehicles and kill every player in the battleground that shrinks with time. The players can fight as a team or can jump into combat individually. The game runs on powerful Unreal Engine 4 gives you a visual treat with rich detail, realistic gameplay effects and a massive HD map for Battle Royale. PUBG is the best MOBA game with good quality 7.1 surround sound and stunning 3D audiovisual animation.
Lately, PUBG is not only a Battle Royal game. It also has different modes. You can connect to your friends in PUBG via social media accounts like Facebook or by adding your teammates manually. It requires a stable internet connection and at least 4GB of RAM to play the game.
PUBG Mobile is free to play a game and has 4.4 ratings on Google Play. It is free to play but it has some in-game purchases.
3. Fortnite Mobile
Fortnite needs no introduction as it is a very popular game in PC's platform, but recently it has launched on Android. It is a Battle Royale game that supports multiplayer options. It is quite similar to PUBG, but here you can collect and build houses, etc. There are plenty of fun elements. The patches of Fortnite are updated on a weekly basis, and there is always some event happening. Due to the difficult game mechanism, it is quite difficult to master.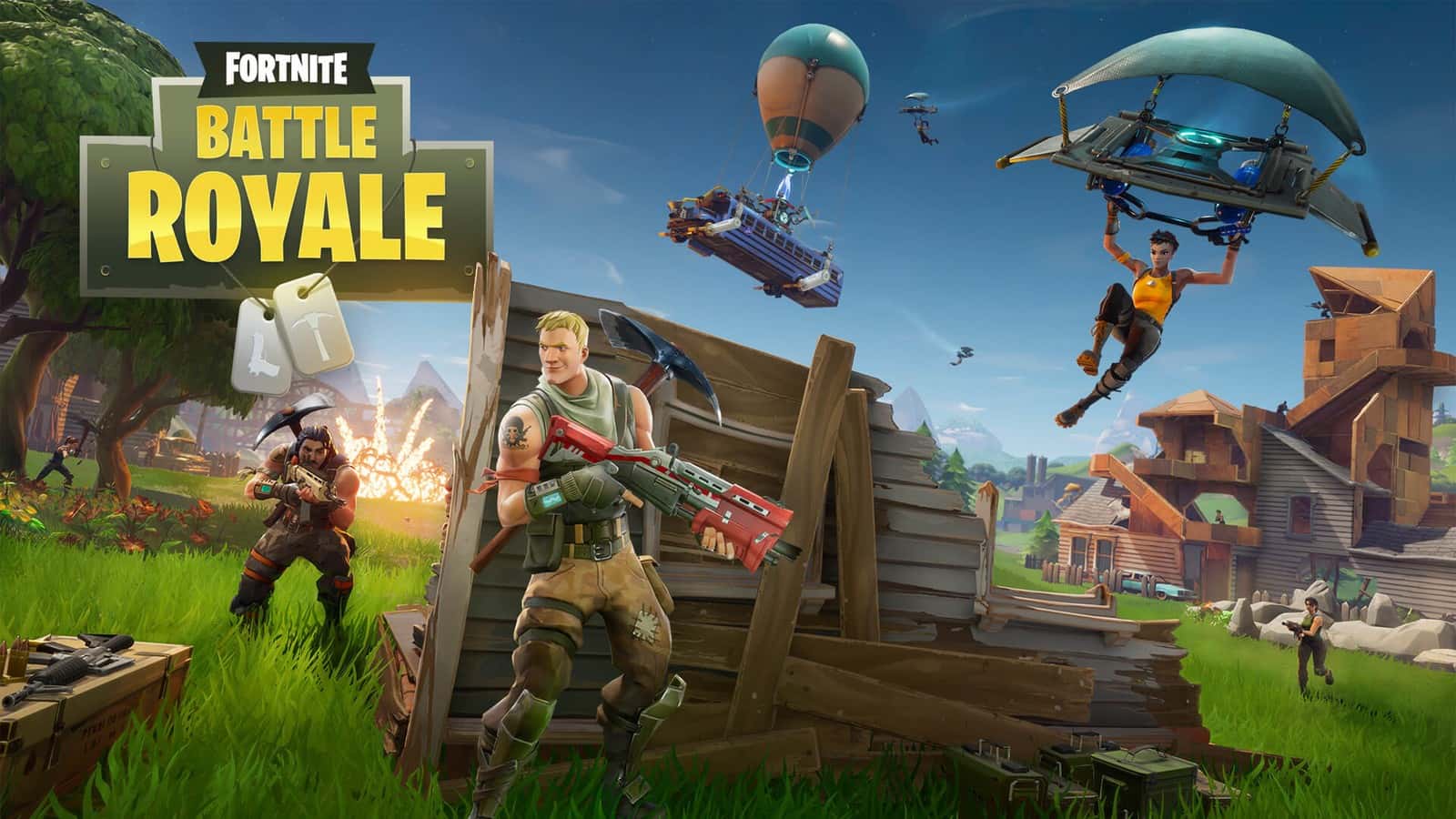 Fortnite is one of the most popular Multiplayer Online Battle Arena (MOBA) Battle Royale Game for Android which came into prominence after the record-breaking success of PUBG. The game is played as each player on their own or in a squad of two to four players online. The objective of the game is to eliminate all the opponents by killing to win as an individual or team. Game Epics who are the developers decided to skip the Play Store and provide the App directly on their website.
Fortnite Mobile is available for free on Google Play Store though it is not launched in many countries, you can download it from EpicGames.
4. Clash of Clans
One of the most popular and old strategy game. You have to create your very own village with your creative mind. And not only that, you have to protect it from others since everybody else will try to destroy it. And you can raid on other players' villages. You have to upgrade your defence and troops, and slowly you progress in the game. However, you can also play COC with your friends. You can create a clan and then invite them to play with you. COC is always having some events, so it will be a blast. The game is incredibly complicated and time-consuming, which makes the game more fun and exciting.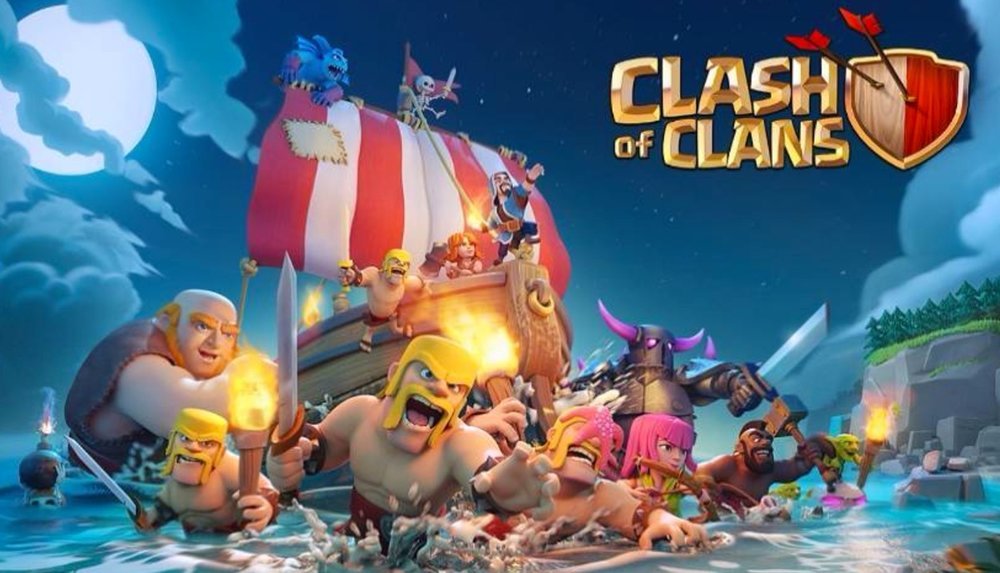 COC has 4.5 ratings on the Google Play Store, and it is totally free; however, there are in-app purchases.
5. Call of Duty
It is an online FPS shooting game with a variety of multiplayer modes that include deathmatches and 100 people battle royale similar to PUBG and Fortnite. The game features various characters and skins. There are a few bugs, and the game is very smooth. You can play with your friends very easily, and communication is not a problem since there is an option to talk with people. Call of Duty is inspired by a PC game Call of Duty Black ops, so you can expect good graphics and pc experience from the game.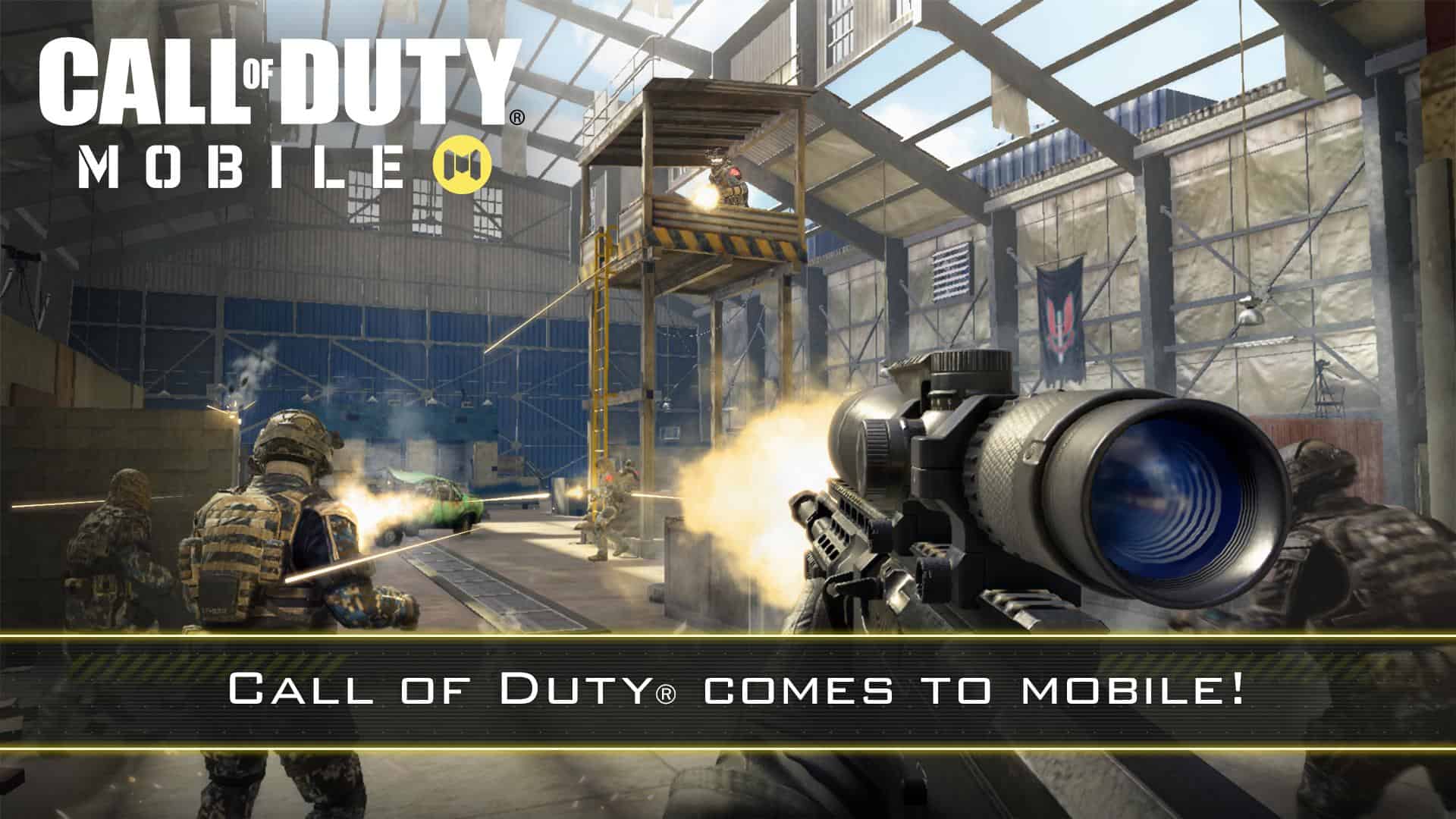 Call of Duty Mobile will not only include a BR mode but will also have the classic COD Maps and Modes from the various COD franchise like Black Ops, Modern Warfare and other. COD is a new free-to-play game that brings together the maps, weapons, and characters from across the Call of Duty series in the definitive first-person action experience on mobile.
The game is free and available in Google Play Store for download.
6.  Clash Royale
It is an online card-based multiplayer game for Android.  The game has a huge fan following because it is more like Clash of clans but with extra and unique features. Here you have to win PvP battles to prove yourself the best. You can play with friends and ask them to co-operate with your attacks on enemies, or you can co-operate too.
Clash Royale is available for free on Google Play Store and has a rating of 4.3.
7. Among Us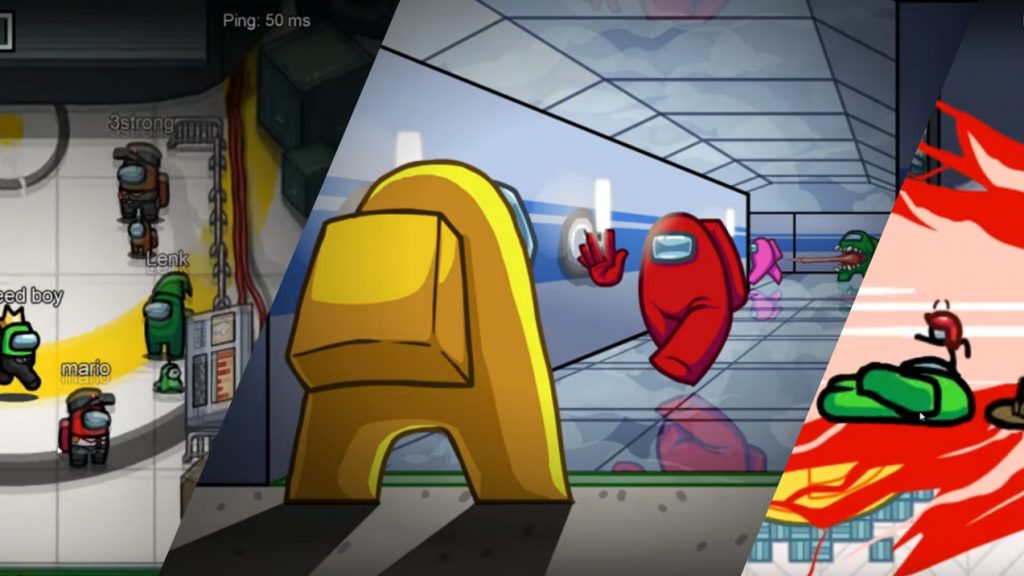 You can play with 4-10 friends online by creating a host server and sharing the link with friends. It is a space-themed mafia setting with players taking on two roles, most being Crewmates, and a few being Impostors. The goal for the Crewmates is to identify the Impostors and eliminate them while completing tasks, and the Impostors' goal is to kill all Crewmates without being identified. A simple yet highly brainer game to play with friends. You will truly fall in love with the game.
8. Uno & Friends
Classic Card Game Uno is elevated to another level on the Android platform where you can participate in tournaments, or you can just go all out with your friends. If you connect your account with Facebook, you can invite your friends without any hassle. This makes it a perfect Uno Friends card game to play while you're waiting for an appointment, waiting for food at a restaurant, or similar occasions when you need a bit of entertainment or distraction.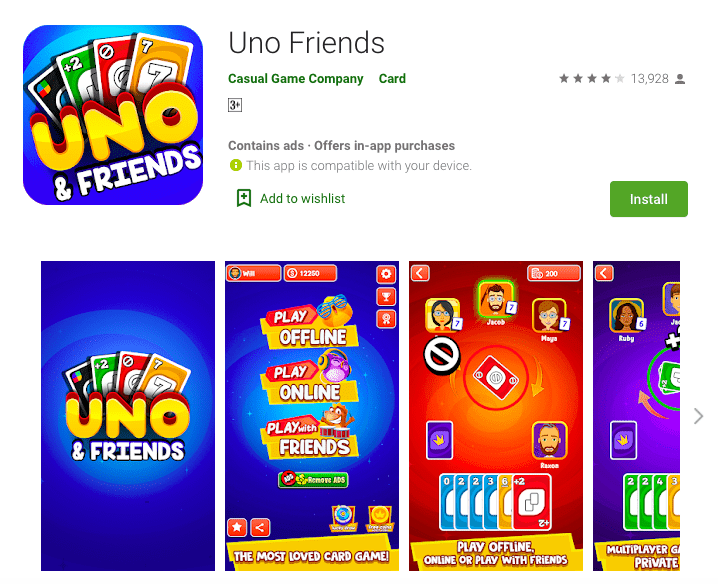 Uno & Friends is available for free on Google Play Store and has a rating of 4.1.
9.  Adventure Quest 3D
It is a classic 3D MMORPG game. Most of the features are there, which you will be expecting from the MMORPG game. It gives you a PC like an experience in Android. You can go for quests with your friends in an open world; you can obtain various classes, raid bosses, dungeons, and crafting. All these features with smooth and good graphics make the game stand out. The game has cross-platform support, which means you can play it on PC. There are charts, raids and you can even do PvP fights. It is a solid option for an adventure game.
AdventureQuest 3D MMO RPG - Mobile Trailer
The game is becoming popular day by day, it is totally free to play, and you can download it from Play Store. It has got 4.2 ratings.
10. Destiny Child
Destiny Child game is pretty cool; you got children, and all of them have some canny abilities. So you can control them to defeat your opponents. The PvP aspect of Destiny Child is Top notch. Everyone has a 5% chance to summon a 5-star child. When installed first, you get some generous amounts of premium currency you can use. The art style is unique, and the gameplay is addictive.
Destiny Child - Global Launching Teaser
Destiny Child has 4.7 ratings on the Google Play Store, and it's free. However, there are some in-app purchases.
11. HearthStone
HearthStone is a new online PvP game where you need to formulate your own card strategy to win against others. You can test your cards with AI players. The game supports both PC and mobile. HearthStone is the oldest multiplayer game that is still popular today.  You and your friends have to log in using Battle.net accounts. You can play along with up to 8 players, and the gameplay is very tight, duels last for a few minutes with lots of magic, summoning, etc.
Collect powerful cards and create mighty decks. Summon minions and sling spells to seize control of an ever-shifting battleground. Wield a masterful strategy and defeat all players who dare challenge you.
HearthStone is a free game with in-app purchases; it has a rating of 4.1 on the Google Play Store.
12. Asphalt 9: Legends
It is one of the popular arcade racing games from Gameloft. The game is very much like iterations where you can unlock various cars and race against AI players or human players and complete the events. The game is above average in an online multiplayer game. The matches are quick, and you can select any cars of your desire,  content rather than PvP is vast. Graphics and game mechanics in the game are high quality, smooth and simple. It is an arcade game with vast features and tons of options to choose from. Communication within the game while matches are pretty top-notch.
Asphalt 9: Legends - Google Play Preview Video
Asphalt 9: Legends have a rating of 4.5 in the Google Play Store, and it is a free game to download.
13. Rules of Survival
It is an online multiplayer TPS Battle Royale game. It is very much similar in terms of PUBG. The game has a very large map size for which your game might get slow. You have to kill, collect, and stay in the safe zone at the same time, or the radiation storm will get you. You can play up to 4 players battle royale.  Instead of 100 players per match like in PUBG, Rules of Survival allows 300 players per match. The graphics in the game are decent, and the gameplay is intense.
Rules of Survival has a rating of 3.9, and you can download it for free on the Google Play Store.
14. Critical Ops
It is a 3D online Tactical First Person Shooter game. You need sharp aiming skills in order to succeed in this game. The premise is not quite traditional, there are a bunch of terrorist threats, and your job is to wipe them out. Also, you can play as terrorists and wreak havoc as much you want. You can team up to 4 players for a match. Critical Ops do not have any in-app purchases. You need to work your way through levels to own any trophies or skins. The graphics and control of the game are pretty good.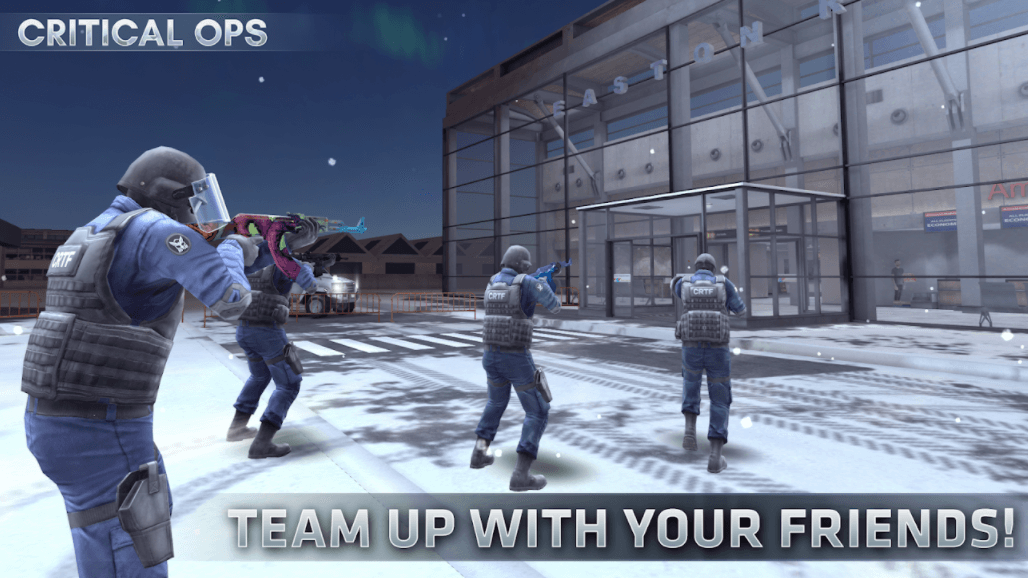 It has a rating of 4.3 on the Google Play Store, and you can download it for free.
15. Crossy Roads
It is an arcade platformer game where your goal is to cross various roads and streams without dying; you can take as much time as you want. The game features various characters and local multiplayer modes. You can play with your friends after you log in to a local wifi network. It is not the most robust multiplayer game ever; however, it is a  family-friendly game and a fun way to kill time with your friends.

Crossy Road is the same device multiplayer arcade game with over 200 million active players. It is a classic game which was also available on any feature phone back then. The objective of the game is to cross an endless series of roads and obstacles as far as possible without dying. The player must tap to go forward or swipe the screen in the appropriate direction to move the character horizontally to avoid any hit. The game consists of an endless series of obstacles in a set path, such as rivers, cars and trains. The game checks users visual and motor controls.
Crossy Roads is a free game and has a rating of 4.6 on Google Play Store.
16. Arena of Valor
It is a 5v5 MOBA game that has explosive popularity in the smartphone scene. You will get different heroes and avatars with different skins, powers, and abilities. Also, you will see several DC components like Superman, Batman, & Wonderwomen in this game. The gameplay and graphics are quite like Mobile Legends, but all over the game are different.
Arena of Valor is available for free on Google Play Store and has a rating of 3.6.
17. Fire Emblem Heros
It is a game made by Nintendo and presented by Intelligence systems Co. LTD.  Multiplayer wise it has a PvP system that you can choose from completing each game gives cool rewards. There is also a typical multiplayer arena mode where the raiding player has to increase their rank by battling one player after another. Events always keep pop-up time after time; there is always something new.  The game has a huge fan base following and franchise. You will surely have great fun while playing this strategic, RPG game with your friends.
Fire Emblem Heroes - Book IV Movie
Fire Emblem Heroes is available for free on Google Play Store and has a rating of 4.3.
18.  Pokemon TGC Online
Pokemon is in everyone's childhood memory; this game is for those who want to relive their Pokemon adventures. It is a card-based online strategy game where you can build your own Pokemon deck and fight others. The sad thing about this game is that it can be only played on tablets, on a smartphone, it is not optimized enough to give you the best experience. However, you can play pokemon with your friends and make the team.
Pokemon TCG Online has a rating of 4.1, and it is available for free on Google Play Store.
19. Ludo King
The ancient Android board game meets modern technology and what it creates is magic. Ludo King is an age-old Indian game played by all age groups in India. It is a simple board game with the dice acting as the accelerator for moving the game in steps. The Ludo King app is very simple and you can play the game in offline multiplayer and online multiplayer mode. Ludo King follows the traditional rules and the old school look of the Ludo game.
Ludo King - best ludo game for android & iOS
Ludo King is one of the most downloaded Android Board games for Android. Its simple nature and quick to play nature has made it the best board game for Android. While the Ludo gameplay might seem simple at first, the Ludo game is immensely enjoyable and challenging.
20. Special Forces Group 2

Special Forces Group 2 is a 3D shooting game for action lovers. It is very similar to the popular Counter-Strike game; besides, it was inspired by it. There are lots of weapons to choose from including guns and explosives and they are customizable.  Five game modes are available and they include the classic mode, capture the flag, zombie, bomb and resurrection mode. You would love the sound effects as they bring the action to live. Multiplayer mode can be played both online and offline using a Wi-Fi and Hotspot connection respectively.
Download Special Forces Group 2
Conclusion: If you are at home or in a place where you get bored and want to play games with your friends than online multiplayer games listed above can come for your rescue.
If you've any thoughts on Multiplayer Games | Best Free Online Multiplayer Games to Play with Friends, then feel free to drop in below comment box. Also, please subscribe to our DigitBin YouTube channel for videos tutorials. Cheers!