Role-playing games (RPGs) in the well-defined world is a genre, without any well-defined lines. These games are a structured, cooperative, improvised and free form of interactive imaginative stories, which allow the player to adorn the role of a specific character in the game. These games are by far the most difficult genre in the computer gaming segment. The game's genre is primarily defined by their mechanics, specifically in role-playing games.
About Role-Playing Games
Role-playing games have come a long way on the road of development, since the first commonly recognized RPG game, Dungeons & Dragons, which was launched in 1974. This particular game was for tabletop groups and was not in digital format. It was a pen and paper role-playing series. Dungeons & Dragons were later converted and loaded into the computer space. So, the inspiration and roots of role-playing games as we know them now can be traced to tabletop games like Dungeons & Dragons.
People in the 70s played the electronic version of tabletop games on mainframe computers, which in the 80s became single-player version games on home computers. They were referred to as CRPGs, where C stood for computers, the popular titles were Wizardry, Wasteland and Ultimata.
The 70s and 80s saw games based on tabletop tradition, hence they had the mechanics of skill checks and levels, which resulted in creating game consistency and progression. These mechanics were seen in different settings in games launched in the early 90s. As the 90s progressed, the gaming sector came up with hybrid genres, like the RPG Diablo. The hybrid genre gave an entirely new twist to RPG mechanics.
Understanding JRPGs and WRPGs
Over the years, role-playing games were categorized into two types, JRPGs and WRPGs. The role-playing games developed in Japan were referred to as JRPGs ( Japanese Role Playing Games ), whereas games developed in western countries were referred to as WRPGs ( Western Role Playing Games ). This differentiation based on the country of origin was largely on the way character ability customization and leveling system features were used in a game. There was a vast difference in the approach of JRPGs and WRPGs.
The WRPGs approach showed an incline towards dark themes, which can be seen in games, like Dragon Age, Diablo, or The Witcher. Whereas on the other hand, the JRPGs emphasized the theme of freedom and open worlds. Post the year 2000, there was a resurgence in the role-playing games. The freedom of exploration, customization features, and story choices became a special feature of the WRPGs. The JRPGs focused its games on predefined characters and linear storytelling.
Core Elements of RPGs
A true role-playing game will broadly encompass the following elements:
Massive design: A role-playing game will undoubtedly have a massive rich design that will be highly interactive for the player. The player can interact with other players, go on quests, explore the interactive gaming world, and so on.
Exploration and interaction: A good role-playing game has numerous pathways that allow the player to explore the massive game design. More exploration area does not limit the game on the linear angle.
The game should have good quality animation, collision features, battle mechanics, escape options, artificial intelligence pathfinding, spawn points, travel portals, and transitions. All these features constitute an effective role-playing game.
Deep narratives: Role-playing will surely have deep narratives, signifying the story narratives are not fixed and in fact, RPGs were the first category of games that triggered the morality of the players.
Character customization: The game allows customization abilities to the player. It enables the player to change and evolve in the game itself. This category includes class and equipment customization, hence giving characters statistical abilities.
Capabilities and chance: The game has a massive design, deep narratives, character customization features, which creates a lot of variability, chances, and probabilities in the game. RPG clubs all the probabilities into one commonly expressed as the die roll.
Progression: A role-playing game cannot be called so unless it allows the players to advance to higher game levels and also unlocking better weapons and other supportive items in the game. The common types of progressions offered are level-based progression, activity-based progression, free-form advancement, and cash-in advancement.
Inventory: Role-playing games are undoubtedly developed with comprehensive libraries to support the massive game design.
Best Role-Playing Games for Android
Here are the Best Free Role-Playing Games for Android.
1. Final Fantasy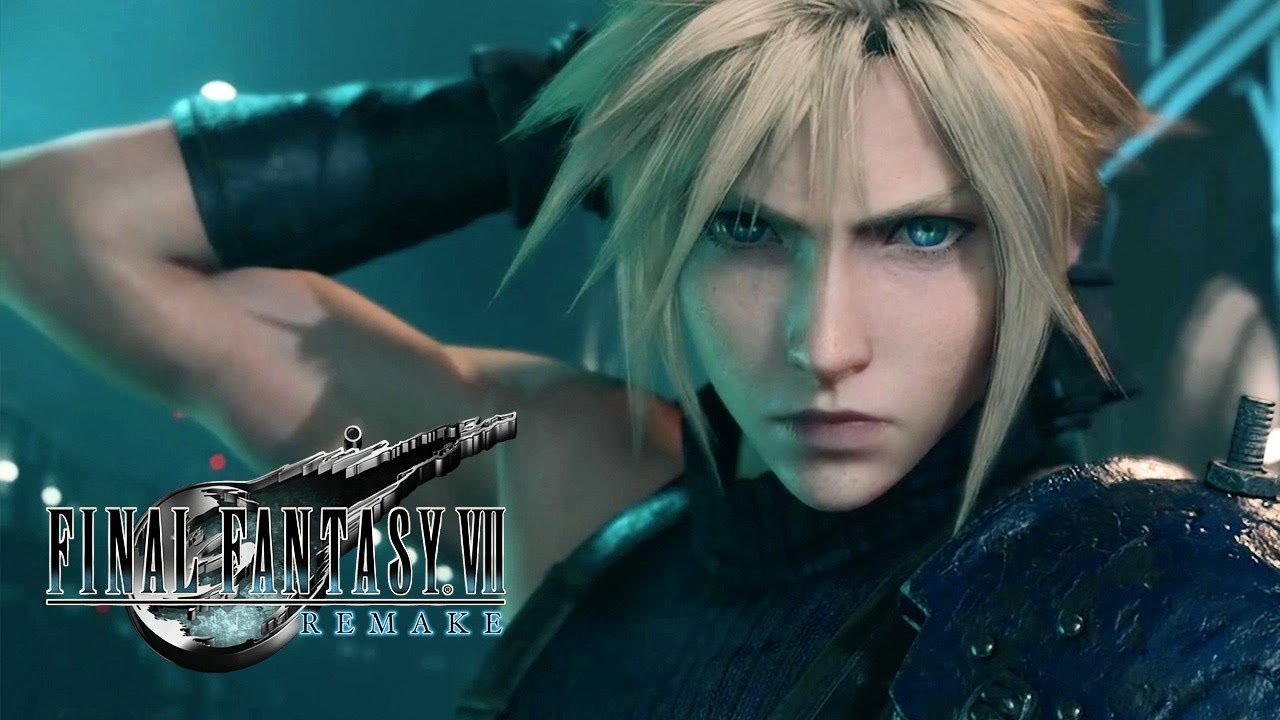 Final Fantasy is a Japanese role-playing game series, developed by Square Enix. This game series has varying gameplay, it retains the plot and game elements in all installments and its primary focus is on general fantasy clubbed with science fantasy. It has a battle game setting with two main elements: field section and the battle section.
On the field, the player can explore the towns, dungeons, and an expansive world map in the game. It also provides shops for the purchase of weapons and other items. The game also gives players command options like 'magic', 'attack' and 'use items' to fight with enemies.
Final Fantasy is one of the most loved RPG on Android, it is well presented in 12 Final Fantasy games. A player can choose from any of the following game sagas:
Final Fantasy
Final Fantasy II
Final Fantasy III
Final Fantasy IV
Final Fantasy IV: The After Years
Final Fantasy V
Final Fantasy VI
Final Fantasy VII
Final Fantasy IX
Final Fantasy Dimensions
Final Fantasy Tactics
Final Fantasy Brave Exvius
2. Eternium: Mage and Minions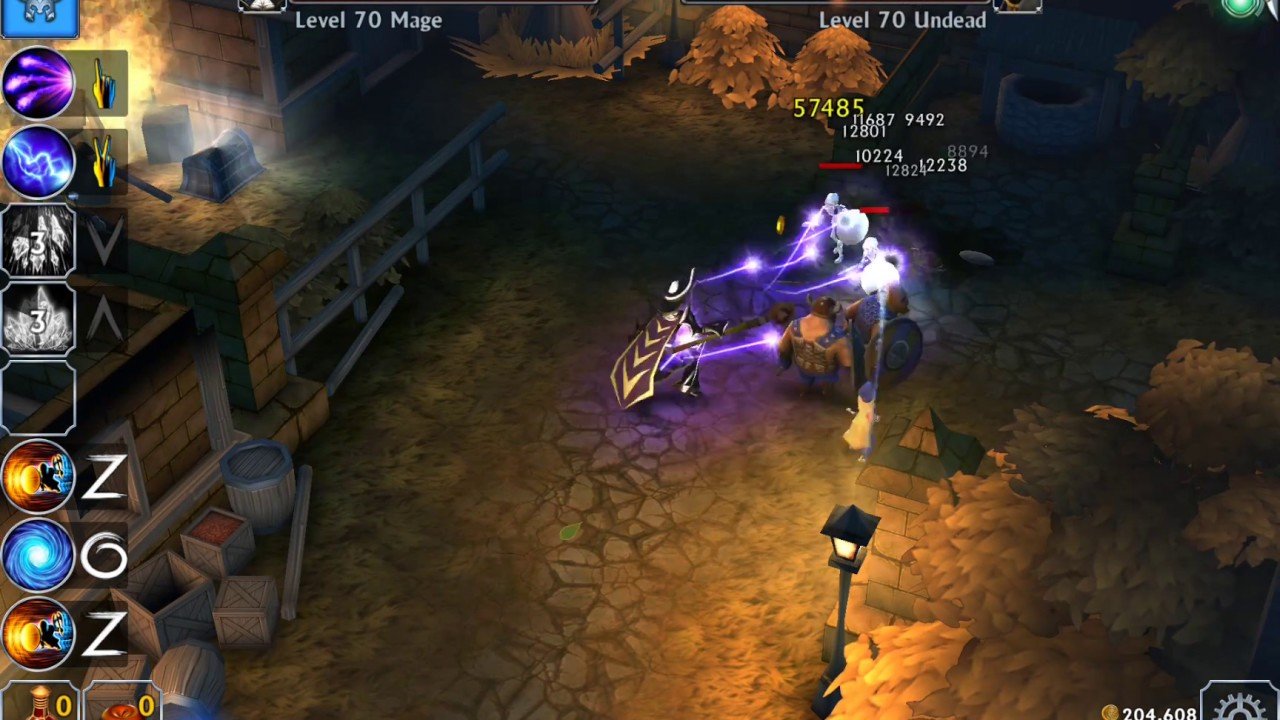 This is another great, action RPG. Although this game has not got enough credit, it does offer almost all features which a game of this genre should have. In its fantasy setting, a player can play as a warrior, mage, or bounty hunter and get different kinds of abilities and weapons to fight with demons, skeletons, zombies, and other enemies.
The best features of this game are –
Drawing signs for casting spells
Natural tap to manage controls
3. Fantasy War Tactics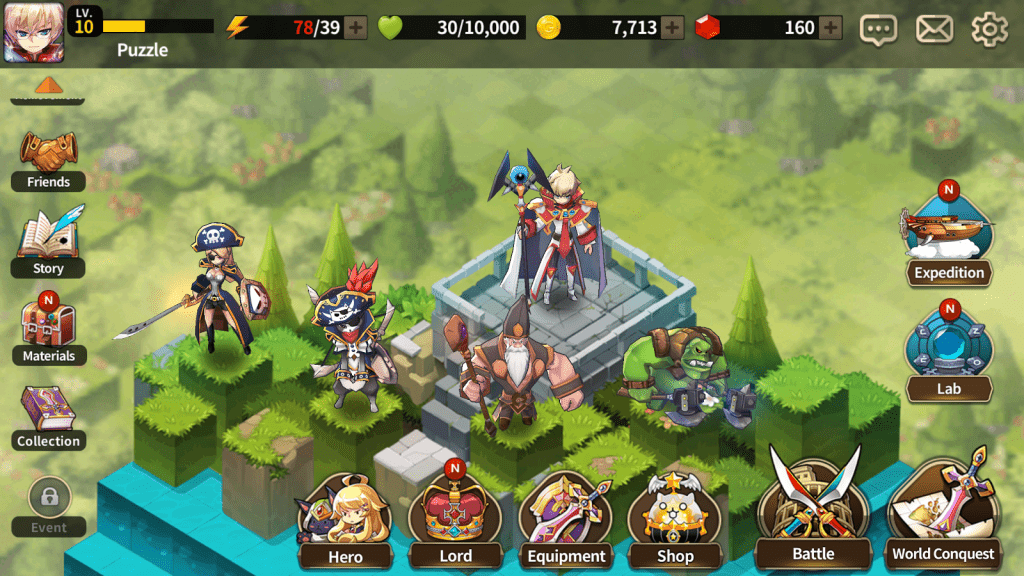 Fantasy War Tactics is a hero collecting game. The player becomes a lord, who can hire powerful heroes to conquer the world. The game provides interesting challenges and battles to fight with enemies. The graphics are three-dimensional and the characters are gorgeous, giving a beautiful gaming experience.
4. Star Wars: Knights Of The Republic
If you are a Star Wars fan, you must definitely try this game out. 'Knights Of The Old Republic' provides an entire KOTOR experience throughout your gameplay. However, you need to be patient while downloading the game as the file size is quite a large one.  The complete gameplay includes several unique characters, galactic creatures, planets, and much more.
Furthermore, on the watch, learn to use the forces with 40+ variety of powers and build your own lightsaber. In addition, you get to travel 8 different planets in your starship. Select for your party from around 9 different customizable characters from Star Wars. Above all heroes and villains, you are the one and only to decide the destiny of the entire galaxy.
5. Raid: Shadow Legends
Raid: Shadow Legends - Collect & Battle in a Dark RPG Fantasy World
Raid: Shadow Legends is a fantasy RPG game for Android which you can play on your mobile. Players take the role of an ancient Telerian warrior resurrected to defeat the Dark Lord. You will recruit warriors from the forces of Light and Darkness. You must train them to fight together, train them with weapons, and assemble them to fight for your cause.
Throughout the game, players accumulate Shards, vessels containing the souls of past warriors. Shards come in four types with different properties. Another currency in the game is Silver, which the player uses to do almost anything in the game, from leveling up champions, to playing a stage.
6. Another Eden: The Cat Beyond Time and Space
"Another Eden: The Cat Beyond Time and Space" Launch Trailer
The game world of Another Eden is very charming and has very simple mechanics. The players move in time to rescue their sister and other characters from the game world enemies. The game is relatively simple but one of the most popular role-playing games.   The game features 55 chapters' main scenario that continues to grow, with the gameplay involving the player time traveling through three main periods; the past, present, and future.
7. Chrono Trigger
Chrono Trigger is another all-time hit from Square Enix. The game has been appreciated for its amazing storytelling feature, combined with adventure, mystery, and action. Resulting in an unparalleled gaming experience. This game can be played in offline mode and is not free.
8. Evoland
The name of the game 'Evoland' explains the game itself, it signifies and adventurous game of evolution. The players start with a two-dimensional screen, in which players have to achieve higher game levels for better graphical display. It includes a lot of puzzles, achievements, dungeons, and much more. The game is a paid one.
9. HonorBound RPG
Official HonorBound Trailer - Available for free NOW on Android phones and tablets!
This role-playing game is a dynamic game in which the player takes part in large scale adventures and battles. The player creates his/her character and an army of versatile powerful heroes to fight and win dangerous opponents in the game world.
HonorBound has high-end three-dimensional original animation and graphics. It has more than 150 levels, successful clearing of levels is awarded bonus points and prizes. The game has in-app purchases but is free to download.
10. Dungeon Hunter 5
Dungeon Hunter 5 - Trailer
Dungeon Hunter 5 is an action-packed RPG game with beautiful high-end graphics and easy controls. It is a well developed and well-organized game. It invites the player to join an army of bounty hunters to fight with flying beasts, monsters, devil minions, and other such creatures.
It is a typical hack n' slash game and the player gets a lot of opportunities to train heroes, unlock their powers, building fortresses, fighting wars, and battles.
11. Rick and Morty: Pocket Mortys
Pocket Mortys App Preview | Adult Swim Games
Pocket Mortys is a simulation RPG game. A player can collect more than seventy Mortys to play along. Mortys have to be trained to win battles, these battles can be with game world enemies or with other players.
A player works through the game to collect a dream team, which makes a player very powerful. The challenges make the game interesting and the cool environment makes it very alluring. The game has in-app purchases but is free to download.
12. Darkness Rises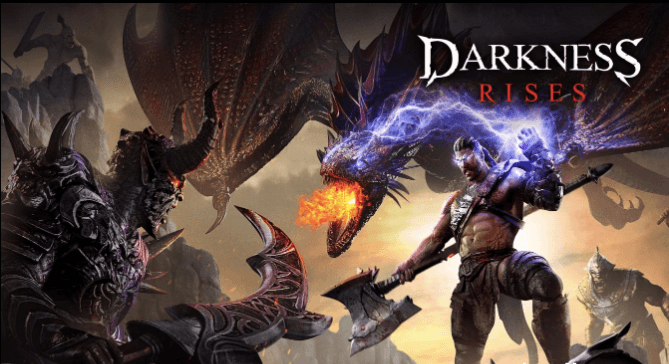 Darkness Rises is a revolutionary Action RPG that blends gorgeous graphics, innovative gameplay, and intense boss battles, all within the palm of your hands. It is a freemium fantasy RPG Game where you can choose among four powerful players and take on the forces of darkness. You can customize the look of the characters and complete story missions to gain experience, skills, and currency.
Characters and environments are clean, high in graphics, and exceptional with eye-popping special effects. It is better suited for the adult audience as gameplay features constant graphic violence and blood, with characters being stabbed, shot, other graphic weapons.
13. Battle Chasers: Night Wars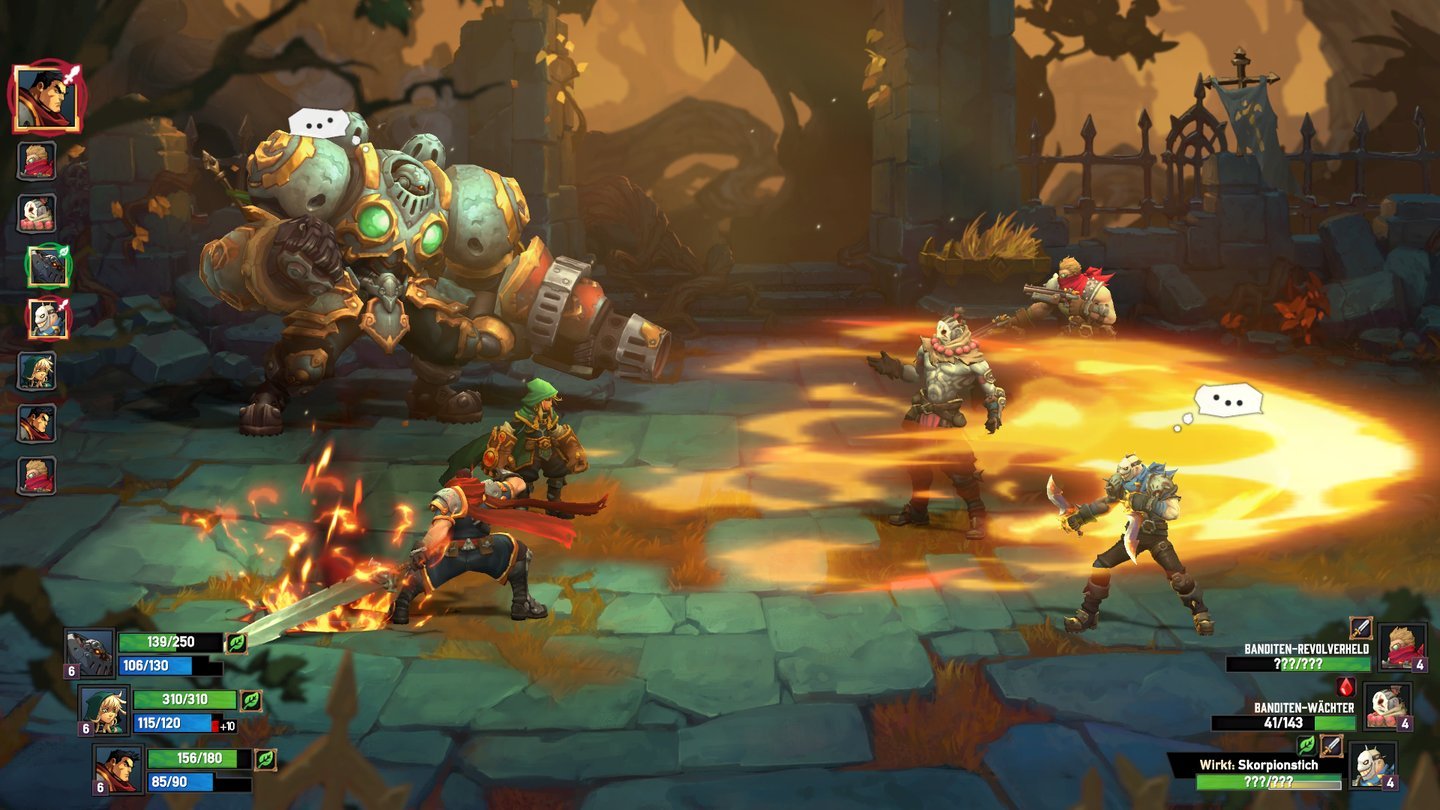 This is an award-winning Japanese role-playing game. It offers a complete experience to the player with no in-app purchases, the game has a fantastic underworld scenario – hidden dungeons and other surprises.
The primary character in the game is Gully, a young female character who is on a journey/quest to locate her father. The quest leads her to powerful gauntlets, which Gully uses in creating her magical adventure.
14. WitchSpring 4
This is the fourth installation from the WitchSpring franchise. All of them are competent RPG's for mobile with fantastic gameplay. However, the games vary with each release, and they still follow a similar RPG mechanism. The bigger part to discuss anyways is its good graphics, above-average storyline, and easy controls. These few things are enough to draw your attention to the game.
Since each of the games are independent, you can start with any of the four parts, and it won't be a matter. As in the game, you play the role of a queen called witch, who rules over the Urphean continent. She further gets brutal training to get ready to conquer all the continents and become the supreme ruler. Being the controller, you need to worry about a lot more things throughout your journey.
15. Arcane Quest 3
The invincible power of darkness is back with the Arcane Quest 3. It is a complete role-playing mobile RPG with classic gameplay and amazing graphics. It comes with the main storyline where you fight battles against forces of undead enemies to restore your honor of guild. Apart from this, it features real-time multiplayer quests to play along with friends in your room or across the world.
Additionally, it comes with mind-blowing features and customizations. With over 150+ options for equipment, gear up your heroes to make more powerful. Learn powerful spells and use multiple strategies to defeat your enemies. Through your journey, you need to find out the darkest secrets of Auria to restore your honor and save your people.
The game consists primarily of the story-driven single-player campaign with twelve levels, each level made up of seven stages with three levels of difficulty. The single-player campaign is interconnected with a multiplayer component to decide player rankings.
Conclusion: With the RPG Games listed above you can live a game lif taking the role of the character and control the game accordingly. Listed above are some of the best RPG games for Android to play right now.
Apart, from the above-mentioned games, there are a variety of role-playing games for Android available for download on Google Play Store. Role-playing games cannot be considered as just games, such games have several cognitive benefits.
RPG games can improve spatial reasoning skills
Enhances the ability to make new associations and improve social skills, this is especially helpful for people who are introverted and have difficulty expressing themselves.
Cultivates the feeling of empathy towards others.
Develops critical, strategic and problem-solving skills
If you've any thoughts on Best Role-Playing Games for Android | Free & Paid, then feel free to drop in below comment box. Also, please subscribe to our DigitBin YouTube channel for videos tutorials. Cheers!