Smartphones have become a basic necessity in our regular life. But without the internet, even the smartphone remains of no use. From the work-related life to using social media, from watching videos to gathering information, we need the internet for everything. And guess what? People mostly rely on their mobile data to access the internet on their phones. However, sometimes you may face some issues with your network data problem, which could be very disturbing.
You turn on data, wait for a few seconds no sign of connection, you try once again but still not connected and then you are frustrated. Not connecting to mobile internet could be likely due to poor signal strength, no correct internet settings or some technical problem. This is a common issue among smartphones. You will find some apps on play store claiming to fix the data connection issue, but off course, they are of no use.
There could be so many reasons behind it, such as low signal strength, the problem with the SIM cards, ignoring data limit warnings, etc. Well, whatever might be the cause, the more important thing is finding a solution to that. Therefore, we decided to come up with solutions that might help you fix your mobile internet connectivity.
Check if others using the same service providers' SIM card are able to get internet access. If not then probably it is a technical error from operators side which should subside in due time.If it's happening only to you then look for fixes below.
Ways To Fix Mobile Internet Data Not Working
We have wrapped up all the Possible Solutions to Fix your Mobile Internet Data Connectivity.
Turn ON flight mode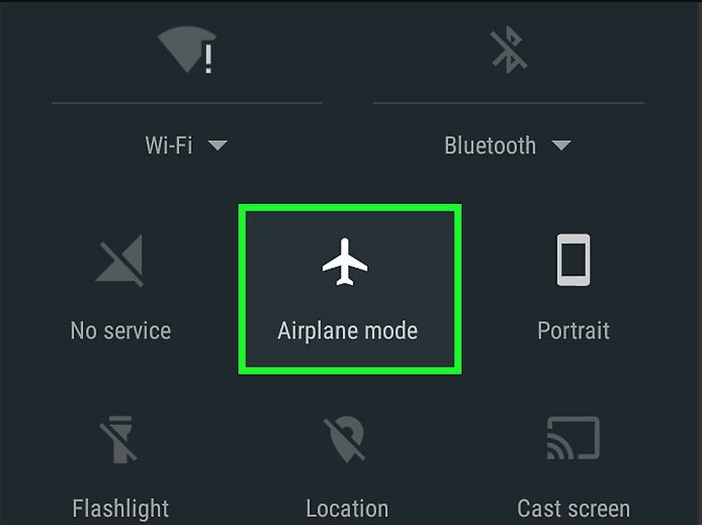 Everything is correct, setting, APN and SIM but still not able to connect to the internet. Then turn flight mode ON, it is like a mini switch OFF  and will disable the SIM cards from power and then after few seconds turn OFF the flight mode. Just keep Data OFF till the phone is in flight mode. This is one of the best and easy method to regain internet access.
Reset Your APN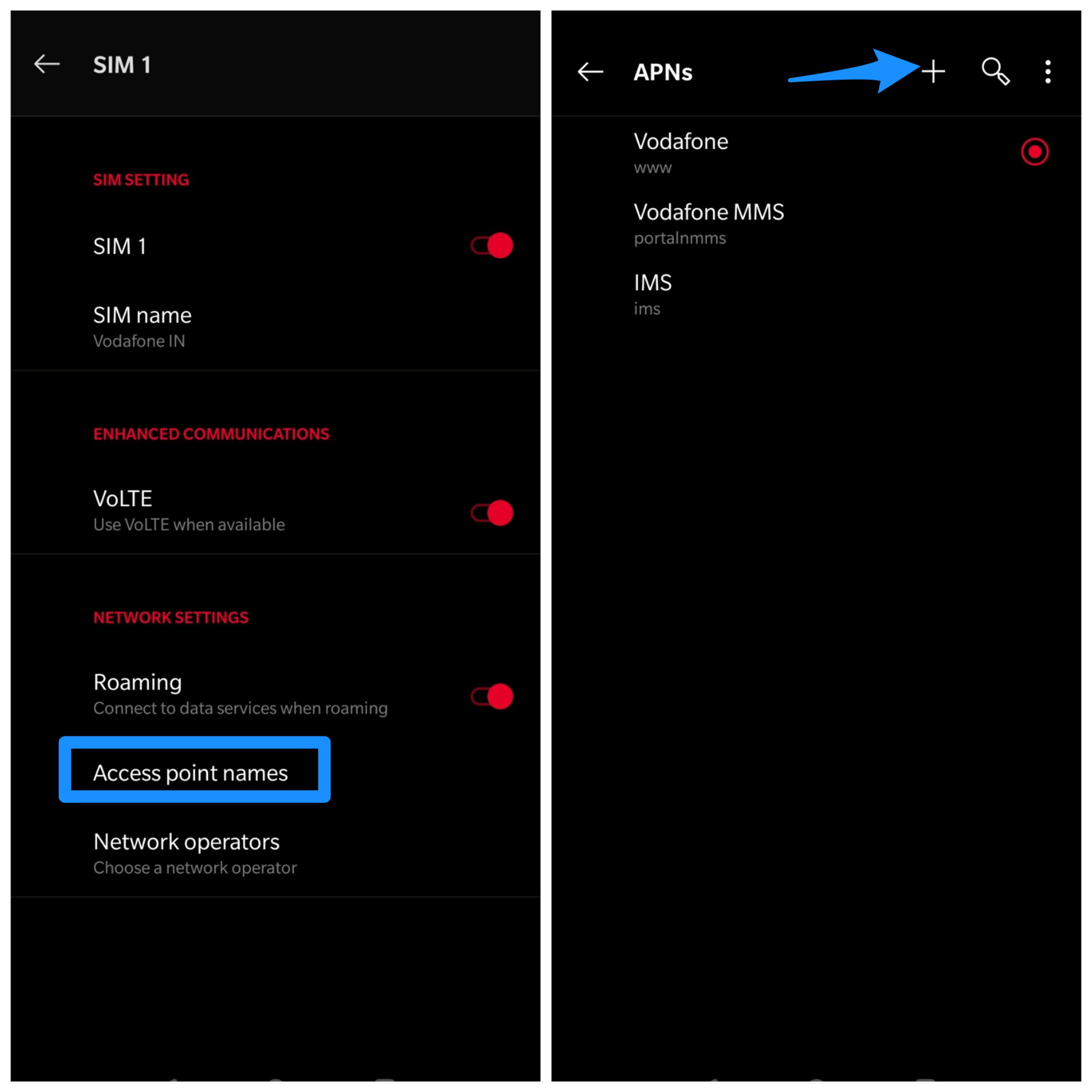 After the Android system updates, there were common issues observed with the APN settings. APN stands for Access Point Names through which the phone careers communicates with the devices. So, when there are certain issues with the APNs, you might face problems accessing the internet.
However,  to ensure that you can try resetting your APN and check if that helps to fix your cellular data problems. To reset your APN follow the steps below:
Go to your APN settings.
Tap on the menu button represented by three dots and select NEW APN.
Now manually enter the APN details depending on your provider.
Try Restarting Your Device
This is probably the most common trick used by almost every smartphone user. No matter whatever the problem might be, restarting the device is always on the list if none other works. Luckily, it does the job most of the time. If you are facing problems with your data connection, you can simply switch on and off your phone. Switch your phone off and restart it after a few minutes, restarting your phone helps to solve several issues, including connectivity issues.
Re-insert or Swap SIM
Sometimes a few cellular data problems do not resolve even after restarting or rebooting your device. Therefore, we need to try something different, like re-inserting the SIM card. Turn Off your smartphone and remove the SIM card. After at least 30 seconds, re-insert it again and switch on your device. Wait until your device re-establishes connection and check if the mobile internet is working.
If you are not left with any other option then turn your phone OFF remove the SIM cards re-insert your SIM in other slot or swap between SIM slots for dual SIM devices. You can also insert the SIM in other device and check for internet data service.
Change Your APN Protocol
Many a time there are problems with the Auto-Set APN Protocol in your device. However, this option is not made available on all devices. But many devices provide this option. So, check-in your APN settings, and if you find the option make sure you change it to IPv4/IPv6 rather than having just one of them.
Select The Right Network Mode
Suppose you are using a 4G phone, you must set your network mode to 4G to utilize your mobile internet to the maximum. If it is set to 2G or 3G, then you might face problems using the internet. Follow the steps below to set the right network mode on your device: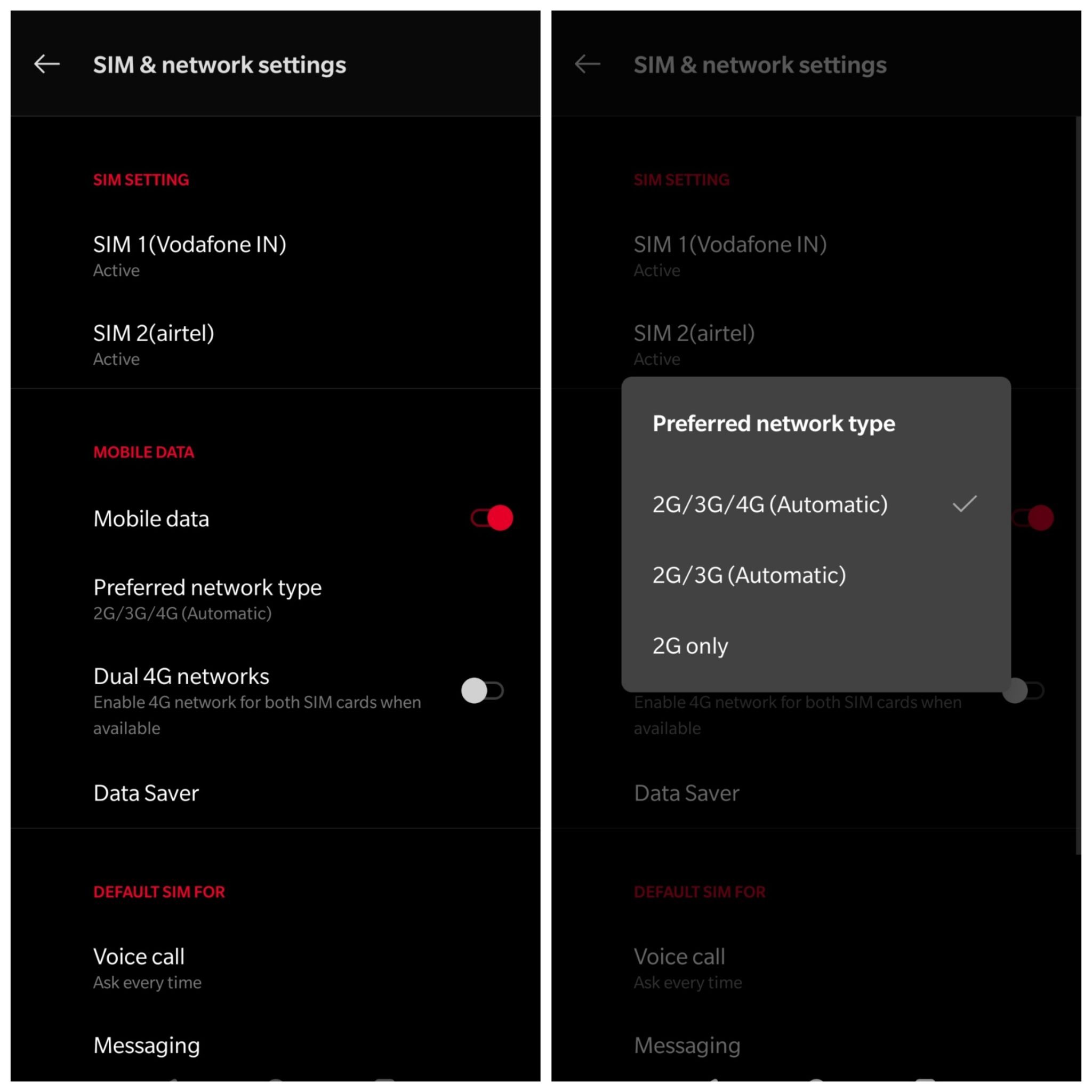 Go to your device settings.
Next, go to Mobile Data → Network Mode and select the best network mode. You can also choose Auto; this will enable the most appropriate network depending on your location.
For Mediatek Processors
Check your device specifications to assure it runs on Mediatek Chipset (MTK).
Now Download and install MTK Engineering Mode app in your 3G Android device.
Open the App and select MTK settings.
Now select Preferred Network Option
In the drop-down list select 4G LTE/WCDMA/GSM and Save & Reboot Your Phone.
Once done insert SIM in first SIM slot and keep second SIM slot empty.
You are done.
Notes: Do not make any unnecessary changes in the Engineering Mode App.
For Qualcomm Chipset
Check your device specifications to assure it runs on Qualcomm Chipset. Android devices with Version KitKat 4.4 are more preferable for this trick.
Download

and install Shortcut Master (Lite) App From Here.
Now go to the menu and open "Service Menu"
Then select "System App" option to change LTE Bands.
You can also download the Engineering Mode App and change LTE Bands.
Change Data Options. Done!
Phone Testing Method
This option may not be available for all the devices but you can surely give it a try.
Dial *#*#4636#*#* in your dial pad
A page will be named Testing
Click on the option named Phone Information
Scroll down and look for Set Preferred Network Type
Select your desired network option
Turn OFF and ON Radio.
Resetting Network Settings To Factory Defaults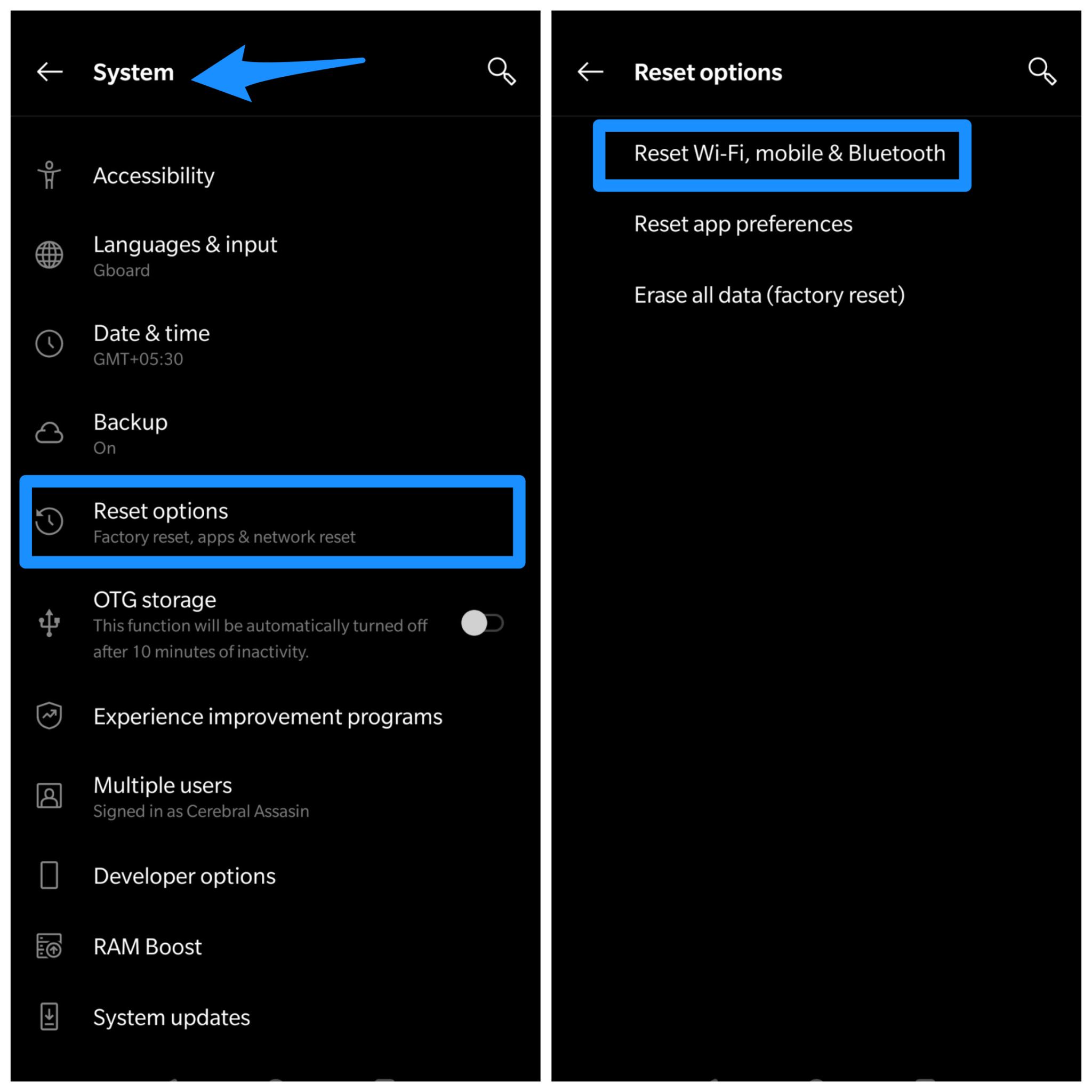 In case the above methods don't meet up your expected results, there might be some irrelevant changes made to the network settings. Therefore, changing your network settings to the defaults must fix your problem. To reset your network check the steps mentioned below:
 Go to the Settings App on your device.
Select the "Backup & Reset" option.
Next, click on the "Reset Network Settings" and follow the next steps accordingly.
Check Your Mobile Data Limits
Your smartphone lets you set data limits so that it can let you know in case you reach that limit. And to be honest, most of us keep using our data plans without even checking the everyday usage. So you might have made maximum usage of your data plan.
However, if that is the case, then you can set new data limits to keep accessing your mobile internet. To check if you have reached your data limit, just follow the steps below:
Go to your device settings. Tap on Data Usage.
It will show you a linear graph displaying your data usage. Here you can set your data limit by dragging the graph limits.
Also, turn off the "Limit Data" option.
The setting might be different from smartphone to smartphone. Usually, the network/mobile data limit is available under Settings → Networks  → Mobile data Limit Option.
Using Damaged Sim card
Sim card has contact points that can be damaged with time. If you frequently swap SIM card from device to device, then you have accidentally damaged the SIM card contact points. These contact points are very important for a SIM card to work properly. So please take a look at your SIM card and check for any physical damage. If there is some physical damage, then you can call your SIM card provider for a replacement.
Turn On Roaming
It is not obvious to turn on roaming when you are at your own house. But you never know what might work. Moreover, there are few situations noted where turning on the Roaming does work. However, even if it does work out for you, it is just a temporary solution along with indications of some abnormal behaviour.
Switch between Your Wi-Fi & Cellular Data
Sometimes a few silly tricks do the job like restarting or rebooting your phone. But what if these don't work out for you? Well, you can try out switching between the Wi-Fi and cellular network and see if that brings any change.
Enable Mobile Data Usage For All Apps
Your device also allows you to enable/disable data usage for every specific app. So if it is already disabled, you cannot access the internet for using those apps. Therefore, check if it is enabled and, if not, then allow mobile data usage for all apps.
Check If your Data plan is exhausted
Sound silly, but if you have completely exhausted your data plan limit, then your internet services will be blocked by your service provider. To activate again, you might need to recharge or get a new plan/package. In most cases, you can check your data usage from your SIM app. If it shows exhausted, then its time for a new recharge!
Map Your Home Signal
Take a leisurely walk through your house and notice the signal strength at every other location. Remember, the bars at the top won't represent the accurate signal strength. Instead, you can browse anything on the internet to take note of the signal strength.
Use Third-Party Android System Recovery Tool
There are several incidents where such problems occur due to some extrinsic software issues. In such cases, the above mentioned primary methods must not be enough to help you out.
Therefore, you can make use of an external tool called iMyFone Fixppo For Android. This amazing tool helps you to resolve your problems effortlessly within a few minutes with just a few clicks. Moreover, it doesn't require any special technical skills. You can simply use Fixppo to fix all issues with your Android device. Also, it provides step-by-step instructions that make it the best and the easiest tool available. Here, what you need to do:
Select your Android smartphone's name, model number, and other details to download the firmware.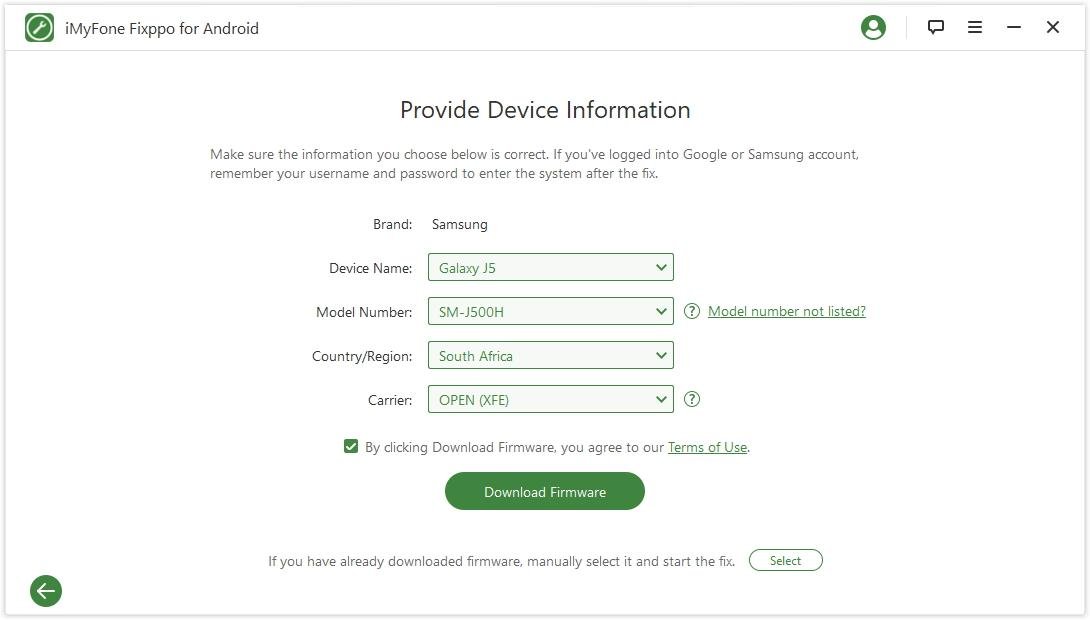 Connect your smartphone to your PC/Laptop and keep is on the downloading mode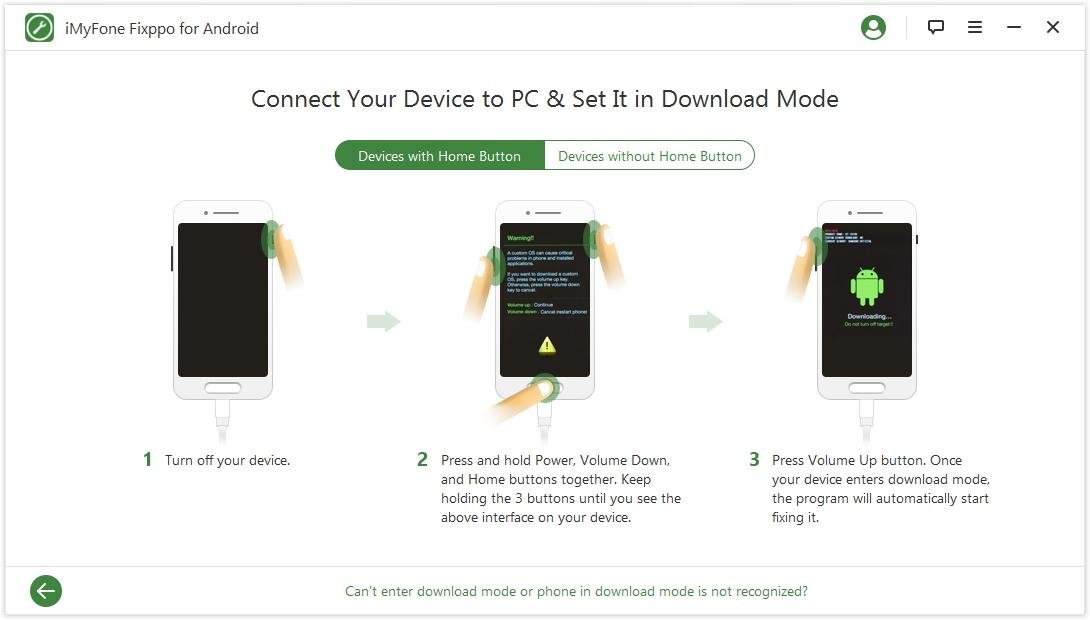 Finally, start the repairing process.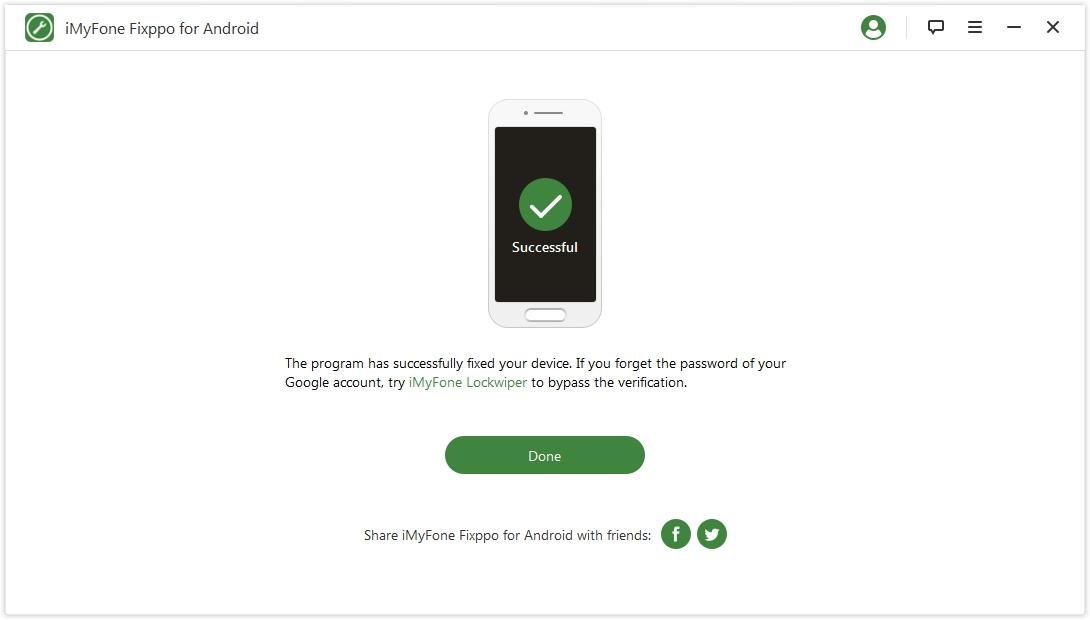 Check For Corrupt IMEI
Sometimes there might be a problem with your phones IMEI as well. To check that just dial *#06#, this must display your devices IMEI number; if unluckily, you receive the result as a NULL, now that's a sure problem. In such a case, you can restore it in the engineering mode. You can either dial *#*#3646633#*#* or download the MTK Engineering Mode app from the link given below and follow the steps below:
Go to the Connectivity Tab.
Click on the CDS information and select the "Radio Information" option.
Since most users are using dual SIMs today, we will check for both of them. Under Phone 1, enter the following command AT + EGMR=1,7, "IMEI1" and click on the send button. Again under Phone 2 enter the command  AT + EGMR=1,10, "IMEI2" and click on the send button.
At the final step, just reboot your device.
Flash New FirmWare
We mean changing your device OS manually. For this, your device needs to be rooted, or at least the bootloader needs to be unlocked.
A firmware is a software that ensures the proper functioning of your device. Since it needs to be installed in the Read-Only-Memory, you will need a new ROM and a custom recovery tool like TWRP. Search for the best ROM available for your device. Here's how you can manually update Android firmware from PC:
1. Find the latest version of the firmware
You can easily find the latest version of firmware for your device directly on the manufacturer's website. You can always search for other alternatives as well. However, it is recommended to look on the manufacturer's website as it ensures a properly updated version for your device.
2. Installing the firmware
For installing the firmware, you will have to locate a program/ a freeware application that helps to communicate between OS like Windows and Macintosh. Therefore, find the applicable program depending on your device brand.
3. Connect to the PC to Install Updates
Finally, after installing a ROM in your device, you can now connect your smartphone to your PS using a USB. Go to the application you have download in step 2 and search for the "update firmware" option.
Port your SIM Card
If no methods work for you, then the problem might be with your SIM services. Sometimes SIM card network services go down from time to time. Maybe the Network tower near your area is malfunctioning or damaged so that you don't get reliable network signals. In such a scenario, you can change your SIM card or PORT or existing SIM card to a new network. The process takes around 3-4 days, but you will get fast internet services in a new ported SIM for sure.
Conclusion: So, all the methods mentioned above can be very helpful for solving any kind of problem-related to your mobile internet connection. Although it is best if you can find out the exact problem before coming up with any of these options. In case none of these tricks works for you, the wiser decision is to take your device to the maintenance store and get help from a professional. Also, let us know if this article has been anyway helpful for you.
If you've any thoughts on How to Fix Mobile Data Internet Not Working Android?, then feel free to drop in below comment box. Also, please subscribe to our DigitBin YouTube channel for videos tutorials. Cheers!