In this fascinating digital world of PUBG (an online multiplayer battle royale with over 600 million downloads), offline multiplayer shooting games are still alive. The respective app stores also indicate the rising popularity of offline multiplayer shooting games. Today, people are searching for games that can be played with friends under one roof only.
The reason? It's best for engagement. So, even if you have two or three friends, shooting games with offline multiplayer mode capabilities is fun. Now there are thousands of shooting games available online. So, to save you from all the hassle of picking and trying, we decided to compile a list of the Best Offline Multiplayer FPS and TPP Shooting Games for you.
Best Offline Multiplayer Shooting Games
Here are the Best Free Offline Shooting Games that can be played Over a Local Wi-Fi or Bluetooth Network.
1. Special Forces Group 2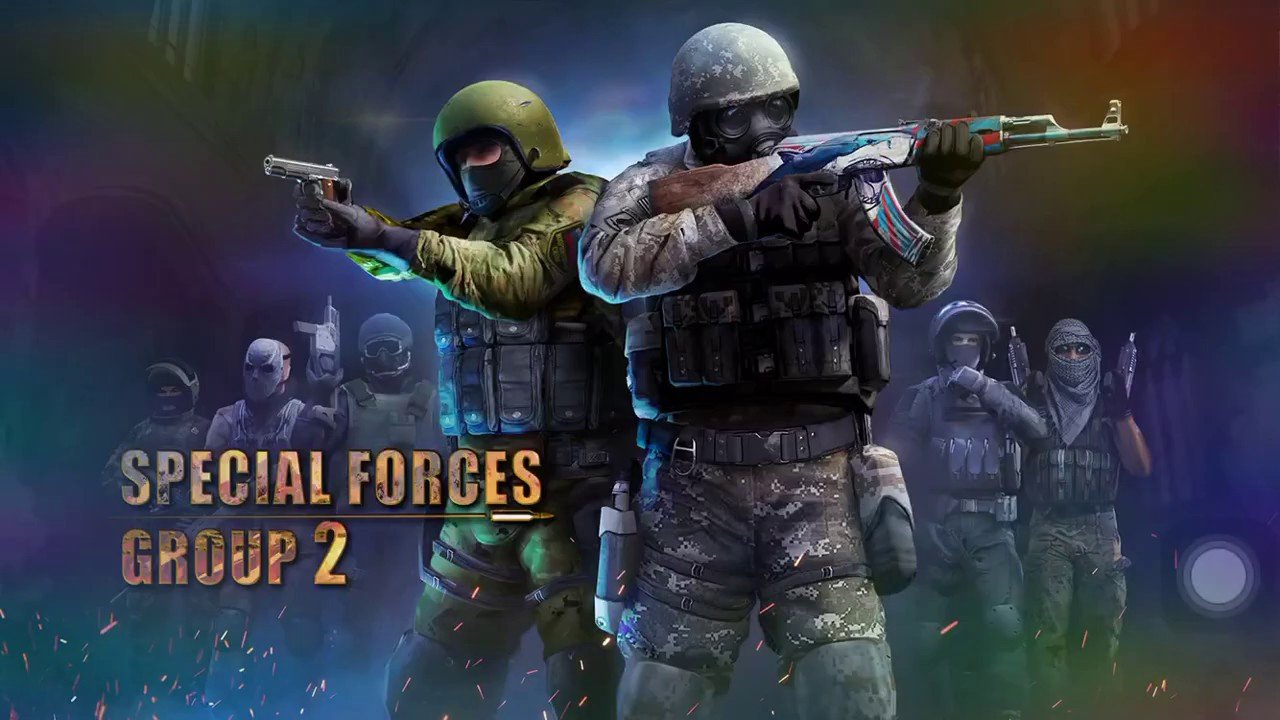 Special Forces Group 2 is a 3D shooting game for action lovers. It is very similar to the popular Counter-Strike game; besides, it was inspired by it. There are lots of weapons to choose from, including guns and explosives, and they are customizable.  Five game modes are available, including the classic mode, capture the flag, zombie, bomb, and resurrection mode.
The action-packed Special Forces Group – 2 is the best with its offline multiplayer mode capabilities. The game has beautiful graphics, smooth working, and a variety of gaming modes ranging from Zombie mode to Deathmatch. Also, with over 30 maps and 45 plus weapons, the players can enjoy the best of gaming experience. You can play the game in 10 different languages, including English, Русский, Espanol, Deutsch, Francais, etc.
Rest, Special Forces Group 2 can be played with bots too.
Download Special Forces Group 2 for Android | iOS
2. Doodle Army 2 – Mini Militia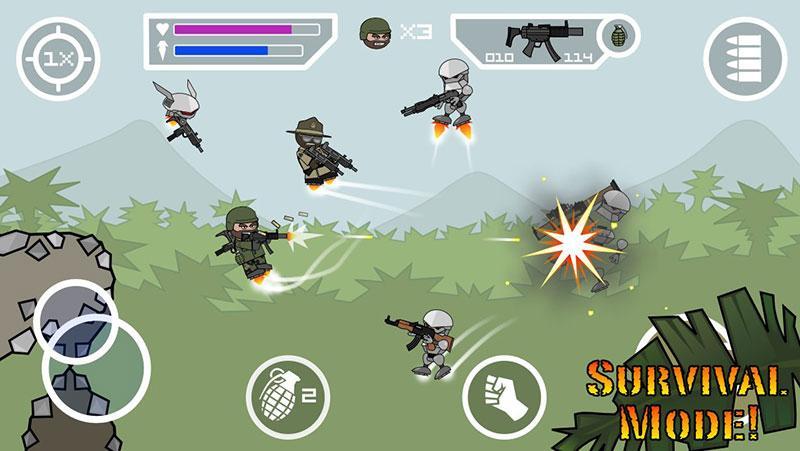 This game needs no introduction; a very popular shooting game among Android users. Simple to play yet high on action. It is a highly trended game for a long time. Up to 12 players can play mini Militia via a WLAN connection, and the game features two modes, e.g., Co-Op and Survival modes. The Survival mode is the ideal game mode to get it on with your friends. You play to see which player gets the most points at the end of the game time. I
A popular offline multiplayer shooting game on the internet. In many forms, it's a trendsetter. The game has a fantastic rating and massive download numbers in respective app stores. For instance, on Google Play Store, it currently has more than 2 million downloads, and on Apple App Store, it has the same story to share. The graphics are good, and the game is smooth. You can download the game for free, but it also offers in-app purchases and contains ads. So bare with that.
Download Doodle Army 2 for Android | iOS
3. Neon Shadow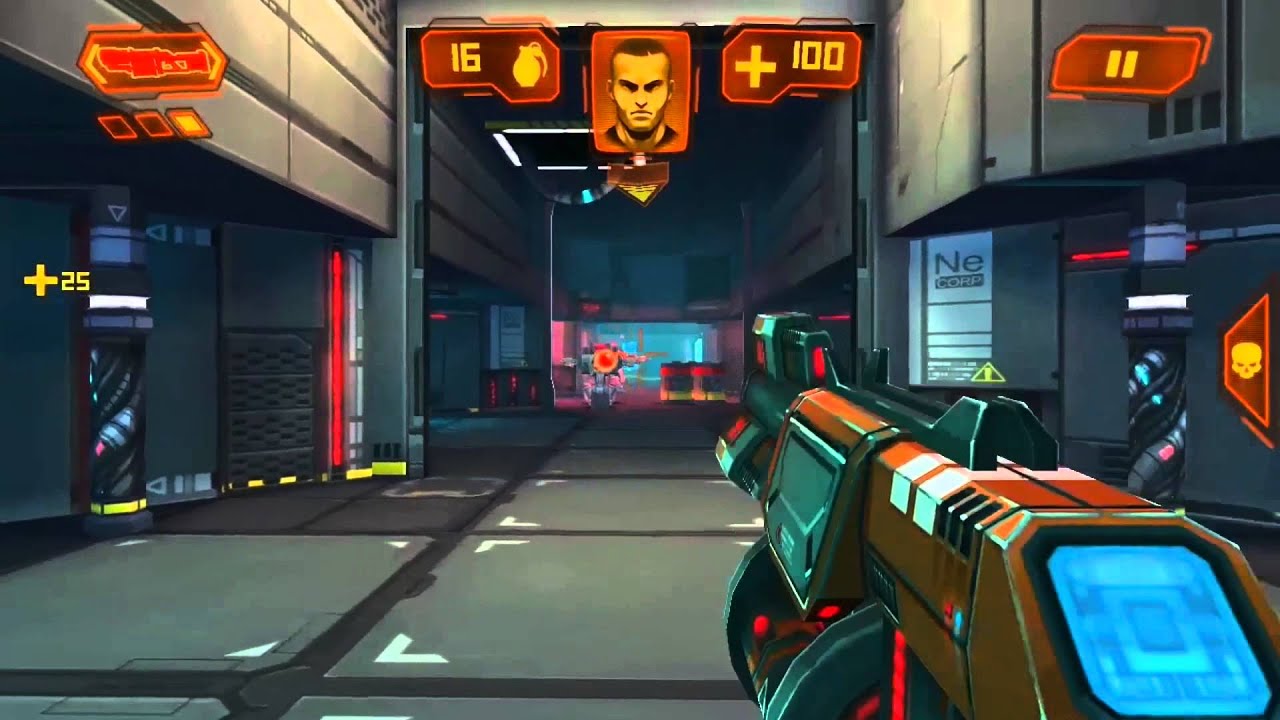 Neon Shadow is a first-person shooter where you play a special soldier (who looks very similar to Halo's Master Chief) who has to save humanity from an attack of the 'mechanoids'. The game features a single-player campaign that you can enjoy at three different difficulty levels. Throughout this campaign, you have to beat several levels plagued with cybernetic enemies.
Besides the single-player campaign, Neon Shadow includes a multiplayer mode where you can fight your friends over a local network. In fact, you can even play with your friends in cooperative mode (although it's actually much more fun in versus).
Download Neon Shadow | Android
3. Pixel Gun 3D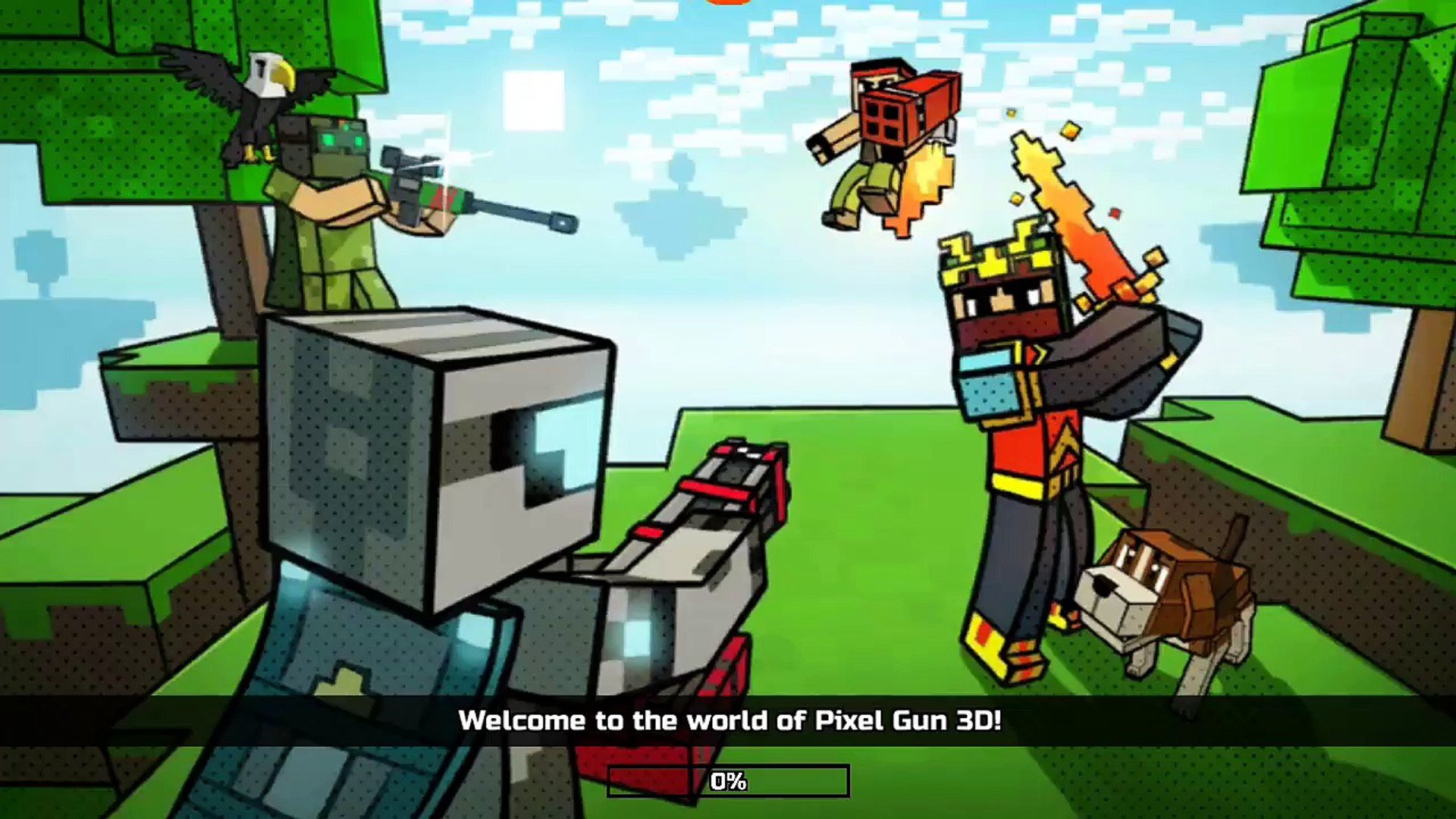 Pixel Gun 3D is the editor's choice over the Play Store. This pixel graphics shooter has more than 5 million downloads. It offers an immense number of multiplayer modes, engaging players in local as well as online ones. Pixel also has over 800 weapons, 40 ultra-useful gadgets & tools, and much more. At last, the players can enjoy the zombie-survival campaign, 100 plus maps, and ads (of course annoying).
Download Pixel Gun 3D | Android
4. 2D Strike
"2D Strike" is an entirely 2D offline multiplayer shooting game rising and shining on the Android. The game has 12 gaming modes such as Bugs attack, Base defense, Team game, Battle Royale, and much more. It also has over 15 weapons for players to choose from. The gameplay is progressive, allowing you to create a team of 20 people in a single map mission.
Download 2D Strike for Android
5. Army Men Online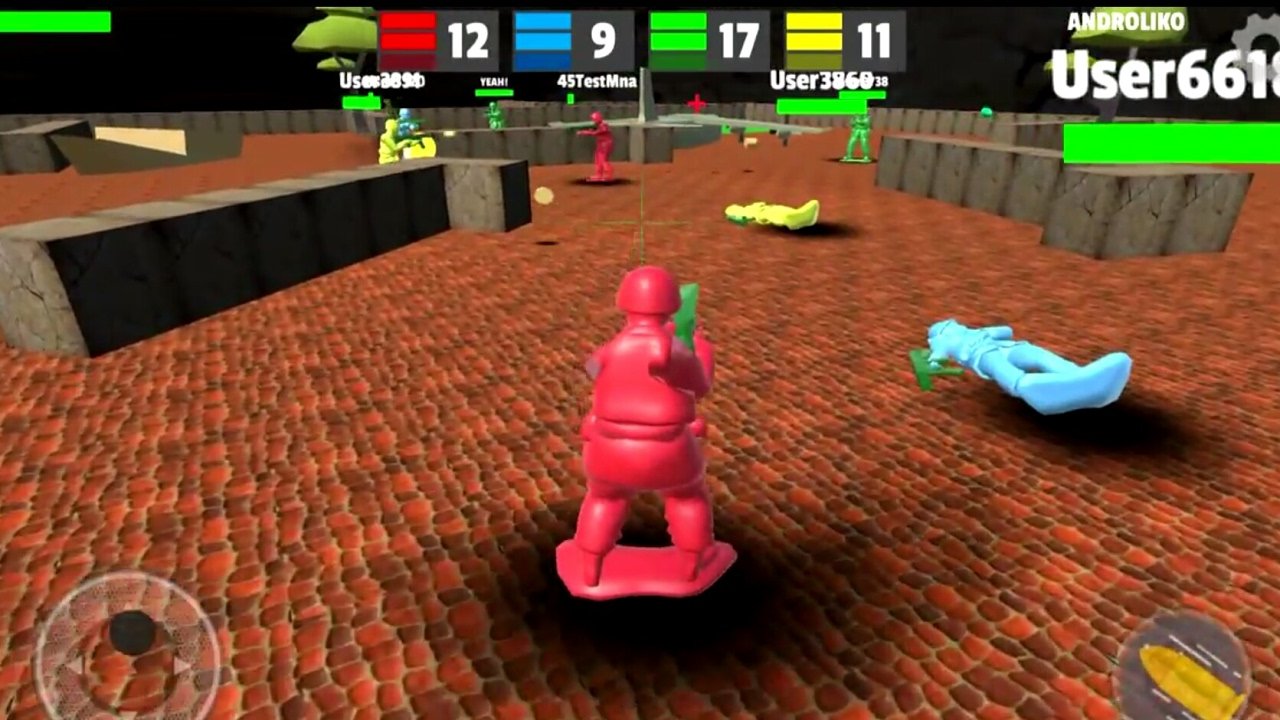 Army Men Online takes the user back to good childhood days as the game is based on the format of toy soldiers. It's a 3D game with offline multiplayer mode and high-graphics quality. Players can play the game via online multiplayer mode and set up teams with up to 12 players each. As a bonus, users' don't need to sign in or register separately to play the game online.
Download Army Men Online | Android
6. Standoff Multiplayer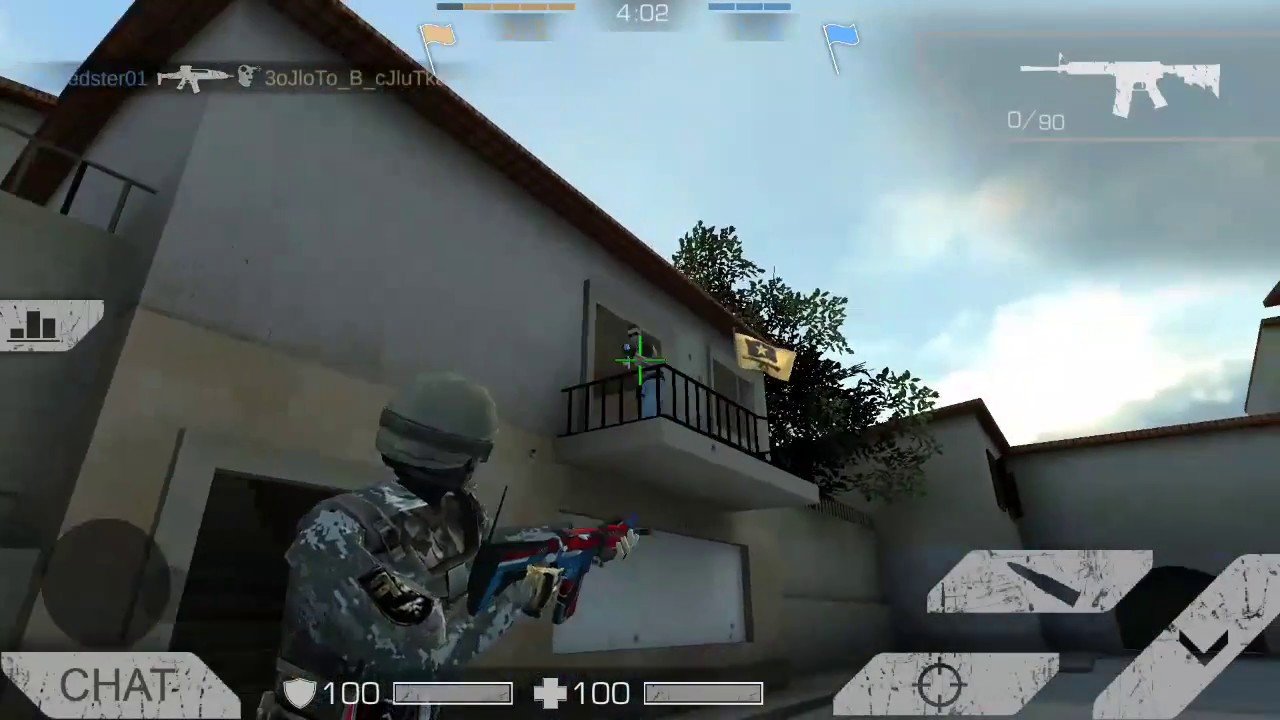 Standoff Multiplayer is another popular action-packed offline multiplayer shooter game on this list. It's a counter-terrorism theme-based game attracting thousands around the globe. The game has various modes loved and enjoyed by many. The graphics are pretty good as well. At last, the game contains ads and is best for both offline & online multiplayer modes.
Download Standoff  Android | iOS
7. Local Warfare Portable (LWP)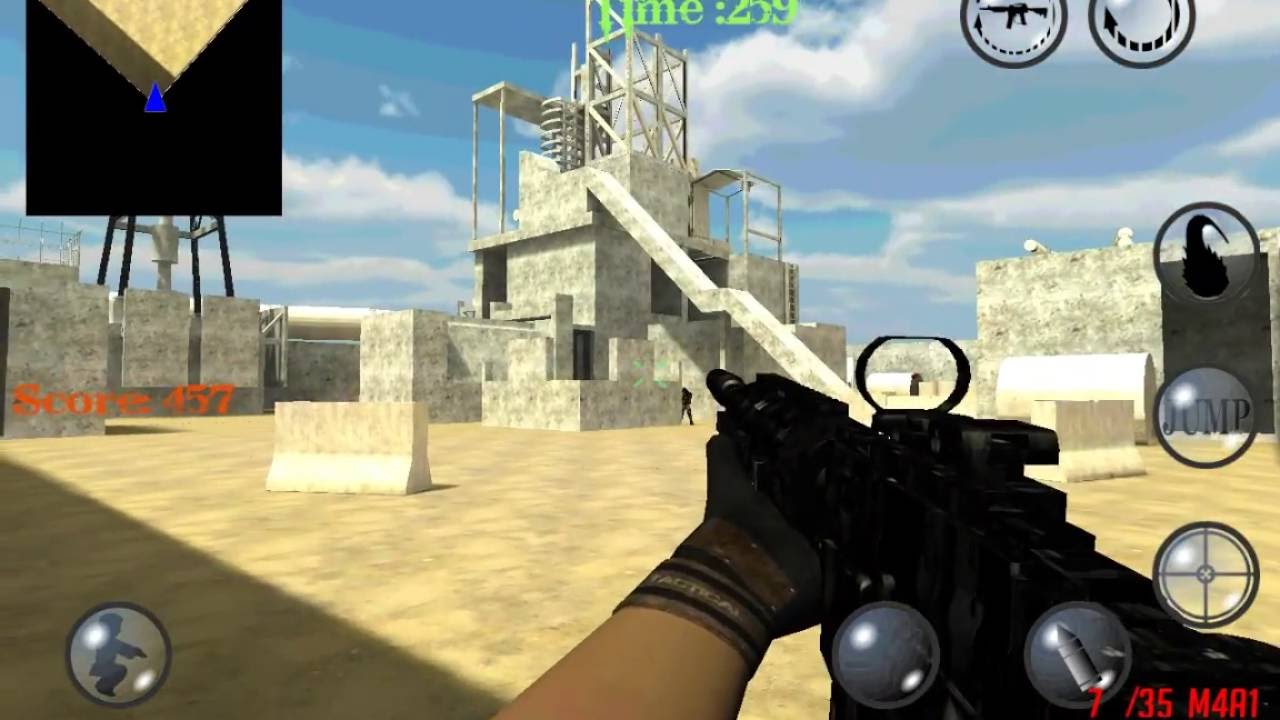 Local Warfare Portable (LWP) is a first-person shooter game based on LAN multiplayer FPS format. It's a lightweight yet realistic physics offering game. The players can enjoy a variety of modes, different difficulty levels, and much more, even with a non-flagship device. LWP also offers several PVP and PVE game modes, enhancing the mode offering package. The graphics are decent, and you can also create a team of 10 persons.
Download Local Warfare Portable for Android
8. Zombie Scrapper
This game is for those who enjoy both shooting and zombie games. As the name suggests, Zombie Scrapper has players fighting zombies left, right, and center. And these aren't your typical zombies! These zombies are of different types, including exploding zombies. This twin-stick shooter game has 36 intense levels with 12 survival levels.
Players have the chance to unlock 34 kinds of weapons to go head-to-head with zombies. This thrilling game has several achievements that players can unlock. They can even customize their avatar in the game.
In the LAN multiplayer mode, players can fight zombies with their friends and have lots of fun. This thrilling game is perfect for gaming sessions with your friends. Do try this if you like slaying zombies in your spare time!
Download Android
9. Shades – Combat Militia
Shades is globally known as the best multiplayer shooter game that can be played by LAN. The game has six maps and 20 weapons that never fail to impress players. Besides, you can even change the whole appearance of the player with some clicks. And talking about its graphics, then the game has good graphics. Apart from the offline multiplayer mode, Shades also allows the user to play against different online players and bots. So this is a plus.
10. Heroes of CyberSphere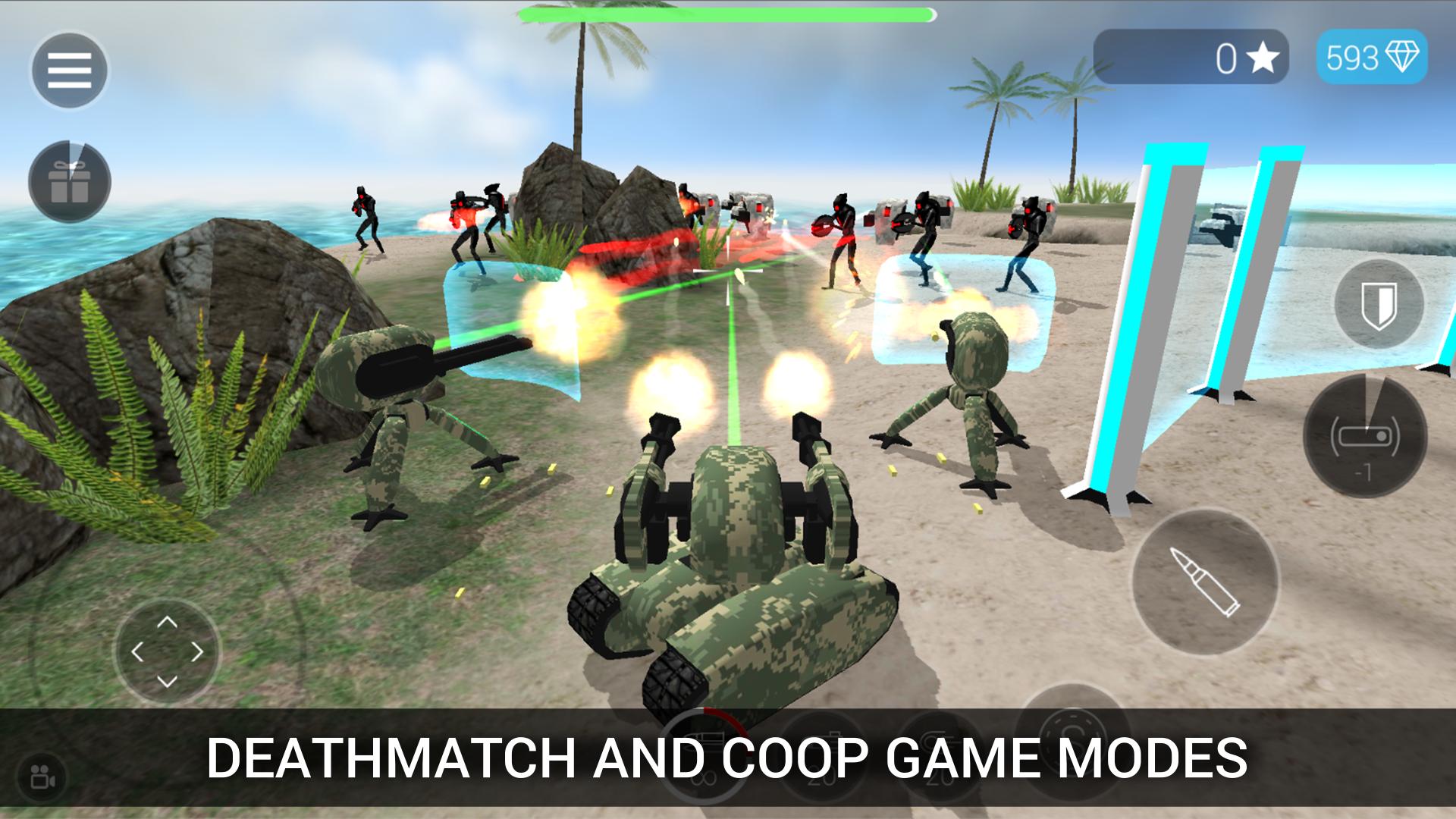 CyberSphere is a third-person shooter game based on the SciFi theme. The game has futuristic 3D graphics appealing to thousands, worldwide. You can enjoy multiple modes ranging from Deathmatch to PVE. The size is small. As a bonus, the game offers a cross-platform multiplayer mode as well via LAN Wi-Fi, which allows up to 6 users to play via iOS and Android devices together.
Download CyberSphere for Android
12. Real Commando Shooting Offline
The Real Commando Secret Mission is by Gamexis Inc. Amazing graphics, a massive range of assault Rifles, and a small size in memory are some of its key highlights. The game has more than 200 thousand plus downloads. Players can experience realistic assassination missions. In case, if you don't have WiFi, the game can be played offline. As a result, we believe that the game is the next blockbuster in the offline multiplayer shooting games category.
Download Real Commando Secret Mission | Android
13. Cover Fire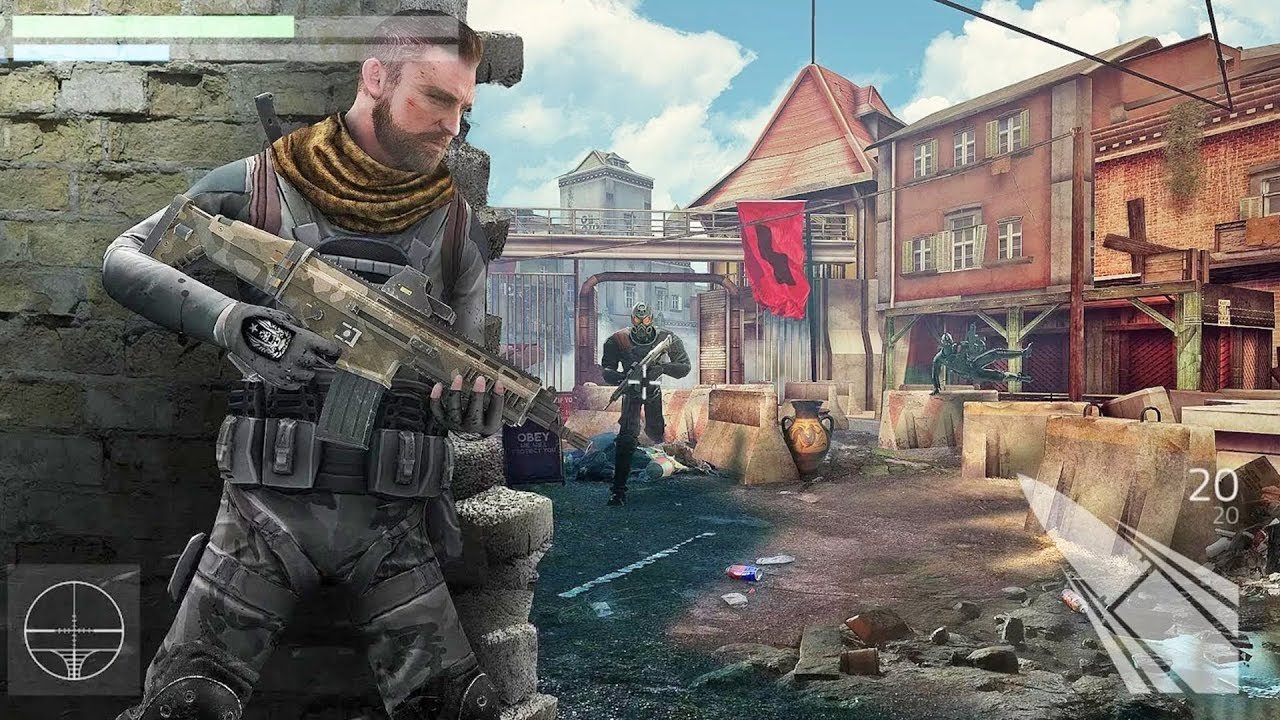 Cover Fire is one of the leading offline shooter games on the Play Store. The game has been internationally recognized as the best shooter game. Crisp graphics, offline multiplayer mode, engaging gameplay, etc. These are some of its key features. Users also claim to experience a real feel of a real commando while playing Cover Fire.
Download Cover Fire for Android
14. Local Warfare
Local Warfare is among the most engaging offline shooter game with good graphics. It supports LAN multiplayer, and has a wide variety of weapons, other modes, etc. Players can modify their weapons, skins, attachment, and much more. Although, the critical thing to notice is that the game is in the development phase. Meaning, that users might face some crash issues.
Download Local Warfare | Android
15. Tanks Battle – WiFi
Have you ever wanted to shoot a tank in a battle? That may seem impossible in real life, but with Tanks Battle, you can experience it on your smartphone! Tanks Battle is a multiplayer shooting game that allows players to shoot tanks. You can play this game with your friend and have fun shooting their tank.
This game only has a one-versus-one mode, which is a bummer. A player has to win three rounds in total to win the game. The game is fun and straightforward, but it doesn't have sophisticated features or graphics. It has elementary graphics. Nevertheless, Tanks Battle is an enjoyable game that can be played with a friend. 
Download Tanks battle | Android
Conclusion: So, these were some of the best offline multiplayer shooting games. Suppose you find this helpful or have any suggestions. Then do let us know in the comment section below. We would love to hear that.
If you've any thoughts on 15 Best Offline Multiplayer Shooting Games: Local Wi-Fi, then feel free to drop in below comment box. Also, please subscribe to our DigitBin YouTube channel for videos tutorials. Cheers!