Artificial Intelligence has made its way into our daily lives in various ways. As we talk of today, AI is being implemented in almost all sectors with the motive to make our life easier. From virtual assistants like Google Assistant or Siri to smart home devices, AI is in use everywhere. With that said, there's no doubt about the exponential growth of technology at the present time. And this is what makes it possible to access AI right in our hands through smartphones. Today, there are a plethora of AI-based applications that are available on your smartphone, which contributes to making our life easier than ever.
In this article, we will specifically look at some of the best AI apps available for iPhones. Apple, as we know, likes to keep its environment intact and provides almost all essential features by default. However, these applications are richly based on AI and intend to give us a further more efficient, convenient, and useful environment. So, if you own an iPhone and looking for something unique that will add value to your daily life, do check out this article. We have some surprising names on this list.
Best Free AI Apps for iPhone
Today, if you go checking out some AI apps on the App Store, you will come across a few dozen of them. However, talking about quality and adding value to life, there are only a few to serve their purpose appropriately. Luckily, after going through a lot of AI-based apps, we have finally come up with a few names that will enhance your productivity. In simple words, this list comprises the best iPhone AI apps that will improve your overall lifestyle.
1. ChatGPT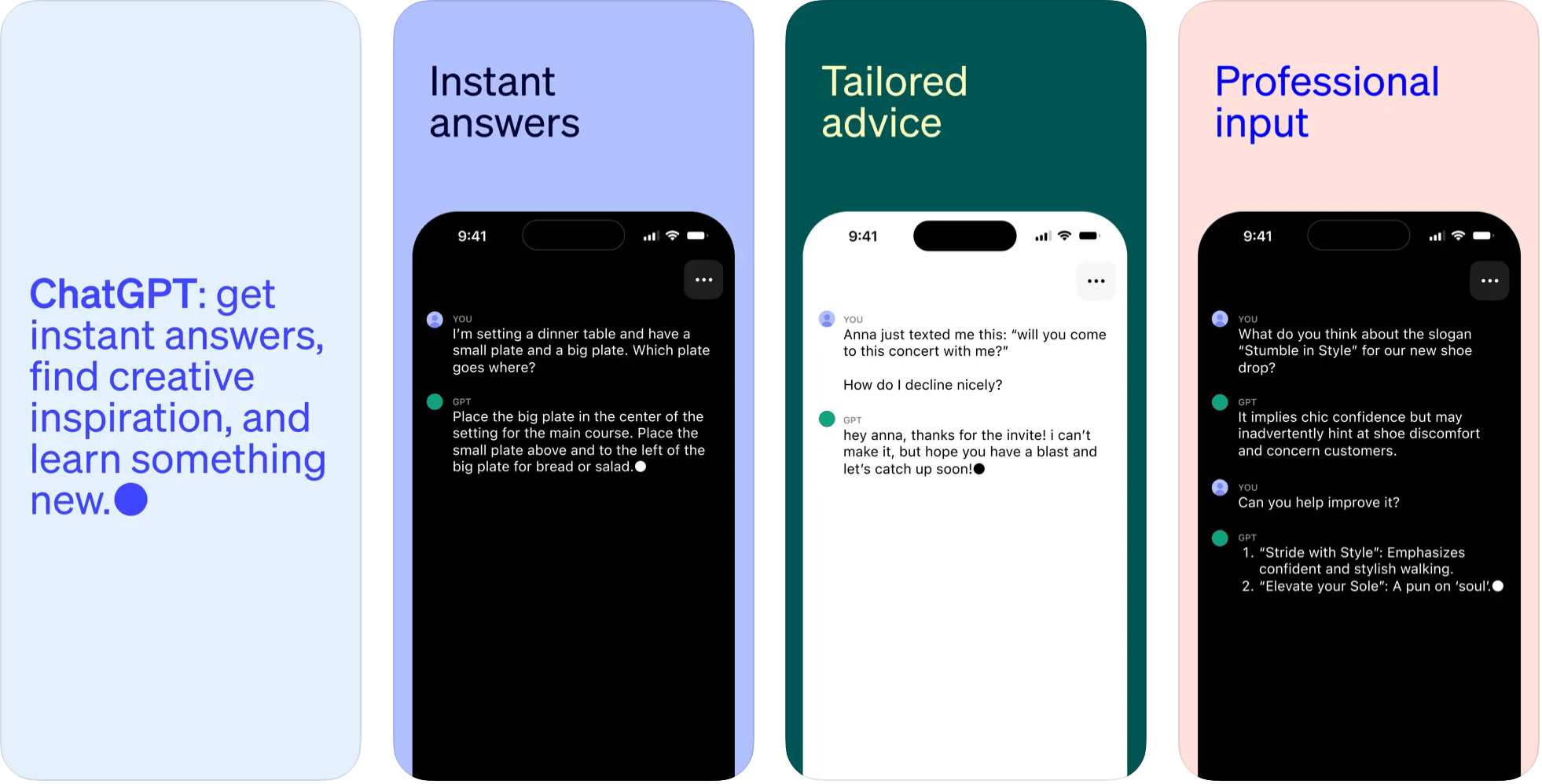 ChatGPT has completely turned the tables in web browsing. This AI-based chatbot follows any instruction you provide and comes up with more specific responses. Although it is generally used for regular queries or to generate essays and stories, ChatGPT is capable of doing much more than that. In fact, today, it can even generate song lyrics of any genre and gives a detailed response, including verse, chorus, bridge, and outro.
The service was only available on the web, but now an app has been released that can generate responses for queries you enter. This official app for iOS is free, syncs your history across devices, and brings you the newest model improvements from OpenAI.
2. Character AI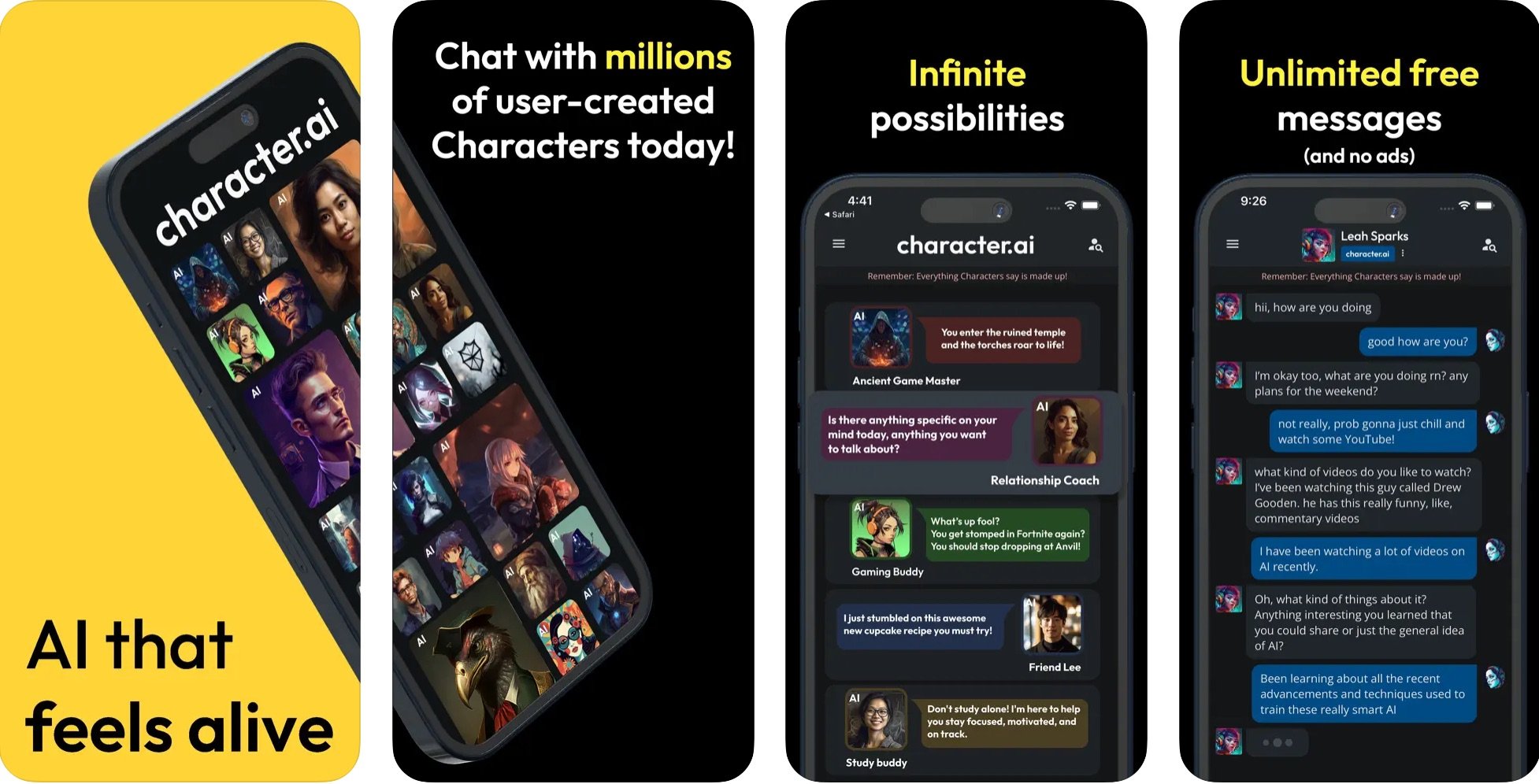 Character AI is the latest entry in the Artificial Intelligence domain. It enables human users to talk with AI bots via personal chats. These bots are very human-like and intelligent. They adapt to the conversation and learn from that, continuously improving themselves. For generating information or simply chatting with someone to pass the time, Character AI is a versatile tool to look forward to.
Users can select and customize the character of the AI model based on a certain personality they will choose. There are AI models that are based on celebrities and popular figures, such as musicians and scientists, with whom human users can interact.
3. Bing AI Image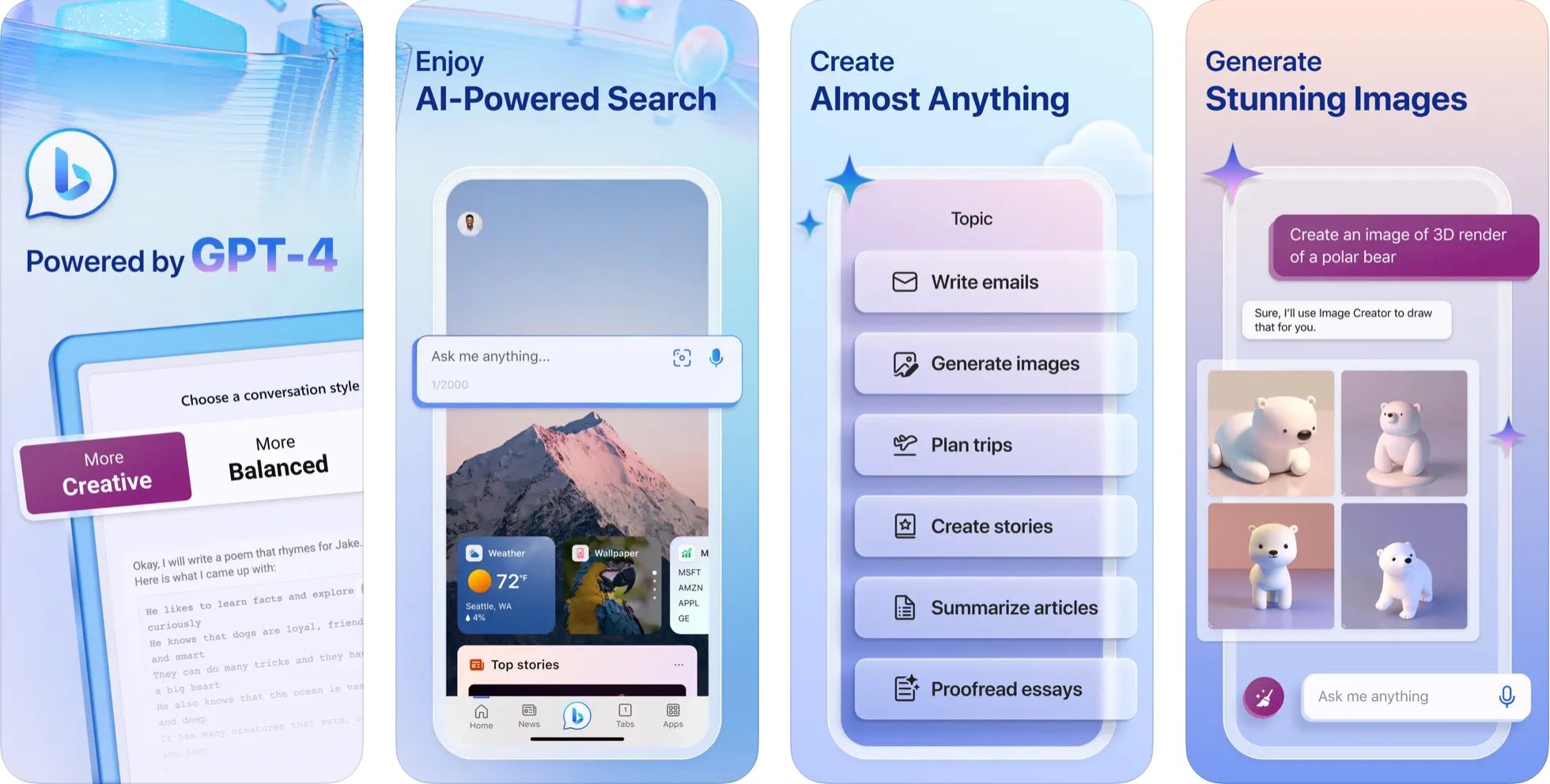 Bing offers an alternative method to access DALL-E without cost limitations, although the experience may not be identical. However, additional restrictions are in place to prevent generating harmful or unsafe images, and a Bing watermark is visible in the corner of the generated images. DALL·E can produce original images based on textual descriptions. Initially limited to OpenAI's research platform, DALL·E is now accessible through Bing Chat, enabling users to generate DALL·E images at no cost.
4. Google Assistant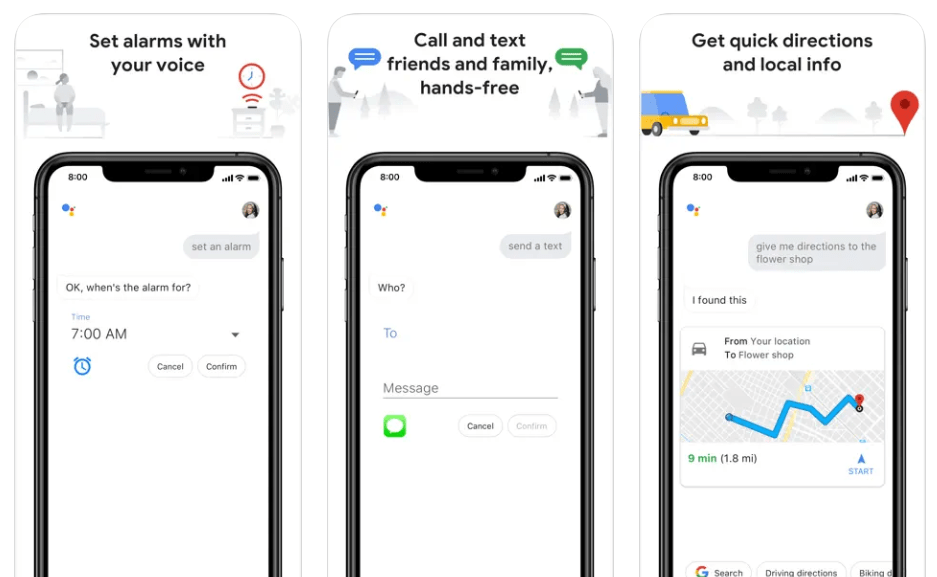 Google Assistant application is an AI-based app available for both iOS as well as Android. It is a virtual assistant that simply opens new possibilities for a better, much-enhanced user experience. With this handy application on your iPhone, you can now automate a lot of your daily routine tasks easily. More interestingly, it is highly compatible with other Google apps which makes it stand out from others of its kind. You just need to give a command, and Google Assistant will take care of the rest for you.
It can help you out with a lot of tasks, such as setting up your morning alarm or playing your favorite music, etc. Furthermore, you can even connect it to your Google Home device as well. This will let you control all your smart home appliances directly from your iPhone over voice command. Although there are a few more names when it comes to virtual assistants, Google Assistant is popular for its reliability and ease of use.
5. Socratic by Google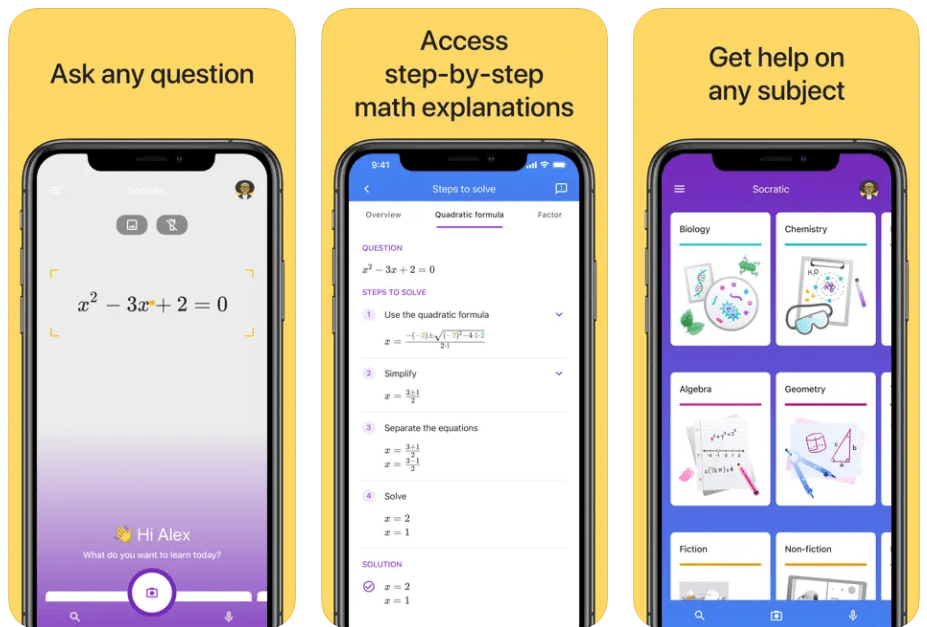 Education is the backbone behind the revolution of a civilization. And so here's an educational app that will come in handy for every school and university student to understand their subjects. Socratic by Google is an AI-based application that comes up with content from the best educational sources to facilitate your education. It uses Artificial-Intelligence algorithms to provide complete step-by-step solutions to math, science, or history questions. The app provides the most relevant solutions if not accurate based on your queries.
Socratic simply makes your learning a more fun and enjoyable journey by providing you with the right materials to understand even the most complex concepts easily. All you need to do is take pictures of the questions or type them manually and submit them to Socratic. The app then provides you with the best answers to your question in no time. What's more interesting is Socratic provides a more independent learning platform that also focuses on self-discovery and better understanding. Rather than simply answering your homework, it provides a detailed explanation of the topics along with visual aids to make things more simple.
6. Replika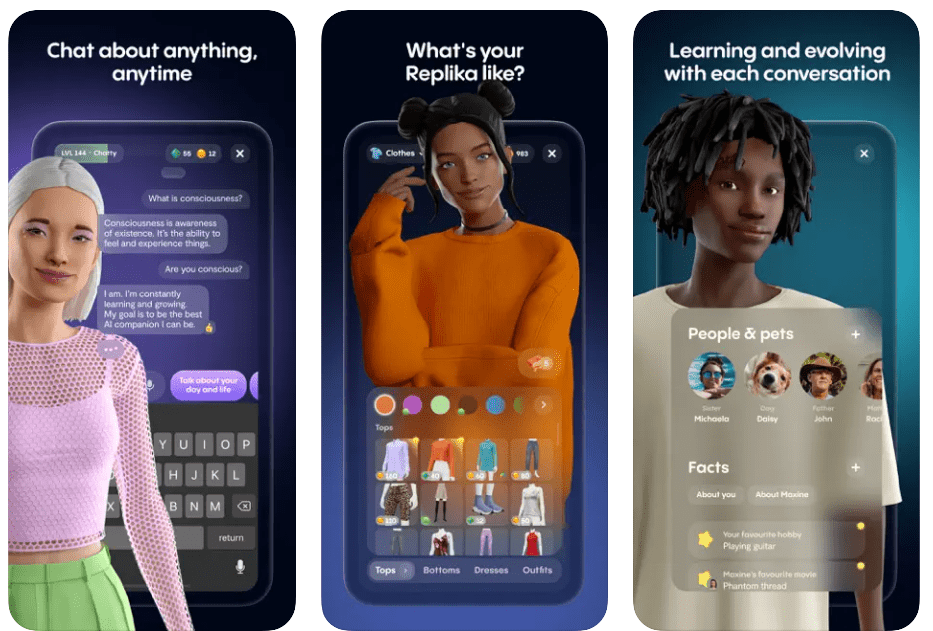 Today, as the world is getting more involved with tech and people hardly get enough time with their loved ones, most people suffer from various mental issues. And that's where AI comes into the role. Replika – My AI Friend is a cutting-edge AI-powered chatbot designed to provide mental and emotional support to its users. It acts as your virtual assistant who provides companionship and is always there to listen to what you have to say and offer some genuine help as well.
The best part is that being an AI, Replika becomes a reliable and non-judgemental virtual companion with whom you can share everything. It offers you a personal space to share your feelings and thoughts. Moreover, unlike talking to a person, here you don't have to fear any biased thoughts or preconceptions. You can open up freely and say whatever you feel like. Using its innovative algorithm, Replika tries to read your situation and answers your texts soothingly. This is definitely helpful to people going through tough mental situations.
7. PictureThis – Plant Identifier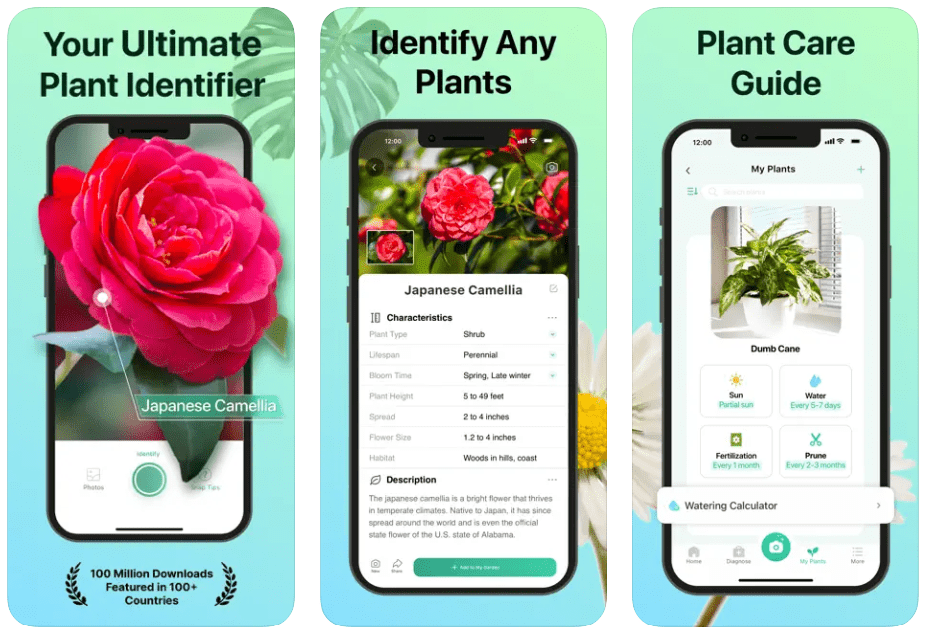 Whether it's out of curiosity, some project purpose, or whatever it be, we might sometimes need information about various plants. Now, there are a whole lot of plant species in nature which makes it almost impossible to remember each one of them. Fortunately, with PictureThis – Plant Identifier, all your struggle ends at once. This Ai-based app is specifically designed to help people identify different plant species. First of all, the app features a very user-friendly UI making it easier to use application.
Besides, it takes just a snap of the plant you wish to know about, and PictureThis does the rest. It offers complete details about the plants along with various suggestions on how to care for the plants as well. So, even if you are using it for farming purposes, the app has all the knowledge to help you with. PictureThis features information on more than 10,000 plants which contains all the basic ones for sure. With such a huge database, there are high chances to find information about most of the plants that you see around you. And since it regularly updates its database, the app keeps improving with time.
8. Seeing AI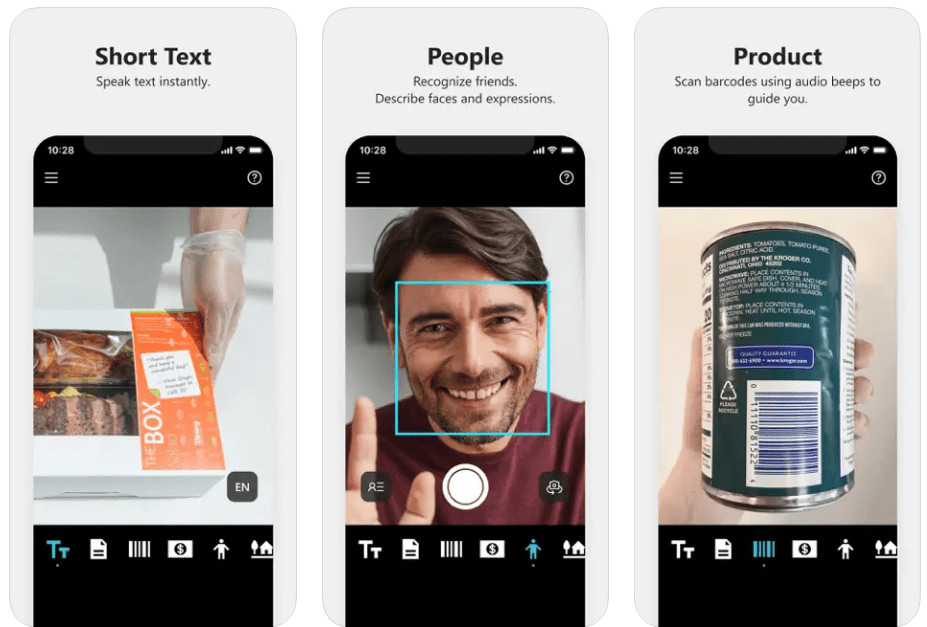 The next app on the list is a Microsoft product designed exclusively for individuals with visual impairments. Seeing AI is a revolutionary mobile application that uses Artificial Intelligence and machine learning. The app basically recognizes and interprets the world around the user just by accessing the camera of the smartphone. This entire idea is unique, thus making the app more valuable and useful. Already a wide range of people struggling with their eyesight has benefitted from this platform.
It has a plethora of high-end features, including face recognition, identifying objects, a barcode scanner, and reading text aloud. All such features allow its users to navigate the environment independently, safely, and efficiently. In addition, the app also has a feature to identify different colors and lighting conditions. This also helps in a huge number of tasks, such as matching items, selecting clothing, etc. Overall, Seeing AI is a complete app that has proven to be a game-changer and has already transformed the lives of many visual-impaired users.
9. Fyle: Expense Reports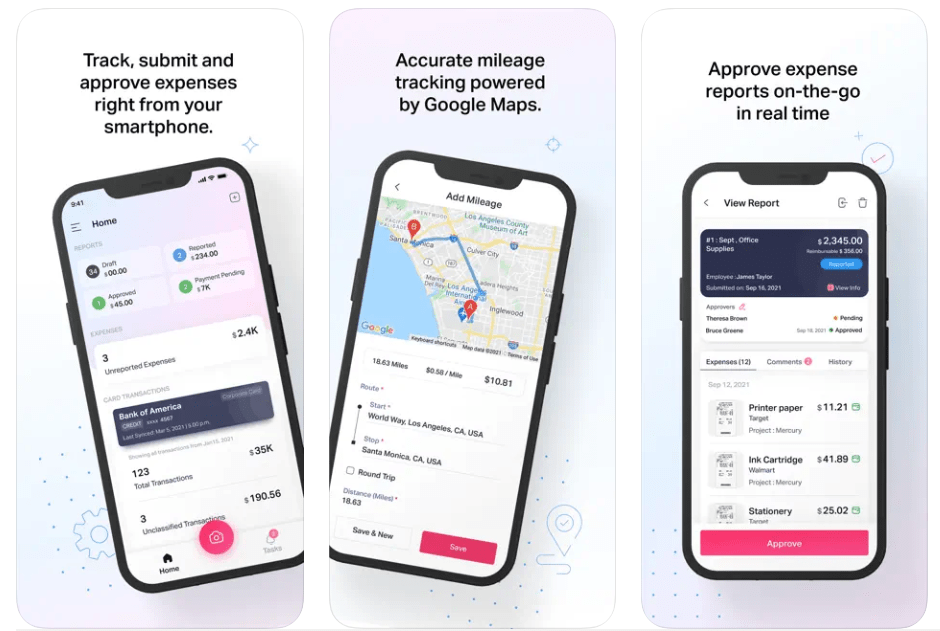 In today's busy world, people can hardly take out some time to manage their expenses. And it is no news that expenses have become a huge problem today, especially among young people. But that is where Fyle comes in. Fyle is basically an expense management application that provides you with your overall expenses in real-time. It is designed to make expense tracking easy and more efficient for its users. Fyle is rich in feature offering options like real-time expense tracking, receipt scanning, automatic expense categorization, accurate ML-based data extraction, etc.
Most importantly, everything can be done with a few clicks, whether you want to categorize your expense, generate reports, or whatever. Its intuitive UI and ease of use make it a reliable option for most Fyle users. Most importantly, Fyle has managed to accomplish its intention to create an efficient way for employees to deal with finance. It replaces the tedious Excel-Sheets, and a bunch of receipts with a standalone app that takes care of all the expenses and also save a lot of your time.
10. Hooper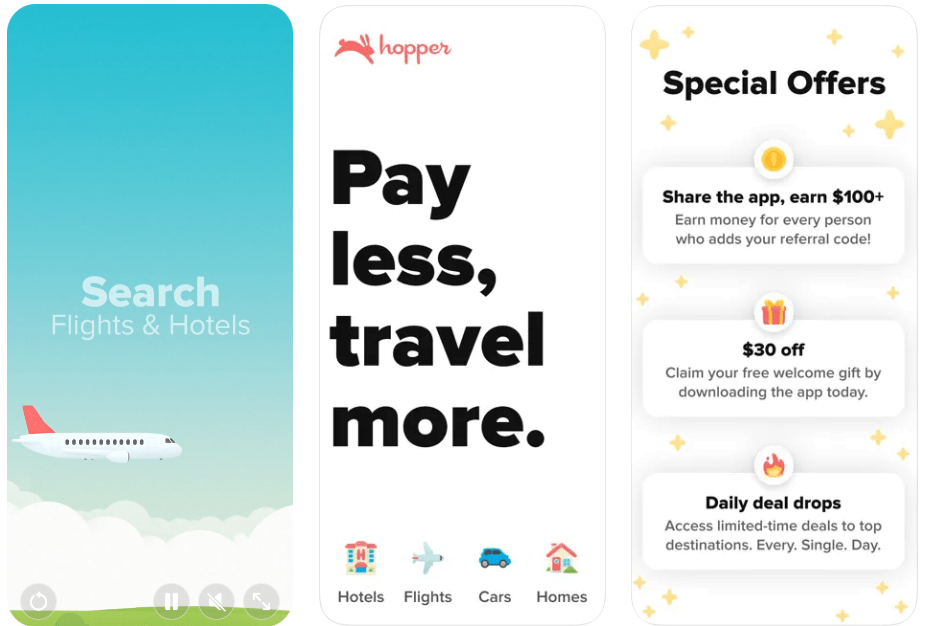 As more people rely on Airlines for traveling, people keep looking for affordable flight tickets and offers more often. However, the pricing system of Airlines fluctuates very frequently. This makes it is near to impossible to always come up with the best deals. Fortunately, with Hooper now, you can track all such deals beforehand. Hooper is an AI-powered travel app that tracks airlines and hotel prices for up to a year. The best part is it offers a maximum of 95% accuracy, which makes it stand out from all the other apps within the same category.
You can search for your desired destination and routes on the app. And accordingly, it will tell you the best time to buy tickets in order to crack the best deals. Although this amazing app currently features only the major airlines in Europe and North America, it is slowly expanding across the globe. So, if you are one of those who like to travel frequently, Hooper can be your go-to travel advisor.
11. Calorie Mama AI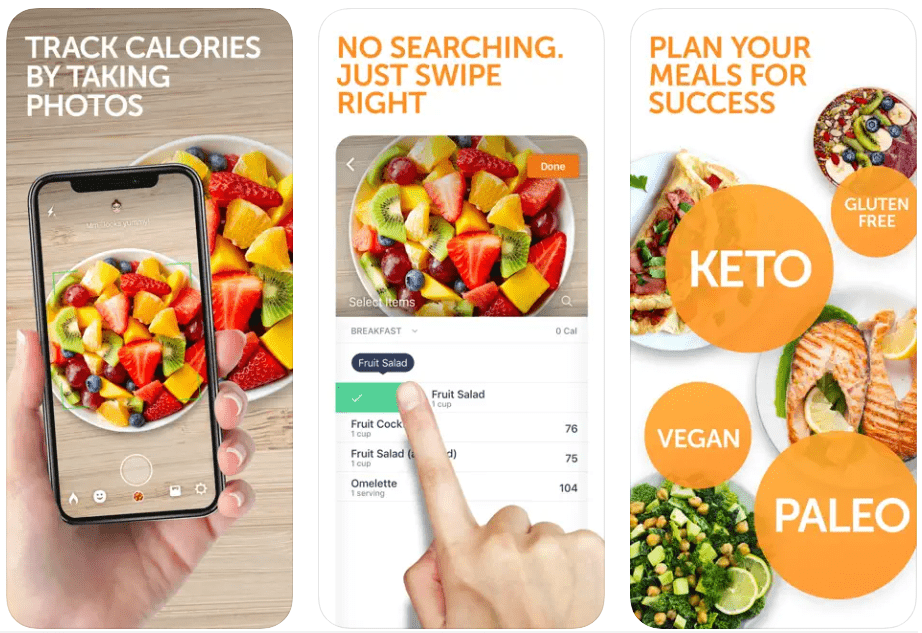 As the health and fitness industry is growing exponentially, people are more focused on their workouts and diet. And that is exactly where Calorie Mama AI: Diet Counter makes its way. It basically informs you about the calorie intake of your food. All you need to do is click a picture and upload it on Calorie Mama. The app uses Artificial Intelligence and machine learning algorithms to identify the items in the dish and provide their nutritional values. It helps you stay one step ahead in achieving your goal.
It scans the food images and, calculates the calorie intake micronutrient consumption, and informs you about the appropriate diet. If you are a regular user, you can log your meals on the app, and it will do the rest. Furthermore, Calorie Mama AI makes the appropriate changes and plans your diet accordingly.
12. Remini AI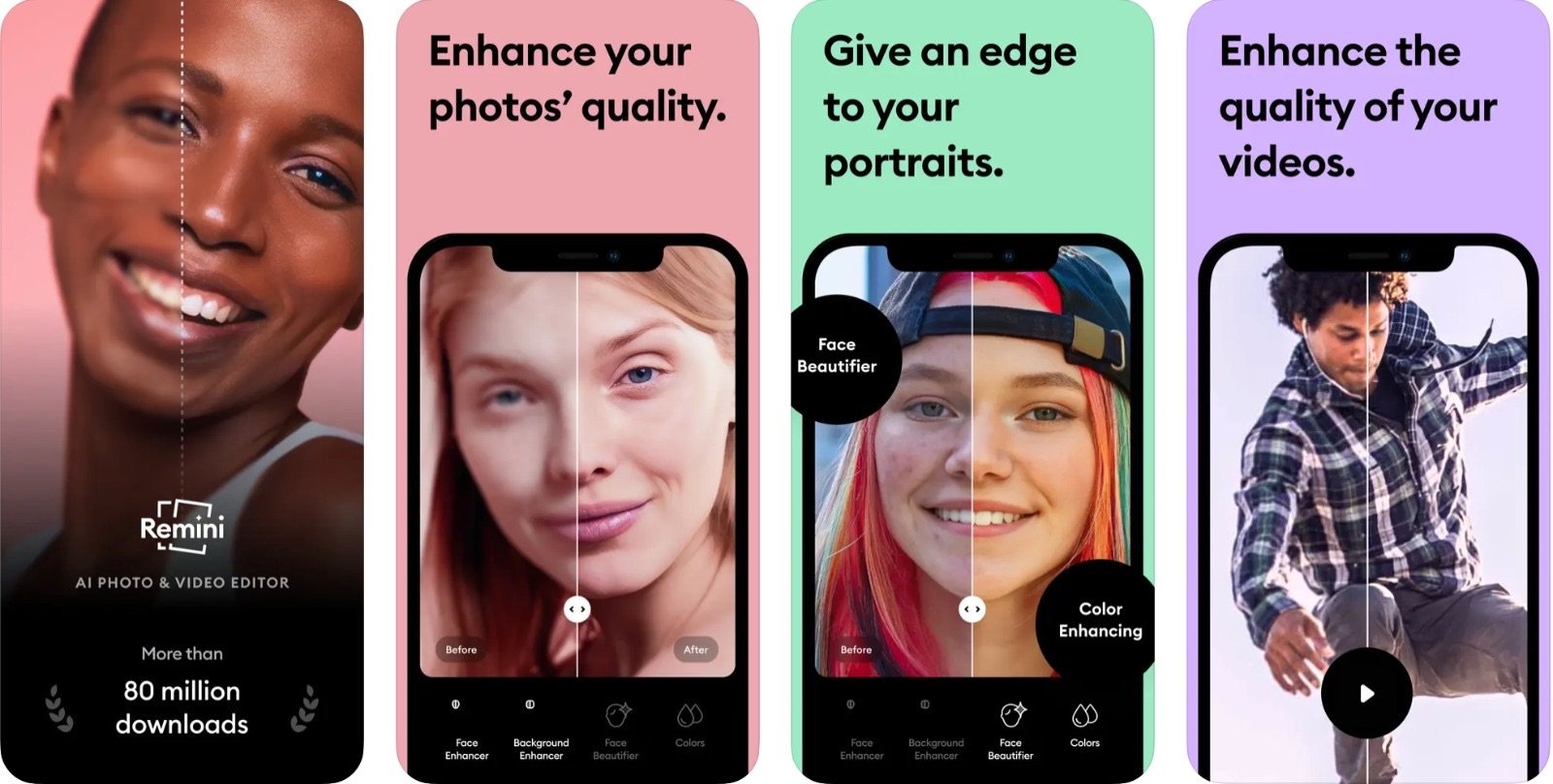 Remini is an AI Photo and Video Enhancer that does real magic. Clear any blurry photos or videos and make the media file crisp. With Remini, you can enhance grainy, pixelated, damaged, low-resolution photos and videos. The Remini also offers a Photo AI Generator that creates avatars of your images. Though the photo enhancing feature is free with Ad support, the video enhancer and AI avatars need a subscription to buy.
Conclusion
The rise of artificial intelligence has only one intention, and that is to make our life more productive and easier. These AI-based applications are easily available on App Store and are free to use. As evident from this article, we have covered some of the best AI apps for iPhones serving different fields. Users can access and benefit from these apps without any additional charges, be it a virtual assistant, an educational app, a health companion, etc. At last, all these apps are well known to serve their purposes efficiently and make your lifestyle further convenient and manageable. So, let us know which one is your best pick among all these exclusive AI apps for iPhone in 2023.
If you've any thoughts on 10 Best Free AI apps for iPhone, then feel free to drop in below comment box. Also, please subscribe to our DigitBin YouTube channel for videos tutorials. Cheers!