Google sends a verification code if you log in to a new device for security reasons. A verification code will help Google to identity your identity so that any suspicious login attempt can be prevented. If you have enabled two-step verification and added a mobile number as a backup recovery option, then Google will send the verification code to the number as an SMS.
Double-check that you have provided the correct phone number to Google and that your SMS settings are configured correctly. Make sure you have a stable network connection, poor network connection can cause SMS delivery failure. In case the verification security code is not received to your phone, then below are some of the best solutions to fix Google not sending the security Code via SMS.
1. Disconnect if you are on Call
Requesting for a security code via SMS while you are on a call is the prime reason for not receiving the verification code from Google. When on a call, the SIM network sometimes may not be able to collect any SMS from the service protocol due to network constriction. Therefore, it is best to disconnect the call and again request the verification code from Google. You will receive the code for successful login.
2. Restart the Mobile
Google may have successfully sent the security code to your registered mobile number, but your device is unable to collect due to some issues with the SIM network and mobile. If that is the case, then the best option is to restart the mobile; you can even turn off and turn on the flight mode. Once done, again request a verification SMS from Google; keep in mind that you may receive multiple codes if you have requested it a few times; the latest code received will be valid that Google can verify for login.
3. Short Code SMS Blocked
Google uses short code services to send the security code. You or your mobile provider might have inadvertently blocked you from receiving text messages from services that use shortcodes. Please ask your carrier to unblock messages from Google. Once done, you will receive a verification code from Google.
4. Check the SMS Spam List
Like mail services, Message apps have filters to block spam and other potentially harmful messages. Sometimes it may get overwhelmed and consider a helpful SMS as spam therefore, it is good to check if the verification code is sent to the spam box.


5. Add a Different Number
You can add a different number for two-step verification. If your additional mobile number, add that number to your Google account; in case an SMS is not delivered, you can try an alternative mobile number to receive the SMS. To add the number, go to Google Account → click on Security  → open 2–Step Verification phones and Add your mobile numbers.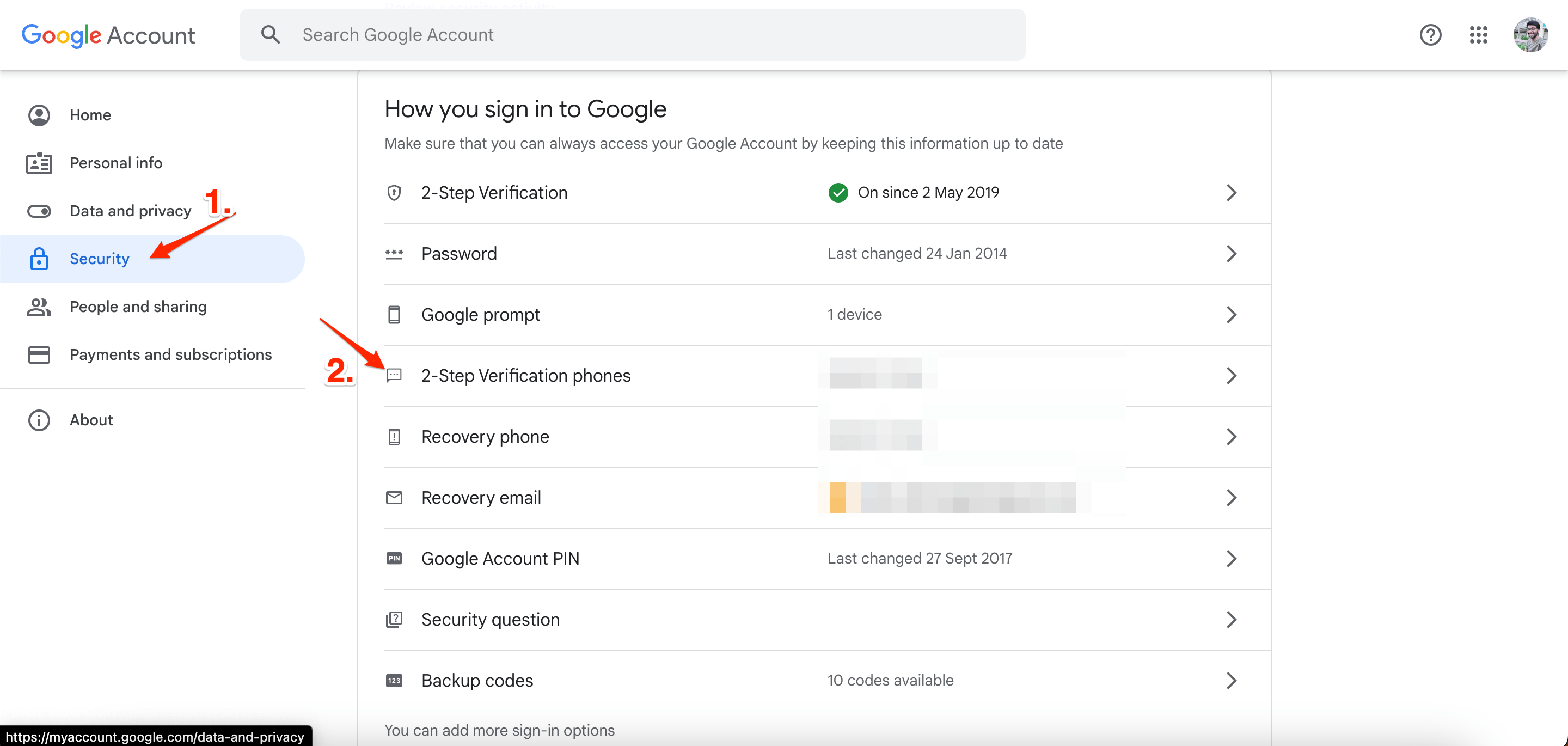 6. Disable VPN or Proxy
Using a VPN will change your IP address and server location. Google may consider it as suspicious activity and block the login, or due to a changed IP address, the Google server may confuse itself. Thus SMS may not be sent to your mobile number. Therefore, it is good to disable the VPN or a Proxy on your device.
Conclusion
Remember that Google offers several other options for 2-step verification, such as using an authentication app, mobile prompt or a security key, which can be more secure and reliable than SMS.
If you've any thoughts on How to Fix Google Not Sending the Security Code to Phone?, then feel free to drop in below comment box. Also, please subscribe to our DigitBin YouTube channel for videos tutorials. Cheers!