What if I told you that simply conducting online searches can earn you much better rewards? It sounds unbelievable, but it is true! By just performing routine web searches, Microsoft Rewards is a great way to accumulate points that can be redeemed for digital purchases such as video games and shopping gift cards.
Microsoft is cognizant of the fierce vendetta Bing confronts with Google, and the Edge browser is continuously working to provide distinctive features to outperform Chrome. The main goal of launching the Microsoft Rewards program was to promote the Bing search engine and encourage consumers to research their other services and products.
For you to have a better understanding of Microsoft Rewards, we have written this post for those looking for a convenient side business or those looking to increase the value of their internet searches. So go through this detailed guide about Microsoft Rewards that offers many ways to earn reward points and earn points and the process of redeeming those points.
What is the Microsoft Reward Program?
Microsoft has created a unique program called Microsoft Rewards for devoted Microsoft users who are interested in using a variety of Microsoft services, not simply their operating system. Through its loyalty program, Microsoft offers users Reward points whenever they buy or use the products and services of the company. You may accumulate Microsoft Rewards points using Microsoft products like Bing, the Edge browser, Cortana, or the Microsoft Store.
By performing some of the simple tasks, it is possible to earn Rs. 500 worth of rewards every month. Initially launched by the United States, the Microsoft Reward program is now also offered to users in different countries like the UK, Australia, and even India.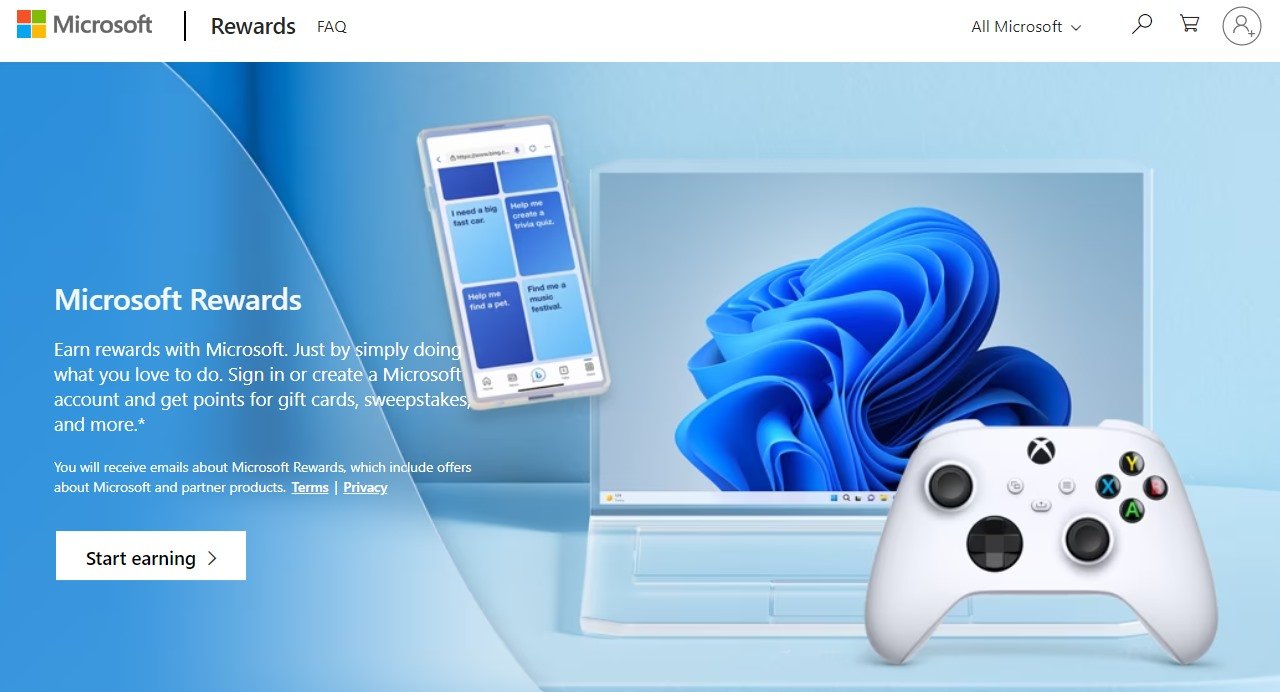 Microsoft users are awarded points for performing a variety of activities like performing web searches using the Bing search engine, purchasing products from the Microsoft Store, playing some games on Xbox One, etc. You can later redeem these points to purchase gifts on platforms like Amazon and Flipkart and to buy some video games.
Earning the reward points using the Microsoft Reward Program is not an automatic process. Instead, for you to be eligible to earn the Microsoft Reward points, you first have to sign up for the Microsoft Rewards program. It's a clever way to lower your ongoing Microsoft costs and save money.
How do you Sign up for the Microsoft Reward Program?
Signing up for the Microsoft Rewards program is a straightforward process. However, it's essential to note that this program is only accessible in specific countries and may not be available in your location. Follow these detailed steps to enroll in the Microsoft Rewards program:
Visit the Microsoft Rewards website using your preferred web browser.
Click the Start Earning button to initiate the Microsoft reward program.

You will then be asked to sign in with your Microsoft account, which you use to purchase things from the company.
Enter your account credentials and proceed with the sign-in process.
The website will then redirect you to the Microsoft Rewards account dashboard page.
Within this dashboard, you can easily monitor your daily point accrual, establish personal goals, and redeem your points once you've accumulated enough.
Different Ways to Earn Microsoft Reward Points
Now that you have just become a member of the Microsoft Rewards program and are eager to learn how to earn points quickly. Here are several approaches to help you grow your reward points balance:
Complete daily Rewards Program Activities 
Upon joining the Microsoft Rewards program, you will find a range of activities on your dashboard. These programs range from solving puzzles to answering several quiz questions, checking weather updates reading quotes, and performing several mini activities as well.  Each activity displays the number of points you can earn upon completion. Starting here is a wonderful way to kickstart your point accumulation journey. Also, these activities are added daily, so do check them out.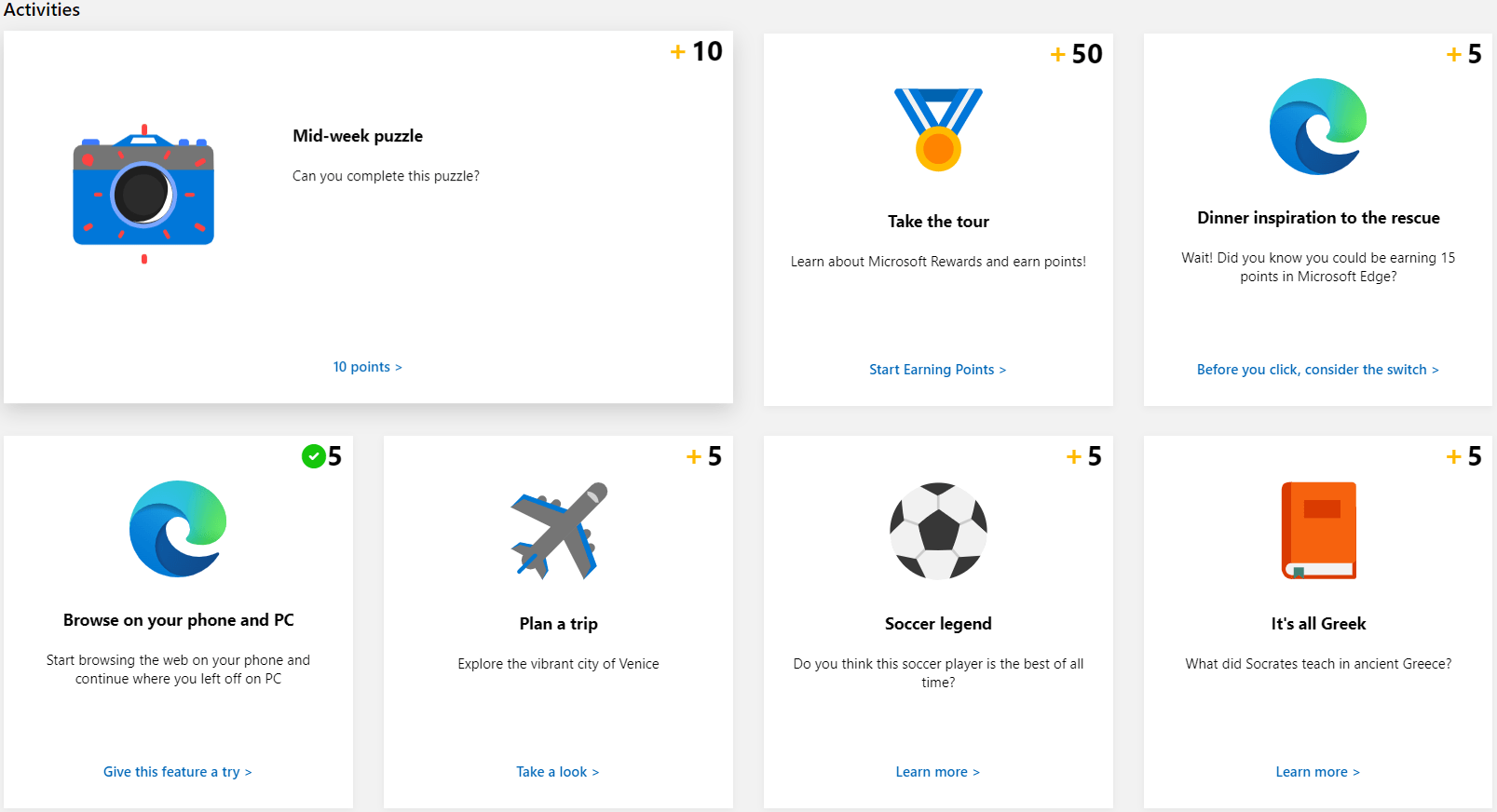 Utilize Bing as Your Search Engine
Even though Google is a preferred search engine, Microsoft Bing facilitates you to earn reward points under the Microsoft Rewards program. Even if you need more time to make a complete switch, strive to meet the threshold for Bing searches yielding points.
Level one users earn three points per Bing search and can earn rewards for ten searches daily. Level two users have a higher limit and can earn points for 30 daily searches.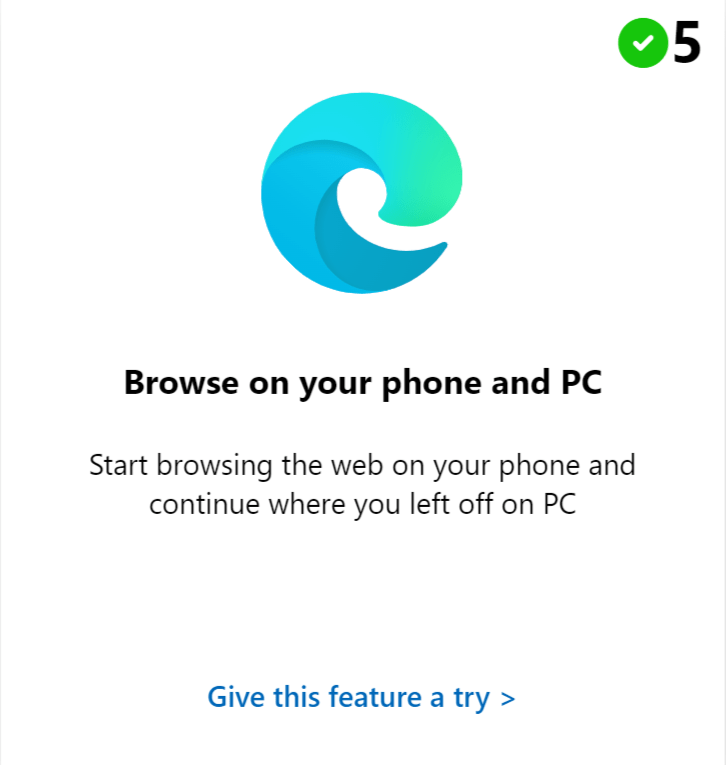 Purchase Items From the Microsoft Store
Every purchase you make from the Microsoft Store, be it games, apps, or subscriptions, can earn you rewards points. To be able to earn points under the Microsoft Rewards program, you should complete the sign-in process with the same account associated with Microsoft Rewards before initiating the purchases. It's worth mentioning that the point-to-dollar ratio improves when you reach level two, earning 10 points for every dollar spent on Microsoft products.

Complete Daily Sets
Besides Bing searches, you can complete daily sets on the Microsoft Rewards page. These sets will assist you in earning additional points and reaching level two faster. Keeping a streak of completing daily sets will also result in more reward points from Microsoft.
Download the Microsoft Rewards Extension
Switching to Bing search is a vital source of earning reward points, but changing your default search engine to Bing can cause a lot of inconvenience. To tackle this problem, you can download the official Microsoft Rewards extension and automatically set Microsoft Bing as your default search engine. You can turn off the Chrome extension once you have reached your daily search quota and explore other activities to earn more points.
Utilize Your Xbox Device
For the uninitiated, Microsoft also offers weekly challenges and rewards points for playing specific games on your Xbox console. This is an excellent way to boost your points-earning potential. There are additional methods to earn rewards points on Xbox, such as watching featured content on your console.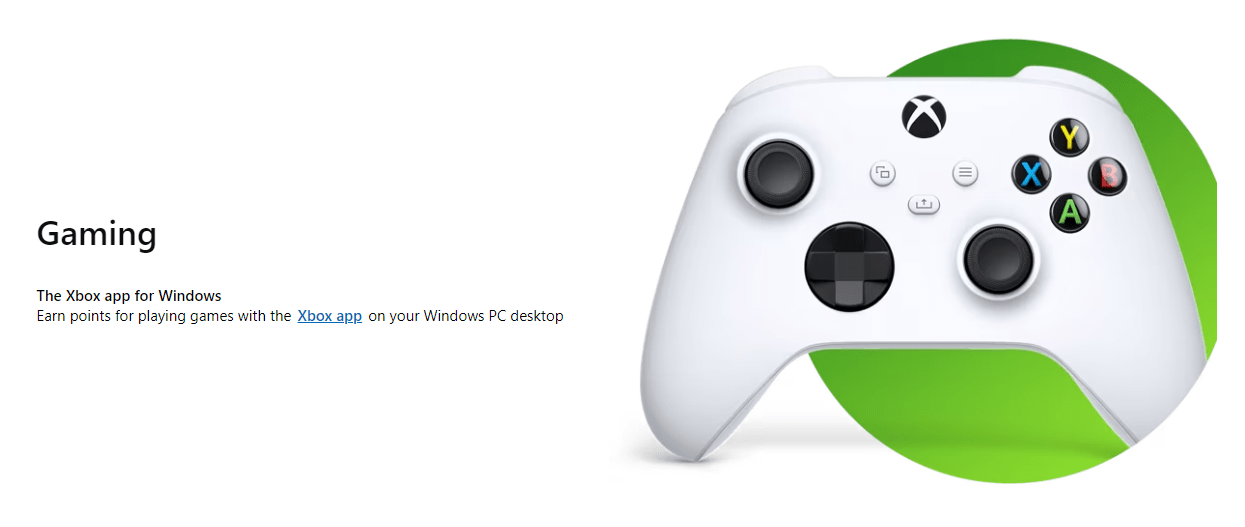 How to Redeem your Microsoft Reward Points?
Now that you know the different ways of earning Microsoft Reward Points, you may be interested in redeeming these points. The steps to redeem your Microsoft Reward Points are straightforward. Try this:
Visit the Microsoft Rewards page and access the Redeem area under the available points section. Here you can see the different gift cards available. This will include ones for online stores and gaming, among other things. It's critical to remember that the reward points you can get after completing these tasks could vary based on where you are. You can also set goals to accumulate points that will enable you to obtain a particular gift card you have an eye on.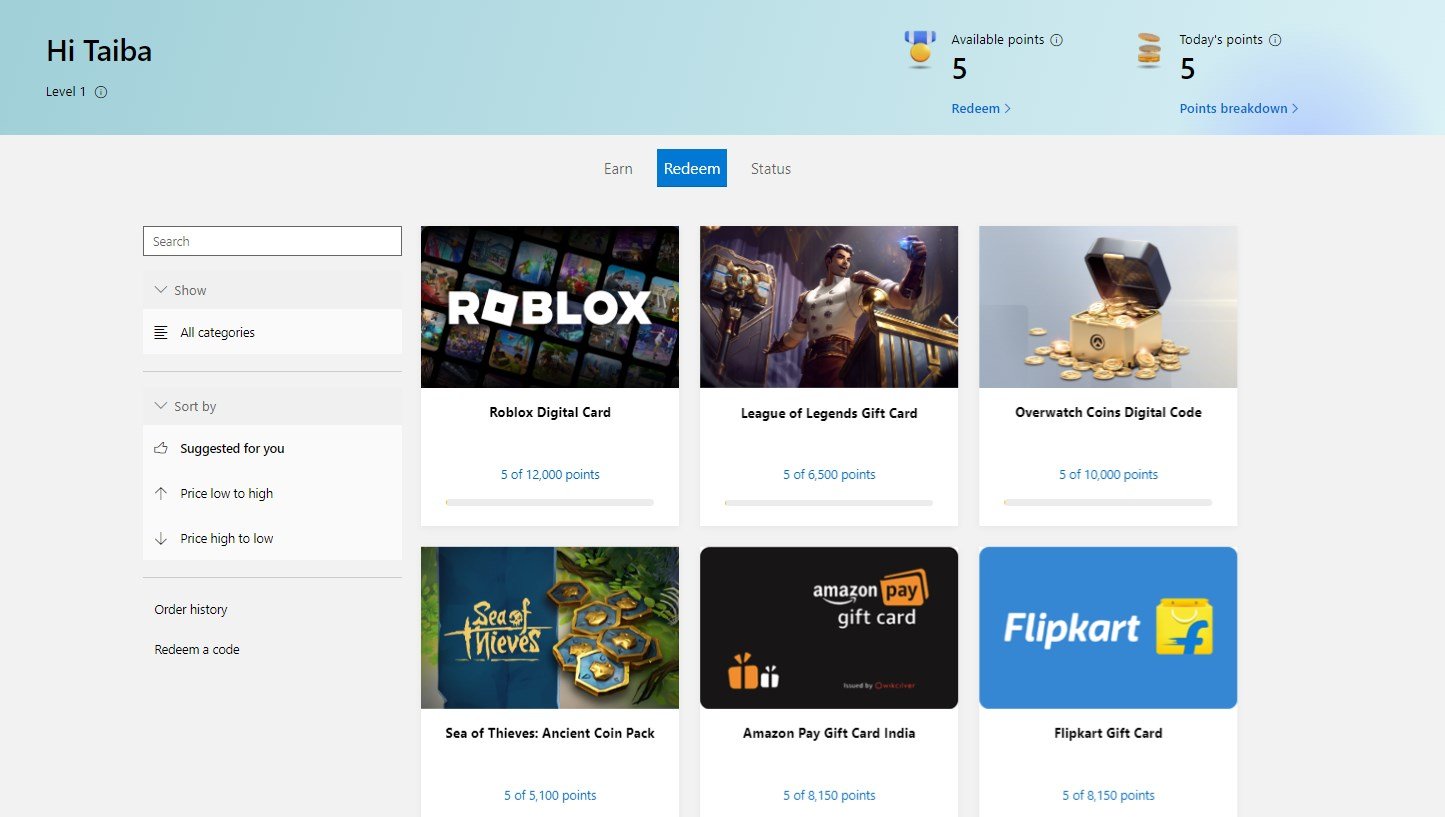 What are the Microsoft Reward Levels?
You begin at level one when you join Microsoft Rewards, indicating that you are a new participant in the program. At this level, you earn three points for each Bing search you conduct and one point for each dollar you spend making purchases from the Microsoft Store.
But when you go to level 2, more benefits become available. Your search window expands to 30 results, and you now obtain 10 points for each dollar spent at the Microsoft Store. Additionally, when you utilize credits from Microsoft brands, you can gain discounts of up to 10%. Level two members get exclusive invitations and early access to member-only sales and deals.
You must gather 500 points in Microsoft Rewards to advance to level two. To keep your status once you have attained this level, you must constantly earn 500 points each month. Being downgraded to a level one user if you drop below this cutoff.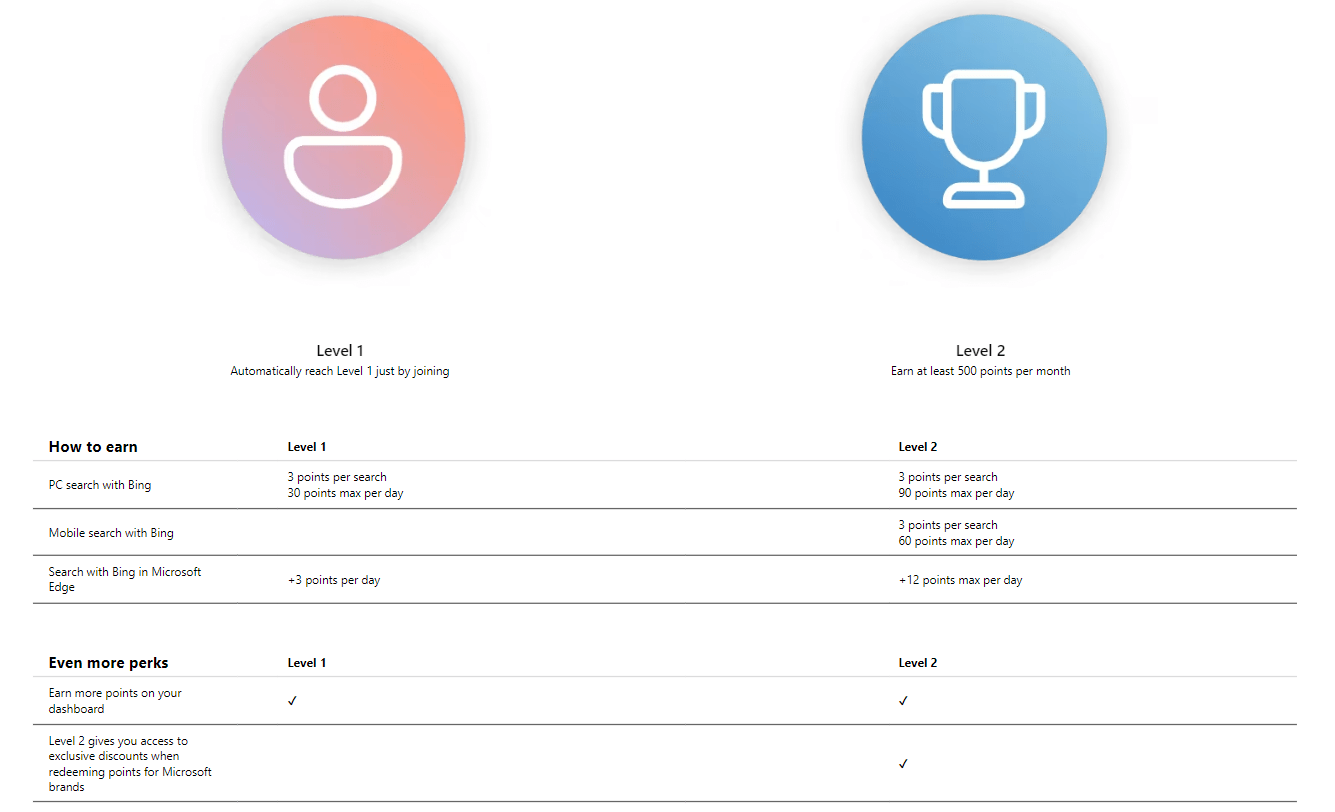 Frequently Asked Questions
How much do Microsoft reward points value?
Now that you have accumulated the Microsoft Reward points, you should be wondering how much these reward points value in comparison to real money. To be straightforward, it's not a huge sum. For Microsoft, it usually takes 5,000 points to redeem a $5 item.
To earn $1, you would need to have accumulated at least 1,000 points. However, earning reward points is relatively simple; as a result, even a user who starts slowly but consistently can accrue a maximum of 5,000 points at level two per month.
What are the maximum reward points you can earn in a month?
When you initially sign up for a Microsoft account, you are at level 1. You can only acquire a maximum of 1,000 points monthly at this initial level.
To progress to level 2, you must accumulate at least 500 monthly points. When you reach level 2, you can earn up to 5,000 points per month. It's crucial to bear in mind that you must invariably earn at least 500 points each month to maintain your level 2 status.
Additionally, level 2 has additional benefits. When you search on Bing.com, you can profit from earning up to five times as many points and get up to a 10% discount on a selection of Microsoft items.
What is the expiration limit for the Microsoft Reward points?
As long as you keep earning points, you are free to create as many as you choose. However, the points will expire, and your account balance will return to zero if you don't earn any for 18 months. To prevent you from losing these points, Microsoft will remind you multiple times before this 18-month period expires.
Conclusion
Microsoft Rewards is a great program that provides valuable benefits and savings. Consider this if you already utilize various Microsoft services and products. Even while Microsoft's Edge browser may not be everyone's preferred pick, new advancements make it worthwhile to try.
What is your take on the Microsoft Rewards Points? Do let us know in the comments section.
If you've any thoughts on How to Earn Microsoft Rewards Points?, then feel free to drop in below comment box. Also, please subscribe to our DigitBin YouTube channel for videos tutorials. Cheers!