Gmail and ProtonMail are two top business and personal email providers. Both these providers offer various features and comparatively cheap paid plans. Of course, Gmail is more popular than any other email provider, but somehow it lacks data privacy and security. On the other hand, ProtonMail uses its approach towards data security and privacy as its major selling point.
Both these email providers are highly recommended for business and personal use. Gmail can integrate with different applications that make it easy to attach and share different file formats and ProtonMail cannot. So, without any further ado, let's start our comparison between Gmail and ProtonMail.
Gmail vs ProtonMail Tabular Comparison
Below is the tabular feature chart of both these email providers if you don't prefer to go through the detailed comparison. However, if you still have doubts after going through the tabular comparison, it is recommended to go through the detailed one.
| | | |
| --- | --- | --- |
| Features | Gmail | ProtonMail |
| Storage | 15 GB | 500 MB |
| Interface | User-Friendly | User-Friendly |
| Pricing | $3 to $ 200-month | €5 to €30-month |
| Security | Transport Layer Security | End-to-end encryption |
| App Integration | Allowed | N/A |
Gmail vs ProtonMail: Storage
Every Google account offers 15 GB of free storage to every user. This storage is then shared across every Google integrated app, including Gmail. To increase your Google account's storage space, you need to buy one of Google's paid plans.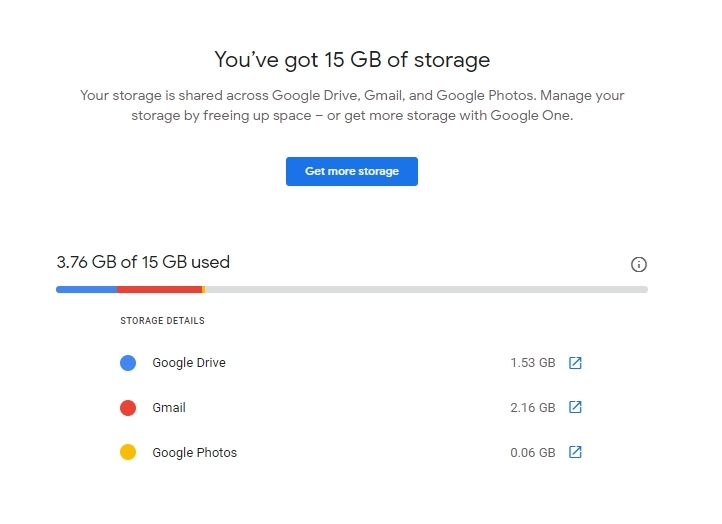 On the other hand, ProtonMail offers only 500 MB of free space. It's less, but probably enough if you keep deleting emails regularly and don't receive high-resolution images and videos. ProtonMail also keeps you updated about how much memory you have used, so you'll know when to start freeing up space.
Gmail vs. ProtonMail: User Interface
Gmail offers a simple and clean design inspired by Google's material design mantra. Even after adding features such as a focused mailbox and improved integration with Google Drive to share large attachments, it managed to keep its design simple. Gmail also offers custom domains for businesses.
ProtonMail's interface is also like Gmail. Its main features are end-to-end encryption that maintains the confidentiality of your data. With this level of security, not even ProtonMail can access your data. Custom domains are also supported, and you can use short email domains.
Gmail vs ProtonMail: Performance
Both Gmail and ProtonMail offer apps for Android and iOS, and you can also use the web version on your preferred browser. Both these apps don't have an official desktop app, but using some workarounds, you can use them directly on your desktop.
As mentioned before, ProtonMail's main selling point is end-to-end data encryption. This feature makes the search choice limited in ProtonMail. On the other hand, Gmail allows you to search for old emails effortlessly. If searching for an email is something you need, Gmail is your go-to choice.
Gmail vs. ProtonMail: Pricing
The only way to increase Gmail's storage is by buying a Google One plan. For all free accounts, extra storage plans start at 100 GB. There are a total of three plans offered by Google to increase your storage, namely basic, standard, and premium, with 100 GB, 200 GB, and 2 TB, respectively. Do keep in mind that the paid version of Gmail is a part of Google's GSuite, which includes other Google Apps.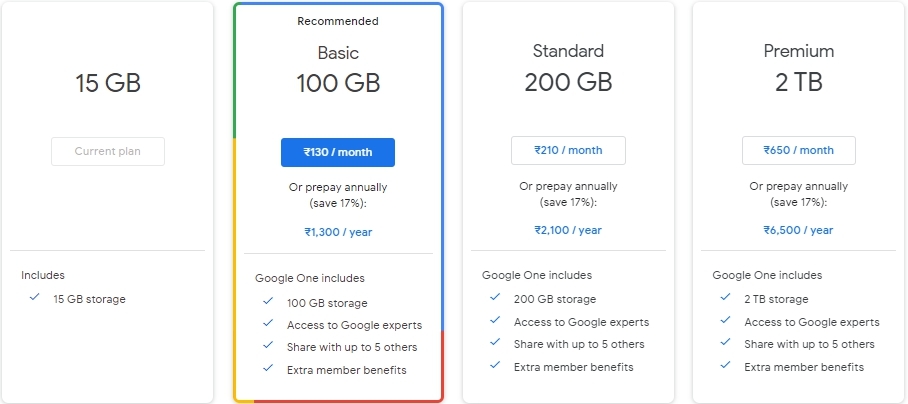 Whereas ProtonMail's paid plans are very expensive and provide less storage, they range from €48 to €288 yearly. The cheapest plan offers 5 GB of storage, 5 email addresses, 1000 messages per day, 200 folders, a custom domain with smart filters, and an autoresponder support. Although the free plan won't limit the number of emails you receive per day, you will need to buy a paid plan if the features of the free plan aren't enough for you.
As we can see, both Gmail and ProtonMail are equally good in certain aspects. It's up to you which suits your needs the most. Do let us know which of these two you will be using in the comments section.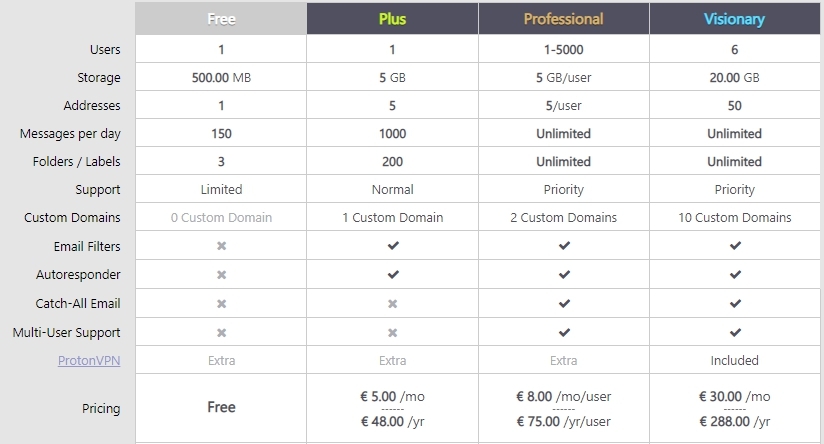 Gmail vs ProtonMail: App Integrations
Gmail can easily integrate with all Google apps including drive, docs, sheets, news, photos, and many more. To use these apps, you will need to click on the Google Apps sign present in the top right corner in Gmail. You can use these apps without externally signing up or logging in.
On the other hand, ProtonMail doesn't offer any app integrations as its system is heavily encrypted. Heavily encrypted systems face a downside when it comes to app integrations
Frequently Asked Questions (F.A.Q)
1. Which one should I use: ProtonMail or Gmail?
Both platforms, ProtonMail, and Gmail have almost similar features. But ProtonMail offers end-to-end encryption that makes sending and receiving emails through it more secure. If you are someone who prefers security, ProtonMail should be your go-to choice.
2. Can ProtonMail be used with Gmail?
Yes, you can seamlessly move emails, attachments, calendars, and contacts from your Gmail account to ProtonMail.
3. Is switching to ProtonMail worth it?
ProtonMail is one of the best email alternatives currently available on the market. Although its plans are a bit pricey, they are more secure than any other email service. The end-to-end encryption offered by ProtonMail is so effective that even ProtonMail can't access your data.
4. Is Gmail end-to-end encrypted?
No, Gmail is end-to-end encrypted as it uses TLS (Transport Layer Security), using which only the sender and the receiver can read the contents of the email.
If you've any thoughts on Gmail vs. ProtonMail: A Detailed Comparison Guide, then feel free to drop in below comment box. Also, please subscribe to our DigitBin YouTube channel for videos tutorials. Cheers!