ChatPT's brilliance is already on its own level. As of today, it can easily give you general information on a lot of things to begin with. Despite lacking connection to the internet, it carries a massive dataset where you can almost find any sort of content at least up to 2021. However, there are still some sections where ChatGPT might simply suck when it comes to delivering the desired answer. For instance, consider performing some math calculations or generating programs in different languages; ChatGPT consistently provides you with something else rather than what you were looking for. But thanks to ChatGPT plugins, now you can get a far better experience with your prompts.
Plugins are nothing but third-party add-ons that focuses on improving the overall capabilities of the chatbot. Unlike ChatGPT, these plugins dedicate to a single section to ensure providing the best results within its range. But being at its early stage, most of the users aren't really aware of what ChatGPT plugins are and how to install them. So, if you wish to know more and improve your conversations with the chatbot, this article is for you. Here, we will look at everything you need to know about ChatGPT plugins.
What are ChatGPT Plugins?
ChatGPT plugins are the add-ons that we can include with ChatGPT's chatbot to enhance its capabilities. The good thing about plugins is that they come up with dedicated functionalities. Hence, by adding them to our ChatGPT, we can add more functionalities to it as well as improve its performance too.
Only a few plugins are developed by the OpenAI team, whereas most of them are provided by third parties. Currently, there are around 80 ChatGPT plugins available. These plugins help you not only in solving complex mathematical and programming problems but also connect to the internet and access real-time data, helping you with your travel planning, flight/ hotel booking, etc.
Steps to Install ChatGPT Plugins
Installing these GPT plugins are quite easy. ChatGPT offers a separate ChatGPT plugins store where you could find and install all the plugins in a few clicks. However, this whole process has some other requirements that you need to fulfill in order to install and use them.
Although using these plugins costs you no charge, you cannot access them with a free ChatGPT account. So, if you really wish to keep using ChatGPT and have access to these plugins, you need to upgrade to ChtGPT Plus. Here is how you can upgrade your ChatGPT account:
Step 1: Upgrading to ChatGPT Plus
Firstly, go to "chat.openai.com".
Now, on the left panel, scroll to the bottom and click on "Upgrade to Plus".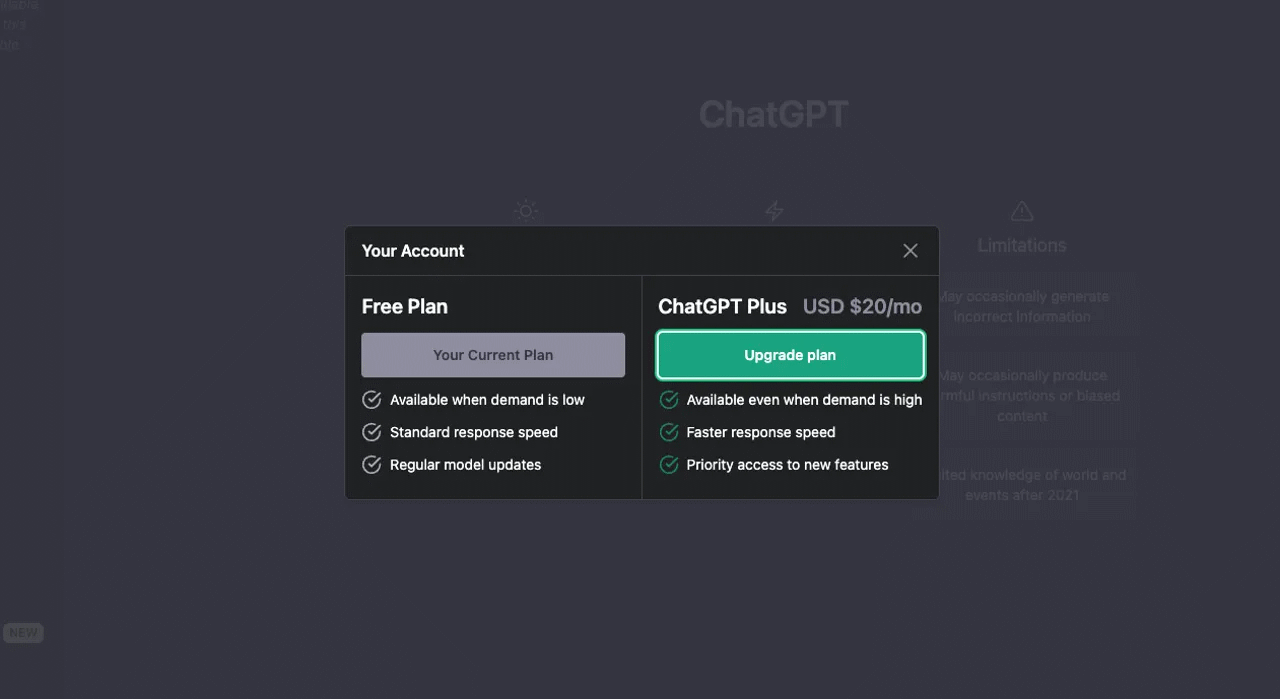 Click on the Upgrade Plan button.
Next, enter your card details and follow the next instructions to purchase the plan.
Once you have upgraded to ChatGPT Plus, it is time to enable ChatGPT plugins and access and use them for a better experience. Since it is your first time, you need to turn on the plugins option before accessing them from the ChatGPT plugins store.
Step 2: Turn on ChatGPT Plugins
Click on your profile in the bottom right corner.
Now, go to Settings and select Beta Features.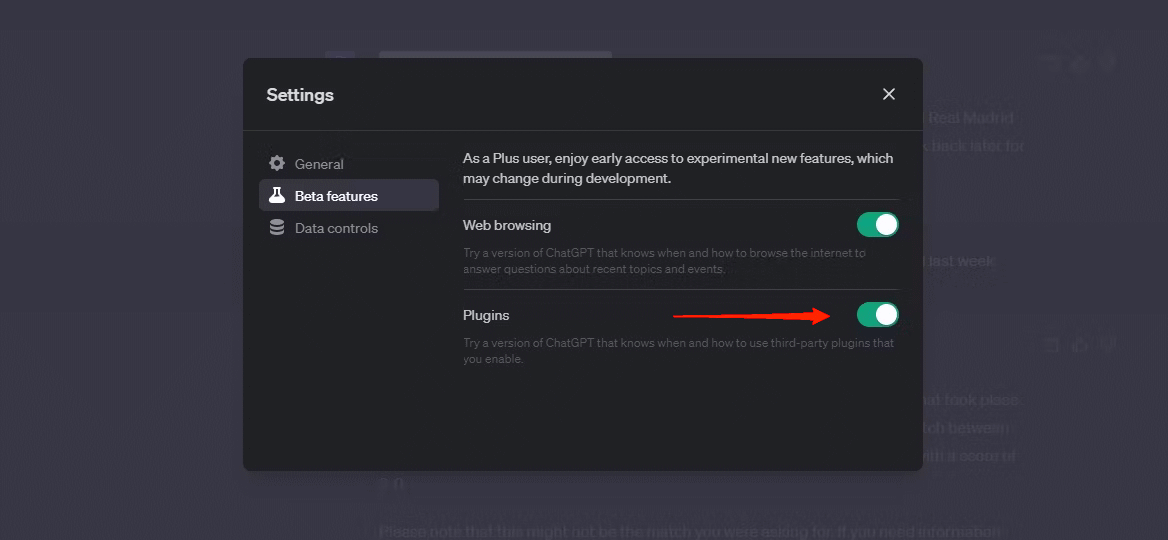 Simply click on the Plugins toggle to enable the option.
Next, you will see an "About Plugins" prompt. Click OK to accept the terms and conditions.
Go to create a new prompt, click on GPT-4, and finally, click on the Plugins [Beta] option.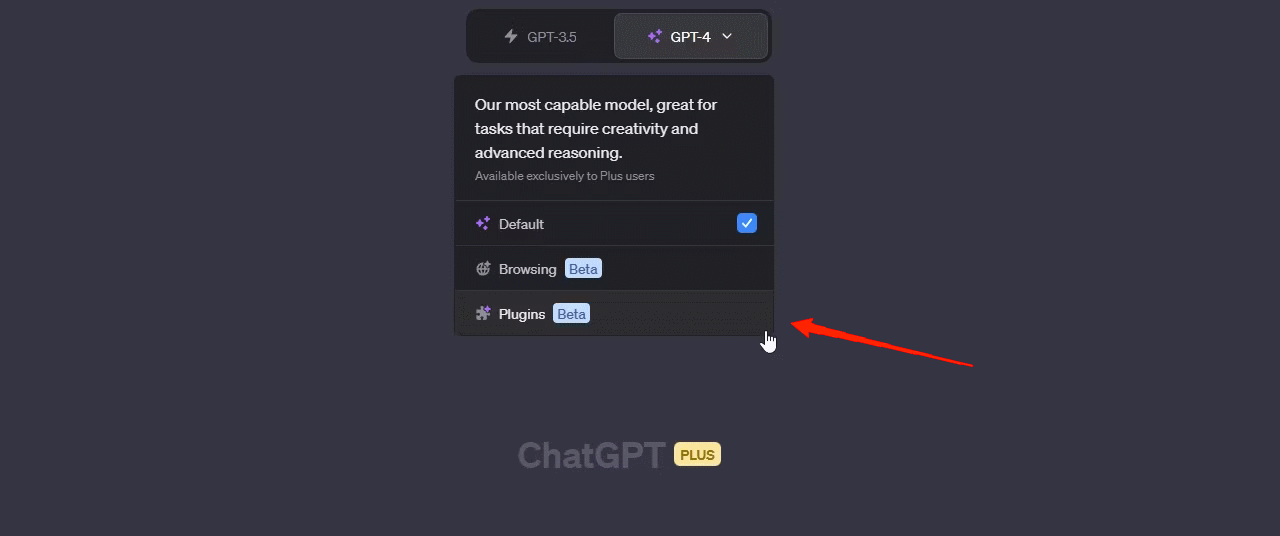 Well, that is it. You have successfully enabled ChatGPT plugins on your account. Now comes the part where you need to access and install the ChatGPT plugins on your machine.
Step 3: Installing ChatGPT Plugins
Once you have turned on the ChatGPT plugins option, you now have the luxury to install the various available plugins and experience the full potential of the chatbot. However, the steps to install ChatGPT plugins are as follows:
Visit chat.openai.com.
Now, select the model you wish to use.

You will now see a "Plugins" option on the top menu. Simply click on it, and it will redirect you to the ChatGPT plugins store.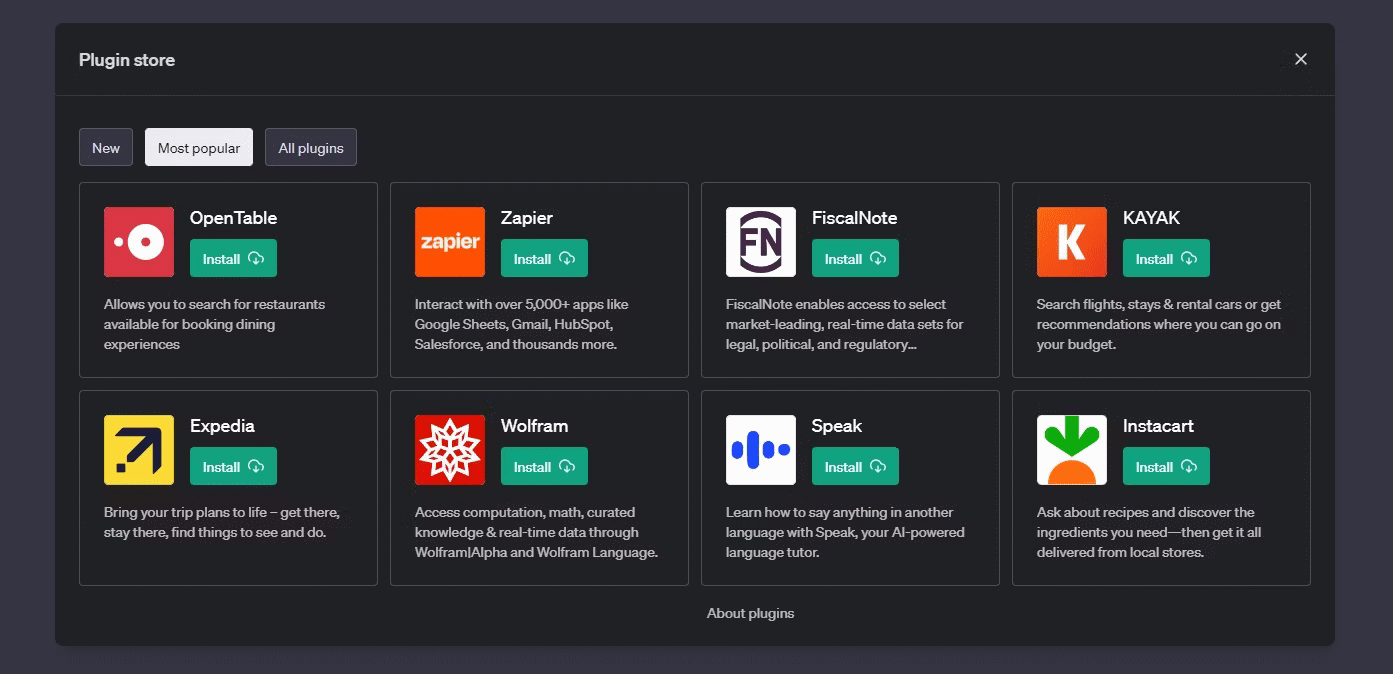 Finally, you can choose your preferred plugins and install them for a better experience.
Well, that sure sounds interesting and is also a completely new experience to begin with. However, ChatGPT again provides certain restrictions to the plugin's usage. You can only install 3 plugins at a time and not more than that. So, make sure not to install anything unnecessary and choose the plugins wisely based on your requirements.
Are these ChatGPT Plugins Safe & Worth it?
Plugins are known to add extra functionalities and enhance the overall user experience. Similarly, ChatGPT plugins also focus on delivering the same. But since it is just the beginning period, not all plugins can provide a promising service. No doubt, some of the plugins, such as Wolfram and Expedia, offer incredible enhancements that we can feel while using ChatGPT. But there are also a few plugins that are simply good for nothing.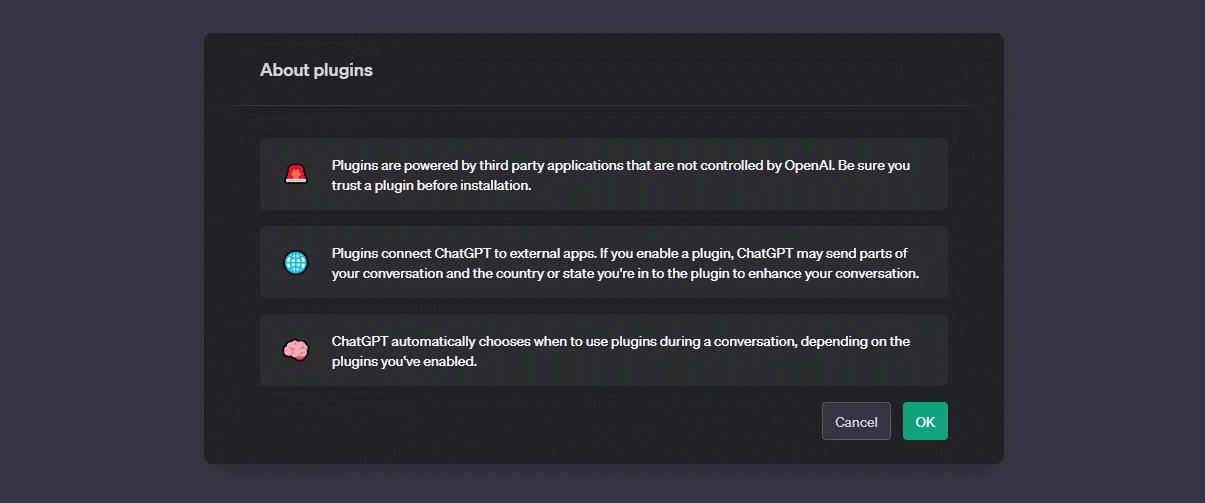 However, we could not deny the fact that with enough time, even these plugins will also improve their functionality and their value in the market. Moreover, AI being our future, we can hope for much better improvements in this sector in the near future.
Final Words
Undoubtedly, plugins like this will help us find more accurate results. Moreover, they also extend ChatGPT's functionalities providing the chatbot with more power. However, as they are not free to access, make sure to do a thorough study of most of these plugins. As mentioned above, not all the plugins serve a promising service, you do not want to waste your money on something useless. Therefore, go through them once and pick up those you really need and filter out the best of them. Lastly, if you think this article was helpful, do let us know your comments and whether you would like to try out these ChatGPT plugins.
If you've any thoughts on How to Install and Use ChatGPT Plugins?, then feel free to drop in below comment box. Also, please subscribe to our DigitBin YouTube channel for videos tutorials. Cheers!