With many high-quality streaming services available today, we can watch almost any of our favorite web series with a click. Most movies, especially web series, are published on these OTT platforms shortly after their release. However,  as they are all paid services, you need to spend quite a handful of an amount to access such content. And that is where third-party websites come into the role. Today hundreds of websites offer you to stream your favorite web series for free. These websites generally earn their revenues from ads while asking nothing literally from their audience to watch premium content on the platform.
Searching for such websites on the internet will give you a long list o them. But the problem is that not all websites can deliver you a satisfactory user experience. You will notice some websites keep redirecting you from one page to another without allowing you to stream anything. Others will give you a very unpleasant user experience or pop-up too many ads on the screen. Hence, coming up with a stable and organized website needs a sheer amount of luck. But worry not, as we have got you covered. Below we have shared a list of the best websites that lets you watch your favorite web series completely free of cost.
Best Free TV Series Streaming Sites Online
The following list contains genuine websites that allow you to watch web series for free. These websites promise a great user experience and show fewer ads while streaming. However, remember that these websites sometimes show malicious messages and ads, and some even inject infected software into your system and steal sensitive information. Therefore, to avoid such risks, use countermeasures like using a reliable VPN to keep your network safe. With that said, let us get started with the best websites to watch web series for free.
1. MKVKing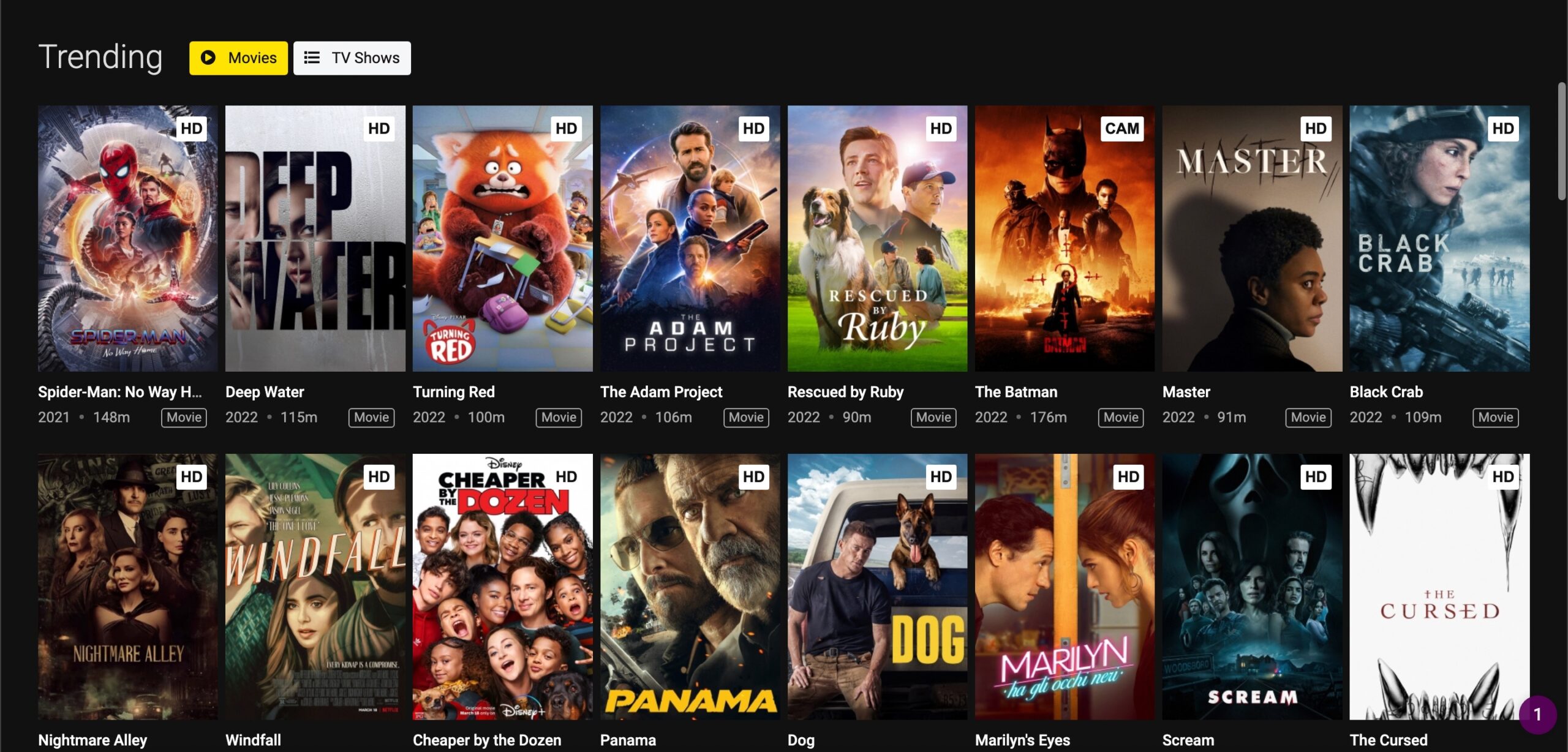 MKVMovies website is a free online movie, TV shows, and Web series streaming and download site. The website offers titles from the latest movies in HD quality. You are also provided with the download link at the bottom of the video, from where you are directed to the 3rd party website; here, you are given 2-3 direct download links to download your favorite movies or TV shows.
MKVMovies has a clean interface and works smoothly without any issues. If you are looking to watch movies on the go or download the content to watch later. The website also does not have pop-up ads; therefore, an ad blocker can help remove intrusive ads.
2. WatchSeries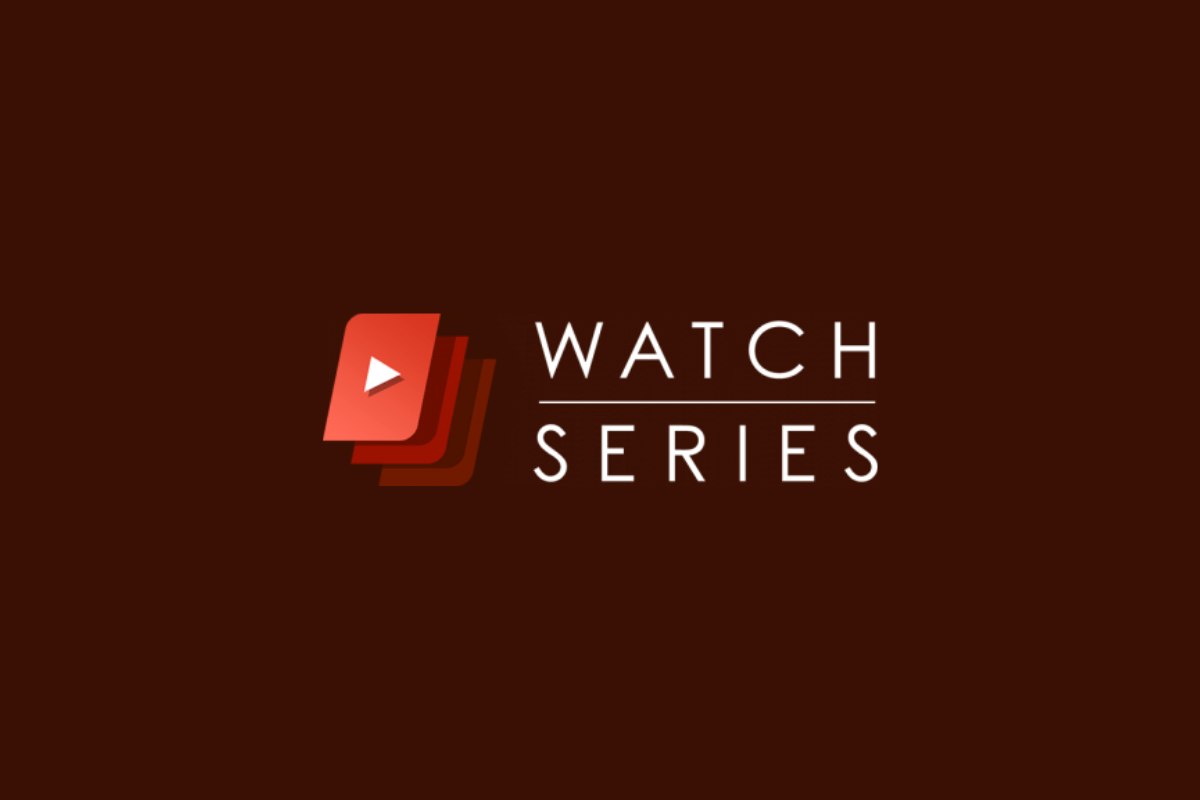 WatchSeries is a free streaming service that offers movies and TV shows to watch online. The site does not host the content on its platform but embeds video from 3rd party video hosting providers like Streamtape, VidStream, Filemoon, MyCloud, and more. The service obviously is not a legitimate source to stream, but due to its free nature, it is a go-to site for freeloaders to stream HD content on their mobile or desktop browser.
The service works by injecting ads that may be intrusive for users, but movie fanatics won't mind clicking away a few pop-up ads to watch free content online. As I said above, the content is hosted on 3rd party host providers, and links are embedded on the site.
3. SolarMovie
SolarMovies is another similar site that lets you watch movies and TV shows for free in HD by means of torrents and pirated stuff. SolarMovies hosts a number of shows from the UK, USA, and all across the globe. The content may take some time to load, but you can enjoy an uncluttered watch experience once it starts.
The service, along with programs, also offers all the content from on-demand services Amazon, Hulu, Netflix, etc. The site has a very clean interface with quick navigation and a simple UI. You can enjoy Web series and TV shows from popular OTT networks.
4. AZMovies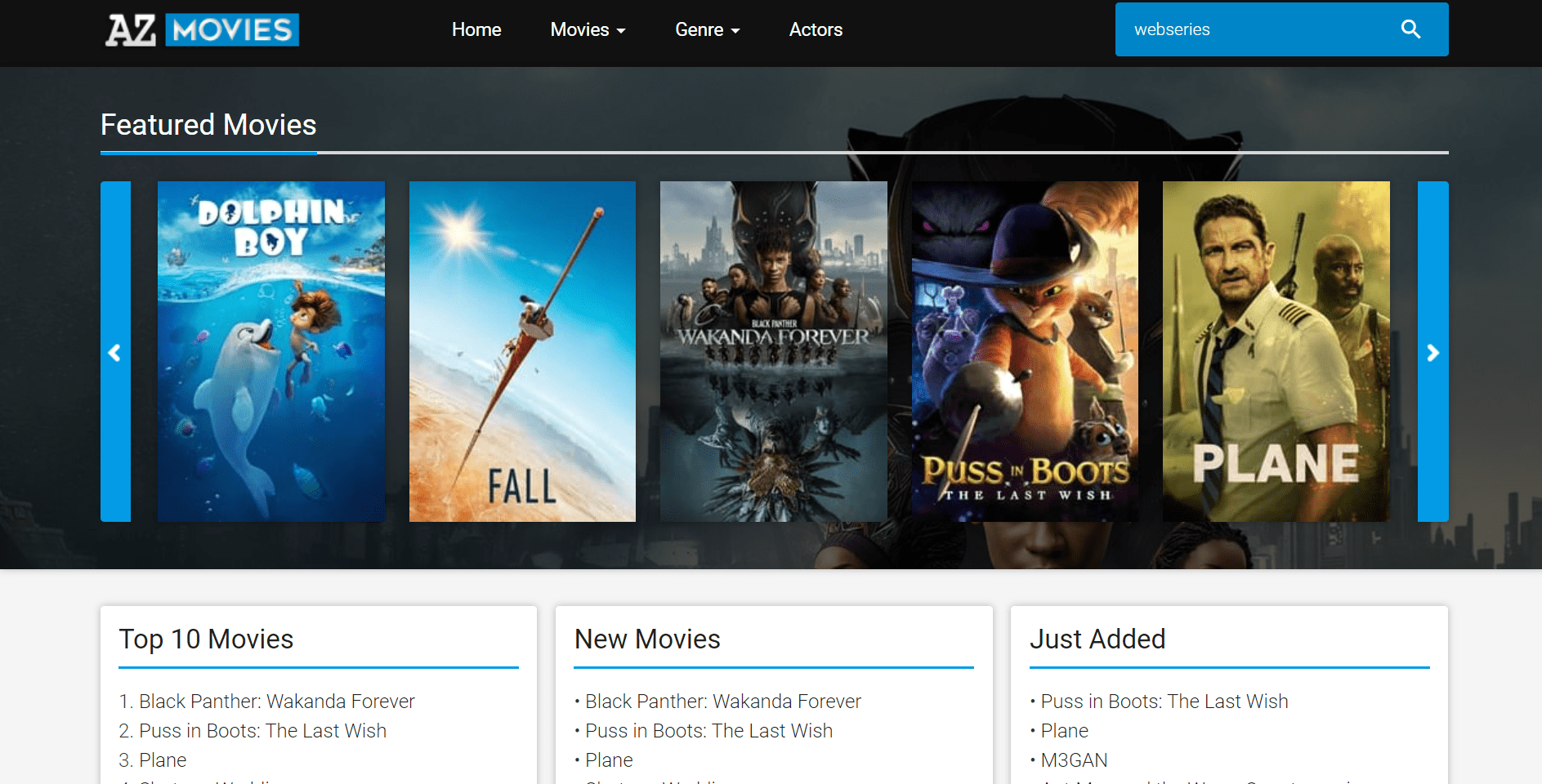 AZMovies is an elegant and well-organized website that lists even the latest releases as well. This website features a minimalistic design that is easy to navigate and search for. On the top, you will see a navigation bar with a search bar and a few categories. Below the navbar, it holds a separate section for Featured Movies.
Next, it displays the list of the Top 10 Movies, New Movies, and Just Added content. Likewise, you can keep scrolling to see the movie options along with their thumbnail. The database is quite bigger, giving you a lot of options to choose from. However, note that it only features movies and no web series.
5. YesMovies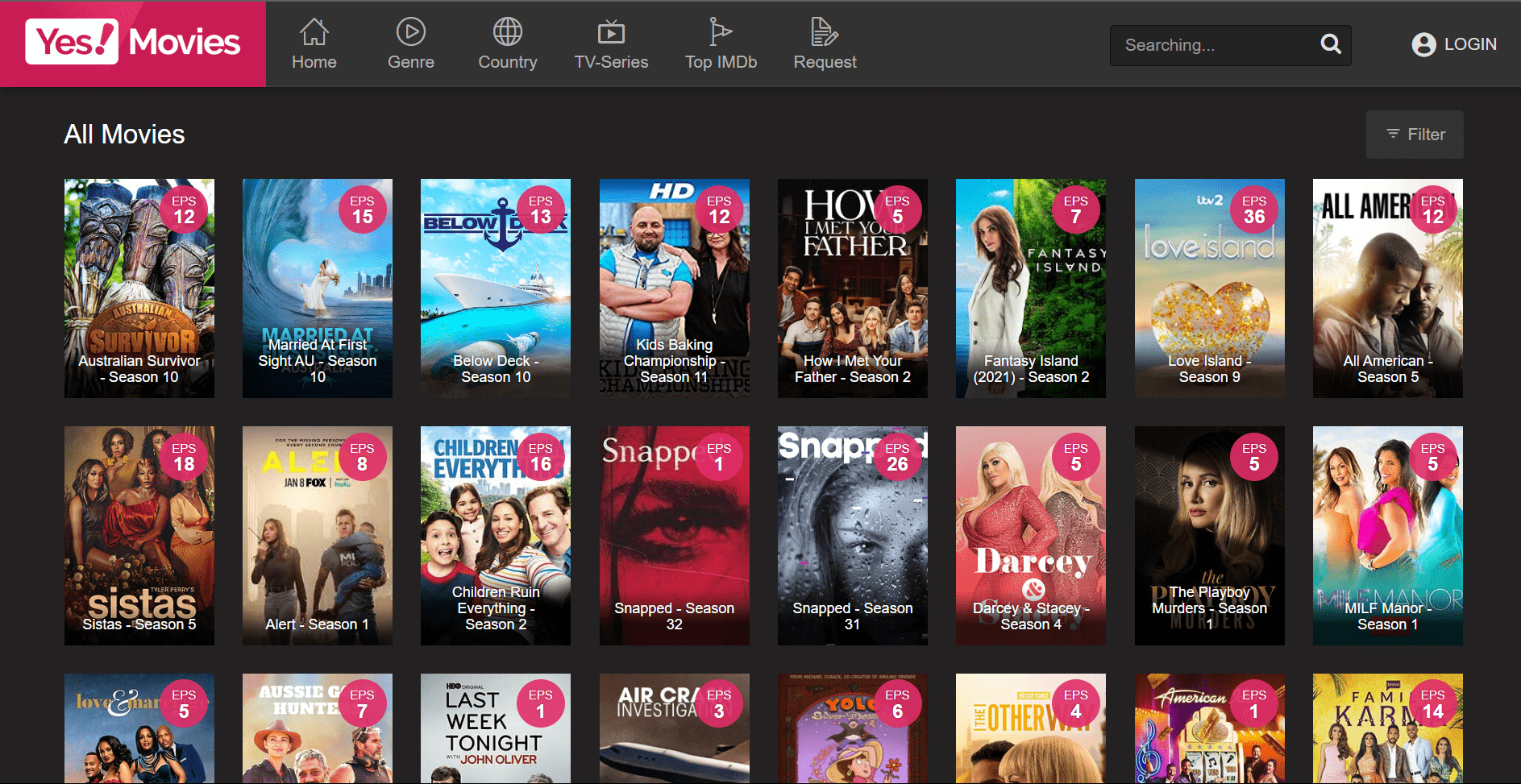 Coming to another media-rich website, Yesmovies has everything you will ever want to watch. With a bunch of movies, TV Series, and more, it almost seems like a never-ending collection. The best thing about this website is that it is highly organized and provides easy access to all essential information. You can directly search for your content on their search bar or search through different genres, countries, or top IMDB.
Moreover, if you hover over the thumbnails, it shows you other information like IMDB rating, description, Genre, country, etc. Once you click on the thumbnail, it displays more information about the content, recent episodes, and a play button. Below it suggests similar content that might interest you. And as you click on the play button, it will start playing the video on their video player. You can further select the episode number and keep streaming whatever you want. Although a few ads are expected, it would still provide you with a great streaming experience overall.
6. PutLocker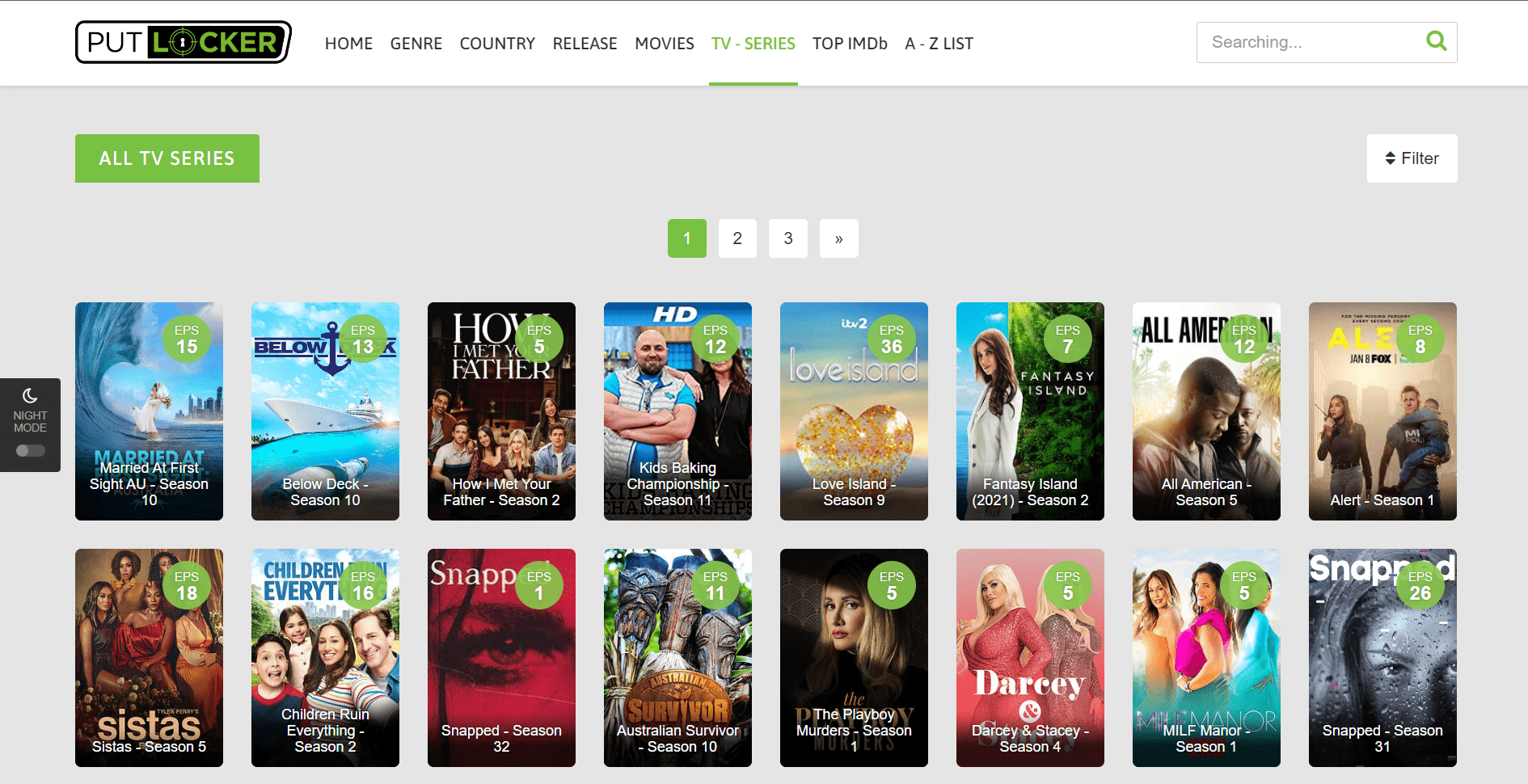 Next, we have Putlocker, an extremely simple yet rich media platform. PutLocker undoubtedly contains many TV series, movies, cartoons, and so much more. Fortunately, the website has been existing for quite a long time now. Hence, you can trust this source and carry on binge-watching your favorite web series whenever you want.
The website's home page looks very simple, with a big search bar in the middle and a long description of the website. All you need to do is search for the web series you want to watch or click on the categories on the navbar. Select any movie or series and start streaming with one click. Moreover, the website is available in both light and dark modes, so you can choose the one that fits your user experience.
7. Tubi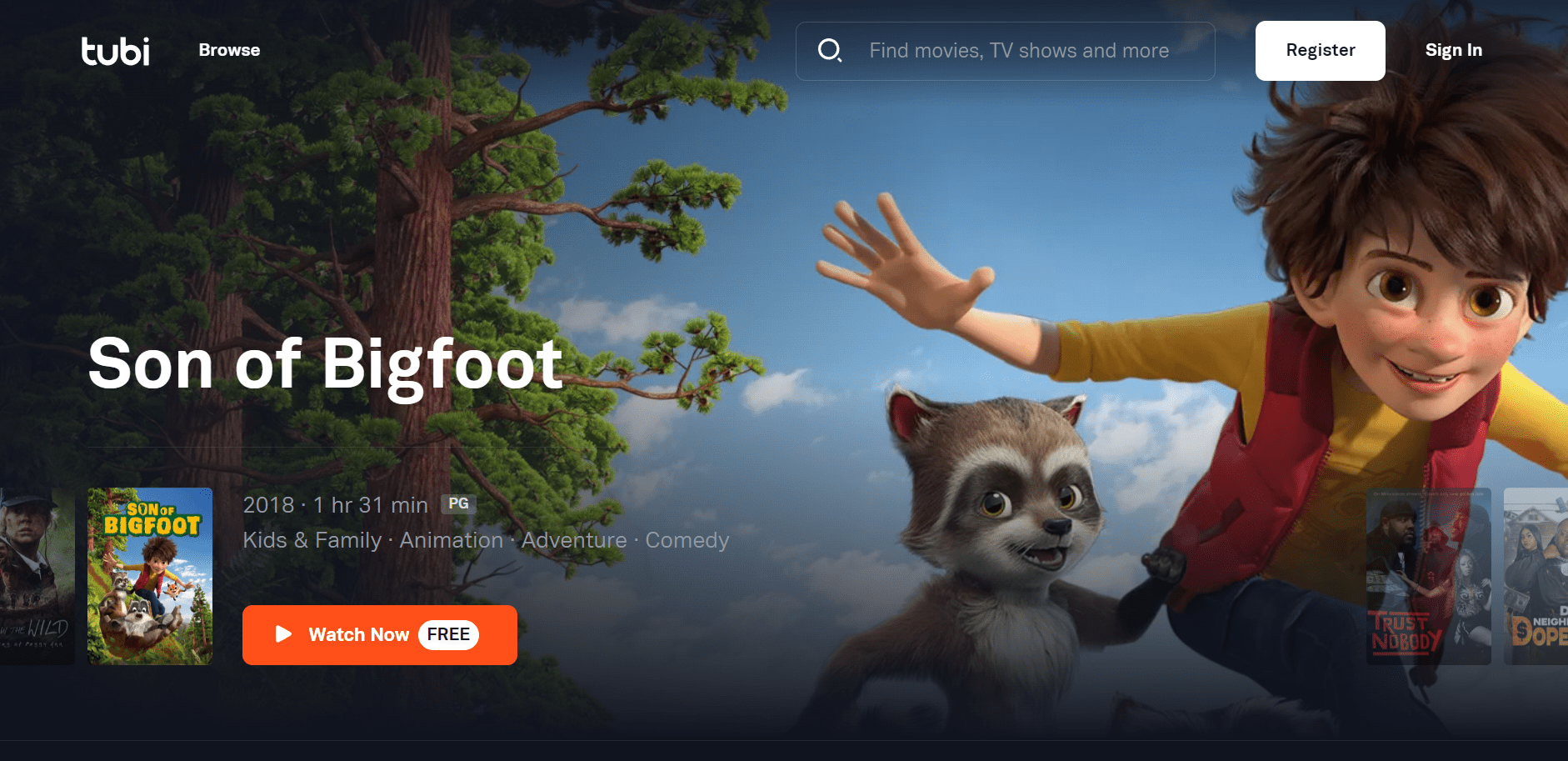 Tubi is another legal and free video streaming service. They generally get the content from their partners like Paramount, MGM, Lionsgate, etc. Further, they include ads on their website to monetize the service and keep things clean and legal. Talking about their service, Tubi offers top-notch high-quality streaming to its users. Moreover, it is also available on Android, iOS, Roku TV, Amazon FireTV, and more authentic service providers.
With lesser ads and quality streaming, you will find Roku as one of the best free streaming services. However, talking about their collection, Tubi somewhat falls short compared to other platforms. Yet you will find some of the classic and iconic movies and web series of all time on this platform.
8. 5Movies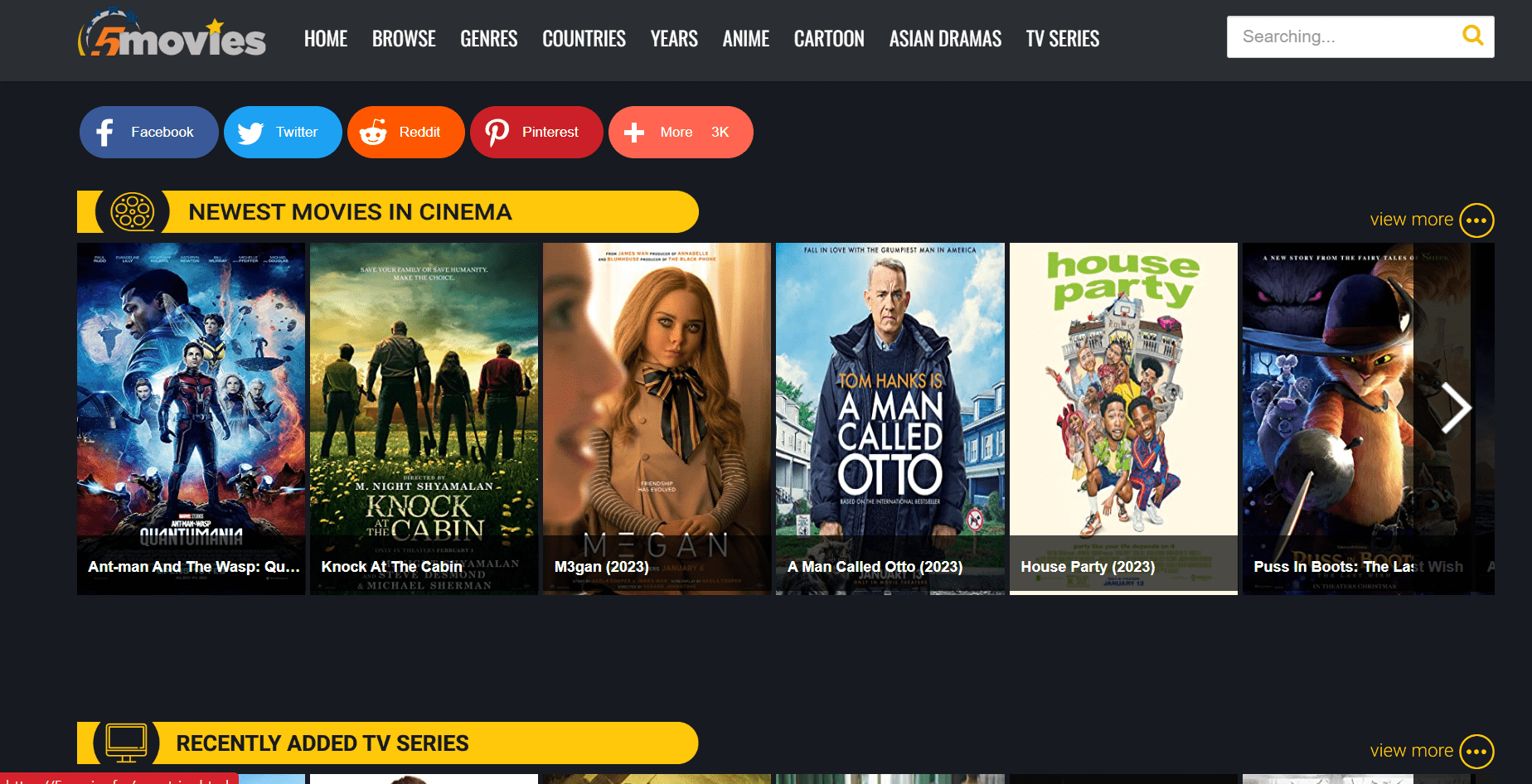 5movies is your one-stop platform, as it offers you almost everything you can ask for. It has a collection for everything from movies, TV series, dramas, cartoons, and even anime. Recently Asian dramas have earned popularity due to their unique concepts and way of expressing things in a friendly manner. And if you are one who has a deep craze for anime, you can watch all of that on this platform for free.
Moreover, the organized looks and interactiveness of the website are other factors that will keep you engaged for a long. I personally like the style of the cursor on this website. You can even come across recently released movies and web series as well. Besides, 5movies keeps things very simple. All you need to do is click on the thumbnail of the content that you want to watch. It then takes you to the following page, where you can directly play the videos and watch them online. However, a few ads and pop-ups are expected, and they might even be frustrating sometimes. But you need to ignore that for what you get in return.
9. PeacockTV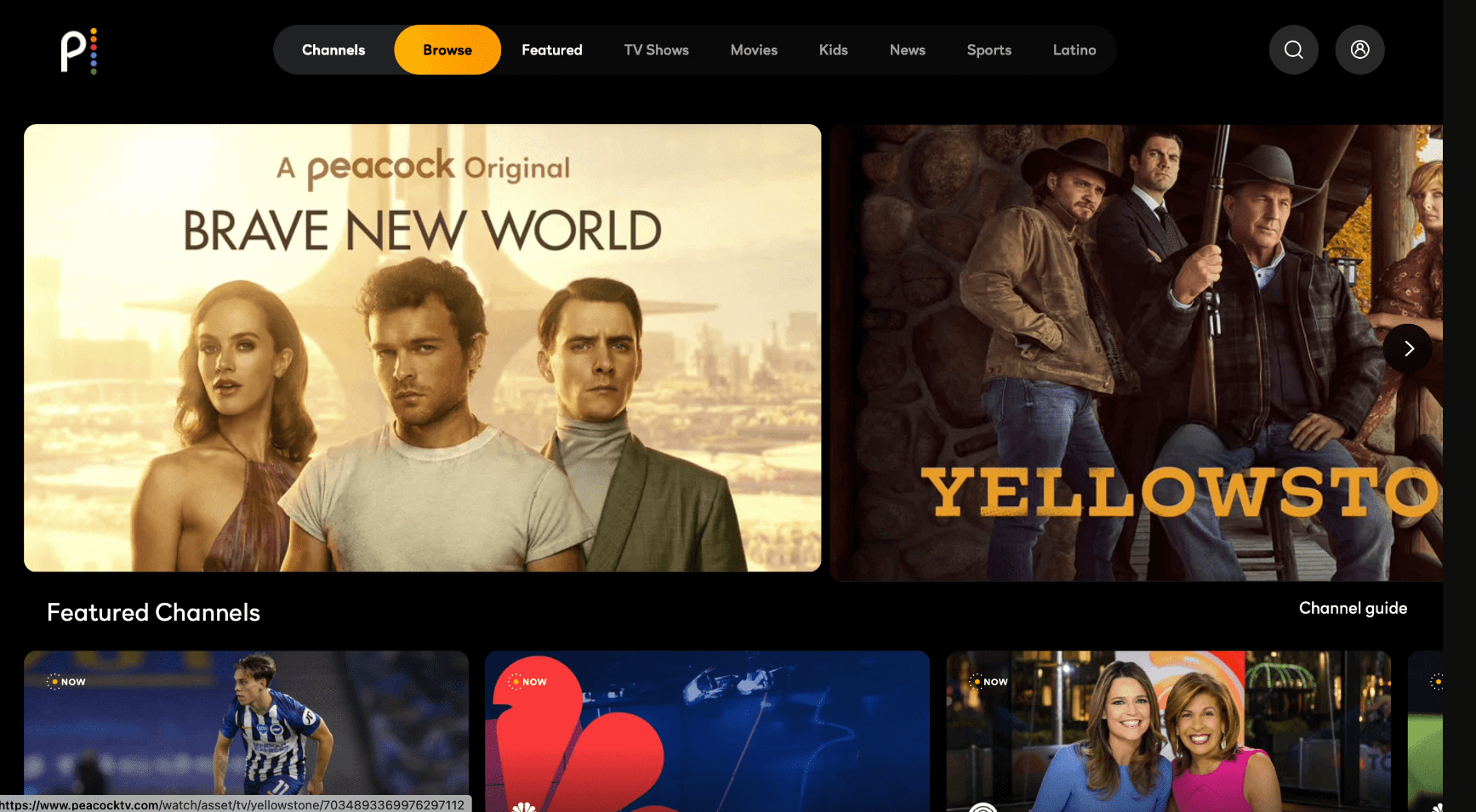 PeacockTV is a relatively new streaming service that has set its foot in the game. Although until now, the platform is available to a few regions, including UK, Ireland, Austria, Germany, Switzerland, and Italy. Peacock is spreading its wings worldwide at a rapid pace.
The platform has a spotless and intuitive interface that gives you an experience similar to a paid streaming service for free. Moreover, it has a great collection of movies, web series, dramas, and more. In fact, it has a perfect blend of both new and old collections that makes its database so rich. You can watch the latest content in full HD without much interruption.
10. Vudu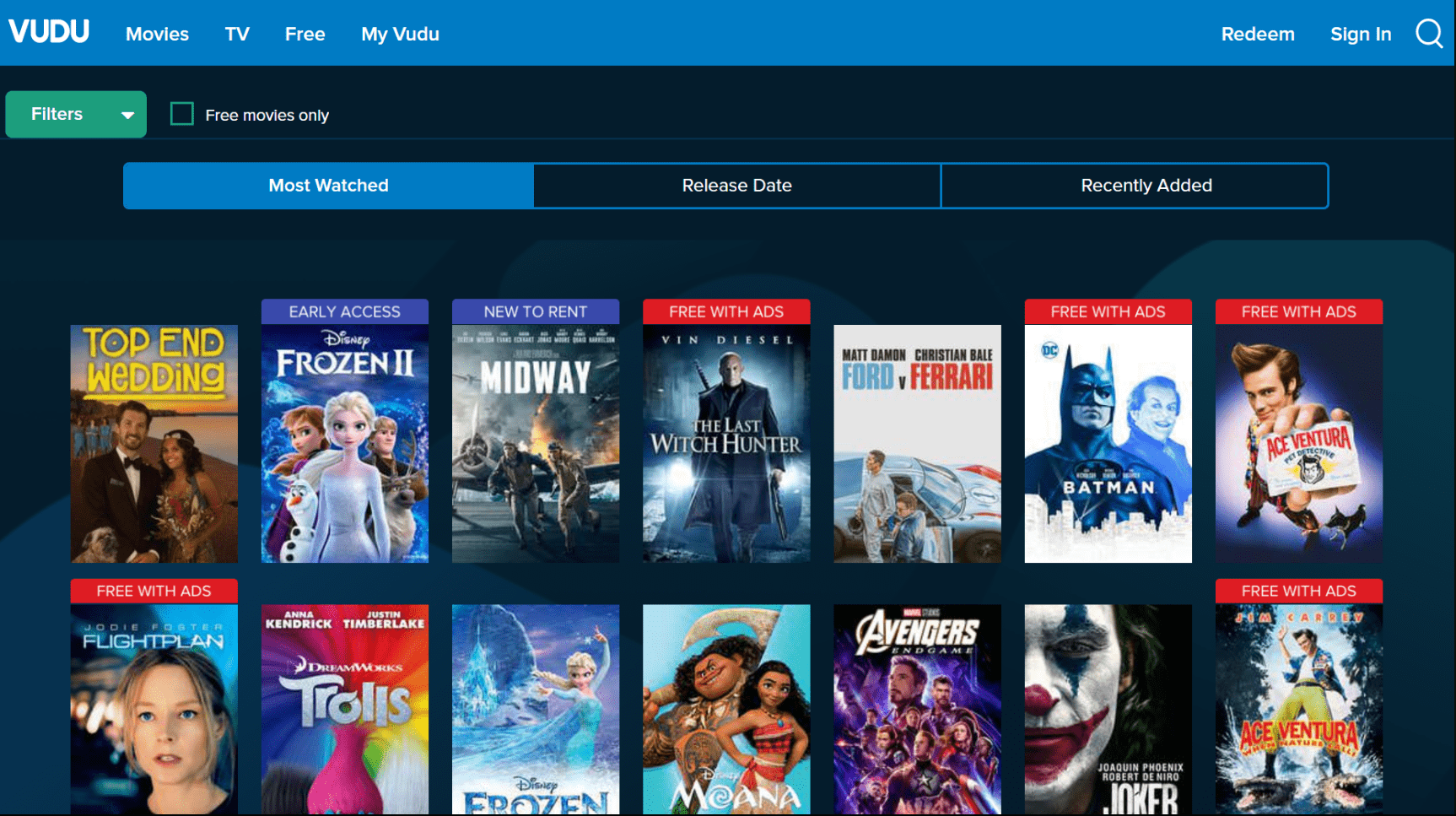 Next is Vudu, another intuitive platform that offers you easy access and a clean streaming experience. This minimalistic website has a huge collection of content. The rich collection of the latest movies and TV series is what makes Vudu an idle choice for binge-watching. It is not completely a free streaming platform but it makes sure that it has enough to offer you. It offers rental services on the content, premium services, and free content as well.
The best part is you don't have to click on every single thumbnail to see whether it is available for free or not. Vudu clearly mentions on top of every thumbnail which content is available for rent and which one is free or premium. In fact, there is a separate section named "Free movies only. Likewise, you can also look for your favorite web series and watch them for free if available.
11. Yidio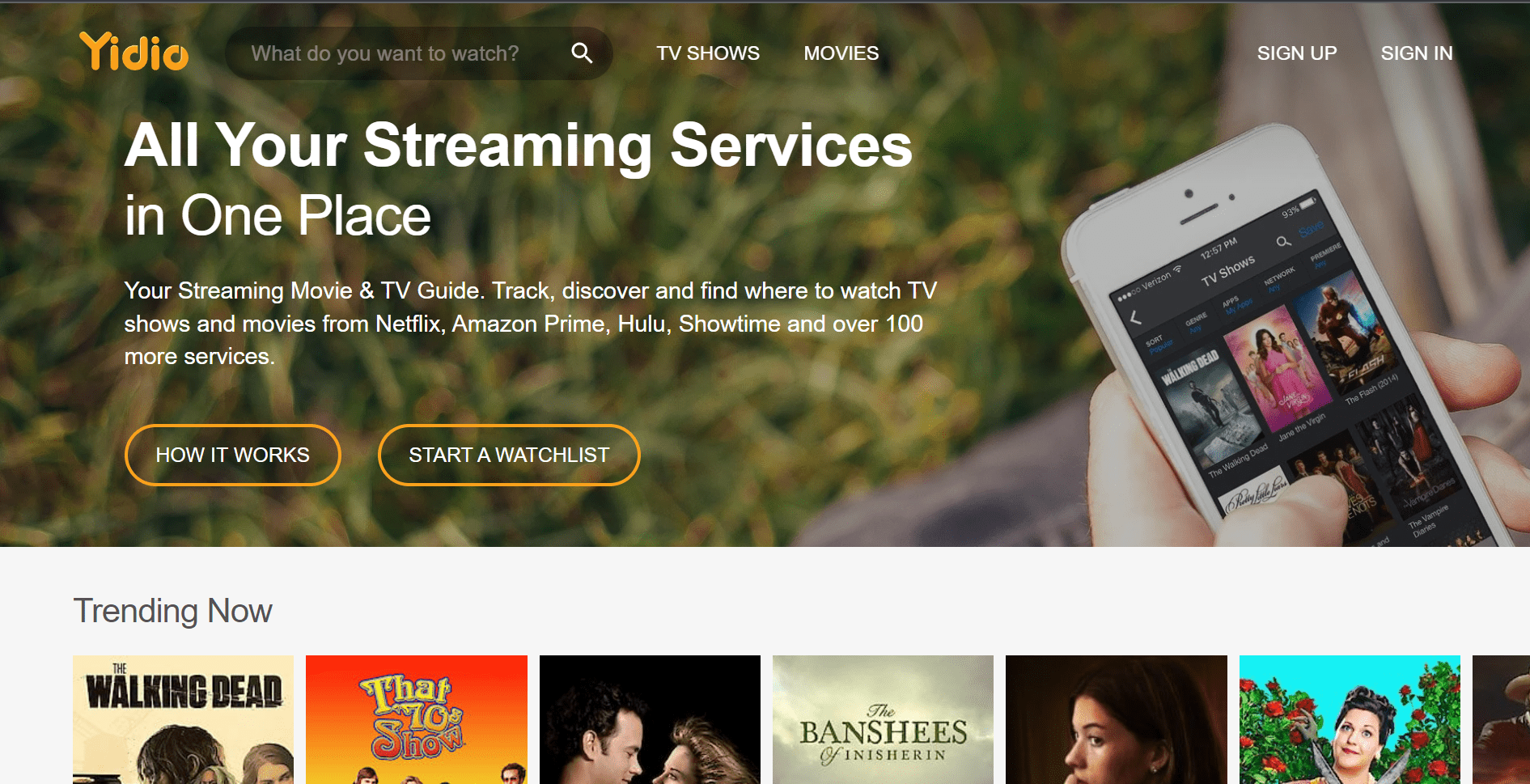 Coming to our next pick, Yidio is yet another star-packed free streaming website filled with rich content. In fact, they have a lot to offer you. This website has a very plain look with a navbar containing a few essential options. It even allows you to log in to the site and create your own watchlist.
Besides, all the contents are stored in a well-organized manner. You will even find some helpful categories to continue watching web series like Just Aired, TV Schedule for Day, etc. Additionally, Yidio also offers free 24/ 7 News, Stand-Up TV, and Anime streaming services as well. You can also refer to their streaming services guide to find more help to enhance your streaming experience further.
12. Plex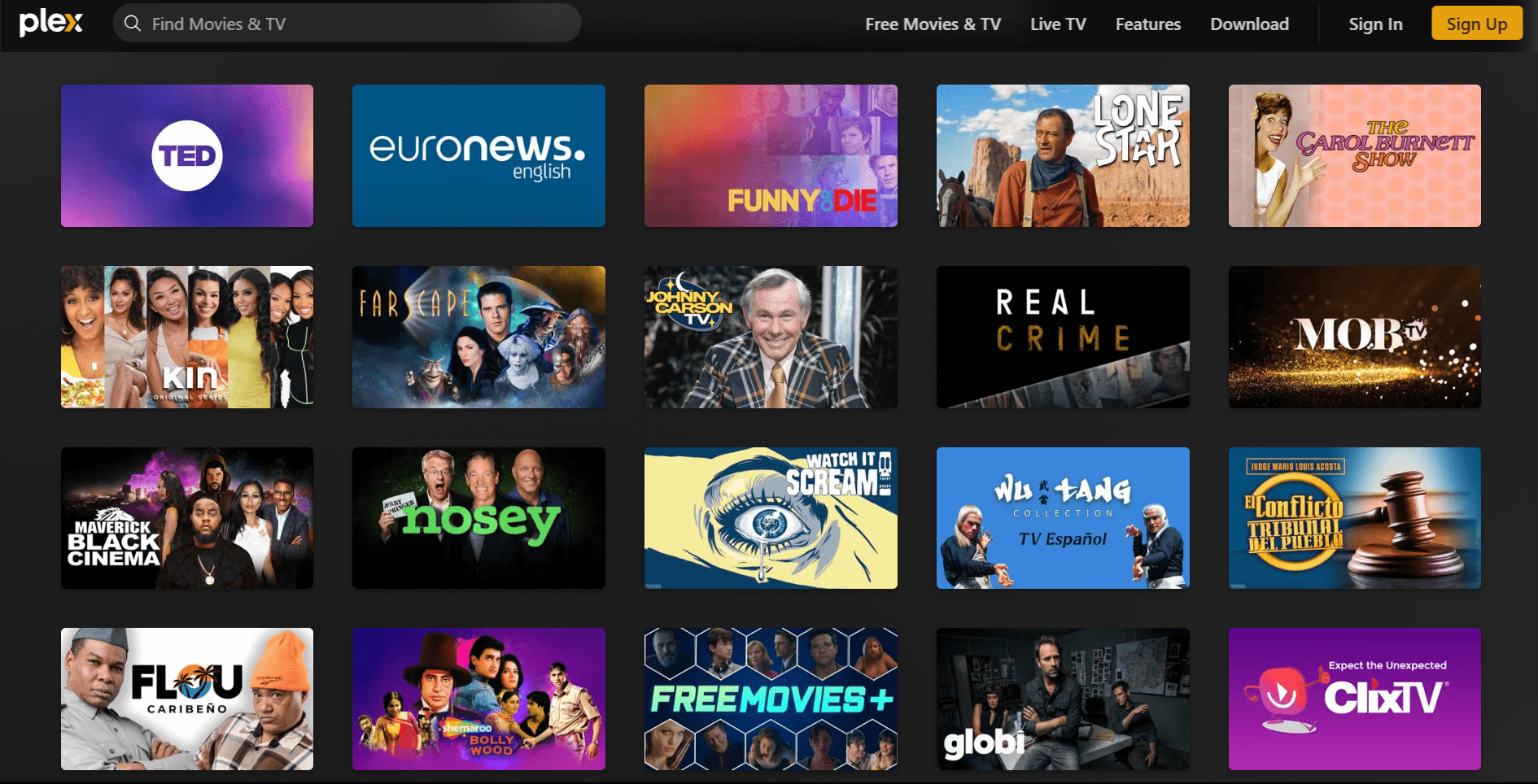 And last but not least, Plex is a free streaming website with a variety to offer. It has a vast collection of content from every field. Talk about shows like Ted Talks, Euronews, and so on, Plex has all of it. In fact, you can select from a wide range of movies, TV series, news, Sports, Reality shows, and a lot more.
This modern-looking website not only offers you a refined user experience while navigating through the platform but also offers an excellent streaming experience as well. They have no subscription plans but include ads to monetize their content and earn revenue. To improve this experience, you can further sign up for their service and create your own personal media to store your favorite shows for later.
13. PopcornFlix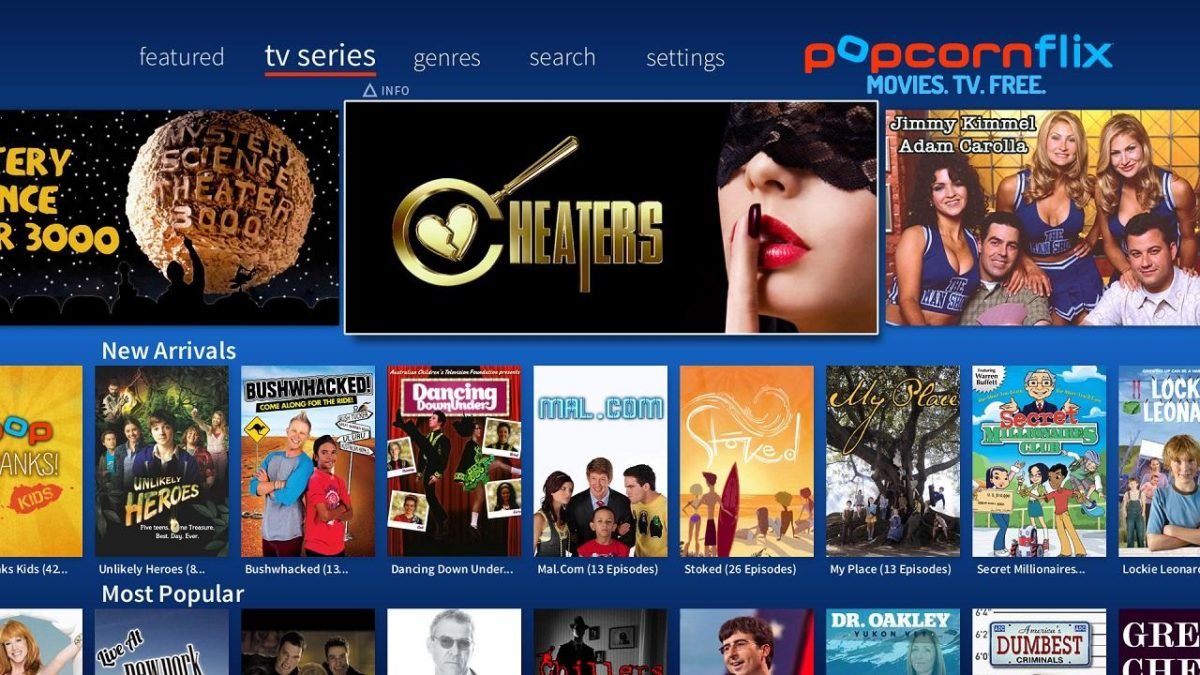 PopcornFlix is surely one of the best places to fulfill your hunger for free movies and web series streaming. The website has a tremendously huge database with a giant collection of movies, web series, documentaries, and more. And if you are more into web series, you still got a bunch of categories to choose from.
The website has a colorful and easy-to-use interface. You can easily navigate its collection, search for your favorite show, and start watching. More importantly, PopcornFlix is one of my personal favorites, as it doesn't keep redirecting me to different pages. Just search for your content and start watching it; it's that simple.
Final Words
Simply saying, the list of free streaming services today is an unending list. There are so many online watching platforms and competitors in the market that watching your favorite shows for free is no big deal today. However, if we talk of the best, we mean the platforms with trusted services and fewer ads. Fortunately, this list has been helpful if you can't find something reliable to watch your favorite web series. Rest, let us know which websites you prefer the most for free movie/ series streaming and why.
If you've any thoughts on 15 Best Streaming Sites to Watch Web Series for Free, then feel free to drop in below comment box. Also, please subscribe to our DigitBin YouTube channel for videos tutorials. Cheers!