Music is pretty hard to be away from. From traveling to relaxing, to parties, to anything, we all need music to perfectly suit the need of the hour. There is a gazillion music available across the internet that you can get your hands on. Thanks to the availability of the internet in every walk of life, you can stream music using a ton of different apps. In the recent past, music streaming services have gained popularity and dominated the scene. However, some are available for free and while some charge a premium for availing the music streaming services.
Since there is a bunch of music apps available for iPhones, you might get confused about which app to go for and feed your music appetite. If you are confused regarding the same, then you are at the right place. Because in this post, we will give you the 15 best music apps for iPhone. One of the major factors that you should take note of while downloading a music app i.e. is the content that these apps provide. Although there are a bunch of music apps for iPhone, the content these apps offer differs vastly. With that being said, let us get straight into the article.
Best Music Apps for iPhone
Here are the Best Music Streaming Apps for iPhone to Listen to Your Favourite Songs on your Apple Mobile
1. Apple Music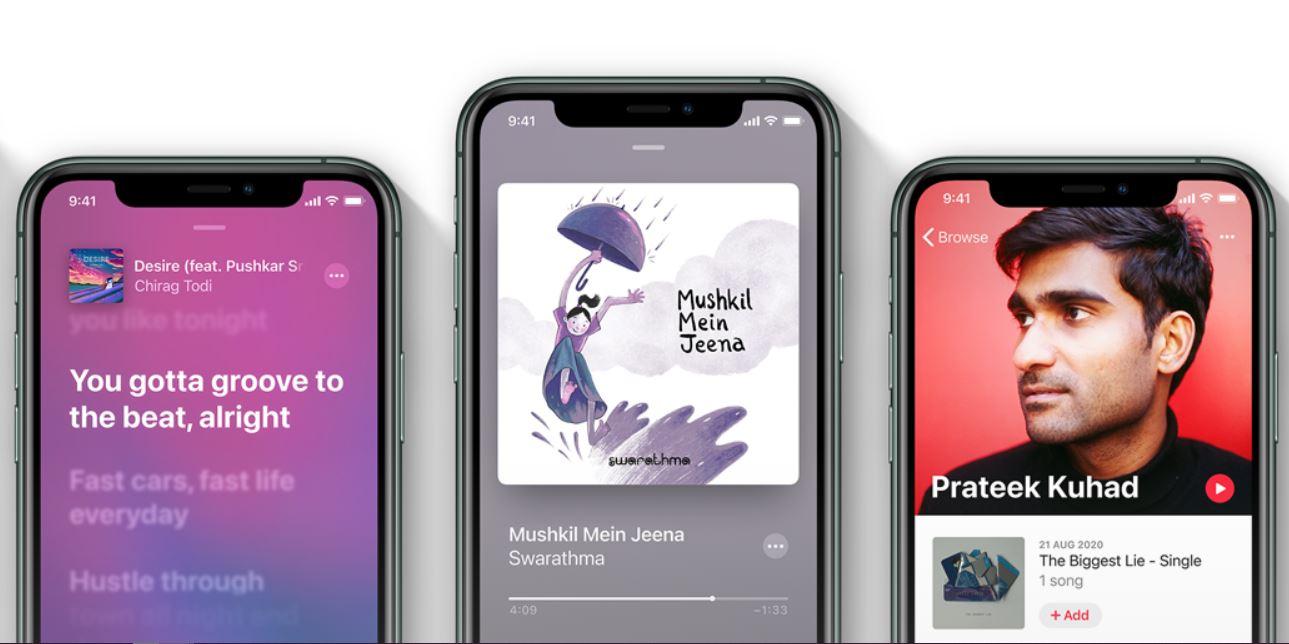 If you own an iPhone, then Apple Music is a music app that you should subscribe to. Apple Music has a vast library of songs and it is well designed. The app contains songs from a long-standing list of artists. Moreover, you can also download music for offline listening. There are curated playlists as well to suit the personal taste of iPhone users. If you forget a song but know a few words of the song, then you can search for it within the app or as Siri.
The app shows your favorite songs' lyrics as well so that you can sing along with them. Apple Music, as you would expect from Apple services, is nicely integrated with the Apple ecosystem. If you are deeply integrated with the Apple ecosystem, then Apple Music should be the go-to music streaming app for you. The app starts at a subscription price of $9.99/month in the US or INR 99/Month in India. For more information, head here.
2. Spotify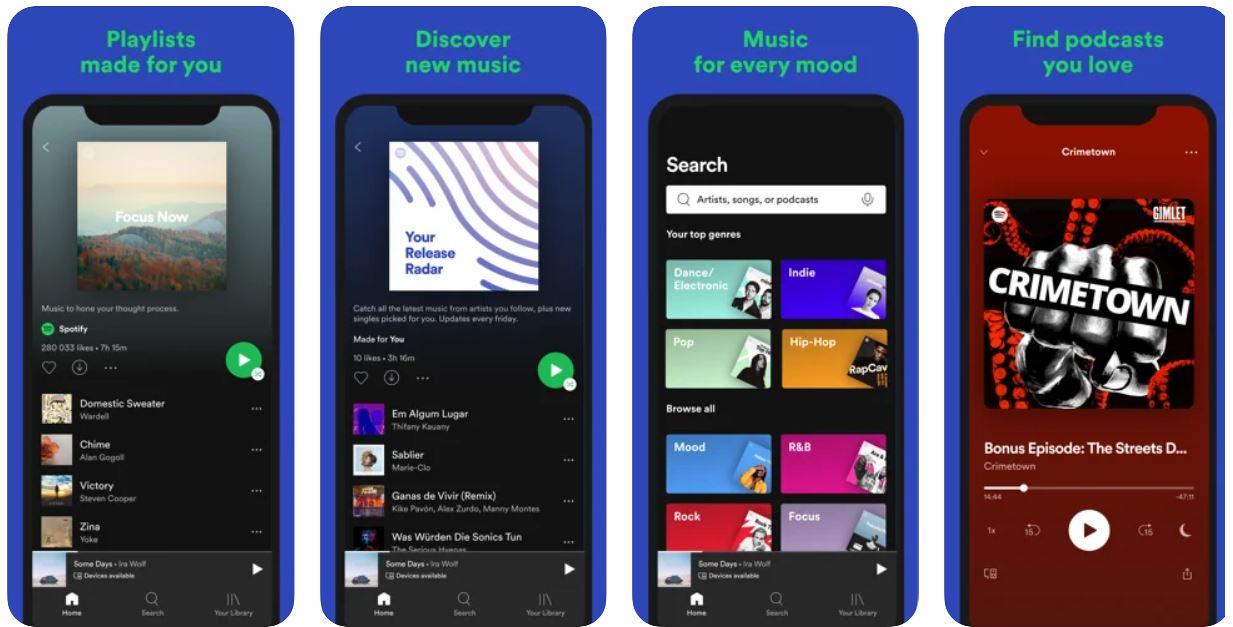 Spotify has carved its name into being one of the popular music streaming apps. Over the years, Spotify has added tons of features making this app the go-to music streaming app on smartphones across the world. The app has an elegant user interface and provides access to over 50 million songs. It has a vast collection of podcasts.
There is a curated playlist for every occasion and based on your listening it recommends similar songs as well. You can create your playlist consisting of songs that you like and also share with your friends, or vice versa. Offline downloading is also an option, making it easier to stay in touch with your music while in places where the internet is flingy. One of the best overall music apps that you can rely on for your music needs.
3. YouTube Music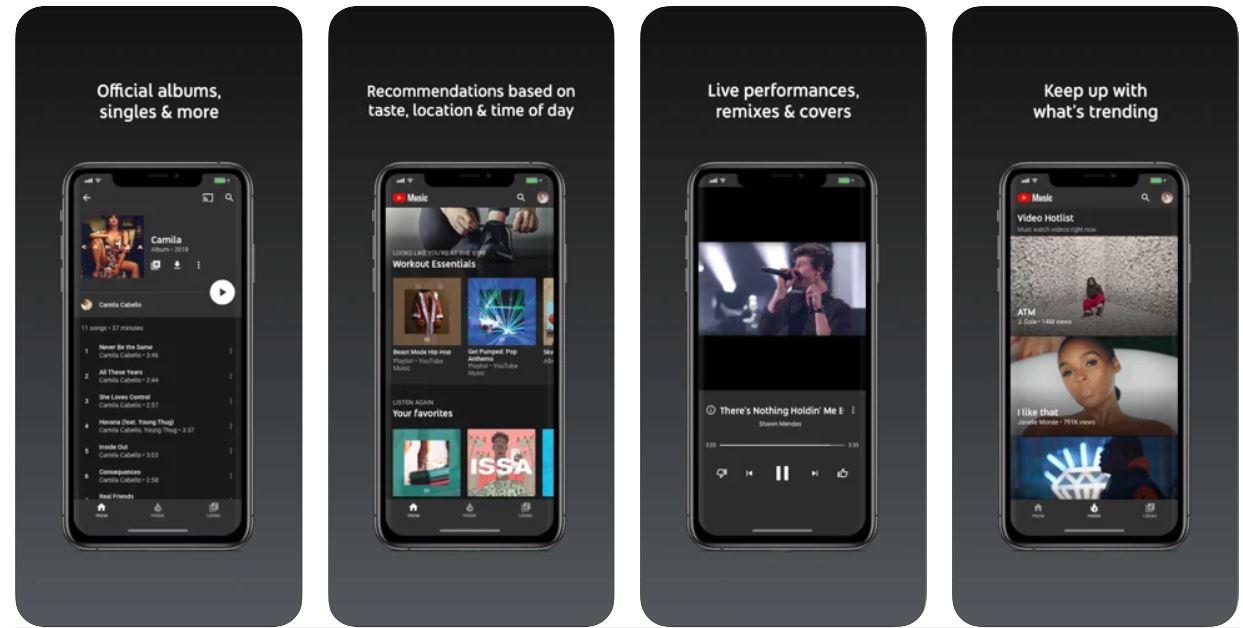 After ending Google Play Music, Google put all its efforts into making YouTube Music as its alternative. Rightly so, it did manage to achieve that. YouTube Music is by far one of the best and convenient music apps for iPhones for several reasons. It recommends songs based on your taste, location, and mood.
You can keep track of the official releases from your favorite artists, provide instant access to curated albums, live performances, and more. Besides, it also gives you access to official music videos of your favorite songs, which is a huge bonus. Basically, everything on YouTube is available on YouTube Music.
4. Amazon Music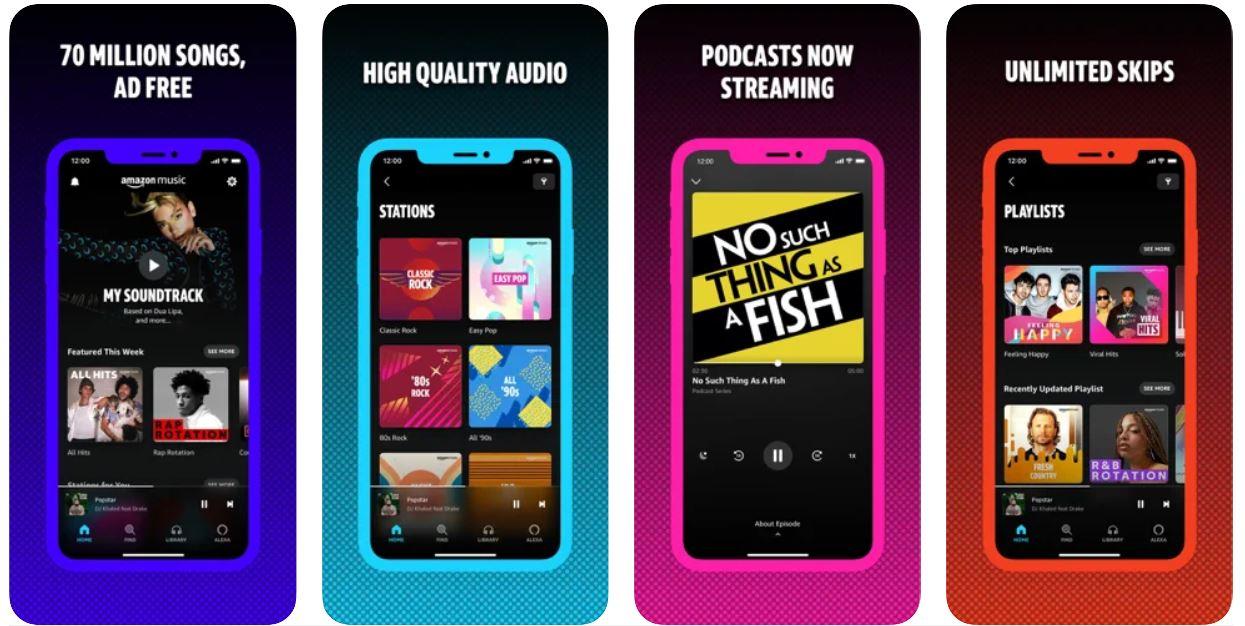 Amazon Music is another alternative that you can make use of to stream high-quality music. The app has a nice and clean user interface and has all the features you would need out of a music streaming app. The library consists of over 70 million songs, so there should be no problem of running out of music here.
One thing that I personally liked about Amazon Music for iPhone is that it has a very good song recommendation feature that rarely misses out on your taste. You can download and listen to songs in offline mode available in different quality. There is a ton of podcasts as well for those who love to hear podcasts on the go. With the premium version, you get ad-free listening, unlimited skips, Ultra HD streaming, and much more.
5. Pandora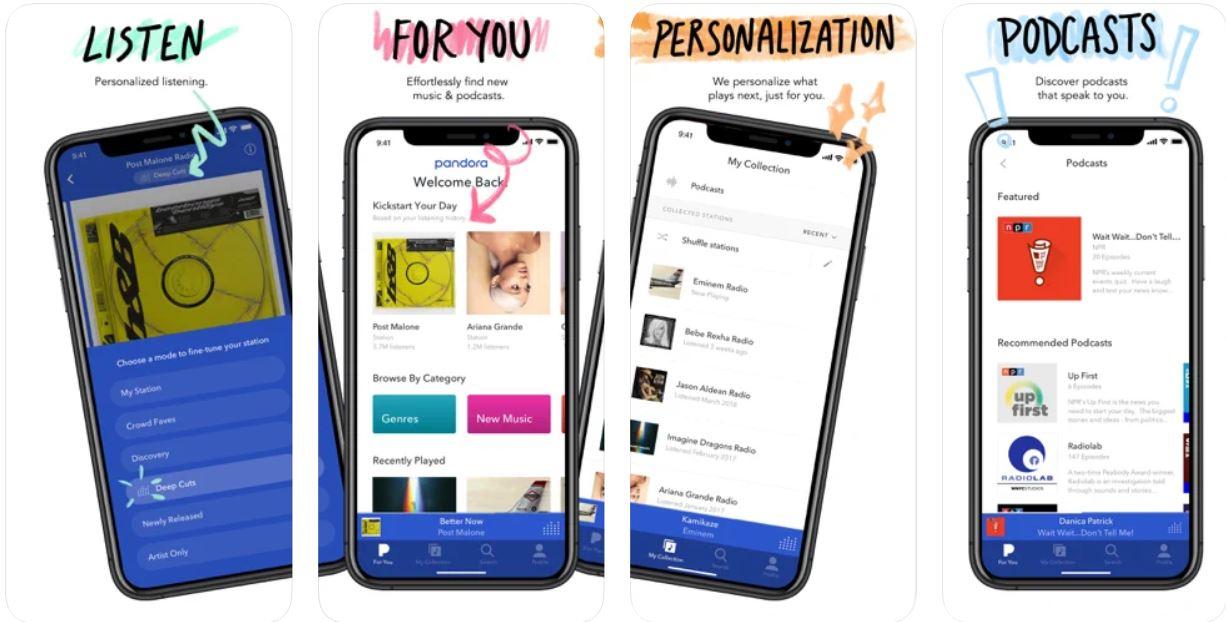 Pandora is an all-in-one package that gives you access to stream songs, radio, and podcasts. The app provides multiple customization options like you can create your own stations that include your favorite artists, genre, songs, etc. The recommendation is also pretty nice, and it will suit your ears very well. The podcasts library is also huge, and it contains channels from various popular artists.
On top of all this, you can make use of Pandora for offline listening by downloading the music. Plus version of Pandora gives you access to high-quality audio and more podcasts. You can also listen to crowd favorite songs under the Crowd Faves playlist, Discovery lets you discover artists that don't get their playtime on such music platforms. Overall, a nice platform for music lovers. Pandora Plus subscriptions are $4.99 per month, while Pandora Premium subscriptions are $12.99 per month.
6. SoundCloud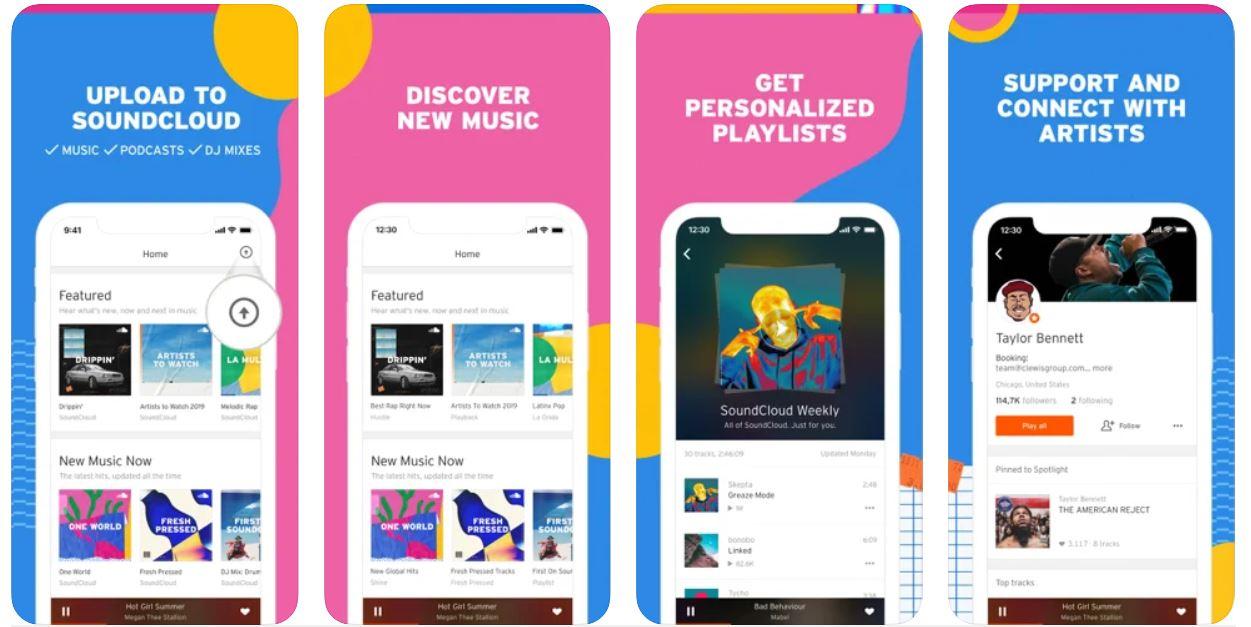 The world's largest open audio streaming platform, SoundCloud, is loaded with over 200 million tracks. SoundCloud has music for every taste and genre. Be it jazz, hip hop, classical, reggae, pop, rock, etc. It also contains millions of audiobooks and podcasts. So, you are never short of listening to content when on SoundCloud. You can even discover newer talents and their work on SoundCloud.
There is a vast community of music lovers that will keep you on your toes about everything latest, and thanks to the presence of multiple artists across the globe, you can connect with them via SoundCloud. You can curate your own playlists for any occasion. You get SoundCloud Go free for the first 7 days, after that, you will have to pay $5.99/month that, while the SoundCloud Go+ is available for free for 30 days and $12.99/month after that.
7. Deezer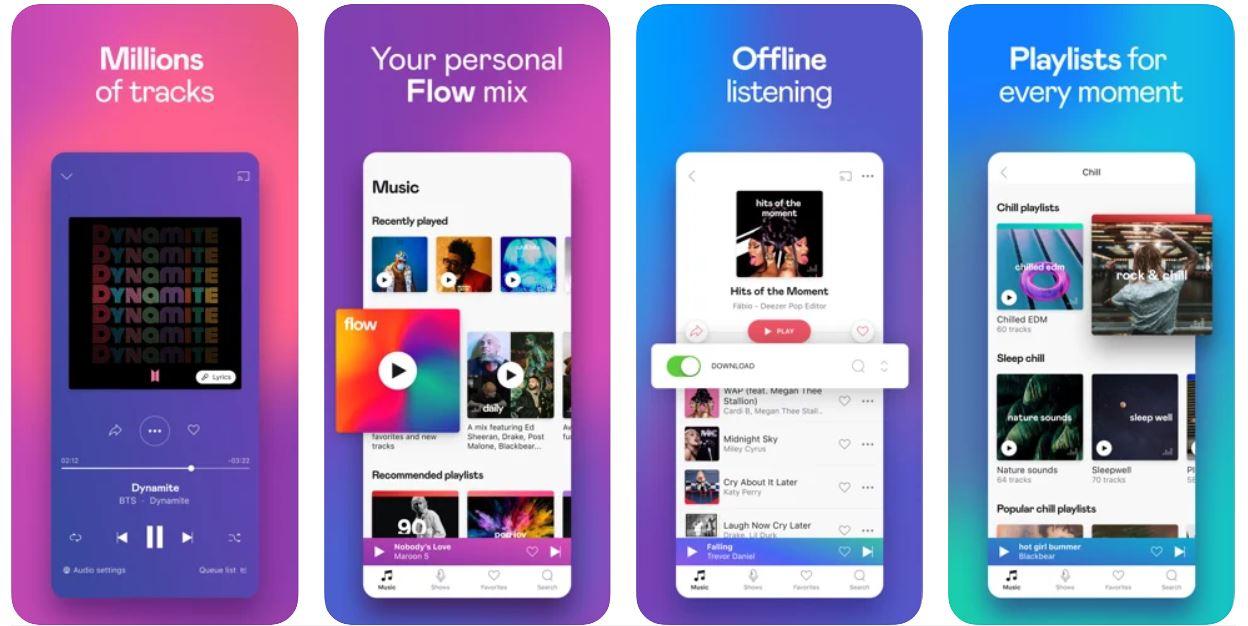 Deezer is another great alternative for music streaming if you are bored with old and common audio streaming apps. It contains over 56 million songs, multiple playlists, and podcasts. The recommendation system is also pretty neat and is curated as per your listening style. Using the Shuffle Mode you can find new tracks, you can listen to any playlist as per your want, or create a personalized one for yourself and share it with your friends.
Organizing tracks based on your taste is one of the best things about Deezer. You can organize and keep your tracks well suited for your needs as per artists, genres, and more. There are tons of podcasts and radio stations to listen to within the app. The app user interface is pretty sleek and is free from bloating options. With Deezer Premium, you will have no ads, unlimited skips, superior sound quality, and much more.
8. Audiomack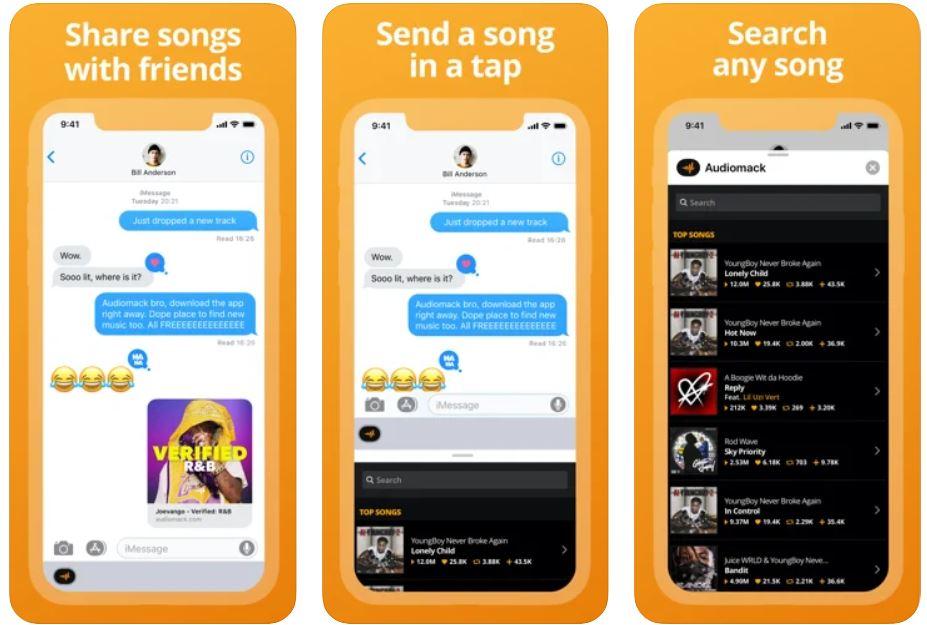 This is one music streaming app that has been gaining popularity lately. Audiomack specializes in providing its users access to the latest songs, mixtapes, and playlists across multiple genres. Once you sign up for Audiomack, it will ask you to select a few artists to show you recommendations based on that. You can also download the songs for offline listening, open the Trending page to keep up with the latest and hot songs.
You can share songs with your friends, search for any of your favorite songs, all within the app. With a variety of podcasts available in Audiomack, you have no shortage of audio content. Moreover, it allows its users to upload their creation on the platform and share it with the community. Audiomack Premium provides ad-free listening and also opens up high-quality audio streaming. Overall, a nice app for music, mixtape, and podcast listening.
9. TuneIn Radio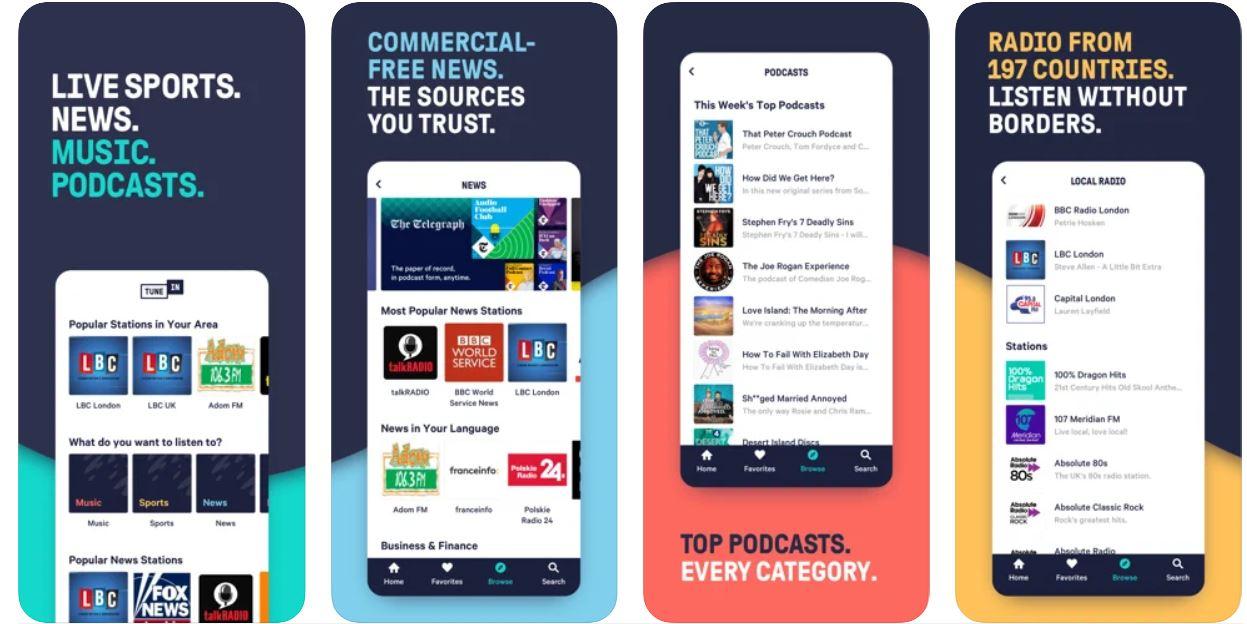 If you are a person who loves listening to the radio, then what better app to have on your iPhone than TuneIn Radio. This popular application provides you access to over 100,000 radio stations. Users can listen to any live sports, music, news, podcasts, and AM & FM radio from across the world within the app. The good thing for sports lovers is that it provides live commentary for every NFL, MLB, NBA, and NHL game.
With access to over 600 music stations, you can stay on top of the music that is currently trending in the world. TuneIn Radio also has a library of over 40,000 audiobooks. If you wish to keep up with the latest news around the world, then it provides access to 24-hour news from local, national, and global sources, which include outlets like CNN, Fox, NPR, and Cheddar. The premium version of the app provides restriction-free access to all the features.
10. iHeartRadio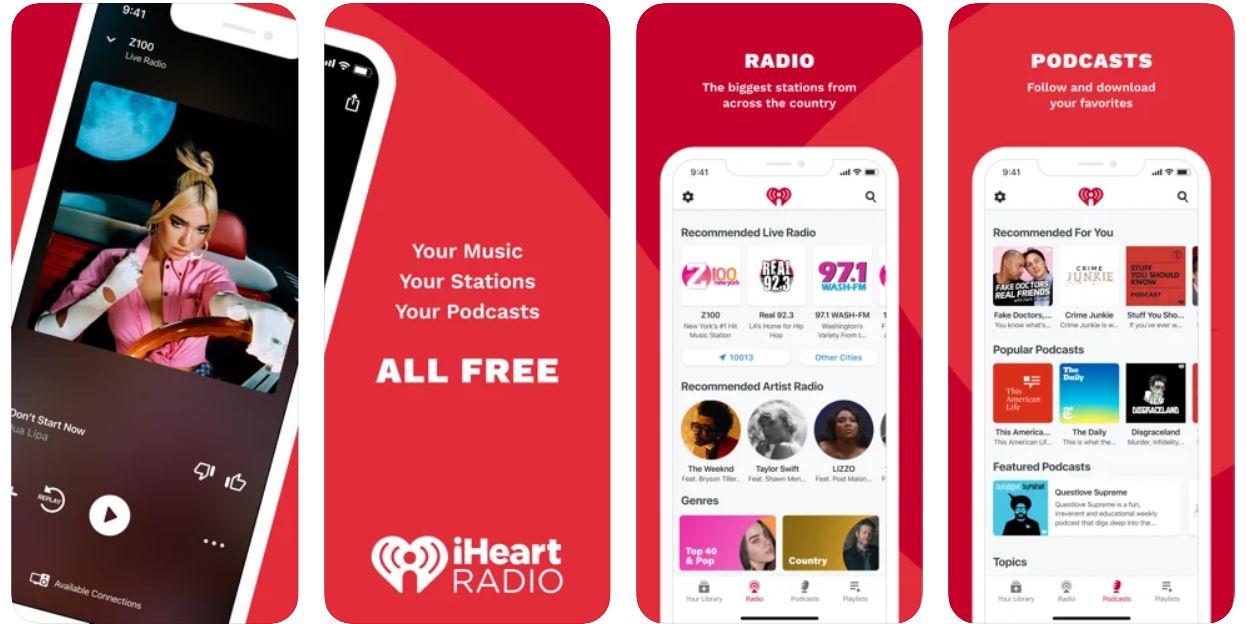 One of the best radio apps that provide songs based on genres, iHeartRadio is a must-have radio streaming app on your iPhone. You can use this app for music, radio, and podcasts. Besides, you can also create a personalized playlist of your favorite radio stations, so that you don't have to fiddle around searching for your favorite radio stations. You can listen to your favorite radio stations ranging from Top 40, Country, Rock, Pop, Hip Hop, EDM, R&B, and more. Additionally, you can listen to the radio from across the globe.
The app also feeds your need to listen to the news, sports, talk shows, etc. Popular radio stations like ESPN Radio and Fox Sports, FNTSY Sports Radio, etc. are also available at your fingertips. Some of the popular podcasts from ESPN, NPR, Gimlet, How Stuff Works, Podcasts, TED, Wondery, Big Money Players Network, and celebrity podcasts such as The Ron Burgundy Podcast, Anna Faris Is Unqualified podcast, etc. is available in iHeartRadio. It provides playing podcasts at your desired speed, download for offline listening, and more.
11. Jango Radio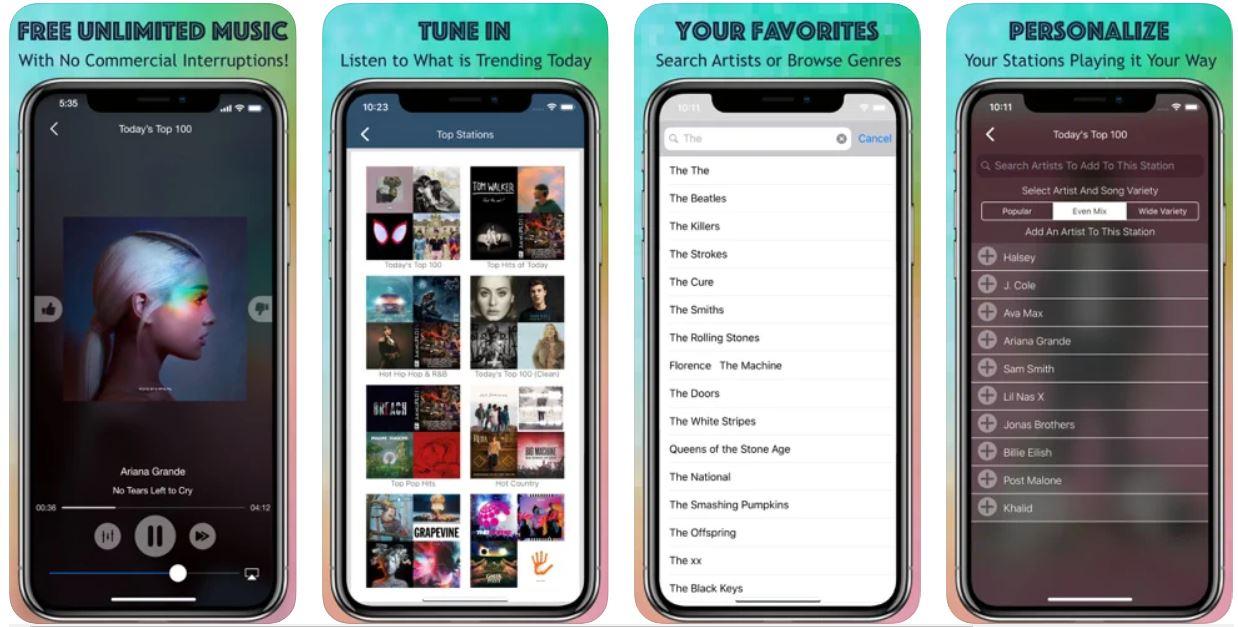 If you do not want any fuss and want a straightforward internet music radio app, then Jango Radio is an app that you should have on your iPhone. It is free from ads, provides access to all the top radio channels based on genres, etc. It creates personalized radio channels based on your favorite artists and plays similar music, which most of the time, is on point.
You can have access to Today's Top 100, Country Classics, Hits from the '80s & much more. Besides, you can listen to songs without any interruptions. It provides unlimited listening, curated radio stations, artist discovery, sharing options with friends, and other settings. The app interface is simple and with just a few touches, you are up and listening to your favorite music.
12. LiveXLive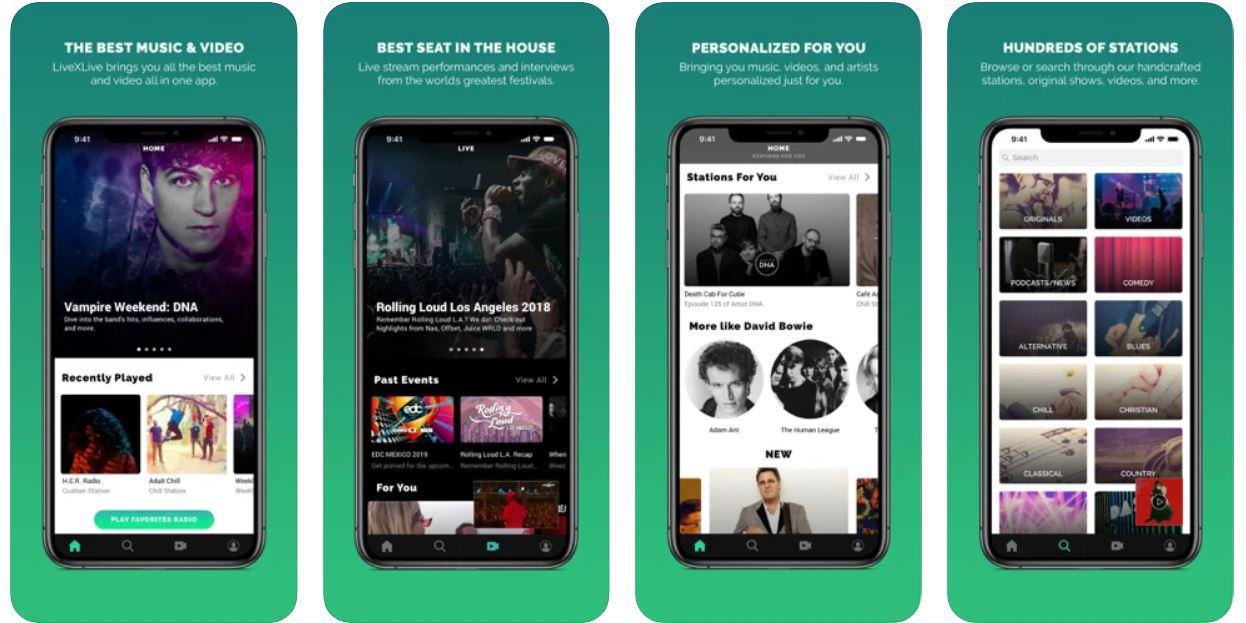 The COVID-19 pandemic has kept us at home and we are still far from having those crowded live concerts. Well, if you miss those days, then LiveXLive has got you covered. Formerly known as Slacker Radio, LiveXLive provides you access to free music, live events, hand-crafted music stations, and much more. Plus members get access to ad-free listening, high-quality audio, unlimited skips, etc.
There are exclusive shows, not only audio but video shows as well, hosted by popular artists. With a subscription, you can gain access to offline listening on mobile. You can also live stream different music festivals and concerts from around the world. LiveXLive Plus is available for $3.99/monthly, while the LiveXLive Premium subscription costs you $9.99/month.
13. Gaana Music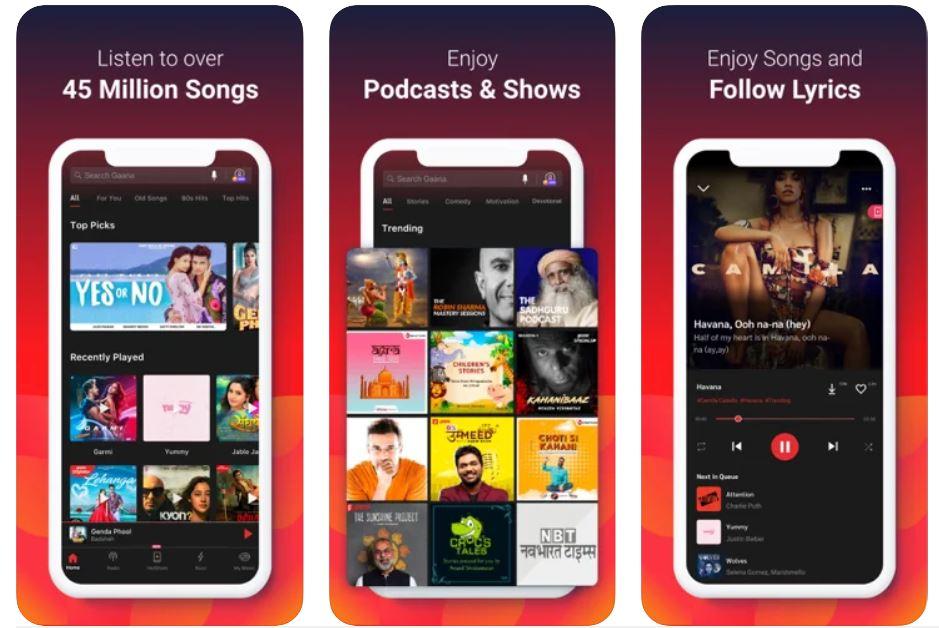 If you love to listen to Bollywood songs, then Gaana Music is a popular music streaming app you can have on your iPhone. While the app doesn't have the features of some of the other popular music streaming apps, it is a good place to listen to classic Bollywood songs. Not only this, but you can also keep yourself in the loop with the latest Hindi, English, and other language songs. It has a library of over 45 million songs and the duration of the songs is also done nicely.
You can listen to pre-curated playlists as per your mood. Besides, it features a huge library of podcasts and shows to listen to as well. The user interface of the app is also nice, and there is not much of a learning curve here. You can use the convenient voice-search feature to search songs using your voice. The radio section of the app is also fully capable of keeping you grooving for a long.
14. Wynk Music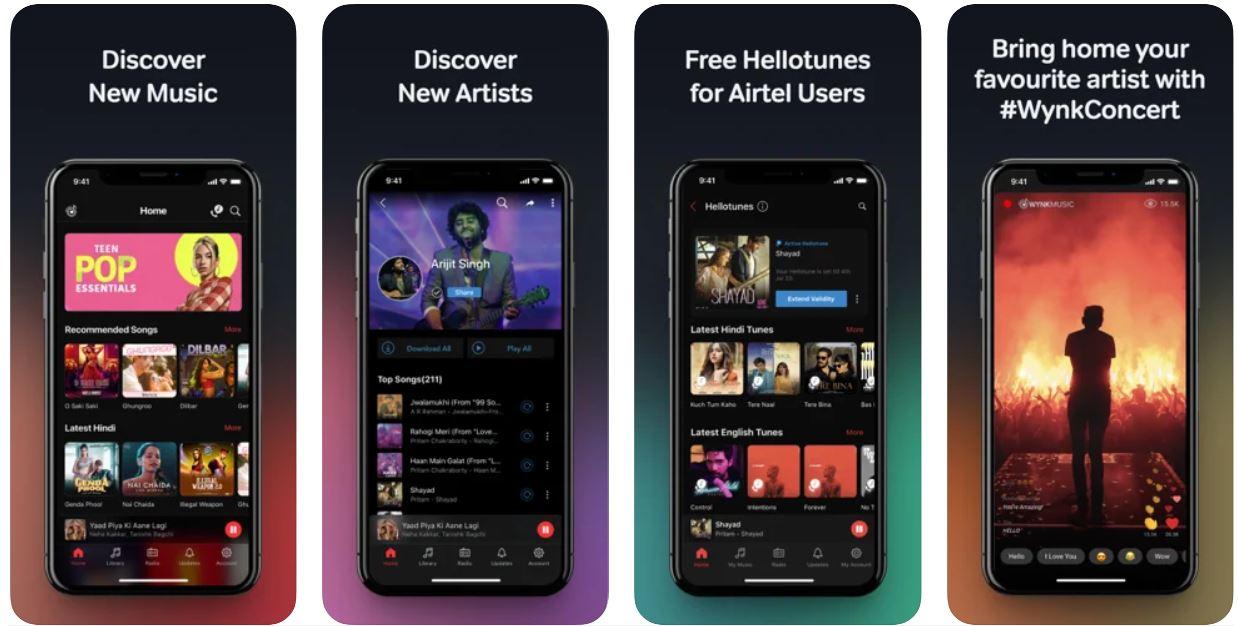 Well, Wynk Music is a great music streaming platform for Hindi songs. The app has thousands of podcasts, dark mode, and much more. You can not only listen to Hindi songs but various other languages as well. It may not be that good if you looking for an app for listening to English songs, but for the Desi-inside of you, this one has all the juice to keep you jamming. You can listen to genres including Bollywood, Pop, Rock, Bhangra, Devotional, Bhajans, Happy, Sad, Romantic, Party, Chill, Love & Old retro.
Regional listeners can listen to songs in Punjabi, Bhojpuri, Rajasthani, Marathi, Bengali, Kannada, Gujarati, Tamil, Telugu, Malayalam & all other South Indian languages. With a Wynk subscription, you get ad-free streaming, unlimited in-app downloads, and high-quality music listening.
15. JioSaavn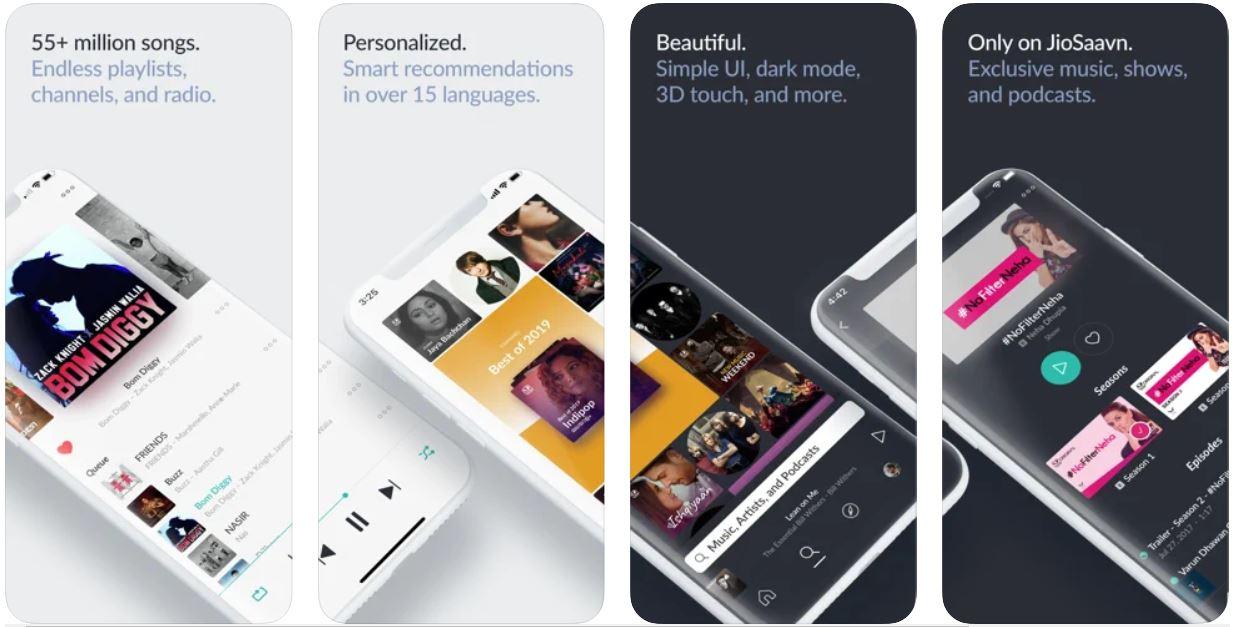 If we are talking about Gaana and Wynk Music, then how can we miss out on JioSaavn. It is probably the most refined, hugely populated, music streaming app not only for streaming Hindi songs but international and regional songs as well. The app boasts a collection of over 55 million songs and is probably the best music streaming apps, at least in India.
Its collection of podcasts and radio channels is just amazing, and the user interface of the app is also pretty clean. JioSaavn supports Alexa, AirPlay, Chromecast, and Google Home. The playlists are expertly curated and you get access to exclusive shows and podcasts. It allows for offline downloading and high-quality music listening and streaming. Overall, a nice music app, to stay rooted with Hindi music with access to international music as well.
16. TuneIn Radio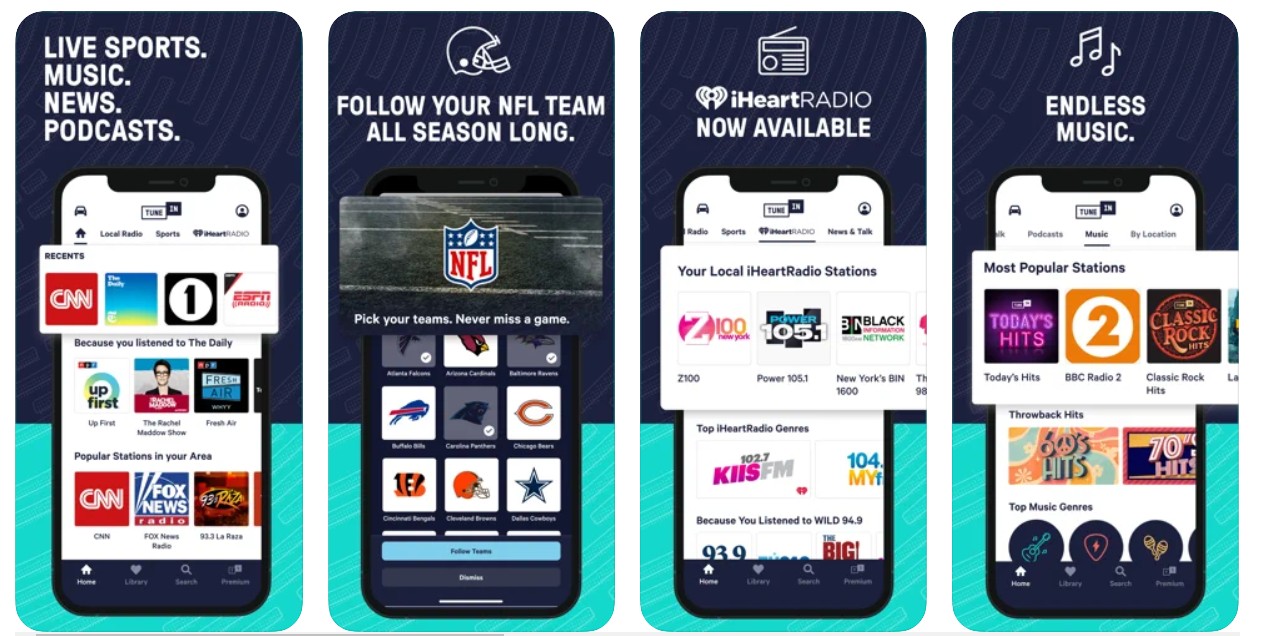 You must be thinking TuneIn Radio is a dedicated Radio app. But in reality, it's more than that. It offers more than 100000 radio stations where you can enjoy your favorite music, as well as listen to different news, talks, and sports event.
TuneIn Radio offers free as well as premium services. Its premium plan starts at $7.99/month that comes with lots of additional benefits over the free plan. And most importantly, the premium subscription removes all the irritating ads from the platform.
17. Uforia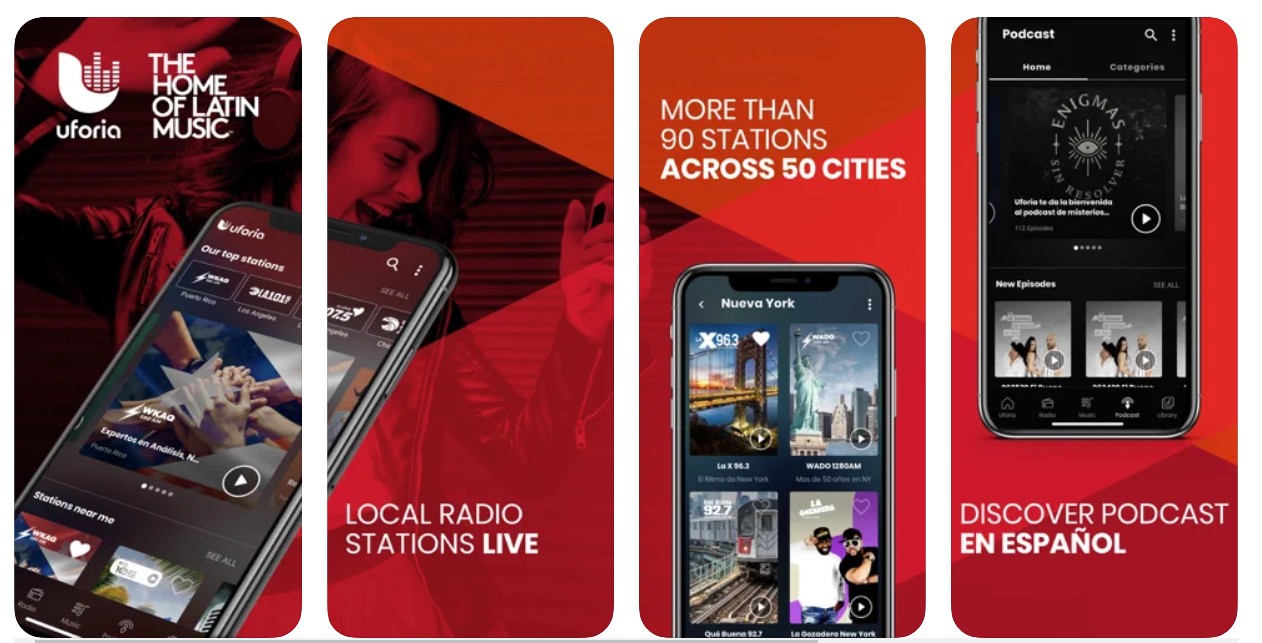 Uforia can be the best music app for your iPhone if you are more into Latin music. It broadcast more than 65 Latin radio stations. And you can even save your favorite stations so that you can easily access them in the future. 
The best part about Uforia is that unlike other platforms on the list, it offers its services for free and that too without bombarding your screen with tons of ads.
Conclusion
So, there you have it from my side in this post. We have tried to cover the best music apps for iOS or iPhone for every audience. We have not restricted ourselves to users listening to English music but other languages including Hindi and other regional languages as well. Let us know in the comments below which one of the apps you have on your iPhone or is your go-to music streaming app. Follow us on the DigitBin YouTube channel for more such awesome content. Until the next post…Cheers
If you've any thoughts on Top Best Music Apps for iPhone , then feel free to drop in below comment box. Also, please subscribe to our DigitBin YouTube channel for videos tutorials. Cheers!