Considering the huge number of devices that run on Google's Android OS, it is the company's prime duty to safeguard its user's sensitive data. Though Android is a third-party supportive operating system that has its advantages, there are some cons attached to it as well. Many times you go ahead and install third-party apps not available on the Play Store via third-party sources. No, we are not saying that all the apps downloaded through third-party sources are not safe, but they should be downloaded from trusted sources only.
However, not everyone is so aware of all this information thus here comes into play Google Play Protect. It scans any app installed on your device to check whether the app contains viruses or malware or could steal the user's data or not. But there are several advanced Android users who know what they are doing and would want to disable Google Play Protect. Luckily, this post is just for them. Because, in this post, we will give a proper guide on how you can fix Play Protect blocking app install. With that said, let us jump right into it.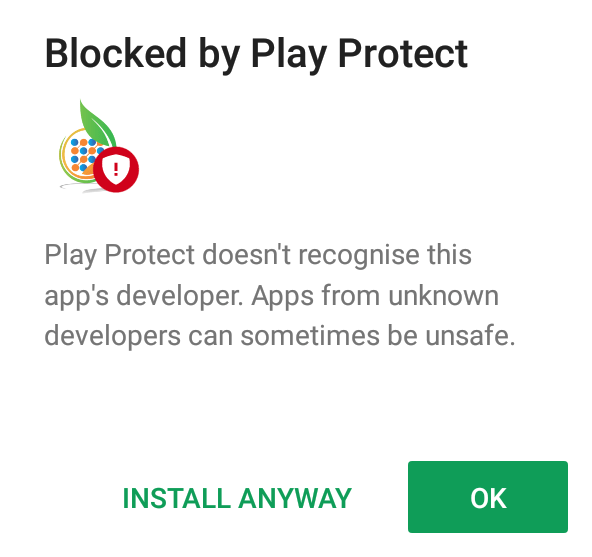 What is Play Protect?
Now, before we begin, it is better to understand the functionality of Google Play Protect. The main aim of Play Protect is to verify apps you install on your device or the ones that are already installed on your phone, to see if it is a threat. The threat here means it could be a virus that could inject adware, malware, etc. onto your device, or steal user's private data.
Good thing is that Google Play Protect is ON by default. But, following some simple steps, you could easily disable it. We would recommend you leaving it ON if you do not know what you are dealing with. For those who know what they are doing, feel free to go ahead and check out the steps to disable and fix Play Protect blocking app install.
Check if your Android device has Google Play Protect
Head over to your phone's Settings.
Then scroll down and tap on Google.


Under the Google menu, tap on Security.

Then finally tap on Google Play Protect.

Once you tap on the Google Play Protect, you will see a row of apps that were scanned. Play Protect works in the background and keeps checking for any viruses or threats from these apps. If Play Protect detects a malicious app, then it will warn you with a notification to remove the app from your phone.
Steps to disable Google Play Protect
Go to Settings.
Then Google.
Now, head over to Security.
Under Security, tap on Google Play Protect.
Here, tap on the cog icon or the Settings icon.


Disable the Scan apps with Play Protect to turn it off.

A pop-up message will appear asking to Turn off app scanning?. Hit the Turn off button.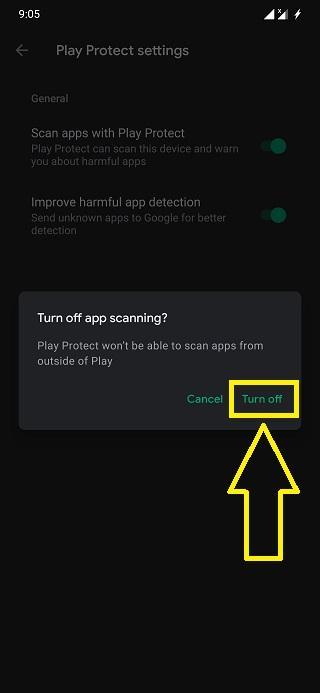 Once you are done with the last step, Google Play Protect will be disabled on your device, following which you can go ahead and install any application from any source, be it a third-party trusted or untrusted source or Google Play Store. Although this may get rid of that one pop-up warning message that appears every time you try to install an app, it also puts your device at high risk of getting affected by viruses and puts your personal data at risk. So, disable Play Protect with caution.
Conclusion
So, there you have it from my side in this post. Note that we do not recommend our readers to turn off the Play Protect security option on your phone, because it is there to provide security to your phone and your data. For more such awesome coverage, you can follow us on the DigitBin YouTube channel. With that said until the next post…Cheers!
If you've any thoughts on How to Fix Play Protect Blocking App Install on Play Store?, then feel free to drop in below comment box. Also, please subscribe to our DigitBin YouTube channel for videos tutorials. Cheers!