In this article, I have mentioned the best free reverse phone lookup services with real-time info and blocking facilities. Reverse Phone Lookup services come handy when you don't know who has contacted you through a call or you have found a piece of paper with someone's number written on it.
These days, we all are so busy with the daily activities that we don't have a habit of remembering everyone's number, we simply open our phone contacts and add them to there.
What if your client has given you his number for later talks but you have forgotten to add in your phone? What would you do when he calls? The answer is simple, you'd either pick it up or hear the ringtone as it lasts.
Here's another situation, let's assume your cell or landline number is so popular among spammers and telemarketers. They usually call you at your busy time, but how you would differentiate those numbers with your colleagues and families when they call you.
Things like this make life restless, and you cannot be worried about the stuff you shouldn't be. That's why services like reverse phone search tools are available to solve all your trouble.
How Reverse Phone Lookup Services Works?
Reverse phone lookup is also known as reverse telephone directory which helps in finding telephone and cell numbers of a person.
The phone lookup services are different from old telephone directories where you need to search for a person's details like addresses, names, etc in order to get their contact numbers.
But the modern phone lookup services require you to put a person's number in search to get the info related to a person's name, address, email, etc.
A decade ago these services were only accessible to law enforcement and other emergency services but nowadays anyone can use them to get info about unidentified callers or other publicly listed details.
Not all countries have these kinds of reverse phone lookup services but most of the countries have allowed them to collaborate with telecom companies to provide these types of facilities online.
Most of these services collect the information from public directories to run their lookup search facilities and that's why some of them don't have all the details you need or details that are unlisted.
Best Reverse Phone Number Lookup Services
Here are the Best Phone Number Lookup Services Available, features they offer, accessibility, pricing details, and more.
1. Truecaller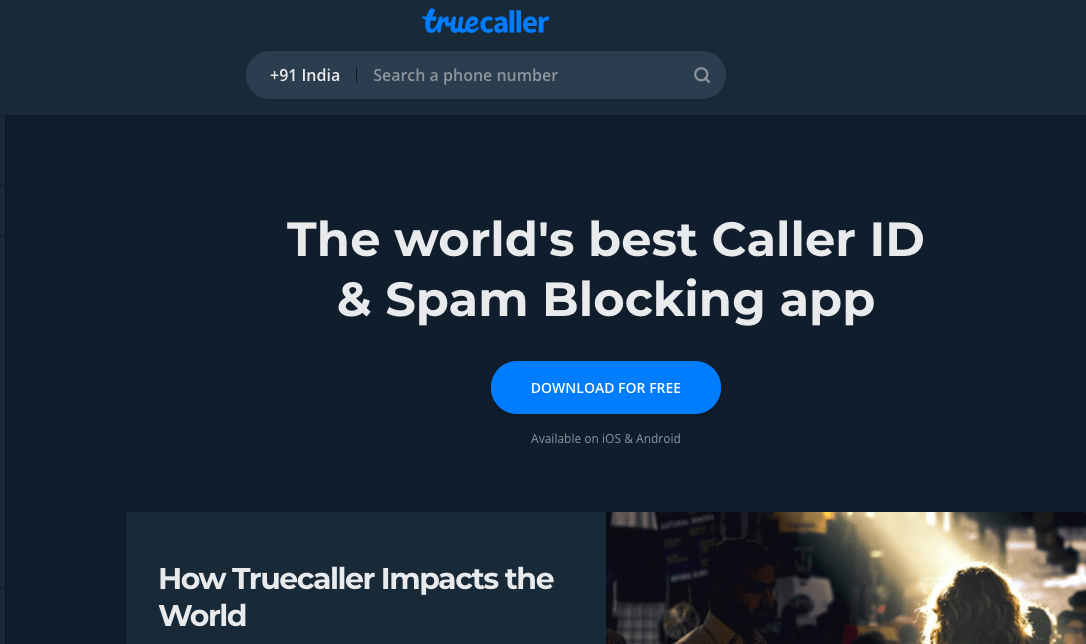 Truecaller is one of the best and most used reverse phone lookup services in the world with over 150 million daily users.
The best thing about Truecaller is that it is almost free of cost and you just need your email address and phone number to sign up and you can get the details of anybody just by their cell numbers.
They will warn you against unknown incoming calls or numbers that are present in their community spam list, so you don't have to worry about telemarketers and spammers anymore.
Features 
Caller IDs of people who are not in your contact phonebook; email address, home address, etc.
Global search: search for numbers from all around the world.
Look for numbers by name.
SMS and call blocking.
Call recording feature is available.
Chat with your family and friends through a group chat.
Platforms Supported: Web, Android, iOS, Blackberry, and Windows Phone.
Price: Free | Premium $1 Per Month | Gold Premium | Gold Premium $5.5 Per Month (Pay Annually)
2. Should I Answer
Should I Answer is one of the best overall security from spammers that is available for Android and iOS users. Whenever you get an incoming call from anyone it immediately shows the details of the person through their updated database.
If you don't have an internet connection in your device, you don't have to worry as the internet is not a basic requirement to use this service. If other users have also reported the same number thus whenever the caller calls they will warn you against it and you'll be able to block it immediately.
Features 
Set the level of protection as you desire.
Block premium spammers, fraud cell numbers.
Local database for offline protection.
User reviews for a telecom number.
You can block calls from foreign countries.
Platforms Supported: Android, iOS, and Blackberry
Pricing: Free | Premium features starts from $2.4
3. Spy Dialer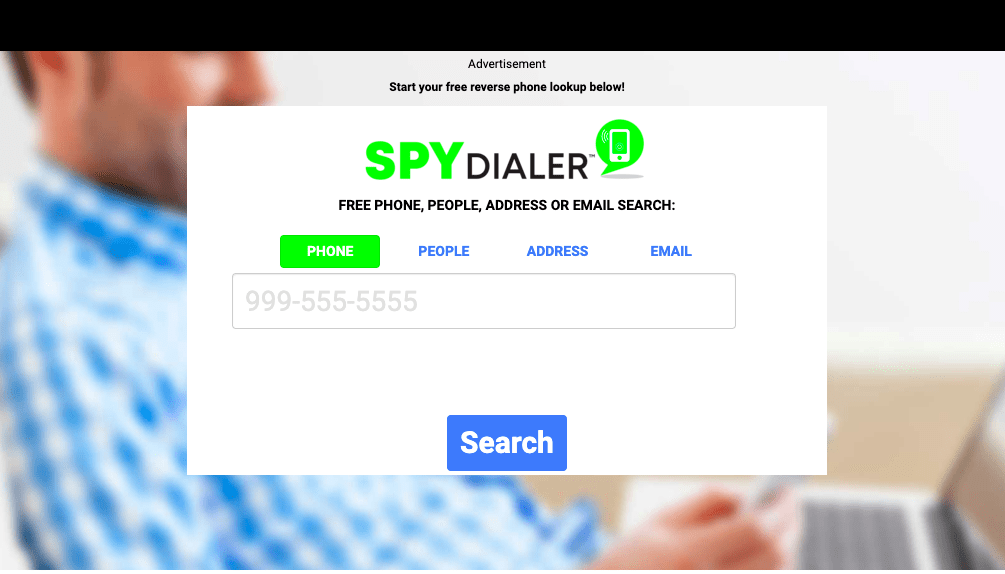 Spy Dialer is a web-based reverse phone search out there. You can use it for free for finding details through cell numbers, emails, and landlines.
They have over one billion publicly registered phone numbers which are enough to know owners' details. Even you may find some unlisted numbers as well.
Since Spy Dialer is only good for USA based numbers and email addresses, people outside of the United States may have to look for other services on the list for proper details.
Features 
Find who is the owner of a particular number.
Better service than yellow pages (directory websites).
Unlimited reverse phone lookup with no restrictions.
Managed and developed by a dedicated team of data and Internet specialists.
Platforms Supported: Web
Price: Free
4. Sync.ME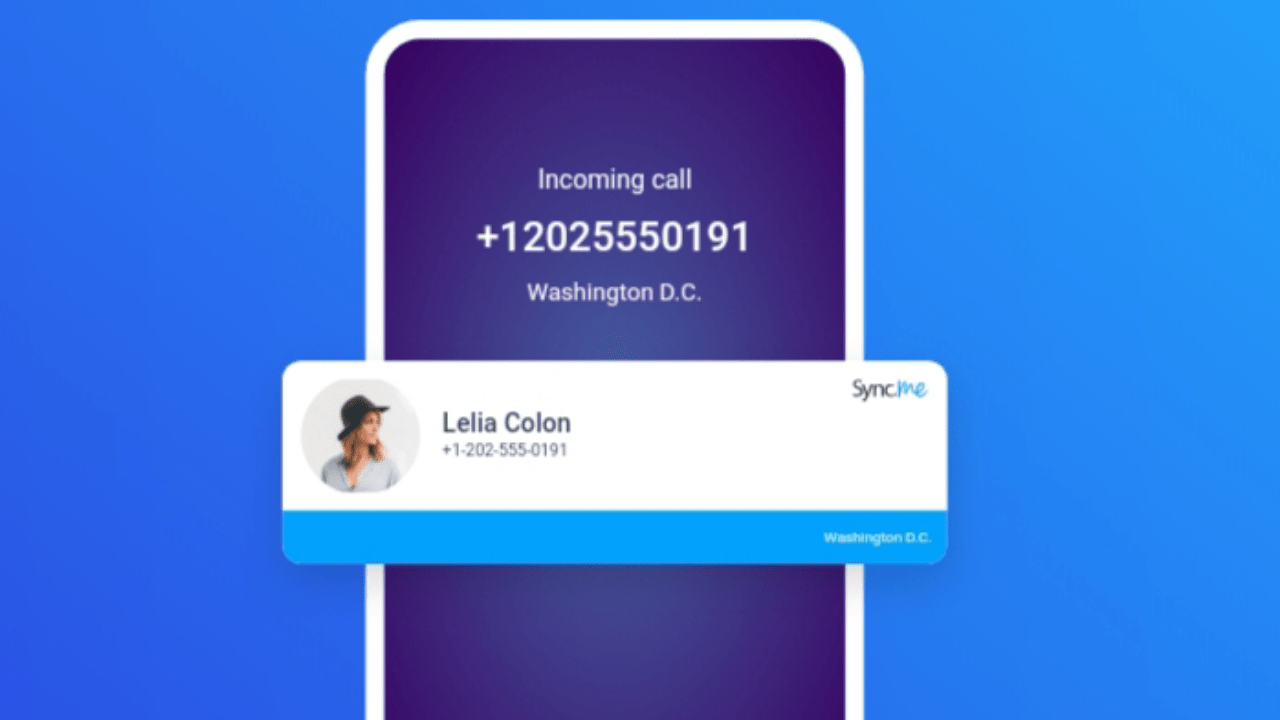 Sync.Me is all in one reverse phone lookup tool to identify unknown callers through their name, photo, and even social profiles.
So if some spammer or telemarketer is trying to reach you and he has a social profile on Facebook, Linkedin, or any other social media this app will search for it and present it to you.
They have over 1 billion registered numbers and through their smart algorithm, they can identify and notify you of spam calls in real-time.
Top Features 
Know who's calling you with their names, photos, or social profiles.
Search for almost any number to get all the necessary details.
Real-time spam call detection.
Extra features like contact management, grouping, etc.
Platforms Supported: Web, Android, iOS
Price: Free | In-app purchases from $1
5. BeenVerified
There are tons of reverse phone number search services available, but not all are as good as BeenVerified when it comes to getting info about publicly unlisted numbers.
Google and other common tools only show the numbers that are publicly registered by the owner but there's no way you can get the info through private numbers if you keep using those classic tools.
That's not the case with BeenVerified, they will make sure you're getting the info that is accurate and has been updated over time. They also have lots of articles related to call fraud, so if you want to know more about it check them too.
Top Features
Search for unidentified person's details through email, number,  address, and first-last name with city codes.
It searches through hundreds of social media.
Get a criminal or any other legal records of the caller.
Online photo search feature.
Get the education and job info of the caller.
And other 13 different categories to search from.
Platforms Supported: Web, Android, iOS
Price: 7 Day Trial Membership from $1 | Unlimited Plan $26.89 per month.
6. Whitepages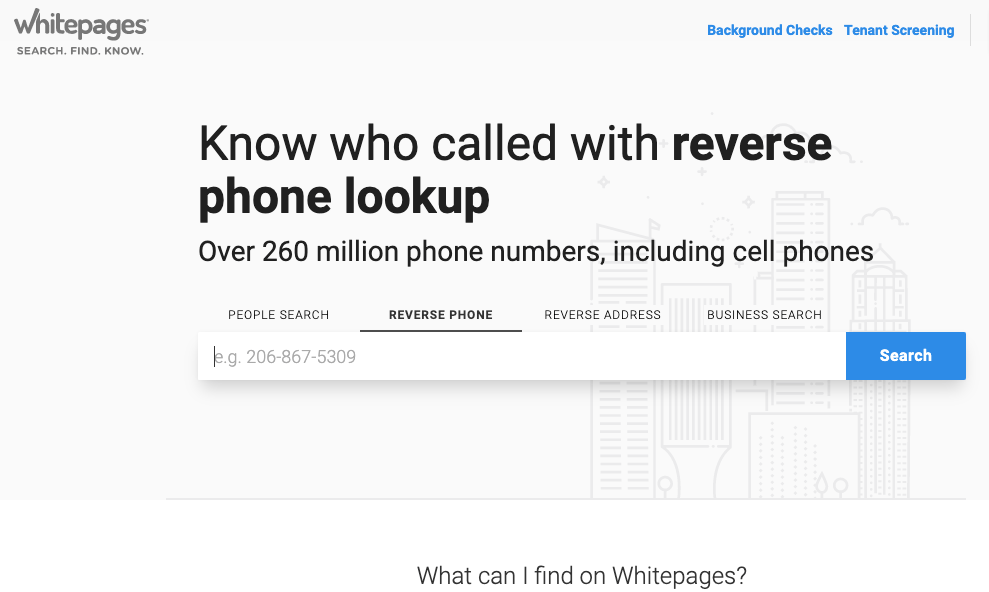 Whitepages is another amazing telephone directory search and email lookup service that is used by 35 million users per month. Almost all US-based phone numbers can be searched through it.
The search process is quite easy, type the number who has called you, click enter, and get the info of that person. They have been doing business since 1997, which is enough to tell how much they have improved their services till now.
Collection of 260 million phone numbers.
Get almost all kinds of info like owner's details, business location, fraud rating, etc.
Cell phone numbers and criminal records (if any) through Whitepages Premium.
Featured on New York Times, Forbes, ABC, etc.
Platforms Supported: Web, Android, iOS
Price: Free | In-app purchases from $2.1
7. CallerSmart
CallerSmart is one of the best reverse phone lookup services available for iOS users. The developer Nikki Kambanis has especially developed this tool to identify unknown persons behind the calls.
Tracing and blocking in real-time is kind of an easy task for Caller Smart. Get the caller's geographical info, and user's spam ratings from the community.
You can even look for details like who's been looking for your number with past search functionality and contact them directly if you know them.
Features 
Block unwanted SMSs and calls.
Get the geographical location of the caller.
Report numbers to the National Do Not Call Registry.
Improve the service through feedback and get rewarded.
The Badge system helps users to engage and rank among themselves.
Platform Supported: iOS
Price: Free | Premium report credit $3.99
8. WhosCall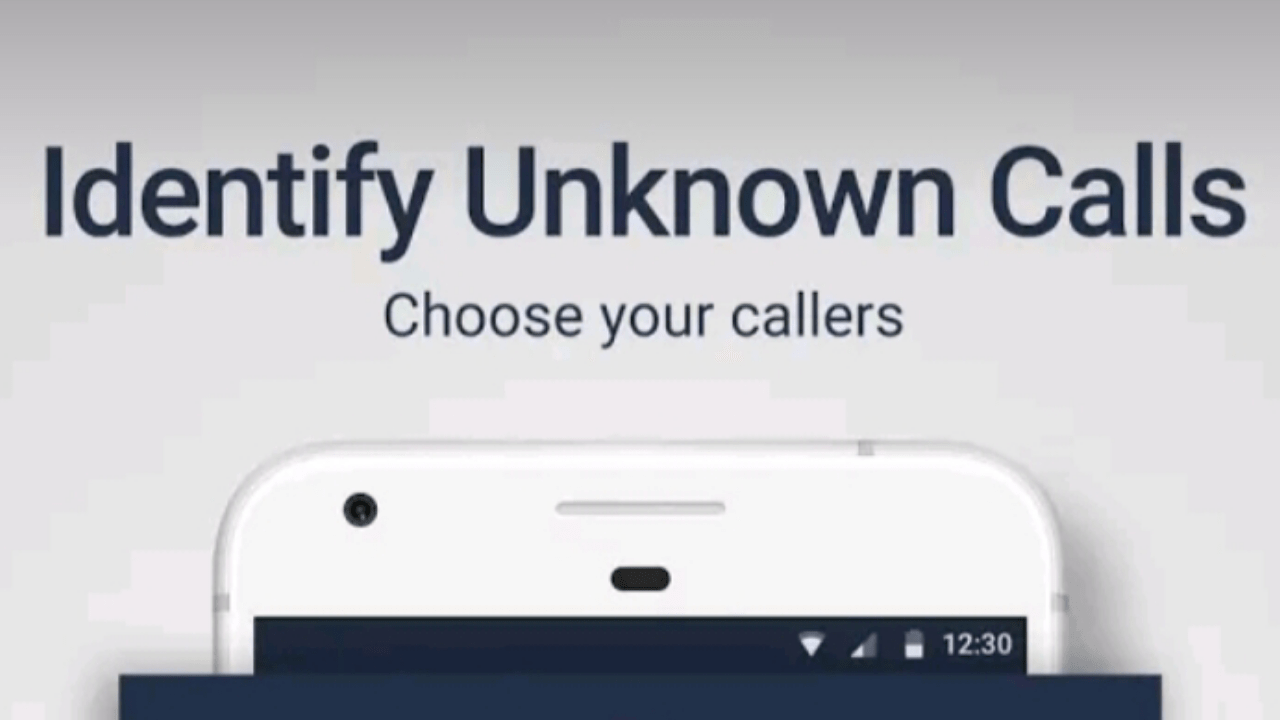 WhosCall is one of the best reverse number search tools to get the caller's location details without an internet connection. They have over 600 million registered numbers.
Best all in one total protection from spammers, call fraudsters, annoying telemarketers, advertisers, and prank callers. Protect your privacy with the help of WhosCall's real-time caller ID and spam blocking.
If you have a heavy business, they let you create a personal mobile business card that has its own advantage when dealing with hours of daily conversation.
Features
Amazing reverse phone number lookup tool.
Get the info about telecom circles.
Real-time spam blocking.
Latest details of incoming calls.
Some features work without an internet connection.
Offline databases are available for countries like the USA, India, Taiwan, Malaysia, Brazil, etc.
Platforms Supported: Android, iOS, and Windows Phone
Price: Free | In-app purchases from $0.66
9. PeopleFinder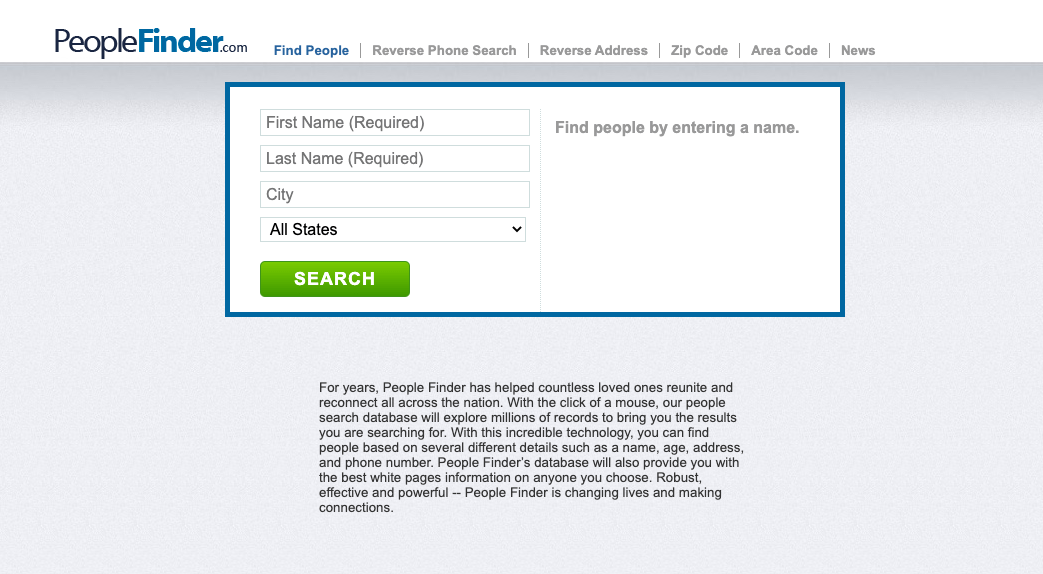 PeopleFinder is another web-based reverse phone lookup service to check the details of the caller from billions of publicly registered numbers. The service is only available in the United States only.
The site user interface is very clean and easy to use and anyone can use it without any help. You can find details through a person's name, email address, phone number, street address, zip code, and even area code as well.
Features
Running the reverse phone search business since 1998.
Easy to use interface.
Billions of registered numbers.
Updated white pages.
Registered an account for more features.
Platforms Supported: Web
Price: Free
10. SpyTox
Spytox is found to be a reliable reverse phone number service used by 3 million users on a daily basis. You can regard SpyTox for a hub of human information like searching the caller's ID through name, phone number, or email.
This tool is free to use and no sign up is required to use it although you can make an account with them. An essential aspect I have liked about SpyTox is that it even tells you about the social profiles of the person along with the photo.
Features 
Free reverse phone lookup site.
No subscription needed.
You can even call a number online by using free credits.
Deep Web search to find all relevant information.
Platforms Supported: Web
Price: Free
11. Phone2Location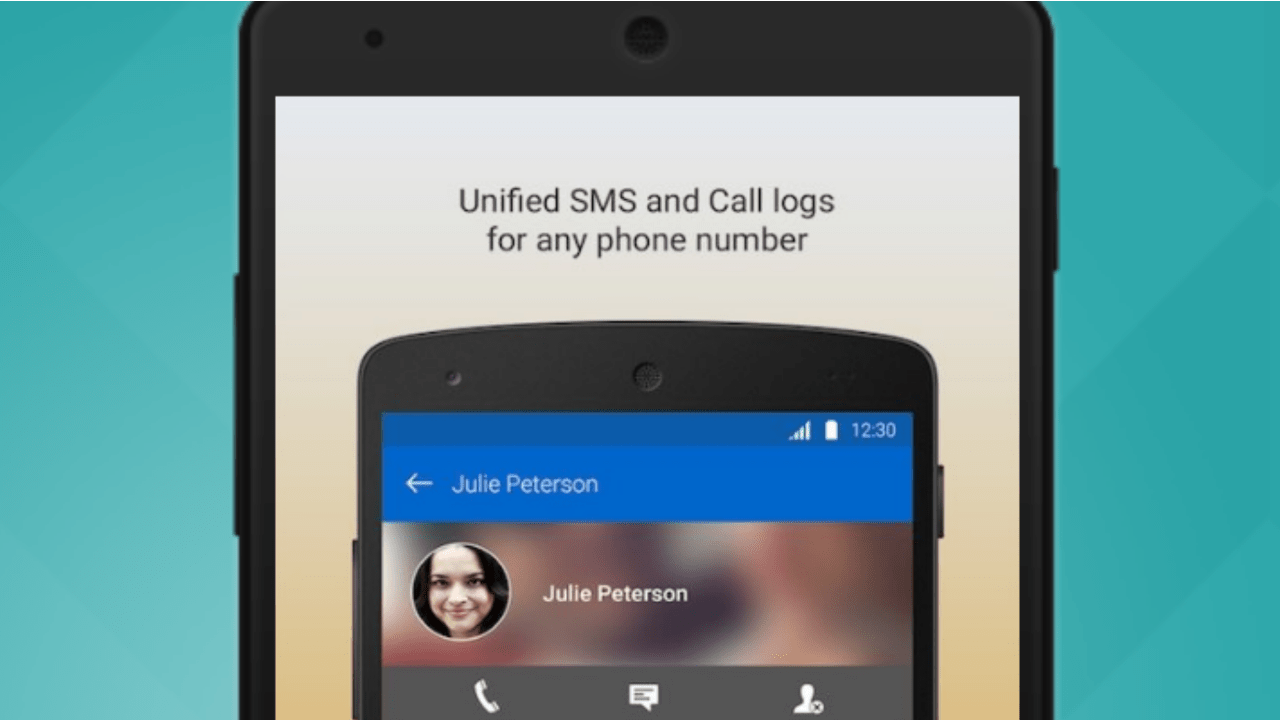 Phone2Location is an amazing contact info tracker tool through its location which can be accessed without even an internet connection.
Currently, they are supporting countries such as the UK, Canada, the US, and China but you may see more to the list in the future.
The free version of this cell number lookup tool offers the same features as the pro one, but if you want to add extra themes and remove ads, then only go for the premium.
Features
Get the caller's location every time you get the call.
Block spam text and numbers in real-time.
Multiple theme choices – I say not necessary.
Filter all contacts in the phonebook according to location.
Platforms Supported: Android
Price: Free | Pro version $7.99
12. CallApp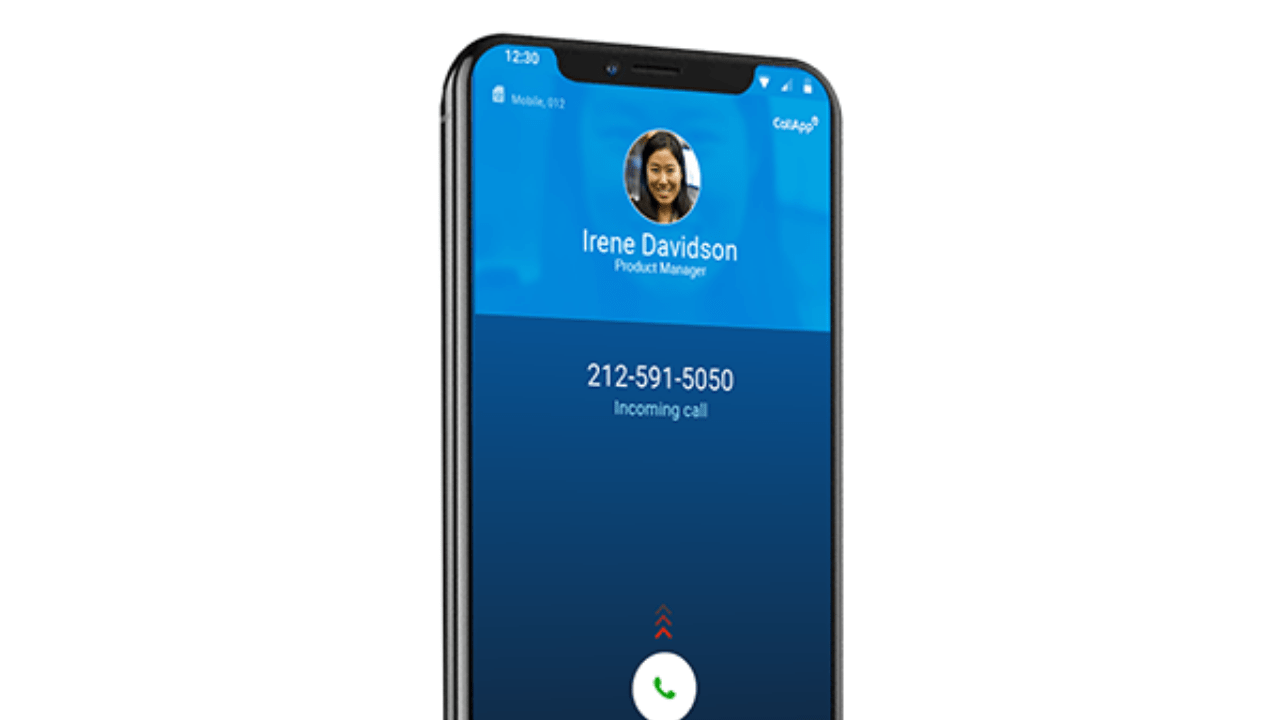 CallApp could be a good alternative to Truecaller in terms of its features. It has a sensational (ACR) automated call recording feature for all outgoing and incoming calls.
Don't let anyone bother you, block and put them into a blacklist folder so they may never disturb again. The free version has limited features while a premium version can supercharge the phone lookup searches by identifying private listed numbers, location, social media profiles, etc.
Features 
Over 25 million users worldwide.
Block spammers and telemarketers.
Identify person details through name, email address, and cell number.
Update images in the contact list from social media sites like Facebook, Instagram, LinkedIn, etc.
Platforms Supported: Android
Price: Free | In-app purchases from $0.5
13. Reverse Phone Lookup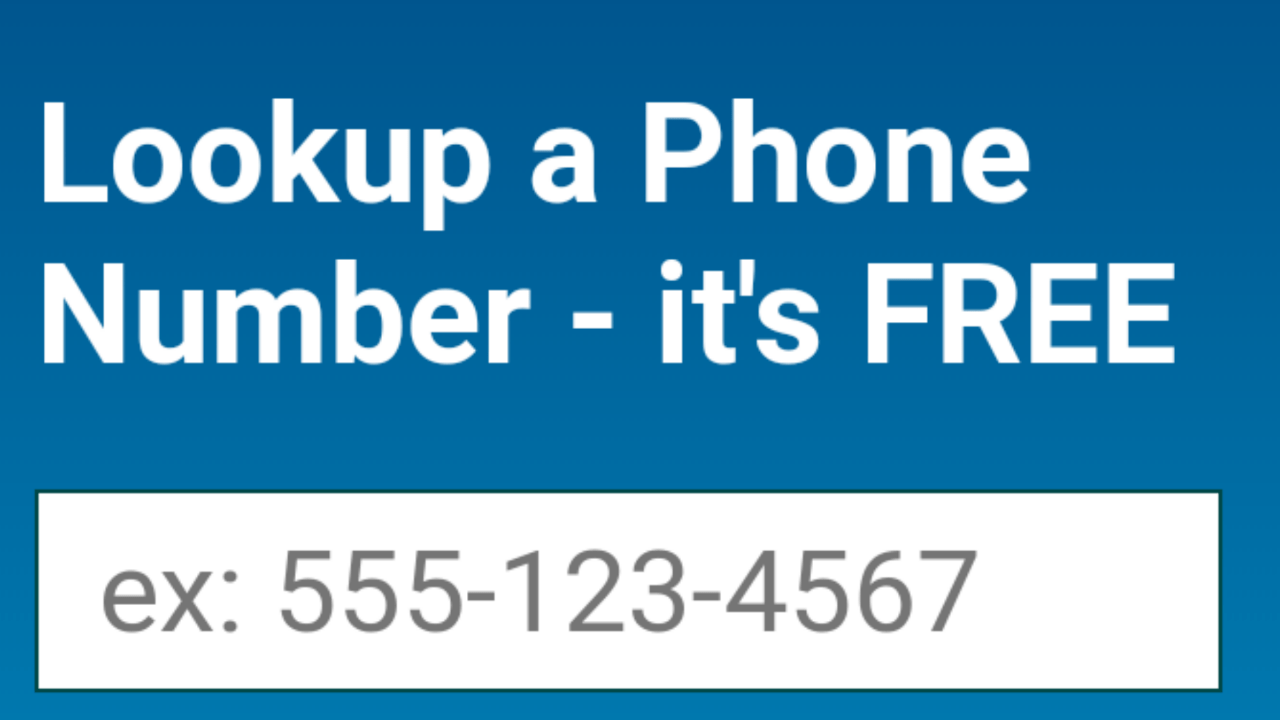 The type of service they provide is exactly in its name. They have been providing reverse phone lookup since 2010 and helped people to save over 10 million dollars which they would have used for premium features.
Just like most of the Web-based services on the list, it is available for the USA only so a VPN can help you with this thing. It allows you to see details like a person's name, email address, etc.
Features
Almost everything is free.
Best for landline numbers.
Not good for private listed cell numbers.
Find location, emails of the caller.
Platforms Supported: Web
Price: Free
14. Block Spam Calls 
This tool is mainly made to protect yourself from spammers and fraudsters. They have over 20 million spam numbers in their database and you can easily verify if the call coming to you belongs to that list or not.
With over 5 million registered users, they have already blocked 95% of fraud and spam calls. And the good thing is reverse number search is available for most of the countries.
Features
Block fraud and spam calls instantly.
95% blocking rate.
5 million registered users.
Add news numbers to the database manually.
Many countries are supported.
Platforms Supported: Web, Android, iOS
Price: Free | Premium for extra features
15. Addresses.com
Addresses.com is another US-based reverse phone lookup tool to get info through public records. Since most of the numbers are publicly listed, searching for a private number could be a waste of time.
However, it doesn't mean they are not good enough, they provide accurate details and results for numbers that are publicly listed by the owners.
Features
Get the caller's email, name, address.
You cannot use this service for any other reason as they are not a consumer reporting company.
It's not completely free, you have to pay some fee to get accurate location information.
Search for business details with ease.
Platforms Supported: Web
Price: Free | Fee for detailed location info
Conclusion 
So these are the best reverse phone lookup services in 2020. Most of them are free but some are paid.
In my opinion, if you usually get calls from unknown numbers, services like Truecaller and CallApp are good for that, they have apps you can install on your device.
However, if you rarely get calls from an unidentified person or just wondering who he might be then, Web-based tools are a good choice to use.
But above all, make sure to use these services for yourself only, not for any illegal stuff.
So which tool or service would you like to try?
If you've any thoughts on 15 Best Reverse Phone Number Lookup Services | Free & Paid, then feel free to drop in below comment box. Also, please subscribe to our DigitBin YouTube channel for videos tutorials. Cheers!