Right antivirus apps that provide a centralized control on our device is exactly what we need to protect an Android smartphone. But as usual, finding the perfect one that fits all your requirements is the most difficult task. When we talk about antivirus tools, then most of them fulfil our needs, but we might find them a bit expensive. And the less expensive ones will lack some important features.
Given such a large majority of the user base and also its open-source policy, Android is very much prone to be attacked by virus and other malware. According to a report by an independent security firm by Mike Rogan, about 98% of software malware is shared by Android OS. This shows how vulnerable Android smartphones are to be infected by the virus. Google regularly releases security patches in software updates to protect Android from any such threat.
How Can Virus Enter a Phone?
Many times we download or share the apps, files, documents or media from non-reliable sources. Downloading apps from a less reliable source can be very dangerous. In a quest of getting a paid version of the app for free or to get a particular app which is not available on Play Store can cause you trouble. A rogue can create an app with the intention to inject harmful code into your phone, this code could harness all your phone data. The apps which are not downloaded from reliable sources like Google Play Store or Amazon Store could be potentially harmful and malicious for your phone and also to you as a user by harassing the privacy.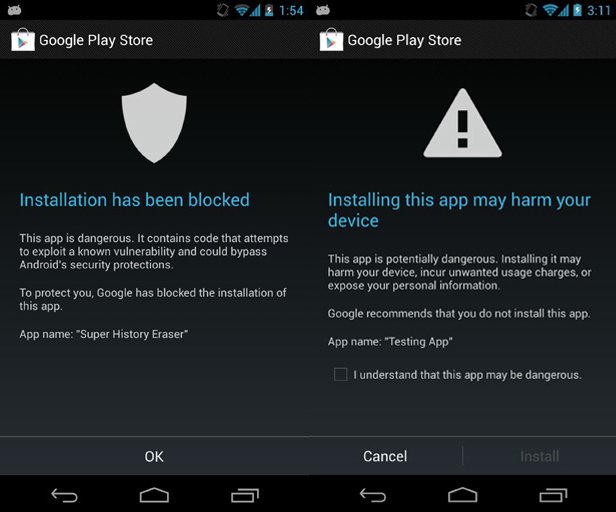 Types of Android Virus: Virus. Spyware, Adware, Malware, Trojans, Vulnerable scripts, ransomware, horses, keyloggers, rootkits, boot kits, malicious Browser Helper Object etc.
There are various paths which attackers use to inject the virus into the device and manipulate the system files to collect your precious data.
Various Paths for Virus and Malware Entry
Downloading Apps from

3rd party Unknown Sources

.
Downloading files from

Deceptive or Harmful Site

.
Clicking links on websites which are directed towards the

suspicious site

.
Many Apps in Play Store also have the 

Dormant viruses

to be activated later.
Many of the 

3rd party Ad Networks 

also inject Adware virus.

Pop-ups and Redirects

are also one form of unnecessary Malware.
Cracking or hacking Apps which ask for 

unnecessary and access permissions

 can potentially inject malware and are very much harmful.
Rogue Apps may send anonymous information to the developer without users consent. Many apps ask for location access in the app permissions even though not much necessary for app operations. and such apps tend to gather information. Unnecessary location access is always a red signal. Apps may contain malware, adware or spyware which take up a particular section of the phone to serve hackers. Even though you are downloading an APK of the App which is available on play store, but outside the store, the APK may be infected.
How to Know if your Phone is Infected with a Virus?
#1. Heavy Data usage: The first sign that your phone has a virus is the rapid depletion of internet data. The virus generally tries to run in the background to send unanimous send to the attacker resulting in the consumption of your internet data plan.
#2. Crashing apps: Do apps crash more often then they used to be earlier? Most viruses tamper with your regular operations, it's common for the apps to force close without any warning but if see any unusual behaviour than it is it may be due to virus
#3. Battery drain: This is one of the most common symptoms which can be affirmed for the virus attack. Malware and Spyware use a lot of battery to work thus resulting in quick exhaustion of device power.
#4. Pop-ups: Many websites and Apps have pop-up ads which as the name indicates, Ads pop-up when you are using the App or website. If you are gettings too many pop-ups especially suspicious ones, you may be infected by the virus.
If not your interest-based Ads then don't click on any of the links. The links may redirect you some third party sites which resemble the original one and deceive you for your Personal info or account credentials.
#5. Unexplained charges: Mysterious unwanted billing will hit you the most where it hurts — your bank account. If your device is infected with virus then you may incur unwanted Billings at unusual rates particularly in SMS. The device infected with malware may send SMS and activate packs without your consent.
#6. Unwanted apps: Trojans are the bunch of viruses which look like the legitimate app and are designed to look like real apps thus they succeed in deceiving the user.
#7. A sudden appearance of unfamiliar apps: Malware can make their way into your phone with apps that you download. They piggyback other Apps without your conscious.
#8. Overheating of the Phone: It is an alarming symptom indicating that your phone posses some malware which is interfering with the apps and causing temperature rise.
Today we will talk a few of the best Antivirus apps for Android In simple words, out of so many alternatives available, the right one is pesky to find out. Therefore, we are here to recommend you some of the best antivirus apps out there. Keeping in mind that you won't lack any feature and manage to find the most affordable one too. Moreover, they protect your data from being loaded with viral.
Best Free Antivirus Apps
Here are the Best Antivirus Softwares that will Protect your device from all kinds of Viruses and Malware.
1. BitDefender Free Antivirus
BitDefender comes under the extreme basic category of Antivirus tools. This free Antivirus comes with a simple-looking interface which seems quite easy to use. It just scans through all your files and waits until the user runs the next scan. There are no additional features included, but it provides a great service considering its performance and speed. Most importantly, there are no configurations, so just launch the application and hit the Scan option to get your job done.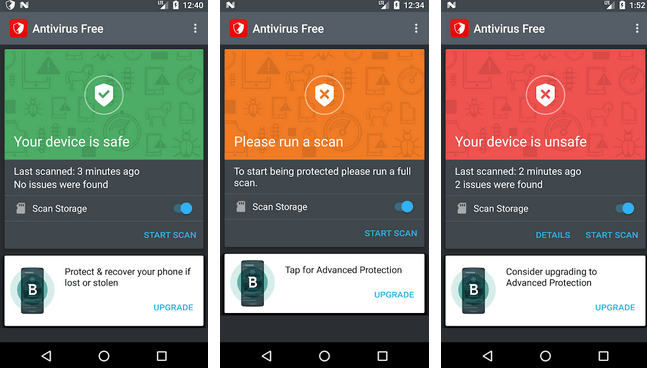 Although there is a larger version of BitDefender available on the play store. But this one just works fine if you are looking for normal periodic scans. It is not available at in-app purchase but contains ads
Highlighted Features
VPN services to access blocked sites
Top-level protection against malware
2. 360 Security
With 360 Security, you come up with a few more impressive features, which makes it one of the must-have applications on your device. It scans all your files and apps to come up with the overall malware activity. Some of the major features include CPU cooling, antivirus protection, anti-malware protection, and other security features like anti-theft alarms.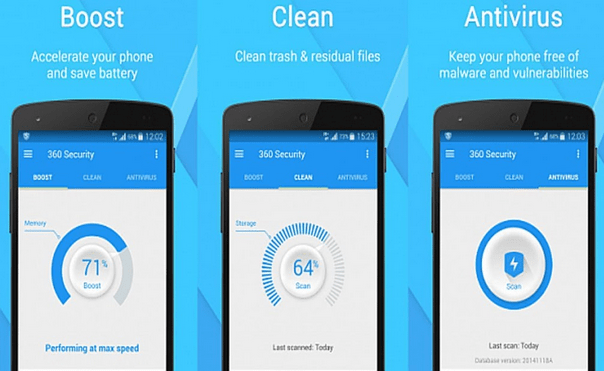 Moreover, it also has intruder selfie capture protection, which clicks a picture of the person trying to break into your phone with a wrong password. Plus, you get a multi-function lock screen that shows your phone's status as well. It is available as an in-app purchase and contains ads.
Highlighted Features
Integrated CPU cooler
Multi-function Lock Screen
Speed booster to enhance the performance level
3. Avast Antivirus
According to the AV-Test, Avast Antivirus comes at the top-rated malware scanner. This is a multi-platform scanner and one of the popular ones as well. It starts scanning and brings up all the potential vulnerabilities with a single click. Avast provides complete protection against trojans, bots, spyware, and viruses and provides web-shield for safe browsing.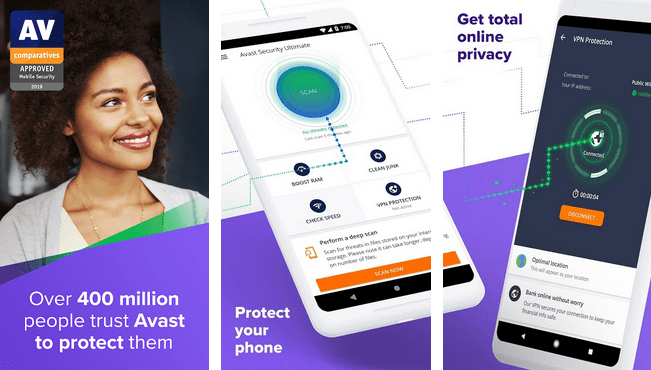 In addition, it gives complete insights on the time you spent on each app. This all-rounder antivirus cleans all your junk and other residual files. It also has a photo vault that ensures complete protection of your photos from any unauthorized access.  Moreover, the free version of Avast teams up a good amount of exclusive features that make it one of the best ones on the list.
Highlighted Features
Photo vault available to protect photos on the device
Web protection for safer browsing
Offers insights on time spent in each app
4. AVG Antivirus
Similar to Avast, we have another popular one on the list. AVG Antivirus, developed by AVG Technologies, is quite a robust antivirus tool. AVG features all fundamental tools that ensure the overall protection of your device. It offers anti-theft tracking via Google Maps, antivirus, and internet security tools. The software scans and removes all junk files, boost ram, and powers up your device performance.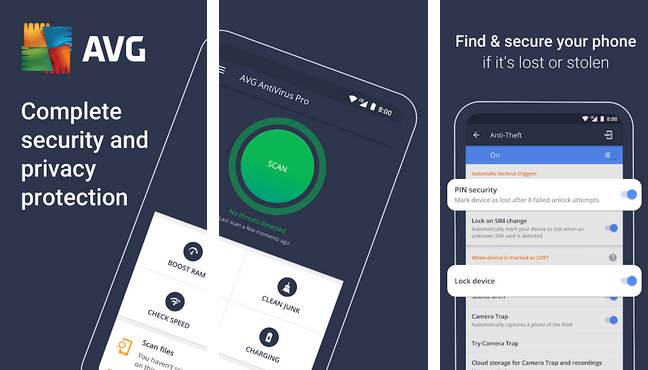 Moreover, it also includes several other high-priority features like Wi-Fi security, call blocker, power saver, VPN service, and more on the list. You can always start with the 14-days trial version. The trial version as well includes some exclusive features that help gain user's attention.
Highlighted Features
Dual-Engine antivirus protection
Offers a package of necessary features
Photo vault to protect photos
Power saving feature to extend battery life
5. Avira
Another feature-rich free antivirus tool, Avira is well-known antivirus software for Android. Luckily, most of its exclusive features are made available in the free version. The software even scans the external storage media and shows the overall device status and rates of each app based on a privacy scale. This feature makes Avira a unique and advanced one on our list. Other features include privacy advisor, camera and mic protection from snooping attacks, cell phone tracker, anti-ransomware, and web-shield.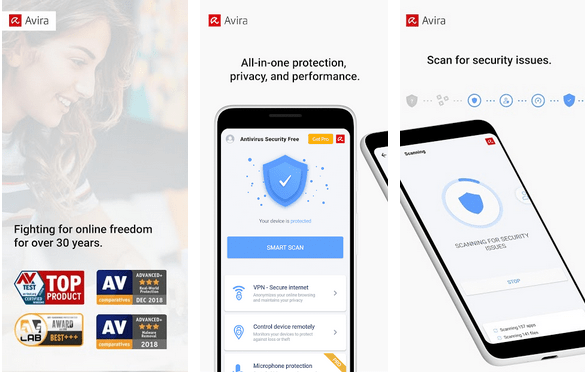 Moreover, it is also available in-app purchases, and the premium version is less expensive if compared to others on the list. The premium version thus adds up a few more advanced features like camera protection, etc.
Highlighted Features
Anti-ransomware protection available
Privacy advisor for better maintenance
Additional Camera & Microphone protection
6. Kaspersky Mobile Antivirus
Kaspersky is one of the best antivirus available for Android. It is available for free but you can also upgrade to a premium plan. The free version includes periodic scans, Call and SMS blocking, virus updates, and anti-theft. However, the premium version includes a bunch of other features such as an app-locker, real-time protection with anti-theft and anti-phishing tools.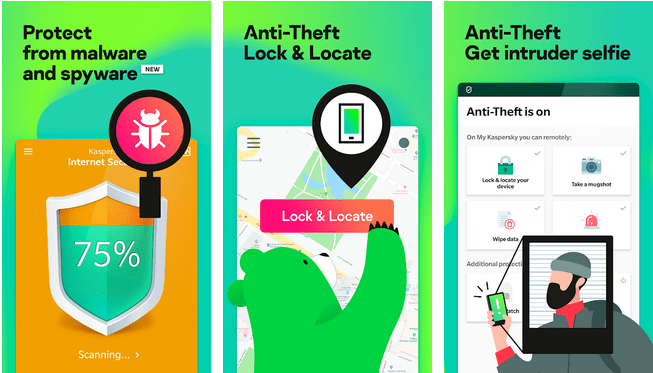 Above all, the app is a lightweight one that doubles down on its task. Plus, you can also get a taste of its premium features with its 30-day trial version.
Highlighted Features
"Find My Phone" to track your Android device.
SMS and Call filter to block all spams
High-Quality protection against malware.
7. Sophos Mobile Security
Sophos Mobile Security is a brilliant antivirus and security app for Android. This software is available for free and contains no ads which attract a lot of users. This feature-rich app includes all basics like anti-malware, web filter, anti-virus, app locker, Wi-Fi security, and so much more. It comes with an authenticator function for multi-factor authentication.
Sophos has grown into an IT security leader for companies and governments across the globe.  Moreover, it contains tons of unique features like link checker, privacy advisor, security advisor, secure QR code Scanner, and more.
Highlighted Features
Authenticator to generate OTP's and multi-factor authentication
Password Safe Function to store data in KeePass compatible database
Intune Mobile Theft Defense
8. McAfee Mobile Security & Lock
Well, seems like the best are never gonna end! Yes, McAfee is another great one on this list; it is the ultimate mobile security tool. Firstly, as expected, McAfee includes all the exclusive security features like Smart Security, Privacy Protection, antivirus and spyware protection, etc. It comes with an intuitive UI and is armed with a powerful security engine.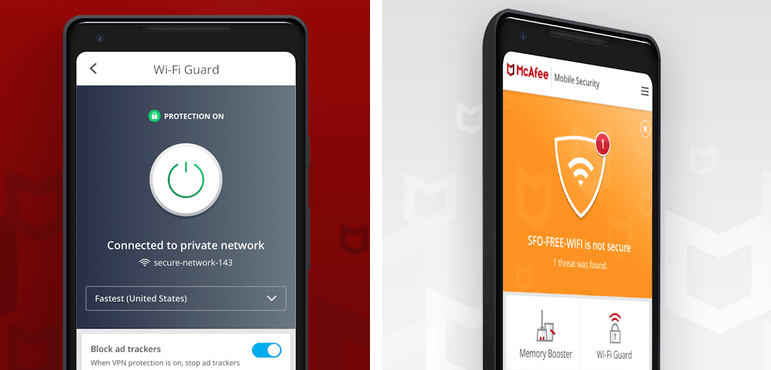 Furthermore, one of the best things is it provides tutorials for every single feature. And it bundles up a lot more features like battery optimizer, memory cleaner, data usage tracking, VPN encryption, and so much more.
Highlighted Features
Performance Optimizers
Secure Lock & Guest Mode
Intruder Selfie Capture
Spam Filter And add Tracker Blocking
9. Norton Security And Antivirus
The Norton Antivirus is an award-winning phone security and virus protection software. It detects and removes all malicious apps, viruses, and malware. Norton offers surveillance app protection and web protection and also allows you to remotely lock your phone to avoid data theft. It offers an app advisor powered by Norton, and also includes safe search, call and SMS blocking, Android System Advisor that helps to scan your OS.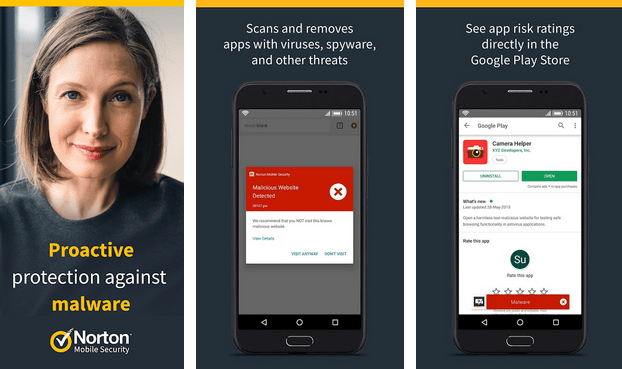 In addition, it has separate apps available on the play store for free. It also offers a 30 days trial period to experience all the premium features. Norton has earned a good reputation over the years as trusted anti-virus protection for PC's and now it's growing in the world of the smartphone as well.
Highlighted Features
Safe Search to flag unsafe sites
Wi-Fi scanner to detect unsecured connections
Surveillance app protection to notify if an app share any confidential source
10. Lookout Security And Antivirus
The Lookout Security And Antivirus is a well-known antivirus app. Along with all the basics it also includes many new features like identity protection, Wi-Fi Scanning, identity insurance, etc. The Lookout Mobile Security has also introduced the Safe Wi-Fi and System Advisor in the latest version.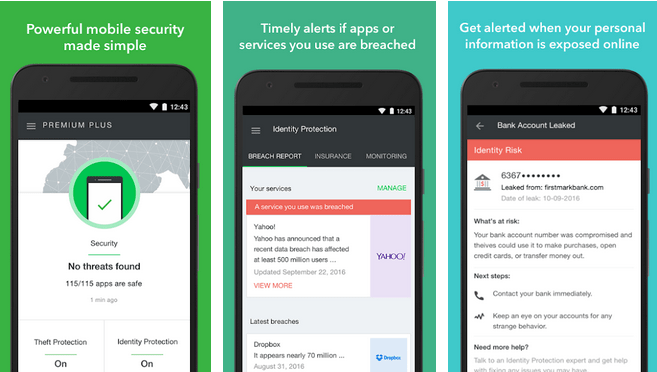 Overall, the app works fine in running periodic scans, malware protection, anti-theft, phishing, etc. The Lookout Premium Plus includes all the premium features including identity theft protection. However, it starts at $2.99 per month or $29.99 per year.
Highlighted Features
Identity Theft Protection
Wi-Fi Scanning
Identity Insurance
11. DFNDR Antivirus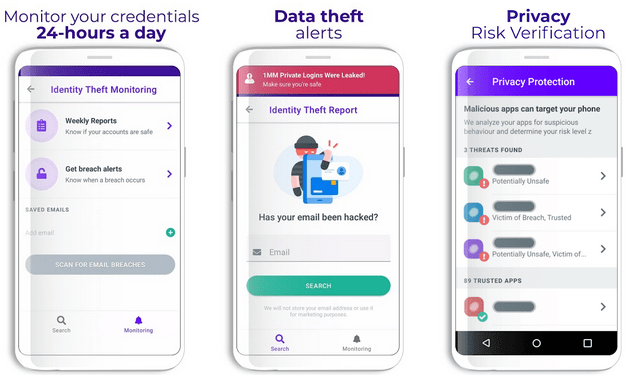 DFNDR is considered a top-rated antivirus app according to the AV-Test Institute. It has over 200 million downloads on the Google Play Store. It helps to optimize your smartphone's performance and increases its functionality. The app plays the role of an all-rounder starting from cleaning junks from your device to anti-hacking and phishing. Moreover, it removes all apps running at the background to save bandwidth thus speeds up your internet connection. Although, the only negative point is it contains ads which can be really annoying. To avoid these ads you can spend a little on its yearly subscription.
Highlighted Features
Full antivirus protection
24/7 monitoring on your digital private data
App Lock to protect apps and photos from intruders
Anti-hacking and anti-phishing protection
12. Dr.Web Security Space
Dr Web Security Space is quite an old one in this field. The app provides complete anti-virus and anti-malware protection. In addition, it contains some more essential features like anti-theft, call and SMS filter, ransomware protection, quarantine space, etc. It takes care of your smartphone and provides overall protection. Plus, it is a highly-affordable one as its subscription starts at just $7.99 per year to $74.99 for a lifetime.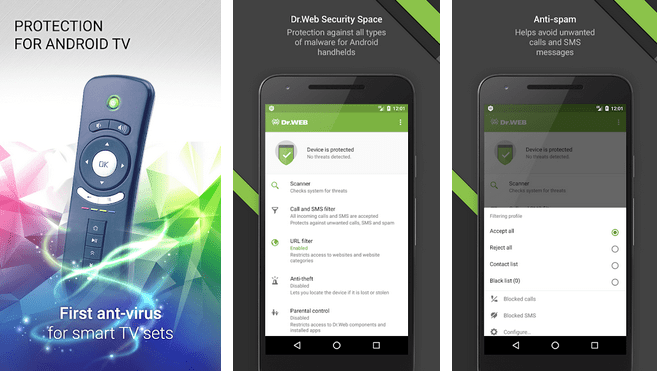 Highlighted Features
URL filter to restrict unwanted web resources
Provides complete parental control
Security Auditor that exposes all security related issues and finds the solution
13. Quick Heal Mobile AV
Hopefully, a famous one on the list. Quick Heal Mobile Antivirus is free antivirus software that protects your Android device from all viruses, malware, and other harmful apps. You can also block unknown calls and use its app locker for protecting your important apps and photos. Additionally, it also scans apps before downloading them from the play store. It adds up many more features on the list such as real-time scan, booster, motion alarm, pocket alarm, and so on. Moreover, you can also upgrade to its premium version that adds more to the list and provides complete parental control.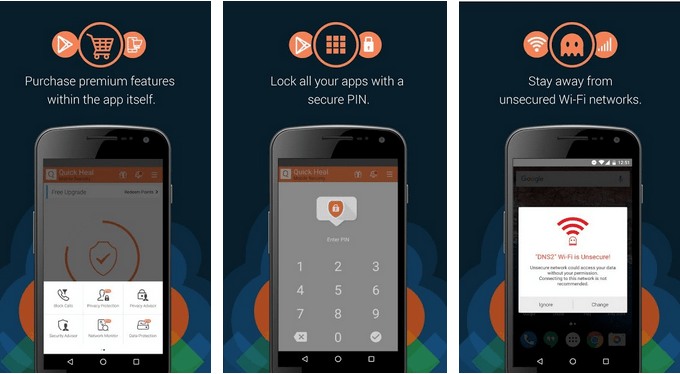 Highlighted Features
Remote Device Management
Security & Privacy Advisor
14. ESET Mobile Security
When it comes to the best antivirus software, ESET mobile security can't be ignored. It is a very fast and powerful antivirus and antimalware application that take complete care of your machine. It supports all necessary features like periodic scans, security editor, anti-theft, scan scheduling, anti-phishing, etc. Although the setup is quite an intrusive one and it asks for your email address too.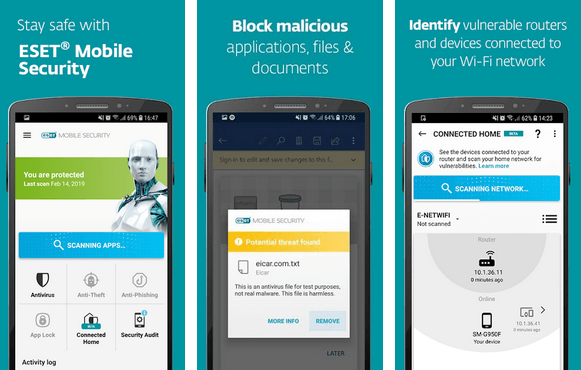 With ESET you can experience the full potential of your device without caring about viruses, ransomware, adware, etc. If you find anything suspicious, just run a quick scan and you are good to go. However, the best thing about ESET is you can use it on up to 5 devices with a single payment.
Highlighted Features
Proactive-Anti Theft sends the last location, in case you lost your device with a depleted battery
Protect your apps using PIN or fingerprint
15. Malwarebytes Security
Malwarebytes is a well-known antivirus app for Android users. It's a powerful antivirus app for the android device. The cleaner of this app is so powerful that it detects any ransomware threats of the android device. It has over 10 million +  downloads and has an average of 4.7 ratings from the users.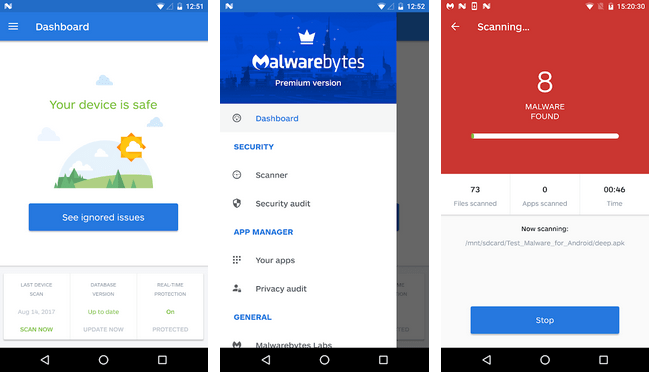 When the app is installed it will run on a 30 days free trial period for the premium version of the app. But not to worry we can use the free trial period for lifetime just the thing is that after the completion of the 30 days trial period it will stop the automatic scans, we have to scan manually then. Its premium version costs between $1 to $10 which is quite reasonable.
Highlighted features
Detects ransomware  threats
Premium version at low cost
Average rating almost  close to 5
16. Qihoo Safe Security
The Qihoo safe security is a known antivirus app for our android system. It will support atmos ANDROID 4.1(jellybean), which is quite common these days. It also comes with the app lock support, which is quite appreciable.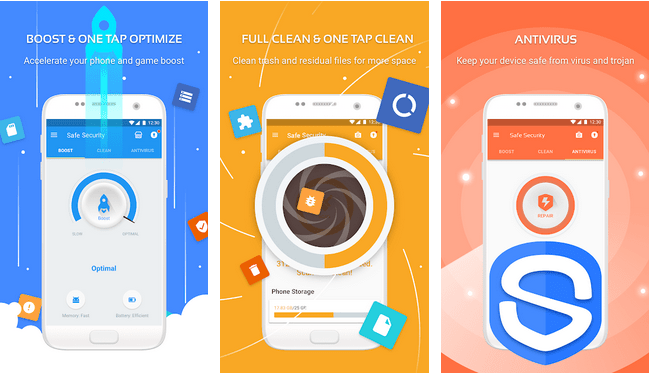 Qihoo has both a free version as well as a premium version. The premium version costs around $12 per annum that is not costing a great deal of money in today's time. But interestingly it's free version comes with everything but the main flaw is that the free version is drowned with ads & ads which may bother you a bit.
Highlighted Features
Supports Android version 4.1(jellybean) and later versions
The Free version supports every feature of the app
Inexpensive premium version ie the paid version
17. Webroot
Webroot is mobile security as well as an antivirus app for our Android system. It goes for antivirus and antimalware scans too i.e., it detects, blocks, and also removes malicious apps from the system. And the best part is that it goes for fast scans i.e., about 30 seconds or less than that. Most interestingly, set it and forget it, u will be able to enjoy continuous protection without any interruptions or slowdowns.
Moreover, it also comes with the paid feature which will cost between $12 to $17 each item. The main importance of its paid feature is that it scans all the apps on the device and identifies those which can harm your device
Highlighted Features
Fast scans i.e. with max. 30seconds
Set it and Forget it
Security while browsing, shopping and banking too.
18. Trend Micro Mobile Security And AV
Trend Micro is a mobile security and antivirus with a performance booster. It scans all malware and viruses and prevents newly installed apps from accessing private info. Moreover, Trend claims to provide the best protection possible to all Android smartphones and Tablets with a 100% malicious app detection rate.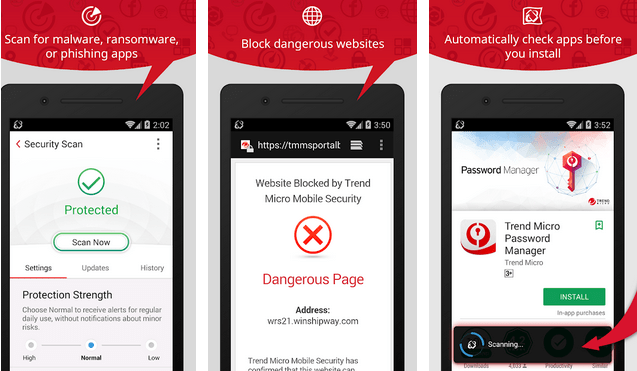 Trend Micro comes in both a free and a paid version that includes all premium features. Additionally, it also has a built-in scanner for Facebook which lets you know if your profile settings display any sort of sensitive information. You get local VPN guards to protect against all fraud and phishing websites.
Highlighted Features
Integrated Facebook privacy scanner
Wi-Fi Scanning
Remote Console to find the lost device
19. AhnLab V3 Mobile Security
Although you may not be aware of the AhnLAb V3 Mobile Security, this south Korean security app has high malware detection rates. It holds a good reputation, according to the AV-Test. With its one-touch feature, you can protect all your confidential data without draining the battery. AhnLab is a globally certified robust malware protection that has plenty of features that includes real-time monitoring, fast scan, accurate scan, etc.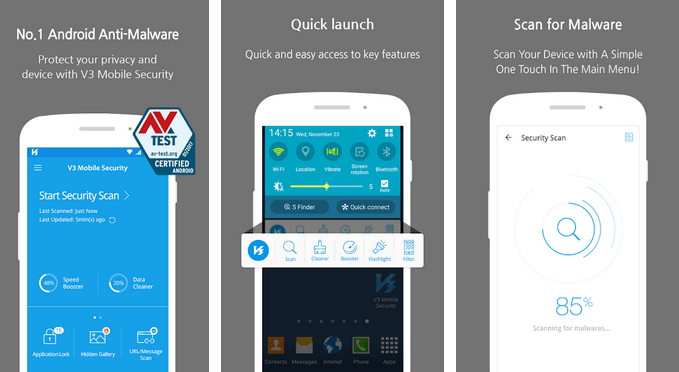 It is one of my personal favourites and is ranked number 1 by the global test agencies. The app is very well designed with minimal battery and CPU usage.
Highlighted Features
Easy One-Touch Scan
Security scan for OS fabrication
Privacy Filter in case you need some extra privacy to your device
Speed Booster to enhance phones performance
20. Nox Security
Nox security, also called the antivirus master, is a security and antivirus app. The app comes with a free Wi-Fi security monitor, antivirus cleaner, a notification blocker, call blocker, and much more. You also get fine encryption services built-in. In short, this app is a complete package of security protection for the user and the device too.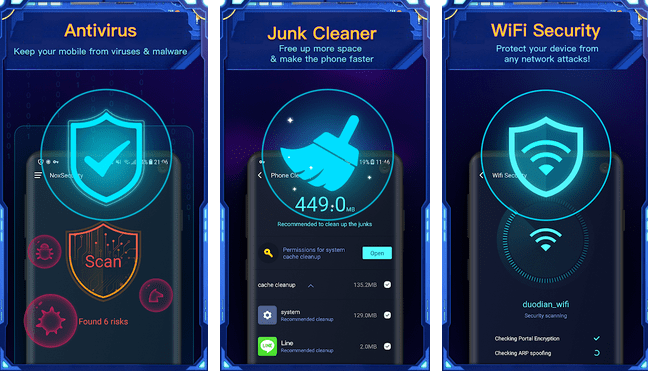 This free Virus Cleaner keeps the device safe from viruses and malware. Notification blocker master blocks annoying and useless notifications which bother the user a lot. AppLocker protects the apps as well as privacy. Wi-Fi security protects the device from any network attacks. Lastly, it provides solid security to your device.
Highlighted Features
Supports battery saver
Supports Notification Blocker
Offers Wi-Fi Security.
Conclusion: Protecting your digital private data and proper maintenance of your smartphone has become a must for everybody. I mean nobody likes to use a device with slow responses or abnormal behaviour. But if you are an Android user, no matter whatever device you carry, it might gradually develop slowdowns and other issues. Therefore, check out this awesome antivirus to gain total control over your Android and protect your confidential data.
If you've any thoughts on Best Antivirus & Anti-Malware Apps to Protect your Data, then feel free to drop in below comment box. Also, please subscribe to our DigitBin YouTube channel for videos tutorials. Cheers!