Are you tired of receiving spam calls or those from the telemarketing companies? Unfortunately, you are not the only one; most of us are already facing such a situation almost every other day. What's more annoying is people claiming to offer you money in the form of some lottery, you have no idea about. Or, in other words, performing social engineering on you. Sometimes, one such call is enough to ruin your entire day.
Perhaps, people even start avoiding the legit calls thinking it could be another suspicious one. But the question here is, why don't we simply complain about that person behind these disturbing calls?
Well, the fact that they hide their numbers, makes it unpredictable and difficult for normal users to track them down. But if you are curious enough to discover the identity of these masterminds, you can actually do it using reverse phone number lookup apps. And here is a list of some of the best apps that will provide you with accurate details.
Best Reverse Number Lookup
Here's a list of the best reverse number lookup services that you might love using to find the identity of the unknown number
1. TrueCaller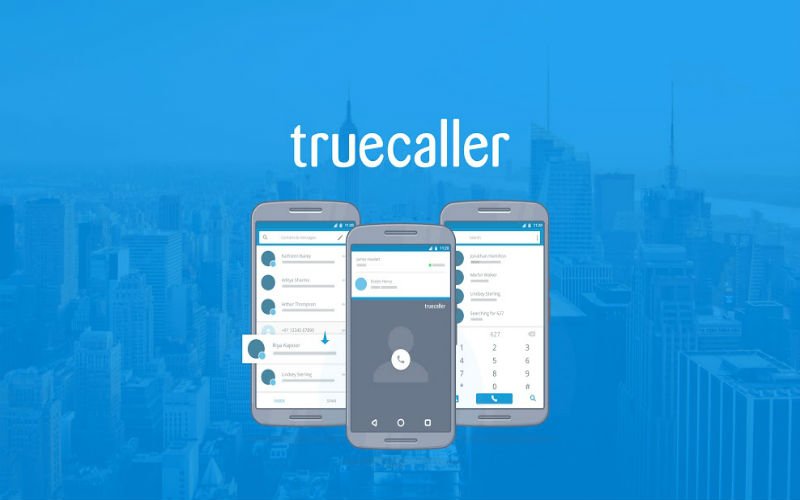 TrueCaller is one of the most used phone number search services. The app has a collection of more than 1.6 billion phone numbers from all over the world. Every time someone calls you from an unknown number, TrueCaller displays the name of the person before you even receive it. So, the next time someone calls you, they won't be anymore unknown to you.
Interestingly, the free version provides you with most of its necessary services. Besides, it is available in both web-based as well as for smartphones. TrueCaller notifies you with the caller's name, country, and region. Plus, with its new update, TrueCaller has categorized things in a more efficient way.
It provides you with three different sections, namely Personal, Others, and Spam. Under the personal tab, it displays all the calls from users in your contact list. In the other's section, you can see messages and calls from unknown numbers that include the telemarketing service, online shopping service, etc. And the spam category shows you all the spammed calls and messages as usual.
2. AnyWho
AnyWho is the name of another effective phone number search application. The moment you enter an unknown number AnyWho shows you the name of the person to whom the number is registered. It also displays the location of the caller on a map. Additionally, the app is capable of providing you with a few more specific details that help you track the person.
AnyWho does all this by using the Yellow Pages services. If you have no idea about what Yellow Pages is, then they are basically telephony directories of organizations and businesses. And not only mobile phone numbers but it also lets you look for the landline numbers as well.
It offers you three different options, Yellow Pages, People Search, and Reverse Phone Lookup. Yellow Pages lets you look after businesses by their name or category. The Peoples Search option helps you find unknown users by their names, and the reverse phone lookup lets you find people by their phone numbers.
3. Mr. Number
Mr. Number is another name on this list that helps you identify and stop calls from spam, fraud, or any scam source. The app is widely used for its fast and efficient service. When dialing out numbers, Mr. Number puts the names associated with those numbers. Hence, you can now block any telemarketing agency or other spam calls before they even waste another second of yours.
Apart from this, it lets you block calls from a particular person, region, or country. You can as well intercept calls from private or unknown numbers and send them to voicemail. Mr. Number is mostly known for its powerful call blocking feature. It automatically blocks all suspected frauds and spam calls from unknown numbers and saves a lot of your time.
4. White Pages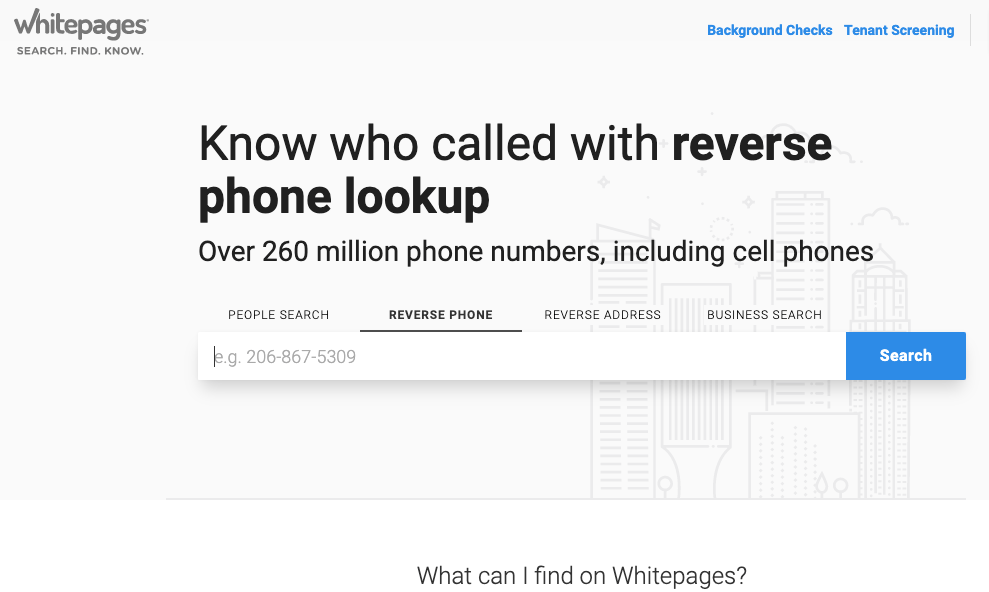 This is another highly recommended option if you are looking for a reliable reverse phone lookup app. This service has been standing for quite a long time now since 1997. It is both available on the web platform and as a mobile application. White Pages contains the contact details of more than 200+ million users across the globe. The good news is, it is completely free of cost service. Besides, more than 35 million people use it each month, which speaks enough of its reliability.
White Pages allow you to find individual names, addresses, and some amount of background details as well. All you need to do is, open the app, and insert the specific phone number, and it will tell you everything. By using its reverse phone lookup feature, you will know who the owner of the number is and his other public records. Moreover, it also has the reverse address feature that helps you get property information of the particular person.
5. Reverse Phone Lookup
If you keep receiving calls from unknown numbers more often, the Reverse Phone Lookup app is specially designed for you. No matter if you get calls from any telemarketing company or any credit card services or whatever it is, this app is specifically made to help you. Just enter the number which is bothering you and reverse phone lookup will provide you with all the essential information.
It will show you the name and location of the person who is calling you. So, no one can really hide their identity from you anymore. It displays the exact address along with the map location as well. Plus, you don't have to pay for anything as they provide completely free service. However, the only thing that might disappoint you is, it does not have a reverse address search nor a regular lookup service. But, overall, they offer a trusted service and are also quite easy to use.
6. Intelius
Next, we have Intelius, an efficient service that reveals unknown callers' identity to you. Intelius was founded in 2003, since then it has been continuously offering a very reliable service to its users. It specifically looks for the related data on search algorithms and phone directories and provides you with complete information concerning that phone number. Intelius helps you efficiently look for people, phone numbers, addresses, criminal records, background checks, etc.
On the other hand, it also takes care of your security and anonymity. All your searches are kept private and completely confidential and ensure satisfactory service. Intelius has a collection of over 20 billion public records, which is definitely a huge number. This also increases the chances of finding your targeted person's information here.
7. Number Guru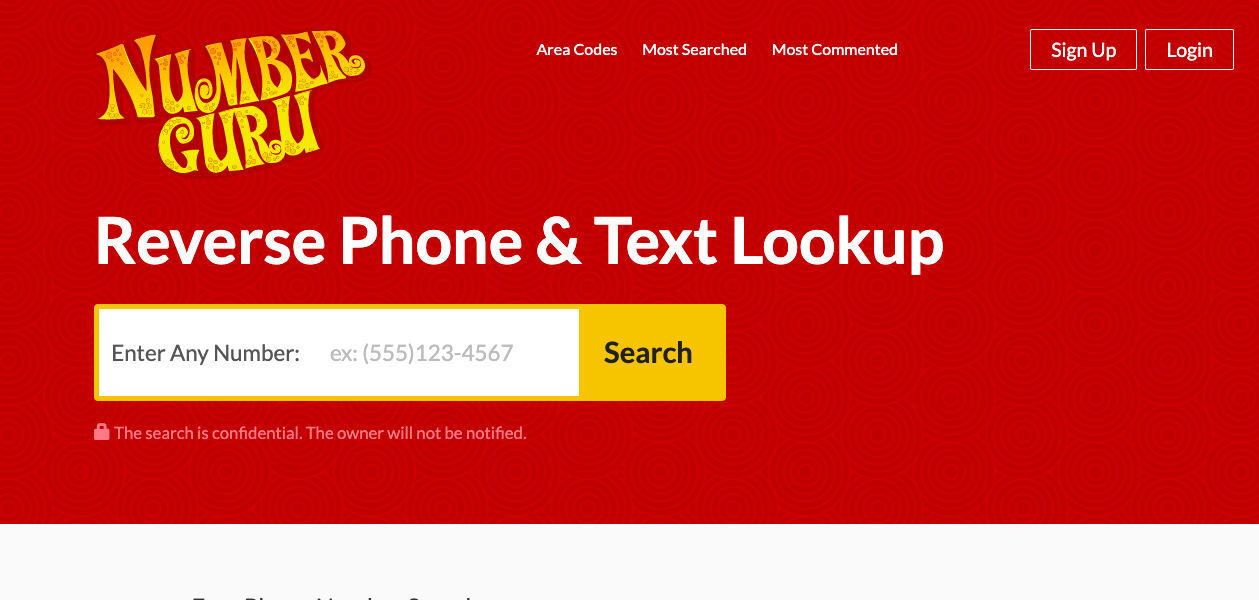 Number Guru is another easy to use reverse number lookup service that comes completely free of cost. You only have to input the phone number bothering you, and Number Guru will take care of it. Once you hit the search button, the app will show you all the details connected to the number. This includes the person's name, address, and a few more personal information regarding that person.
Additionally, it also lets you know if other users have already marked a particular number as Spam. It provides you info about both mobile phone and landline users. Especially if you are someone staying in the United States, Number Guru can be a very beneficial service for you.
8. TruthFinder Phone Lookup
TruthFinder Phone Lookup is one of the most recommended lookup services. This service not only provides you the names registered to a number but also gives you a detailed report about the person. They have quite a massive database, which helps them lookup on almost every number. TruthFinder offers a much efficient way to find the truth of the person behind any spam calls.
It runs basic background checks, criminal background checks, reverse phone lookup, email searches, and much more. The basic background check brings almost all essential data to you, such as the full name, DOB, age, possible photos, etc. It is even considered as the safest service that helps you avoid spams, scams, and frauds. With TruthFinder people search, you no more have to waste time answering spam calls and can easily identify them the moment your phone rings.
9. Instant Checkmate
Another way to find an unknown phone caller's information in no time is by using the Instant Checkmate app. This app has access to over 30 different sources from which it obtains the user's data. This fact about the app attracts most of the users leading to millions of searches. The tool is mostly loved for its flexible unlimited search feature and its satisfactory amount of results.
It also uses a background checking tool to attain the maximum amount of public records of the individuals. Interestingly, it offers most of the features in its free version itself. However, the premium version will give you better comfort and control over the application.
10. Phone Registry
Lastly, we have the Phone Registry lookup service, a superior way to investigate any phone number. However, this one is a bit different from the other's as it asks you to complete a registration process first. Once, you are done with the registration, and you are then allowed to look for any person's information via their phone number. It obtains data from millions of other sources, and thus it is more likely to provide your requirements.
The service follows the footsteps of the reverse lookup strategy and has been successfully serving a massive number of users. It goes under multiple investigations before it finally discloses the results to you. This ensures that whatever information it is gathering is completely genuine. Above all, Phone Registry holds an in-depth study and offers you with as much information as possible.
Although it has a single downside i.e., you can only use this service if you are residing in the US.
From Editor's Desk
I hope now you have a better knowledge of what to do the next time you receive a call from an unknown number. The names mentioned above offer the best possible service to track down the spam callers. And a few applications even helps you out with their location and other details. If we missed out on any of your preferred services, let us know in the comments below.
If you've any thoughts on Top Best Reverse Number Lookup Services, then feel free to drop in below comment box. Also, please subscribe to our DigitBin YouTube channel for videos tutorials. Cheers!