Deep Fake Technology refers to the superimposition of one's face, over other static images, videos, or GIFs. This is done using artificial neural networks and artificial intelligence technology. The result comes out to be pretty hilarious, to say the least. Although this technology is there for the last two decades or so, yet it was always quite a lengthy and difficult process to create these deep fake videos. Up until now.
Nowadays, we are witnessing quite a spurge in deep fake apps and websites. The reason for the same is the ease with which one could try them outright from our mobile devices. As far as it's usage is concerned, it could be used for a wide variety of purposes, including image recognition, machine learning, or just for fun. But keep in mind that you don't end up violating someone's privacy. With that said, here are some of the best Deep Fake Technology apps for mobile and PC.
Disclaimer: Using Deepfake technology to Explicit Morph videos and Images is a Big Crime, you may end up in Jail. Use the Apps and Services Fairly for Fun or to Learn AI and Machine Learning.
Best Deepfake Apps
Best Deepfake Apps on Android, iOS, Windows, Mac, and Linux to Create Deep Facial Edits.
1. Zao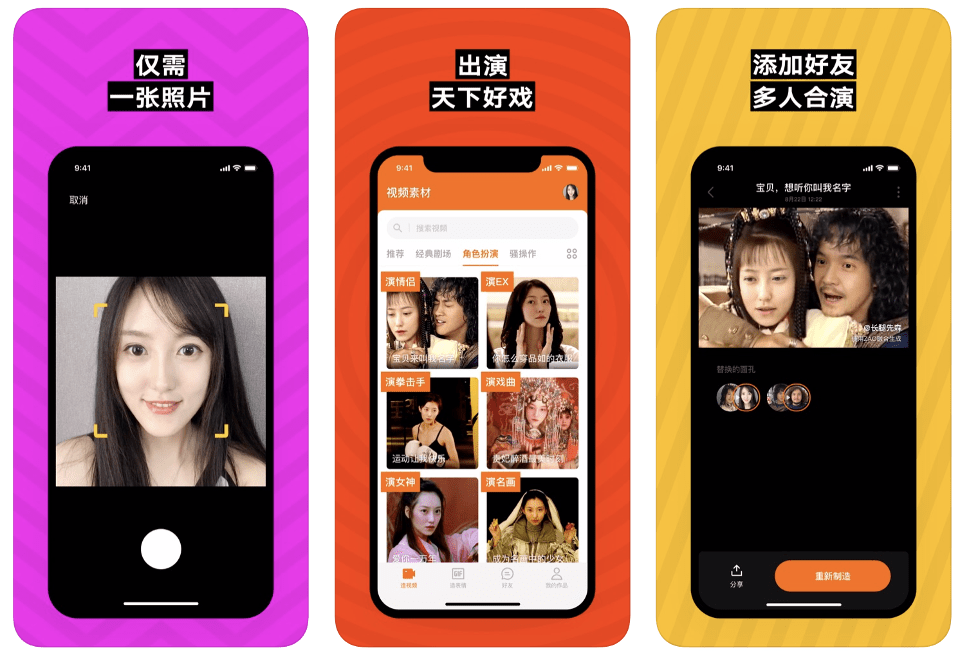 The app that started it all. Deep fake technology was always known to require a bulky set up with high-end specs and processing capabilities. But Zao completely revolutionized this domain and made it possible to create these superimposition videos right from your device. Furthermore, within a few seconds, your video will be up and running. You could either superimpose a video from your collection or choose one from the app's amazing collection.
The latter includes clips from popular TV series and Hollywood movies. All in all, this is highly regarded as the best deep fake app for your mobile devices. However, the app is made in China and is only available in that region. If you wish to try it out, you could sideload it or visit the Play Store using a VPN. Furthermore, recently the app got embroiled in some privacy concerns and hence also faced a backlash or two. So make sure you keep this in mind while installing it onto your device.
2. DeepFaceLab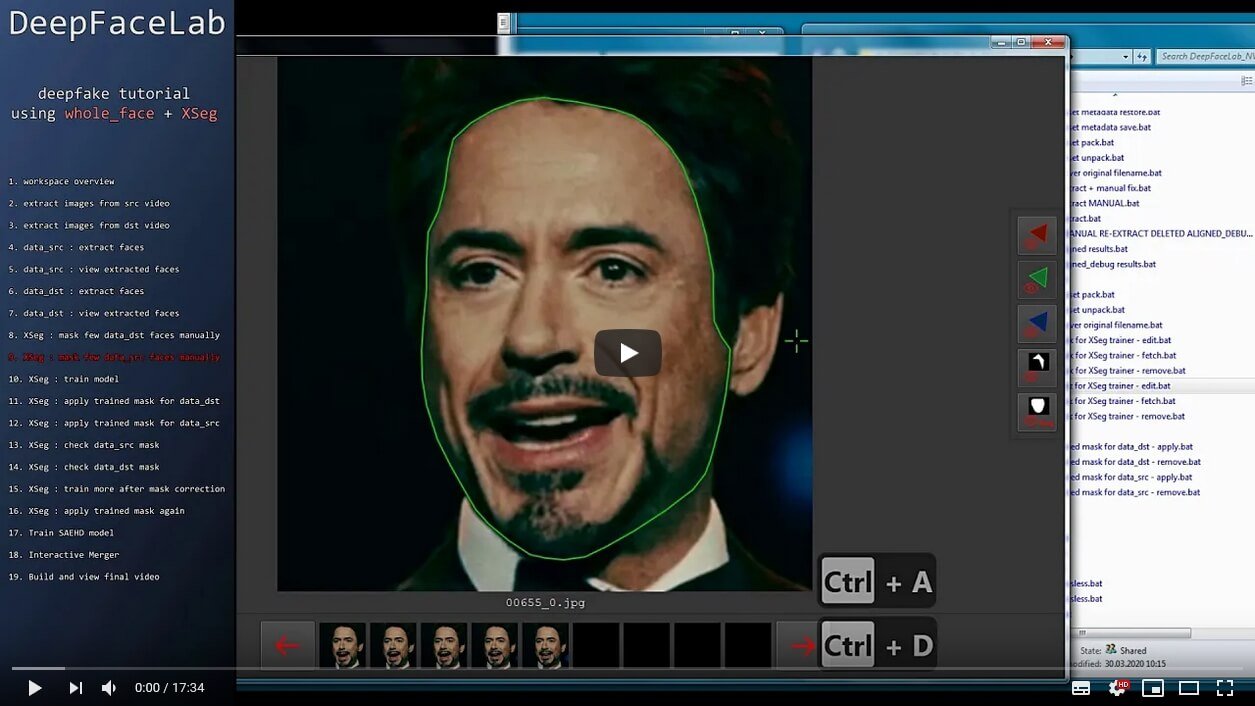 This one is designed for keeping the researchers and students enrolled in computer vision. There are tons of options included, but most of them might be hard to understand for a general user. Its main purpose is from the research and understanding point of view. So if you wish to get a hold of how these deep fakes videos are made and what happens behind the curtains, well this app might come in handy. It also includes documentation, anyone having trouble understanding it should refer to it.
With that said, it is a Windows application and hence requires a great computational power CPU as well as GPU. In mid-end specs, it might work as well, but takes quite a lot of time in presenting the desired results. It is hosted on GitHub with many popular YouTubers making full use of this tool. So if this technology ever aroused curiosity in you, this tool will provide you with enough stats to make you understand the know-how.
Visit GitHub (Free)
3. FaceSwap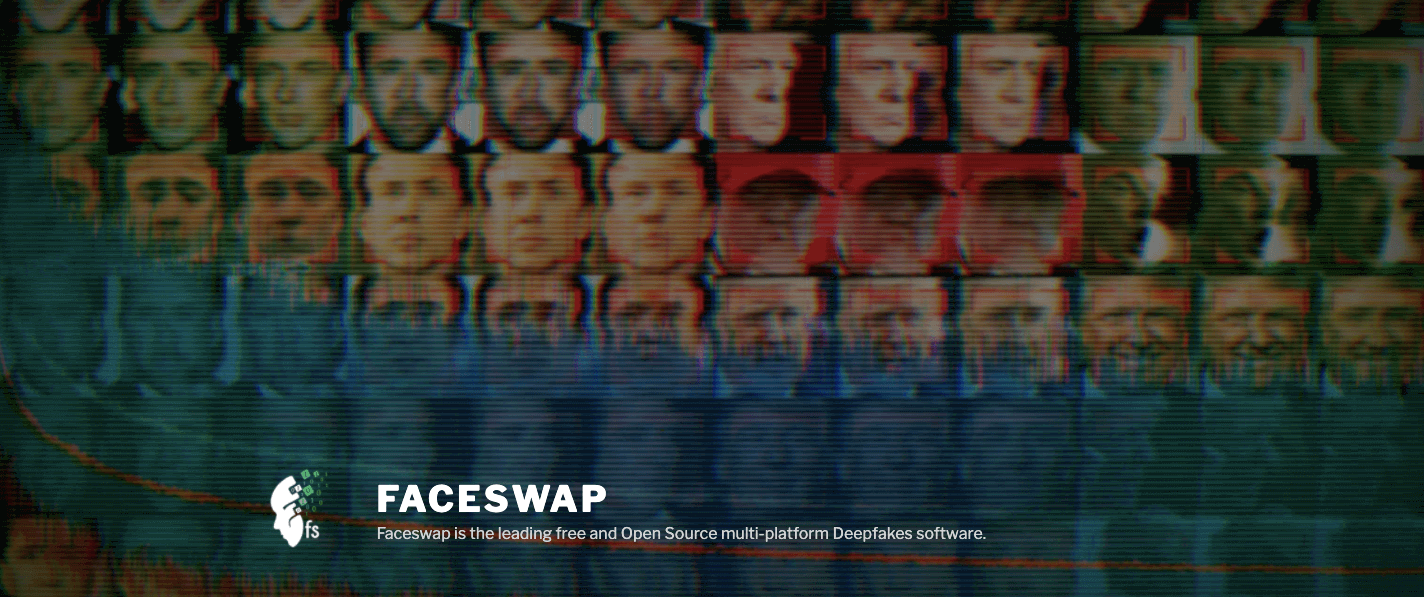 As the name suggests, the app lets you swap your face with someone else, and the results come out to be pretty hilarious. Just to make things clear, it is more than just your usual face swap feature that Snapchats beholds. You have tons of customizations, face wrapping functionality, as well as the ever-popular Mast Costume Mode. The latter allows you to choose from a plethora of costumes, glasses, masks, hairstyles, beards among others.
Furthermore, it allows a greater degree of flexibility, much better than the other apps in this list, and hence can churn out results with much greater accuracy. With that said, not all offers are available in the freemium version and you might have to end up spending a few from your pockets to recognize the app's full potential.
Visit FaceSwap
4. FaceApp
One of the most popular apps in this list, even the users not aware of the deep fake technology might have tried out this app just for fun. The app offers such a plethora of features that it's hard to let it go by. Making use of the neural network architecture, the app superimposes a face on top of others and does so pretty accurately.
You could also make yourself look younger or older than you are currently. Apart from that, there are tons of other customizations to try out. For example, you could change your expressions, add or modify your facial characteristics including beards, mustache, eyelids, add tattoos, change hair color, apply makeup, and many more.
Well, you won't even have to waste your time in choosing the perfect hairstyle or makeup for your face. The AI will automatically find the best hairstyles and other facial characters for you. The app also offers some pretty nifty filter packs as well. If not for superimposition some users even use the app just to try out these filters. This app is worth a try. After all, 100million plus downloads and a 4.7-star rating out of 5 speaks volumes in itself.
5. Doublicat
The app provides a simple and easy to use UI so that even the newcomers wouldn't have any issues as such in trying out the superimposition. It's more along the lines of a face swap application for GIF images. Yes, it won't create videos but rather deep fake GIFs and it's pretty good in doing so.
The apps hold tons of GIFs but if that's not enough, you could import your own as well. Doublicat makes use of the Generative Adversarial Network. Furthermore, the whole process takes just under 5 seconds (at least what the developers claim), and the results come out hilarious too, well in most cases. Just keep in mind not to choose a GIF that has too many motions, as that might create an issue or two with the app.
On that note, Doublicat provides the ability to directly share these deep fake GIFs from its app itself, across various social media channels. Likewise, you could also create a photo collage, start a photo roulette, or even add filters to your superimposed GIFs. There are also some in-app purchases but most of the things could be dealt with easily using the free version itself.
Install: Android | iOS – Free (in-app purchases)
6. Deep Art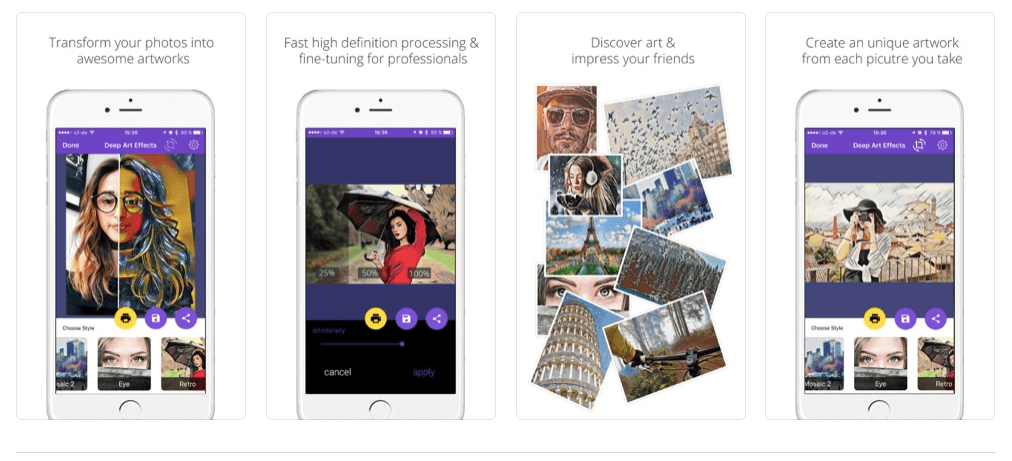 Rather than creating DeepFake videos, it creates deep fake arts, and it does pretty well in this regard. Using the neural art network,  it creates superimposed images that are based on the arts of Leonardo Da Vinci Picasso, painting, and even structures. It processes the entire image and gives the uploader the liberty to modify and customize it as they wish.
With more than 50 filters to choose from, the ability to create HD (1080px) artworks, and a fast image processing capability, this one is for the art lovers. The app is free both on iOS and Android, but you could shell out a few bucks and try out its premium version. In our test, all our requirements were well and truly met in the free version itself.
Install: Android | iOS — (Free, in-app purchases)
7. Celebrity Face Morph
Ever wished to know how you would look like in Spiderman, Iron Man, Captain America, or even in Bahubali's shoes? Well, the app makes it possible. All you have to do is just upload your photo, select a celebrity's face and that's it. The app using the image recognition technology will perform the superimposition and brings out some impressive yet hilarious results.
Some of its noteworthy features include automatic face detection, face morphing face swap face averaging face mixing, and even face warp. The apps work pretty fast too, doing the entire operation within minutes. However, there's just one drawback that might disappoint a few users out there.
The app doesn't let you upload a pic from the gallery, rather you will have to click a new pic every time you try out the app. If the developers address this issue, well then there's not much to complain about.
Install: Android (free)
8. DeepFake Web Beta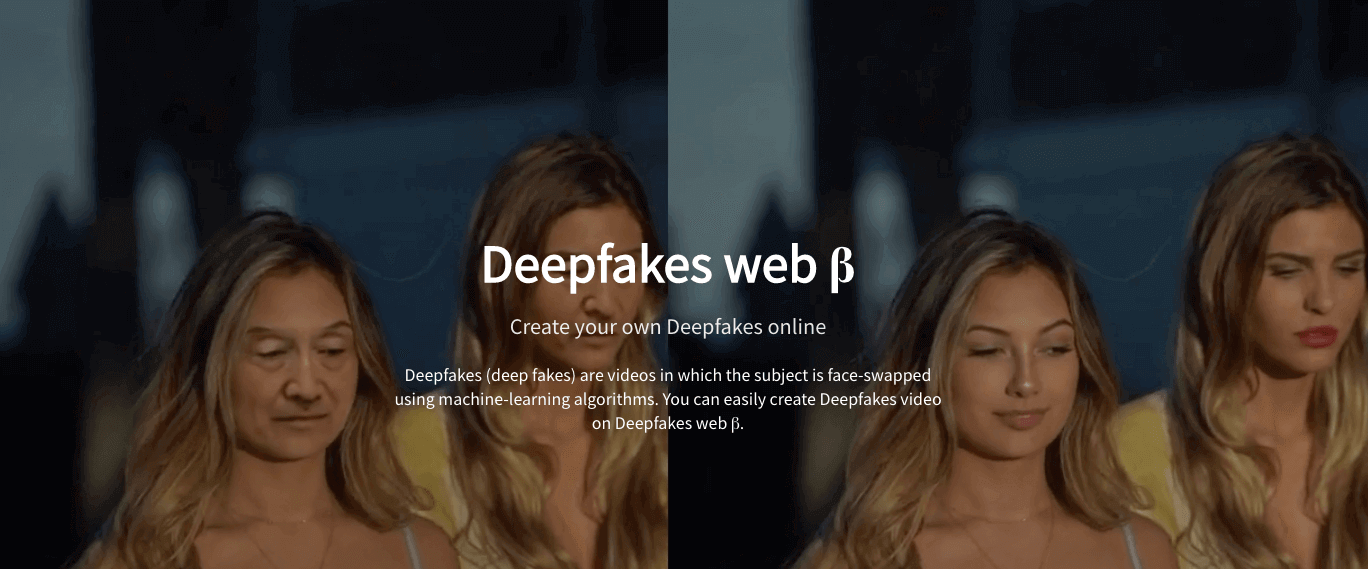 Another pretty string player in this genre, Deep Fake Web Beta also manages to churn out pretty amazing superimposition videos. Making use of Deep Learning, it takes anywhere up to 4-5 hours to analyze your uploaded video and further around 30 minutes to perform the swap functionality. All the works are carried out on the clouds with the help of its pretty strong GPU capabilities. The entire rendering is taken care of by the site itself and wouldn't use many resources of your PC, apart from a strong internet connection.
Talking about network connectivity, the output of the video is directly proportional to the loss quality, more the data gets lost during the process, more degradation will be in the video quality. One thing that might persuade you away from this app is the high processing time. The thing is 5-6 hours is the normal time that is taken for these deep fake videos. It is just that the Zao app does so within minutes and has left everyone baffled. Anyways, it doesn't suffer from Privacy issues, so if you have a more than a decent internet connection and a few hours at hand, this site is worth a visit.
Visit Website (Paid, $2/hour of usage)
9. MachineTube
It is also similar to the DeepFake Web beta in the regard that it has a standalone site for this and you could create deep fake videos on your computer. Where it differs is in the processing stage. Whereas DeepFake Beta managed everything right on the clouds and hence required little processing power from your system, MachineTube is dependent on your PC.
Therefore it is recommended that you have a high-end PC with a substantial amount of Video RAM (at least 2GB is the minimum requirement). Even then, it might take a few hours before the results are up and ready. All you have to do is upload your face and choose the desired video over which your face needs to be superimposed. There are a few preloaded sets too, from a bunch of Hollywood actors to former US Presidents. Well, what more could one ask for from a free service?
Visit Website (Free)
10. AvengeThem
Does this name ring a bell or two? Taking a clue out of the Avengers book, it manages to create some cool deep fake videos, superimposing your videos on top of your favorite Avengers characters. There are a total of 18 different types of GIFs, spanning across CaptainAmerica, Spiderman, Iron Black Widow, Nick Fury, and even our beloved Stan Lee.
The only drawback, if you would like to call it is the fact that it creates a GIF, rather than a full-fledged video, but anyway, the results are worth appreciating. The website works surprisingly fast and does the job pretty quick, without keeping your PC's RAM under much burden. Just make sure that you upload a perfectly lit photo with your face visible, otherwise, it might fail to recognize your uploads, or even if it does, the results might not turn out to be that perfect. Rounding off, this is simply for the Avengers lovers!
Visit Website (Free)
Conclusion: So this was all from this guide on the best deep fake apps for mobile and PC. We have listed around 10 apps, each of which is unique in its aspects. Furthermore, we have also given the pros and caveats of all the apps, so that it makes it easy for you to rest your decision on a particular app. On that note, do let us know in the comments which one is your preferred deep fake app from the above list.
If you've any thoughts on Top Best Deepfake Apps for Mobile and PC, then feel free to drop in below comment box. Also, please subscribe to our DigitBin YouTube channel for videos tutorials. Cheers!