TikTok is a video sharing app to create short dance, lip-sync, comedy and talent videos. It is one of the most popular social app among youths and teenagers. It is available in over 150 markets and in 75 languages. You can create a short video with music in the background, make edits speeds, add filters and much more. There are a number of people who have grown to global prominence due to TikTok. All you need is a better idea, some cool editing and boom! you can take TikTok by storm.
There are a number of Video Editor Apps available but editing a video for TikTok is pretty different. It depends on the nature of your videos, you are into just enhancing your video then you need a different nature of video editor and if you looking for a more professional video than you need a different tool. Today DigitBin has come up with some of the best Video Editor Apps for you to create some of the dazzling videos with all the effects and motions to make your video a perfect for TikTok.
Best TikTok Video Editor Apps
Here are the Best Editors to Enhance your Tiktok Videos with all Effects and VFX.
1. Inshot
It is quick to edit app which gives you a number of options so that you can instantly upgrade your video. It offers you with all the options you need to enhance your video and if you are a social media freak than InShot could be your best friend. The App is designed to cater the users who are fond of Facebook, Instagram, Tik Tok and similar services. The App has a plethora of features which fast processing and simple design for quick results. The Videomaker App lets you adjust the aspect ratio to make it suitable for various social media platforms. InShot is a simple yet very intuitive movie and photo maker App for Android.

Features of InShot
Filters and video effects (glitch effect.)
Video brightness, contrast, saturation, control etc
Add background music with fade effect
Video playback control
Crop, Trim and Merger media
Add text, stickers, gifs and more
Rotate video
Photo slideshow with inbuilt FX and animations
Instant cool effects for Snapchat, Tik Tok, Instagram, Facebook etc.
A number of themes with cool graphic designs.
2. VideoShow
VideoShow is a popular Videomaker App. It has a unique cult following among many countries. The App offers all the basic editing functions. It is also an instant Video Editing App with a number of themes and graphic designs which you can embed onto a photo slideshow or a video. VideoShow also offers other basic tools for making an excellent video with all the FX using stickers, gifs, video and audio playback controls and more. It is perfect for creating TikTok Videos.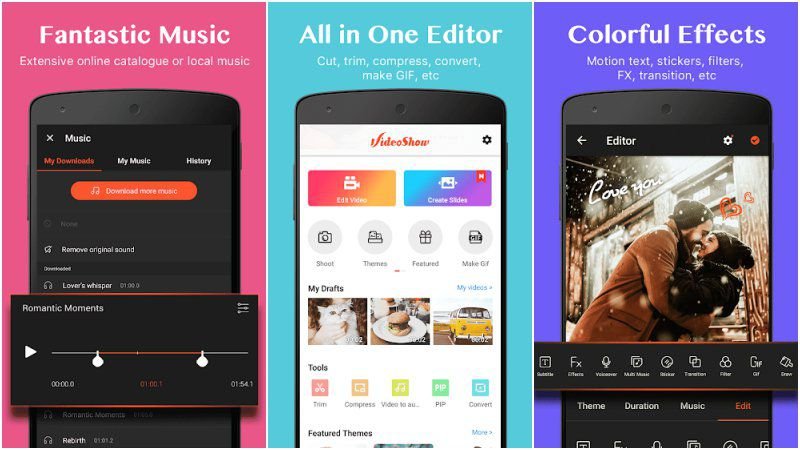 Features of VideoShow
High level of personalisation
Multi-music, transitions, sound effects and live dubbing
50+ Themes for free
Instant video effects with the pre-built designs.
Multiple music effects
Gif creator with sticker effects
FX, Trim, Cut and Merge effects
Video reverse with Zoom effects
Compress Video file
Aspect ratio settings for various social platforms
3. KineMaster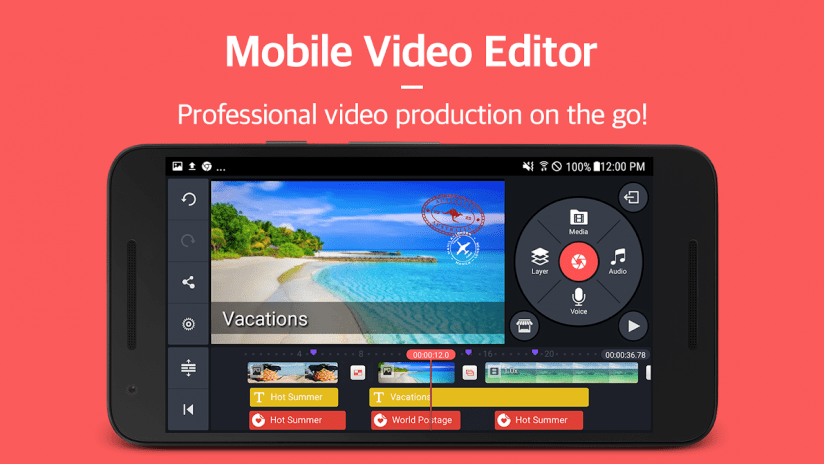 The Kinemaster is another powerful rich-featured video editor with a sleek and intuitive design. You can edit videos on parallels of a PC video editor. If you are more into creating a video with very intricate details than Kinemaster is for you. You can create multiple video layers, add audio envelopes, trim videos, blur, add notes and much more. You also get Chroma Key Option to create VFX with Green Screen Effect. A fully-featured professional video editor for Android, supporting multi-layers of video, images, and text with state of the art cutting and trimming, you can have multi-track audio, volume envelope control, 3D transitions, Chroma key, animations, effects, VFX and more for free.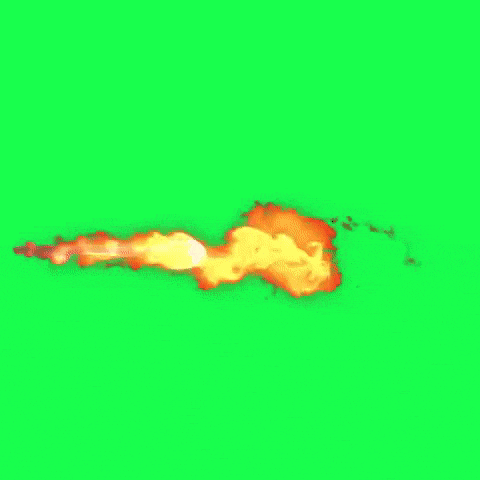 It has a drag-n-drop functionality with easy to upload the media files making it beginner-friendly. Kinemaster is built-in with robust controls over the editing to create a professional level output. You can add the transitions, music, video blocks, overlay text, and subtitles in the video. The play area which has the layering feature makes it easier to visualize and media quite easily. Though the Free version has all the required high-end features and tools, you need to pay for the professional version to remove the watermark from the output video.
Features of KineMaster
Multiple layers of video, images, stickers, text, handwriting video clips
Frame-by-frame trimming, splicing, and slicing
Support All versions
Instant preview anytime
Hue, brightness and saturation controls
Speed control for video clips
Fade in/fade out sound (overall)
Volume envelope (Precise volume control from moment to moment within a clip)
Transition effects (3D transitions, wipes, fades, and more)
A variety of themes, animations, and visual and audio effects
Supports all the video formats.
Automatically optimize the unsupported videos
4. VivaVideo
One of the most popular videos making app which is perfect for your TikTok videos. The App has a movie maker and photo editor to create a slideshow with pictures, stickers, music effects. You can edit video or music clips with texts, FX, effects, GIFs, Snapchat stickers, multi-music, photo filters, transitions, sound effects or live dubbing.
The VivaVideo app is designed beautifully for any level of mastery in the video editing field. The app is built-in with 100s' of the themes, effects, and stickers that help the creators to output the very professional videos. There are unlimited filters and stickers one can use and add to the video. The VivaVideo app also has the feature to create SlowMo videos and SlideShow out of the pictures and videos. The essential features like cutting, trimming, merging clips, pasting the video, etc. are readily available at ease. You can also add the text and subtitles overlay to make a compelling story.

Features of VivaVideo Premium
Trim and merge video clips in storyboard editing
Enhance Videos with FX, stickers, music, filters, 3D transitions.
Live dubbing over the video
Unlimited video length.
HD resolution
Support multi-capture options: Basic| Selfie| FX| Funny | Music Video.
Photo Slideshow Maker
You can edit, merge, trim, split, reverse, duplicate, rotate, blur, video reverse, video playback.
A variety of themes, animations and visual and audio effects
Support all video formats
Automatically optimise the unsupported videos.
Motion control of the speed of video for fast and slow
5. YouCut
YouCut is an App by InShot for more detailed curation of the video. You get control over every basic editable aspect of the video. Create a fantastic photo show or a movie with cinematic FX in 4K quality to export. The App unlike most of the similar Apps does not come with any watermark on the output. YouCut is simple to use. I recommend this if you are going for some lightweight edits. Add beautiful movie style video filters and FX effects to video. Video merger and video combiner without watermark. Slice and split video into two separate video clips. Edit videos with music like a pro, totally free video editor and video maker for android.

Features of YouTube
Video Merger
Video Trimmer & Cutter
Video Splitter & Slicer
No Watermark
Ad-free editing
Video Filters and Effects
Video Color Adjust
Background Changer
Music input and effects.
Video Compressor & Converter
Conclusion: With this Video Editor App for your Android or iOS Mobile you can create beautiful TikTok videos to upload. And garner attention. They are simple to use and come with a number of inbuilt features so it does not take much time for you to power your edits.
If you've any thoughts on Best TikTok Video Editor Apps, then feel free to drop in below comment box. Also, please subscribe to our DigitBin YouTube channel for videos tutorials. Cheers!