Apple app store is loaded with a variety of web browsers claiming to offer an excellent service. While some feature an easy-to-use interface, others come with dedicated security configurations. However, when it comes to a feature-rich overall performance, many of them fail to offer a promising service. Besides, it is always a tough choice to go for the perfect browser that will fulfill all your requirements.
That is why we have grouped together a list of the best browser for the iPhone. The list contains some popular names, while some must be unheard. Most of these browsers come with an overall excellent performance rating, and some are well known for providing much-enhanced privacy. So, keep reading to find the perfect pick for your iPhone.
Top iPhone Web Browsers to Surf Internet
Here are the Top Best Web Browsers for iPhone to Surf the Web on your Apple Mobile Using Apple Own Webkit Engine
1. Safari
This built into iOS, Safari was a sure pick on the list that comes with certain features to level up your browsing experience. The most important part is it keeps you within Apple's ecosystem. Hence, nothing seems unfamiliar to iOS users.
Since Apple doesn't allow a global setting for changing default apps, Safari will perform as your default browser every time you open a link directly. Besides, the browser intact all other Apple services and applications such as Apple Pay and more.
2. Google Chrome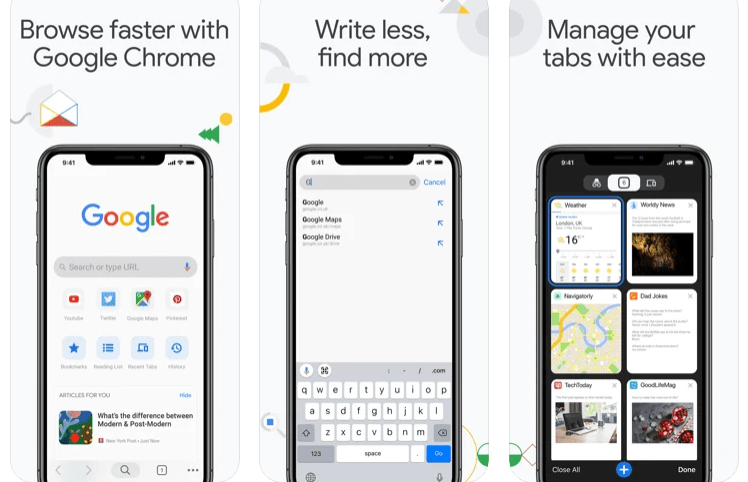 Since Google Chrome was first introduced in 2008, it has grown as the most popular web browser around the world. The best thing about Google Chrome is, it lets you sync your browsing history, bookmarks, and other data across all devices and platforms.
Other highlights of this browser include web page translation, voice search, and an incognito mode as well. Moreover, the user interface is pretty slick, and multi-tabbing seems much more efficient with Google Chrome.
3. Mozilla Firefox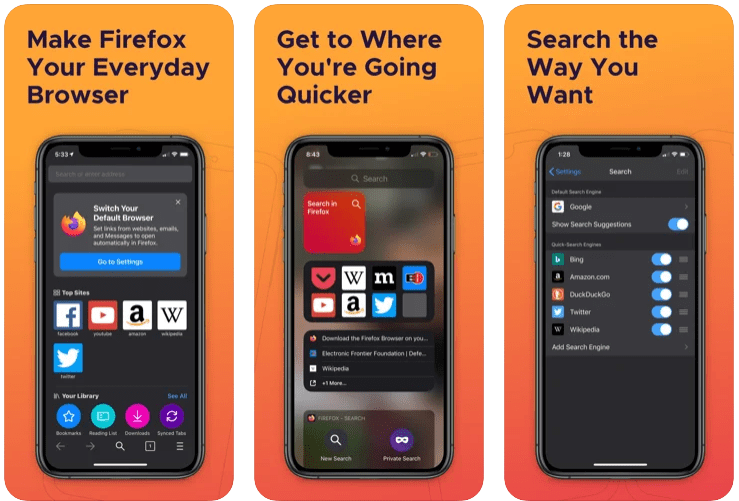 Just like Google Chrome, Mozilla Firefox comes with all the efficient qualities that make it an ideal web browser for iPhone. An interesting feature of this browser is a link sharing from Safari to Mozilla, which works as a great workaround since we cannot change the default browser on iPhone. Besides, it features all other basic requirements like password sync, bookmarks, history, private browsing, etc.
4. DuckDuck Go Browser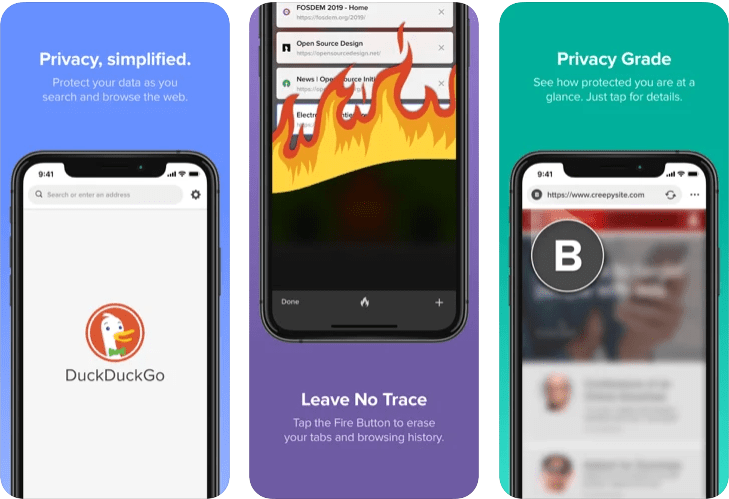 If I were to select a web browser that is more concerned with the privacy of the data, I would ask for Duck-Duck Go. This private web browser lays extra attention to privacy and offers enhanced security features to ensure complete protection of your data. It further blocks all third-party trackers and makes all your browsing sessions promisingly private.
5. Dolphin Browser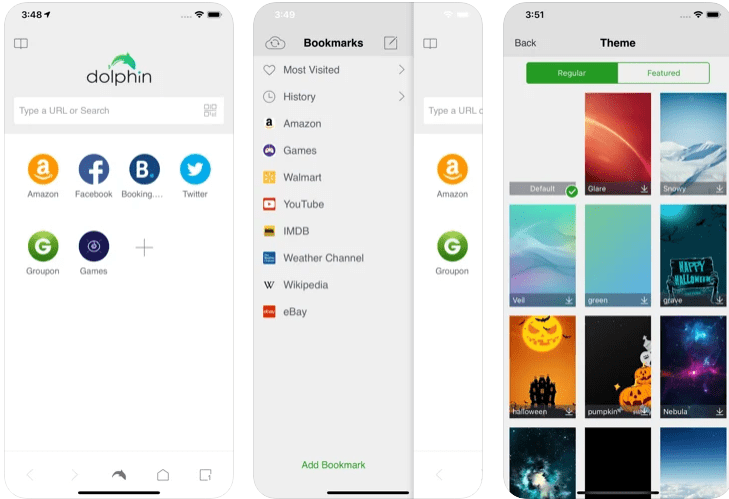 Dolphin browser is a smart, fast, and personalized web browser that comes with a substantial amount of overall features. The browser basically focuses on providing a much simplified and enriched mobile experience. It is extremely compatible with iOS 11 and 12 and shares tons of features. Some of its exclusive features include gesture browsing, sonar search, one-tap sharing, speed dial, tabbed browsing, cloud sync, and more.
6. Opera Touch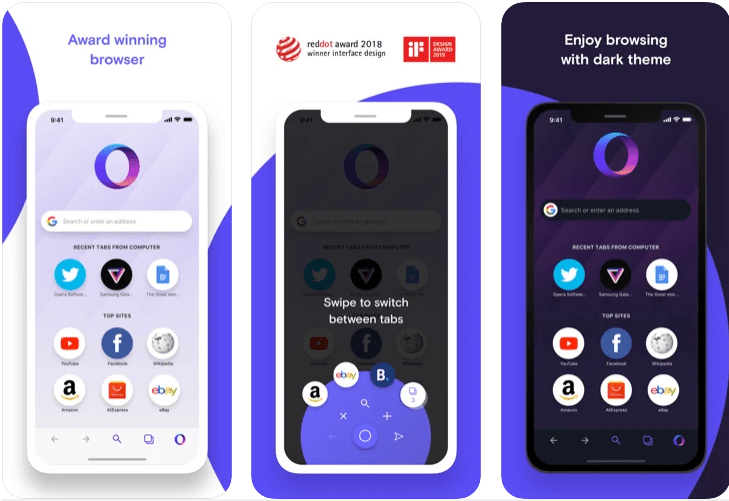 Opera Touch doesn't come into the list of feature-rich web browsers, unlike Chrome or Safari. It is still one of the most efficient browsers for faster browsing and privacy-related concerns. It offers top-notch end-to-end encryption to ensure the utter protection of your data.
In addition, it includes certain features that seem truly important for more efficient internet browsing. It comes with both type and voice search features, a smart barcode scanner, and a built-in ad blocker to offer an uninterrupted browsing experience.
7. Microsoft Edge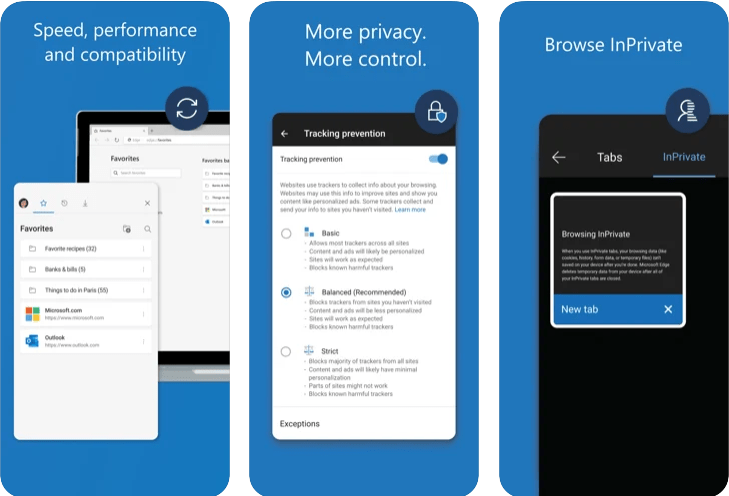 Microsoft Edge can even be considered a considerable alternative to Google Chrome. The browser is sleek, smart, and extremely fast. The web browser is powered by a Chromium engine, providing it with a super-fast browsing performance.
Moreover, it is highly customizable and offers a much-personalized browsing experience. It also supports Chrome extensions over the Mac version, which makes it a more proficient option over the others.
8. Snowbunny Private Web Browser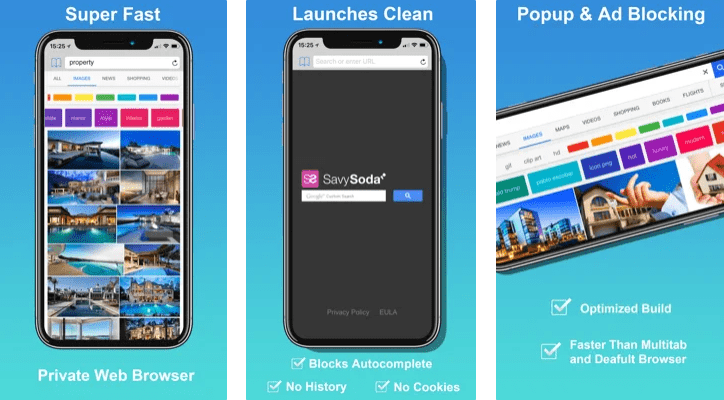 Snowbunny is an ultimate private web browser that provides a much smoother experience. First of all, it has got a user interface that looks pretty much like that of Safari. Hence, it is user-friendly and easy to navigate.
This free web browser offers fast and secured full-screen web browsing. On enabling the private mode, it will erase all your data from the history, cookies, and other login credentials as you exit the application or switch between others.
9. Maxthon Cloud Web Browser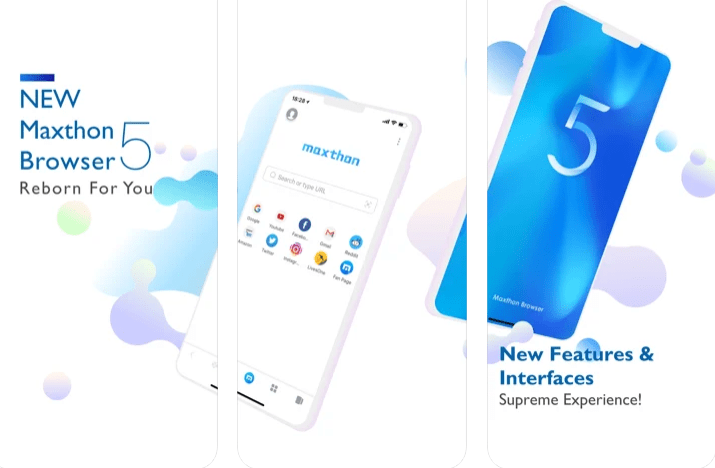 Maxthon is a lightweight yet feature-rich cloud web browser for iOS devices. The browser comes with support for data syncing across various devices. Besides, it further allows you to install other extensions in order to increase its functionality.
It comes with a built-in ad-blocker that helps you with a more clean web browsing plus; it includes an attractive Night-mode, incognito mode, smart image display, and many other features.
10. Puffin Browser Pro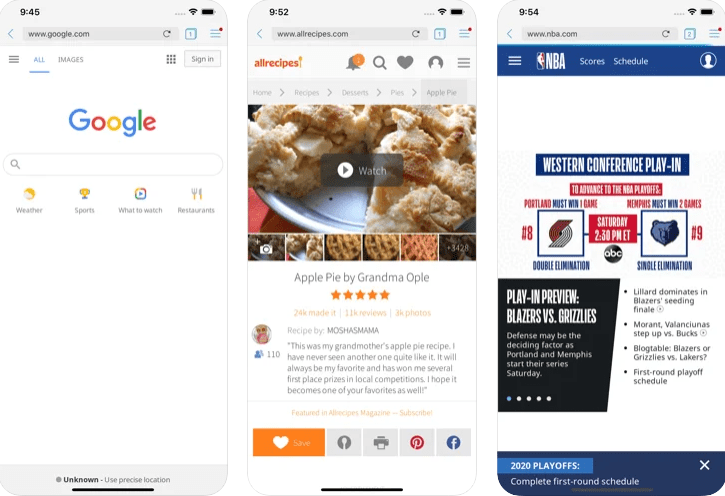 The Puffin Browser is a robust iOS browser that is perfectly compatible with your iPhone and iPad. It does a great job while working with a heavy browsing load by shifting it to the cloud servers.
One of its major highlights is the Puffin browser uses a certain algorithm that helps it reduce your bandwidth by up to 90%. Apart from that, it offers a strong encryption system to ensure the safety of your data from hackers and unauthorized sources.
11. Aloha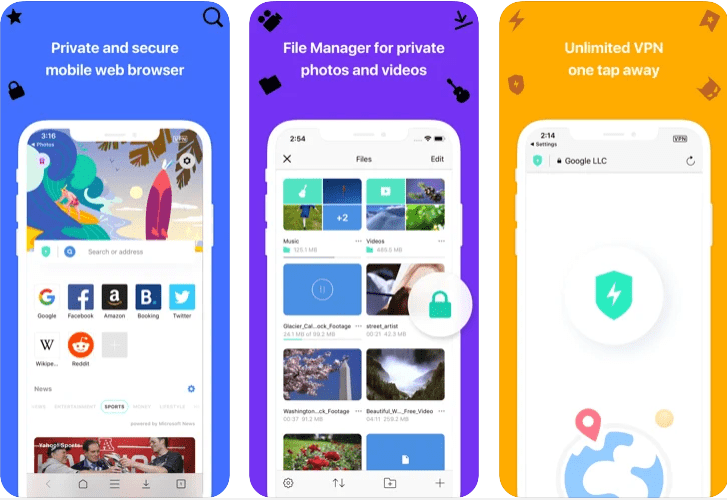 Aloha is not one of those perfect web browsers. However, it is a complete package in itself. The browser contains certain features that give you the best-uninterrupted internet browsing experience.
The built-in ad-blocker saves a lot of your time by blocking unnecessary ads while browsing. Besides, it comes with a reliable VPN letting you explore more on the internet. It even includes all anti-logging policies and supports VR players and a complete file manager.
12. Brave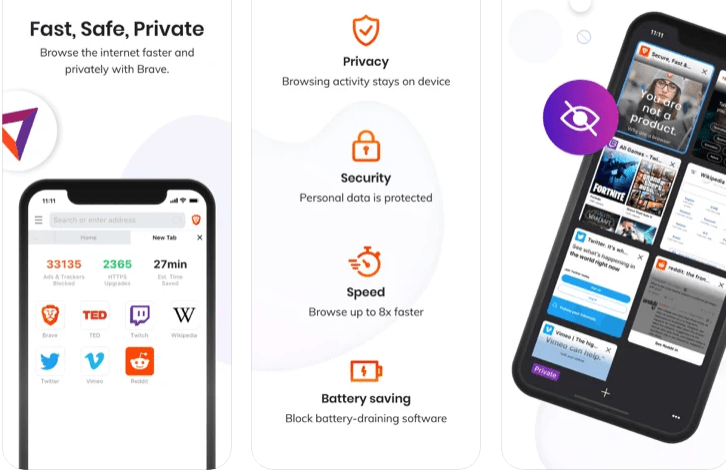 Another privacy-focused web browser, but a much-refined name on the list. Brave comes with all necessary configurations or extensions by default, unlike other private browsers.
The application is very helpful and provides lightning-fast browsing speed. It comes with all the required privacy and security-related features such as script blocking, cookie blocking, HTTPS, private tabs, etc.
13. Onion Browser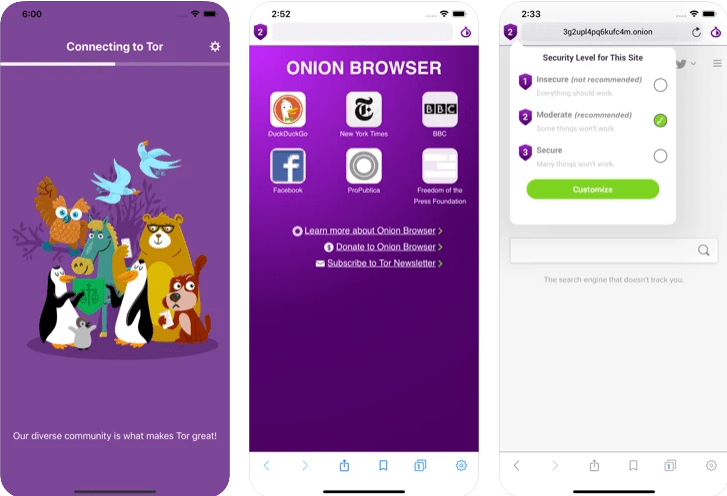 Onion browser is basically an extension of the Tor family. It is definitely one of the most advanced private browsers in terms of privacy. Unlike most other private browsers on this list, Onion doesn't come with those normal sets of privacy features. Instead, you can expect professional-level privacy from the browsers that further allow you to access the darknet as well.
14. Private Browser – VPN Proxy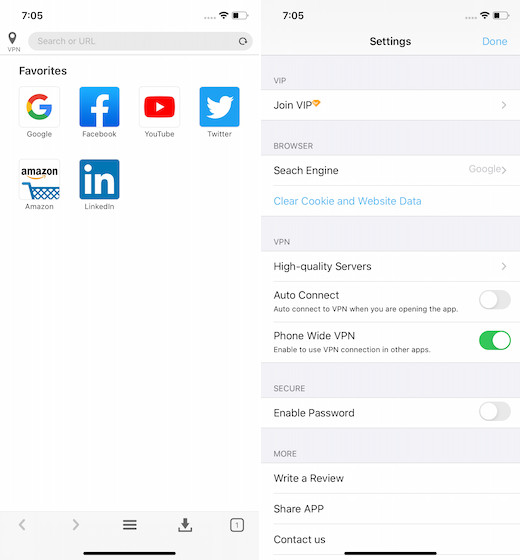 Private Browser offers a personal and secure web browsing experience. It is one of the fastest private browsers for iOS that offers free unlimited VPN on your iPhone. However, the Private Browser doesn't save any of your activity and share it with third parties.
The Private Browser offers you complete peace of mind. It supports several servers around the globe coupled with a trustworthy privacy policy.
15. Ghostery Private Browser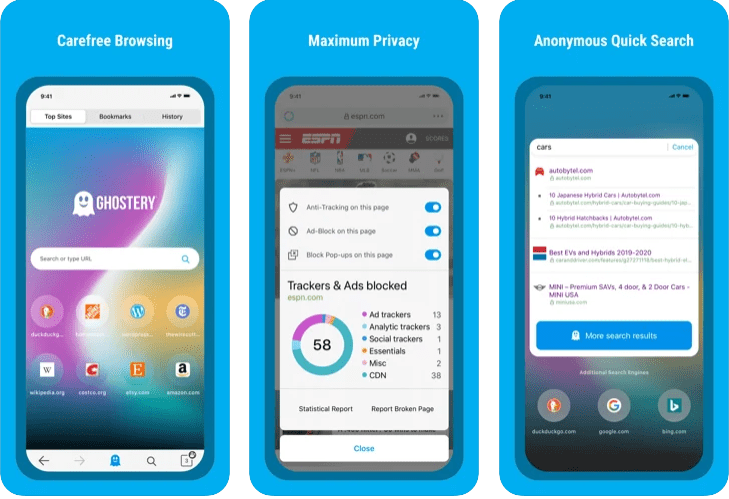 Ghostery Private browser brings together all the required features in one platform. The best thing about this is, it is a very lightweight application and runs effectively on any iPhone. It does a satisfactory job in terms of privacy, blocking pop-ups and ads, and your security settings.
However, compared to other private browsers, Ghostery seems to fall a little short of its features. Moreover, the browser acts pretty slowly than most others on the list. But the overall performance is considerable for an iOS web browser.
16. Yandex Browser
Yandex is a very popular search engine to outnumbers Google in Russia. Its browser app for iPhone offers a safe and secure browsing experience. It is a good alternative to Safari for people searching for an intuitive UI.
The Yandex browser reduces data usage and speeds the loading time using its special turbo mode. It has all the basic functions of a browser app suitable for iOS.
Conclusion
So, now that you have seen such a variety of browsers for iPhone, hopefully, you have found your ideal one too. However, these browsers can be differentiated into two categories: the mainstream and private browsers. Still, each one comes with a certain specialty that makes them unique in its own way. On that note, it all depends on personal preferences. So, comment below your favorite browsers for iPhone and what is its specialty.
If you've any thoughts on 15 Best Browser For iPhone for Surfing the Web, then feel free to drop in below comment box. Also, please subscribe to our DigitBin YouTube channel for videos tutorials. Cheers!