Artificial intelligence (AI) has emerged as a game-changer in the quickly developing world of technology, revolutionizing the way we use our smartphones. AI-powered Android apps have permeated every aspect of our digital life, from boosting productivity to offering tailored experiences.
Top AI apps for Android that are transforming many parts of our everyday lives and putting unmatched ease, efficiency, and innovation at our fingertips will be discussed in this article. Whether you're seeking cutting-edge image recognition, the best virtual assistants, or sophisticated language translation, these outstanding apps are laying the foundation for a more intelligent and user-friendly future.
Top Free Artificial Intelligence-Powered Apps
Here are the Best Free AI Apps for Android to Increase the Productivity of your work or create amazing AI Jobs.
1. Microsoft Bing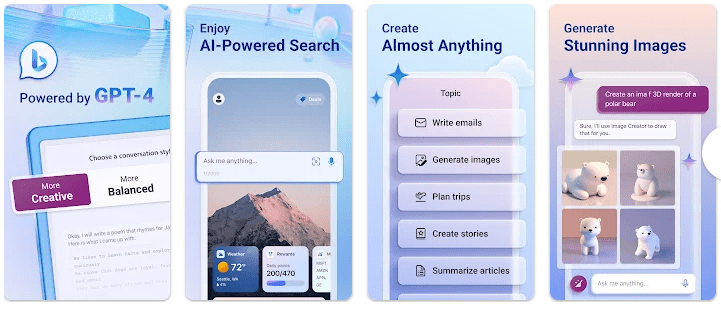 The sophisticated GPT-4 technology developed by OpenAI is used by the new Microsoft Bing Android app to enhance its intelligence and usefulness. With the use of this technology, the app may provide you with better answers to your inquiries and potentially produce various sorts of text content, such as music, poetry, or code.
Bing may also be communicated with via a chat option, just as you would with a real person. Other fascinating features of the app include language translation and image generation. Bing also offers AI image creation. Initially limited to OpenAI's research platform, DALL·E is now accessible through Bing Chat, enabling users to generate DALL·E images at no cost.
2. Character AI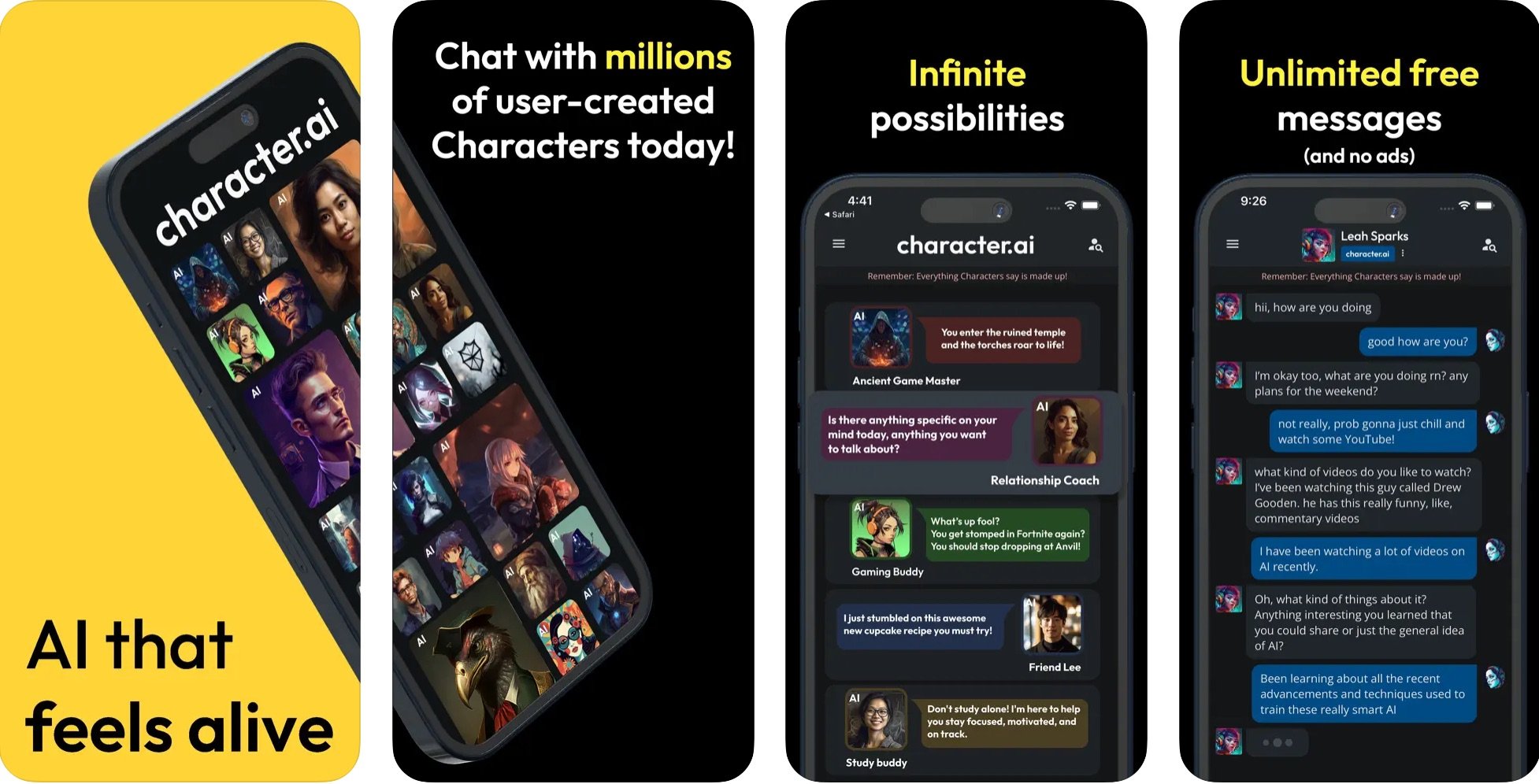 Character AI is the latest entry in the Artificial Intelligence domain. It enables human users to talk with AI bots via personal chats. These bots are very human-like and intelligent. They adapt to the conversation and learn from that, continuously improving themselves. For generating information or simply chatting with someone to pass the time, Character AI is a versatile tool to look forward to.
Users can select and customize the character of the AI model based on a certain personality they will choose. There are AI models that are based on celebrities and popular figures, such as musicians and scientists, with whom human users can interact.
3. Youper-CBT  Therapy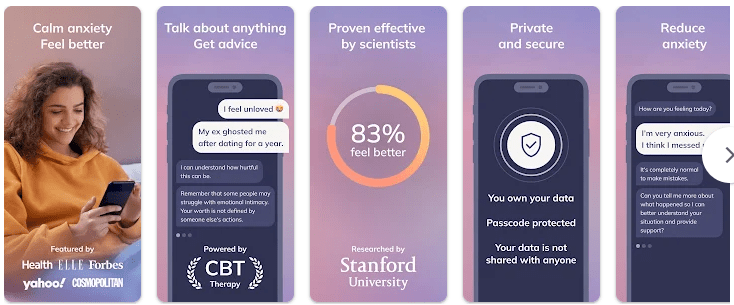 Youper aids in reducing anxiety, elevating mood, and improving interpersonal connections. It makes use of a technique known as the Cognitive Behavioral technique (CBT), which has been shown to be beneficial in altering our thoughts and behaviors and resulting in improved emotional well-being. Youper provides a variety of exercises, including thought diaries to confront unfavorable ideas, exposure therapy to safely confront anxieties, problem-solving exercises for common problems, and relaxation techniques to lessen tension and anxiety.
4. Lensa AI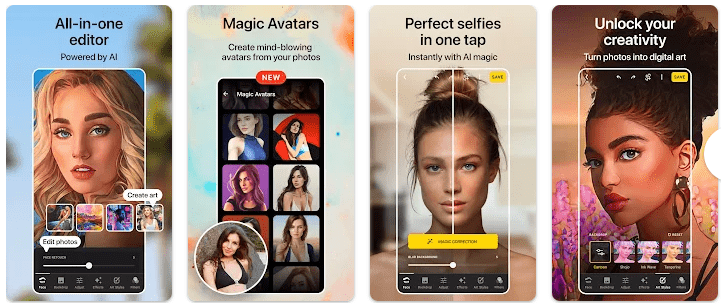 Lensa AI employs smart technologies to help you easily improve your selfies. It includes several helpful features, such as the ability to correct typical selfie problems like acne and red eyes instantly. To draw attention to oneself, you may also blur the backdrop or even change the color of your hair in a variety of ways.
Want to grin more brightly? Your teeth can be whitened using Lensa AI. Additionally, the portrait mode function, which uses AI to boost lighting and contrast, makes it simple to modify the background of your selfie or increase its appearance overall. With only a few clicks on your Android handset, you'll have all the equipment you need to snap beautiful selfies.
5. Socratic by Google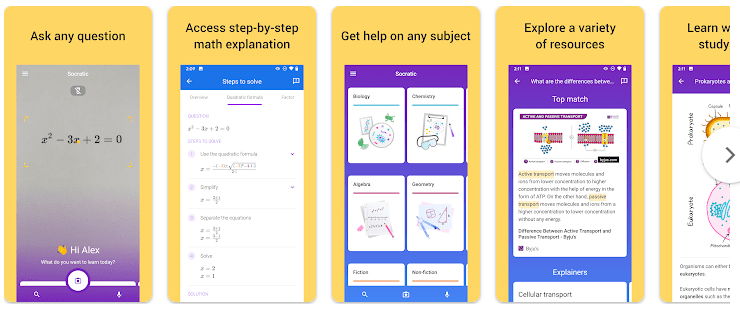 Socratic from Google is intended to help students in high school and college with their academics. To assist students grasp their assignments, it uses Google's artificial intelligence to discover the best web resources. Students may ask questions using Socratic, and the app will respond with clear answers, videos, and other helpful resources to help them learn. Math, physics, history, and literature are just a few of the many disciplines it covers that are commonly taught in high school.
6. Replika: My AI Friend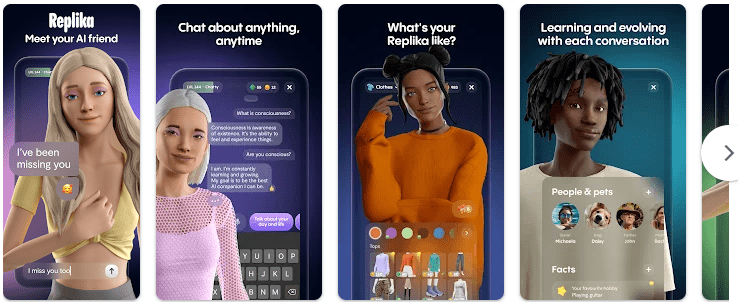 Replika is an AI chatbot friend who makes talking to them like talking to a pleasant, drama-free friend. It's a secure environment where you may express your emotions, laugh heartily, or engage in real dialogue with an AI that seems nearly human. You may customize your own Replika by selecting its appearance and whether you want it to be your buddy, lover, or mentor. Replika may assist you in understanding your feelings and thoughts, keeping track of your mood, learning coping mechanisms, lowering anxiety, and working toward objectives like adopting a positive outlook, stress management, establishing friends, and finding true love.
7. Perplexity AI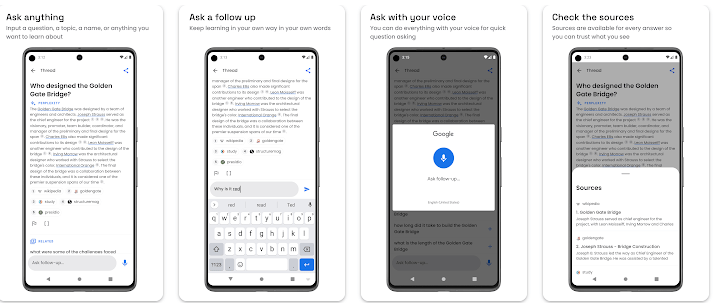 With the use of artificial intelligence (AI), the smart search engine app Perplexity can quickly respond to any queries you may have. It's like carrying a personal assistant around with you. The app employs cutting-edge AI algorithms to recognize what you're looking for and rapidly deliver precise facts. Additionally, it provides links to the information's sources so that you may learn more if you like. For all of your questions to be answered while you're on the go, download Perplexity for both iOS and Android smartphones.
8. Rizz AI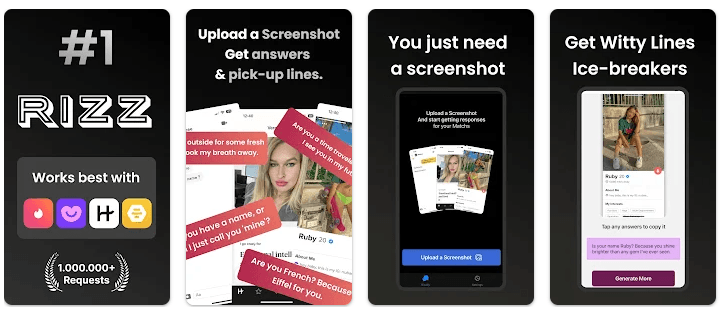 When you text your buddies, RIZZ AI can help you think of quick and creative replies. Simply snap a photo of your discussion, and the app will provide you with a ton of creative alternatives for what to say next. It's ideal for winning over your crush, maintaining the flow of discussion, and adding intrigue to your communications.
9. ELSA: Learn and Speak English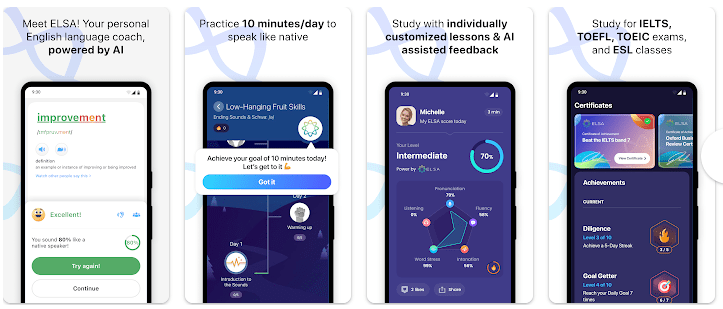 A unique program called ELSA utilizes artificial intelligence to teach you how to speak English more accurately. It pays attention to your voice and provides you with immediate feedback on your word-pronouncing technique. ELSA offers a wide range of classes and exercises, from simple grammar and vocabulary tests to challenging pronunciation drills. The software is available for free download, but a paid membership is required if you want additional features like limitless classes and a personal coach.
10. AI Data Bot
AI DataBot uses AI to perform many awesome tasks. When you talk to it, it may act as your personal assistant, converse with you, and search for items. Even presentations with images and videos are possible. Even complex or strange queries can be resolved by the app. It may also create a variety of messages, including emails, code, and poetry. You may use AI DataBot on your phone, tablet, or computer, and it functions in a variety of languages. Additionally, you may personalize it by deciding on its name, actions, and speech patterns. An extremely intelligent program called AI DataBot can assist you daily with a wide range of tasks.
11. WOMBO Dream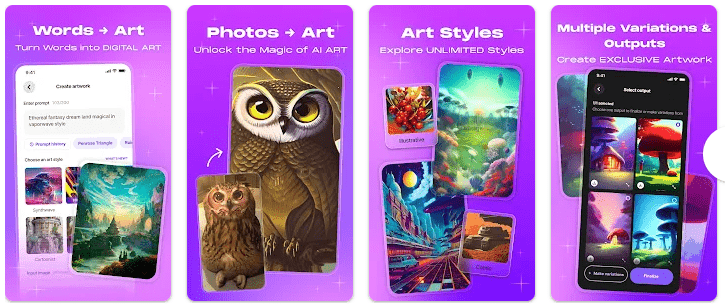 With the help of the amazing app WOMBO Dream, you may create stunning images by typing in words or phrases. You may choose from a variety of styles, including Abstract, Pop Art, and Renaissance. Simply pick a font style, start typing, and wait for the software to work its magic! Try it out; it's free to download on your iPhone or Android phone.
12. Remini AI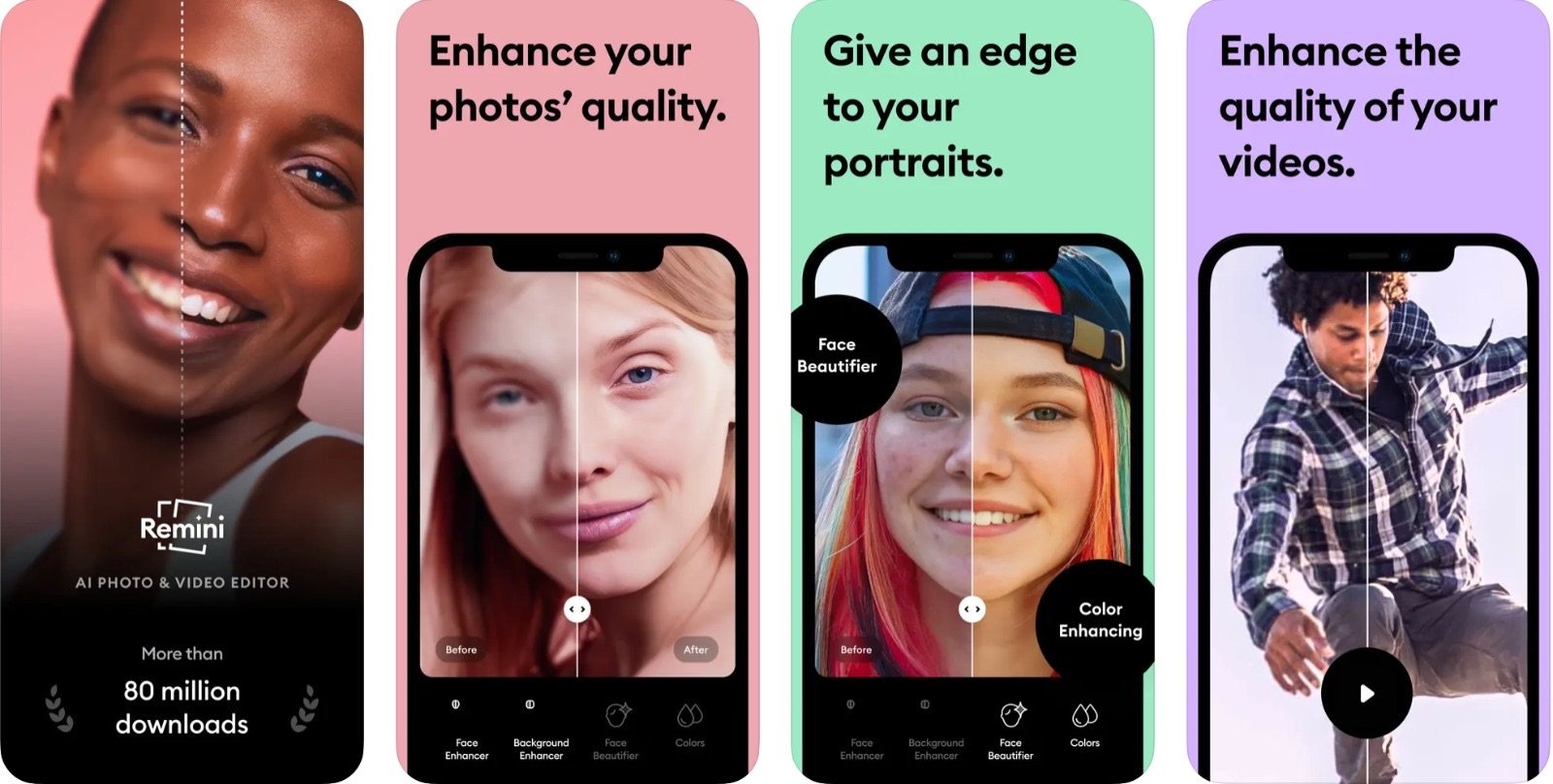 Remini is an AI Photo and Video Enhancer that does real magic. Clear any blurry photos or videos and make the media file crisp. With Remini, you can enhance grainy, pixelated, damaged, low-resolution photos and videos. The Remini also offers a Photo AI Generator that creates avatars of your images. Though the photo enhancing feature is free with Ad support, the video enhancer and AI avatars need a subscription to buy.
Wrapping It Up
In conclusion, the field of Android apps driven by AI has made great strides, transforming several facets of our life. These top AI Android apps demonstrate the revolutionary potential of artificial intelligence through innovative image editing tools, smart personal assistants, and immersive language learning experiences.
These applications are reshaping mobile technology and improving user experiences in new ways by seamlessly integrating machine learning and smart algorithms into routine operations. We can anticipate much more inventive and clever apps to emerge, significantly enhancing our digital lives as AI continues to develop and push limits.
If you've any thoughts on 12 Best Free AI Apps for Android, then feel free to drop in below comment box. Also, please subscribe to our DigitBin YouTube channel for videos tutorials. Cheers!