ChatGPT is truly a revolution in the field of AI. With its highly enhanced natural language processing quality and enriched dataset, it can answer almost any topic you can think of. Not just that, performing complex problems or finding those trickiest errors in the programs are all easy now. Thanks to the brilliance of ChatGPT. But there are still a lot of sections where ChatGPT is a disaster. For instance, it lacks the ability to answer anything that involves personal opinion, critical thinking, or emotions. Likewise, you can neither work with visual data such as Graphs, Images, etc, nor upload files like docx, pdf, or so on.
Well, for now, getting sentimental responses or having a conversation about personal opinions looks far away, but what if I tell you there is a to upload PDF files on ChatGPT? Yes, you heard it all right; although ChatGPT doesn't have an inbuilt solution to upload files, there are actually a few workarounds that are worth a try. In this article, we will be looking at some ways to upload a PDF to ChatGPT and have a thorough conversation on it. So, if you were looking for ways to work with your PDFs on ChatGPT, let's just dive in without any further ado.
Ways to Upload a PDF to ChatGPT
It is no wonder, ChatGPT is mostly used in studies, project works, and research purposes. However, speaking of that, being able to get your PDFs analyzed by ChatGPT would be a great asset. Currently, GPT provides no such methods to upload a complete file on the platform and work with it. But fortunately, there is a way to get it done. So, here is how you can upload a pdf to ChatGPT and continue with your task.
Method 1: Uploading a PDF to ChatGPT Using Third-party Solutions
Today, there are a lot of third-party solutions that offer additional functionalities to excel your ChatGPT experience to the next level. Similarly, now we have many such options that allow you to upload Pdf files on GPT as well. What's more? These services even offer some extra essential features that are dedicated to making your conversations seamless and more engaging.
For instance, you can go to chatpdf.com and use their services to upload and analyze your pdf document using ChatGPT. They offer both free as well as paid subscriptions. However, the free plan has a lot of limitations, mostly regarding the number of pages and file size. So, based on your requirements, you can go with the preferred plans.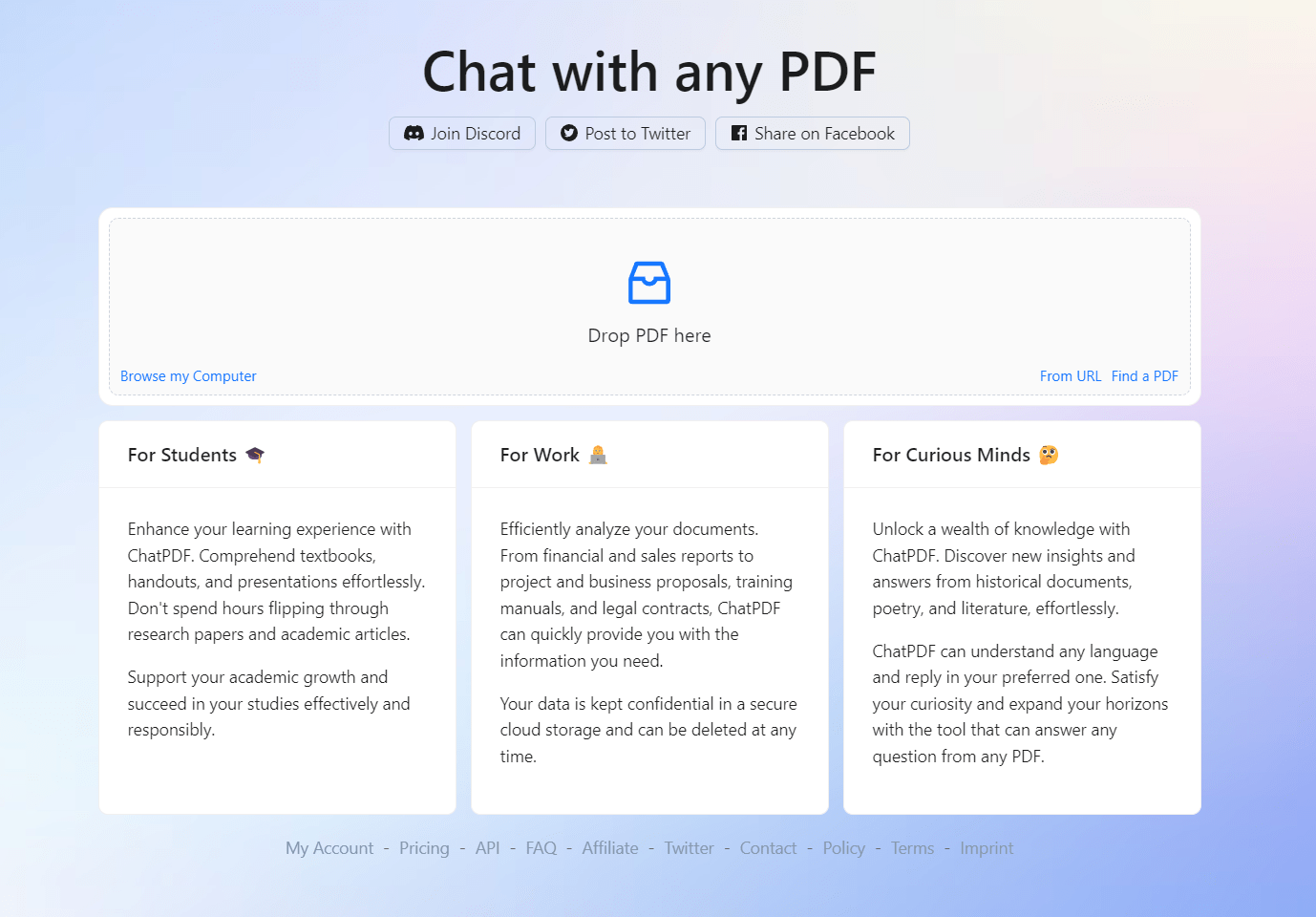 Alternatively, you can also check out humata.ai, which is again similar to ChatGPT, and they too offer a free plan as well. Humata analyzes your pdf document and even gives you a description of it as well. The only thing you need to do is ask it to perform the required operations.
Method 2: Using ChatGPT Extensions To Upload PDF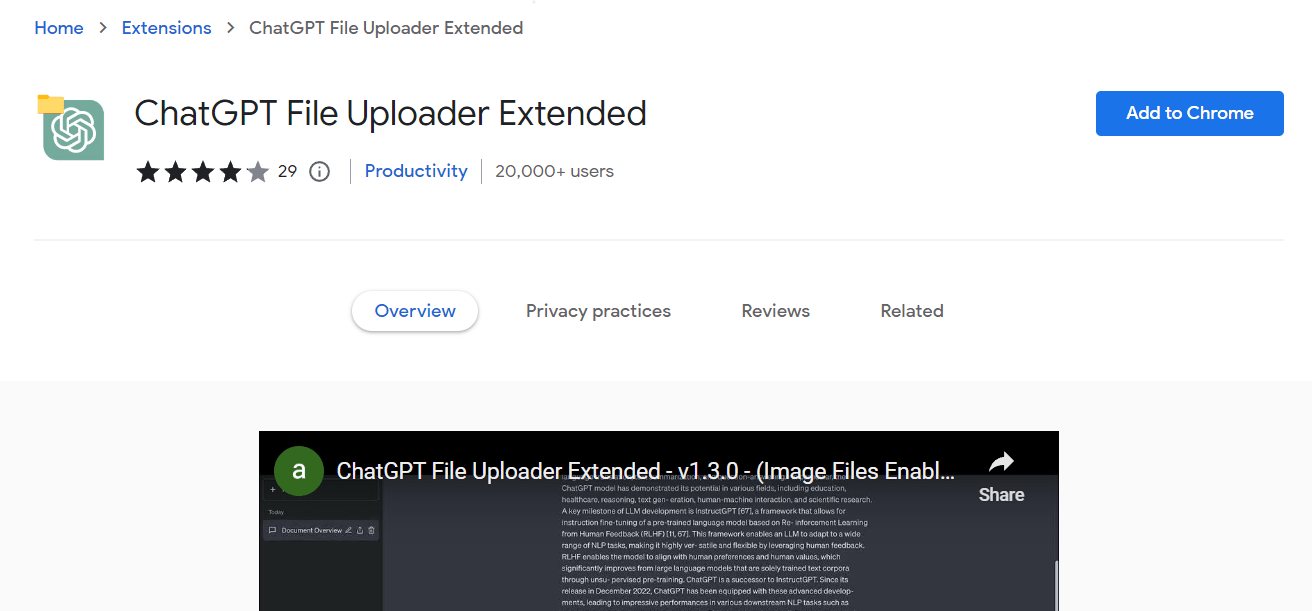 ChatGPT Chrome extensions are another way to get a lot of things done if you don't wish to use any third-party solution. The ChatGPT File Uploader extension is one that allows you to upload and analyze a variety of documents. Some of the popular formats are TXT, DOC, DOCX, CSV, PDF, XLS, ZIP, etc. Interestingly, this extension is absolutely free of cost. Simply install the extension from the below link, add it to Chrome, and now you can easily access the website and upload your pdf to ChatGPT.
Download ChatGPT File Uploader
Method 3: Analyze your PDF with Microsoft Bing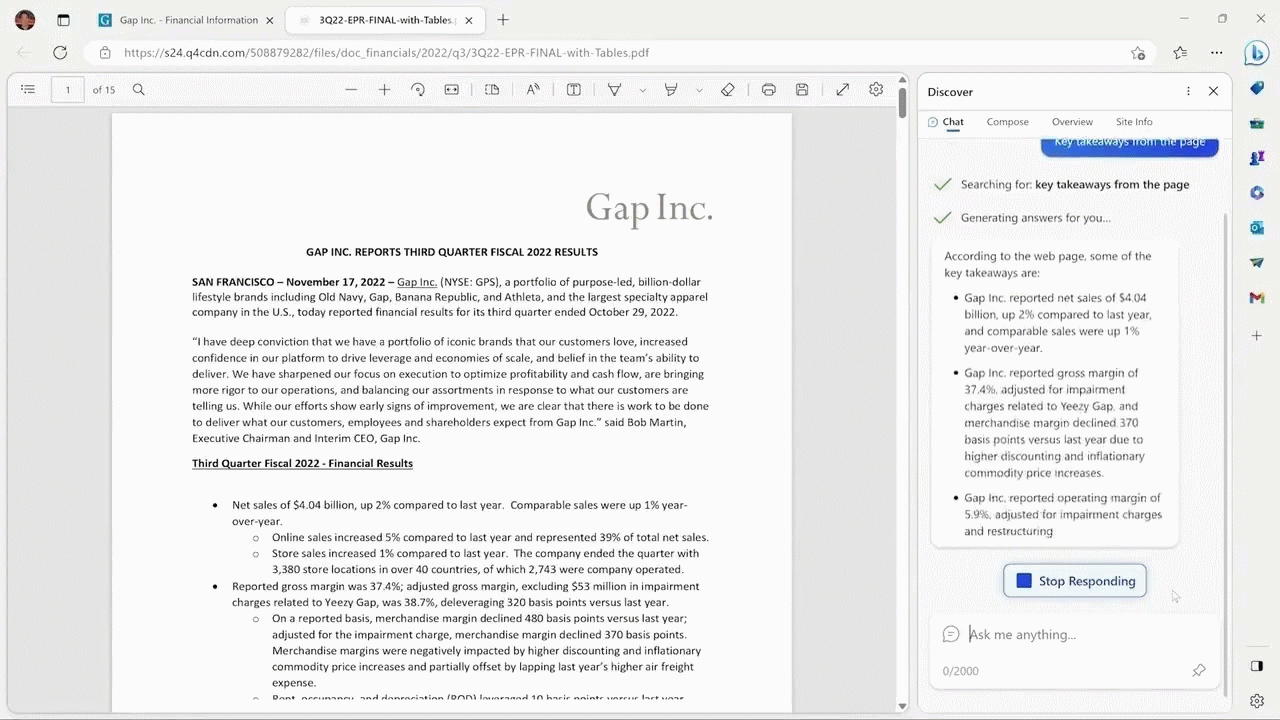 If you didn't know, Microsoft has now added a sidebar containing ChatGPT-powered tools. This tool is so efficient that if you normally use the Edge browser, you will almost forget about using any extension or third-party services. More importantly, you don't even have to look for an upload option either. Just open the PDF file with Microsoft Edge; next, click on the sidebar and start asking your queries. You can simply ask it whatever you want it to do for you, and you can see the results right on your screen.
Final Words
This brings us to the end of this guide for uploading PDF files on ChatGPT. Just like that, uploading any type of document is also one. Since ChatGPT doesn't offer any way to upload PDFs, these workarounds are definitely going to be helpful in the long run. No doubt, in this case, extensions are free and seem like an efficient option, but third-party services have a lot more to offer. So, we advise you to go for third-party sources if you have any professional requirements. So, let us know your thoughts and which would be the best fit for you.
If you've any thoughts on How to Upload a PDF to ChatGPT?, then feel free to drop in below comment box. Also, please subscribe to our DigitBin YouTube channel for videos tutorials. Cheers!