Life changes so fast, a few decades ago in the late 20th century we were writing letters to our loved ones, and we had to wait weeks and sometimes months, for their replies. Suddenly, mobile phones entered our life and we started having voice calls, and now in just a short span, we have various methods to connect with our friends, family, relatives, etc.
Among all those methods, video calling is in trend and it is good to have a face-to-face conversation with someone, so we can easily understand the message they want to convey by the way they are talking, we can easily understand their tone, their expression, their emotion, and it always feels like we are not far away from one other, video calling always let us feel like we are with our loved ones, we can see them so we can feel them.
Nowadays, there are a number of software which help make video calls and stay connected, various companies offer different applications, some are specifically for video calling, others may include some more features. In all those video calling applications, we always prefer one with high-quality and friendly UI. Google Duo and WhatsApp are the Apps which are taking the cake from the Video Calling Segments.
So here, in this article, we will compare between the most used video calling applications, i.e. WhatsApp Video Call by Facebook and Google Duo by Google.
Let's Introduce
Before Starting with the Comparision let us know a Little about Both the WhatsApp and Google Duo.
WhatsApp
WhatsApp is a messaging and Voice over IP application owned by Facebook, Inc. It was launched in 2009 but in 2014 it was acquired by Facebook for US$19 billion.
Being the most popular instant messaging app, it is able to carry out some decent video calls as well. Although the quality is still not up to the level that Duo is able to offer, the fact that WhatsApp is currently being used by every Android and iOS user really make it an easy app to go for. Also, its presence across all the platforms makes it a very palatable application for making video calls.
Google Duo
Google Duo is a mobile app used for video chatting developed by Google. It was announced at GDC (Google's Developer Conference) on May 18, 2016, and officially launched on August 16, 2016.
Google and messaging, apps didn't always seem to go hand in hand. Google tried many messaging services from the likes of Allo to Hangouts. But most of the apps have either failed or had only limited popularity. But this stance changed with the launch of Google Duo, a free video calling platform. This video calling platform from the Silicon Valley giant is probably the best app in its domain. Be it one-to-one or group video calls, be it on Wi-Fi or even cellular data, a stable and crystal clear performance is on the cards. Moreover, at a particular point of time, you could add up to 8 people on a single video call.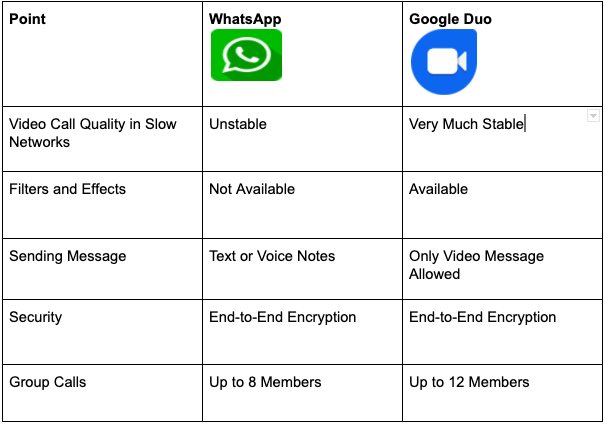 Features Offered
Let's Check the Features Offered in General by WhatsApp and Google Duo
WhatsApp
Video calling & Voice calling.
Text Messages & Voice notes.
You can share images and videos too.
Share WhatsApp Stories.
You can share your Live-Location.
Other features include WhatsApp groups, WhatsApp DP (Display Picture), etc.
Google Duo
Voice calling.
Voice notes/Voice messages.
Send Images
You can create your group in the Google Duo for video calling.
Google-duo offers a feature named "Knock-Knock", which shows the live preview of the caller before the recipient picks up the call.
Google Duo automatically takes a picture (as your DP) associated with your Google account.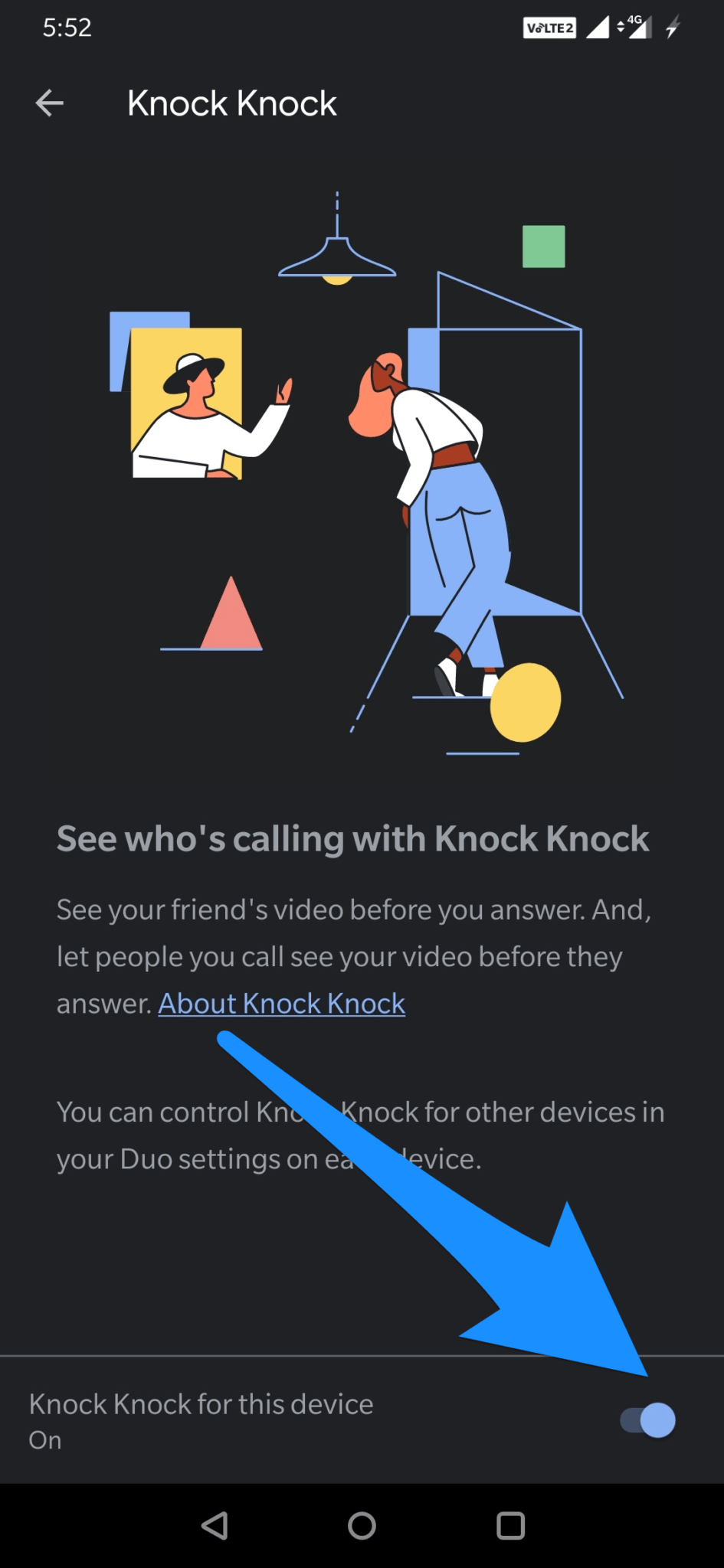 UI (User Interface)
WhatsApp provides a very easy to use and user-friendly UI, anyone can learn how to use the app, within a few minutes. You can simply install the app on your phone and after creating an account on WhatsApp, your contacts will automatically get synced, and all the available contacts will be displayed. Being a Messaging Application you may see a number of other options, you can make a video call by clicking on the Video Call icon on the right top of the Contact.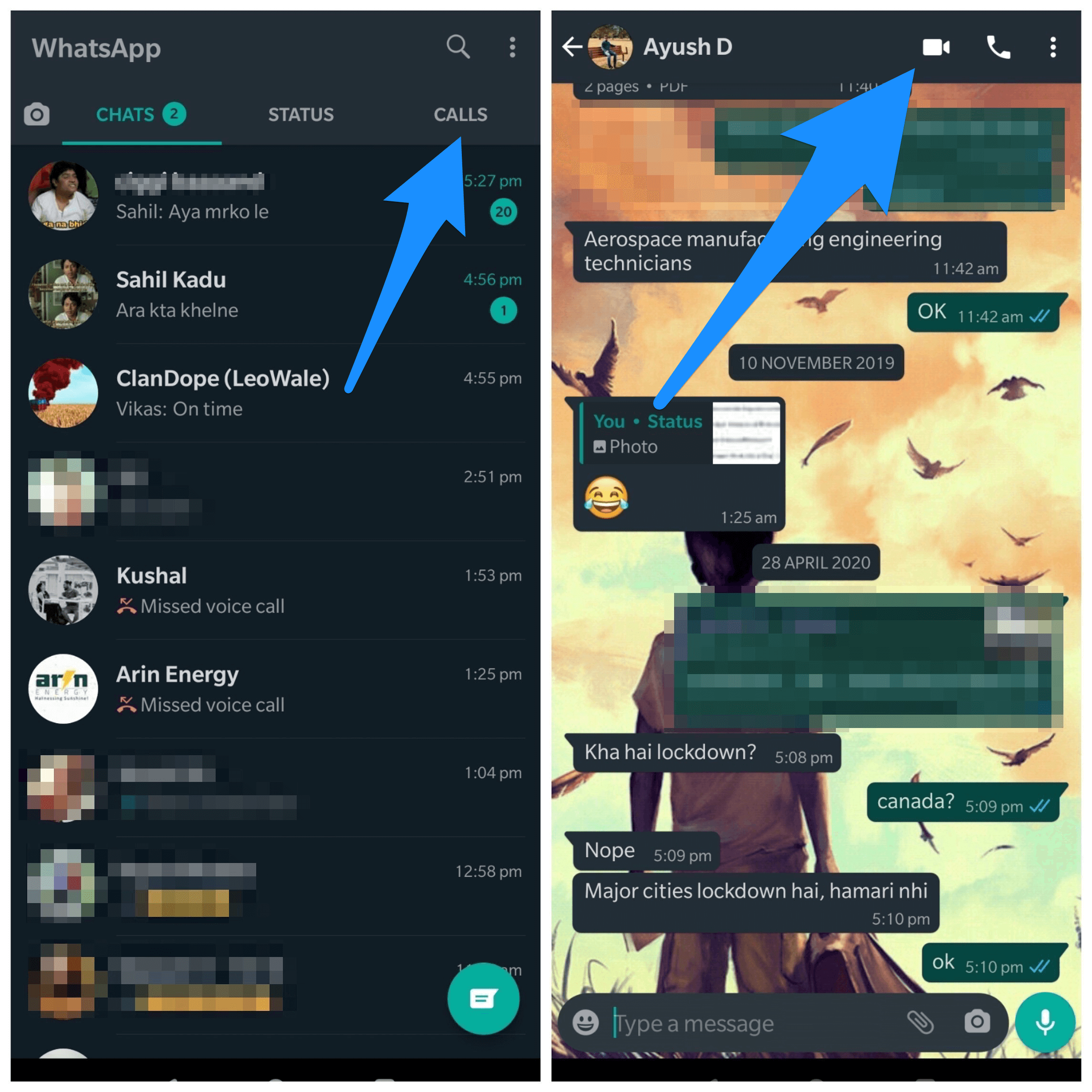 Google Duo also offers a very simple and user-friendly UI, after installing you can easily create an account by using the phone number and Google account. You can invite your friends to Google Duo. Also, an automatic notification will be sent to the contacts who are already using Google Duo.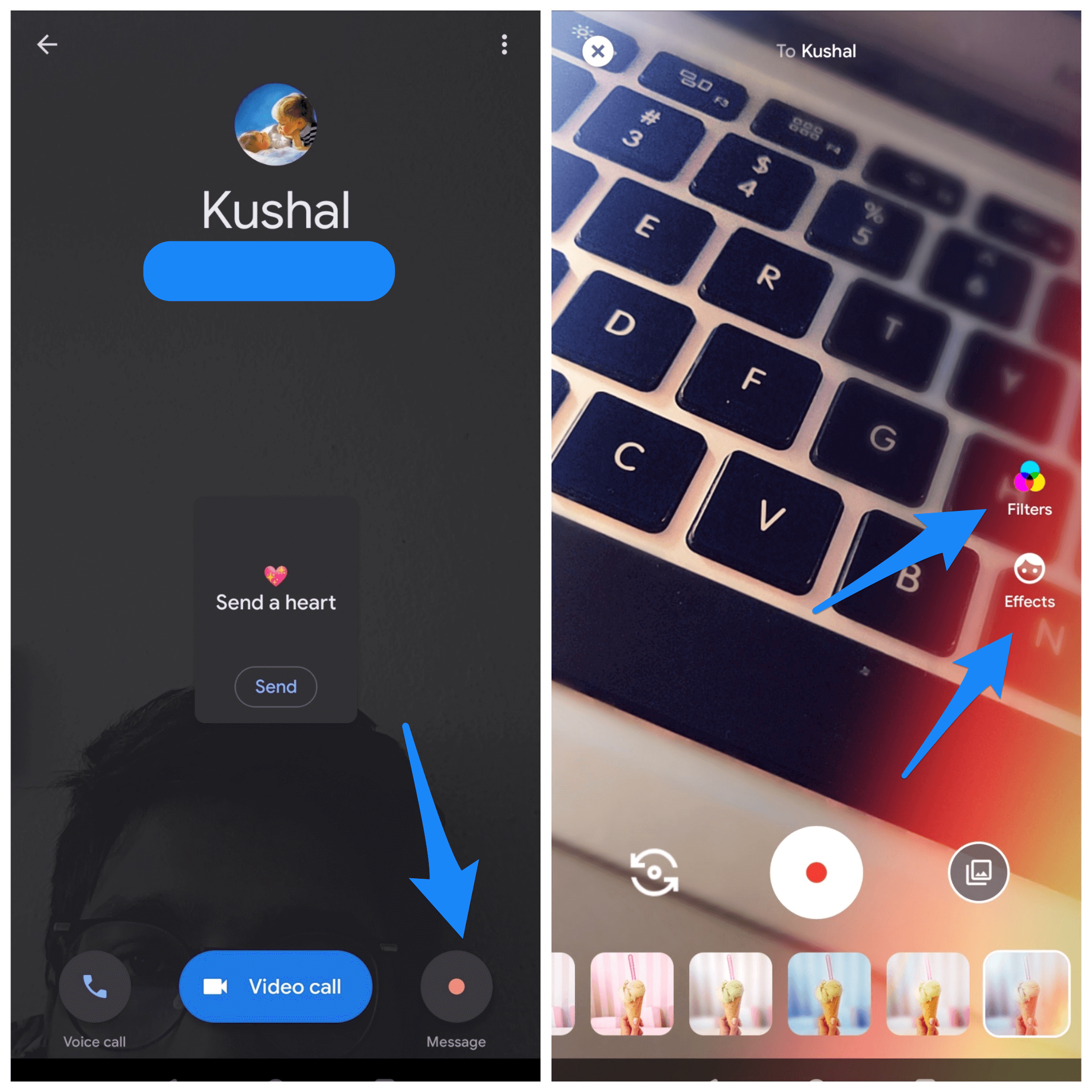 Video-Calling Quality
WhatsApp offers a very good-quality video call. For slow-connections, the call is not much optimized, some data packets lost during a slow network connection. WhatsApp does not support HD video calling. WhatsApp video calling consumes a large amount of data if you are calling over cellular mobile-data. There is no time limit on WhatsApp video-call, but if you are on slow-connections, the call will automatically be terminated after 30-40 sec of pause.
Google Duo supports high-quality video calling. Calls are automatically optimized very nicely even for slow connections, it uses QUIC over UDP to ensure less loss of data packets. Google Duo supports 720p-HD Video Calling. While video calling you can also use various effects and filters like Snapchat. There is no time-limit for calls and it is free, also it consumes less mobile data when compared with WhatsApp. Google Duo automatically switches between WiFi and Mobile data.
Group Video-call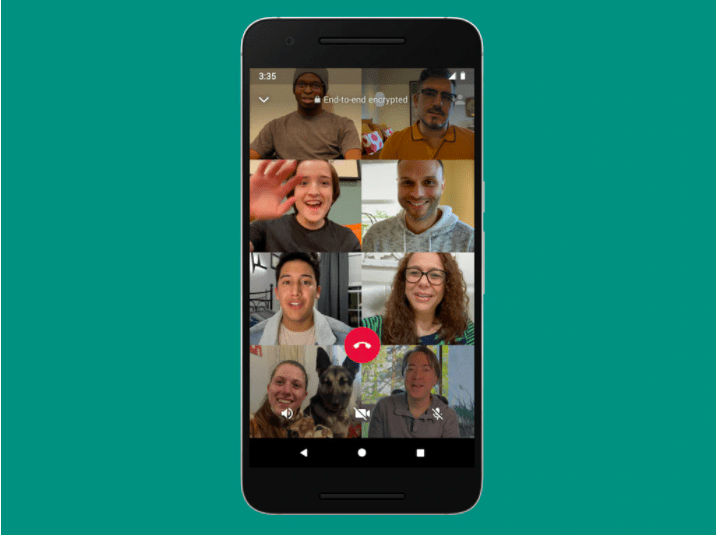 WhatsApp With new updated WhatsApp you can call up to 8-people for a group video call, your screen will be divided into 8 parts in a grid and you will be able to enjoy calling 7 people together in the video call, 8th is you.
Google Duo supports a maximum of 12 people at a time, you can initiate a group video call with twelve people.
Voice-Calling Quality
WhatsApp supports a decent quality voice call. For slow-networks, the voice will not be clear. You can switch to a video call in between voice-call.
Google Duo supports high-quality voice calling. Calls are very much optimized, for slow connections too a very little amount of drop can to noticed.
Network Balancing
While making a Video call over WhatsApp, networks are not much balanced and if there is any drop in internet speeds than you will clearly notice some poor call quality resulting a huge amount of drop in the data packets for weak and slow connections.
Google Duo: Networks are much balanced, and a little amount of drop is observed for slow network connections, and it supports a high-quality video call. You will experience a very clear video calling even with a poor internet connection.
Cross-Platform Support
Both the services have cross-platform support giving you more opportunity to connect with your friends and relatives without any system OS boundaries.
WhatsApp
Android
iOS
WhatsApp web is available for desktop (Microsoft Windows 8 & above versions, macOS) but it does not support video calling, to start a video-call through WhatsApp on your desktop, you need to install Android emulator in your PC, and then you can enjoy video/voice call in desktop.
Google Duo
Android
iOS
Microsoft Windows
macOS
Web Browser
Security & Privacy
WhatsApp
WhatsApp uses End-to-End encryption so all of your calls, messages, voice notes, etc are safe, no one can watch them, even WhatsApp can't put an eye on your chats.
You can block the unknown users and also any, who is not your contact, after blocking they aren't able to message, call you on WhatsApp and your profile picture will also not displayed to them, and also they aren't able to view your stories.
You can control who can see your DP, status, last seen, about, who can add you into the group, etc
Google Duo
In Google Duo End-to-End encryption is enabled by default, all of your information and data are safe and protected.
You can block unknown users, and they won't be able to call you again on google Duo.
End-to-end encryption means that a call's data (its audio and video) is encrypted from your device to your contact's device. The encrypted audio and video can only be decoded with a shared secret key. And the key is safe with you.
Conclusion: Both the applications are best with their perspective, it's your choice which one you want to prefer. For the video calling purpose, I will always prefer Google Duo because it offers many features for video calling and supports high-quality video calling. Google Duo is designed with a primary focus on video calling only, whereas WhatsApp is a messaging app which comprises video calling as a feature.
If you've any thoughts on WhatsApp Video Call Vs Google Duo | Which Video Calling App Wins the Race?, then feel free to drop in below comment box. Also, please subscribe to our DigitBin YouTube channel for videos tutorials. Cheers!