It is weird to have duplicate contacts over your phone and there is no easy way to get rid of them. You can either take the task in your hand and do it manually or be smart about it and use a script or an app to do the same. Duplicate contacts have been a major issue for people, including me. Sometimes when you have contacts saved on your SIM card, your Google account, and your iCloud account, all the contacts will be there on your iPhone. But when such contact details overlap, we often face issues.
If you're one of those iOS users, who have signed in with multiple social accounts, and now facing the problem with duplicate contacts on your iPhone, then here is how you can delete it. The task can be cumbersome or quick, based on the method. Ideally, there are multiple ways to do it, but the best way to delete duplicate contacts on iPhone is by using a free app or service.
Ways to Delete Duplicate Contacts On iPhone
iPhone users including me often face the problem of duplicate contacts. And due to a variety of reasons, we can't just deal with the fact that there are two contact details, with the exact same contact information. Here are two methods that will help you to delete duplicate contacts on your iPhone or merge them.
Delete Duplicate Contacts Manually
If you don't know, you can easily delete contacts one by one from your iPhone itself. The process is slow, but ideal if you only have a few duplicate contacts.
Steps to delete duplicate contacts manually on iPhone:
Open the Contacts app on your iPhone and search for the duplicate contact.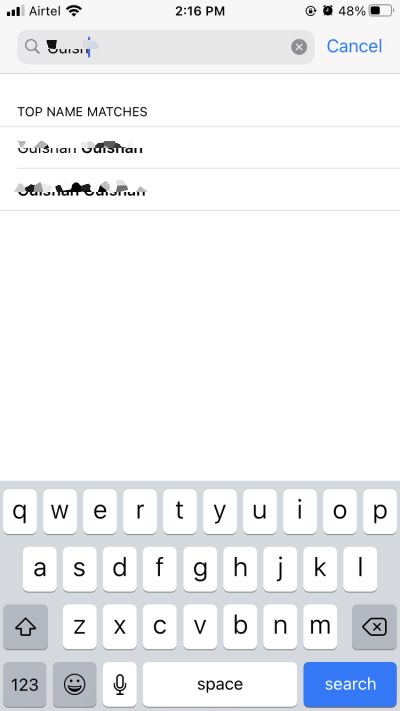 Open contact details and go to the edit button at the top right corner.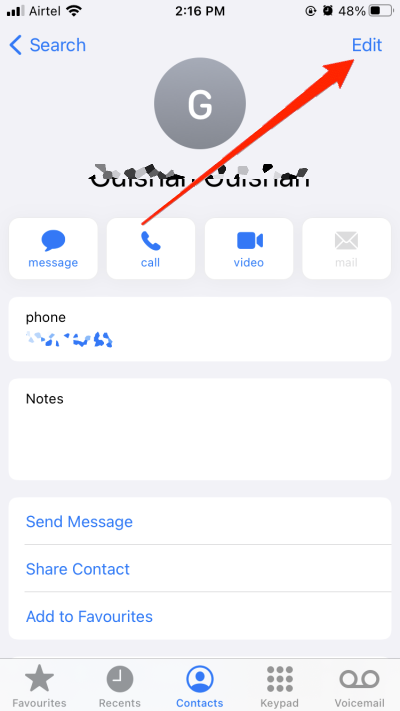 Here you can delete this contact. If you delete one entry, the other shall become the primary.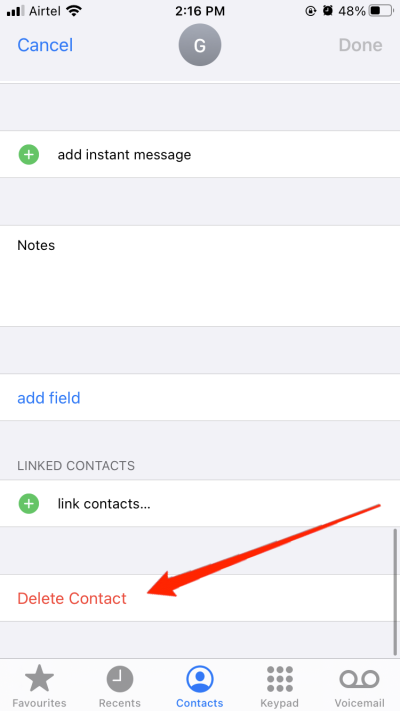 Delete Duplicate Contacts via App
The above method is fairly obvious, but not so useful when you have 100-200 duplicate contacts. The problem arises when there are so many duplicates, that you would need help from a professional. Don't worry, as there are some free apps available on the Appstore that can help you with the process.
Steps to delete duplicate contacts automatically on iPhone: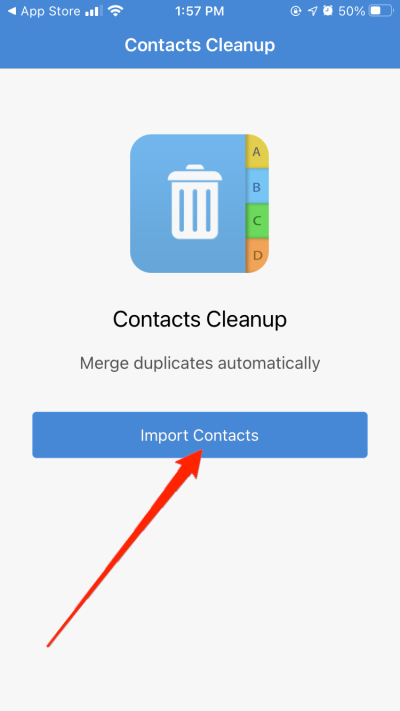 Click yes to the contact permission popup.
Now you will be given an option to backup your existing contacts.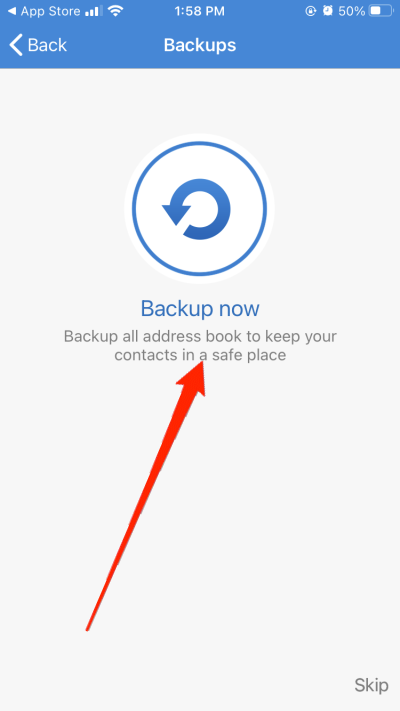 It's a good idea to backup, in case some contact details are deleted, you will be able to bring them back easily.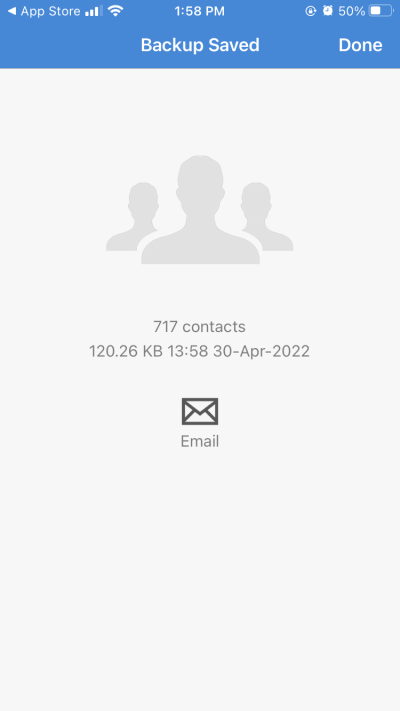 Once you click the backup button, the backup will be saved locally. You can also save the backup on your email in case you need it.
Now to the main page and go to the duplicate contacts option.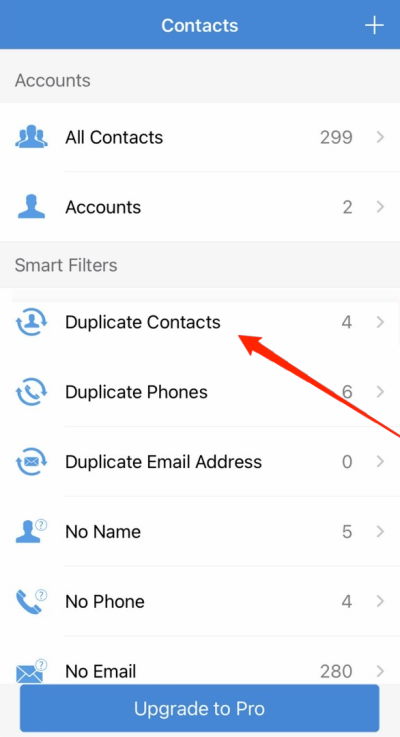 It will show you a list of people with duplicate contacts and the frequency of duplicates.
Either you can merge them one by one, or click on the auto-merge button at the bottom.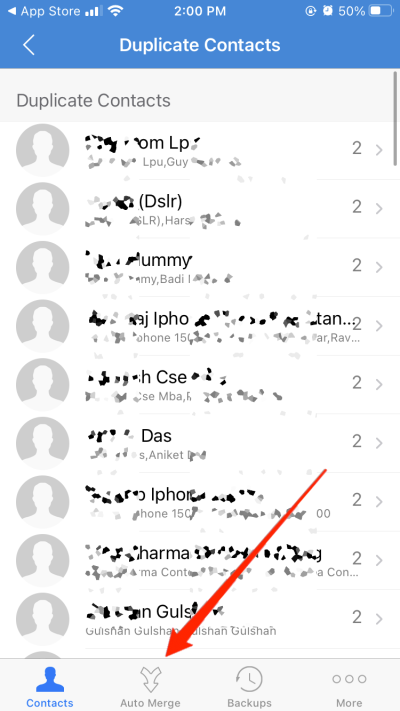 Here select all duplicates which you wish to merge.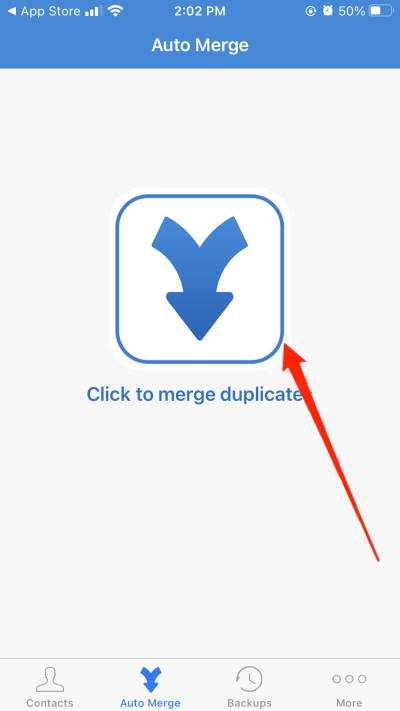 Only one contact entry will be kept, and others will be deleted!
Wrap Up
So this brings us to the end of the guide for deleting or managing duplicate contacts on your iPhone. Please remember to take a backup before doing any action in your contact list. If you only have a few duplicates, then we recommend you not to use any third-party apps.
But if you have multiple duplicates which you can not manage easily, then feel free to follow the second method. Apart from the options we just showed above, there are other free third-party iOS apps to remove and merge duplicate contacts on your iPhone. The one we recommend is Cleanup Dupes, it is fast and reliable.
If you've any thoughts on How to Delete Duplicate Contacts on iPhone?, then feel free to drop in below comment box. Also, please subscribe to our DigitBin YouTube channel for videos tutorials. Cheers!