Subtitles for movies and TV shows are definitely a boon for many audiences. And the benefits only get doubled if you're watching any foreign films. Well, it might even help you to learn new words which you could further brag about or add to your vocabulary. Apart from that, not every movie comes with perfect dubbing. In fact, some dubbing even makes the movie much worse. In those cases, you could watch the said film or TV series in its original language and then take the clue from the subtitles.
Well, the advantages are many, and so are the websites from which you get get your hands on these subtitles. In this guide, we will be listing 20 of the best websites to download subtitles for your favorite movies or TV shows. Furthermore, all these subtitles aren't just limited to English but are rather spread across many different languages. With that said, here is the list.
Best Sites to Download Subtitles for Free
Here are the Best Free Sites to Download Subtitles for Movies and TV Shows
1. Subscene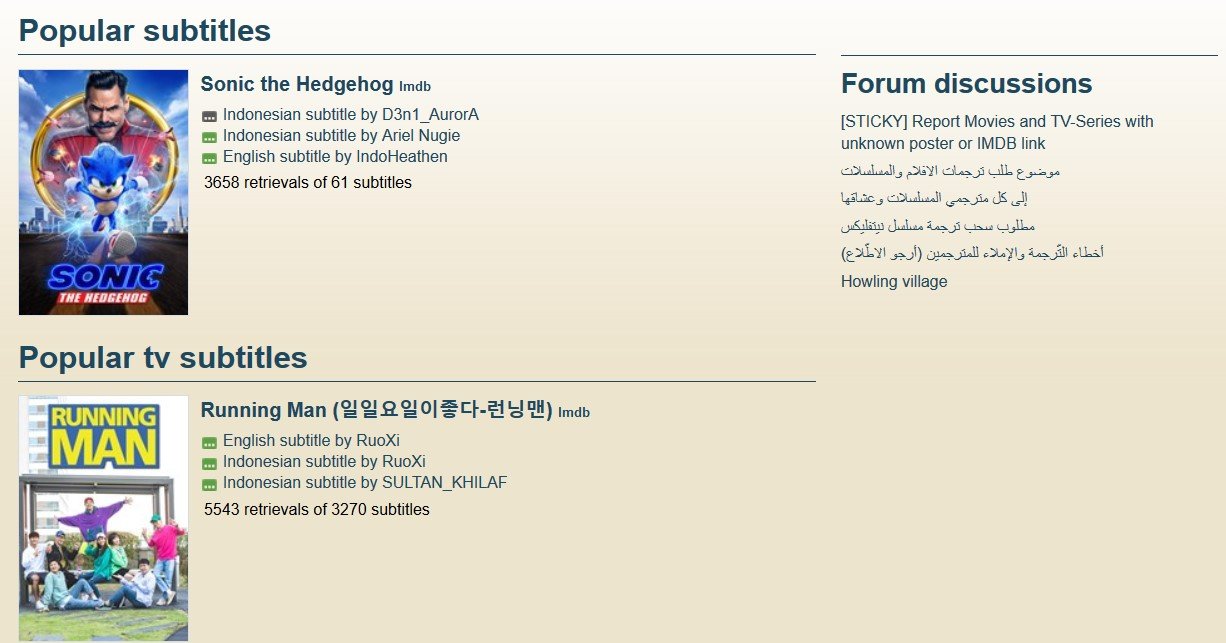 One of the most well-known sites for downloading subtitles, Subscene has a huge database of subtitles for many types of films, TV serials, and shows. The subs are available across many languages, from the most common English, Hindi, and French to even Arabic and Greek. All of these subtitles are uploaded by users on a daily basis.
Just beneath the search bar, you have the filter section, which allows for searching the subtitles based on a particular language. This definitely comes in handy, considering the site hosts so many subs. There is also a discussion forum in which you could request the subtitle of any movie or show if it isn't yet available on the site. You could also upload your own subs and benefit the community. However, for the latter two tasks, you will be required to create an account.
2. Open Subtitles

It is the biggest open-source platform for subtitles. To begin with, the website has been translated into many languages, so browsing through the subtitles shouldn't be much of a problem, irrespective of the place you belong to. Furthermore, the site comes with a pretty handy search tool that allows you to filter your content based on any particular season, episode, genre, or release date.
Likewise, you could also upload subtitles or even request one, if it's not even available on the platform. You could even see the preview of these subtitles before downloading them. With over 5 million subtitles, it is a one-stop place for all your subtitle searches.
3. YIFY Subtitles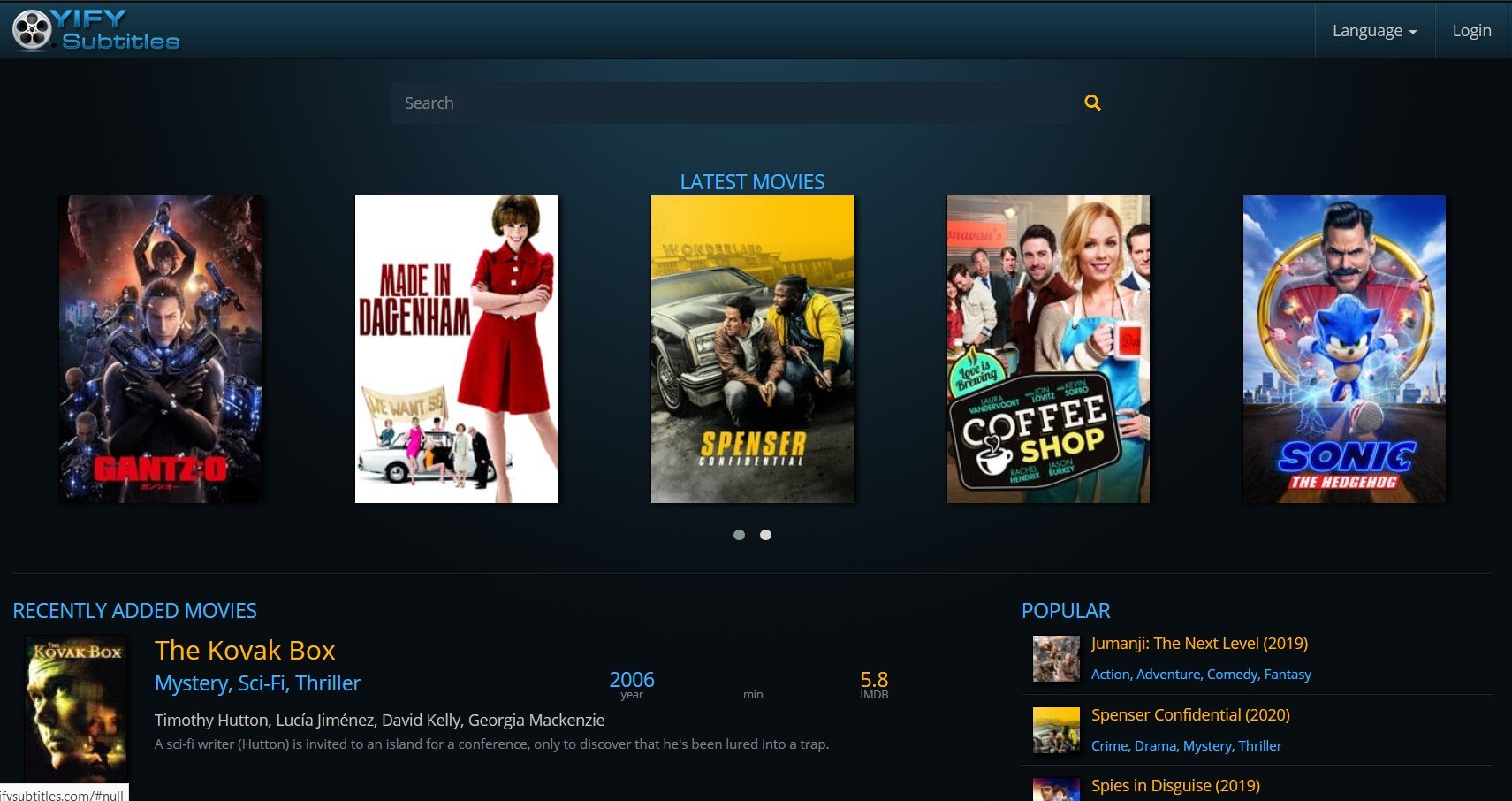 Among the most visited sites for downloading subtitles, YiFY has managed to carve out a name for itself in this domain as well. Rather than just providing the subtitles for the movies, you could also get a short synopsis about that movie, its launch date, the characters involved, and even the IMDB rating.
Apart from that, it also allows you to search for subtitles based on different genres like animation, crime, family, a mystery among others. You will even be able to find out subtitles for the movies that were released way back in the 1930s and 1940s. Just set your favorite language in the top menu bar and begin your filtered search.
4. Addic7ed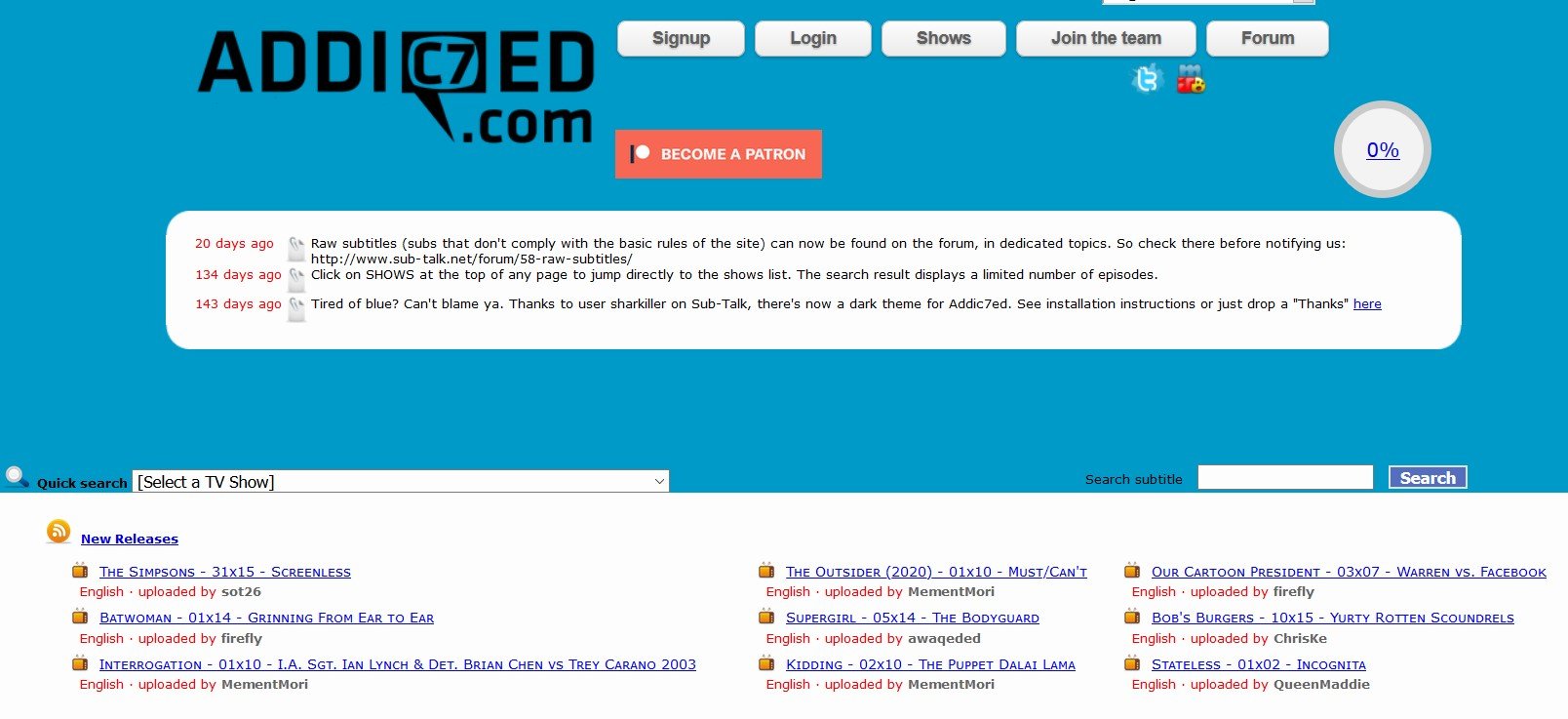 Don't let the name confuse you, it actually does its job pretty good. It hosts a plentitude of subtitles across a varied domain. You could even find subtitles in languages such as Telugu and Tamil and man other regional languages. Although the same is only limited to some famous movies and TV shows, still a useful addition nevertheless.
There is also a separate section for the most downloaded subtitles and even the recently started and finished translated subtitles. The site also allows you to drop in your views on any subtitles, but for that, you will have to create an account. However, for downloading subtitles no such account creation is needed.
5. Podnapisi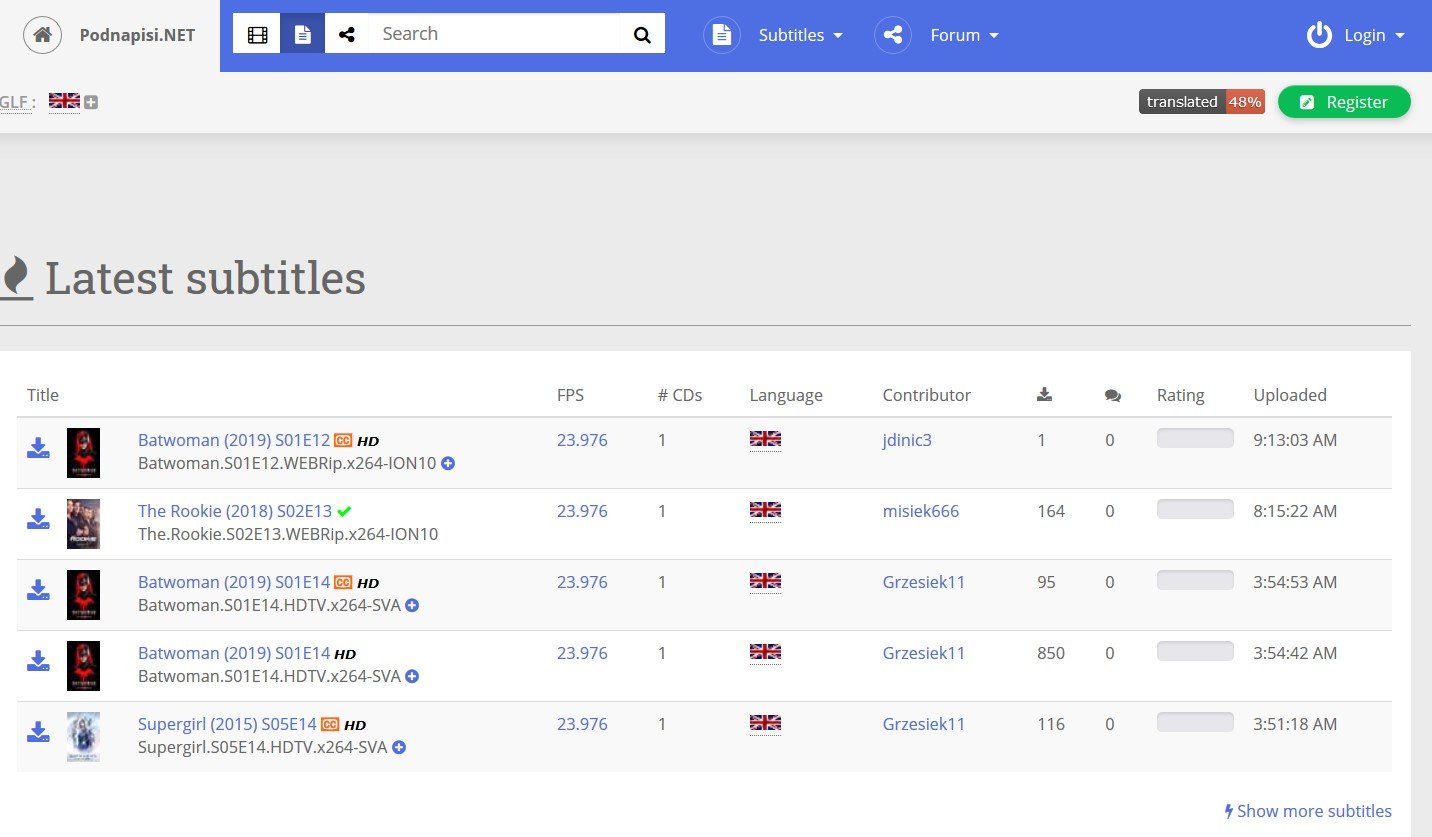 Another pretty handy subtitles downloading websites, the site comes with a strong search tool as well. It allows you to filter your search based on genre, type (i.e. TV series, Short series, or Movies), season, episode or the year in which it was launched. There is also a separate section where you could upload your own subtitles or discuss more on the same in the blogs.
By default, only English subtitles will be shown. To add more languages, tap on the plus icon situated at the top left. They also have subtitles adapted especially for hearing-impaired viewers. All in all, Podnapisi comes with around 2 million subtitles. So you might definitely find your favorite one from this site.
6. TVSubtitles.net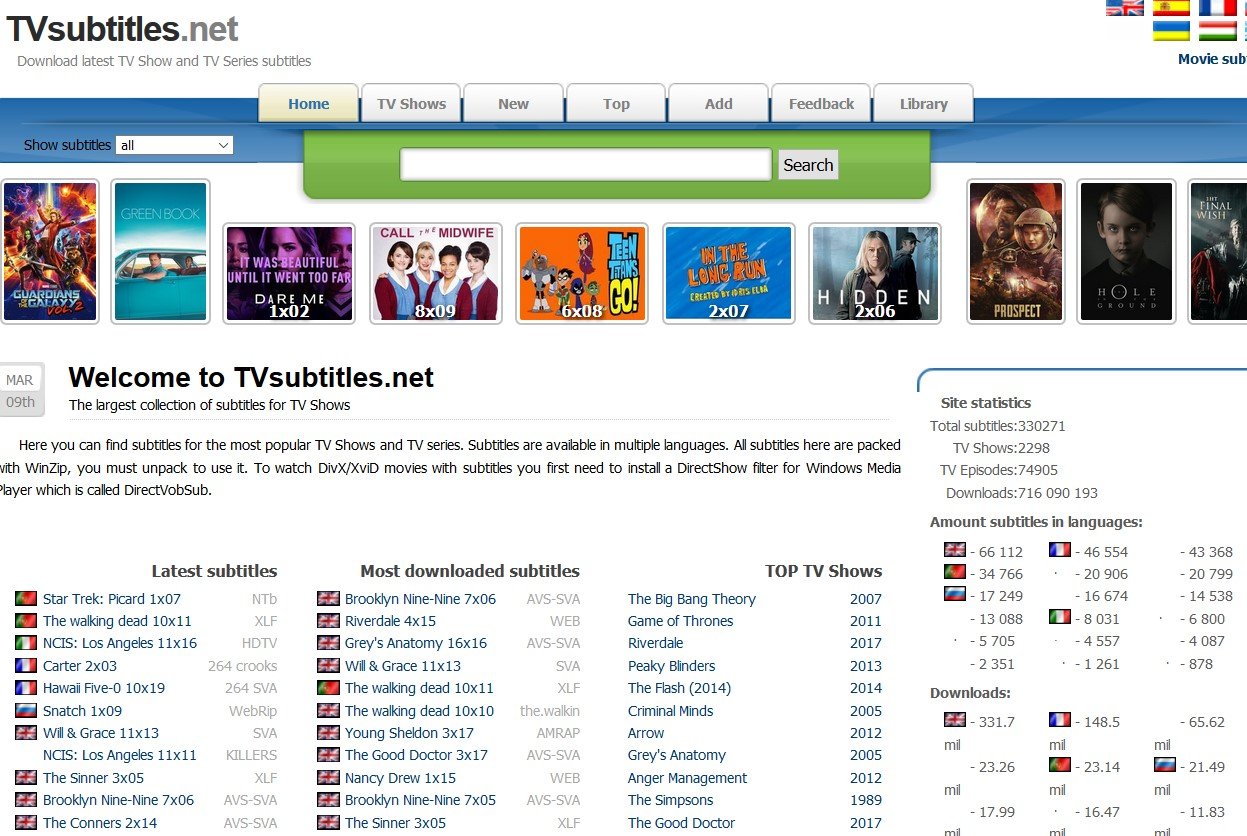 The site has subtitles in over 18+ common languages including German, Spanish, English, and others. TVSubtities further has segregated the website into different sections. For example, there is one section for the most downloaded subtitles to date, one for the newly released, another one for the top TV shows like Big Bang Theory, Game of Thrones, etc.
You could also contribute subtitles to this site. Just create your account and start uploading. Although there is nothing so special that you could brag about in favor of this site, yet it is able to provide most of the subtitles with ease. Also, if you find any useful subs, you could share the same with others as well.
7. VLC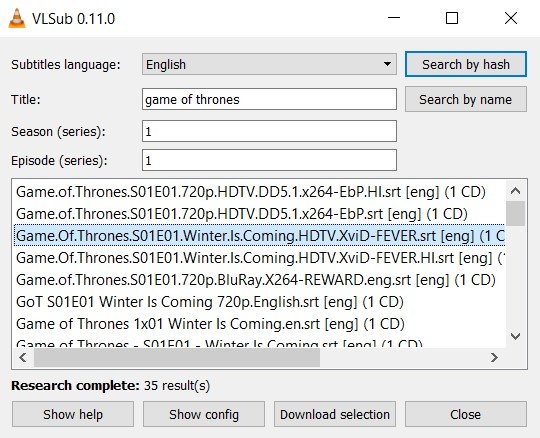 Well, this might come as a little bit of a surprise to many, but VLC does come with its own subs store. And it has a higher success rate when it comes to searching for subtitles, even for the not-so-famous TV shows and movies. Considering most of you might be using VLC as the default music player, it makes it all the more simple in that case. Just pause your video, click on View > VLCSub. In the next pop-up that appears, enter the movie or TV show name, season, and episode.
Furthermore, don't forget to change the language to your preferred one. Once done, click on Show by name. Within a few seconds, the list will get populated with the search result. Just select the desired one and click on Download selection and then on the download link that appears. That's it. The subtitle will get downloaded in compressed format. Just extract it to get your .srt file.
8. English Subtitles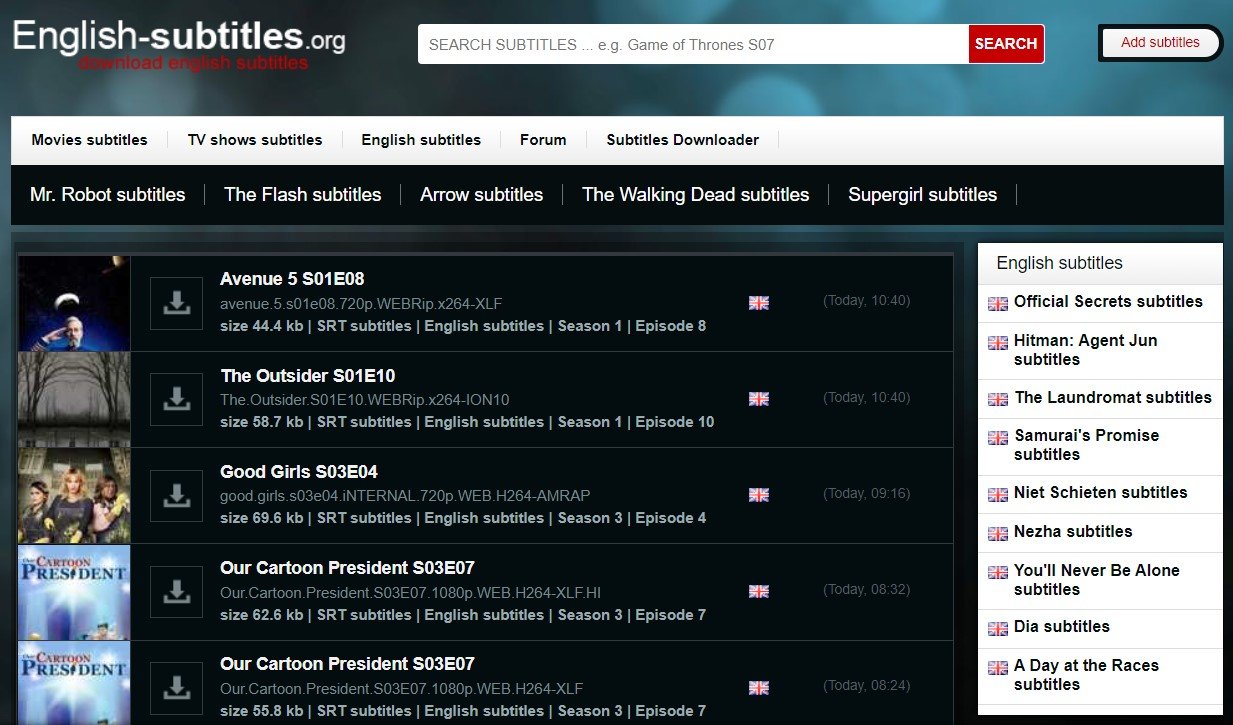 Here, on this site, you will be able to get subtitles for popular and not-so-popular movies, Tv serials, and episodes.  The site has pretty neatly arranged all these subs into different sections, so finding your desired one should be much of an issue. All the subs are free to download, without the need to log in.
Only if you wish to add your own subs over their site, you will need an account. Although it holds subs from many different genres, yet they all will only be available in the English language. Well, that is pretty much evident from its name itself. So if you are looking for subs in any other language, this wouldn't be able to meet your requirements.
9. Subdl
Subdl is a free website that has subtitles of popular movies and TV shows. All a user has to do is type the name of the movie or show whose subtitles they are looking for in the search bar on the website. The website will display all subtitles available of the various movies or seasons of the show. It sources its subtitles from several sources. Subdl has subtitles of not just the English language but also other languages like Greek, Chinese (Mandarin), Japanese, Russian, etc. It also features subtitles of new shows and movies and popular shows and movies for easy access. Overall, Subdl is a great website for downloading subtitles for free.
10. GetCaption
GetCaption is not a website but a tool for downloading subtitles of movies and TV shows. It is free open-source software that is compatible with Windows, Linux, and Mac OS. The user interface of Caption is easy and accessible. Users can search for subtitles with a simple drag and drop. Caption has a very useful auto-download feature that downloads subtitles in a jiffy. Quick downloads and renaming the subtitles help the user organize their subtitles files seamlessly. So, while Caption is not a website, but it is an amazing free tool for downloading subtitles of various movies and TV shows.
11. MovieSubtitles.Net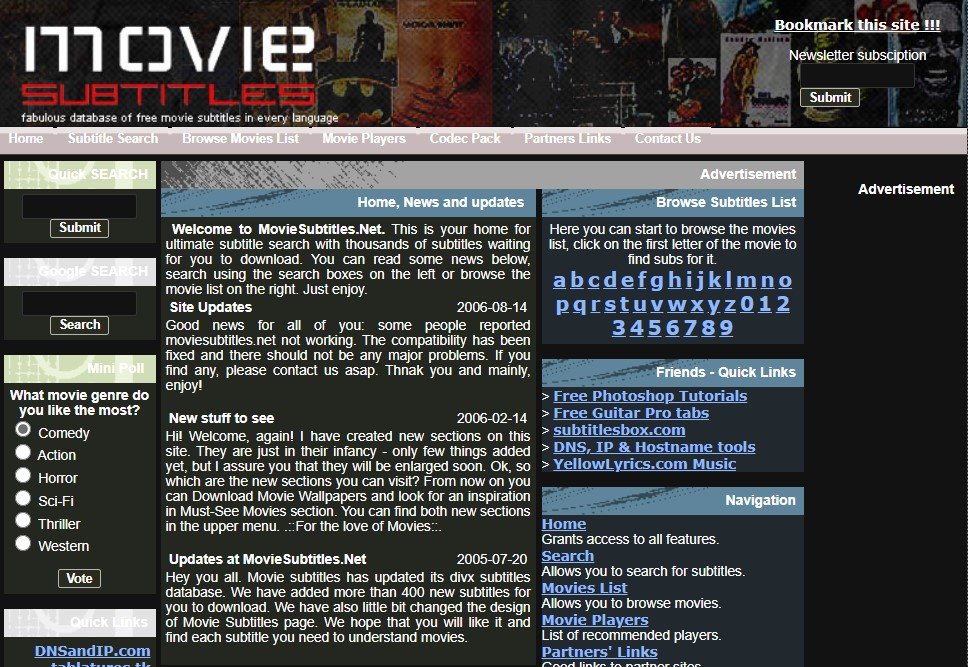 To be honest, it is probably the most basic website that you will ever likely to see. For the purpose of downloading subtitles, there is a search bar situated at the top left. Apart from that, there is nothing worth checking out. Once you type in your query for the desired sub and hit Enter, it will bring you the list of all the available subs related to your search, but it will be a mixed result consisting of subs from all the languages in one place. Unfortunately, there isn't any way for you to filter the search based on any particular language.
In this regard, you could use Ctrl+F Find a shortcut. Just enter the desired language in the Find box and if the list has one, it will get highlighted right away. However, there is one thing of which you could be sure. And it is the plentitude of subs that the site has to offer. You could find the subtitles of even the cult classics ranging all the way back to the 1930s and 1940s.
12. Subtitle Seeker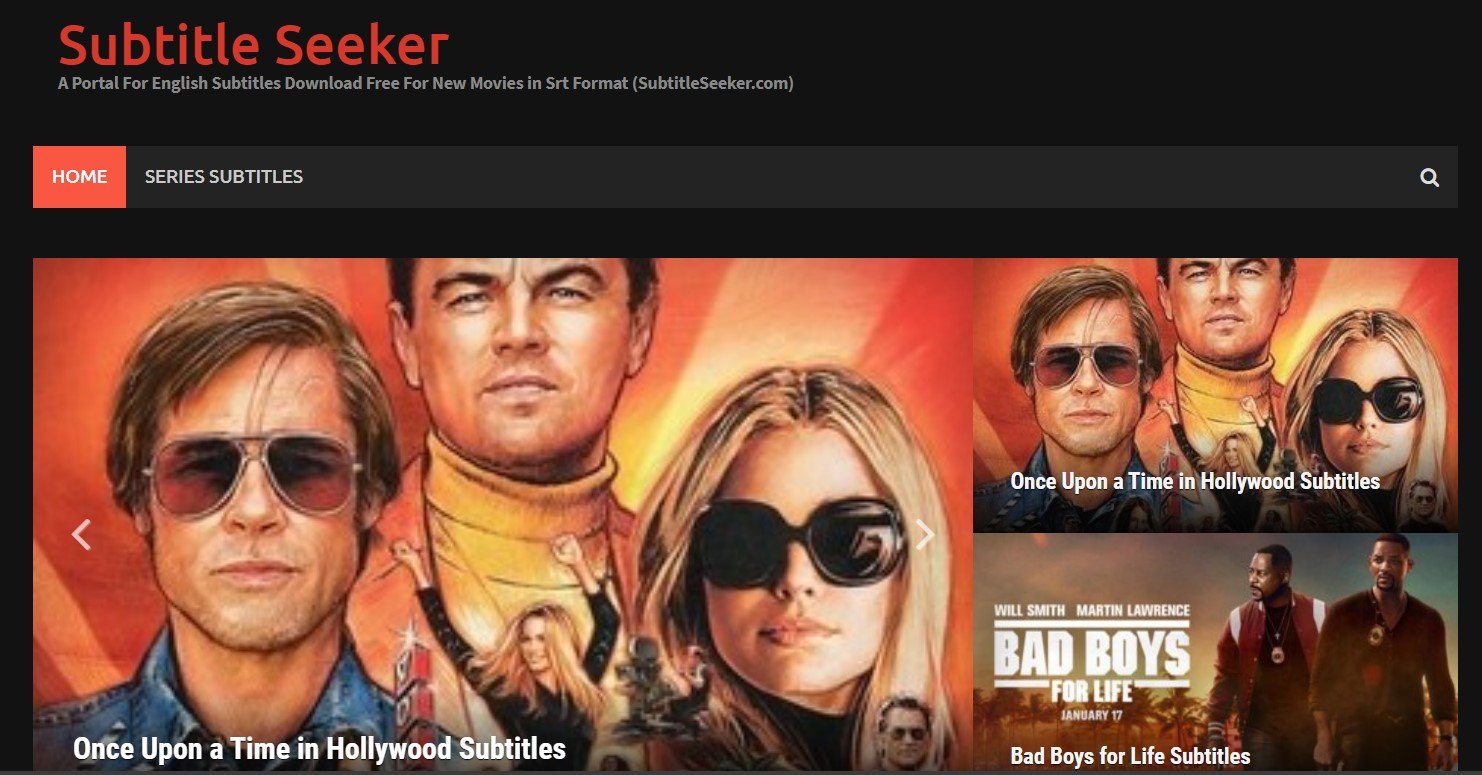 Things work a little bit differently here. Rather than the users uploading subtitles, the sites collect and combine subtitles from over 20 different websites. So if you aren't able to find subtitles on other sites across the web, chances are your search might stop here, for good.
The subtitles are in the usual .srt format. If you're having trouble finding for any subtitles from the plethora of collection that it boasts of, don't forget to use the search bar and add your desired criteria to it before beginning with the search.
13. English Subtitles for DivX movies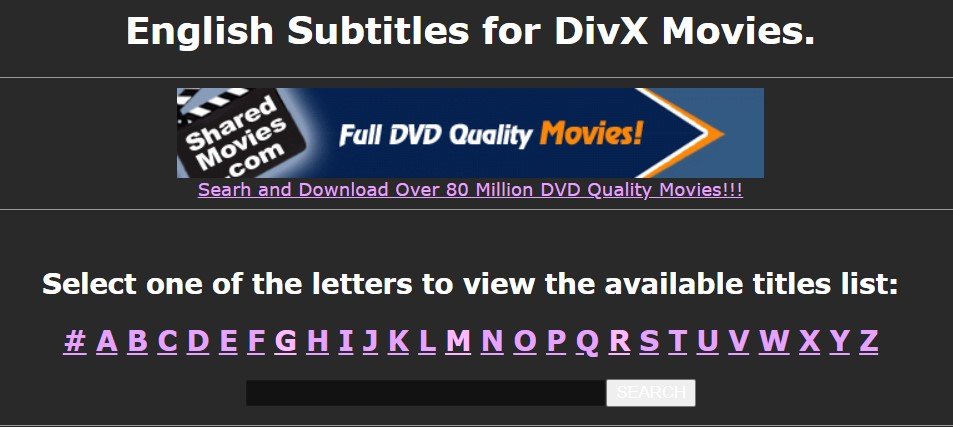 The site is pretty basic, with just a search bar to look out for your favorite subtitles. There are no separate sections for most downloaded subs, newly added subs, or anything as such. Furthermore, you don't get to filter your search based on your requirements. It throws all the available subs for the required movies at one go.
It is then up to you to search for among the plethora of subs. One thing that this site gives you is the ability to view the subs before you head over to the downloads section. As evident by its name, you only would be able to get subs for movies, they don't have subtitles for TV shows or series.
Visit: English Subtitles for DivX Movies
14. iSubtitles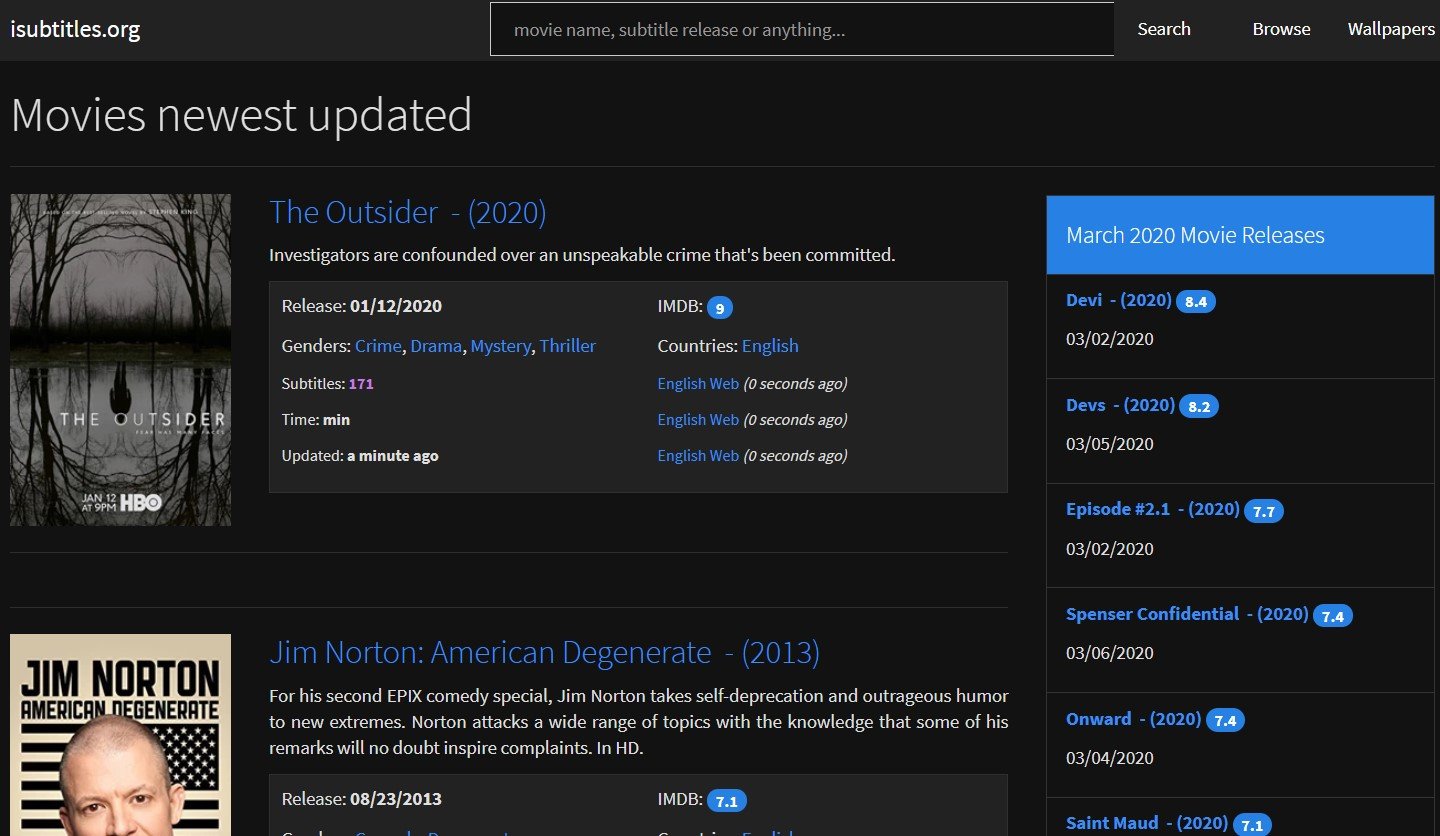 One of the few sites that have subtitles for many different types of languages. Not only the regularly spoken ones, but you could even find subs for languages that have a few takers. Along with the subs, you also get a gist of its associated movies and the IMDB rating. By default, the page shows the recent updates subs. To find any particular sub, head over to the Browse section or take the help of the search bar situated at the top of the page.
15. DownSub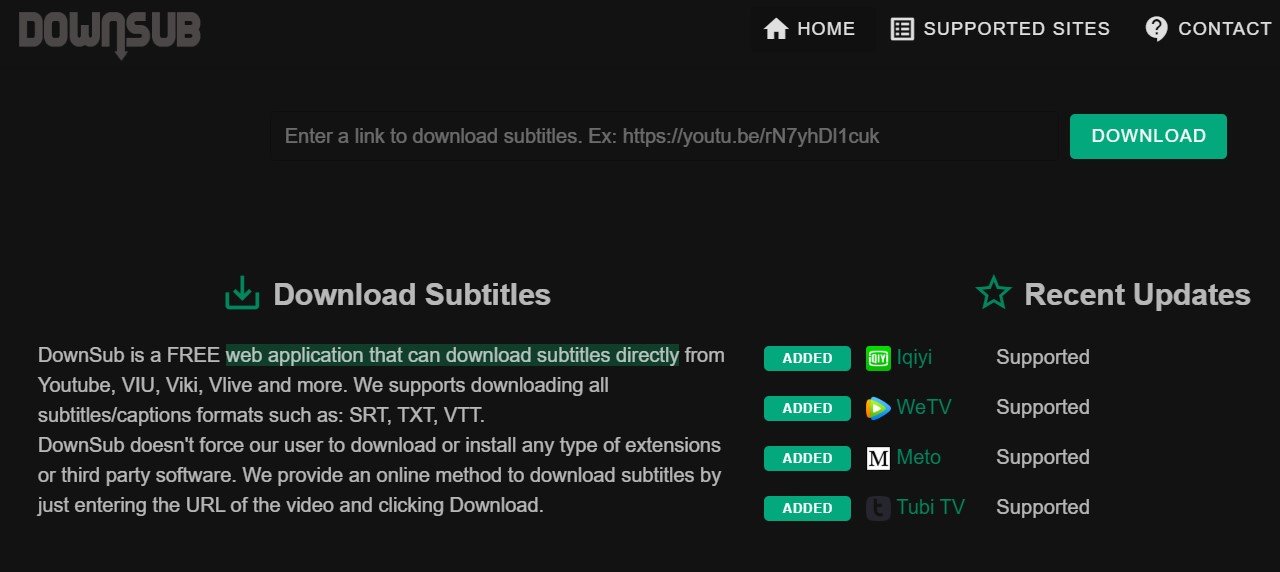 Out of all the sites that we have mentioned in this list, this site works totally different. You cannot search for or browse any subs on this site. To download your desired subtitles, you'll be required to copy-paste that video's URL in the provided area. It supports many sites including YouTube, Facebook, Vimeo, Daily Motion, Google Drive, OnDemandKorea, Viki, and countless others.
Just paste the video or movie's link and hit Enter. Then click on Download once to let the site extract those subtitles for you and hit Download again to save it onto your device. The subtitles are present in three different formats: SRT, TXT, and VTT. One complaint that many users have from this site is the fact if you don't have the URL of the desired TV/Show or movie, then this site becomes completely useless.
16. Subs4Free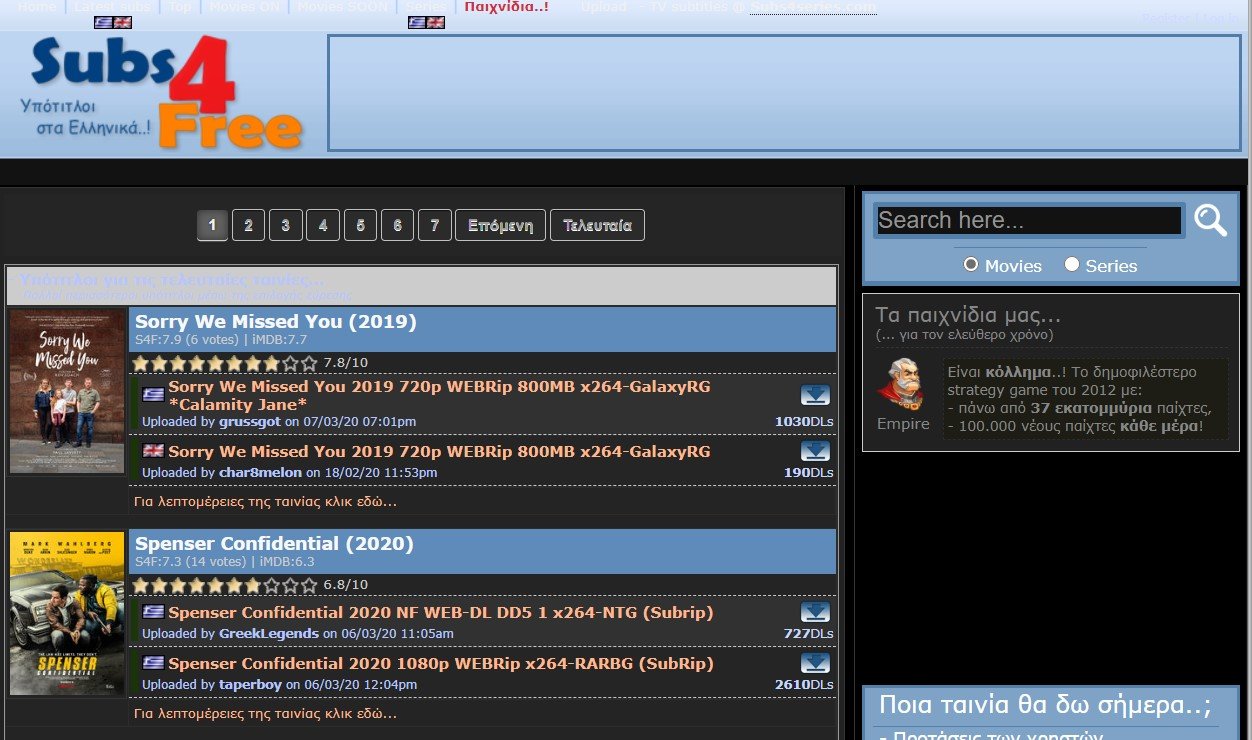 The site has a plethora of subtitles uploaded by users across the world.  On its homepage, you will see all the recently added subs, apart from that. The right-hand side is filled with tags of movies and Tv shows that have been downloaded the most number of times. A single click and you will be taken directly to the downloads section.
Apart from that, there is also a US top 10, most user votes, and top-rated. Although some of the sections of the site are in Greek, the important ones are still in English, so browsing through the site shouldn't be an issue.
17. MovieSubtitles
User-friendly download of movie subtitles. Moviesubtitles.org offers subs of the most popular movies in an easily navigated interface. Subtitles are available in multiple languages. All subtitles here are packed with WinZip, you must unpack them to use it. Titles are categorized alphabetically, making it easy to find the file you seek.
Conclusion: So this concludes the list of the top websites from which you can download subtitles. Although each of them comes with the ultimate goal of providing subs, it boils down to how they offer this service. While some come with pretty nifty search functionality, others allow you to drag and drop the desired video file directly.
And others like VLC have this service in-built into their media player. With that said, we would love to hear from you about which one of these is your preferred site. Do drop in your views in the comments section below.
If you've any thoughts on 15 Best Sites to Download Free Subtitles: Movies & TV Shows, then feel free to drop in below comment box. Also, please subscribe to our DigitBin YouTube channel for videos tutorials. Cheers!