Showbox is by far the most popular online streaming app thanks to its smooth UI and easy navigation. Showbox is the most talked online streaming App having many features offering to the user without any cost. But lately, the app is shutdown.
It is the best alternative to subscription-based video streaming services like Netflix where it offers audio-visual content for free. The Showbox HD indexes various torrent clients and sites to stream the movies and other content for absolutely free. The App offers large content of movies and TV shows without any account and annoying Ads.
ShowBox is Shutdown
Its true, ShowBox is Shutting for Good. The App which served millions of users worldwide is closing its doors. It looks like the production houses forced the Showbox developers and promoters to discontinue the support for the App. According to TorrentFreak, the production company requested Cloudflare to reveal the identities of the operators behind Showboxbuzz.com, Showbox. software, Rawapk.com, Popcorn-time.to, Popcorntime.sh, YTS.ag, YTS.gg, and Showboxappdownload.com. They also filed lawsuits against the websites which particularly promoted the App. This led to the sudden disappearance of the App from many popular ShowBox promoting websites.
Many websites are giving a warning message;
"Show Box is not a legitimate software application for watching copyright protected movies. The movie studios will be able to see your IP address and your COMPLETE viewing history! You will very likely be sued for copyright infringement. Those websites that promote and/or distribute Show Box will also be pursued by the movie studios no matter what extent you go through to hide your identity"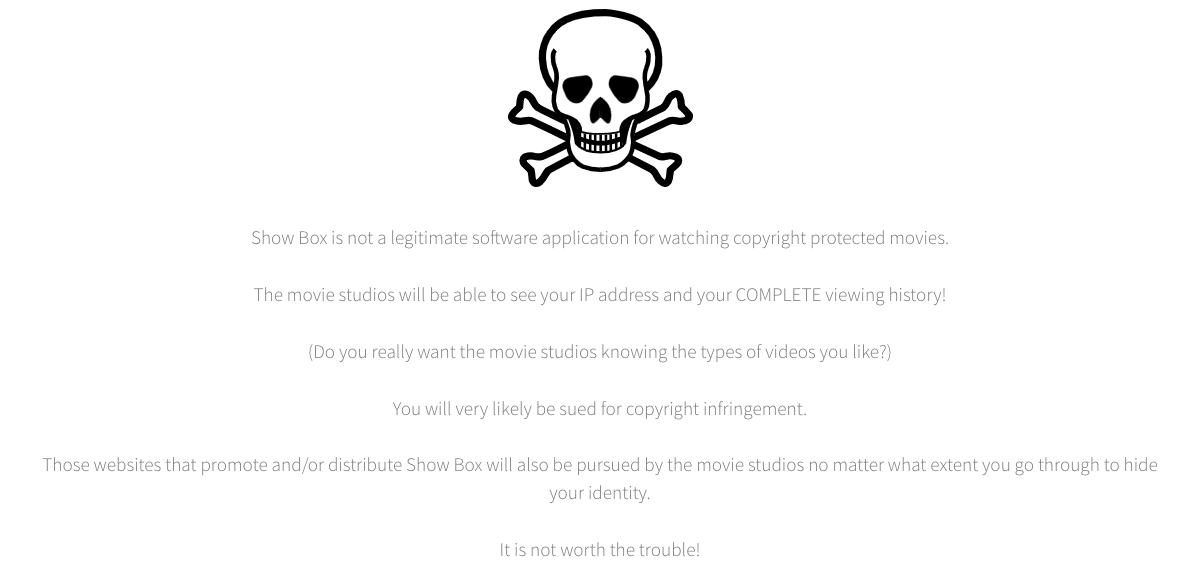 But we know the internet is a big place which cannot be controlled. And the App for sure will boomerang back with different names and logos, again serving millions of users.
Legal and Free ShowBox Alternative
This is the 2nd most asked question, there are a number of Apps that work like the SBox App. Going by some legal entities Pluto TV, Snagfilms, Viewsteretc are similar to Showbox but unlike Box, it is completely legitimate. Though the App may not have a comparable video library, it offers content for free (albeit Ads). The Pluto TV offers interface in "Netflix Fashion". You may not find all the wealth of ShowBox on Pluto but it is simple, legal, and free.
Other similar apps and sites like Crackle and Tubi TV, also work in a similar fashion by offering content for free. Though the programs maybe not comparable with the gigantic collection in ShowBox,  you can be safe from any rogue, malware or security risks.
Is ShowBox Legal? Should I Download it?
Many unauthorized streaming services like Pheonix for Kodi and PopcornFlix were shut down due to lawsuits (though they later returned with a different name). The ShowBox is no different but as I said it does not host any content on its own, this is where it works a little differently making it less vulnerable for the lawsuits.
The App is in a "non-clear" legal area and could be affected at any time. The App has some legal content too, but much of the programming is labeled as copyright infringement. Basically, the App provides copyrighted material without any authorization, thus violating the laws.
Will it Cause me Any Trouble?
Streaming illegal content is, of course, a punishable offense. But rules vary from country to country, some states have a very stern legislations while some may have nominal laws. Generally, the government attacks the publishers of the App in an attempt to pull out the root cause.
Conclusion: ShowBox is Shut, You can try any other alternative for the App.
If you've any thoughts on Showbox is Dead | All you Need to Know, then feel free to drop in below comment box. Also, please subscribe to our DigitBin YouTube channel for videos tutorials. Cheers!