There might be a scenario where you feel that your smartphone is lagging, becoming slow, or even overheat during the gameplay. Yes, it's true, this can happen, and the reason can be anything ranging from Poor OS stability issues to hardware limitations. These days due to the frequent software updates by OS manufacturers, the issue is limited to mostly hardware limitations only.
But this doesn't mean that you can't enjoy your high-end graphics game on your smartphone anymore. On the contrary, despite the hardware limitations, there are still many ways to play your favourite high-end graphics game on your smartphone, and that too smoothly.
Now, the question arises, how?
Well, there are some great game booster apps that a user can download and install on his or her smartphone, to maximize its fantastic gaming experience regardless of any hardware limitation.
This is why, here at Digitbin, we are providing you with the list of Best Game Booster apps that you can download, Install, and use on your smartphone to get benefits of smooth gaming experience.
What is Game Booster?
As the name suggests, Game Booster software or app helps you play games in a much smoother way as your already setup system isn't capable of offering, without it. This means, the Game Booster app simply limits the background activities of your system, and in reality, put all force on your hardware resources to work for the one gaming app.
In short, it forces the system to stop fetching email, messages, reminders, call data, and other unnecessary data or tasks from the background, and focus on one running gaming app for the better and smooth gaming experience.
Does it work?
As it limits the background processes, it forces all the Hardware mechanism to work for the game. The system is left with no option except to work for one running gaming app. And in fact, studies have shown the significant differences in CPU usage and gaming performance during use of Game Booster. They kill any unused background processes, increase RAM capacity by force closing auto running apps.
Best Game Booster Apps
Here are the Best Game Booster Apps to Enhance your Gaming Performace on Android.
1. Game Booster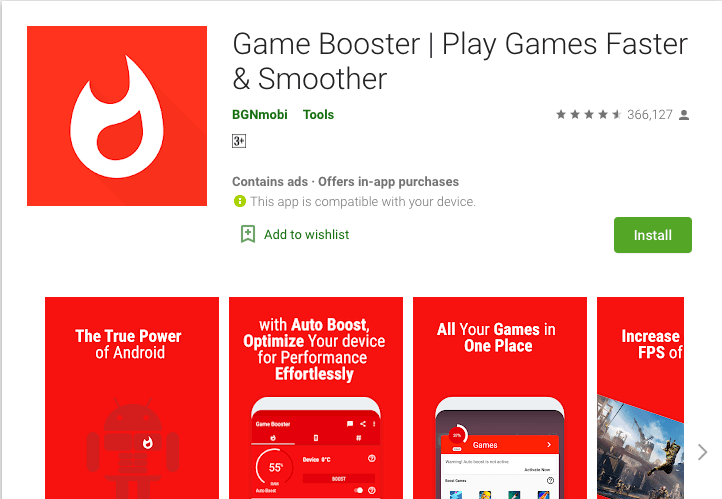 As the name spells, the first Game Booster app on our list is Game Booster. It is one of the most popular game booster apps, with over 350k plus downloads on Google Play store and counting.
Game Booster app comes with the advanced Linux CPU management system, which allows device optimization for smooth gameplay. In this case, it'll be your smartphone.
Apart from this, it also has the App Booster to optimize any app without rooting the device.
According to its developers, rooting is not essential instead, it's optional for this particular case. But If you already rooted your device, you can use the Game Booster modes to tweak your device for its maximum speed.
Otherwise, you can still use the App Booster or combine the App Booster with Game Booster modes, for max performance.
2. DU Speed Booster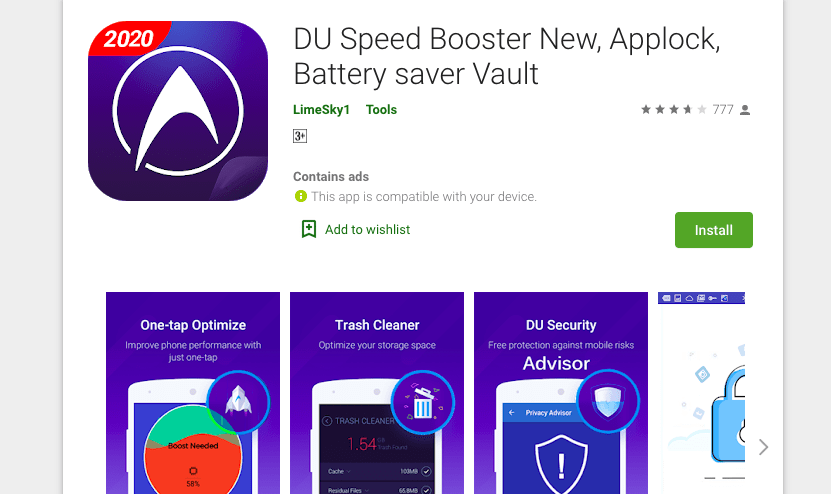 The next great app on our list is DU Speed Booster. If you are into speed boosting apps, then chances are you might have already heard of it. It's also among the most popular speed boosting apps.
The fun part is many Chinese smartphone manufacturers put this app as bloatware on their devices, to let their users utilize this app, in case of slow smartphone performance.
The app UI is simple and easy to understand. This results in smooth operation, and also it provides features like RAM management, Memory Cleaner, Junk Cleaner, and much more.
Although, it is not a dedicated Game Booster app using it before playing games, can smoothen up the gameplay.
3. Cleaner for Android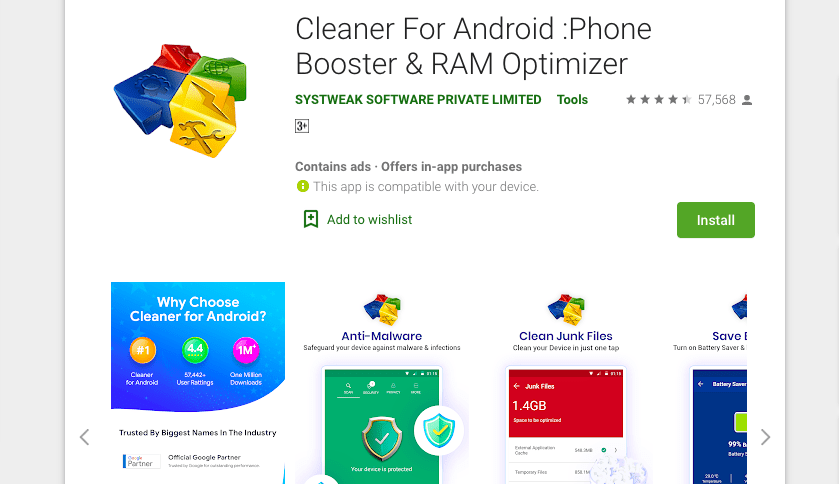 The next amazing app is Cleaner for Android. It is one of the most powerful Junk cleaner apps ever made for the Android Platform. According to many people, it's the all-rounder app that provides facilities like a one-tap booster, Junk file cleaner, Games booster, hibernate apps feature, App Manager, and even File Manager.
Features of Cleaner for Android
Battery Saver – Cleaner for Android analysis the battery usage, probably by scanning the apps running in the background and then terminates the apps that causes the battery drainage.
Duplicate File Remover – It also has a module that scans the whole device to check for Duplicate files to save or recover the device's space.
WhatsApp Module – This is the unique feature that only possesses by Cleaner for Android, it lets you scan the WhatsApp media and free up the useful space taken by it.
So, all in all, this is indeed the all-rounder device optimization app that needs to be downloaded and owned by everyone.
4. Game Booster PerforMAX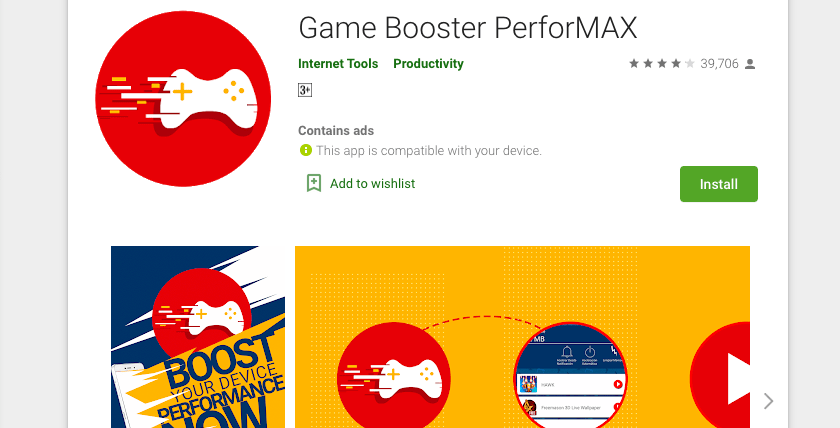 The fourth popular app on our list is Game Booster PerforMAX. It is one of the widely trusted Game Booster apps and continuing to be the favourite one, of many.
The USP of Game Booster PerforMAX is its UI and ease of use. Apart from this, it significantly stops the background processes, letting you play the high-end graphics game without any lags and device overheating issues.
To play smooth games, you need to first launch the games through this app. To do that, tap the centre button and select the game you want to run. Also, you can bookmark the games in the app, so that you can run them as quickly as possible without wasting any time.
So, in our opinion, this game booster app is worth giving a shot.
Download Game Booster PerforMAX
5. Dr.Booster
The next game booster app on our list with the fancy name is Dr.Booster. With over 180k plus downloads on Google Play Store, this app is doing fine in the category of speed-boosting apps.
It is also considered as the dedicated speed boosting app that specializes in cleaning up the Cache memory and RAM, separately or simultaneously. It also has many features like Direct boosting, Smart boosting, Antivirus scanning for the apps, and blessed with the flexible organization too.
To use Dr.Booster effectively, first, you need to download the app from the Play Store, then you'll notice the games and apps appearing in the app automatically, simply tap on the game you want to play, and press the floating boost button to experience max power.
6. Game Booster – One Tap Advanced Speed Booster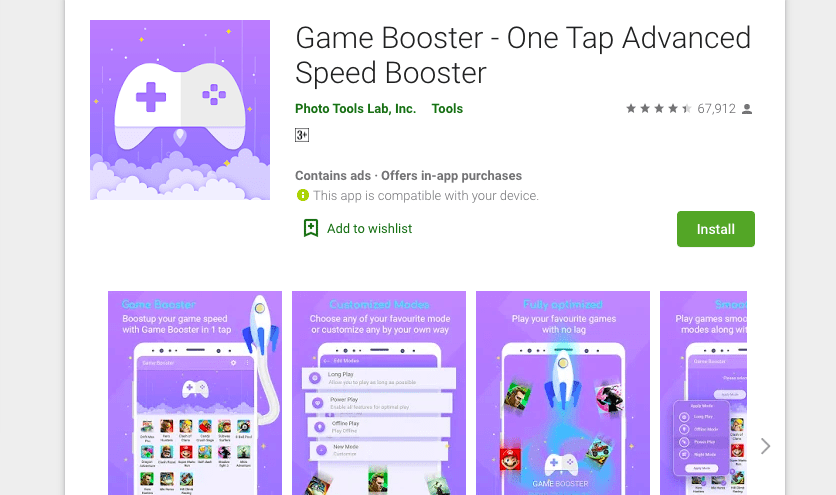 This Game Booster – One Tap Advanced Speed Booster app is one of the most promising Game Booster apps available today. It's the easiest and most elegantly designed app, with over the guarantee of offering the best gaming experience to its users.
It also offers a wide variety of features such as Gameplay Mode, Customizable modes, RAM optimization & Management, Advanced GFX settings, and much more.
You can even set Resolution, Control shadows, styles, render quality, etc. So, according to us, if you are looking for an advanced version of the game booster app, then there is nothing better than this one.
7. Game Booster – Speed up the Phone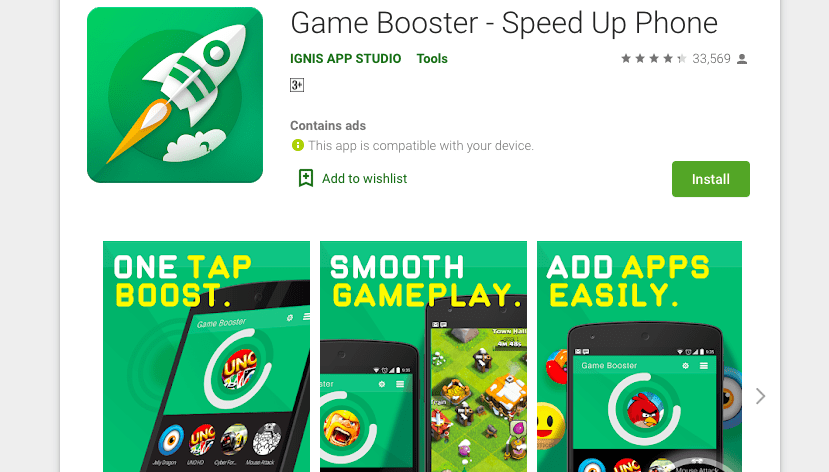 The seventh recommended Game Booster app on our list is Game Booster – Speed Up Phone, with over the 4.3 ratings on Google Play Store. This depicts its level of popularity and trust. It's also among the most elegant and powerful game boosters on the Google Play store.
This game booster includes features like boosting the game at one-tap, gameplay mode for the better gaming experience, and, also you can create your custom modes.
The UI is simple and easy to use. Maybe this is the reason, why this app is being loved and used by thousands across the globe.
Although, we don't recommend you use this as your first game booster app option, as we already mentioned some of the best above in this list. So, kindly check them out first.
8. Game Booster – Phone Cooler
Last but not least on our list is Game Booster 2019 with the Phone cooler. Yes, unlike other game booster apps, this app has many additional features in it.
First of all, it has a 4.4 rating on Google play store, and this is a great point to consider while or before downloading this app.  It provides the user with the power-packed features, such as Ram booster, Phone Booster, CPU Cooler, and much more that you might not have even heard of before.  As we said, it also has many additional features in it, such as full device boost, temperature auto-detect, and games app management as well. Rest you'll love this app if you download and use it well.
9. All-In-One Toolbox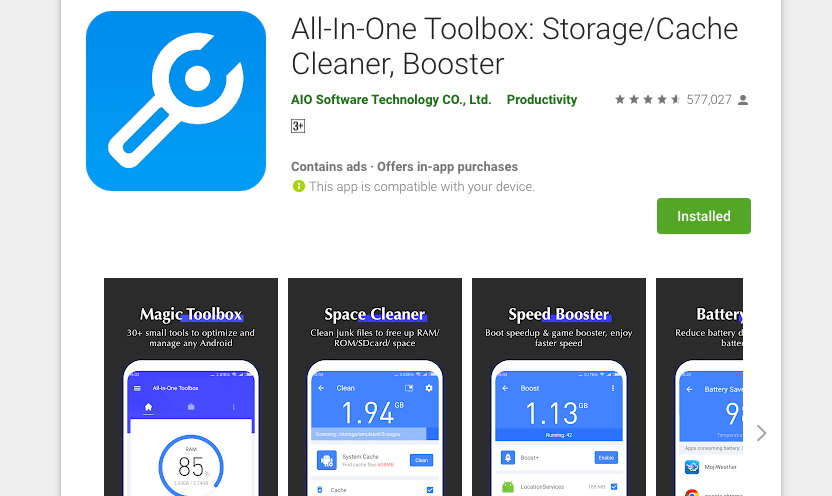 As the name suggests, this app comes pre-loaded with close to 30 tools to optimize your device in the best possible manner. These include junk cleaner, history eraser, speed booster, memory optimizer, battery optimizer, CPU cooler, app manager, file manager, mini launcher and the list goes on and on. Another feature, known as Boot Speedupgives you total control over which apps you want should automatically start when your device boots up. Not only user-installed apps but you could even have a say over system-installed apps as well. Also, if you're battery is draining pretty fast, check out the Battery Saver section
You could even add plugins (small software programs) in this app to further increase its feature lists. For example, Find Direction Plugin acts as a compass and helps you find the right direction, Boost game Plugin: Gives your game a head start by considerably reducing the launch time, Lock App Plugin helps to protect your apps by applying a passcode to it.
But do keep one thing in mind. The more plugins you install the heavy the app will become and this might slow down some devices. So if you only want to clear up RAM and storage space from your device, you could easily do away with the plugins and use the app in its initial state, bereft of any additional software, tools or plugins.
10. Droid Optimizer
The app has some exclusive features that you probably wouldn't find on other cleaner apps. To begin with, it comes with a ranking system. This feature shows your overall rank based on how well you maintain your device in terms of cleaning the unnecessary and redundant files. The objective is simple: Improve your everyday rank by you clearing up RAM and cache. Think about this ranking system more on the lines of a motivating factor. As soon as you launch to open the app, there is a well-documented instruction set giving you handy tips on how to fully optimize your device.
On the home screen, you could easily find all the required features. These include the Cleanup, Automatic, App Manager and some Privacy Advice to keep your device safe and secure. Out of the four, Automatic comes out to be the most useful functionality.
As the name suggests, it will clean up your device, stop background apps and free up consumed RAM. All this will be done in an automated manner based on the schedule you created. Finally, the Droid Optimizer also gives you a mass uninstaller option which provides you with the platform to uninstall multiple apps at once.
Conclusion: So, this was all regarding the Best Game Booster apps that you can download and use to play games smoothly. If you find it useful, then do let us know in the comment section below, we would love to hear that. Also, if you have any other references then please share below.
If you've any thoughts on Best Game Booster Apps for Android, then feel free to drop in below comment box. Also, please subscribe to our DigitBin YouTube channel for videos tutorials. Cheers!